Mi-rae's Choice: Episode 9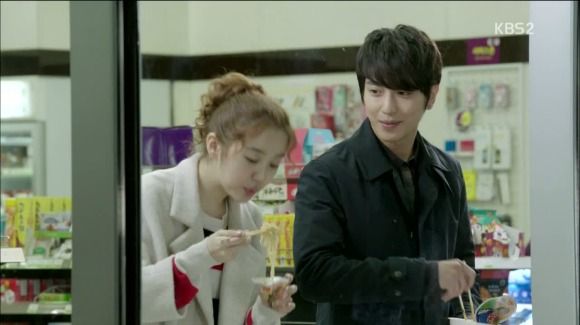 Things get interesting as important secrets come spilling out and more people get filled in about the future, though, whether they believe it or not is an entirely different question altogether. And even though the future itself can sometimes act like a spoiler, the present still feels much like a complicated choose your own adventure.
EPISODE 9 RECAP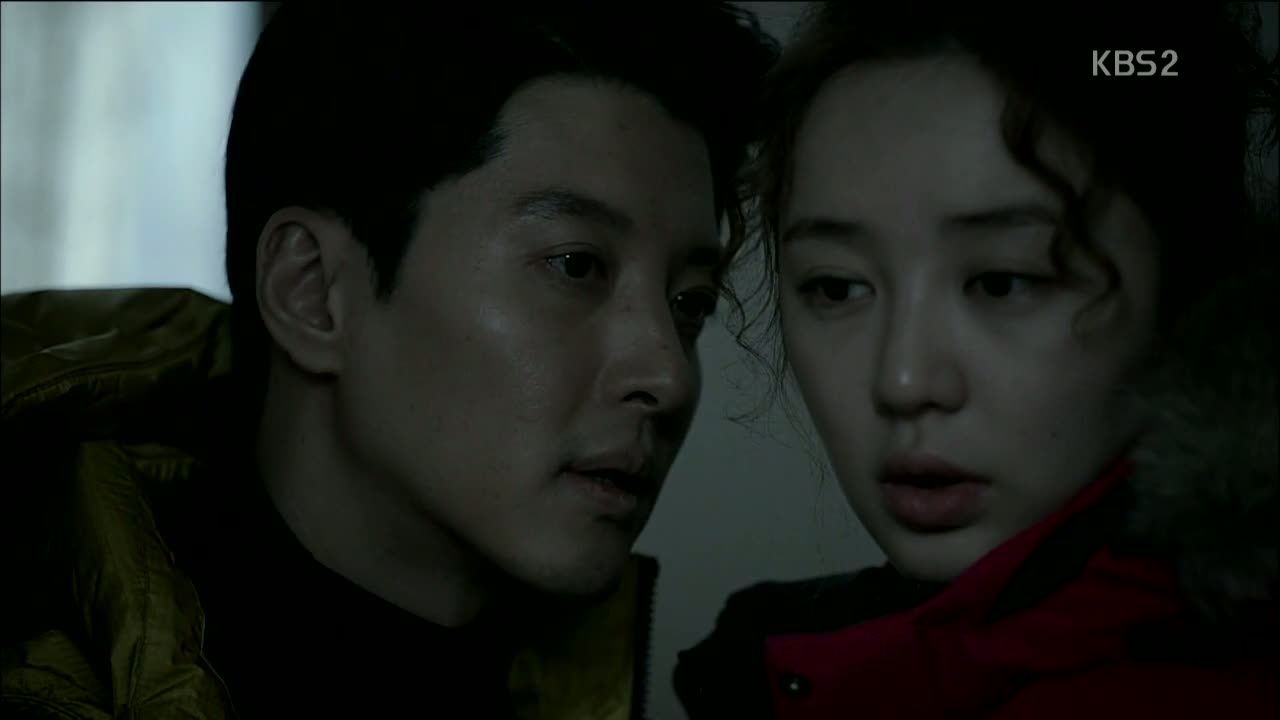 Under the moonlight, Shin leans in to kiss Mi-rae… but she turns away at the last moment, bombarded by the words of doubt about her feelings towards him. Oof. He masks the rejection well enough by suggesting that they get back to work.
Meanwhile Oppa can barely process the idea that Ajumma Mi-rae is from the future, let alone believe it. He dismisses it as another one of her crazy spells, until she cries that he once told her that he was the cause of her shoulder burn. Well now.
A flashback takes us back to her wedding day when Oppa had fussed over the scar and told her the truth that he was the one to accidentally scald her all those years ago. He confirms it now in the present, but Ajumma says what's important now is to prevent Shin and Mi-rae from getting together.
Shin and Mi-rae enter the allegedly haunted bedroom and they both jump at the sight of a ghostly wedding dress by the window. It's only a mannequin, however, and they realize the neighbors must have mistook the eerie glow of the moonlight as a ghost.
Their exploration of the rest of the cobwebbed and abandoned place turns up a wedding anniversary photo and books on cancer. The husband was a terminally ill patient, Shin deduces, which means those haunting moans were cries of unspeakable pain in the latter stages of the disease.
The wife's journal reveals the sad accounts of her husband's deteriorating state, and tucked in the back is a heartfelt apologetic suicide note dated the following day, asking his wife to move on and keep living after he's gone.
Shin finds another note tied to the back of the photo frame; this one written by the wife before she joined her husband in death in the ocean they both loved. Blinking back tears, Mi-rae wonders if the couple loved each other dearly, and Shin agrees that they must have.
Then Mi-rae says she's thought of the ending narration for their feature: That there were no ghosts, just the heartbreaking remnants of a loving couple who suffered together. Shin nods, satisfied.
Back in the editing room, Se-joo runs through the tapes and pauses just before the almost-kiss, slightly annoyed. Oh snap, I forgot that someone has to edit the footage.
Shin walks in just then to hear that there's a lot of unnecessary clips, and he watches Se-joo delete the ones of him and Mi-rae looking cozy. Those bits must make Se-joo feel uncomfortable, Shins tells him, wondering how he'll keep his emotions in check that way. He offers to do the work in his stead, an idea Se-joo happily agrees with.
So Se-joo heads down to confront Ajumma Mi-rae about her motives—whose side is she on? Ajumma answers that she's rooting for him.
After Se-joo is filled in, he asks the burning question on all of our minds: Why did Ajumma choose him to change the future? She answers that he's a good man from a good family, but what Se-joo is interested in is whether Mi-rae knows he's a chaebol.
Ajumma insists that Mi-rae doesn't know, saying she would run away if she did. She offers her help to give him the 411 on Mi-rae, but he declines, she offers up to do anything she can to help him win Mi-rae.
And though hard to tell whether Se-joo believes the "I'm from the future" story, it does weigh on his mind.
Jokey PD is disappointed to hear that there is no ghost for their horror-themed documentary. Shin argues that the concept should change according to the facts, not the other way around.
Mi-rae gets to work writing, half-annoyed and half-amused by Shin nagging her from the sidelines about her messy workspace, telling her to get her ankle checked out already. And just outside, Oppa lets out a sigh.
Oppa asks to see Ajumma Mi-rae's shoulder burn when he gets home, then laughs in disbelief when Ajumma tells him that she got it removed. His suspicion radar flies up again and he asks for a hair of hers.
Ajumma pulls out a few, willing to cooperate with any test to confirm her identity. But genetics isn't the issue; what really troubles Oppa is the story that Ajumma came back just because of her financially ruined husband.
The Mi-rae he knows would never be so fixated on money, Oppa presses. Ajumma lets out a deep sigh at that, and decides to tell him the whole truth, which we don't get to hear.
But whatever it is, Oppa calls his sister out to tell her about an available writer position in television production. He bolsters the argument, saying this is the easier and better path for her. Confused, Mi-rae texts Shin to get some advice.
Shin is on his way out to see her when he's sidelined by Oppa, who announces himself as Mi-rae's brother. He's brought the papers to prove it, and Shin's eyes grow wide in shock at the discovery.
Oppa searches Shin's face before asking if he likes his sister enough to marry her, telling Shin to cut ties now if that's not his intention. As her brother, he can speak into Mi-rae's life to persuade her to go elsewhere, but Shin is just a coworker. In other words, Shin has no right to intervene in Mi-rae's life.
So when Shin meets with Mi-rae outside and is asked whether she should accept the job transfer or not, he echoes Oppa's sentiments that it would be hard enough to enter the broadcasting industry as it is, especially at her age.
Those are all words she's heard before, but what she wants to know is whether Shin wants her to work elsewhere or not. With Oppa's words ringing in his ears, he tells her plainly to decide for herself because it's her life.
She asks in a shaky voice if he isn't affected by this change, and she'll really feel abandoned by the team if he tells her to go, too. She's not looking at him to ask her to stay, but given how much time they've spent together, his answer feels like it's coming from a stranger. Couldn't he give her just a bit more support to convince her to stay?
But Shin tells her that cutting ties with former co-workers is just how it works in this industry, since it's everyone for themselves. Mi-rae takes that to mean not to contact him anymore, and leaves, hurt.
Se-joo calls out to Mi-rae on the rooftop, having heard about her transfer. He immediately tells her to stay and that he wants to work with her. "Don't go," he repeats. It's what Mi-rae has been hoping to hear all day, and she works up a brave smile through her tears.
They eat ramyun at a nearby convenience store to lift her spirits, and Yoo-kyung lights up momentarily to see Se-joo alone from her angle, only to spot him with Mi-rae. She leaves Se-joo with some silent encouragement before turning away, head hanging.
Inside, Se-joo suggests that they return to their usual friendly rapport like before. Mi-rae is reluctant at first, but agrees.
They head back inside in a better mood when they hear voices down the hall. It's Jokey PD working with another writer to achieve his original vision for a horror-filled documentary, and the hurt look on Mi-rae's face tugs at my heartstrings.
At least Writer Bae is on Mi-rae's side, irate to hear about the last-minute writer change. Unfortunately, there isn't much they can do about it, especially since Mi-rae is inexperienced herself.
Se-joo, meanwhile, demands in low angry voice that Jokey PD change the concept back to Mi-rae's work. His demands are met with amusement before Jokey PD pulls out the hierarchy card, calling him a lowly VJ who just works a camera. Oh you are sooo going to regret saying that to him.
Mi-rae rushes inside moments later, but Se-joo assures her that everything will work out soon, then leaves fuming in silence. Jokey PD tries to justify his actions to Mi-rae, saying that they have a certain standard to uphold in this project.
He also refuses to read her draft, saying there's no point in looking it over when it won't ever be aired anyway. Ugh, what a jerk.
Oppa buries his head in frustration at the news, and when Shin catches the tail-end of the conversation, he angrily turns on the spot to talk to Jokey PD himself. Oppa catches up to him before he gets the chance, reminding him that changing writers is a decision reserved for the PD in charge.
Shin argues that he was the one who worked with Mi-rae this whole time and she was the one to come up with the concept. Then Oppa finally bursts, shouting angrily that he of all people wants to go and beat Jokey PD to pulp. As Mi-rae's brother, he's holding back right now. "But what right do you have?" To that, Shin asks, "And what if I really like Mi-rae?" Omo.
But it's still a no because the thought of giving Mi-rae away to Shin makes him uneasy. Shin scoffs when Oppa asks if he remembers the prediction that he'll be ruined. Oppa reminds him that virtually all the staff laughed because it seemed so close to to the truth.
Shin's resolute and principled nature may work for him, Oppa says, but it'll bring hardship for those around him, and he won't send his sister off to that kind of future.
Meanwhile, Mi-rae winces in pain as she self-treats her ankle injury outside, which is when Se-joo appears and silently hands her gauze and wrap. They're at the hospital during the pilot broadcast of Pandora's Box, and the doctor tsks disapprovingly that her untreated injury will leave a scar.
Se-joo says sympathetically that her number of scars have increased, but Mi-rae sees it more like a mark to remind her of her hard work. She keeps up an optimistic outlook on the situation, saying there are times when things don't work out, and this will remind her to keep working hard.
They return just as the hauntfest portion begins, and as expected, Jokey PD is the only excited one in the room. Oppa wonders whatever happened to their goal to show hope through their show as both Writer Bae and Se-joo offer Mi-rae a sympathetic hand.
It comes time for the ending narration, and Jokey PD starts sweating bullets when Shin misses his cue. Mi-rae turns to excuse herself, when she hears Shin deliver her original narration, word for word. Aww.
Touched, Mi-rae rushes out in search for him while Shin wraps up and leaves the set. She hobbles outside, calling him, just as Shin pulls up from the parking lot in his car and sees her. But he drives off.
The team stays up all night waiting in nervous anticipation for the ratings to be listed first thing in the morning. Shin gets annoyed at his trusty dictionary, which only turns up unhelpful words like "ruin" and "revocation." Ha.
Oppa wakes with a start and frantically checks his computer to see if their show hit over a 10% ratings, and inches his thumb across the screen… to see a 9.8%. Damn it.
He thinks Mi-rae's gone crazy when he hears her screaming that her source states 10.2%. That means their average rating is a 10% and Mi-rae wonders what happens now.
That's what Chairman Lee and her grandson are busy discussing as she says that the show will have to be cut of course. But Se-joo counters that a double-digit average ratings is considered impressive these days, and Grandma laughs that he's a bit bolder these days.
She agrees to give the show another shot; however, she points out that the ratings slightly dipped in the latter portion and suggests that they change out the writer in charge. Se-joo asks if she means Mi-rae, and Grandma plays dumb about that bit of news.
Se-joo uses a bit of reverse psychology on his grandmother instead, saying that he doesn't want to take over YBS because the current chairman micromanages her employees. I love that alarmed look on her face when she hears that there was a different writer. Anyhow, it will only be downhill from there and the chairman will be made a laughingstock.
At the same time, the production team waits in anticipation for a call that may never come. But then Chairman Lee calls in with good news that Pandora's Box is a go for the late-night timeslot, and the team erupts in cheers. Yay!
Se-joo thanks his grandmother and nods that he'll assume his head of YBS position in a month's time as promised. She also asks to be formally introduced to Mi-rae, saying that last time didn't count. Ha, I'll say.
She's surprised to hear that Mi-rae knows nothing about Se-joo's chaebol background, all, What's wrong with being rich? HA. He is skeptical about Grandma's first impression of Mi-rae however, and then pumps the security guard for info, hilariously catching him in all of his lies.
Ajumma Mi-rae gets a call from Se-joo, who rang to take her up on her offer to help. She runs into Yoo-kyung when she hangs up, and tells her that it's game over and that she should give up on Se-joo.
Shin approaches a colleague about a special on the Young Geun Group family to ask about any relatives who couldn't participate because they were abroad at the time. He gets annoyed by a text from Ajumma telling him to meet her at a Chinese restaurant later that night.
It's the same place Se-joo has taken Mi-rae out for dinner, and he puts in a quick call to Grandma to join them later. When Chairman Lee arrives, he plays off their planned run-in as mere coincidence, introducing the chairman as his patron.
Meanwhile, Yoo-kyung sneaks into the cleaning ladies' locker room on a hunch. Her initial search turns up nothing out of the ordinary, but then she discovers Ajumma's copy of Mi-rae's brown leather diary behind a loose panel.
The entries about Kim Shin confuse her, so Yoo-kyung pulls out her phone to check the phone number etched inside… which matches with Mi-rae's. Then she reads one entry that names her as Se-joo's bride and that Mi-rae was a wee bit jealous seeing them together.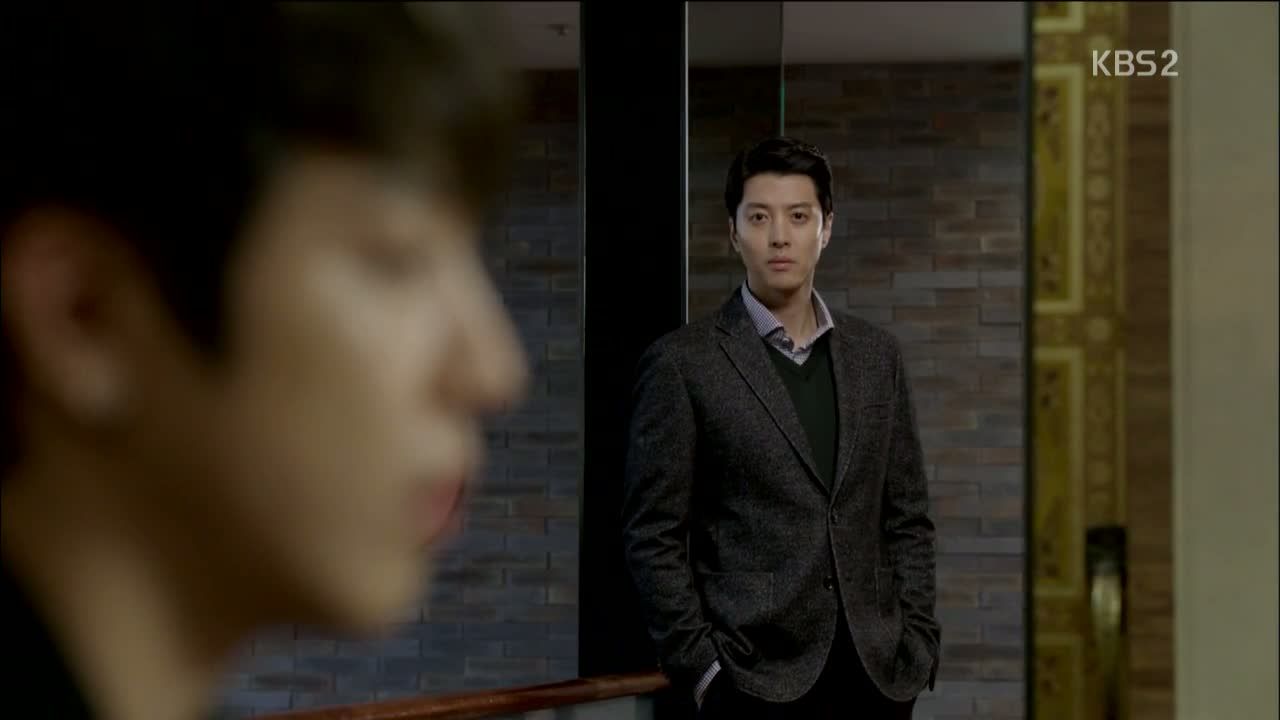 At the same time, Shin meets Ajumma at the same restaurant. They're led upstairs just as the door to Se-joo's room slides open. That's when Shin gets a text from his colleague telling him that Se-joo is the chairman's grandson aka their future boss aka the future head of YBS.
Shin peers into the room where Se-joo is joined by Chairman Lee and Mi-rae. Then Se-joo turns to look outside and sees him.
COMMENTS
Oh it's on. What I like about the brewing conflict between Shin and Se-joo in this series is that the tension between them extends further than a girl, which is more than I can say about some other shows as of late. They approach the work with a different mindset, and I like that there's an undercurrent beneath their personalities that differ from what we're introduced to, like the cutthroat quality beneath Se-joo's gentle exterior.
I'm excited at the prospect of how this truth will shake the dynamics between Shin and Se-joo (as well as the team), and nervous that the truth of his family background will be revealed in a month's time (or less!) especially since Se-joo is worried about Mi-rae's reaction. But I can place a safe bet to see Jokey PD go, right?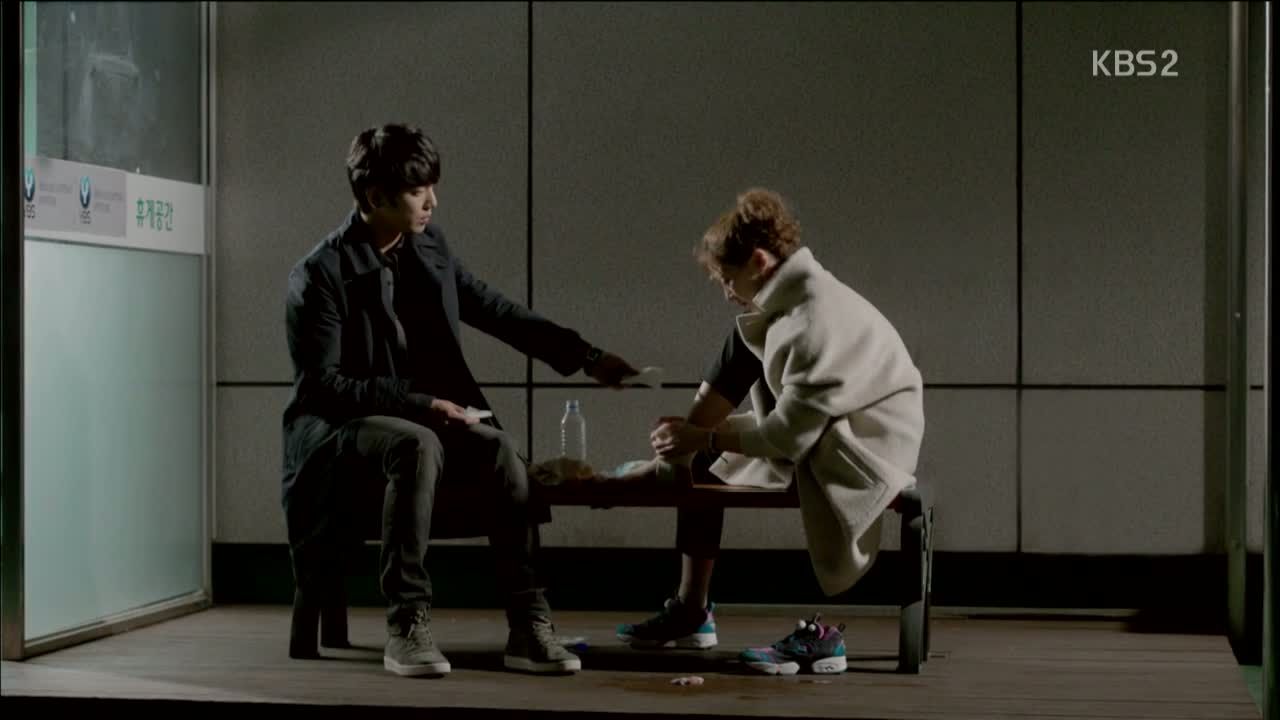 There was a lot more more Oppa in this hour, now that he knows about what happens in Ajumma's future. Even though we don't know what he learned, I love that he stepped it up in an effort to protect his sister from a miserable future. He is right in one sense that he's in more of a position to offer advice to Mi-rae's life as her oppa (despite his usual prickliness) versus Shin. Though Oppa's intentions are good, they also open us to a whiff of noble idiocy for Shin to distance himself from Mi-rae for her benefit. I'm never a fan of the move to do anything for the heroine's benefit without her knowledge, but then again, where would we get any angst if not for misunderstood and hurt feelings?
I did find it an interesting beat that Se-joo was the one to provide the words of concern Mi-rae had longed to hear from Shin. And maybe this is just me, but Se-joo's words ring a little empty in her ears because they're not coming from the one she wanted them from.
Another thing I'm looking forward to is how Yoo-kyung plans to utilize the information she's learned from Ajumma's diary. She's tugged at the sympathetic heartstrings for a few episodes now, playing wingwoman to her crush. But the question remains: What would you do if you found out that same crush is supposed to be your future husband? So far Yoo-kyung has been pretty harmless, so I wonder if this might signal a turn in her character into more of a rival.
There's plenty more to speculate even though we're past the halfway mark, though, it feels like we're mostly revolving around the same large issues at hand. Like with Ajumma Mi-rae's shoulder burn (and her streak of white hair that gives me X-Men Rogue vibes), we learn more answers and left with more questions in this web of mysteries. Maybe there is more suspense that builds with every turn, or simply discover a simple heartbreaking story of love suspended in a moment in time.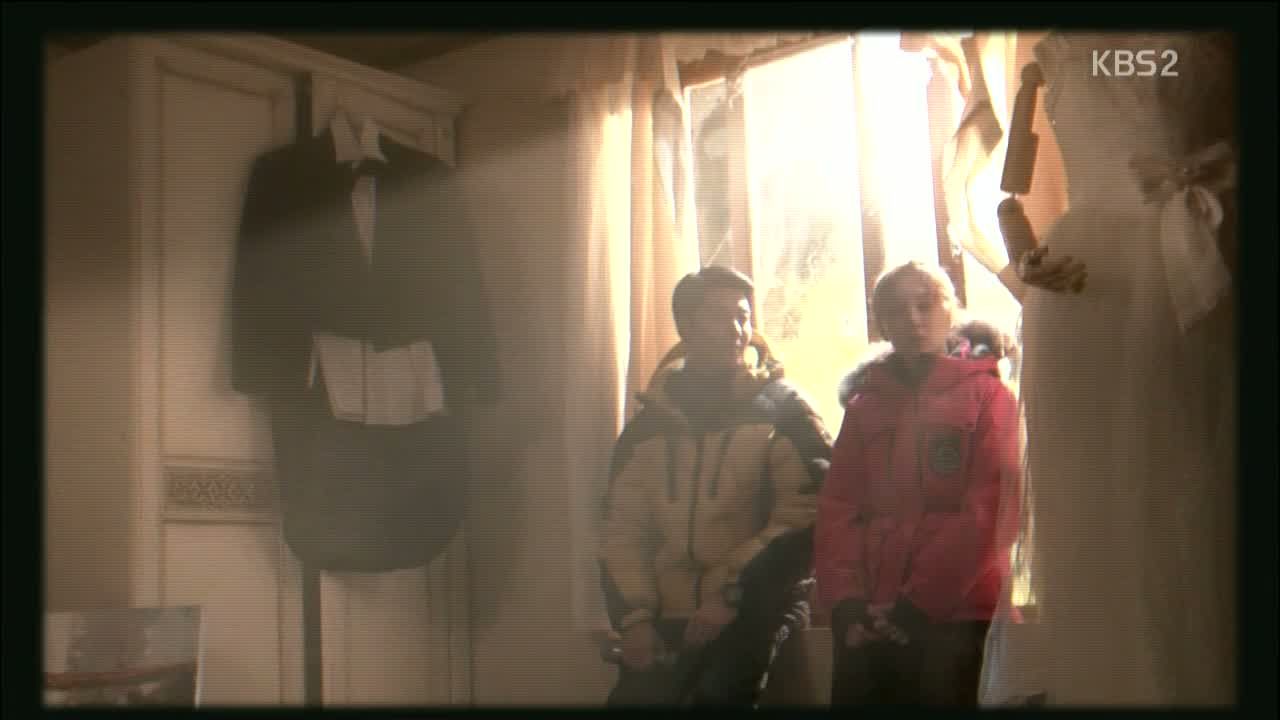 RELATED POSTS
Tags: featured, Han Chae-ah, Jung Yong-hwa, Lee Dong-gun, Mi-rae's Choice, Yoon Eun-hye