Running Man: Episode 170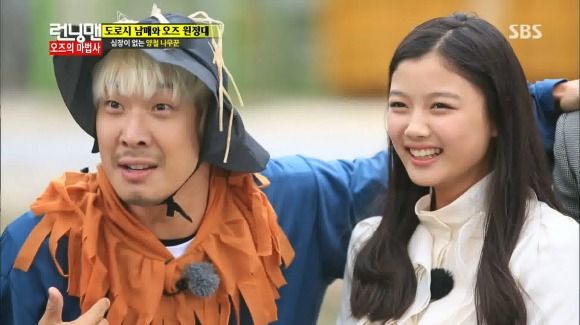 We drop into the magical land of Oz just over the rainbow this week as a lost Dorothy and her Oppa try to find their way back home. Be careful of where you tread because the Wizard in this land has got eyes and ears in all corners of this kingdom to get his hands on some nametags of lions, and tigers, and bears, oh my!
But pay no attention to the head behind the curtain when there's a beloved Oppa involved, especially one who will stop at nothing to rescue his loved one.
EPISODE 170. Broadcast on November 3, 2013.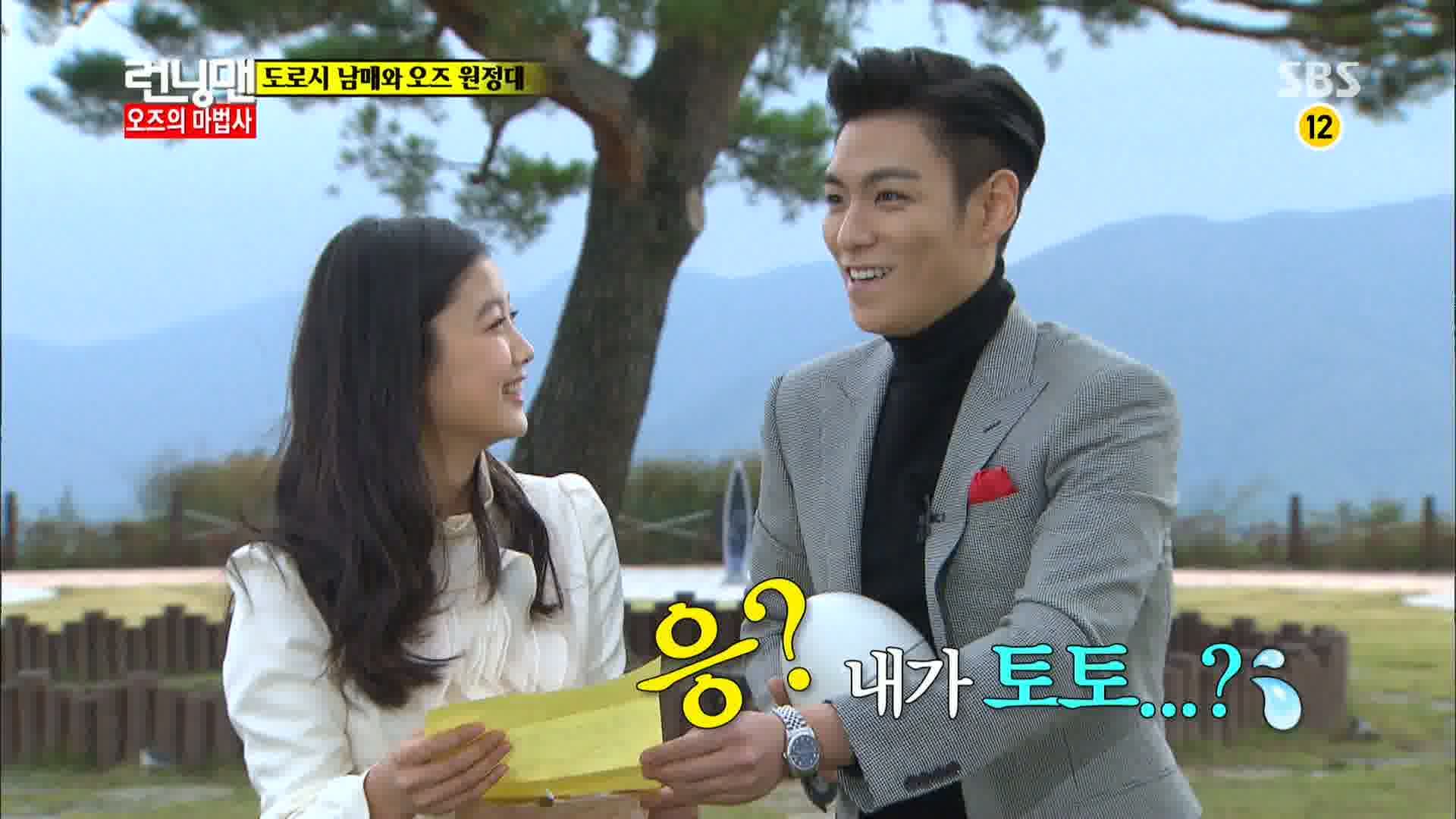 A cyclone descends on the land of Oz, leaving behind two bewildered visitors: co-stars of the spy movie Alumni, Kim Yoo-jung and TOP. I have a feeling you're not at the Busan International Film Festival anymore.
Still, the My Sassy Girl tree is a familiar site, and when TOP asks if she recognizes it, he gives us our first corny joke of the day with the answer: "It's a pine tree." Lol.
A nearby note (and trademark red heels, natch) teaches them of their mission: find your way home with the help of the Scarecrows, Tin Men, and Cowardly Lions, and plead your case to the Wizard of Oz. Then if Yoo-jung is Dorothy, that would make TOP… Toto? Hahaha.
Aw, I already love how earnest TOP is, as he makes jokes riding along the Yellow Brick Road on their rickety bicycle. I daresay he's talked more in these opening three minutes than the whole of his last visit. Hee, were you always this funny, Binggu TOP?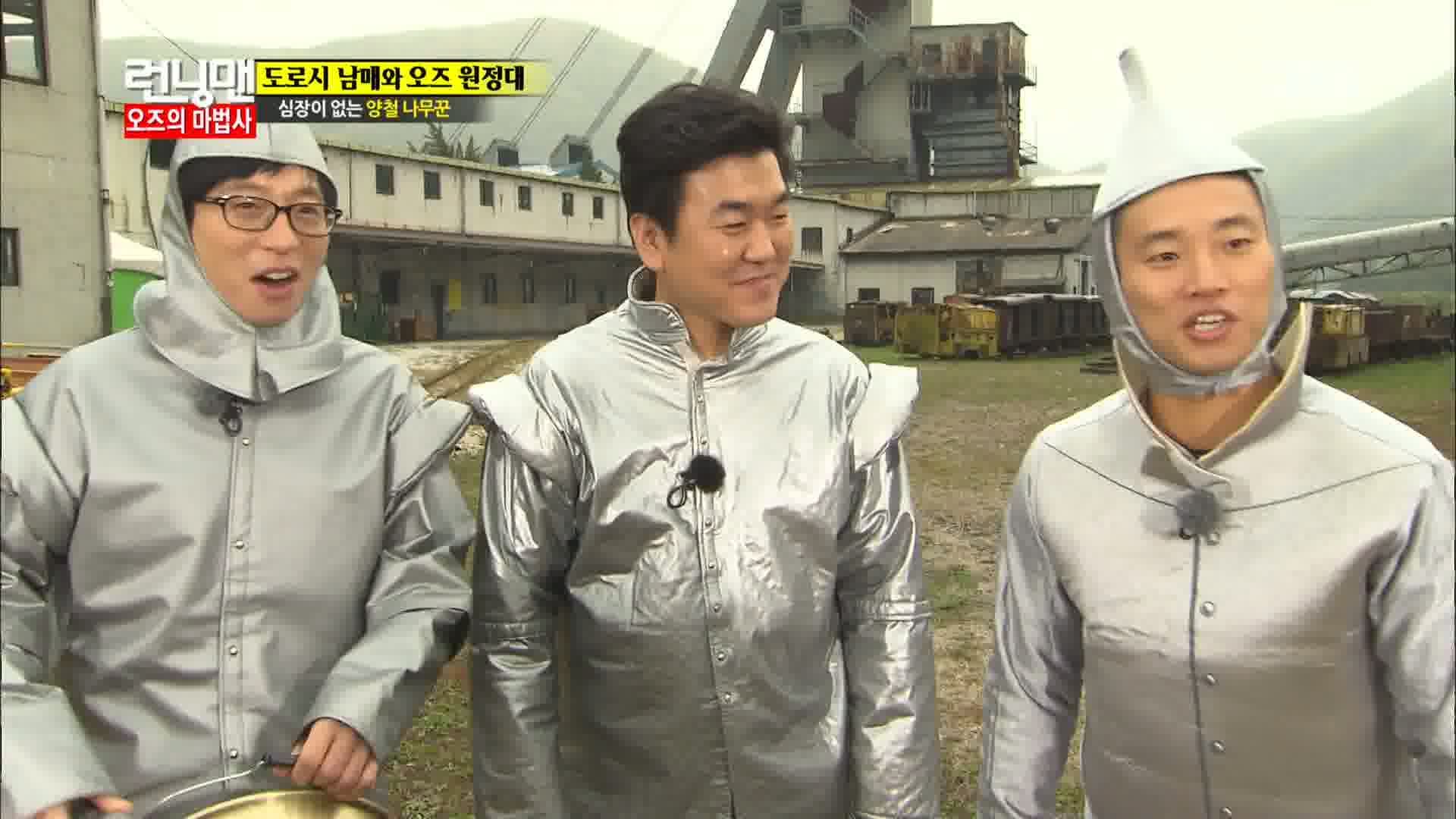 We check in some of our other Oz characters as Jae-suk sighs deeply in his Tin Man costume. Is that… a funnel hat on Gary's head? Gary exclaims: "Every [week] is a new experience for me!"
They're joined by a third Tin Man, whose nametag makes them jump: actor Yoon Jae-moon. Jae-suk promptly scolds the staff for making their guest wear a bucket on his head, but Jae-moon just laughs it off goodheartedly. And is it just me or does his laugh scare anyone else?
Scarecrows Haha and Kwang-soo are put to the test with an opposite flag-raising game that's confusing enough to play, let alone explain. All it does is prove that they're in need of brains and wisdom, but their perplexed expressions and ragequit to the instructions cracks me up.
Myuk PD: "See, you don't have any wisdom!" Haha: "How does this [game] have anything to do with wisdom?" Preach it, Haha.
Elsewhere, our Cowardly SpartAce is busy chopping wood, and Jong-kook's whimpers that follow his displays of strength are hilarious, like how Jong-kook breaks through a pile of tiles, then cries, "Those poor things!" Hahaha.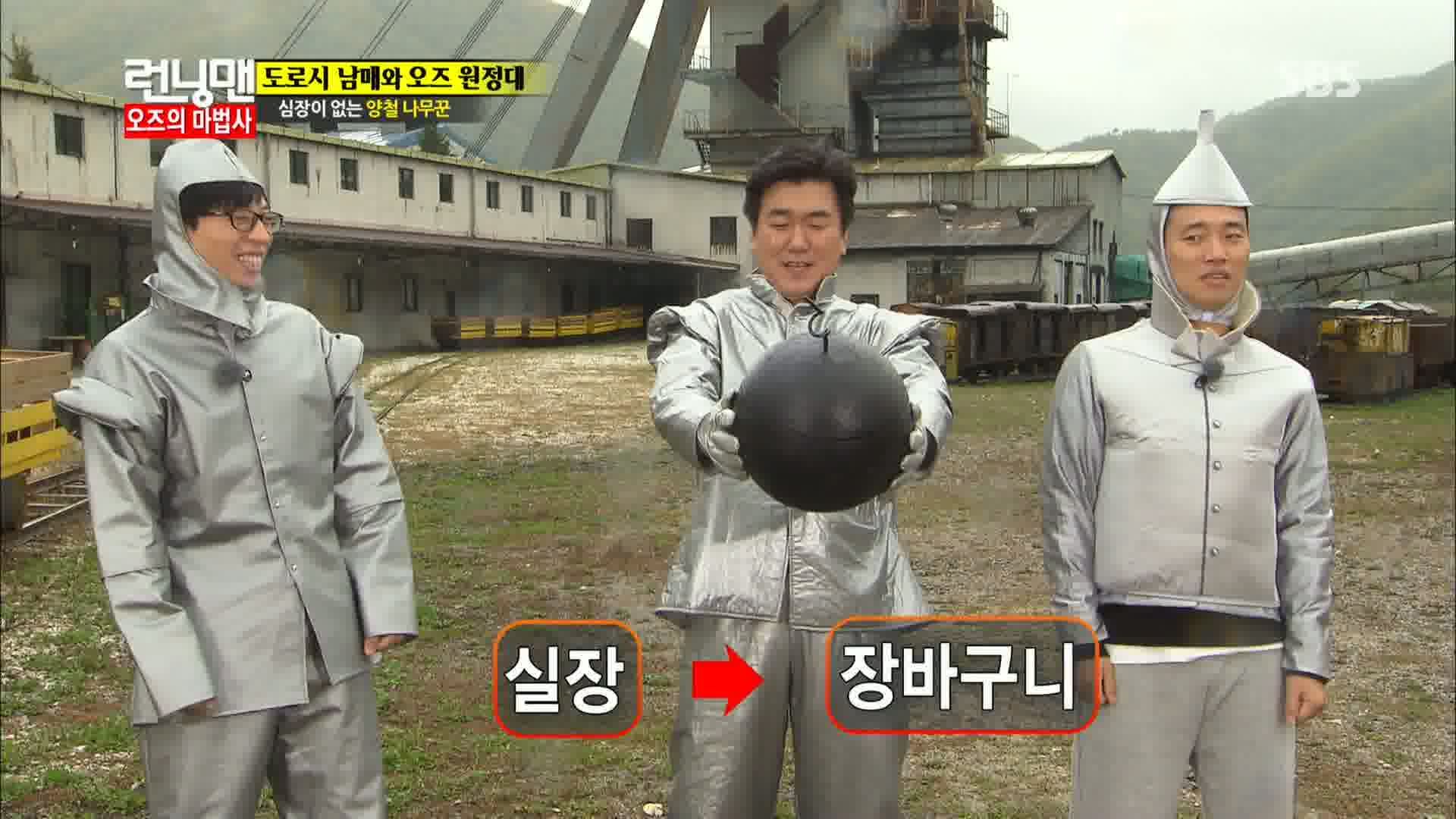 The Tin Men Trio play a word-ending game with a literal ticking time bomb. It starts off harmless enough with some tricky word endings, but they soon start to sweat bullets with the seconds counting down against them.
Jae-moon is especially hilarious, yelling out "Affair!" (as in marital affair? Haha) and then at another point admitting that all he can think of are curse words. Unfortunately for him, the bomb explodes in his hands.
Meanwhile, Dorothy Yoo-jung and her Oppa meet up with the scarecrows in the field. With the help of a little straw magic, they turn the bicycle into a car. I wonder—is the red a deliberate choice?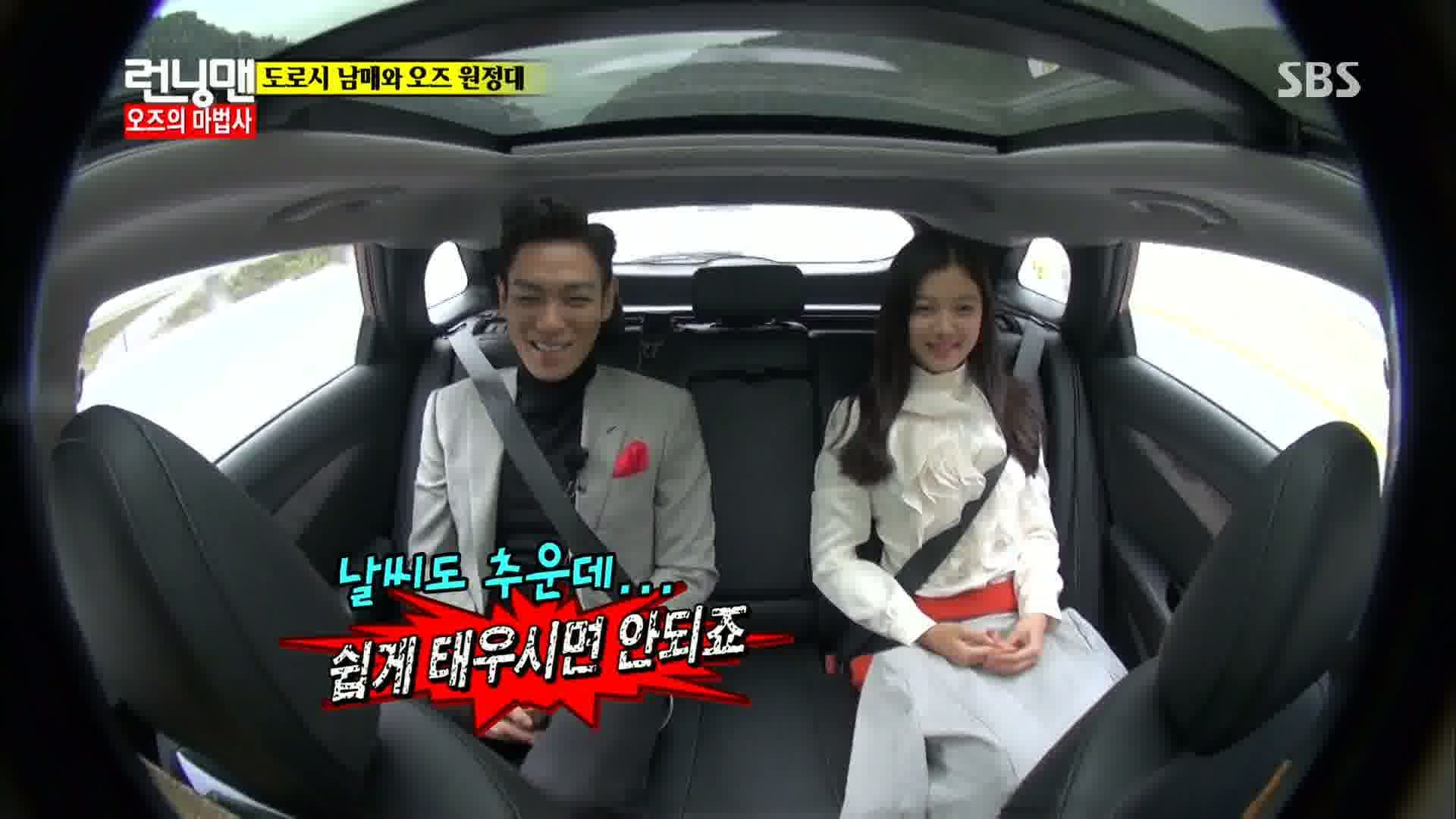 Once they're off, Haha comments on how TOP is quite the prankster, so when he asks what they should do with the other cast members, TOP answers, "It's cold outside… so we can't let them ride with us easily." Muhahaha.
Which calls for a detailed prank when they meet the Tin Men, and both sides bust a gut laughing at each other's ridiculous costumes. TOP remarks, "The three of you look like an idol group."
The Tin Men are told that only one of them can join them, and Jae-suk is immediately suspicious that both scarecrows were picked. Leave it to Haha to explain the hoops and ladders they'll have to jump through, which evolves into another bickering round against Jae-suk.
They start off with an acronym poem, and impressed when Gary lays down some spittin' verses, which duh, he's a rapper. I especially like the "saeng/raw" one: "I'll chew you raw to bits!"
Jae-moon's turn is equally hilarious using Yoo-jung's name, but the last one (jung) is the kicker: "Don't have an affair (jung-boon)!" Hahaha, was that really the only thing you could think of?
Jae-suk seems pretty confident about his improv skills, but his eyes grow wide at his challenge ("TOP!"), and he barks back a PG-rated wordplay off of "Shut up!" using TOP's name instead.
They continue to pull the Tin Men's leg by saying they'll take two of them instead, and Jae-moon immediately pushes Jae-suk aside. Ha. But no worries—all of them climb into the van, and they wonder where Suk-jin is. Could he be the Wizard they're looking for?
They're off to see the Cowardly SpartAce, calling themselves a circus troupe now. When Jong-kook notes that Dorothy has no Oppa, they rename Toto TOP as Doro-do (which sounds almost like Totoro to me) instead.
After they try pulling the same "We can only choose one of you!" prank on the lions, Jo PD further explains today's agenda: acquire items to find the Wizard of Oz by winning the games. Once they find him, they'll be able to get the hearts/courage/brains/home they're looking for.
Turns out our Wizard plays double duty in this land of Oz as the Wicked Wizard of the West aka Suk-jin poofs into view. But no one said that he's a particularly good wizard, and it takes a few tries in order to get to his destination.
The crew pulls up to their first lociation, where they'll need to lift the curse placed upon the parked car next to them by removing the plungers in turn and climbing into the car within the time limit.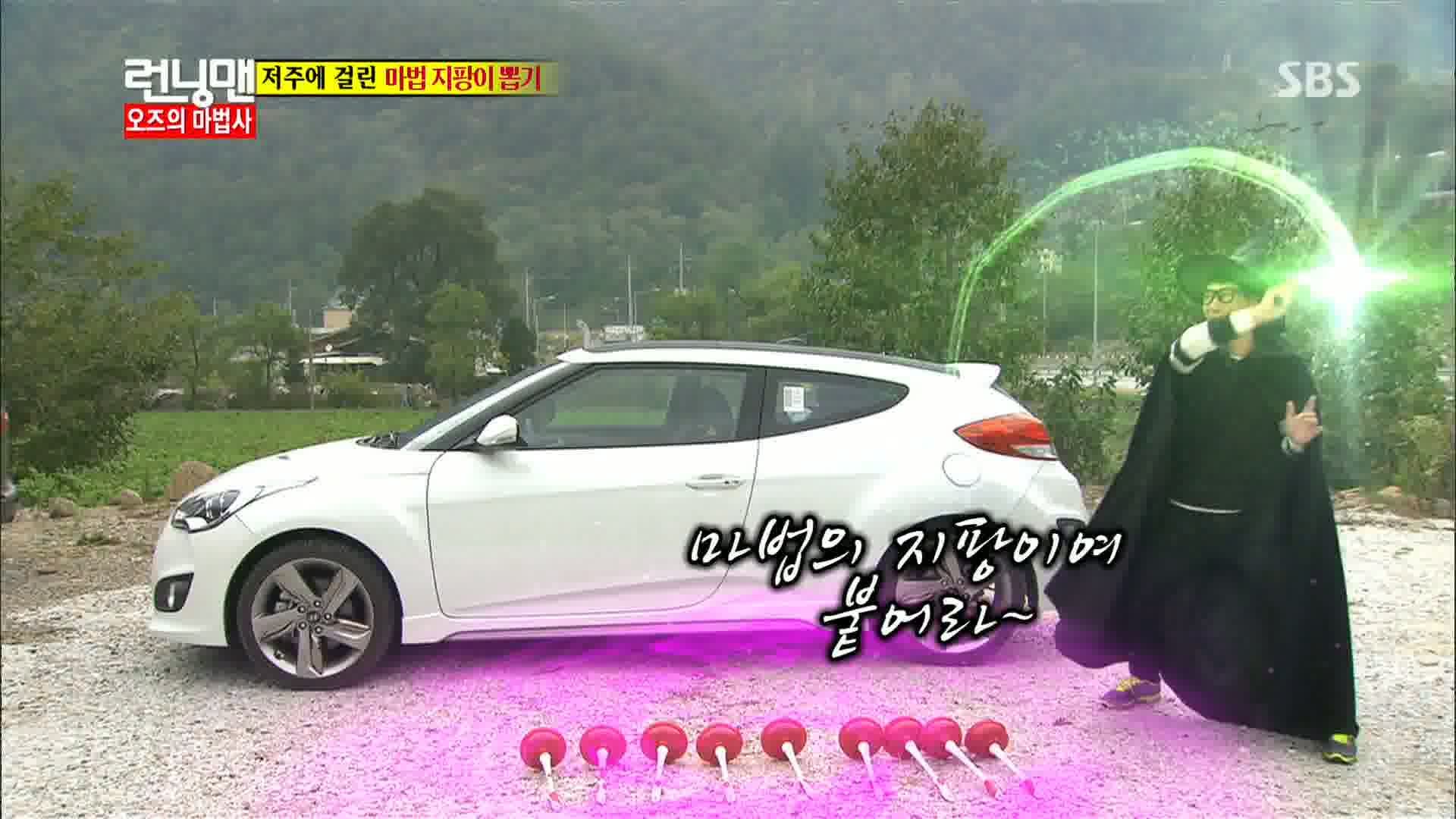 You know, I like how Suk-jin has his own shining moment to play the part of the Wizard, whose cauldron has an uncanny resemblance to a ramyun pot. He uses his Big Nose magic to whip a car and plungers out of thin air… and then I love how the show kept in the totally unmagical portion of the staff actually sticking the plungers onto the car.
Regardless, he really does look like he's having fun, which is awesome.
Right, the mission. Not only is the time limit (30 seconds) already impossible, then the cast is told that all nine of them have to squeeze into the sedan. And Jae-moon's determined game face is both scary and hilarious.
Jae-moon starts it off, but he quickly reveals himself to be the black hole, struggling with the plunger. In fact, he keeps choosing the hard way, squirreling to the back through the front seat, to which Jae-suk points out, "There's a back door!" LOL.
The others follow in quick succession and squeeze into the car, but alas, they fall outside the time limit. The cast teases Jae-moon for not getting through fast enough, but he brushes those comments aside for the second round.
…which is just as hilarious as the first. This time, Jae-moon is faster but gets caught up with the car door again. They stuff themselves in the car once more, and although their overall time is faster, they still fail.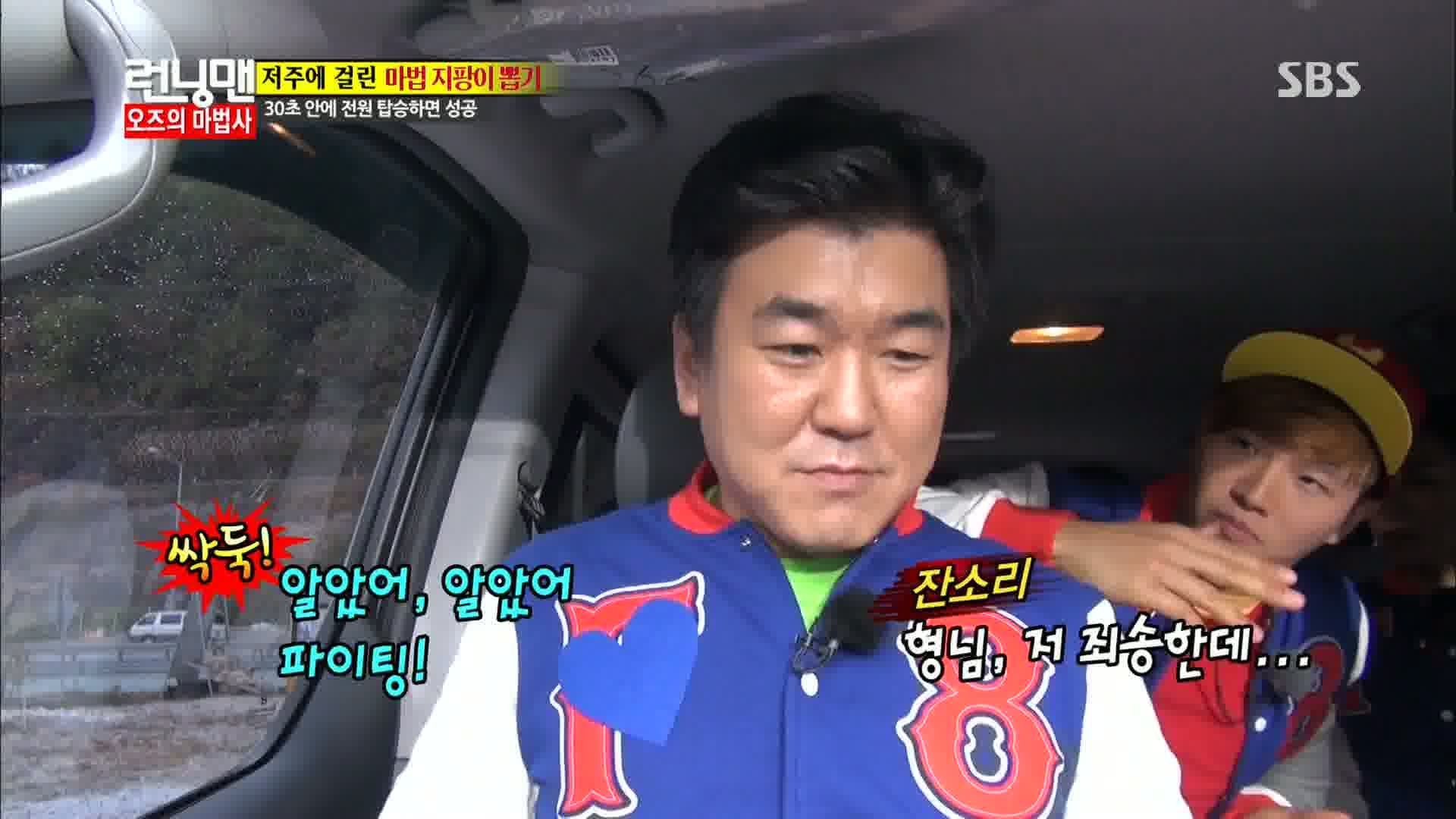 So the cast teases Jae-moon once more, and Jae-suk points out a small dent where Jae-moon kicked the car in. Their guest is initially surprised, but then is all, That wasn't me. Ha.
For a second I wondered whether Jae-moon was already tired when he asks if they'll all just go home if they fail the game. But the third time's a charm for the cast as they finish the task in a speedy 25.41 seconds, and they celebrate like they've won a gold medal.
Now armed with a clue about the Wizard, they read another note that instructs them where to meet their missing cast member next. Jong-kook: "What if we don't want to see him?" Gary: "If we don't, then does that mean Suk-jin won't get any screentime?" Hahaha.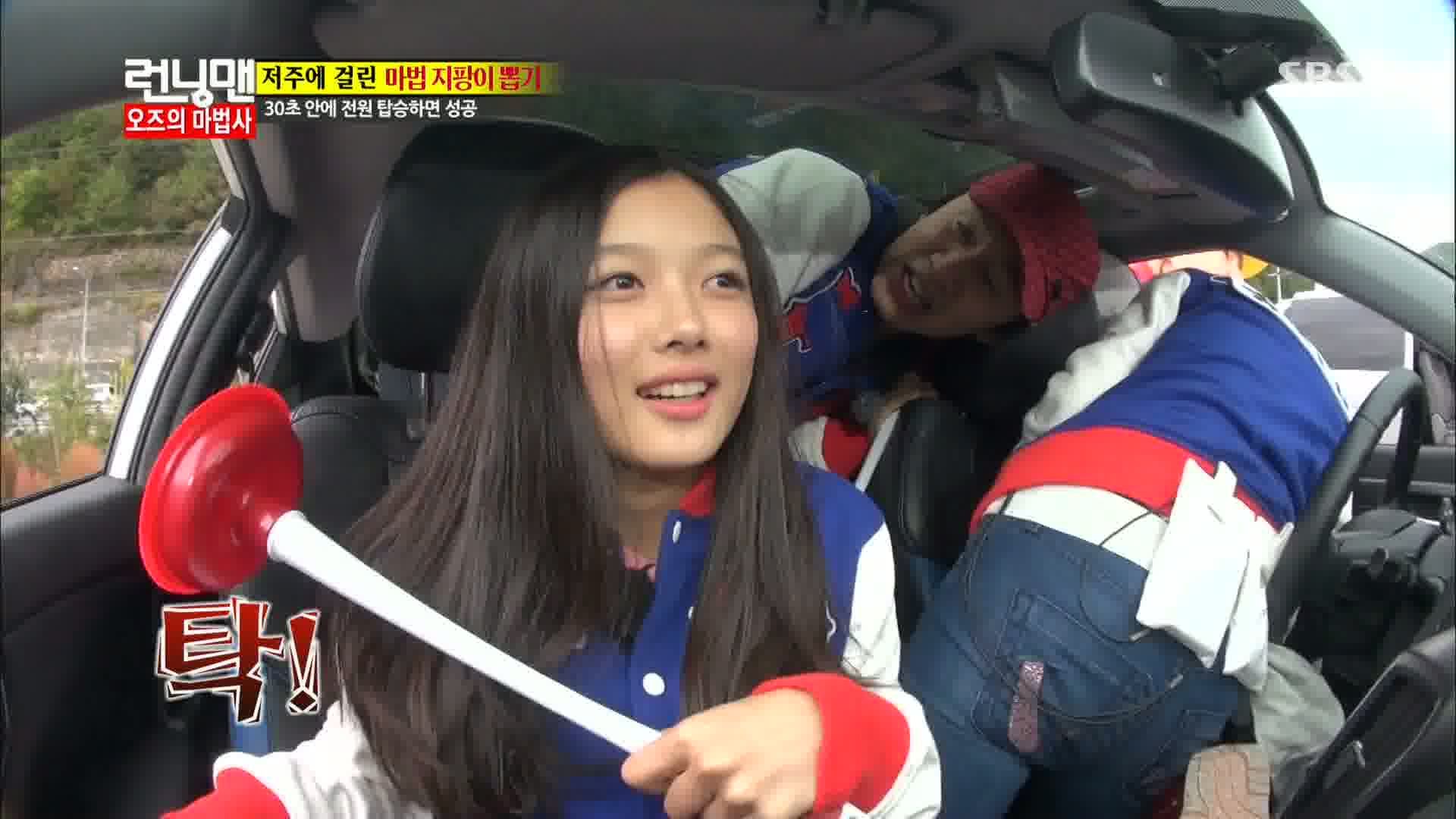 We learn that this is Jae-moon's first variety experience in the car, which is surprising to hear since he seems at home as he plays off of the staff. He's totally shameless about asking Yoo-jung for the clue, and like a good maknae, she hands it over to her sunbae.
Also, does Yoo-jung's age of 14 place her as the youngest RM guest ever?
At the library, they read another note from the Wizard. I love how the first thing Jae-moon notices is that it's written in banmal, only to realize that that's right since Suk-jin is his hyung (Jae-moon is a 1970-er whereas Suk-jin is a 1966-er).
Here, the cast will vote on who will obtain the next clue before they head off to the final mission location. Everyone's like, "Already?" but I'm all for it since the way I see it, the faster we get to the good stuff, the better.
Everyone casts their votes and head to their respective cars, but something is definitely off as the cast quickly realizes that Yoo-jung is all alone in the other car.
Yoo-jung, meanwhile, rides along none the wiser until sure enough, the Wizard jumps up from the backseat and she lets out a chilling scream.
That means it's up to the cast to rescue a kidnapped Dorothy Yoo-jung from the clutches of the Wicked Wizard of the Safari (who, by the way, didn't graduate magic school. For some reason that part made me laugh for a good minute), who worked his magic to make it so.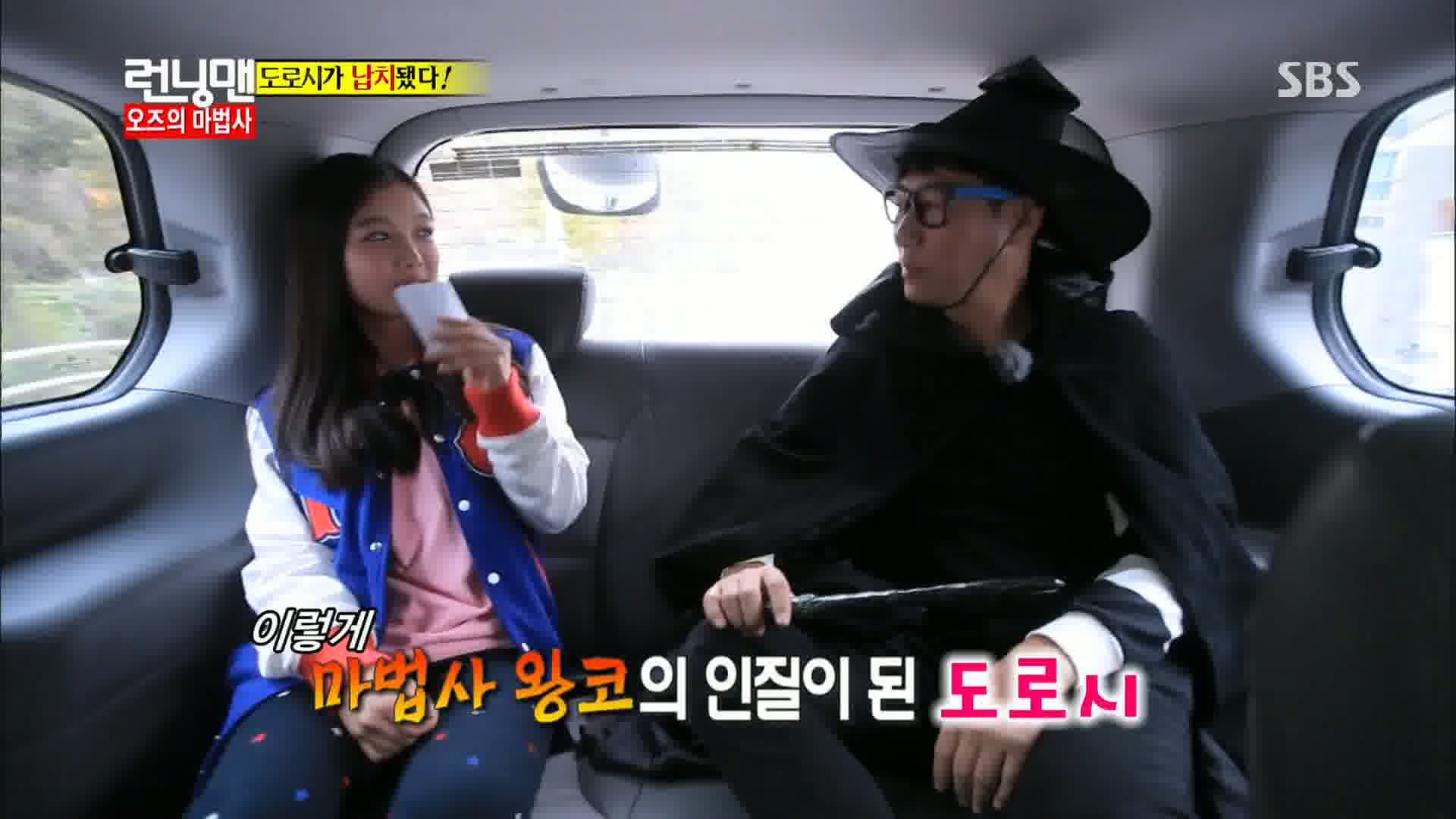 The kidnapping Wizard converses with his hostage in the car, telling her that he can grant all wishes. So Yoo-jung asks to be today's victor, to which he's like, …Y-yeah, a-about that….
He tells her that he has to win today, but Yoo-jung is quite the persistent kidnappee. Heh, looks like you chose the wrong Dorothy to mess with.
It's actually quite cute how much the both of them are enjoying themselves, tossing back jokes as the Wizard drags his hostage to his lair. "But I don't want to be a hostage!" "Do you take this Wizard as a joke?" "Why are you laughing! This is a serious situation!" "But it's funny…"
Yoo-jung is convinced that TOP Oppa will come and rescue her, but at least the Wizard is the chivalrous type, opening doors for her and asking if she's too cold. His castle is rigged with security cameras, and so, they wait….
When the others arrive, the Wizard cackles over the speakers with the instructions that they'll have to traverse their way through multiple obstacles (separated by four locked gates) in order to get to Dorothy.
For their first round, they'll have to eliminate two members in a nametag ripping game to move on. Jae-moon reveals his own envelope, which contains a free pass to move on. Huh, does that mean they only need to tag one person out to dwindle their numbers to six then?
While the cast members search for their hiding places, I can't help but think how boring this final mission must be for Yoo-jung. All she's done today is participate in one game and sit around, waiting to be rescued while the others play mind games with each other and run around. Just doesn't seem all that fun for her 's all I'm sayin'.
In any case, Jae-suk roams the halls and eventually runs into SpartAce. So far, he's been relying on the argument of not to exhaust themselves so early in the game, and he appeals to Jong-kook to eliminate Haha for them.
At that, Jong-kook turns around with a sigh, as if to say, "Fine, I'll be right back."
Even though Haha braces himself for the attack, he still jumps out of his skin to see Jong-kook round the bend. It's a quick, clean elimination, and Jae-suk beams that Jong-kook is really handy when it comes to these kinds of favors. Caption: A savior when you're on the same side, but a devil when he's a foe.
They zero in on Kwang-soo as their next target. Our giraffe has locked himself in a room, so they lure him out with some distracted noises and barge into the room. They agree to relocate, but when Kwang-soo isn't looking, Gary rips off his nametag.
Kwang-soo is flabbergasted by the sneak attack, to which Gary defends, "I learned this [method] from you!"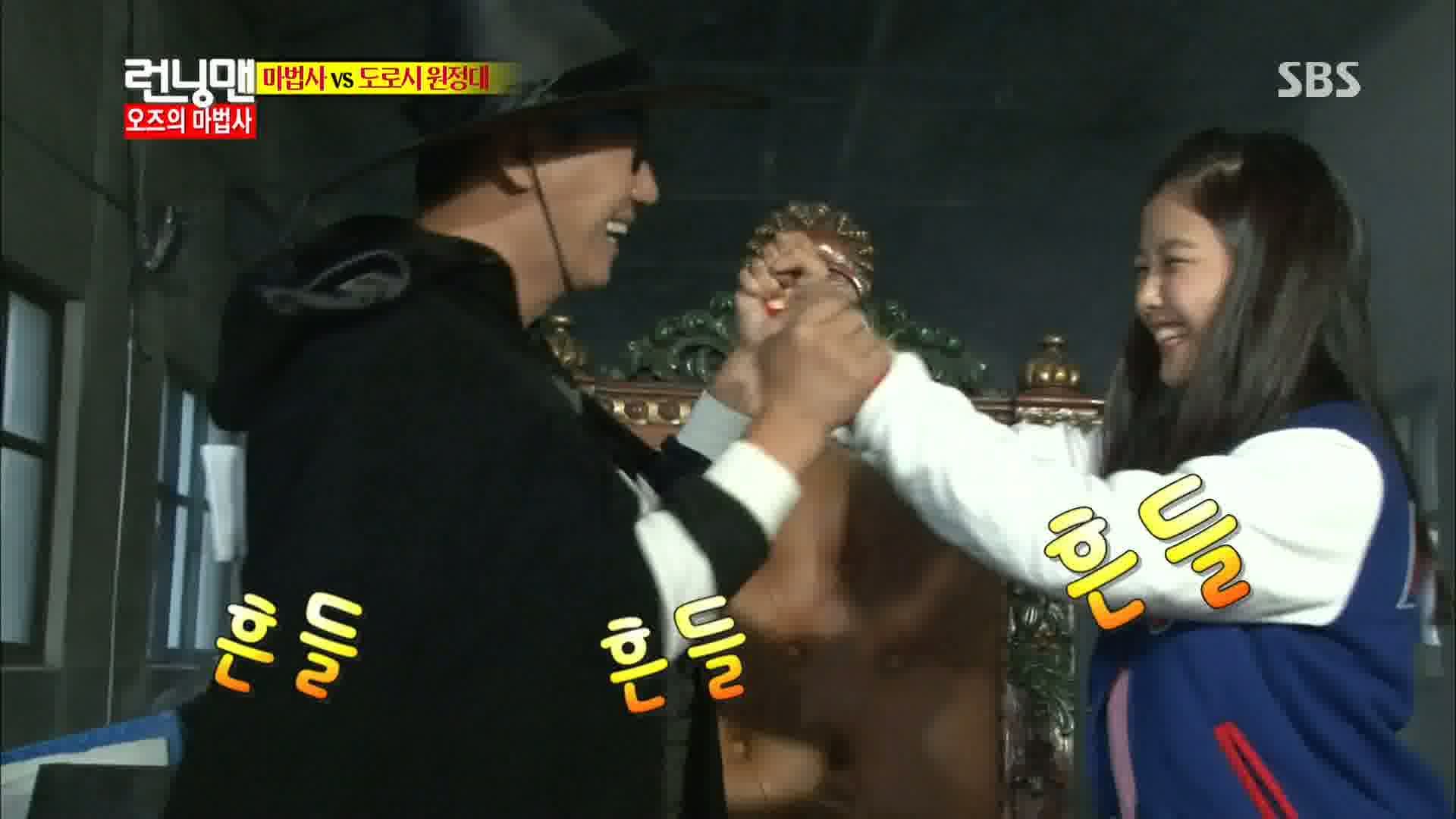 Back at the lair, Wizard Big Nose offers to liven things up a bit by giving Yoo-jung a taste of the trademark nametag ripping game. He's surprised when she turns out to be pretty strong herself, and needless to say, she wins.
They join Jae-moon for the second round, where they'll have to catch the Wizard themselves. Imma just say that maybe our Wizard should be the one who's scared if a fourteen-year-old can overtake him.
Jae-moon's laughter is scary enough that it can star in its own horror movie. Strangely, he keeps following Gary's tail—is he thinking that he must eliminate the others?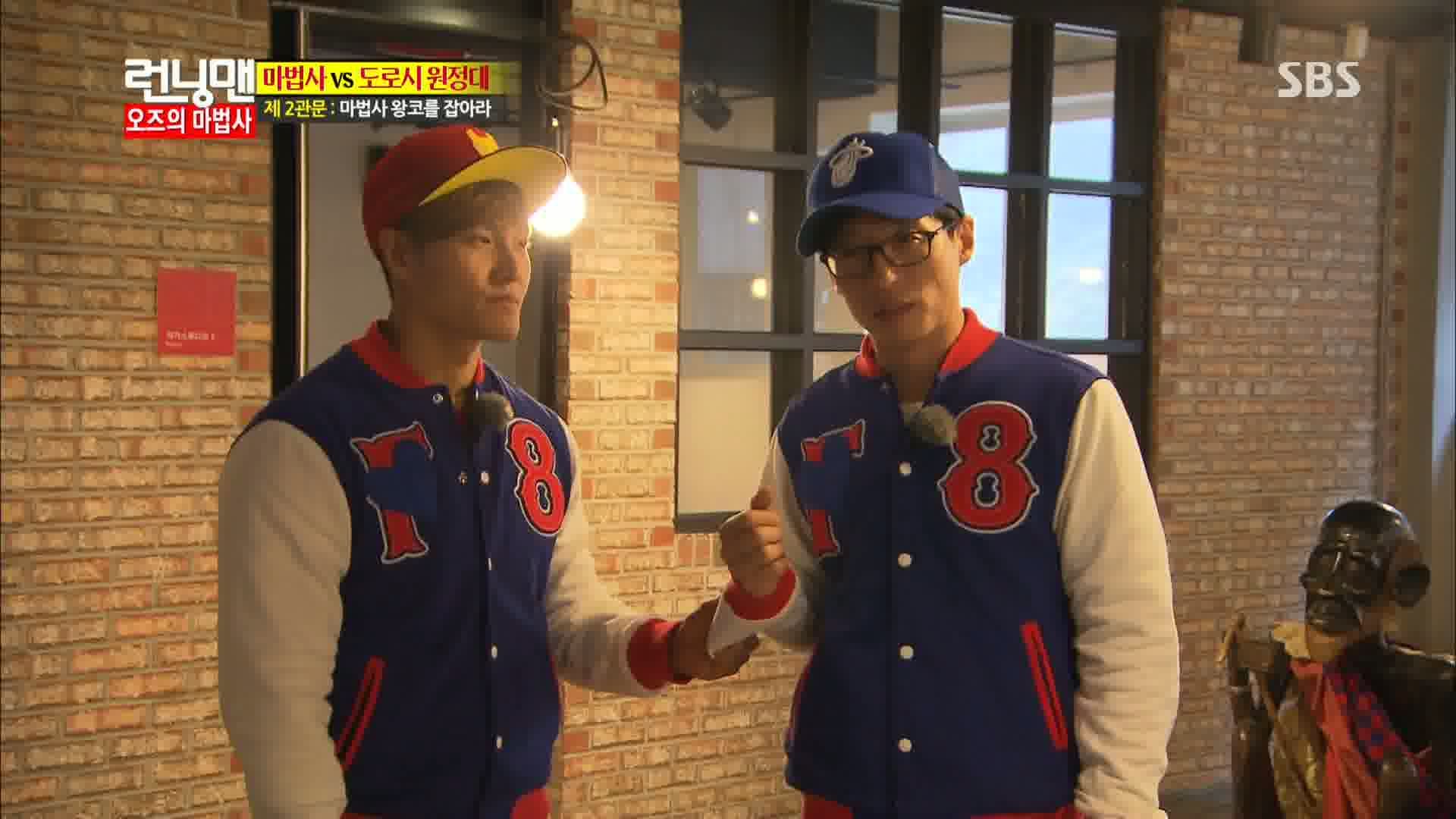 That's exactly what Jong-kook and Jae-suk are busy talking about, realizing that the Wizard didn't say anything about eliminating each other. Er, can we tell the others about that 'cause the way TOP and Jae-moon are circling the Monday Couple is freaking me out.
Little do they know that the Wizard has his eyes trained on them, and he silently sneaks up on Jae-moon and swiftly eliminates him. Jae-moon comments that he thought they were supposed to attack each other. Ack, did anybody listen to the instructions carefully?
Both Jae-suk and Jong-kook jump at the sight of the Wizard. When asked why he's doing this, Suk-jin answers: "To win!" They pin the Wizard down easily enough, but when Jae-suk rips off his nametag… he ends up eliminated himself.
Aha, so it appears that the Wizard casted a clone of himself. Anybody who eliminates the clone is ousted themselves, and those who were previously eliminated are revived. Oww, I'm getting a headache.
They're back to eliminating each other again, and Jae-moon again targets Gary. Turns out the man has a judo background, which means he's pretty strong himself. He gets a firm grip on Gary… and eliminates him.
We skip ahead to the final gate where only two members can proceed from here…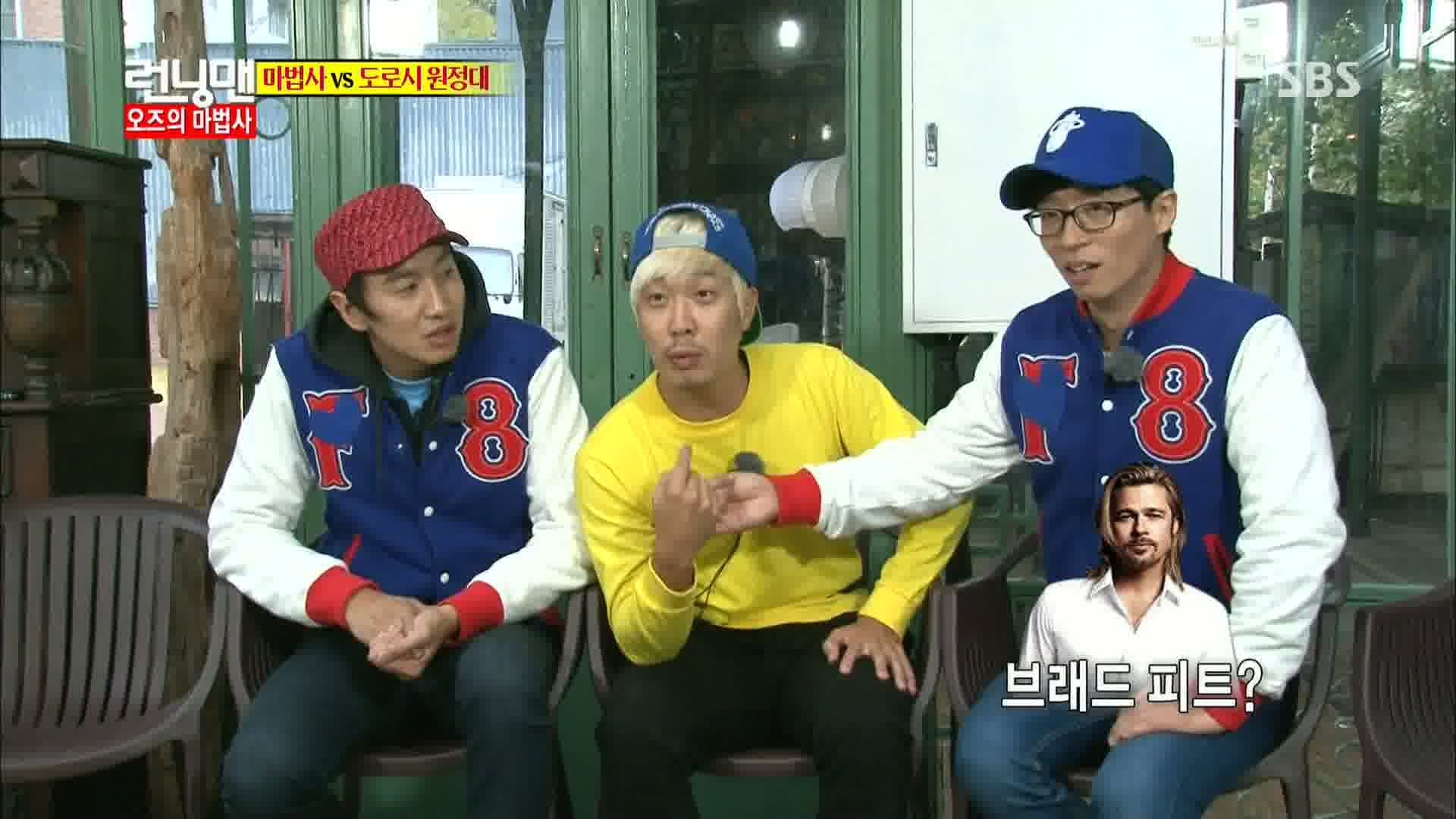 Meanwhile in jail, Jae-suk recounts his thrilling elimination story to two very confused scarecrows. They have no idea what he's talking about, but nearly burst into tears of joy when Jae-suk asks how the rest of the episode will go when three of their most important members are sitting in jail.
Then they compare themselves to top Hollywood actors like Orlando Bloom and Tom Cruise. Hahaha, I love the jailhouse conversations; they're hilarious.
The Monday Couple join them shortly afterwards, and we see Jong-kook fight off both guests on his own. Then TOP rips off Jong-kook's nametag.
That's the Wizard's cue to enter the arena, dragging an oddly enthused Yoo-jung with him. He offers TOP a chance to return home with his dongsaeng if he eliminates Jae-moon. Then Jae-moon asks: "What if I tag him out?" Suk-in replies that'd mean he would win instead.
Jae-moon: "Then why didn't you offer me the same thing?" Suk-jin: "Because [TOP] is the hero." Hahaha.
Then both Jae-moon and TOP grab each other's nametag simultaneously… and TOP comes out victorious.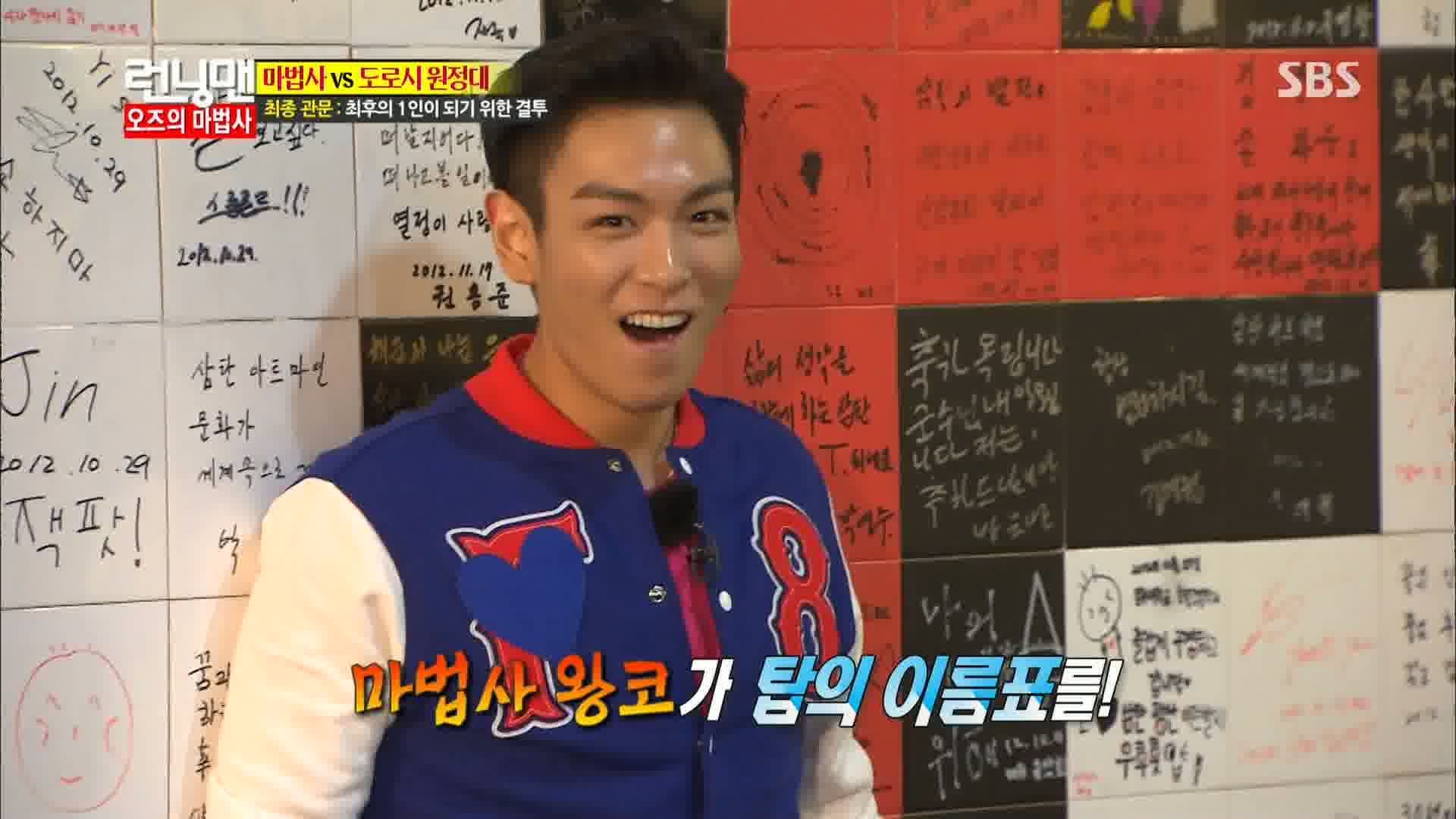 Now it's just a matter of eliminating the Wizard once and for all, and ha, his cape comes loose. Suk-jin ties it back on as he faces TOP and Yoo-jung (with Jae-moon's running commentary in the background).
Both of them grab for each other's backs… and TOP's nametag flutters to the ground. I… I…. can't even. *buries face in hands*
Heads: Wait wait, I'ma stop you right here: What show are you watching? TOP defeats Suk-jin with a mere flick of the wrist and emerges victorious. The crowd goes wild! TOP wins the day! He wins all of Running Man! …Okay, fine. Let's all be sad because someone refuses to rewrite history for the good of all mankind (and VIPs everywhere).
The Wizard's cape comes into question, which provides a perfect opportunity for Yoo-jung to snatch it, and rip off his nametag for the win.
Dorothy Yoo-jung receives gold rings as her prize, and I love how her fellow guests shamelessly ask for one. TOP: "Gimme one…"
Then the show cuts away to what must be next week's episode as the cast show up wearing baseball uniforms. I can't break down this portion of the episode on my own, so welcome back Heads!
Heads: Oh sure, bring me in on the part without TOP. Real smooth, man. I can tell our friendship really means something to you.
gummi: Well, you were busy this week tackling a different sport, just sayin'.
Heads: Mmmhmm. So, the focus turns to next week's guest star Ryu Hyun-jin in what seems to be either a super-extended intro because he's just that important… or they just ran out of footage. Which I can't really understand, because couldn't you just insert more TOP for twenty minutes? Or just show his face while listing facts, like this! Fun Fact #1: Did you know that TOP named Taeyang as the Big Bang member he'd date if Taeyang were a girl?
gummi: I'm going to go with the "ran out of footage" excuse because the staff randomly show up at his doorstep, and we spend a good five minutes looking at all of his baseball memorabilia. I know he's a huge star in Korea, but this feels like a big letdown to insert at the end of an episode.
Heads: Maybe not for Ryu Hyun-jin fans? But it is for VIPs. We basically get a tour of his crib before the staff follows him to the Dodgers stadium to go look at more baseball stuff. It's cute that Hyun-jin might be a Ji-hyo fanboy, at least. (Fun fact #2: TOP doesn't like his mean, wolf-like image! Does that mean he wants to be a cute teddy bear?)
gummi: He's nice enough to prepare some official Dodgers caps for the RM cast and staff, and then he's given a mission of his own… with a superpower? Isn't this the same thing as last time?
Heads:: Shhhhhhhhhhhhh.
gummi: He gets all embarrassed about it, too. Which makes sense if you have to cry out a magical incantation in front of your hyung.
Heads: The important thing is that he's a good sport about it, which means he'll probably be a fun guest next week. Wait… is that EXO I spy in the preview? Oh, god. I have to get out of a populated city before then. I still can't hear out of my right ear thanks to KCON.
gummi: Are all twelve of them coming? Something tells me that they might just drop by or I'll be faced with fourteen guests again. Not only that, it looks like next week will be entitled "Ryu Hyun-jin's Choice," and I can only deal with one future at a time.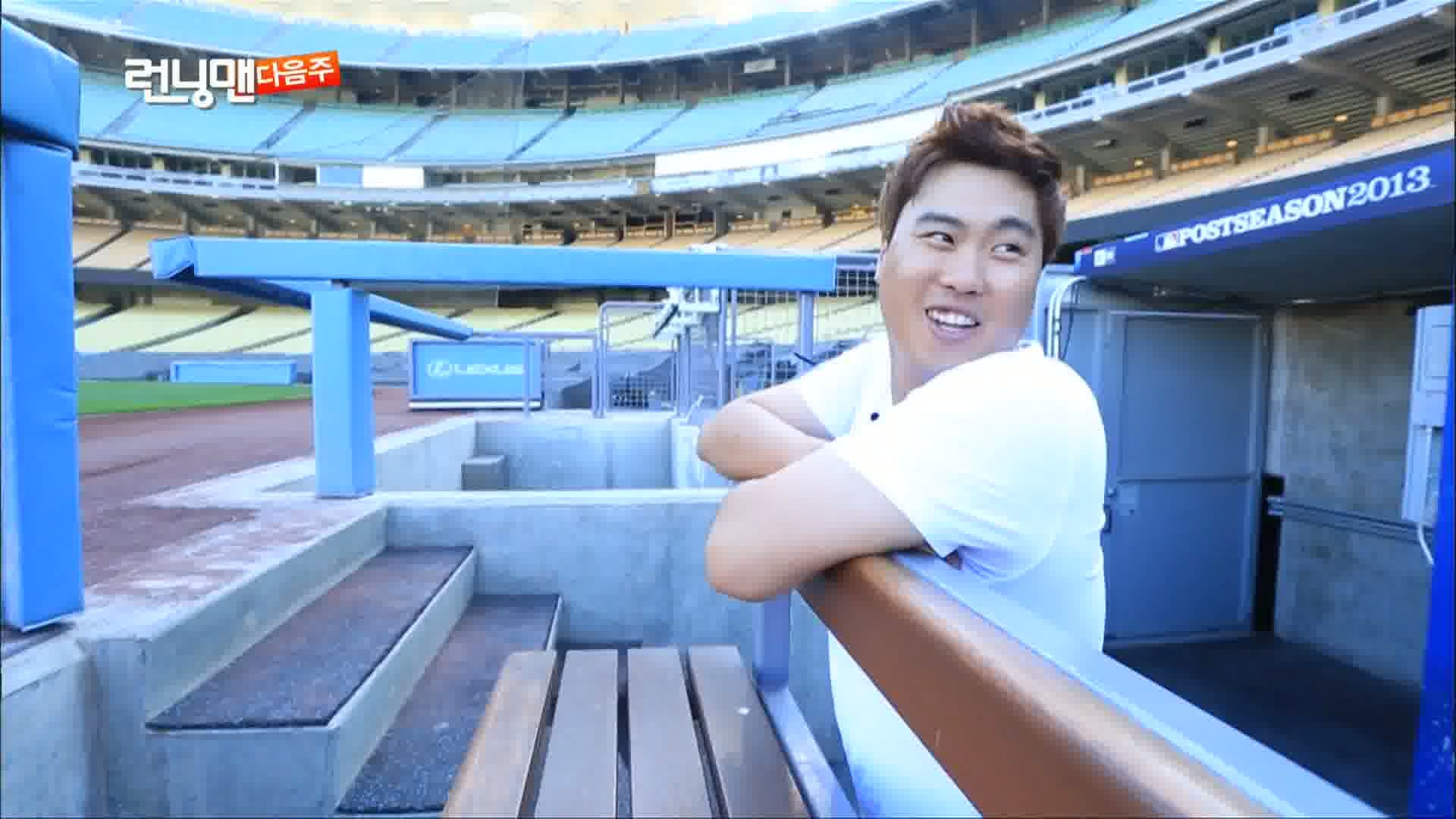 RELATED POSTS
Tags: featured, Haha, Ji Suk-jin, Kang Gary, Kim Jong-kook, Lee Kwang-soo, Running Man, Song Ji-hyo, Yoo Jae-suk