Answer Me 1994: Episode 13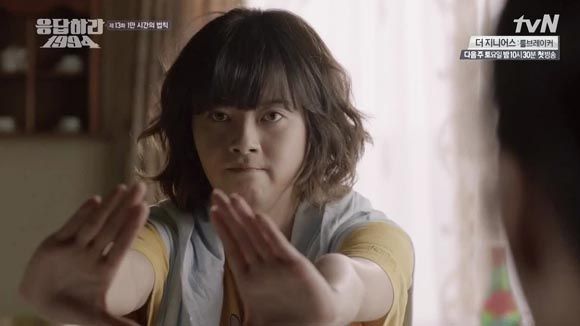 More than the unexpected connections, the tearful goodbyes, and the realization of feelings, I'm most thrilled that today brings us to that thing we've been sorely lacking: action. After all, what good is a decision if it's only in the mind? Until you express that idea and let it out into the world, you can't expect any rewards… so we're left to hope that the setbacks associated with dragging one's feet don't turn out to be irreversible.
SONG OF THE DAY
The Blue – "Feeling Only You" [ Download ]
Audio clip: Adobe Flash Player (version 9 or above) is required to play this audio clip. Download the latest version here. You also need to have JavaScript enabled in your browser.

EPISODE 13: "The 10,000 hour rule"
In 2002, we finally wind down the most boring wedding ceremony in history, as a couple of guests speculate about the Very Special Wedding Singer coming today, whom Samcheonpo introduces… as himself, ha. Everyone grumbles in disappointment.
The song is The Blue's "Feeling Only You," and Samcheonpo declares himself the Sohn Ji-chang role in this duet, with someone else filling in for Kim Min-jong's part. Ooh, I want it to be Binggeure, now a successful singer. Samcheonpo belts out the first verse, and passes the metaphorical baton over to his partner… omg, it's Kim Min-jong? The real one? Oppaaaaaa! (Hey, y'all have Garbage oppa, I have Min-jong oppa.)
The mood swings back to excitement, and a few guests wonder if Kim Min-jong is related to someone in the wedding party. Ha, with all the Kims in this bunch, I'm sure that's a distinct possibility, though Dad wears a particularly knowing smile on his face.
In 1995, it's Kim Min-jong's "Under Heaven" playing in the noraebang, sung by Samcheonpo, Haitai, and two buddies (one is department-mate Ki-tae, and the other's a new guy). They sing their hearts out as Yoon-jin and her friend grimace, SO bored of their Kim Min-jong fixation. Yoon-jin takes the remote and cuts them off, ha, then selects the last number, which makes the boys grumble that she killed the mood. Hilariously, Haitai complains through the intro and then starts singing right on cue.
The song is "Inside the Army Train," with lyrics like "I didn't want to show you my awkwardly buzzed hair, I didn't want to leave you in that crowd of waving people, will you forget me in the next three years?" Aww, this rubs salt in the wound for Ki-tae, who is the special guest of today's party, having just been drafted.
At home, Na-jung freaks out when she can't find the money she was in charge of keeping for her club's upcoming party. It's doubly bad because she's in the running for club president, and this is not the way to get elected. Yoon-jin suggests that she ask Garbage—he'd probably let her get away with not repaying him, which is an idea Na-jung likes.
Na-jung joins Garbage at the kitchen table, and he starts nags her to sit up straight and take care of her back. She huffs that she's been doing her exercises, but when he tells her to do a simple squat, she falls over. She argues that nobody can hold this position, only to be proven wrong by Yoon-jin.
Oppa heads out of the house before recalling that he actually came over to talk to Na-jung, and turns back. Uh, should I be worried that you forgot you were here to talk to her? Na-jung finds him to ask for the loan, and Garbage readily agrees to give it to her… if she can hold a squat for five seconds. Haha. That is a smart way to get her to do her exercises.
Then he asks her to meet him for dinner tomorrow because he has something to tell her, and her face takes on this fearful look that twists my heart. Gahhh oppa, would it kill you to alleviate her fear for even a moment? She asks him to tell her now, but he says he'll do it tomorrow.
Na-jung gives Garbage a few things to pass along to others: a movie coupon for Middle Brother and a mix tape for Binggeure, who's recovering from appendix surgery. Oh my, and is Garbage jealous at her attention toward the others? Then she mentions plans to help Chilbongie study, and Oppa advises her to half-ass the help, because she should focus on herself instead of everybody else. Oh Oppa. I understand the jealousy, but that's kinda small of him.
Oppa's mood darkens as he starts to leave, but Na-jung stops him and opens her arms wide, wanting a hug. He leaves her hanging for a rather nerve-racking moment, and I'm scared he'll actually blow her off. He doesn't, but the hug he gives her is weak and she misinterprets his reaction as evidence that he didn't want to do it. He says it's not that, but her feelings are hurt anyway. Oh my god just tell her.
Chilbongie leaves practice early for once to make his study date, to the irritation of a couple of teammates who harbor a long-festering resentment of him for being the star. The studying doesn't go so well, and mention of essay questions has Chilbongie one step away from beating his head against the table. Na-jung asks why he picked this humanities course instead of an easier one, and he says it's because she was taking it.
At least the essay prompt is the same from year to year: Who is your mentor? She points out that a lot of athletes have posters of sports heros they look up to and asks what he thinks about when he plays baseball. He answers simply that he doesn't think of anything, and she tsk-tsks. It's not a question he's thought of before, and she tells him to pick somebody or make one up for the exam.
Garbage drops by to see Binggeure, who's passing the time listening to music (Kim Min-jong, of course). Garbage hovers right over him, patting his head and tickling his chin like usual, and when he reaches over to check on the stitches in his side, Binggeure gets super-tense and nervous. After Garbage leaves, Binggeure buries his head under his blanket, all embarrassment/nerves/bashfulness. The show has been pretty coy about the question of whether Binggeure has a romantic crush on Garbage, but I'd say this is the closest hint we've had yet.
Na-jung is determined to get her squat balance position, but continues to struggle with it. More worrisome than getting her loan, however, is the question of Oppa calling her out for dinner alone. Yoon-jin's suspicions align with Na-jung's fears—it's probably bad news. Maybe he's going to tell her he has a girlfriend, or he'll ask her to stop clinging so much. They decide that a last-minute cancellation would be best, and run through a mock phone call to get her story down.
On the other hand, Oppa's gone the whole other way in preparing for tomorrow, marking it on his calendar as D-day and buying her a heart-shaped necklace. He smiles goofily to himself, but while his reaction is so cute, now I'm scared his slow-as-molasses approach is going to backfire on him.
Na-jung forgoes the drama-watching session tonight, so it's just Chilbongie, Yoon-jin, Mom, and Dad who settle down in front of the TV. The parents launch into a whole meta conversation about how Na-jung's newest crush Bae Yong-joon and that rookie Jeon Do-yeon are way too ordinary-looking to last long in showbiz, while the kids argue that those are the two who'll make it big.
Dad asks Mom for a snack, which she doesn't want to cook, so Chilbongie offers to buy some ddukbokki at the snack shop nearby. He lies about being a fan of the dish but we know it's really Na-jung who inhales the stuff, and so he jumps up and dashes off eagerly.
The day before Ki-tae's enlistment, the same foursome head down to the training center town to spend the night in a last hurrah. Haitai figures he won't be called for a while since he hasn't gotten a draft notice yet, but then we cut to the office in his hometown of Suncheon that handles military registrations. Uh-oh, not him too!
The boys are well into their cups in their motel room, surrounded by soju bottles and slurring about loyalty and friendship. Haitai assures Ki-tae that they'll see him off till the very last moment, waving after his retreating figure, which makes me wonder how this is going to go horribly awry. Because it totally will, right?
Sure enough, in the morning it's Ki-tae standing alone at the entrance to the training center with his newly shorn head. Hungover and lonely, he waits for a while as the other recruits pass him with their friends and family members in tow. Poor, poor Ki-tae, whose buddies are completely passed out in their room. *tears*
At practice, the two bitter teammates who bitched about Chilbongie leaving on his study date are tasked with moving the practice net, which they then drop on his foot. Dafuq? Chilbongie falls in pain, and while they didn't injure him on purpose, holy crap is that a dick move—they don't even apologize and run off instead.
Samcheonpo takes care of scholarship paperwork in the department office, where they learn that Yoon-jin's scholarship fell through this semester. She and another student had the same overall grades, but the other one took more classes in their major and won out—a fact that has Yoon-jin seething on their coffee (turned beer) date afterward.
Yoon-jin fumes that the simpering teaching assistant pulled strings to favor her hoobae, but Samcheonpo misguidedly defends the other girl, approaching the discussion with cold logic. Eeeeek. It's a wonder you aren't being choked half to death— oh, and there it is, Yoon-jin's patented one-handed chokehold.
Chilbongie's catcher buddy corners the two net-droppers, and the instigator is infuriatingly dismissive about the injury. When asked if he's jealous, though, he admits it defiantly—Chilbongie has everything going for him, plus he's from a rich family whose father can afford to treat the team and buy the coach nice gifts, when his own father barely scrapes by selling knock-off clothing. His voice drips with sarcasm as he says that he got on the team because he was Chilbongie's schoolmate, so people probably think he should shut up and be grateful.
I love how the catcher isn't taking their bullshit, and reminds the two that since they went to the same high school as Chilbongie, they should know that he wasn't always the star. In fact they were much better than him in high school—but instead of stewing in jealousy, Chilbongie practiced like a maniac.
Even the catcher thought Chilbongie didn't have the talent to make it, until one day all his hard work started paying off. So save the inferiority complex and treat Chilbongie better, he warns, adding that until these guys just said so, he hadn't even known they got on the team because of Chilbongie. The instigator looks stunned to hear that Chilbongie never once spread that story.
Chilbongie's voiceover: "Effort isn't seen—what people see is only the result. That's why other people's success might get called genius or luck."
Chilbongie doesn't break anything, thank goodness, and offers to drop by Binggeure's room while he's in the hospital. Meanwhile, Garbage gets ready for his date with adorable anticipation, humming "I'm Going To Love You"—which is when he gets that last-minute cancellation call from Na-jung.
He deflates as she rambles a long fake excuse about needing to tend to Yoon-jin who hurt her leg. Still, she can't quite say no when Oppa tells her to come late anyway.
Mom, Dad, and baby Joonie indulge in a fancy dinner out at a Gangnam restaurant, and they get into a loud discussion of The Blue, that cocky new duo that doesn't seem all that great. They agree that Sohn Ji-chang is way more popular than that weird Kim Min-jong guy who always sings pinching his nose and don't see his appeal… just as Mom realizes in horror that Kim Min-jong is sitting right over there. Ack!
Mom and Dad cringe in mortification and wonder what to do. Dad tries to convince himself that he couldn't have heard them, but after that table leaves, he sits in Kim Min-jong's chair to check. Mom repeats her comments, confirming that sound carries louder than they feared, eek. Making things even more uncomfortable, Kim Min-jong then returns to the table and approaches Dad.
Dad bolts up and starts apologizing… only to find that Kim Min-jong is coming to him as a fan. Omg I love it. Dad even signs an autograph for him, which Min-jong oppa receives gratefully. Then he's approached by the restaurant manager, because the credit card he paid with was maxed out. Lol. The second card is declined for being reported lost, and the third one has been frozen… Aie, I'm so mortified for him. This is so hilarious and discomfiting at the same time.
Cut to: Dad paying for both tables, and an abashed Min-jong promising to pay him back right away. Mom no longer has the least bit of starstruck response to him, but Dad grins at the idea of a celebrity phone number coming in handy one day.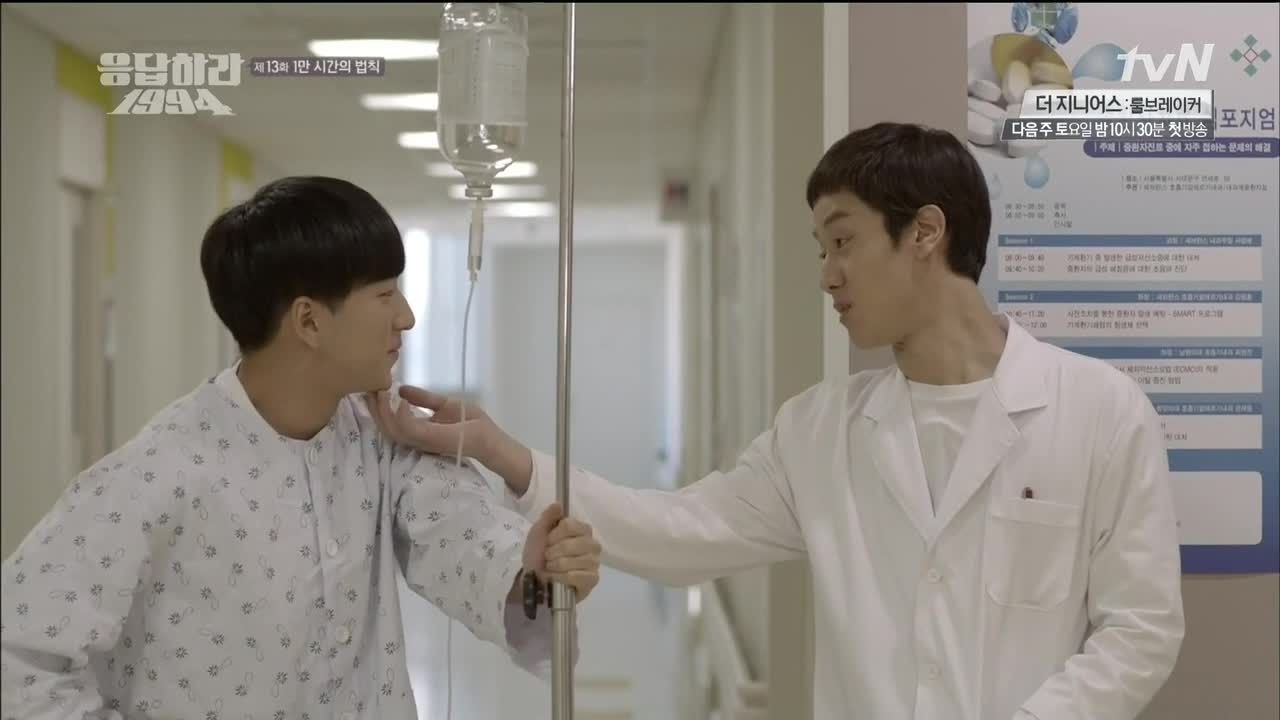 Garbage joins Binggeure on a walk through the hospital hallway, and that's when he hears about Chilbongie injuring his leg. Oh no, you're going to think Na-jung lied, aren't you? Okay, yes she did lie, but not to be with Chilbongie. Garbage excuses himself looking upset, and Binggeure watches him go with a worried expression.
At home, Na-jung waits anxiously until Yoon-jin arrives, needing more advice. They arrive at a new plan: Na-jung is to go to the hospital, do her five-second squat, and get her money. Then she is to keep Garbage from saying anything until Yoon-jin can page her away. Avoidance is totally a reasonable problem-solving tactic, right?
Dejected now, Garbage chain-smokes for a while outside the hospital, then drops in on Binggeure again. To his surprise, in hobbles Chilbongie on crutches, and he realizes that he'd jumped to the wrong conclusion.
So when he checks his messages and hears that Na-jung's outside ready to collect her cash, he breaks into a wide smile and bolts before the message is even done.
He runs outside and sees Na-jung across the street, and she sinks into her squat. She's scared to face his impending rejection, so even as he urges her to hop over to his side she stays at the halfway point, keeping her distance.
But then she rejects Yoon-jin's advice entirely and just opens up her arms wide, a gesture for him to come to her. Garbage takes that cue and walks straight toward her… and plants a big kiss on her lips. Omo! Thank you, and finally!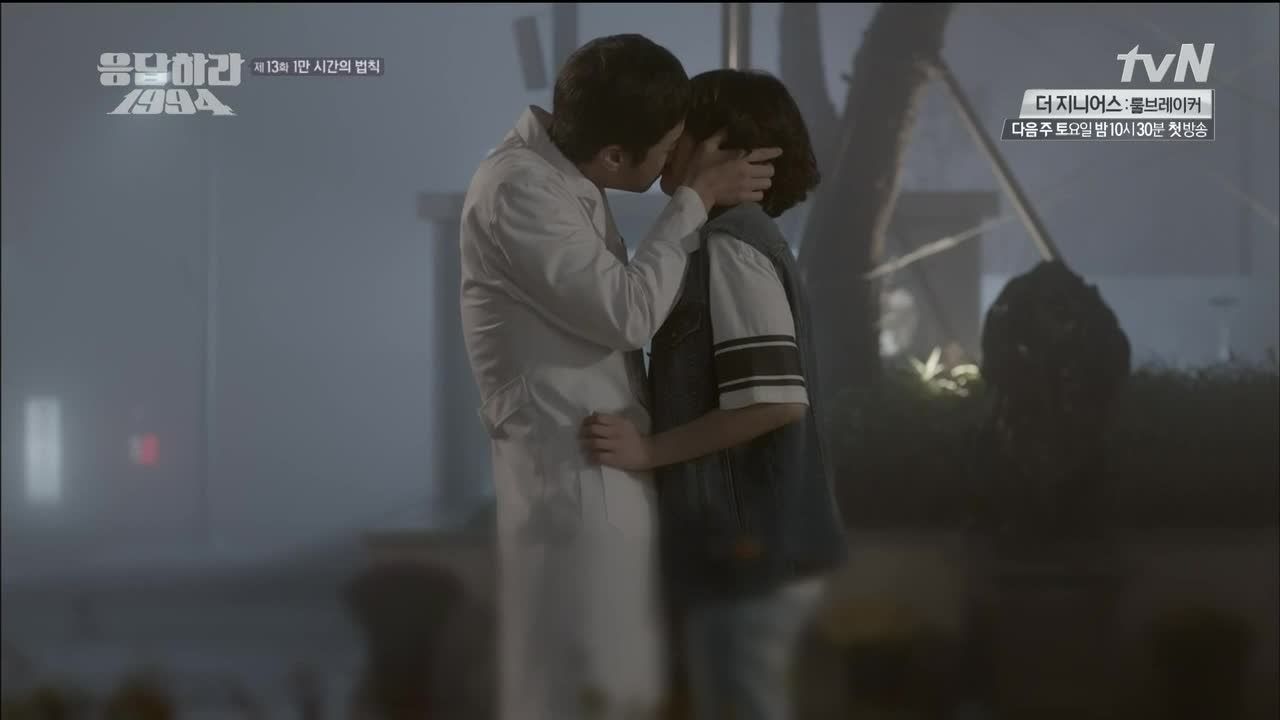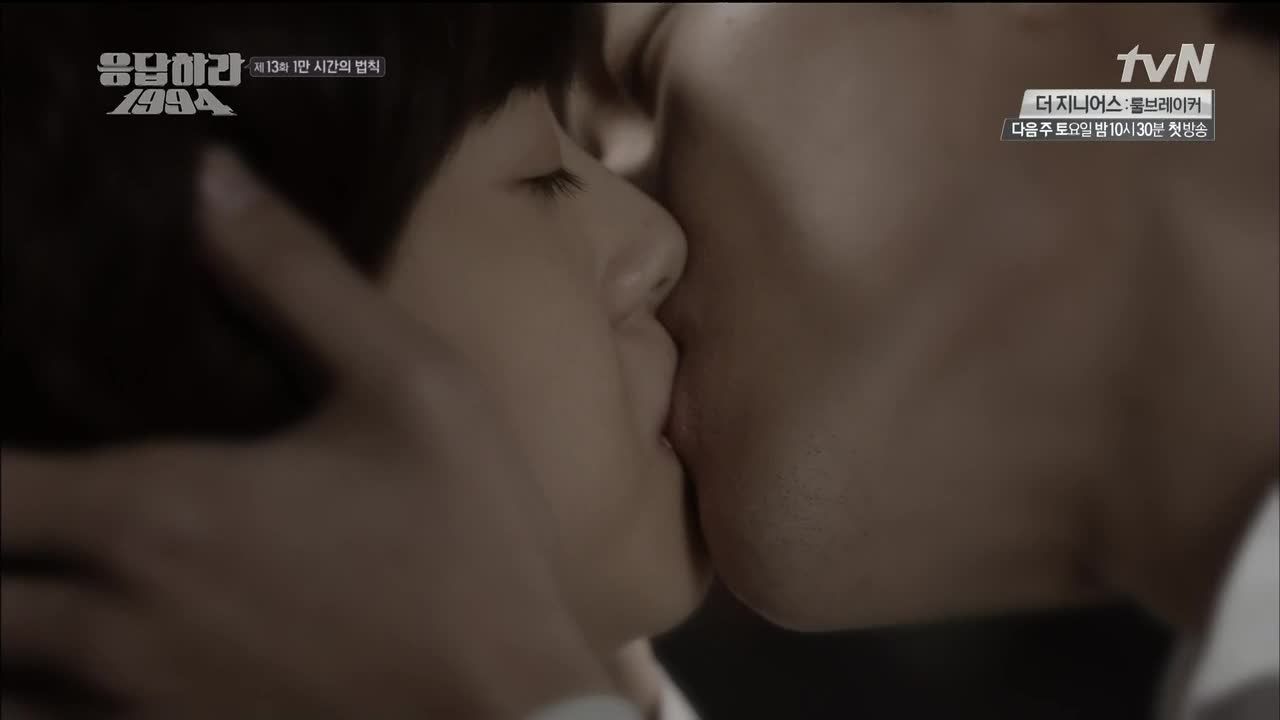 Chilbongie is puzzled to find a package waiting for him at the hospital, delivered by one of his teammates, and opens the box to find a huge stash of socks. One look at the logos—Abibas, IVike—and he realizes who sent the knock-offs. His ensuing phone conversation with his teammate is much friendlier now, all that animosity now water under the bridge. Chilbongie even asks his buddy about his mentor, and gets back the response Yogi Berra.
That night, Mom gets a call with jaw-dropping news: Haitai has been called to army duty, and has to report tomorrow. Apparently some fool forgot to send over the draft notice sooner, but there's no recourse and Haitai has to show up as ordered. Noooo. Ki-tae may have missed the final goodbye but at least he got to go through the whole process of preparing himself emotionally, whereas Haitai misses out on all that. Oof, my heart.
Na-jung stares at her new heart necklace and jumps to take a phone call from Oppa, while Dad watches Chilbongie on television giving an interview. Ha, he's taken his teammate's response and cites Yogi Berra as someone he looks up to, one quote in particular sticking with him: "It ain't over 'til it's over."
It pinches my heart to see how blissful Na-jung is in the foreground, trying to hide her giddiness over Oppa's call while Chilbongie is off in the background, determined to hang in there.
Back to the 2002 wedding, with Kim Min-jong thrilling the crowd. Chilbongie's narration resumes:
Chilbongie: "It is said that in order to achieve success in one field, ten thousand hours are required. The ten-thousand-hour rule. For Mozart and the Beatles and Steve Jobs and Kim Yuna, it wasn't an innate genius or good luck that created their success, but the effort and pain of more than ten thousand hours of work. It could be that work, relationships, and love are like that. In order to achieve that accomplishment, you can't wait for an innate something to show up or a stroke of luck—you have to work hard and try and suffer till the very end. It ain't over 'til it's over."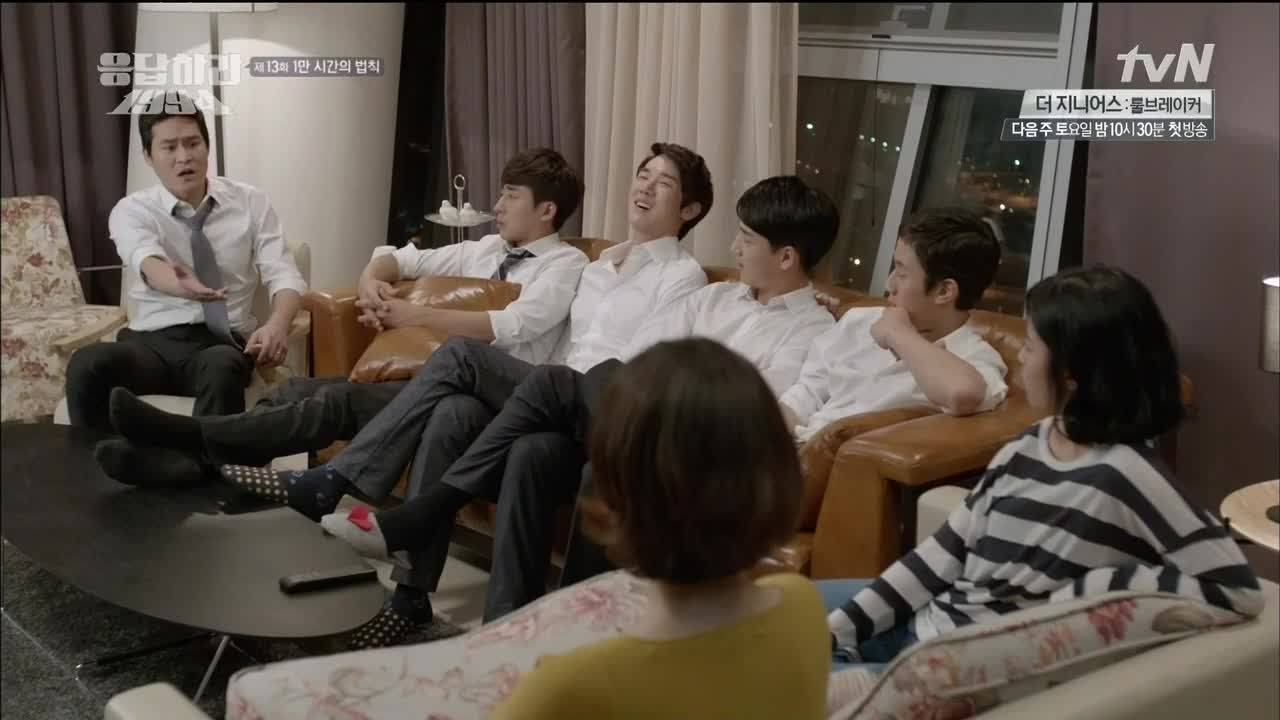 It's in 2013 that we learn that Dad sent Kim Min-jong presents of beef for eight years, all for the purpose of getting him to sing at his daughter's wedding one day. Which has to be the sweetest thing ever, in a ridiculously roundabout way.
Yoon-jin gets an annoying text from her co-worker, who's working late at the office and is now pestering her instead of doing a simple internet search. Haitai starts to reason with her that it's understandable to ask, but Samcheonpo bursts out, "THAT BITCH!" Hahaha. That kills me. He's learned!
He goes waaaaay over the top defending Yoon-jin and insists on giving that woman a piece of his mind—and the moment she picks up his call, he gets all meek and polite. LOL.

COMMENTS
Is it over for the Chilbongie ship? All you Chilbongie fans, I feel for your pain, and for the pain assuredly in your future because I'm sure the drama will be drawing out whatever ounce of hope you have left until the bitter end, rather than give you a clear answer now. It wouldn't be the first time this show did that.
I had the feeling that ONCE the drama picked a direction and went with it, I would be fully onboard despite whatever feelings of conflict and lingering hope I felt for the other guy. That hope would have swung either way, because if it was gonna be Oppa, I would feel pangs for Chilbongie, and if it turned out to be Chilbongie, I'd hurt for Oppa. By and large my head is ready to go where the drama takes us with this romance, but surprisingly I'm not 100 percent with it anymore—I accept what the show is doing, but my heart has begun to disengage. I'm getting the nagging feeling that I overestimated the show, and now I'm feeling the resultant disappointment sinking in.
Overestimating Answer Me is not a thing I thought would happen, because despite some of its biggest flaws (the looooong scenes that don't need to be, the indulgent tangents) I've always had faith in the heart and direction of the show, and trusted that the writer—who is so often intelligent and funny, and sometimes brilliant—would deliver what the show needed. But there's a 2% lack here and it makes me sad, because I actually love the story of 1994 even more than 1997, but the execution is sort of getting in its way.
I absolutely love Oppa as a character and as a person, and so badly want to be emotionally behind this romance, but as we've mentioned previously the drama has committed some missteps. This isn't an issue of one guy being better than the other, or one ship being more deserving, but purely a technical narrative miscalculation. I don't hold Oppa's indecision against him (too much) because I agree that his character logic makes sense, for instance. But the drama keeps doing this pendulum swing of making Chilbongie seem like the main loveline—by withholding Oppa from us—and now it makes Oppa the main loveline by shoving Chilbongie back.
At this point I feel jerked around for no reason (other than that we just CANNOT know who the husband is, because that is this drama's game), and that makes either loveline slightly dissatisfying. I would rather go down with one flaming ship while the other rode off gloriously into the sunset, than for both possibilities to be marred by the fact that these producers can't let go of the idea that they have to trick us about the endgame. I'm pretty sure from the meeeellions of dramas out there (okay, thousands) that knowing the main pairing from the first episode does not inherently inhibit our enjoyment of the story.
I really worried that Oppa was going to miss his chance this episode, because the issue of timing has been raised before and because he just kept biding his time. For what? It drove me nuts, these past episodes. I would be completely sympathetic about hesitating to make an initial confession of love, because hell that stuff is terrifying, but he's accepting one. Why the draggy feet? Why schedule a D-day in the future after a rival showed up and declared his intentions to fight for her heart? You admitted that Chilbongie jolted you into realization, but then you just kept waiting some more! I feel like maybe this writer fixed certain key points in the future (like this kiss) and then stretched the story to pad out the stuff in between, instead of letting the current story flow into the future. Which is why the overall pacing feels off, as much as I love the character moments in between.
As a result, that made me resent Oppa for assuming he could wait until it was convenient for him, assuming that Na-jung would wait with unchanging feelings. Granted, she didn't move on, but I consider that his good fortune, not a sure thing. I half-expected him to lose his shot to complacency, and that would have been tragic. And so every time he was feeling dejected about Na-jung and Chilbongie, I couldn't feel sorry for him because it was all completely avoidable angst.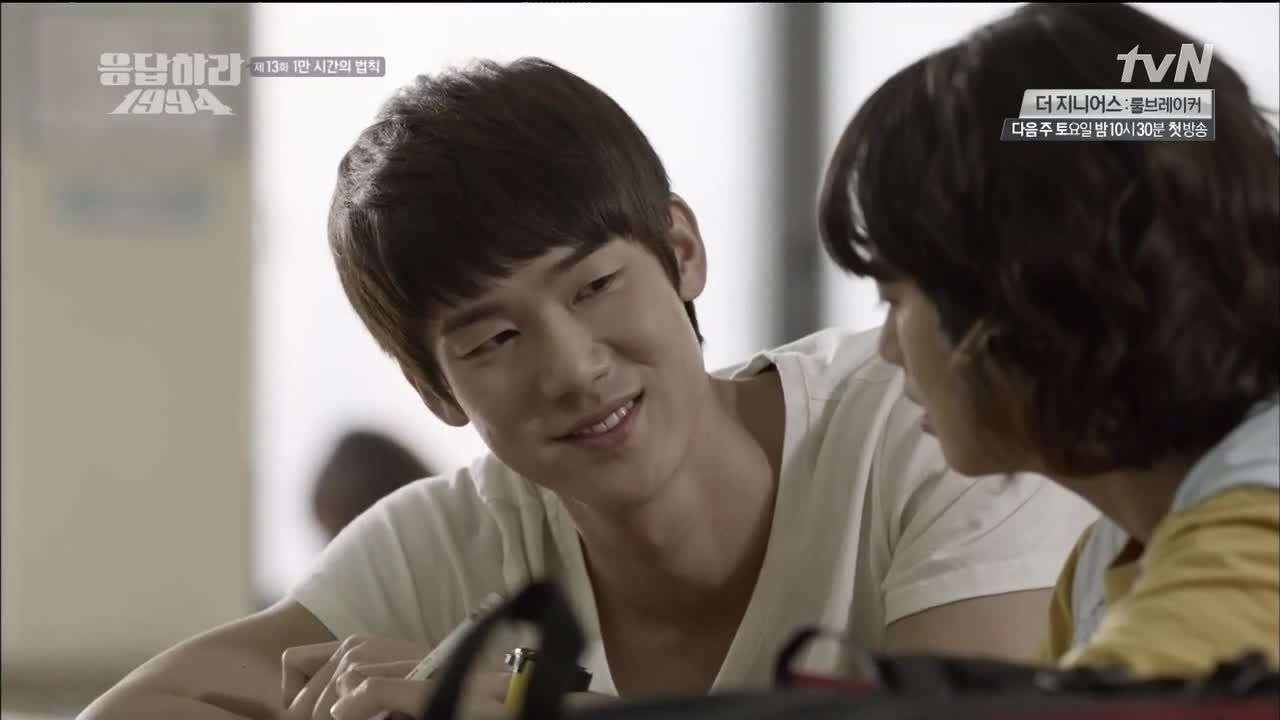 I would say that Chilbongie is still in the running technically, but I have no great expectation that he will suddenly surge to the fore as an equal contender. If Na-jung had shown more conflict over him, or felt stirrings of physical awareness the way she did with Oppa, I would be less certain. Think about it this way: Making Oppa the endgame hurts Chilbongie, for sure. But making Chilbongie the endgame feels out of step with the amount of dramatic structure and emotional buildup devoted to the Na-jung/Garbage relationship. If I am wrong, I will willingly eat my words. But if they do pull a Chilbongie switch even now, I think they've timed it all wrong—Na-jung would be spending 13 to 14 episodes completely in love with the other guy, with only 6 or 7 for him. (Caveat: In a lesser drama, this is feasible if flawed. I hold Answer Me to a higher standard.)
There have been countless dramas predicated on the idea of unrequited love being a genuine kind of love, so I can't diminish Chilbongie's feelings for not being returned. Thus his story may be sad, but it's not pathetic. That said, I shook my head a little at his narration about ten thousand hours having relevance in love, even though it makes perfect sense for a character like him—hard work is his whole mantra, so why not try to apply that to other things? I feel terrible that he's pinning his hopes on hard work and patience, even though those are traits I do love about him; it just means he's in for some pain. It's okay, Chilbongie, I'll hold you.
With this drama yanking my emotions this way and that, I can at least find comfort in the fact that I am no longer either Team Garbage or Team Chilbongie—the ship has ceased to be the point for me. I'm Team Na-jung, and I just want whatever thing brings her to her 2013 state of happiness and comfort. After all, even when she knows it's a better tactic to step back and be non-clingy, ultimately she flings her arms wide anyway, heart bared, whether to be bruised or to be accepted. How could I not love her for that?
RELATED POSTS
Tags: Answer Me 1994, featured, Go Ara, Jung Woo, Yoo Yeon-seok