Answer Me 1994: Episode 16
Crossover episode! Our timeline reaches 1997, which means that the Answer Me 1997 and Answer Me 1994 worlds collide for some meta fun. It's also Binggeure's episode to shine, and we get a really welcome glimpse into what life was like for him while we were busy paying attention to everyone else.

SONG OF THE DAY
DIA's cover of Kim Hye-rim's – "날 위한 이별 (Farewell For My Sake)" for the Answer Me 1994 OST [ Download ]
Audio clip: Adobe Flash Player (version 9 or above) is required to play this audio clip. Download the latest version here. You also need to have JavaScript enabled in your browser.

EPISODE 16: "Love, Fear: Answer Me 1997"
Dinner arrives at Housewarming Party 2013, and everyone gags at Samcheonpo and Yoon-jin's show of aegyo spoon-feeding. Haitai wonders how they can still be so cutesy after four kids, while they just challenge him to try it with his wife. He and Na-jung turn to look at each other and shake their heads.
The doorbell rings with a surprise visit from Mom and Dad, who're here because they suddenly remembered that bottle of liquor they made twenty years ago and wanted to drink it. Pfffffft. I knew that would come to bite them in the ass. The kids all freeze in terror.
Dad keeps nagging Na-jung to bring it over already, while they try to toss out distraction after distraction. Thankfully Na-jung's upstairs neighbor is making a huge racket, and she makes a big show of being disgruntled enough to go upstairs and give them a piece of her mind.
She drags Dad with her, insisting he needs to protect her in case her neighbors are dangerous people, ha, and motions frantically at the group behind Dad's back to pour soju back into that liquor jar while she's gone. Chilbongie nods knowingly and Oppa winks.
While that's going on, Binggeure gets a call and gets up to go meet someone. He says he'll be right back and Oppa stops him, wanting to know who called. Binggeure just says it's someone Garbage knows too, and that alone must be enough of a clue to him, because it makes him smile.
Binggeure waits outside in the street, and smiles to see a car pull up. Ermagerd, is that a red car? Is it Joon-hee?? Er, wait, is Binggeure supposed to have a red car if he's with Joon-hee? You're mixing my universes and it's starting to hurt my head, Show.
We fade back to Feburary 1996, were Binggeure is smiling the same way as he waits outside the hospital and notices a couple walking by. Garbage runs out to meet him and takes him inside for a cup of coffee, and Binggeure tells him shyly that he's re-enrolled.
Garbage knows already since he's connected at school, and says he's a little disappointed it took Binggeure a week to tell him. Binggeure swears he's the first to know, and when Garbage asks why he chose to go back, he says he realized that he gave up before ever really trying.
Garbage gives him his precious study notes, making him promise not to let anyone else peek at them, and then Binggeure's narration takes us back even further to February 1994's med student orientation.
Binggeure: It's possible that I just needed comfort. Twenty years old in Seoul. Twenty was the age of adulthood, and Seoul was a strange city. At an age no longer innocent and a city uninviting, it was frightening. With the common thread of fear, the war began. And on that unfamiliar battleground, I stood alone.
Orientation is basically Hell Camp, where the other freshmen have high school sunbaes to watch their backs, but Binggeure has no one to take his side.
He has to down enormous drink after enormous drink while his classmates get coddled, and THEN in the morning they're woken up at the crack of dawn to climb a mountain while hungover. Aaaaack. The sympathy pangs!
Poor Binggeure is dying as he huffs and puffs up the mountain, getting scolded by every upperclassman who passes him by. He trails further and further behind, ready to give up at any moment, when suddenly a random man takes his backpack right off his back.
It's Garbage! He's dressed in plain clothes so Binggeure just calls him ajusshi, and Garbage simply tells Binggeure to follow his footsteps up the rest of the way, and he'll carry his backpack. Awww. No wonder he looks at Oppa with those hero-worship eyes.
So Binggeure makes it up to the top and the freshmen are gathered for their celebratory meal. Their undergrad sunbaes introduce their sunbaes, who are here as honorary guests…
And as they file in, Binggeure's once dejected face lights up in shock. There's Garbage, walking on in with the rest of them, only now belatedly grabbing his med student sweatshirt. Dude, he's basically Superman right now.
Of course he then totally ruins his own hero moment by putting on his sweatshirt backwards, HAHAHAHAHA. *rewind*
The sunbaes get told to sit amongst the newbs that they like, and Garbage walks right over to Binggeure with an accusatory finger, "Ajusshi?" Binggeure gulps in fear, but Garbage parks it next to him with a goofy grin.
He makes Binggeure smile and then warns him not to smile, and then raises a scary fist… only to pat him on the head like a puppy. Aw.
And then back in 1996, they get ready to go home and Garbage frets over Binggeure not being dressed warmly enough for the weather, and tosses him a scarf. It kind of kills me the way Garbage does things so nonchalantly that mean the world to Binggeure.
Yoon-jin and Samcheonpo go visit Haitai in the army, and when his superior officers come by, they hilariously assume that Yoon-jin is his girlfriend and Samcheonpo is his teacher, even though they're sitting there in matching couple shirts. Haitai just lets them believe it and Samcheonpo scowls.
At home, Oppa and Na-jung are huddled on her bed. It looks like they're maybe doing something naughty, only to turn towards the camera in the middle of a thumb war, pfft. Oppa won't let her win so naturally she gets violent, and Dad comes in scream-laughing that they call this dating.
But then when he reenters the room thirty seconds later, Oppa has his arms around Na-jung, cooing sweetly like a boyfriend. Suddenly Dad's ire goes from joking to real, and Na-jung panics at the paring knife in Dad's hand. Ha. Damned if you fight, damned if you don't.
Dad has the sense to stick the knife in her door and reach for a wooden giraffe to use as a paddle instead, and now it's Na-jung's turn to wrap her arms around Oppa to protect him. Mom just laughs from the living room.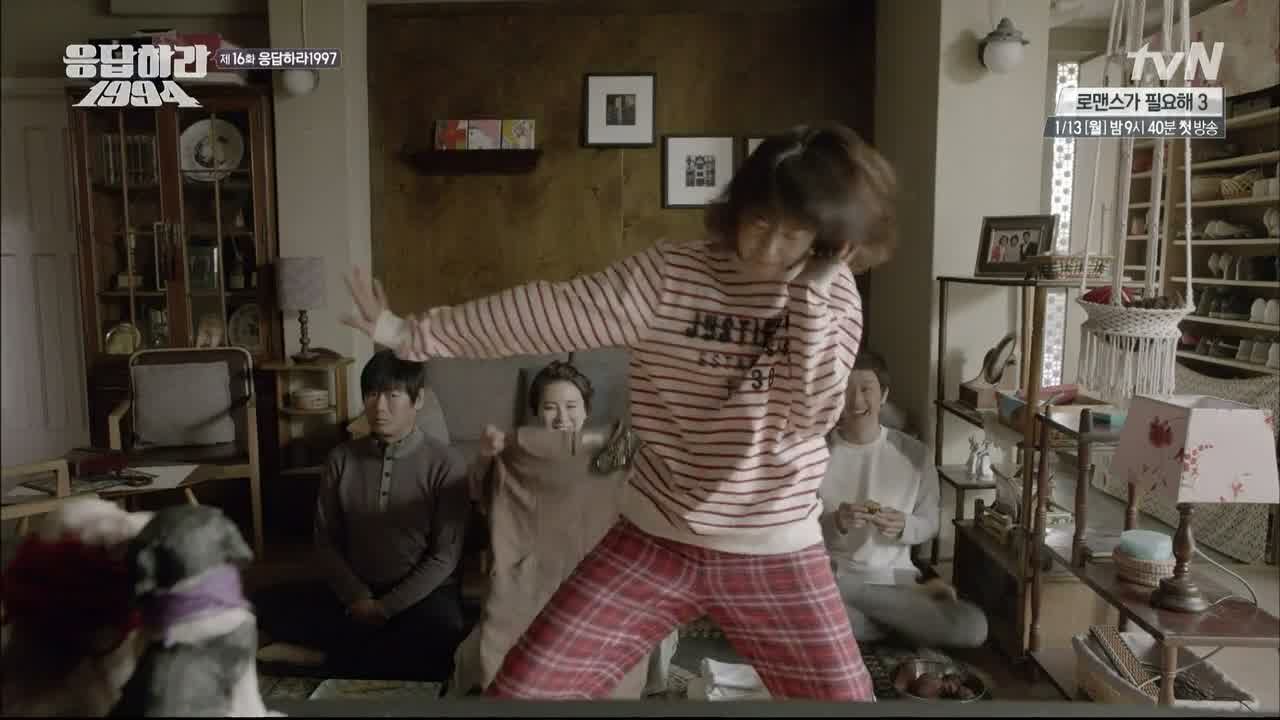 We watch the rest of 1996 pass via hit song parade, as Mom, Dad, Na-jung, and Oppa sit in front of the TV and sing and dance to DJ DOC's "Winter Story, Panic's "Snail," Seo Ji-won's "Gather My Tears," and Clon's "Koong Ta Ri Sha Bara." Na-jung's dances are making my day.
The parade ends in January 1997, when H.O.T.'s "Candy" is the song of the day. The Inkigayo footage is edited in with Answer Me 1997 footage of Shi-won (Jung Eun-ji) screaming for her oppas, which our 1994 family watches as if it's just on TV.
Dad gripes, "There's the birth of another crazy fangirl. You know it's almost always the parents' fault. If it were me I'd cut off all her hair and break her legs!" HEE. Aw man, I really miss that daddy-daughter relationship. It was the best ever.
We fast-forward all the way to March 1997, and Oppa has moved back into the house while doing his residency. Dad gets super excited about having invested his entire life savings into one-way cell phones, which sounds like a terrible idea.
Mom and Dad hear that Yoon-jin and Samcheonpo are off visiting Haitai in the army again, and Dad muses that the two roomies fought like cats and dogs while living together, but now Samcheonpo visits him constantly. "Is attachment from fighting the trend in this house?"
This time on their way back, Samcheonpo casually suggests that they spend the night out. Yoon-jin sees right through his innocent cover story and tells him to forget it.
Na-jung comes in to wake Oppa for breakfast, but he isn't there. He's at the hospital even on his day off, and sits quietly in his professor's office as he gets asked one last time, "Are you going?" Oh no. Where?
The professor tells him that this dispatch residency is an opportunity that other students are lining up and pleading for, while Garbage alone is hesitating. He says it's only for a year (in Busan) and it's a chance to participate in surgery in a way that staying in a large Seoul hospital won't give him for years.
Garbage knows he can't pass it up and agrees to go, hanging his head at the thought of having to tell Na-jung. He goes straight to the phone to call her, and then we just see her numb reaction in the aftermath. He promises it's only for a year and says he's sorry.
Na-jung takes it in and accepts that this is what's best for Oppa and his future. He assures her that they'll still see each other, but she sighs that they hardly see each other now. Being in Busan will just make it exponentially harder.
She pouts that he's dead if he cheats, and he points out the ridiculousness of him having the time to cheat when he can't even sleep. Wrong thing to say, dude. Immediately Na-jung flares up: "What, are you saying that if you had the time, you'd cheat?" See? Wrong thing to say.
She's a little comforted to know that he's going with his two resident buddies, and he refers to them as the three musketeers. One of them is his bunkmate with the curly hair, while the other is a girl named Min-jung. We're meeting her for the first time but apparently she's been a fixture in Oppa's life and Na-jung has even met her a few times.
We see the three musketeers together at the hospital a little later, and when Garbage wanders back to his office like a zombie after surgery, it's Min-jung who tends to him and makes him eat. Uh-oh, she's way too smiley at him to just be a friend.
Na-jung picks up the phone a million times to call Oppa without ever dialing, and when Yoon-jin comes by she fills her in on the news. Yoon-jin tsk-tsks at her for not taking this separation more seriously, worrying that being out of sight will naturally put Na-jung out of Oppa's mind.
Yoon-jin calls Na-jung naïve when she refers to Min-jung as a nice unni and a really good friend to Oppa. She points out that being in the trenches together is what builds bonds, and why doctors marry doctors and the like. She says that Min-jung has one advantage that can't be ignored: she and Oppa understand one another. Na-jung's heart sinks.
So almost as soon as Oppa moves back into the house, he moves back out, and Na-jung spends the whole day hardly helping and just trailing behind Oppa, holding onto the back of his shirt.
It comes time for him to say goodbye, and the family sends him off and Dad even ushers everyone inside so he can have his moment with Na-jung. She's pouting the whole time, of course, and Oppa just hugs her for a long time without a word.
Mom sings along while watching Star In My Heart, which was her favorite drama in 1997's alternaverse. Yoon-jin and Samcheonpo head out for another date while visiting Haitai, and Binggeure says he's headed to a med school MT. Mom gasps to hear that he's participating in things, which is super cute.
By now Haitai has lost all his early army stiffness and swaggers in with the bravado of a senior officer. He catches another soldier getting Yoon-jin's number and puts a stop to it, while Samcheonpo fumes impotently.
On their way back, Samcheonpo asks her to meet his sunbaes this weekend, but she refuses him flatly, insisting that they'll end up at a noraebang and she's tone-deaf and too afraid to step foot in one.
Binggeure calls Garbage at his new hospital and tells him about being at the med school MT, and Garbage warns him to watch out for a sunbae called Die-Die (as in, I die, you die).
He just says cryptically that he'll know once he's trapped, which then leads to Binggeure's horrified face as one particularly insane sunbae starts pouring every kind of liquor known to man in this giant pot. Ugh, my stomach is turning.
He tells the group that it's a game of trust—the pot gets passed around the room and everyone drinks some and it has to be empty by the time it comes back around to the starting point. And of course, he passes the pot the opposite way, leaving Binggeure the final drinker.
He becomes increasingly furious as the other students take teensy wimpy sips, and his shoulders sag as it gets passed closer and closer, nearly as full as it left. He thinks it's all but lost when the girl sitting next to him takes her turn and suddenly downs the ENTIRE thing. Holy. Is her liver made of steel?
Binggeure lights up and claps for her—oh, it's a cameo by Yoon Jin-yi (A Gentleman's Dignity, Mandate of Heaven)–and thanks her in banmal, assuming that the cute little girl with a bow in her hair is a classmate.
But she declares that nothing in this world is for free, and demands, "A kiss on noona's cheek." He gets told he has to drink a new pot if he doesn't comply, but then she decides she'll just give a kiss instead of receiving one, and leans in to kiss Binggeure.
He sits there stunned, and then she leans in close, "How about it, tonight… die-die?" LOL. She's the dangerous sunbae! She tells Binggeure he'll be drinking all night with her, and that if he talks down to her one more time, he's dead. That was a pretty good twist.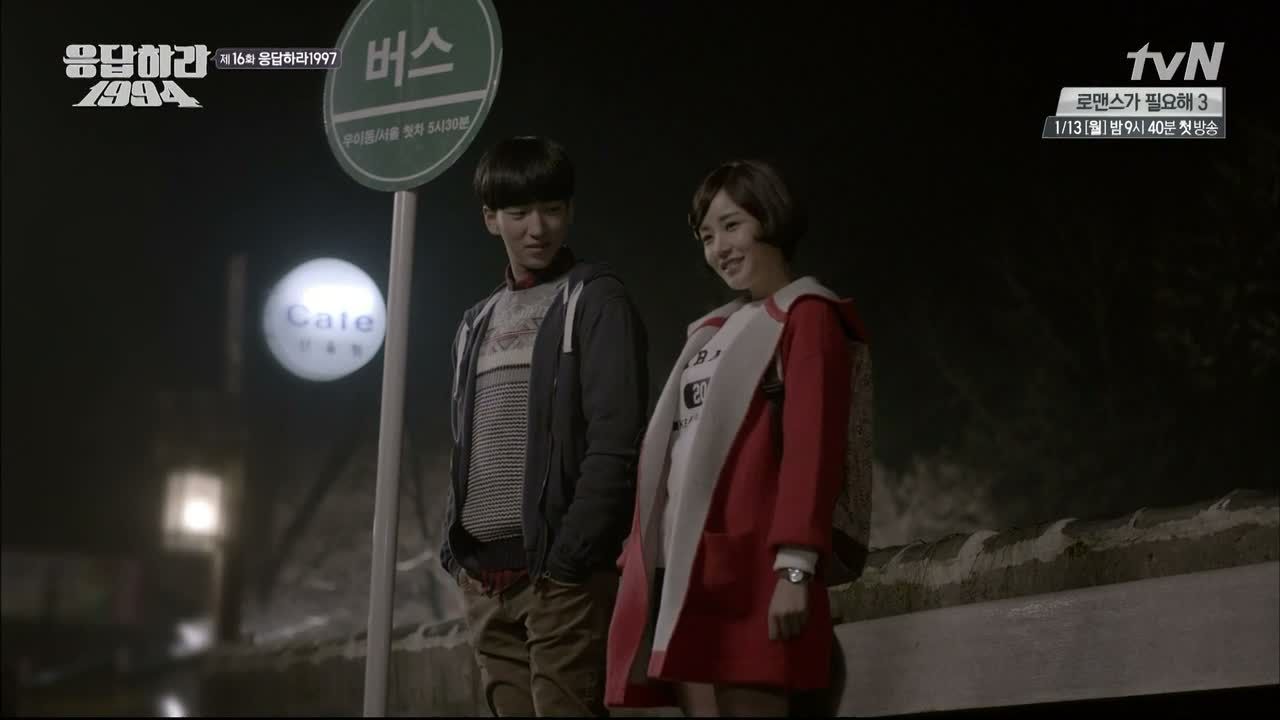 The entire group is passed out in one big heap, and Binggeure is the only one who can't sleep that night. He sees Die-Die get up and sneak out in the middle of the night thinking nobody saw her, and she jumps in shock when she sees him standing at the bus stop next to her.
What, are we seriously giving Binggeure a boy AND a girl to possibly end up with? But… he loves Oppa, no? Why are we doing this?
For some reason she's really shifty about her reasons for leaving the MT early, and won't tell him why. But he just waits with her until the bus comes like a nice boy, and sends her off. He narrates:
Binggeure: The reason why youth is exciting is because there are countless things we don't know. The empty spaces that I don't know what to fill with overflow like a test before me. When I look back, there are no answers for those empty spaces. But the horror that someone will run in holding the answer sheet and grade me, the fear that I will have answered differently from everyone else… they made my age twenty a constant breathless hour of test-taking.
A few days later, Binggeure gets a message from Die-Die, nervously chattering away while asking if he wants to get together for lunch because she has old class notes to pass along, since she's throwing them away and all.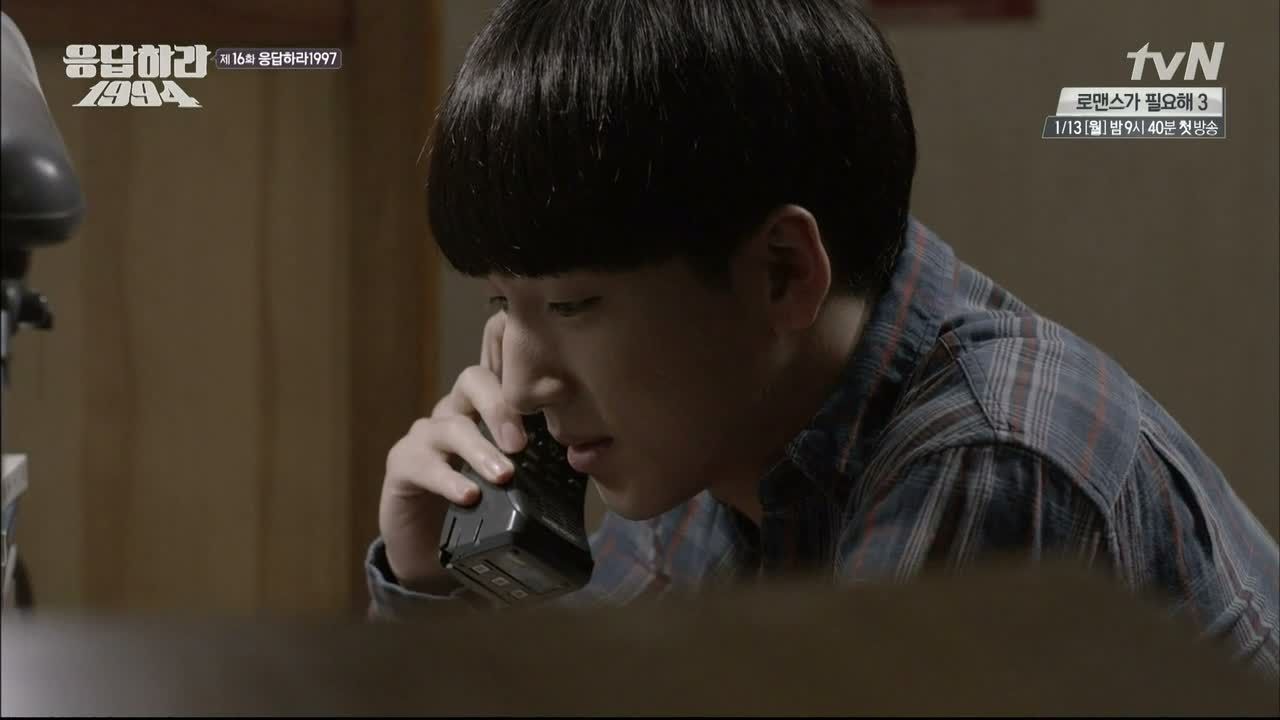 He thinks about it for a moment, and then picks up the phone. "Sunbae-nim, it's me…"
But he calls himself dahp-dahp-ie ("frustrating"). Aw, you're calling Garbage, aren't you? Oh puppy. "I just wanted to hear your v—… I was just wondering how you're doing." Oof.
Binggeure: 1997. I had to begin filling the spaces I had left empty for so long.
And then in May of 1997, we catch up to Garbage living in Busan. He rides the bus, and at one stop a group of high school kids gets on. Eeee! In walks Shi-won like a badass, followed by Sung-jae (Lee Shi-un) fawning over his Tamagotchi pet, and Yoo-jung (Shin So-yool) who exchanges a flirty look with Oppa.
When Joon-hee (Hoya) walks on, even Oppa marvels at how good-looking he is. And then Yoon-jae (Seo In-gook) struts past him, and Oppa mutters under his breath that that kid looks like he does terribly in school. Ha. I enjoyed those entrances so much.
The kids ride in the back row, and Shi-won sees a picture of Go So-young in her magazine and prompts Yoon-jae to tell her that they look alike. He asks if she wants to die, and I love how quickly her clipped version of "son of a bitch" comes flying out of her mouth. I luff her.
She goes from scritching his chin to grabbing his cheek like she's about to rip it off his face, so he scoots up in Joon-hee's space and throws his arm around him. Joon-hee tenses up immediately, and Yoon-jae makes it even worse when he reaches over and plucks the earbud out of Joon-hee's ear so they can share, and then whispers into his ear to raise the volume. Squee. Waaah, I missed you guys! I didn't even know how much until now.
While Joon-hee tries to contain his swoon, H.O.T. comes on over the bus radio speakers, and Shi-won perks up to hear her oppas. But from his seat two rows ahead, Garbage asks the bus driver to turn the volume down. Uh-oh.
Shi-won immediately tells the ajusshi to turn it back up, and they go another round, until Garbage yells it a third time, muttering that they're just punks who can't even sing. Huck! I love the oh-shit look on Yoon-jae's face.
Shi-won shakes off Yoon-jae's warnings to let it go and screams for the volume to be raised, and glares a hole through Garbage's head. He makes the mistake of picking a fight with her, and warns that her eyes will flip over that way, muttering under his breath that she looks like a flounder.
She spits right back that he looks like a gangster and a rockfish, and he actually gets so worked up that he stands up to go face off with her. They scream back and forth, first about looking like gangsters and then about using banmal, and Garbage asks how old she is.
Shi-won screams at the top of her lungs: "Eighteen!" [ship-pal, which she purposely chooses because it sounds like shi-bal, or fuck, and says it exactly the way she means it]. Now both sides are livid, screaming Eighteen?! Eighteen!! at each other like a curse word. I'm cry-laughing.
Garbage gets so pissed that he actually reaches to pull her hair first. What? That's not something Oppa would do! Garbage is petty but I don't think he'd pull a girl's hair who wasn't his almost-sister. Shi-won should've thrown the first punch, is all I'm sayin'.
To be fair it's a super girly fight, and Yoon-jae somehow acrobatically squeezes himself between them while they're yanking each other's hair, and the whole group gets bunched up in this crazy mess.
Meanwhile the light turns red and the bus driver has to come to a sudden stop, and we just hear the painful sound effects of the screeching brakes and the tumble in the back of the bus.
The rear door opens to reveal a giant dogpile, with Oppa as the roadkill at the very bottom. LOL. Everyone's writhing in pain when he suddenly starts screaming that he can't feel his arm. Pwahaha.

COMMENTS
That was a fun episode, but oh man, the 1997 cameos only highlighted how much I missed the original magic of that show. Granted, 1994 has its own fairy dust; it does. It's just that the reminder comes at a time when this show is starting to really sag under its own weight, while 1997 will always hold that prized place in my heart.
And yes, part of that is just Sung Shi-won and her irreplaceable charm, but I think it's also because 1997 was all about high highs and low lows, while 1994 tries to purposely subvert the big drama moments while highlighting the mundane. It's amusing for a while, but then when all of the significant moments of Oppa and Na-jung's relationship get passed over in fast-forwards, I'm always left really confused about why I'm not allowed to see the best stuff. I want to cry and I want to swoon and I want to feel the giddy romance, but the show has for some reason decided not to let us in.
It's not like I don't get the appeal of everything being a mystery. It's fun. But the obvious problem is that you have to reward our engagement with payoff, and the more balls you juggle in the air and the longer you keep them there, the less we start caring. Even Binggeure's crush on Garbage doesn't hold a candle to Joon-hee's crush on Yoon-jae because we're not told explicitly what Binggeure feels.
I'm pretty certain that Binggeure's orientation isn't that much of a mystery after this episode, but I also don't want to feel like I'm grasping at straws for every single character's loveline either. Throw me a bone. I mean, two seconds of Joon-hee's flushed cheeks hurt my heart in the best way, so it's not like you don't know how to do it. I really just want the drama to say a thing instead of dancing the dance of implication and reveling in its own cleverness. Show, you are clever. You're all kinds of clever. There, there. Now give me the emotional payoffs, dammit. I don't mind if Binggeure is slow to figure things out for himself if that's his trajectory. Just let us go with him, k?
I say this all with love because this is a franchise that's near and dear to my heart, and a cut above the rest. But I'm also not going to watch with blinders on because of that, and I want a little more. I know it CAN deliver more, which is the other part that hurts. You can doooooo eeeeeet. Please, let me in on Oppa's thoughts and Na-jung's heart. I feel like it's been years since we got to feel their feelings, and I don't even know why because I WANT to feel them. I actually thoroughly enjoyed this episode, mostly because the central romance got sidelined and I really shouldn't be happy about that. I really hope I'm not still saying this by Episode 20, but: Take me with you.
RELATED POSTS
Tags: Answer Me 1994, featured, Go Ara, Jung Woo, Yoo Yeon-seok