Answer Me 1994: Episode 17
Big things are in store for many of our characters, and a few mysteries are answered for us (though not, of course, the main one. Goodness knows we couldn't have that). It's a rewarding hour for those of us who've been waiting for concrete movement on multiple fronts, and the payoff is both sweet and a little melancholy, which is pretty much what this series does best.
SONG OF THE DAY
Jung-woo, Yoo Yeon-seok, Sohn Ho-joon – "Feeling Only You" [ Download ]
Audio clip: Adobe Flash Player (version 9 or above) is required to play this audio clip. Download the latest version here. You also need to have JavaScript enabled in your browser.

EPISODE 17: "Love, Fear Part 2: Answer Me 1997"
In 2013, Haitai wonders where Binggeure went, to which Yoon-jin asks, "Can't you guess?" Haitai can but we can't, since we're being kept in the dark. Thanks for that, drama.
Back to May of 1997, where post-bus-accident Garbage now has his arm in a sling and his neck in a brace. That's what you get for messing with fangirls, dude. He assures Na-jung over the phone that he's totally fine, and his friend Min-jung raises an eyebrow at the obvious lie. He makes sure that Na-jung is coming down tomorrow for her birthday, and it's sweet how much he clearly wants to see her, busy schedule and practicality be damned. The next day he sleeps in the break room sitting up, afraid he'll oversleep if he lies down.
Na-jung arrives at the hospital, and for a moment they both light up to see each other. Garbage hurries to her with arms outstretched for a hug, but Na-jung registers his injuries and starts in on the worried scolding. He's all, I'm not even that hurt, and Na-jung screams (while hitting his cast, ha), "You call this not hurt?!"
Na-jung asks about her birthday present, and Garbage puffs up proudly to assure her that he bought it ages ago. She warns that if he bought "something strange like last year," he's dead and they're over. Garbage tugs nervously at his collar…
In a flashback to 1996, Garbage leads Na-jung to her room, building up the suspense while promising her the thing she wanted most. She's about to burst out of her skin, saying that it might be too small to see as she rubs her ring finger in excitement (uh-oh… is she thinking a diamond?). Garbage scoffs, saying there's no way he'd buy a small one, and then, TADA!
He opens the door giggling in glee… she bursts in shaking in excitement… and then she sees the gym equipment standing there with a big bow around it. OH, OPPA, you didn't.
Okay, it's for her back exercises and not a hint to, say, lose weight or anything. But still! One can see exactly why she's so skeptical this year. It's hilarious the way that Garbage registers Na-jung's less-than-enthused reaction and knows something went wrong, but he can't quite figure out what. His voice trails off as he asks, "Was this… not it? Did you want something else…?"
She blows her top and looks at him through angry tears. A suspicion dawns on him, and he asks if she wanted the more expensive exerciser, lol.
Back to 1997, where he asks how she can threaten a breakup so easily. He says he gets nervous if a day goes by without her calling, knowing he's going to get even busier and worrying that she might really dump him. She says he's worrying for nothing, and he starts to ask something in a serious tone… but then decides against it.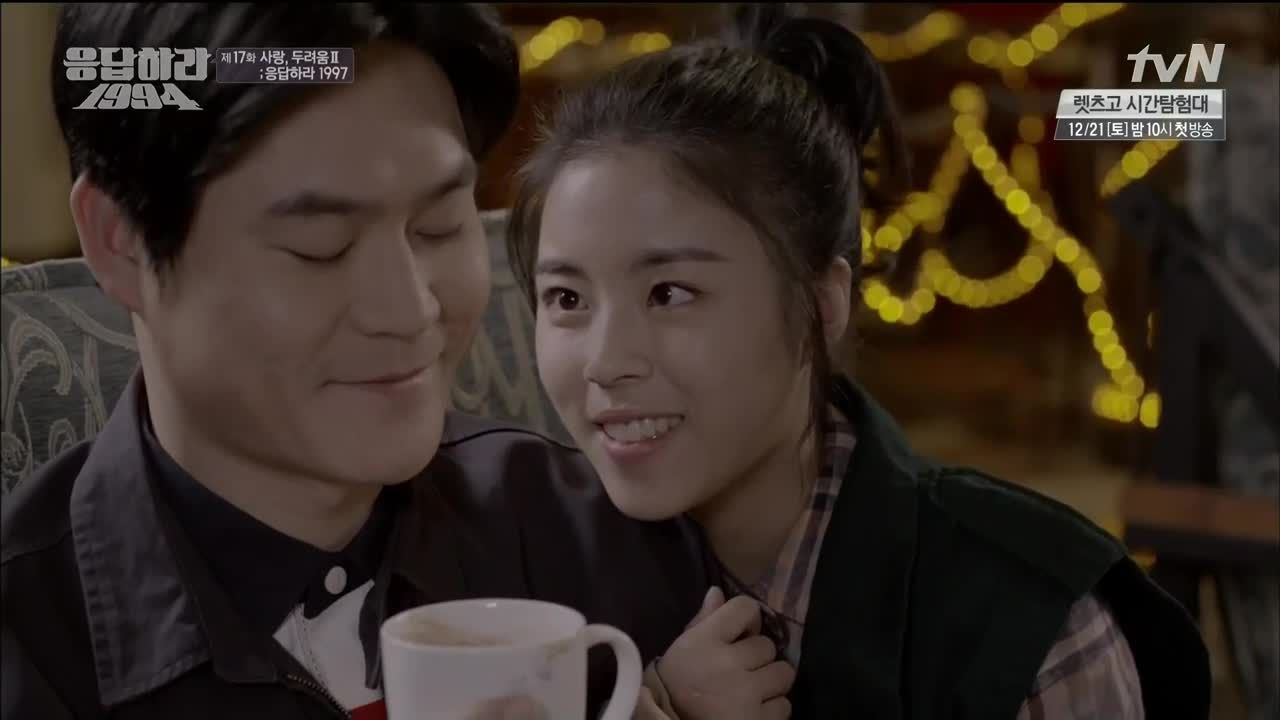 Samcheonpo he tries again to wheedle Yoon-jin into meeting his old school buddies, which gets a flat rejection. He slumps in his seat and wonders if she doesn't like him much. Yoon-jin doesn't see why he should connect those two things and says, "I like you a ton, you know." Which, aw.
She gentles her tone and explains that she's terrible at these forced social niceties, feeding him coffee to soften the blow. He grudgingly lets go of some of his crankiness.
Then as they're paying, his dorky hometown sunbaes drop in coincidentally and Samcheonpo proudly introduces his girlfriend… who is nowhere to be seen. Hee.
Na-jung and Garbage go to his apartment for her birthday dinner, and she glares at the mess—it's nowhere near as bad as the last time, but let's face it, that's a pretty low bar we're talking about. Garbage gets simultaneously nervous and defensive, and lands on the one thing keeping her from blowing her lid: "I'm hungry, can't we eat? [aegyo whine]"
So Na-jung cooks and sets the table, but before they can eat a bite, he gets paged by the hospital and has to dash. She urges him to go quickly and not to worry, and he promises to get back in time to light the candles of her cake. As he leaves, he pelts her with kisses.
Garbage goes about his rounds efficiently, but gets held back with more and more work. Na-jung waits at the table long into the night, falling asleep by her cake. It isn't until early morning that Garbage finally gets off duty, and he races home.
By the time he gets there, though, all he finds is an empty (and freshly cleaned) home, with the birthday cake still sitting there unlit.
Binggeure gets another voicemail from the Die-Die sunbae (named Jin-yi), in which she nervously says she hopes he didn't show up last time because she couldn't make it. It's one of those embarrassingly nervous messages where she rattles on, and right after she says goodbye the recording catches her muttering to herself, "Ack, my heart is pounding." Cute.
Yoon-jin still has ruffled feathers to smooth over, since Samcheonpo is still annoyed that she ditched him at the cafe (she panicked out of nerves, she says). But she drags him along to partake of a cool new trend—sticker pictures, haha. (He sticks a photo onto her wallet, only to get yelled at for it.)
Garbage gets a voicemail from his mother, whom he'd promised to pick up at the terminal for her physical and has forgotten to meet. He's in a bind because he's got a patient to attend to, so Min-jung offers to pick his mother up for him. Uh-oh. She makes me nervous; does she have designs on Oppa or not?
Garbage's reaction suggests he's aware of some strangeness going on, and he asks Min-jung plainly why she'd meet his mother. Instead, he foists off his rounds on his (male) friend and heads out. Phew for Oppa drawing lines.
Turns out he doesn't need to do that, because his mother pulls up in a taxi, accompanied by Na-jung. Mom had called Na-jung's pager just in case, and is thankful that she came to pick her up. Garbage gapes the whole time, having thought she'd left.
They have an hour to wait while Mom undergoes her exam, so Na-jung tells Garbage to take a nap. He suggests they both take a nap together, which is a prospect that makes her a little nervous. Not that she dislikes the idea, since once he cuddles with her she breaks into a giddy smile.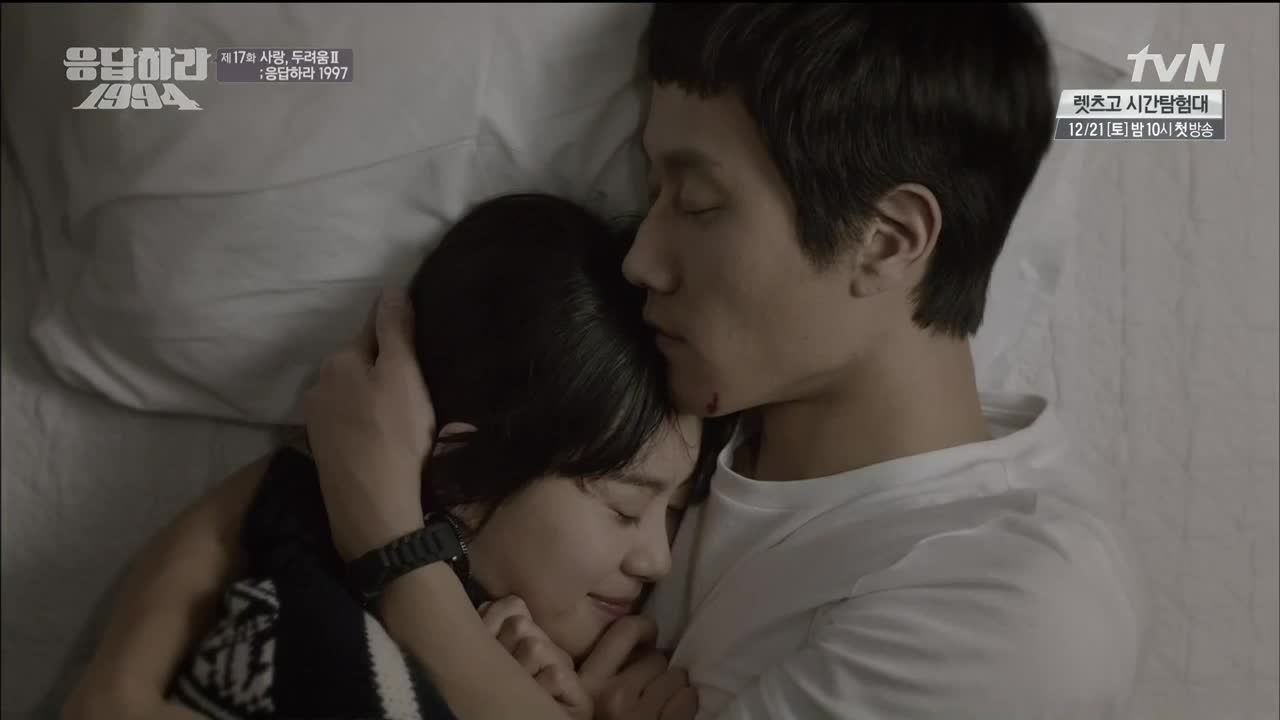 Binggeure gets another call from Jin-yi sunbae, and she starts off with more nervous chitchat before inviting him to her study group, which she says is really coveted. She makes a slip of the tongue when she orders him to be there, saying, "You'd better not be like last time when I waited two hours—er, would have waited for two hours!" Aw, so she told him she skipped it so he wouldn't feel bad?
You can see that Binggeure doesn't quite know what to do with all this, though he isn't necessarily indifferent. And on second thought, this time he reaches for the phone to make a call.
Na-jung jerks awake and finds that she's slept the day away. Oppa guesses that Na-jung barely got any sleep last night waiting up for him and apologizes for not spending her birthday with her. She's not very upset and says it's understandable, but he has his serious face on as he kneels to look her in the eye and says this could happen again, no matter how he tries to avoid it.
She laughs, "I know, it's okay." Garbage replies, "It's not okay to me." He gets really serious and takes a deep breath, and takes something out of his pocket. Then he gets up, and then kneels down again, only this time it's on one knee. Omg. Is this what I think it is?
Na-jung looks half-terrified waiting for the ball to drop. Garbage asks, "Jungie… will you marry me?" He opens the box and shows her the ring. "Please marry me," he asks.
Na-jung breaks into a big wet smile and throws her arms around his neck. And then they seal the deal with kisses.
That night, Garbage gets a surprise visitor in front of the hospital: Binggeure, who is for once pretty forward about asking for dinner and for more food. He's usually so shy and passive with Garbage, but he's clearly got Things On His Mind today. And when he gets to the point, he says that Garbage no longer has to buy him meals after today—in the future he'd like to be treated to just drinks. Puppy's growing up.
The song scoring the moment is Kim Dong-ryul's "Truth in Wine," and after a long moment, Binggeure says, "Sunbae-nim, because I have you, I'm happy." Then for the first time ever, he calls him hyung. Omo. More than anything, that simple "hyung" brings a tear to my eye.
His narration says, "Now, this blank space that I'd left empty for a long time… I will fill with the answer to my confusing love."
Next thing we know, Binggeure's out for drinks with Jin-yi's study group, playing a game of Spin the Truth Bottle. When she's in the hot seat, they ask why she invited Binggeure—does she like him? She drinks to avoid answering, and Binggeure smiles to himself.
Binggeure gets the next question, a yes or no: "I came here not to study but because of Jin-yi sunbae, yes or no?" He answers yes, and Jin-yi gets giddy.
He walks her home that night, and when he doesn't make any kind of move, she asks for a handshake. He looks at her in his pensive way, thinking:
Binggeure: "1997, age 23. I wanted to confirm whether this heart-pounding feeling, or this person who kept weighing on my mind, was out of simple curiosity for the first person to approach me from the opposite sex. Or whether it was that thing called love that other people keep talking about."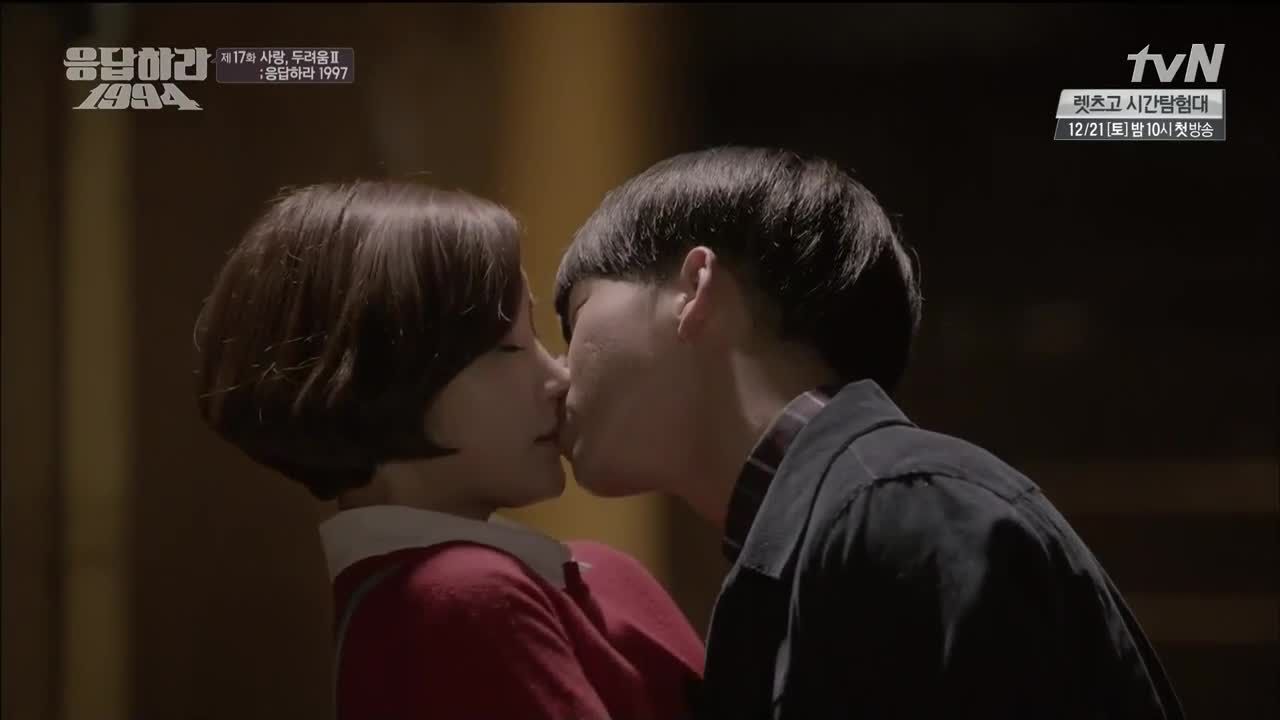 Binggeure says aloud, "Confirmation." Then he moves in to kiss her.
We come back to the curbside scene in 2013, with Binggeure standing by as a red car zooms past—ha, total fakeout. Are we surprised? It's the next car that brings a smile to his face, and Jin-yi pulls up to say she just wanted to see hubby's face on her way to the hospital. She drops off a cake for the party, then asks for a kiss. Like a good husband, he complies.
Ah, and we finally hear his name, Kim Dong-joon. Not that he was ever seriously in the running, but I suppose we can officially strike him from the list now.
Back in 1997, Samcheonpo and Yoon-jin make another visit to the army. Haitai's on his final 100-day countdown, eager to get back to the outside world, convinced that he's kept current on trends to fit right in… though his clipped army speech will need work easing out of.
Mom and Dad watch a commercial of that one-way cell phone they invested in, positive they'll be rolling in the money soon. Na-jung tells Garbage about it, and he thinks those phones sound cool… until he hears that you can only make the calls in range of a phone booth. "Then why don't you just use the phone booth? Why would you use that phone?… How much did you say he invested?" Gulp.
Mom asks after Haitai, and Samcheonpo chuckles that it'll take him a long time to get rid of his army mannerisms. But then Samcheonpo's father calls with bad news: Samcheonpo's draft papers just arrived. He's being enlisted in a month.
He locks himself in his room in shock, and Yoon-jin beats on his door assuring him that she'll visit every day. But that's not comforting enough, and Binggeure notes that Samcheonpo was already worried about Yoon-jin getting tired of him. With him off in army, who knows how her feelings might cool.
Na-jung chats with Garbage over the phone and starts in on him for not eating a proper breakfast. Halfway through her tirade, though, he goes silent, and we see that on the other end of the line his attention has been diverted by the TV. He and his buddies look on as Chilbongie is interviewed on Japanese TV, which is a nice reminder that Chilbongie still exists in this world. Not that I'm bitter. (Much.)
Chilbongie interviews in fluent Japanese, and is asked about a girlfriend. He doesn't have one, but admits that he does have somebody he likes, though he declines to give details. It puts Garbage into a funk.
Binggeure: "If you have nothing to lose, you have nothing to fear. The deeper love grows, and the more you don't want to lose it, the more your fear grows. Love feeds on fear."
In the early hours of the morning, Yoon-jin sneaks into Samcheonpo's room and wakes him. He resists until she says they're going on that trip she'd refused before, and then he bolts up immediately and half-sleepily stumbles around getting ready as fast as he can. Lol, boys.
Binggeure: "But what overcomes that love-fueled fear is love itself."
2013. Na-jung and her father head upstairs to deal with the noisy neighbors… and who should open the door but Sung Shi-won (Jung Eun-ji). Omo, more 1997 crossovers?
Shi-won politely apologizes for the noise, and the ladies bond over being from neighboring cities in the south. Shi-won invites them in for coffee (and is briefly startled at Dad's familiar face, pwahaha), then roars for her husband to come out and say hi. She lets out a string of swears under her breath, and Dad mutters that she has a temper to match Na-jung's.
So Yoon-jae (Seo In-gook again) comes out, and he recognizes Dad as a famous coach, saying that he heard a lot about him from his father-in-law, pfffft. (Who, just to make the joke clear, is also Sung Dong-il in 1997′s alternaverse.)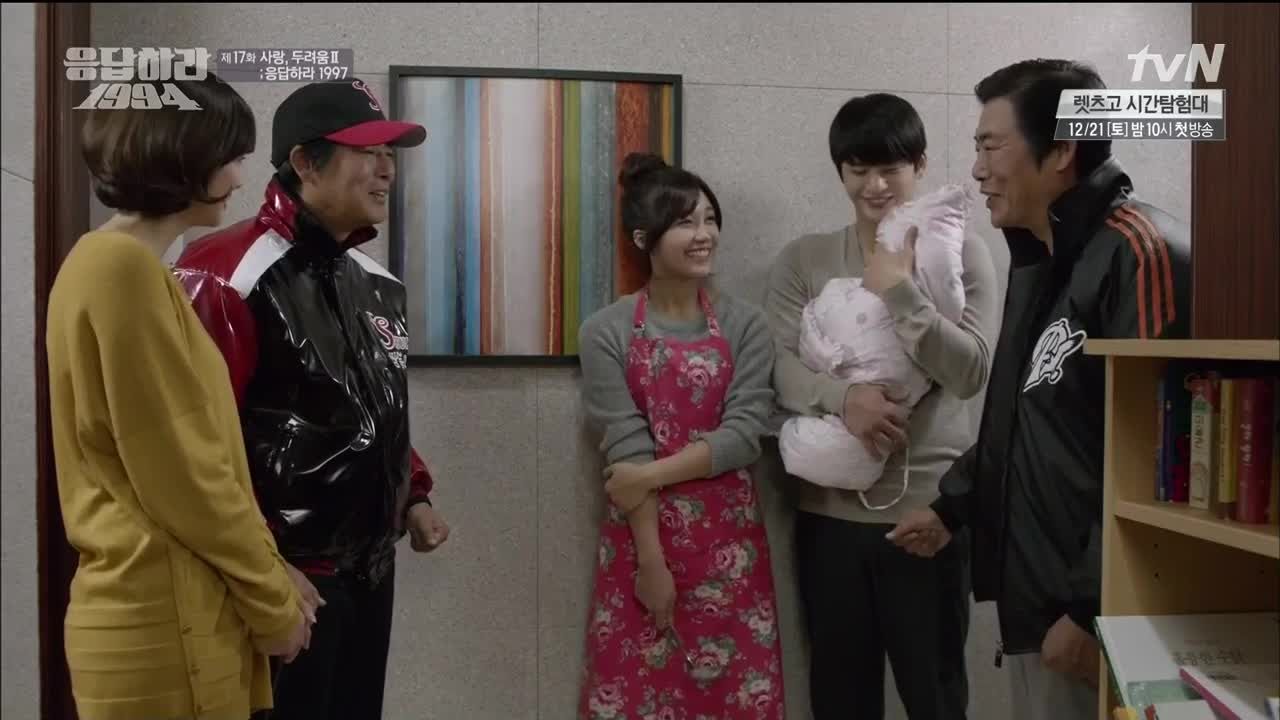 Yoon-jae calls his father-in-law out to say hi, and '97 Dad comes out grumbling to greet '94 Dad. To make it even stranger, the two Dong-ils recognize each other as former teammates and distant cousins (well, there's only one Sung clan, so all Sungs are considered very very distant relations at some point).
The two Dong-ils trade stories of their well-married daughters, and all we get from this exchange is that Na-jung's husband is rather famous and he's heading up to join them in a minute. Husband rings the bell moments later, and Shi-won opens the door, only to recognize him. "Wait… are you…?"
And we fade out, because of course we don't get to see him.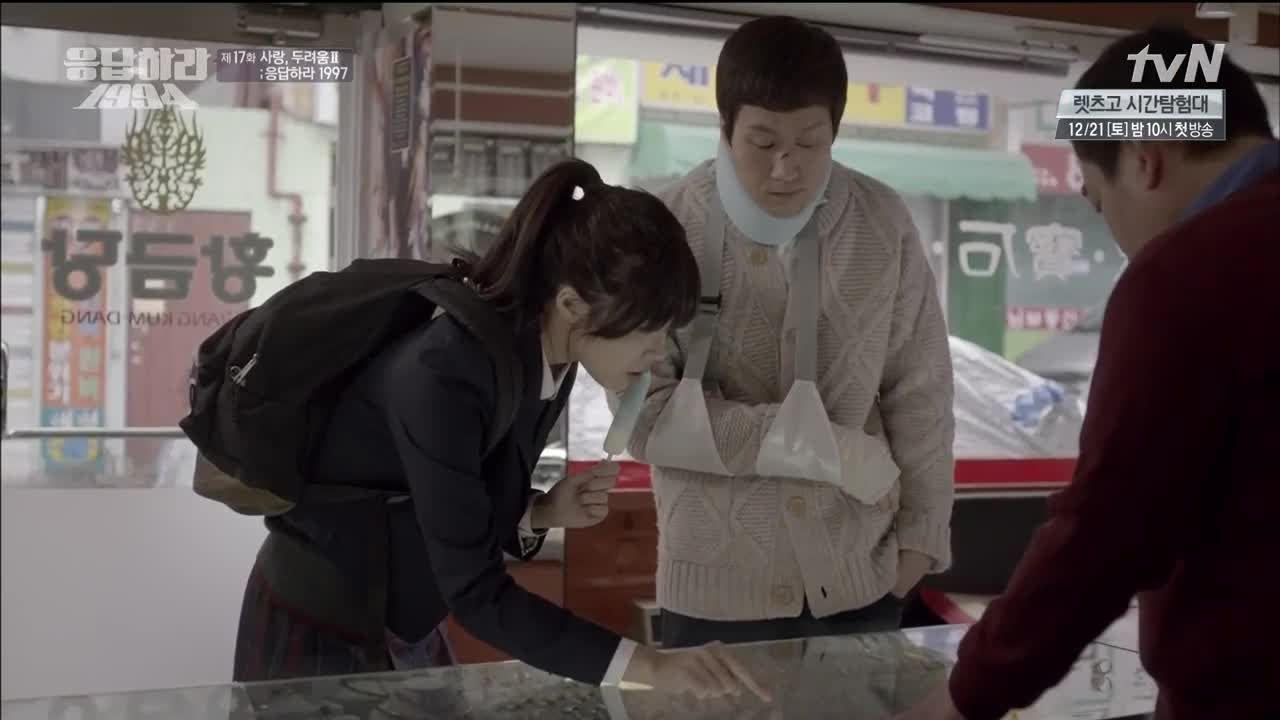 We jump back to 1997, before the proposal, with Garbage shopping for rings. He picks the gaudiest, ugliest ring of the set, but thankfully someone with better taste speaks up to veto the choice. It's Shi-won in her high school uniform, and she steers him in the direction of the simple diamond solitaire.
Things are all fun and cheer until Garbage asks for the radio to be turned down (H.O.T's "Candy" is playing, uh-oh), and Shi-won immediately argues for it to be turned up. Tempers flare and he recognizes her from the bus, and Shi-won goes running. Let's consider that a boon—Garbage can't afford another broken arm.
Na-jung begins tutoring the troublemaker student she has just taken on, and now we see that it's Eun Ji-won! (Er, Hak-chan.) I hadn't even realized till now how bummed I was at not getting a full cameo set, and now that we have it, I can rest easy.
Na-jung isn't having any luck ordering him to join her at the desk, mostly 'cause he's so uncomfortable around her. I'd totally forgotten how hilariously awkward Hak-chan got around girls, but this is a pretty great reminder. Na-jung interprets this as rebelliousness and bellows at him to study, chasing him around and hitting him with pillows.

COMMENTS
You know, I've totally accepted that Garbage is the husband and Chilbongie is no longer in the running, and my emotional investment in the husband question is pretty low (at this point it's everything other than the mystery that keeps me interested), but I'm still super annoyed at how they've just dropped him off the map. Haitai too, whose trip to army I thought would be fodder for some poignant character moments. But I feel like Haitai and Chilbongie have been eliminated from the husband question and have been unceremoniously dropped from the drama as a result—whether or not that was the intention—and that just highlights how little story there was in the first place.
I don't like any drama that treats characters as mere plot devices, and despite the fact that Chilbongie was played with warmth and sweetness, it's only too clear now that he wasn't really given much depth as a character on his own. That makes me seriously sad, because I absolutely loved him. I still do, in fact, but I feel like he's become an afterthought. That's why as much as I awwed over the progression of Na-jung and Oppa's romance in this episode (the proposal was a lovely bit of acting on her part especially), I can't shake my dissatisfaction over the mishandling of the whole love triangle aspect.
I don't think the crux of the dissatisfaction on Team Chilbongie was because supporters felt Chilbongie was a better person than Garbage, or "deserved" love more, or was better hero material. Honestly, I think it's a simple matter of the drama literally setting Chilbongie up to be the love interest, and making him the primary contender for ten episodes. So when you suddenly take that away from him (and from us), of course we're going to feel cheated. I will argue that this was done strictly to preserve the mystery, which makes it a fault of the production for serving its gimmick more than its characters. It has nothing to do with which character is the better man, and everything to do with the fact that the writing bait-and-switched us, and I think we have the right to feel unhappy about it.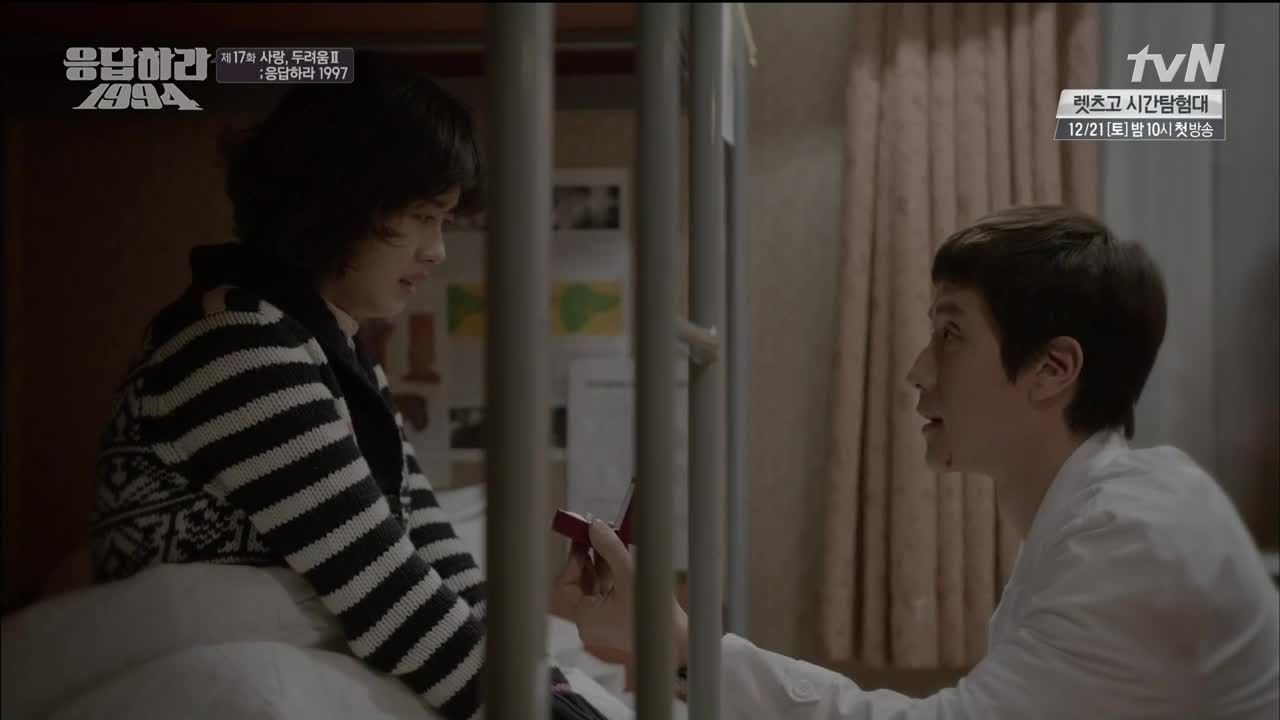 Binggeure's slow development, on the other hand, feels more like a planned arc. I suppose our confusion over his feelings wasn't too far from the mark, since he himself was just as confused. At first when Jin-yi was introduced (in the last episode), I was disgruntled with the drama for jerking our expectations around yet again in service of a gotcha moment (making us think he was gay and then giving him a girlfriend). But I'm more appreciative now, because I do think the orientation ambiguity was a genuine issue for him.
I don't think Binggeure is bisexual (and I chafe when stories paint bisexual people as the catch-all category for people who haven't decided whether they're gay, because I really don't think sexuality works like that), but I do think he was working out what exactly he felt for Garbage, and that there were moments when it was more than plain friendship or affection. It was nearly hero-worship, and I can see how that can confuse the romantic-platonic question when you're an inexperienced young adult who's never had any romantic relationships before. For instance, we might talk of girls having girl-crushes and understand that this doesn't make someone gay. In Binggeure's case it's possible he conflated his emotions with other feelings, which led to him taking his time sussing everything out carefully and methodically. That fits with what we already know of his character, given that he took time off of school to work through how he felt about his future, so this feels consistent with his personality.
I also think that's why he was so adamant about sticking to using "sunbae-nim" for Garbage, because he hadn't quite decided yet how he felt about him, and thus he didn't know what to call him. Until he did, he would keep to the nice formal "sunbae," and taking a clear step by calling him hyung denotes that he's come to a point of acceptance, where he's comfortable defining their relationship as a friendly brotherly one. And only then does he feel able to move forward with those other feelings and pursue a romantic relationship as well.
RELATED POSTS
Tags: Answer Me 1994, featured, Go Ara, Jung Woo, Yoo Yeon-seok