Answer Me 1994: Episode 18
It's an episode all about taking that last chance—for securing your future, reconciling your past, or finding love. As our crew takes their first steps out in the real world after college, they come face to face with some harsh lessons, some universal, and some unique to their generation.

SONG OF THE DAY
Kim Dong-ryul – "다시 사랑한다 말할까 (Should I Tell You Again That I Love You)"
[ Download ]
Audio clip: Adobe Flash Player (version 9 or above) is required to play this audio clip. Download the latest version here. You also need to have JavaScript enabled in your browser.

EPISODE 18: "Should I tell you again that I love you"
It's almost winter in 1997, and Na-jung scouts her department's job listings for places to interview. She doesn't seem too worried about scoring a job before graduation, though of course she doesn't know how bad things are about to get for the economy. Gah, could there be a worse time to graduate from college and enter the job market?
Haitai has just been discharged from the army and returns to school with his old swagger, decked out in the latest fashion and swinging finger guns. Na-jung gapes at the tightness of his t-shirt, and makes him cover up his nipples before he pokes an eye out. They skip along to go eat lunch together, just like the old days.
Wedding, 2002. It's time for the bride and groom's friends to come take a picture, and Samcheonpo and Yoon-jin run over to the bride's side. Na-jung gives Binggeure crap for standing on the groom's side, and then Yoon-jin nudges her to look at the person who's standing next to her.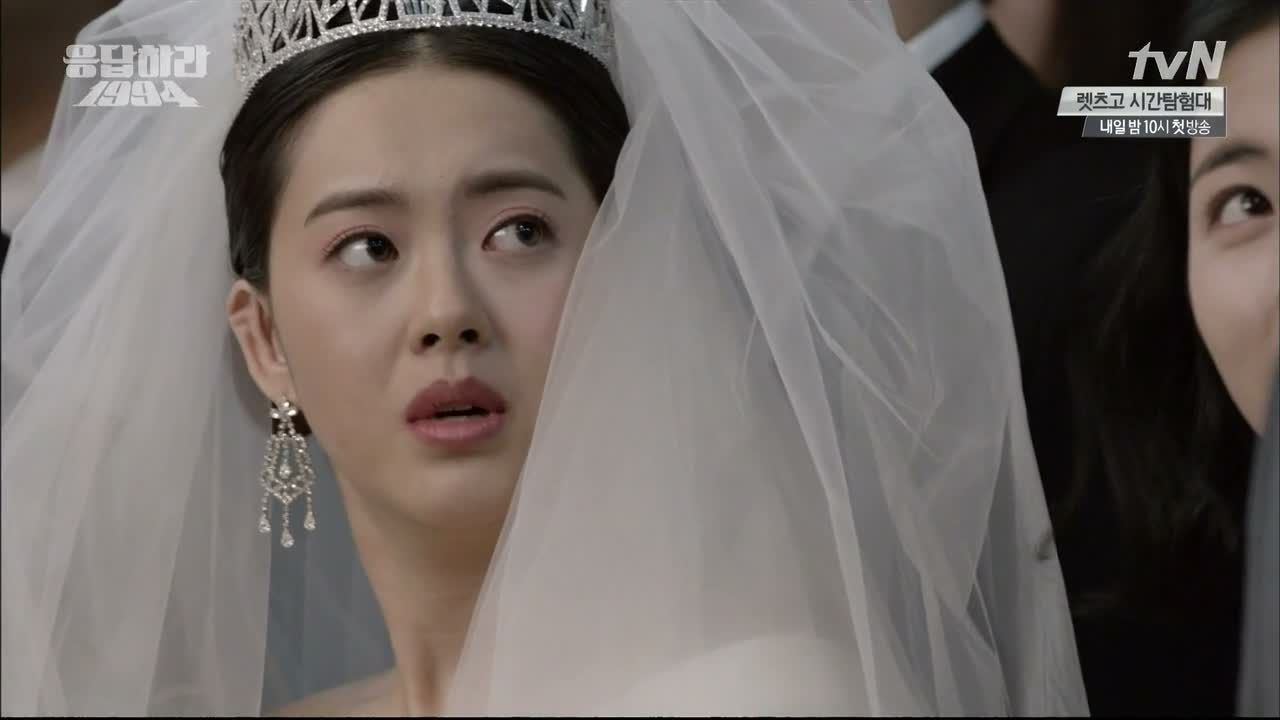 Na-jung jumps back, startled and a little horrified, "What's that?" Yoon-jin laughs and says it's a special service for her on her wedding day. Then everyone smiles for the world's blurriest wedding photo.
Back in 1997, Haitai beams at the massive breakfast spread in honor of his return home. Dad comes out to join them looking like a zombie with a hangover, and asks Haitai if he's ever heard of that one-way cell phone that only works near phone booths.
Not knowing what landmine he's about to step in, Haitai says everyone's heard of that, scoffing that he's never encountered a product with a shorter shelf life. He prattles on that there were people who invested a bunch of money into the thing, musing that there are all kinds of morons in the world. Ack.
Garbage comes out to whack Haitai upside the head, but Dad cracks and goes from laughter to tears to laughter again, repeating "moron" and sticking the phone in his rice bowl like he's totally lost his mind. Garbage warns Haitai never to bring it up again.
Na-jung adds that her parents even got a loan on this house and are now in debt because of that phone, but assures everyone that between Dad's income and her entering the workforce this year, things should be fine.
Yoon-jin worries that she won't be able to hold a wedding this way, but Na-jung says she found a venue that was half off in January. Oh, that's soon. Though of course we know she doesn't make it down the aisle till 2002.
Garbage is back from Busan early thanks to his advisor opening a new clinic here. Yoon-jin already has a job lined up, while Samcheonpo is studying to get into grad school after coming out of active service in only six months, which Haitai rants about especially because Samcheonpo acted like the world was ending when he had to go, ha.
They make plans to have a party for Yoon-jin's first day on the job, and Garbage notes Na-jung's forced smile through the whole discussion, putting a reassuring hand on her shoulder without a word. Aw.
Poor Dad loses his mind and starts screaming for the coach's number who gave him the tip to invest in the phone, and the whole family has to get up to restrain him. After breakfast Na-jung starts filling out every job application she can get her hands on, while the news announces yet another conglomerate filing for bankruptcy.
Haitai mousses up his hair to go to school, solely for the purpose of scoring a girlfriend by Christmas. Na-jung reminds him she has a friend to set him up with, but he insists on getting his own dates.
Yoon-jin tenses up when the news turns to sports and Chilbongie is on TV. She scrambles for the remote awkwardly, but Na-jung tells her it's fine—he's always on TV and their stuff is in the past.
Binggeure calls Chilbongie in Japan, who runs out of the shower half-nekkid to pick up the phone. Is he shirtless just to make up for the fact that he's been missing for so long? I'm not falling for it! Not… gonna…
He tells Binggeure he'll be coming to Korea tomorrow for a quick doctor's visit, and they make plans to meet. Binggeure tells him to live a little and do something other than play baseball like date or party, while Chilbongie just tells him not to mess things up with Die-Die.
Na-jung and Yoon-jin simultaneously gasp when Haitai comes home all puffed up after getting a date with the prettiest girl in school (they call her Yonsei's Jeon Ji-hyun). He swears she seduced him, which the girls call a blatant lie.
We see them lock eyes on the bus earlier that day, and she alerts him to the fact that she's getting off at the next stop, which he takes as his cue to follow. They share some sweet potatoes in the street and he admits he went two extra stops on the bus just to spend more time with her.
At home the girls refuse to believe it happened, and Haitai swears he'll make her his girlfriend to prove it.
Chilbongie gets his physical and nervously awaits the results with Binggeure at his side. Oh man, I don't like the look in the doc's eye. He starts in on the big speech with a stern brow… only to fake them out with a laugh and give Chilbongie the all-clear. Oh phew. I love that Binggeure yells at the doc for the joke.
He has to play guard on the way out of the hospital because Chilbongie gets accosted by fans, and then the cousins go out to eat. Chilbongie is a little too chipper throughout the meal, choosing to avoid things with a smile.
Binggeure has to ask twice about whether his mom visits often, and Chilbongie finally shakes his head and says he's seen her twice. He's up on news about the boardinghouse friends though, because Haitai calls once in a while to fill him in the latest gossip and talk his ear off.
Chilbongie's the first to bring up the elephant in the room: "I hear Na-jung is getting married." Binggeure asks if he's okay, and Chilbongie says he is, adding that it's not exactly like he's going to follow around a girl who's marrying someone else like a stalker. "With time, when more time passes… I'll be okay."
Na-jung comes by the hospital to drop off wedding invitations for Garbage to hand out, along with a change of underwear and socks. She demands the dirty set in return (Gross. That's love right there. Who'd wanna touch that??) and attacks him when he won't hand them over.
She gives him a peck on the cheek and runs off when Yoon-jin calls with news that Haitai got dumped again. Oppa: "How long did he date her?" Na-jung: "One day."
Haitai gets drunk and tells the girls that he lost Jeon Ji-hyun to a hoobae, and they gasp to hear which one. A flashback to the noraebang earlier that night reveals Jeon Hyun-moo whisking her away with his singing skills. Hahaha.
Haitai asks if Na-jung's friend is still available, and she says of course, insisting that he'll like her—she's Yonsei's Uhm Jung-hwa. Ha. So he waits on pins and needles for his blind date the next day, and in walks a girl who literally makes him drool.
The girls hear that things are going well for him, but then he shows up at home just a few hours later with a hangdog expression on his face. They ask what happened this time, and he sighs that they went to a noraebang and he lost her to married man with kids.
Cut to: Yoon Min-soo belting out a song. Hahaha. He puts on a broody performance for the ladies, and then promptly answers a call from Hoo with a big goofy grin. Aw.
Yoon-jin whacks him on the head and says it's obvious he doesn't want a girlfriend, while Haitai whines that he's the one getting dumped. But the girls point out that if he really actually liked any one of the girls, he'd have run after her, held her hand, and pleaded with her to stay.
Yoon-jin just cuts to the chase and asks about his first love Ae-jung, and Haitai freezes. She tells him that's the answer right there—if his heart still races at the mere mention of her, then he needs to deal with his first love before bothering with other girls he's not even interested in. Dude, listen to her.
It's November 21, Yoon-jin's first day on the job. She gets all dressed up and the whole family sends her off together, reminding her about her party at home tonight. Na-jung sits staring at the phone all day, waiting to hear back from her latest job interview.
Dad tells her there's nothing to worry about, brushing off all the news about each new financial hurdle, insisting the country will weather the storm.
Just then, the phone rings, and Na-jung lights up to get the word that she's been hired, and she'll start her new employee training next month. She dances, Mom and Dad jump for joy, and she calls Oppa to tell him the good news.
Yoon-jin comes home that night to a massive feast to celebrate both girls' new jobs, and Dad pops the champagne, showering them with celebratory bubbles. As the party goes on, Na-jung sees something that makes her freeze, and Yoon-jin follows her gaze to the TV.
Dad is the last one to get a clue, but then eventually everyone turns to watch the news report that the country was in economic crisis.
Na-jung: November 21, 1997. Yoon-jin's first day on the job. And the day I secured my very first job. The country was ruined, like a lie. South Korea went from Asia's dragon to its worm, and the shining Generation X became a class that was cursed.
She narrates as we watch the family's fallout: Dad loses his job with the Twins, Yoon-jin gets told she won't be receiving paychecks anymore, and Na-jung waits for her call about new hire orientation, only to see on the news that her company went bankrupt.
She eventually gets the official letter in the mail, rescinding the new hire offer. She narrates that she never even got to go to work once before rejoining the ranks of the unemployed.
We watch her slave over new applications in the coming days and interview for whatever she can. Dad watches with a long sigh, and then Oppa comes in to give her a hug of encouragement. She wonders what she'll do if she just ends up a wife who does nothing but makes food, and Oppa tells her he doesn't care; it's Na-jung who couldn't stand for that.
But then a few days later, she gets a call and lands a job after all. Hooray! The man on the phone congratulates her, and adds that she's lucky—there aren't many jobs available, but she secured a position abroad because of her English skills. Oh noes.
She braces herself and goes to see Oppa, who sits numbly after being told. He asks shakily if she accepted the job, and she tells him that this was her last application and her last interview—her last chance.
She's due to report to the office on January 10 and spend two years in Australia. Oppa points out that their wedding is on January 25. Eep. Na-jung bites her lip before saying it, and then asks cautiously: "Can we postpone the wedding for two years?"
He reminds her they've passed out invitations, and adds that he just signed a contract for their new house. She promises to explain everything to the parents really well, and to take care of cancelling the wedding and apartment.
Oppa lets out a long sigh: "No. No." Aw, Oppa. She tells him this is really important—her life depends on it. But he digs his heels in: "Just stay. I can earn money." Oh nooooooo, Oppaaaa. You're killing me.
She gets up and runs off before she bursts into tears, and she cries herself to sleep that night.
Oppa paces outside in the snow that night, and comes to the house first thing in the morning. They sit in silence for a while, and then he finally says, "I was wrong last night. I'm sorry. I'll wait for you to go and come back." Phew.
He wipes her tears away and says he thought about it in the reverse, if she had asked him to go to abroad and leave his job for her. He realized it then that he had taken her work too lightly when he couldn't do the same, and apologizes for it now. Way to come around, Oppa.
They tell Mom and Dad, and then just like that it's time for her to say goodbye. Oppa drives her to the airport while holding her hand, and she narrates:
Na-jung: We are a special couple. We spent twenty years as brother and sister. We had the sincerity to endure a one-sided love that challenged our strength. And we had the dependability to push a wedding that was a month away to begin a long-distance relationship. We were a very special couple.
She flies away to Australia and Oppa drives back alone. We watch her settle into her new job and call Oppa regularly to tell him how much she misses him. But as time passes, they grow less and less frequent.
Na-jung: That being out of sight puts someone out of your heart—I just thought they were words to describe regular couples, while we were a very special couple.
We watch as calls start to get missed on both sides, emails pushed till later, (Lol, do you actually have an account named Trash Kim?) and their photo starts to get buried under the mountain of paperwork that takes over daily life.
Na-jung: We were a very special couple. But in front of time, in front of life, that specialness was becoming very average. Like anyone, we were becoming negligent and like everyone, we became buried. Eventually we became accustomed to that negligence. Like that, we became a very un-special couple. And like that, without breaking up, we had broken up.
We watch time pass from Samcheonpo and Haitai's point of view, sitting in front of their computer at home and receiving emails from Na-jung while reading about Chilbongie in the news. Ha, each year there's a new search engine that's declared the best, and by 1999 Na-jung is preparing to return home, and so is Chilbongie.
This time Samcheonpo opens up a site called I Love School (which Answer Me 1997's Oppa invented, if you remember) and explains to Haitai that it's a way to connect with old friends…and first loves. He nudges Haitai to try it to find Ae-jung, and Haitai mulls it over.
New Year's Eve, 1999. Na-jung has been back in Korea for a week, and comes home to find everyone in a flurry of activity, getting ready to leave the house. Mom and Dad have a date, so do Yoon-jin and Samcheonpo, and even Binggeure runs out to meet Die-Die. Na-jung tries to butt in to remind them that it's the turn of the new millennium, but they just run out the door.
Ha, Dad complains that her present to her parents after being away for two years is a pair of Uggs, but puts them on anyway. Na-jung sighs to be left in an empty house.
She heads upstairs and finds Haitai hunched over after sending Ae-jung two messages yesterday online, and receiving no answer. He says dejectedly that if she had replied he would've gone to their class reunion party tonight to see her, but now he's too embarrassed.
Na-jung flicks him in the face and tells him to get it together—that's not even trying, and not something to be embarrassed about. She tells him not to regret it later, and tells him this is probably his last chance. "It's your last chance to be sure if you still like Ae-jung or not. Or you can just spend the rest of your life in this room with Sung-kyun." Ha. If that doesn't get you up, I don't know what will.
On their way to their dates, Yoon-jin remembers their ancient promise to gather on New Year's Eve 1999, and wonders if anyone would've remembered. Binggeure thinks that Na-jung might, knowing her crazy specific memory (ha, I forgot about that trait), and then wonders if Chilbongie or Garbage might too.
Samcheonpo says Garbage wasn't there, but Binggeure says he told everyone about it back then. We watch as Garbage, now a surgeon, finishes up a procedure and returns to his desk. And today's date is circled in red on his calendar.
Na-jung goes upstairs armed with every kind of liquor in the house, and sighs at the empty room where she and her friends had made that promise. At the same time Chilbongie arrives at the airport, greeted by a crowd of reporters. Do we have a New Year's Eve Race to Na-jung Part II?
Haitai goes to his reunion and a friend tells him that Ae-jung is living in Seoul now and she probably won't come tonight because of him, but hands him her phone number anyway to try calling.
As Chilbongie gets driven home, he asks his manager to drop him off elsewhere: "I have someplace I have to be." Is it…?
Na-jung waits alone at home, and it starts to snow outside. Omo. My heart can't take it if this is a fakeout.
Garbage gets dressed to head out, and to make things even more nerve-racking, he's got on virtually the same outfit as Chilbongie. Well, you do have similar taste in other things, so I'll give you that. Each of the boys looks up at the snow coming down.
Haitai paces back and forth outside the bar, hemming and hawing as he stares down at Ae-jung's number. He finally decides to call, and as soon as he does, a phone rings from just behind him. She's standing right there, and answers her phone.
Ae-jung: "Ho-joon-ah." Ah, finally a name for Haitai (the actor's own).
Na-jung looks up at the clock as it nears midnight, and sighs to herself as she gets ready to drink alone. But just before she can put the glass to her lips, she hears the front gate open outside.
She goes out to the balcony and sees someone approaching. She comes back in and waits, and a pair of feet hesitates at the bottom of the stairs. We get a teasing shot from overhead, but of course since Oppa and Chilbongie are wearing the same friggin' clothes, it doesn't matter. Stop yankin' my chain!
He walks up… and up…
It's Chilbongie! She's surprised to see him, and he looks back at her with shaky eyes that rip me up. She smiles, and he does too. It's only then that we get the episode's title card, named for the Kim Dong-ryul song that's playing over the scene (posted above).
He asks about the other kids, who have all forgotten and gone out to celebrate. She muses that he remembered, and he mimics her accent to say that he did. Na-jung breaks the awkward air between them to ask if he isn't hungry, suggesting ramyun. It does the trick and he laughs.
Back outside the bar, Haitai stops Ae-jung from going inside with the first thought that comes to mind, and asks the dumb irrelevant question if the song playing overhead is from the fifth album. She corrects him, and he finally gets up the nerve to say: "I missed you. I missed you a lot."
And he pulls her in for a hug.
At the house, Chilbongie comes back with ramyun (ha, he's the one to cook it, just like old times) and they stuff their faces hungrily. Na-jung asks how much time is left before the new year and he looks up at the clock and says there isn't much left. Ten seconds, in fact, and he starts to count down…
She freezes mid-chew, her cheeks still full of ramyun, as he counts down to midnight. "Three, two, one… Happy New Year."
At that, she hurriedly throws a hand over her lips. Pwahaha. He cracks up and says he's not going to do that, teasing her for going overboard. But he does ask, "Na-jung-ah, what're you doing tomorrow?"
We go back to the wedding photo in 2002, and the "special surprise" for Na-jung on her wedding day turns about to be Haitai wearing his old 1994 hair just for the occasion.
This time the blurry picture reveals Haitai's face as a friend of the bride, officially taking him out of the running for Future Husband. Not that he was ever a real contender.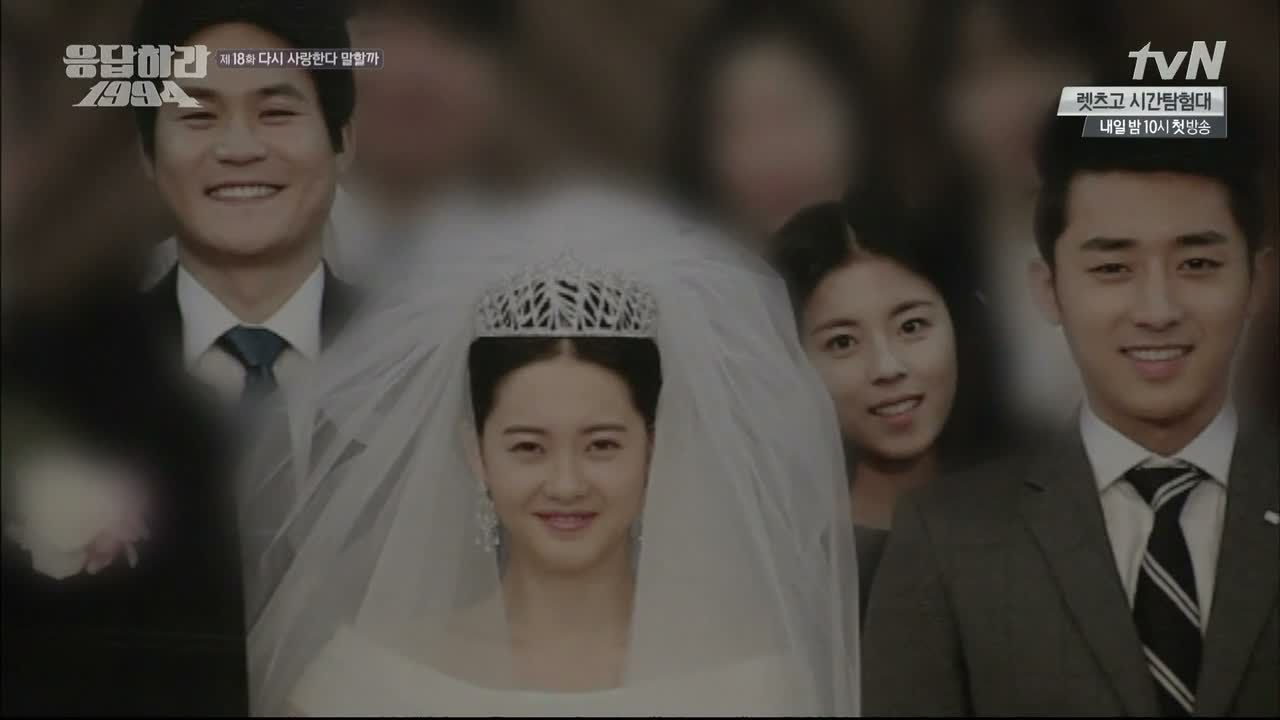 COMMENTS
So the pendulum swings back Chilbongie's way. Despite being happy in the moment when Chilbongie shows up at the top of those stairs, I'm just generally pooped out from this game and no longer see the point of letting myself get emotionally involved if I'm just going to be yanked around till the finale. Which is of course what's going to happen. That it's putting a strain on my love for the show is an understatement, so I'm trying to just ignore all the purposeful Hand of Mystery waving, because it makes me want to slap it away. If the characters would just be allowed to live out this love triangle as if the future didn't exist, I'd be much obliged. Wishful thinking, I know. It's only more apparent in the final weeks how much this should've stayed a 16-episode show.
The IMF crisis played out in a much more impactful way for Answer Me 1994 than for the 1997 crew, and it was a nice way to weave in a particular generation's set of unique problems. I just can't even imagine leaving college at the exact moment when your country's economy goes down the tubes in such a colossal way. I actually wish we had taken up the whole episode on the subject (or even more, heck we have the time), because I like it when our main characters have something else to worry about than their love lives. I could've done with Na-jung being jobless for months or even years, since that's actually more realistic, but it proved to be a nicely developed impetus for her to leave (whereas I didn't see the need for Oppa to even go to Busan, except to motivate the 1997 cameos).
I like that Dad's investment folly actually folds into all this despite mostly being played for comedy. If he had stayed solvent, if he hadn't lost his job, maybe Na-jung would feel less pressured about having to land a job right away. But her family is depending on her to keep them afloat, and that makes her decision easy and responsible and right. It's also a choice that may not have happened in 1996, which is why it's motivated nicely with a touch of regret at having been born into your generation, which sucks but is just your lot in life.
I was grateful that Oppa only spent one day opposing her choice. It's an understandable reaction since it sucks to be him in that situation, but it was still a heartbreaking letdown. Of course he came right back and said the perfect thing, so all is forgiven. Their breakup seemed like a natural progression from her having to go abroad, so I suppose now in 2000 we just reset the whole game to zero, with all three parties in the same city at the same time. The fact that we're still in this place in the story after so many episodes is a little mind-numbing, but at least this time we're down to the final years before the wedding? I'm happier about the fact that Na-jung got an episode to just do something for herself and her family, and not be defined by the love triangle. She was also a really good friend to Haitai, which I adore about her. His was a happily ever after I was really rooting for.

RELATED POSTS
Tags: Answer Me 1994, featured, Go Ara, Jung Woo, Yoo Yeon-seok