Answer Me 1994: Episode 20
While the fact that we're going to play the guessing game all the way to the finale is as inevitable as it is annoying, at least we get an episode with emotional payoffs and some big steps toward character growth. Everything except the central love triangle is filler at this point, but that's really the only question left unanswered. Here at the beginning of the end, we say goodbye to first loves, paving the way for the future.
Ratings broke the 10% barrier with this episode, bringing in an average 10.1% and an episode high of 12.4%.

SONG OF THE DAY
Lee Seung-hwan – "천일동안 (For a Thousand Days)" [ Download ]
Audio clip: Adobe Flash Player (version 9 or above) is required to play this audio clip. Download the latest version here. You also need to have JavaScript enabled in your browser.

EPISODE 20: "The beginning of the end"
Poor Dad is lying in his hospital bed after surgery with two broken legs and a broken nose, and Na-jung walks Chilbongie out to the elevator. At the same time Garbage is on his way up after belatedly getting the news about Dad's drunken mishap.
The elevator door opens on the awkward encounter that closed the last episode, with Garbage looking up to find Na-jung and Chilbongie standing just a foot away. He looks at both of them, hangs his head again… and lets the elevator door close on him. Aw, Oppaaa.
He rides it back down dejectedly, and then all three of them spend the rest of the evening alone and lost in thought.
The next day Na-jung pokes and prods Dad's broken nose while Mom tends to him. Chilbongie is back as promised, and says he brought the signed swag Dad wanted for his friend.
Na-jung grumps to hear that Dad made up with his friend who gave him the terrible investment advice, but Dad promises he won't fall for it again, saying he passed up his friend's latest push to invest in an American computer company named after fruit. Haha.
Later that night the whole group grills Chilbongie to prepare him for his big TV interview with Kim Hye-soo. Haitai leads the charge for him to make up stories that land with impact, while Na-jung tells him to just be honest because that comes across best to audiences.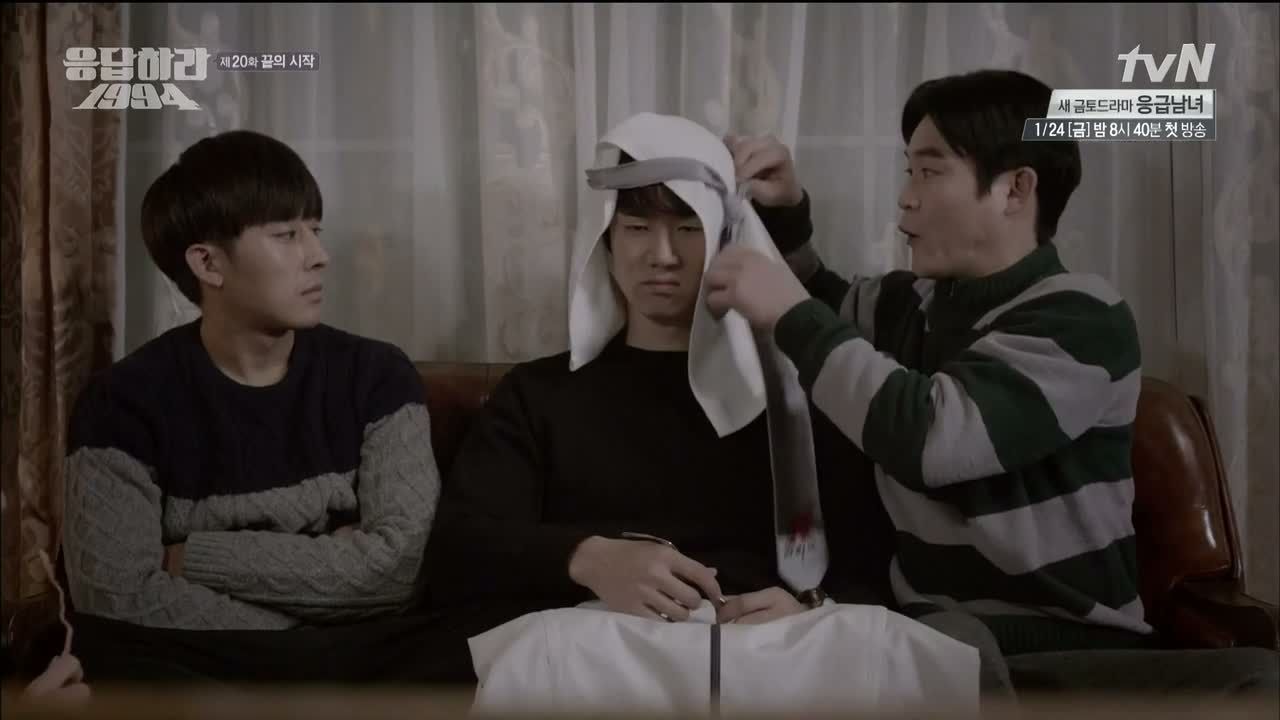 Samcheonpo's main concern is trying to get Chilbongie to wear something with his company's logo on it for free publicity, and Yoon-jin is obsessed with finding out what kind of makeup Kim Hye-soo uses, giving Chilbongie an extensive list of questions to ask her. Binggeure asks if he can't say all their names on TV just once, which Haitai thinks is a silly thing to want.
Everyone heads to bed and Chilbongie pops by Na-jung's room to ask her to dinner tomorrow night, but she says she has to work late. It kind of kills me how he wears his disappointment on his face, though of course he smiles like it's no big deal.
Oppa gets off work and braces himself before calling Na-jung, who's still speed dial 1 on his phone. He asks to see her, and they sit across from each other in a coffee shop, looking anywhere else but at each other.
After a long silence, Oppa asks if she's doing well, and she notices that he seems sick though he says he's fine. They exchange chitchat about work being good, and Oppa's father who also had surgery, and his mother who isn't around anymore. Oh no, did she pass away? Na-jung struggles to hold back her tears when talking about his mom, who must've passed away in the time she was abroad? Oh, poor Oppa.
He says he's sorry, and Na-jung says with tears streaming down her face: "What do you have to be sorry for? Is it your fault? Do you not have anything else to say to me other than sorry? What do you have to be sorry for? I'm your little sister. Your little sister who only wants to show you the good, pretty, happy things—we're family."
He starts to cry, and she nods and smiles to reassure him that she's okay. She says she didn't know at first why they broke up, thinking that they had just drifted apart like any normal couple. "But now I know, why we broke up—"
We go back to their long-distance relationship while she was in Australia, that began with frequent phone calls that began to be missed, followed by a trip that Oppa was supposed to take to visit her that he cancelled at the last minute. When he does, she says she's okay despite her disappointment. And then sometime later, Oppa calls to tell her about his dad's surgery, and he tells her it's okay, and that he's okay.
Na-jung: We were a very special couple. We had lived as siblings for twenty years, and so Oppa always had to be oppa, and I always had to be his little sister. We had the sincerity to endure a one-sided love that challenged our strength. Loving care preceded all else. We postponed a wedding that was a month away and began a long-distance relationship with remorse, gratitude, and anxiety. So we were always sorry, thankful, and careful.
Na-jung hears about Oppa's mother passing away from Mom, and calls him in tears. But ever the oppa, he tamps down his cries and tells her again and again that he's okay. Haitai tells her later that Garbage didn't want her to waste two days traveling just to be there for a day, and insisted she not bother coming up.
Na-jung opens her inbox and is taken aback to realize that all of Oppa's emails read with the subject lines: "I'm sorry, Oppa's sorry, Don't worry I'm okay, I'm sorry that sorry is the only thing I can say…" and on and on.
Na-jung: Eventually with only consideration left between us, our real wounds had nowhere to lean and festered. In the end we couldn't even manage to be a regular couple. And thus without even being able to once say the common words "I love you," we had broken up in a very un-special way.
Now back in the present, Na-jung says through tears, "Back then… we should've just said we were having a hard time when we were having a hard time, and that we were hurting when we were hurting. Why were we like that?"
She leaves before she bursts into full heaving sobs, and cries all the way home. She comes up to the house still crying, and Chilbongie sees her from the balcony.
He comes downstairs and puts a hand on her doorknob, but can't bring himself to go in, and just stands there outside her door, listening to her heartbreaking cries.
The next morning, Yoon-jin and Samcheonpo rush to leave the house, and Haitai stops them to have a bite of breakfast like a mom, carrying a bowl of cereal in one hand and Joonie on his back (He's holding down the fort while Mom stays with Dad in the hospital). Chilbongie stops to take a bite and asks after Na-jung, who comes out with a baseball cap shoved over her eyes.
She stays at work late that night, and Haitai calls wishing she'd come join the group since they're eating out. (He says he has Joonie with him because he's basically taken over child-raising duties, and the baby even sleeps with him now. So cute.)
She goes back to her work, and then Chilbongie calls a minute later asking her to come down for ten seconds. He hands her a cake and keeps to the ten-second promise, zooming away before she even has a moment to process the fact that he stopped by.
A while later, she's all done at the office and packing up to take the rest of her work home when she gets another call that startles her. Cut to: Chilbongie in the hospital, and Binggeure nagging him that he pulled his shoulder because he wasn't being careful and running around late at night.
Binggeure tells him he won't be making his flight in a week with his shoulder like this, though Chilbongie insists that it's not serious enough to worry about. Binggeure heads back out to do his rounds, and asks what Na-jung is going to do.
She looks over at Chilbongie, and then a moment later she's unpacked all her stuff so she can work from the couch in his hospital room and look after him. Lol, he's SO happy that she's here, like a little kid who can't stop smiling.
Haitai continues to play mom at home, and Yoon-jin and Samcheonpo take advantage of his spaghetti dinner to play Lady and the Tramp.
The group makes plans to go see Chilbongie in the hospital, and Yoon-jin worries that Na-jung might be feeling guilty about being the reason he strained his arm.
Chilbongie spends the whole day just staring at the door and waiting for Na-jung to come back from work, and lights up when she arrives with dinner.
He struggles to use chopsticks with his left hand and bravely shuts his eyes and goes "Aaaahhhh" for Na-jung to feed him, and she promptly sticks a fork in his hand. Haha.
They yuck it up while watching Friends, and then the rest of the gang comes by for a visit. They ask why his parents aren't here to take care of him while he's in the hospital, and though he makes excuses about them being busy, it's abundantly clear that he can't depend on them for stuff like this.
As Na-jung heads home with the group to grab a change of clothes, Chilbongie makes sure that she's coming right back, and then goes back to staring at the door as soon as she's gone.
On their way out, the boys chatter away like normal, and Yoon-jin is the only one who notices Na-jung's mood—she's been subdued since morning, and remains in a funk.
Garbage's buddies at the hospital talk about how he's home sick for the first time ever, and at the same time Mom and Dad are wondering why he hasn't come by.
Na-jung returns to the hospital, and for the second time she purposely avoids the elevator, choosing to walk up the stairs rather than run into Oppa again. Chilbongie waits out in the hallway for her to come back, and notes her use of the stairs with a long face.
He asks, worried about how she'll answer: "You're going to stay tonight, right? You have to stay until I'm all better, okay?" She says yes to both, and then he finally smiles.
Binggeure comes by, but then Na-jung whirls around when Garbage's bunkmate comes around the corner and recognizes Binggeure as Garbage's puppy. Na-jung and Chilbongie turn their backs to keep from being seen, but they overhear the entire conversation, where he tells Binggeure all about how sick Garbage is.
He goes on and on about his worrisome state, as Na-jung listens stricken, and Chilbongie looks over at her nervously. Chilbongie is deep in thought when Na-jung comes back with dinner.
As they eat, he asks her to come earlier tomorrow because he doesn't want to be alone for tests. And then he says they have to see a movie when he gets released, and go to that restaurant he wanted to take her to. He decides they'll have to make a schedule until the day he has to leave next week, suddenly feeling very rushed.
She agrees to all of it, telling him to just get better. She asks if his arm feels any better today, but he says it's the same. Oh honey, why do I feel like you're probably saying that because you're scared she'll leave the second you're not hurt?
He asks her to take a walk with him after dinner, and though she agrees to all of his endless requests pleasantly, he looks at her with these sad eyes, like he knows he's grasping at straws.
She stays by his side through every test, every meal, and every night, but Chilbongie's unease remains the same, and one night he wakes up from shoulder pain to find Na-jung gone. He steps out and finds her sitting in the hallway, just numbly staring at her phone, her mind clearly elsewhere.
Dad does another round of his characteristically opposite predictions (this time declaring that Won Bin will never succeed, even if he chops off that long hair), and Mom wonders if Joonie will even remember their faces after spending the week with mama Haitai.
Two shakes later Haitai is whining about how heartbroken he is, as he asks the rest of the gang in Chilbongie's room if they saw how that little kid ran into his mother's arms and never even gave Haitai a second glance.
They tell him that that's the obvious, normal response of a six-year-old child, but Haitai refuses to believe his hard work and effort was so meaningless. Yoon-jin: "It's obvious because he likes his mom better!"
Samcheonpo: "Did you think that just because she was gone for a little while, he'd run to you? You can't compete with Mom. You can't win!" The meaning isn't lost on Chilbongie, who realizes he has more in common with Haitai than he'd like to admit.
The next night Na-jung comes by and steps out to take a call from work, and Chilbongie notices a bag of cold medicine sticking out of her purse. As Lee Seung-hwan's "For a Thousand Days" (posted above) starts to play to fully ensure my heart will be crushed to pieces, Chilbongie narrates:
Chilbongie: Without a father, without a mother, with just baseball alone I was plenty busy and warm. I always thought loneliness was just an emotion that found people who didn't lead intense lives. But one day at age twenty, the day I began to empty out a space for her, that space felt hollow and began to feel cold. That this was loneliness, and that I was a very lonely person—I had only now begun to realize. Because I was lonely I missed her, and because I missed her I was lonelier.
We go back to the day Na-jung hugged him in relief to find that he wasn't inside the mall that collapsed. His spirits had soared that day, never having imagined she'd care so much, and he'd worried as they ate lunch that she was going to make herself sick. He'd gone to get her medicine and come home on cloud nine, only to watch her flit away with a beaming smile to go see Oppa.
Chilbongie: It isn't over till it's over. But if it's a game that has no end, I have to end it myself. If it's something that 10,000 hours of heartache can't achieve, then for her sake, I have to lay my heart down. I have to begin the end.
So he calls Na-jung the next day to say that he has something to tell her, and then when she comes by after work, he admits that he's all better and has been for a while. Wait, now I'm suddenly scared that you're faking being better just to let her go. He spins his arm to show her, and reminds her about how he faked her out once before with the driver's license thing. Her glares starts to scare him, so then he just asks if she wants to hit him.
She does one better and pinches him until he winces and THEN hits him. Ha. She's not really that mad though, and asks if he's really all better. He swears he is and tells she can stop coming to the hospital.
The next morning Na-jung tells Yoon-jin about Chilbongie's lie, but says she plans to go to the hospital anyway, intending to visit him every day like she originally promised. She comes by the hospital room, but finds it already empty.
She goes looking for Chilbongie, but he's at home, arm back in his sling. You faker. He calls his doctor and apologizes for sneaking out of the hospital before he was supposed to leave, and swears he'll go to his physical therapy like clockwork.
Na-jung rushes downstairs and drops her phone when she collides with someone, and hails a cab. But while she's one her way to Chilbongie, she puts her phone battery back in, and gets a message from Oppa asking if she can stop by because he's sick.
Na-jung reads the message and just starts to cry right then and there, and we don't get to see if she changes direction or not.
Later that night Haitai and Samcheonpo watch the news report that Chilbongie flew out on the last plane that night, and we actually see the plane fly over the boardinghouse in the background.
They marvel at the crowd of reporters, always amazed that their friend is a famous person who seems so different from them. Samcheonpo is, as usual, obsessed with a random detail, wondering if Chilbongie rides in business class. He sighs that that's his dream in life: "Do you know that they serve food on plates?!"
They remember that his appearance on Kim Hye-soo's talk show is this week, and then we cut to the whole house gathered in front of the TV to watch it. They're disappointed that none of their practice questions were asked, but in the end Kim Hye-soo asks about the hardest thing about living abroad.
Haitai lights up, expecting Chilbongie to answer the way he prepped him, but he chooses Na-jung's simple answer that he misses Korean food. And then he adds, "But the hardest thing is when I miss my friends." Awww.
He closes out the interview with career goals for the coming year, and then asks if he can add something. He looks into the camera: "Kim Sung-kyun, Kim Dong-joon, Sohn Ho-joon, Jo Yoon-jin, and… Na-jung-ah! Today's my birthday." Oof. That cake was your birthday cake? BONG-AH. Why do you break my heart so?
He joshes them for not knowing when he remembered every single one of their birthdays, and then Kim Hye-soo laughs and asks who those people are. Chilbongie: "My friends. The friends I always ate, and drank, and played with."
As all the kids get up and run off, Na-jung coughs. Hm, is that a cold, missy? Everyone runs up to call friends and family to brag about their names being said on national TV. It's hilariously cute. But then Mom answers a call a second later, and comes by to hand the phone off to Na-jung. She asks who's calling at this hour. Mom: "Joonie. Jae-joonie."

COMMENTS
Of course you'd tease us both ways. It's not like I expect any REAL hints from you ever, or that twenty episodes of crying wolf has earned a sense of trust or anything. In any case, as an episode about saying goodbye to your first love, it had a nice symmetry to it—Na-jung finally deals with her falling out with Oppa and says goodbye to her first love, while Chilbongie finally faces the harsh lesson that there are things in this world you can't do with even ten thousand hours of effort, and says goodbye to his. Inasmuch as it sets the love triangle back to zero AGAIN, it's more endless chain-yanking; but as three separate characters, there's growth there. Each of them comes out of it knowing a little more about love, and we go into the finale with the understanding that First Love the fantasy is over, and a more mature love will take root.
I like that this episode painted Oppa and Chilbongie as opposites, only to come around and make them very much like the other in the end. Oppa loses Na-jung because he's too selfless, while Chilbongie clings to Na-jung selfishly. Oppa says he's fine when he's sick or heartbroken, and refuses to let Na-jung come to him when he would need her most, thinking it better to save her grief or pain. Chilbongie tells Na-jung he needs her, asks for her help, and wants her by his side when he's hurting, even if she's hurting. But once the tables are flipped and Oppa finds out why he lost Na-jung and Chilbongie realizes he needs to let her go, they go very much in the opposite direction and Oppa calls her when sick for the first time, and Chilbongie pulls an Oppa and says he's fine when he's really not. I rather enjoy that they end up on opposite ends of the spectrum regardless (because otherwise they'd be breaking laws of the universe, I'm sure).
I can't believe all that mess happened to Chilbongie just because he didn't want to be alone on his birthday. His storyline in this episode highlighted just how alone he really is and why he clings to Na-jung so. The sitting alone just staring at the door and waiting for her, making sure she'll be there every day until he has to leave, his nervousness that she'll go away at any moment—it was all so beautifully sad and vulnerable. It was heartbreaking that he had to see that loving Na-jung was the thing that made him lonely, but it was a nice revelation to spur him past his one-sided love.
I love that the friends assume that they're just unimportant college friends of a famous person, while Chilbongie sees them as family and home. The flashback to the moment after the mall collapse struck me as the moment that that took root for him—when he was shocked that someone would actually care that much about his well-being to cry, as if he'd never been loved like that before. I don't even mean romantic love, but just sincere love and concern, yunno, that he's alive. Is it any wonder he's in love with her?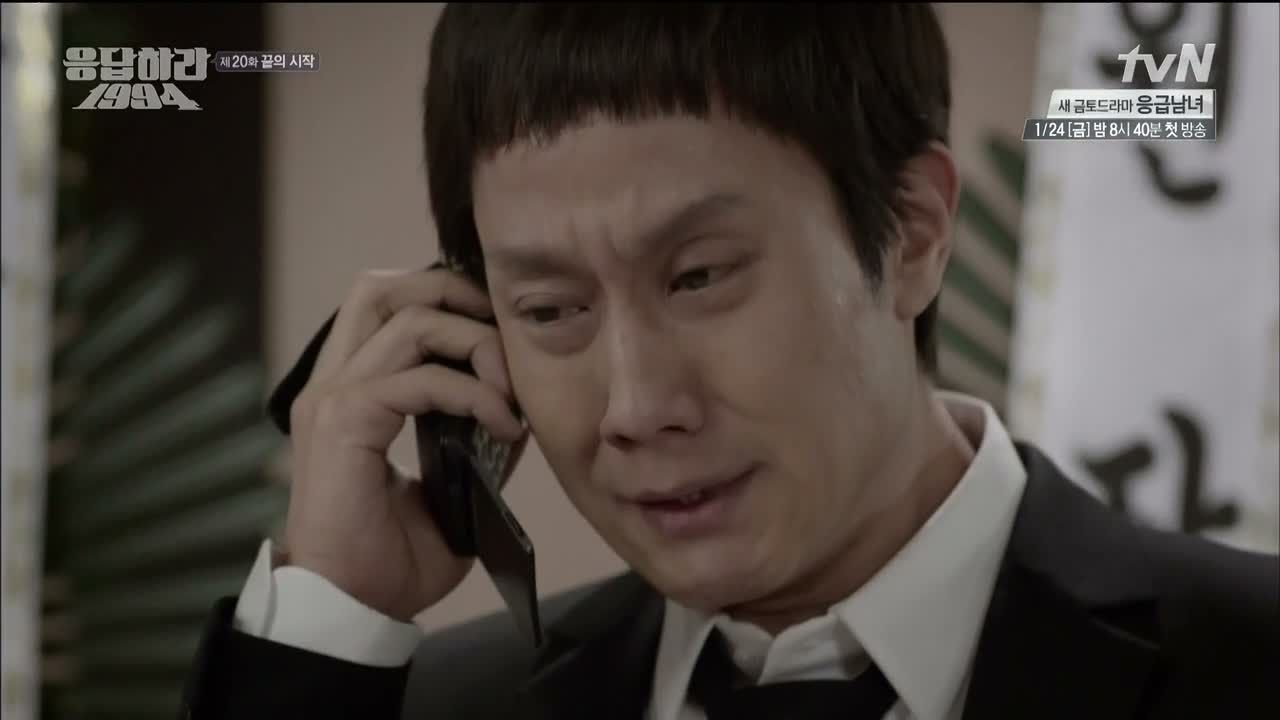 I thought it nice that just like Oppa who got his position in the Sung family reinforced regardless of being apart from Na-jung, Chilbongie reinforced his friendship with the gang. It sets us up for a believable future where failed romance is water under the bridge and friendship is the thing that lasts. I'd be more inclined to believe it had we not been strung along on the world's longest love triangle, but I suppose we have two years of ground to cover till the wedding.
And Oppa, oh Oppa. Why wouldn't you let her come to you in your time of need? Maybe she's the one who should've gone anyway. The thing about them is that there's no one to blame because they did everything for each other and nothing for themselves, only sometimes you actually have to get mad and fight, and tell someone you need them, and tell them it's not okay. It's so realistic for Oppa to just be an oppa instead of a boyfriend, and for Na-jung to just let him because that's who he was. Go Ara played that "Why were we like that?" moment so beautifully—tinged with regret at having been too nice, too understanding, too giving, to the point that they actually took themselves out of the equation to keep from being a burden on each other. If ever good intentions paved the road to misery. I mean, what do you do when your relationship becomes so polite and thoughtful that you both end up utterly alone? What a thing—they were just as lonely as the guy who had an unrequited love.

RELATED POSTS
Tags: Answer Me 1994, featured, Go Ara, Jung Woo, Yoo Yeon-seok