Answer Me 1994: Episode 21 (Final)
We finally conclude the mystery and the journey, as the beginning of adulthood ushers in the end of an era. Everybody gets a name and Na-jung gets her husband, which means she gets to kick that headless groom she's been marrying for ten weeks to the curb and replace him with the real deal. Bye, Headless Guy.
The series went out on a high of 11.9% ratings. It's a bit of a rushed production that could've used a few hours of editing finesse had they had the time, but overall it goes out in true Answer Me style, as a love letter to the nineties and bygone youth.

SONG OF THE DAY
Lee Seung-hwan – "기다린 날도 지워질 날도 (Days That I Waited, Days That Would Be Erased)" [ Download ]
Audio clip: Adobe Flash Player (version 9 or above) is required to play this audio clip. Download the latest version here. You also need to have JavaScript enabled in your browser.

EPISODE 21: "To the nineties"
Both the wedding and the housewarming party draw to a close, and everyone gets up to leave except for Oppa and Chilbongie who linger behind. One of them comes up to put an arm around Na-jung as they say goodbye to their guests, and they note that sometimes first loves do make it.
We go back to 2000, when Na-jung gets that message from Oppa on her way to Chilbongie, asking if she'll come by because he's sick. She bursts into tears right there in the cab, and sobs the whole way.
The doorbell rings and Chilbongie opens his door… to Binggeure, who's here to chase him down after he fled the hospital sooner than he was supposed to.
And at the same time, Na-jung braces herself before ringing the doorbell… and Oppa answers. She cries, half-angry that he called and that she came despite it all, and brushes past him to go inside.
He tries to hold onto her but she shakes him off, and he finally just throws his arms around her and hugs her close. She cries into his shoulder and her legs turn to jelly, sending them both crumbling to the ground in tears.
Oppa just cups her face in his hands and looks at her for a long moment, and finally whispers as a tear rolls down his cheek: "I love you. I love you." Once he says the words, she's the one to reach out and wipe the tears from his face, and she leans in for a kiss.
Oppa comes to work the next day all better from his cold and floating on cloud nine. He hears the other residents oohing over Chilbongie being at the hospital, trying to figure out how to get an autograph.
Na-jung gets calls from Yoon-jin, then Samcheonpo, then Haitai, all telling her to hurry home because Mom's cooking something special. That's so cute. She asks Haitai if he called Binggeure and Chilbongie too, and that's when he tells her that Chilbongie is at the hospital and checked himself out before he was supposed to.
She calls Chilbongie to ask where he is, and finds him at the baseball field. He waves at her from the mound and she waves back from the stands before coming out to the field. He makes her stop when she's a few feet away though, not letting her come any closer.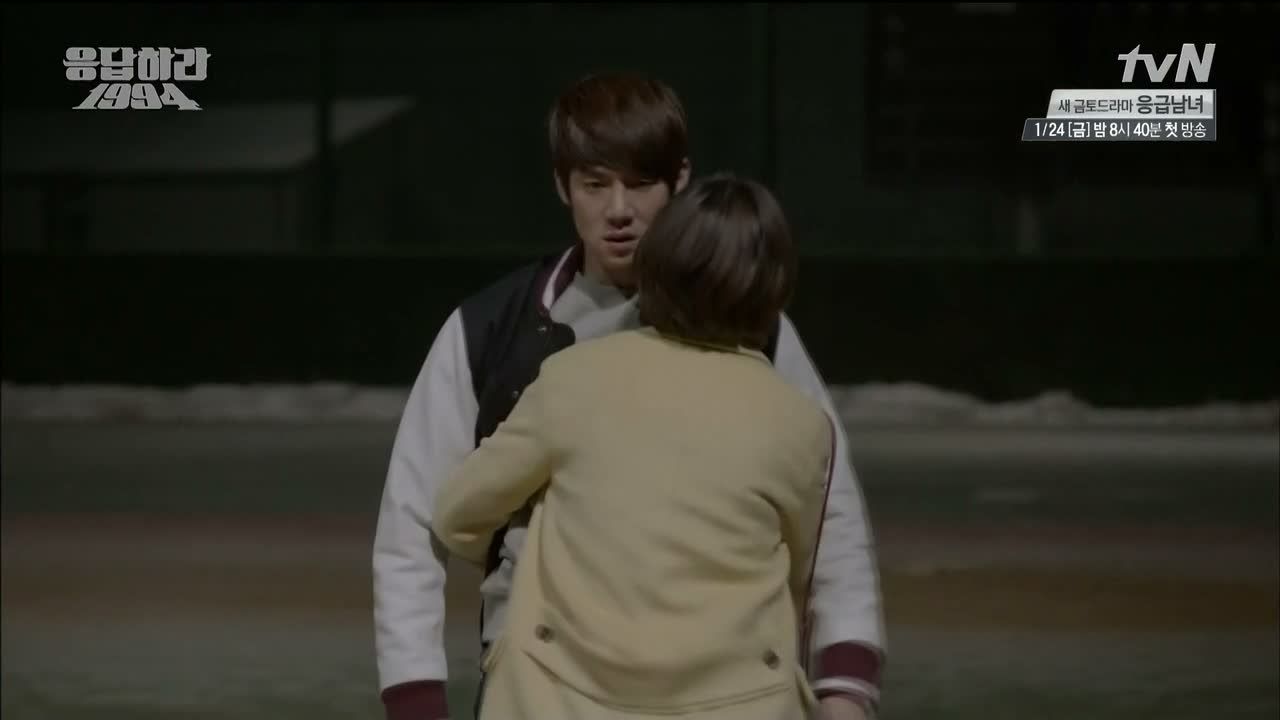 He puts on a smile and says he has a wish, and points to a glove hanging on a bat at the edge of the field. He asks if she'll grant his wish if he hits it, and though he struggles with his injured arm, he hits his target like he always did.
He turns to her, "Na-jung-ah…" but before he can even say it, she rushes him with a hug, throwing her arms around his waist and leaving him speechless. Aw. He smiles, "How'd you know?"
He continues, "I don't think I'll be able to call. I think it'll take some time. Sorry." He holds on for one more moment before pushing her away. Na-jung looks up at him: "Joon-ah, of all the people I know, you're the handsomest."
She names all his good traits and says that he's the most impressive person she's ever met: "Do you know how thankful I am that someone like you liked me?" She says it was because of him that she found out that she wasn't half bad herself.
She says that someday if she ever has a child, she's going to brag about how that famous person on TV liked her. "Joon-ah, thank you for liking me. Because of you, my age twenty will be a beautiful memory."
They smile at each other and he swallows back tears: "Me too." He hugs her one last time and says goodbye. And then long after she's gone, he sits alone looking out at the field, and lets himself cry. I'm not crying. I'm not. *sniff*
Later as he packs, Haitai calls to say he should come by the house to have drinks with everyone on his last day. He can't, of course, because of Na-jung, but he has a final doctor's appointment anyway to check on his injuries before he flies out.
At the hospital, the doctor tells him his shoulder and back aren't in good shape, and at some point he's going to need surgery. It's his back that's worse off, and the doc has called in a specialist to do a consult.
In walks Garbage, who's now the head brain/spine doctor, which is a really hard thing to wrap my head around because I've seen him wipe his face with a floor mat. The air is awkward, naturally, and Chilbongie sits quietly through the session as Garbage the Neurosurgeon explains that he can treat it without surgery, but that means he's always one injury away from permanent damage. He says the same thing—at some point, he'll need surgery, and perhaps sooner is better so that he'll have a chance to recover.
The residents line up to get autographs afterward, and Garbage waits till they're the only two left in the room. There's no more avoiding it now, so they sit down for a chat. Garbage tells him about his back in simpler layman terms, and gives him advice about what to do.
He knows Chilbongie is headed to the airport to fly out tonight, and stops to put a hand on his arm as he says goodbye and tells him sincerely to take care of himself. Chilbongie replies, "You too, sunbaenim."
Garbage turns to go and then whirls back around, "Hey, you used to call me hyung. Are you not calling me hyung anymore? What's with the sunbaenim? All the other guys call me hyung. You're the only one. What's that about?" Chilbongie smiles and asks if he'd be able to do that if the roles were reversed, and promises, "Next time. Next time, sunbaenim." Garbage looks at him thoughtfully… and then scrunches his face to whine that he really dislikes him. It's cute that he's trying for the laugh.
As Haitai and Samcheonpo watch Chilbongie board his flight on the news, Haitai decides that he'll name his child after Chilbongie so that he makes a boatload of money. Samcheonpo says he'll do really badly in school then, so Haitai revises his plan and says he'll name his child after Garbage. Samcheonpo: "Do you plan to raise him as half-human, half-beast?" Lol.
At the hospital the next day, Oppa tells Na-jung he's five seconds away from his office, where she's waiting with every snack imaginable on his break. His pager rings and he gets lost in thought for a moment, and Na-jung has to call him over and over: "Oppa. Oppa! Jae-joon oppa!"
He finally turns around. And just to put a stamp on it, a close-up of his nametag reads: Kim Jae-joon.
We go back to the wedding footage, and this time we finally get to see the head attached to the groom, and it is indeed Oppa, looking sheepish when Dad scolds him for choosing such a terrible day to have a wedding, having to pry Na-jung away from Dad at the altar, and smiling back at her as they walk back down the aisle as husband and wife.
And at the housewarming party, this time it's Oppa who takes the phone from Sook-sookie to tell Mom that he's usually a good kid (while kicking him silently), and he's the one that Shi-won recognizes as looking strangely familiar, though neither of them can remember why. Heh.
And as the friends get ready to leave, Chilbongie stands up after tying his shoe, standing in the doorway with the rest of the gang after all. Turns out this house was his to begin with, which explains why he's so comfortable here (enough to take a nap and order takeout). He even took a hit when he let Na-jung take over the contract at a lower price, and they joke that it was the First Love Discount.
She warns him that he can't take it back, and he says his wife complained, but she counters that she has three kids which pretty much makes her constantly broke. Chilbongie calls out to Garbage because he left his phone behind, and calls him hyung.
Haitai looks at Garbage and Na-jung together and says that sometimes first loves do make it, and they each go down the row saying "Like us," and even Chilbongie joins in, which makes everyone laugh. The non-blurry wedding photo shows the whole gang there at the wedding, including Chilbongie.
After the housewarming party, Na-jung cleans up, and Oppa goes to check on the kids. The youngest is stirring, so he puts him to sleep, and they nod off with their legs crossed exactly the same way. That's so cute.
As they get ready for bed, Oppa calls Chilbongie impressive for finishing out his pro career (he's playing for the Twins after all, fulfilling Dad's wish), instead of coaching in the States with so many offers coming in.
Na-jung runs down a to-do list with Oppa, calling him oppa, yeobo, and Sannie's dad in three consecutive sentences. He laughs and tells her to stick to calling him one thing. She says it's all the same, but he says each makes him feel differently.
He says when she calls him oppa he wants to be really good to her and take her out to movies, and when she calls him Sannie's dad he gets strength like he's suddenly a bear. "And yeobo?" He shudders and pretends to be annoyed at the sound of the word, so she yells at him to get away, now calling him Kim Jae-joon-sshi. He just gives her hugs and kisses, laughing.
He asks why Haitai married so late, and she says they had a long-distance relationship too, and broke up another time before getting back together. Oppa asks where she went, expecting the name of another country, but Na-jung says Suwon, which is like twenty minutes away, ha.
Back in 2002, Haitai is still living at the boardinghouse, and Dad asks if he's going to live here forever. Haitai says he's saving money, and Mom insists she loves having Haitai around.
Samcheonpo and Yoon-jin are newlyweds, and Haitai says they just had a huge fight the other night because Seo Taiji came back with a new album, and Yoon-jin ran out and bought a hundred copies to pass out to everyone she knows and even strangers in the street. Dad holds up his copy.
They light up when Chilbongie shows up on the news in a report about his surprise return to Korea, and we finally get his name: Kim Sun-joon. Dad worries about him, knowing he's back for surgery and that he'll be all alone. Mom and Dad ask Haitai if they've talked to him at all, assuming that naturally they've lost touch.
Chilbongie returns to an empty apartment, and ponders Binggeure's worries about him undergoing surgery alone. I'm gonna cry. WHY IS HE ALONE? He winces in pain at his shoulder and opens up his sad empty fridge, and then the doorbell rings. Please be the gang. Please be the gang.
Yay, it's the gang! He's shocked as they just barge in unannounced and make themselves at home, talking as if no time has passed. Na-jung is on the phone with Mom who wants to make him food and the rest of the guys are already getting out bottles and bottles of soju.
Binggeure tells him he was going to come alone but they already knew and came along. Two seconds later the doorbell rings again with the chicken they already called to have delivered. The shock finally wears off and Chilbongie laughs.
The group gets into a debate about whether or not Chilbongie should have surgery now, with Haitai and Yoon-jin arguing that he should finish out the season first and go out on a high, and Na-jung and Samcheonpo arguing that he needs to hurry up and get surgery so that he can recover sooner and have a better outlook for his long-term career.
It's hilariously heated on both sides, and even funnier for the fact that they're not listening to Chilbongie or even asking what he thinks, determined to come to a decision as a group, because that's how they do things. This makes me so happy.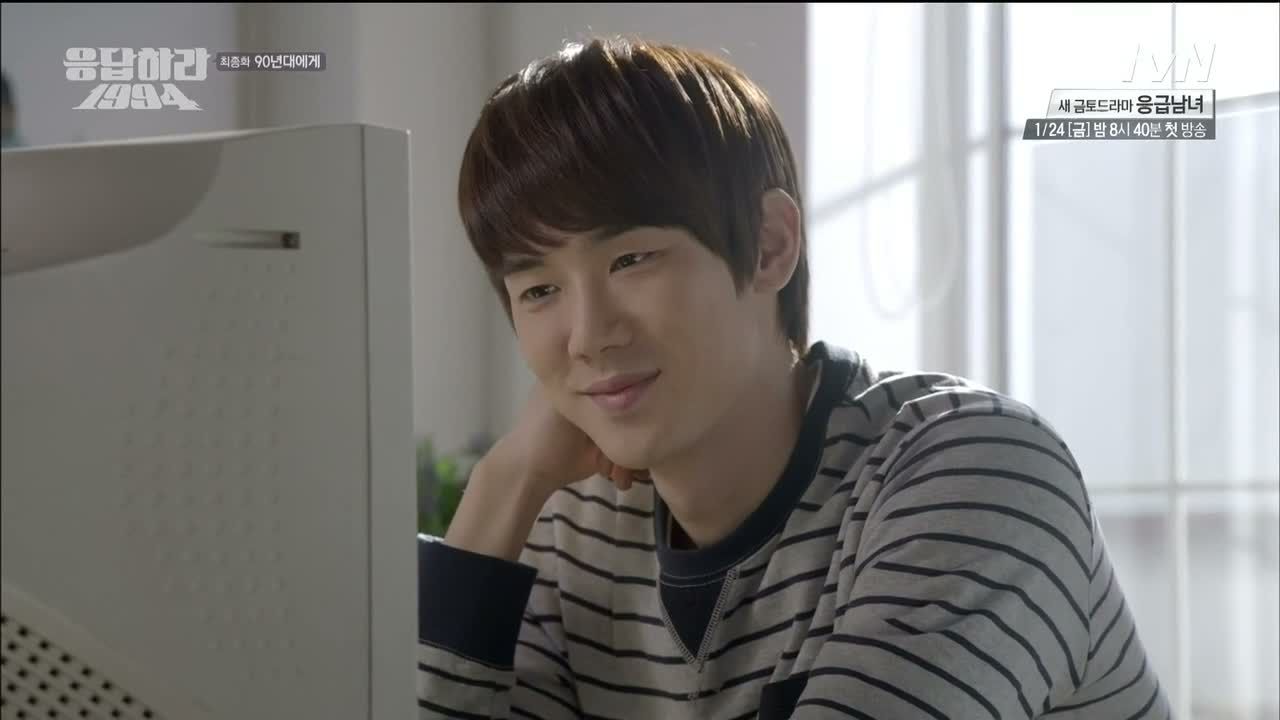 They make Chilbongie make the ramyun while they continue to argue over his future, and Binggeure says they might end up crashing here if they keep drinking. But Chilbongie says that Haitai gets up early to go hiking in the morning, and Yoon-jin and Samcheonpo are taking English class in the mornings, and Na-jung visits Garbage on the weekends.
Binggeure wonders how Chilbongie knows more about their daily routines than he does. A flashback montage shows Chilbongie alone in the States, lighting up every time he received a new email from one of them. They wrote back and forth the whole time, and never lost touch. Awwww.
Oppa is working in Gangneung now, which means Na-jung only sees him on weekends, though she tells Mom and Dad that she's happier than she's ever been. She happily lays out her outfit to wear tomorrow to go see Oppa, and heads to bed.
But just as she lies down, she hears someone come through the front gate. She sits up as Oppa sneaks into her room, having driven all the way here just to see her a little earlier.
He snuggles up in bed with her, and Na-jung says matter-of-factly, "If we get caught like this, we'll both die by Dad's hand." He says it's okay, "I have to get my head cracked open once before we get married anyway, so it's all the same." Haha.
She asks how he knew, and says with a huge smile that Dad has plans to kill and pickle him. I love that she says this stuff in the tone of an endearment. She asks when they'll tell Dad, and he says they'll tell them soon and she can just hide behind him.
She whispers, "Jae-joon oppa, I love you. Really." He says he knows and gives her kisses. And then we see their two sets of red family mittens sitting side by side on her desk.
On the day that they do tell Dad about their plans to get married, he comes at them with the giraffe paddle again, screaming his head off. They protest that he's known they've been dating for two years so marriage was inevitable, though of course Dad argues that it's really been seven years since they started this crazy mess, and refuses to be party to it all over again.
Dad's temper always precedes his softer side, so he declares that they can do whatever the hell they want, but he's not going to that wedding. Mom takes their side and says she'll go, but Dad brings them both to tears when he screams that they hammered a nail into his best friend's heart and his own once before, asking how they can bring up marriage again so flippantly.
Oof. It's really Oppa's relationship to the parents that gets me in the heart—I think Dad was more heartbroken over the first engagement than the kids were. Oppa fights back tears and gets down on his knees, and pulls Na-jung down too. He promises, "Father, we'll live well."
Na-jung brings Mom coffee outside, and asks if Mom likes Oppa that much—she always took his side, even the first time when Dad was so against them dating. Mom: "He's my son. Jae-joonie is my son."
Mom says she might not know, but that first time when Dad was so upset, Mom was just grateful and cried by herself in the bathroom. She thinks back to that day, when Oppa had first told Mom and Dad about them.
After Dad walks out in silent protest, Mom tells Garbage it's okay and cheers him on: "Mom is on your side." She changes the subject asks if he's picked a specialty yet, and he says he chose neurosurgery.
Mom instantly starts to cry. "It's because of Hoon, isn't it?" Awww, Oppa. She says he stayed by Hoon's side the whole time he had surgery for his brain tumor, and doesn't even need to tell her—she knows he chose that field because of Hoon.
He lies and says it isn't, and she tells him to choose something else to make life easier for himself, and that he needn't do this for her. Oppa just takes her hands and swears it's the field he wants to go into, and hugs her while she cries. Dammit, you can always count on Oppa for a sneak-cry, just when you thought you were all clear.
Back in the present, Oppa is now on pins and needles around Dad, who gives him the silent treatment and only makes Oppa more nervous and fidgety, if that's even possible. Meals are tense, and he gets slammed in the face with a ham when he accidentally flicks a radish in Dad's face.
By February, Oppa brings Chilbongie hospital food. Aw, you fixed up Chilbongie. And in March, he's still following Dad on eggshells, trying to be on his best behavior and killing Dad's favorite plant in the process.
Chilbongie is still recovering in the hospital in April, and the gang comes in for regular visits to play games and shoot the breeze. In May Oppa is still on Dad's bad side, and by June, it's sort of turned into this immature game, where Oppa follows Dad around like his shadow, and Dad runs away like a little kid.
Oppa follows him to the neighborhood store and perks up whenever he has the chance to do something right like remembering what Mom asked him to buy or paying or doing the heavy lifting.
Dad scowls gruffly the whole time, but then as soon as Garbage steps out with groceries in hand, he's bragging to the shopkeeper about his doctor son-in-law. Omg. So cute. And SO like Dad.
Four days before the wedding, Korea plays against Italy in the 2002 World Cup, and everyone gathers at the house decked out in their red shirts. Everyone bets on Korea while Dad is the loner who bets on Italy, and then Chilbongie arrives with chicken and joins Team Italy.
Korea ties the game which sends them into overtime, and Garbage, who's playing bookie for the day, decides that it's the last chance for anyone to switch their bets if they pay a little more cash. Dad stays firmly on the wrong side, but Chilbongie decides to change over at the last minute.
Garbage takes it back and says he missed his window, and Chilbongie whines, "Hyuuuung!" Cuuuute. Garbage caves to being called hyung, though he tells him he can pay double because he's a major leaguer. Ha.
Korea wins and makes it to the quarterfinals, and the house erupts in cheers and kisses for all. Dad makes sure to take back his money during the commotion, lol.
Mom announces the big news that Haitai is finally leaving the nest for an apartment of his own, and Dad tells them they'll be selling the house because nobody stays at these old-fashioned boardinghouses anymore. Aw, sad. End of an era.
Mom tells all the kids to sleep over tonight, and offers to make whatever they want for breakfast. She fills the table with mountains of all their favorite foods, and then everyone comes down for their last meal together at the house, trying their best not to cry.
Haitai can't even take a bite because he'll probably sob into his rice (he really did love Mom best, I think) and heads upstairs to finish packing.
Samcheonpo comes up and helps him pack the giant puffy blanket they shared for years, and wonders why he's taking such a heavy thing. Haitai says he can't sleep without it.
Then Samcheonpo remembers that it was his, and then they go back and forth trying to remember whose mom sent it. Samcheonpo says he can hardly remember, "What's mine became yours and what was yours became mine, and now I can't tell what's yours-mine or mine-yours anymore."
He goes back and forth so many times that Haitai loses track: "So whose is it?! Mine or yours?" Samcheonpo says it doesn't matter: "You have it." Awwww.
The kids gather downstairs to say goodbye, and Haitai busts out his newfangled digital camera to take a picture. They gather outside the house for a group shot.
Afterwards Dad writes up a handwritten note to put over their boardinghouse sign that says they don't take boarders anymore, and Na-jung watches with a long face.
Samcheonpo: On June 19, 2002, Shinchon Boardinghouse closed its doors. Thus we became Shinchon Boardinghouse's first and last boarders. At my age twenty that wasn't anything special, in a Seoul [called formally Seoul Special City] of ten million, the special connections that were like a miracle. That place, that made the youths of a couple of country bumpkins bustling, noisy, and eventually special. We spent a very special time together at Shinchon Boardinghouse. We cried, laughed, met, parted, and ached. We had different memories, different connections, different loves, but we were in the same time and the same place together, like a miracle.
A trip down memory lane brings us back to the night of the World Cup, when Chilbongie runs down the street holding six chickens in his hands. He suddenly drops out of frame and the fried chicken goes flying, and we see that he's collided with someone and broken her fall. Eep! The boy just had back surgery!
He helps her up and she lifts the headband out of her face, and omo! Jung Yumi! She says she's okay but as he cleans up the chicken, she hobbles around clearly missing a slipper.
He asks if she lost something, and she cries after her ddal-ddalie, which is exactly the word that Na-jung uses for slippers, and one of the first conversations they had at the house about Oppa's ddal-ddalie being his favorite and Chilbongie finding her strange words for things cute.
Jung Yumi suddenly slips into her country accent as she hops around looking for her shoe, and Chilbongie just smiles after her and laughs to himself. Thank goodness they got an actress I love—I think I might've died a little inside if they had paired him with someone less than stellar.
Back in 2013, Haitai takes a call from his boss late at night, and Na-jung shuts the TV off, telling her three young sons that chasing stars will make them stupid (ha, it's A-Pink, for one last Jung Eun-ji cameo). And Samcheonpo tells his cabbie the best route to take home like an expert.
And at the house, Dad takes down the last sign for new boarders.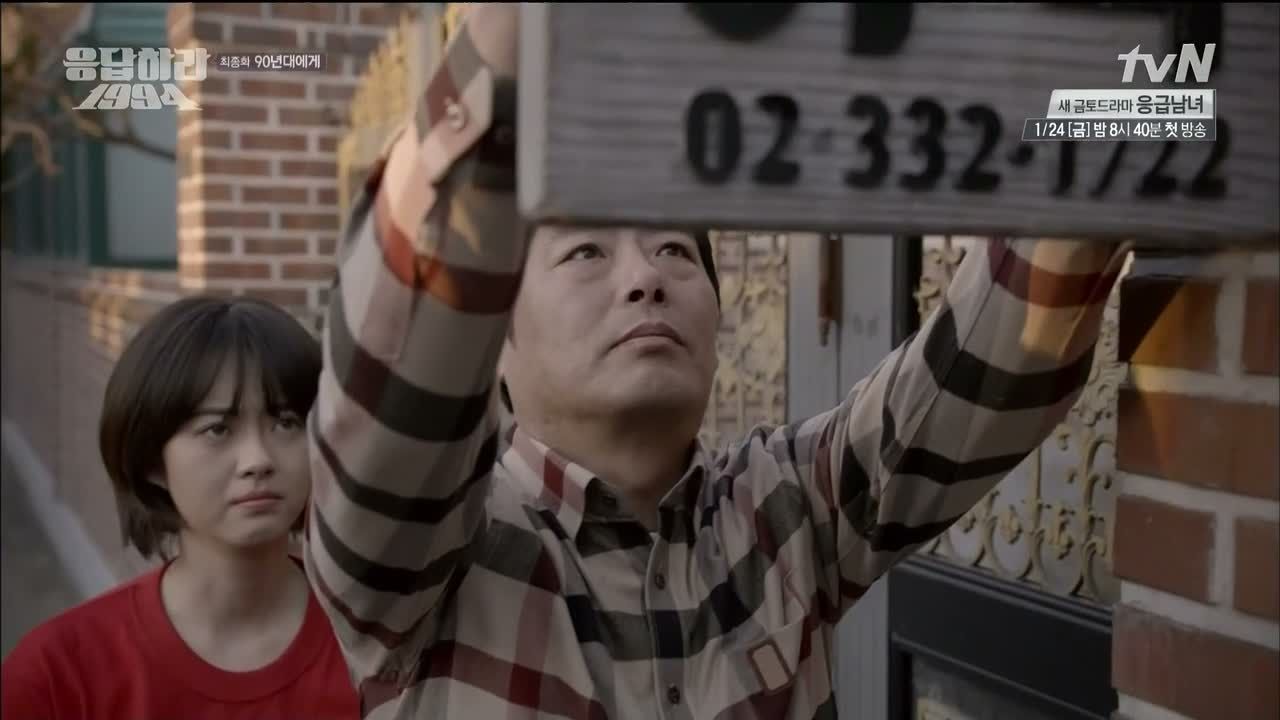 Samcheonpo: Right now we might be pitiful salarymen who are mindful of the world, but we were once Korea's first new generation: Generation X. We might now be ajummas who pour on the nagging like waterfalls, but once we were hot-blooded youth who hanged our lives on our oppas. And we were the first generation who was blessed to experience both an analog and digital world.

I repent for the days I used to belittle seventies music and eighties movies. That those movies, that music weren't just movies and music, but your youth and your era—is something that I now realize when I am no longer young. December 28, 2013. In a few days, we become forty. To all the forty-year-old youths of Korea, and to everyone who lived through the nineties and endured till now, I dedicate these words to you:

Do you remember that we lived through a beautiful age, that our brilliant youth shone brightly, that our relentless loves ran hot, that we were great in years gone by. Though the next era may be a difficult one, let us live it passionately enough to be old-fashioned. That era that was so hot and innocent that I long for it with a chill. Do you hear me? If you do, answer me, my nineties.

COMMENTS
The finale delivered a faithful ending given the final trajectory of the show, so there weren't any missing pieces or huge twists, and I think in general it puts in every bit of effort to give everyone a believable happy ending with no resolution left unturned. Because I was annoyed enough that we were dragging the mystery all the way to the finale, I was glad when Na-jung made her choice in the first five minutes, which in the very least gives us the rest of the episode for some closure and a chance to wrap up everyone's stories. I still think the hour and a half left something to be desired for the secondary characters, but I much prefer an ending that focuses on the family as a whole and what that house did to bring these people together, so points for that.
As for Na-jung's choice, I fully expected her to pick Oppa, and I fully expected to have my heart break for Chilbongie, so I was neither disappointed nor surprised about it. I don't even feel weird about my feelings being split (in that I'm happy for Oppa and Na-jung and crying for Chilbongie), because the show was written to make me feel bipolar about the romance. I do think in that sense neither guy gets the classic win because both got shafted throughout the journey for the sake of keeping them in the race till the last possible second, but as far as resolutions go, I was satisfied for both of them and found the final hour more pleasant than most of the second half of the series, which so often put mystery before character development.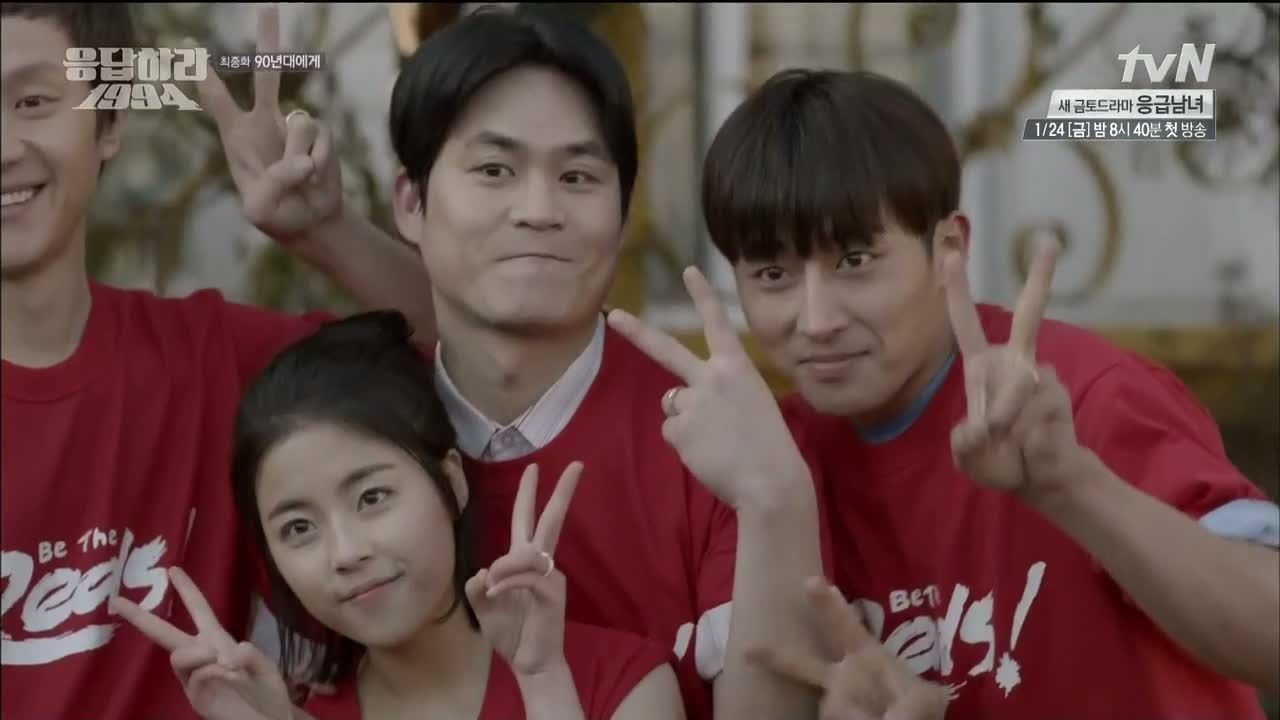 I've said as much already in my year-end review so there's no need to rehash everything, but it goes without saying that Answer Me 1994 got stuck in its own tunnel of mystery, and sacrificed far too much of what was good about the show in service of fueling this strange fixation with the bait-and-switch. I mean this on a structural storytelling level, and not the fact of the overarching who's-the-husband mystery, because that's just a gimmick and is as annoying or not depending on how they want to play it. The writer was just obsessed with the bait-and-switch in this drama, wherein we're purposely led to believe one truth (they're siblings/not), or more frequently led down a path of murkiness where nobody outright says a thing (What does Binggeure feel for Oppa? What does Oppa feel? What is Na-jung's reaction to anything?) just so that the story can be clever and jump out at us with a surprise twist.
Sometimes it works, and sometimes it's confusing, but by and large what happens if you do it for long enough is that we stop trusting your truth as truth and keep ducking for that sudden left hook. I felt totally shafted on Binggeure's character development and found his sudden resolution to be a twist for twist's sake—had he been confused about his sexuality, been exploring what his conflicting feelings meant, had we been in on his journey from the start or been allowed to know what he was going through, I'd have found his resolution to be fulfilling and a nice statement about the fluidity of sexuality and the importance of choice. Mostly though, I feel cheated out of what could have been that story because the show was more concerned with teasing the idea that he'd be gay so that they could swing around and do the big tadaaaaa moment. What is the point of that? I don't disagree with the outcome, but I'm disappointed in how we got there.
The biggest misstep was with Oppa and Chilbongie, which of course ignited some crazy fan wars, the depths of which I don't care to relive. The story chose a frustrating withholding strategy to prolong the central love triangle by taking turns putting Oppa in the corner and then Chilbongie in the corner, then back and forth and back again, until at some point we stopped caring whose turn it was and wanted it to stop. For as much thought as this writer puts into creating nuanced characters, she let The Hand of Mystery motivate their actions, which I found to be endlessly frustrating. I kept wanting deep, complex reasons, and kept getting non-answers and purposeful omissions for the sake of keeping things opaque.
Now that we're able to look back on the series as a whole, the latter half really sags with the weight of a single mystery stretched far too thin—now it shows just how little conflict was being prolonged for that much story time, and makes me wish they had just answered the question early if only to force them to come up with more story afterwards. If they had told this story in twelve episodes, it might've been brilliant. Told in twenty-one, it loses all that pizazz. It's doubly encumbered by the episode length, which grew preposterously long and drew complaints, eventually leading to the production releasing apologies, but sticking to its hour-and-a-half episodes anyway. What kills me is that I know this director has a strong sense of comic timing because Answer Me 1997 was spot-on and felt whip-smart because of its pace (until it also started to lag via bloated air time). This time scenes went on endlessly, jokes got lost because there were no editing choices made, and I could actually feel them padding out episodes and refusing to kill their babies, which dulled the zing factor—and one of my favorite things about this franchise is its zing! It felt like a raw production that should've gone through one more hardcore editing pass, perhaps from someone who wasn't so attached to the cast.
Even still, this show was fantastic when it was firing on all cylinders—when friends became family, when people showed up for each other, and when they finally learned how to ask for someone to stay by their side. Go Ara finally got to shed her acting criticism and her just-a-pretty-face image, and did an fantastic job of being believable in every moment, no matter what tiny thing she was doing. It was lovely to watch. Jung Woo is just amazing, and gave Oppa a vulnerability and a depth beyond what was written. His character is literally one that can't exist without that actor, which you can't say about most roles. Yoo Yeon-seok got the full Nineties Lee Jung-jae workup, so in a meta sense he gets cosmically rewarded for walking away without the girl; you get to take all of the other women in the world with you, which you can't exactly call a raw deal. I'm pretty sure I haven't watched a drama that so romanticized an unrequited love and gave it the hero treatment since the nineties, so I have to assume his entire character is a love letter to that era. Which I guess just makes me a goner from the start.
In execution, this drama was proof that you do lose something when you try to have your cake and eat it too. But what this franchise always manages to do right is make us smile and look back on our own youths with the same sense of longing and nostalgia, and the hindsight that comes from maturing. I wish it had been a smoother ride because I love all the characters dearly, but I'm glad we at least go out on a good note. Thanks for the memories, Shincheon Boardinghouse—the good, the confusing, the funny, the frustrating, the heartrending, and the sweet ones all.

RELATED POSTS
Tags: Answer Me 1994, featured, Go Ara, Jung Woo, Yoo Yeon-seok