Basketball: Episode 13
Basketball is played, shady deals are made, and it turns out that having two leads compete over a girl isn't as fun when only one of them actually seems to be competing. San's got some growing up to do, Chi-ho's got some bedside manner to perfect, and Hong-ki's got some ego to contain—but at least these are things we can look forward to instead of the wasteland that was these past few weeks. I don't want the show to take that as a challenge (since San still has nine more fingers and four able limbs), but anything's better than labor camps and torture, right?
SONG OF THE DAY
Jomungeun Band – "Blowing in the Wind (바람에 날려)" [ Download ]
Audio clip: Adobe Flash Player (version 9 or above) is required to play this audio clip. Download the latest version here. You also need to have JavaScript enabled in your browser.

EPISODE 13 RECAP
The crowd currently set on stoning Shin-young to death are suddenly startled by the sound of a gun—Japanese police officers have shown up to break up what they deem as an illegal protest.
Sung-won tries to rally the people to hold their ground, but another shot fired into the crowd scatters them. Meanwhile San, unconscious from having protected Shin-young, is helped up by Chi-ho and Sung-won. The latter rejects the former's offer to take San to the hospital, claiming that the only way Chi-ho can help is to pretend like he never saw them.
While Sung-won patches San up, he also chastises him for taking such a big risk in helping Shin-young. What if the press had snapped a picture? After all, the only thing stopping the authorities from discovering their secret organization are their Newsies disguises.
Chi-ho visits Shin-young in the hospital, but pauses when the first thing she asks about is San. Still, he lends an ear as she confesses to reporting her father's crimes, since he's the one who sent San to the labor camp and has caused unimaginable suffering for so many people, like In-soo and Byeo-ri. (Speaking of, where's she gone off to?)
But now, she doesn't know what to do.
Daddy Choi witnesses the inauguration of Count Byun, otherwise known as Takeshi's father, as counselor of Jungchuwon—the position Vice Chairman Yoon had once promised to him.
When he asks Yoon about it afterward, the old snake blames it on the controversy surrounding Daddy Choi's background… but mostly on his wayward, treasonous daughter. (Let me guess: Daddy Choi is going to go home and slap her for this.)
After Daddy Choi slaps Secretary Kim, Kim explains that the blame falls on Count Byun, since he's had a detective following Shin-young around specifically to get enough dirt on Daddy Choi to steal his position. And he succeeded.
San's Mom is in the house when Takeshi hears the news that her son and Chi-ho have created their own basketball team, ready to compete with theirs. He storms out angrily, but not before threatening Mom, who sinks to the ground and cries—she hadn't known San was back from the labor camp until just now.
Ajumma and Mi-sook return to the restaurant to find a shirtless San tending to his wounds, and Mi-sook goes all starry-eyed as she ogles her oppa. This is where Mom finds him, and while he tries to play the fact that he hadn't gone to see her all cutely, she is decidedly Not Happy and tears him a new one for it.
She tries to make him understand just how worried she was, something he knows all too well as he reaches out to dry her tears… which is when she sees his missing thumb.
That's when the dam holding back San's emotions breaks, and he begins sobbing an apology. He couldn't bring himself to see her until he could prove to her that he'd be able to live fine without his thumb, but now she's seen it and there's no turning back.
Mom instantly pulls him into an embrace to comfort him. "My baby… How much you've suffered…" she repeats over and over again. Preach it, Mom.
With Mom beside him for support, San goes to his former neighbors, now without homes because of him, and kneels before them. "What I did was wrong," San admits, even though the village elders don't want to hear anything from him.
San: "I only believed what I was told about being able to make money, so I joined them in destroying our village. I just wanted to have a proper room like others do. My mother is the only family I have, and I was sick and tired of having to live apart from her… so I just believed their words that they would make me successful and closed my eyes and ears. That's how everything ended up this way. After I was dragged away to the labor camp and lost my finger, I finally realized that I brought everything upon myself. After suffering through that pain, I could finally see how painful it must have been to others."
The village elders are still keen on scolding him, but Mom's heartfelt plea finally melts their hearts. Though they're still angry with San, the one elder chastises him for not succeeding after suffering through all that, like he wishes San could have at least gotten something out of it if he was going to lose a finger.
But at least the villagers stop blaming San and blame the real root of all evil—money.
Bookie Gong addresses Team Baek Hwa (we'll combine it as Baekhwa for ease of use) about the league they'll be competing in for the champion cup, since they'll be one of eight teams competing. At least he recognizes the irony in that their first opponent will be Daddy Choi's team, but he sees it as an opportunity, since both San and Hong-ki played on that team and will know their moves.
San is doing much better with his hand during practice, but he and Chi-ho can't seem to get over each other enough to engage in actual teamwork. During the second round, San gets yet another chance to pass the ball to Hong-ki, but he misses it in an effort to do everything himself. There is no "I" in team, San. (But there is an "i" in pie.)
Chi-ho tells Bookie Gong that they'll never win in their current state and need to come up with a new strategy, which he takes charge of. But when he declares that he and San will take positions furthest away from the net, (since they're the only ones who can perform his signature jump shot), everyone suddenly goes quiet.
Chi-ho doesn't understand what's wrong until Bookie Gong tells him about San's finger, which he hadn't noticed until now. Ruh roh.
Still, they try playing with Chi-ho's strategy, and San fights through the pain as he catches the ball to make the jump shot… and misses. San is devastated, and Chi-ho isn't blind to his plight even as Sung-won skips out on practice early because of some urgent (and my guess, rebellion-related) matters.
Chi-ho proves to be the bigger man and tries to talk things out with San, and there's not a hint of let-me-rub-this-in-your-face when he reminds San that he and Shin-young are engaged. He tells San that he hopes things won't become uncomfortable between them for her sake, before adding that if San ever needs help, he'll be there for him. They're teammates now, after all.
But San adamantly refuses any help from him by balling up his four fingers and declaring that he'll take care of his own problems, thank you very much.
Daddy Choi gives a classic public apology to the crowd that was only recently ready to tear his head off, and mollifies them further by adding that he'll be offering the People's Uniforms (the ones that look like Japanese military uniforms) for free.
Sung-won doesn't buy the act, even if everyone else does.
Bong-soon has to tune out Shin-young's concerns over San, but they're soon faced with bigger problems when Shin-young hears the news of her father's public apology. (Jo Hee-bong makes his return this week as her cab driver. Wouldn't it be nice if we had a sense of place and knew where Shin-young came from? 'Cause right now it seems like she just got in a cab to change things up.)
Shin-young makes the mistake of telling her father that she's proud of him for his apology, mistakenly thinking that he, y'know, meant it. Daddy Choi flies into his biggest rage yet as he breaks glasses and berates her for ever having been born. He would've never had to bow his head to such lowlifes if it wasn't for her.
So Daddy Choi reacts as he usually does, and Shin-young does as she usually does by crying in her room. She knows everything her father did was a lie and vows to Bong-soon that she'll run away.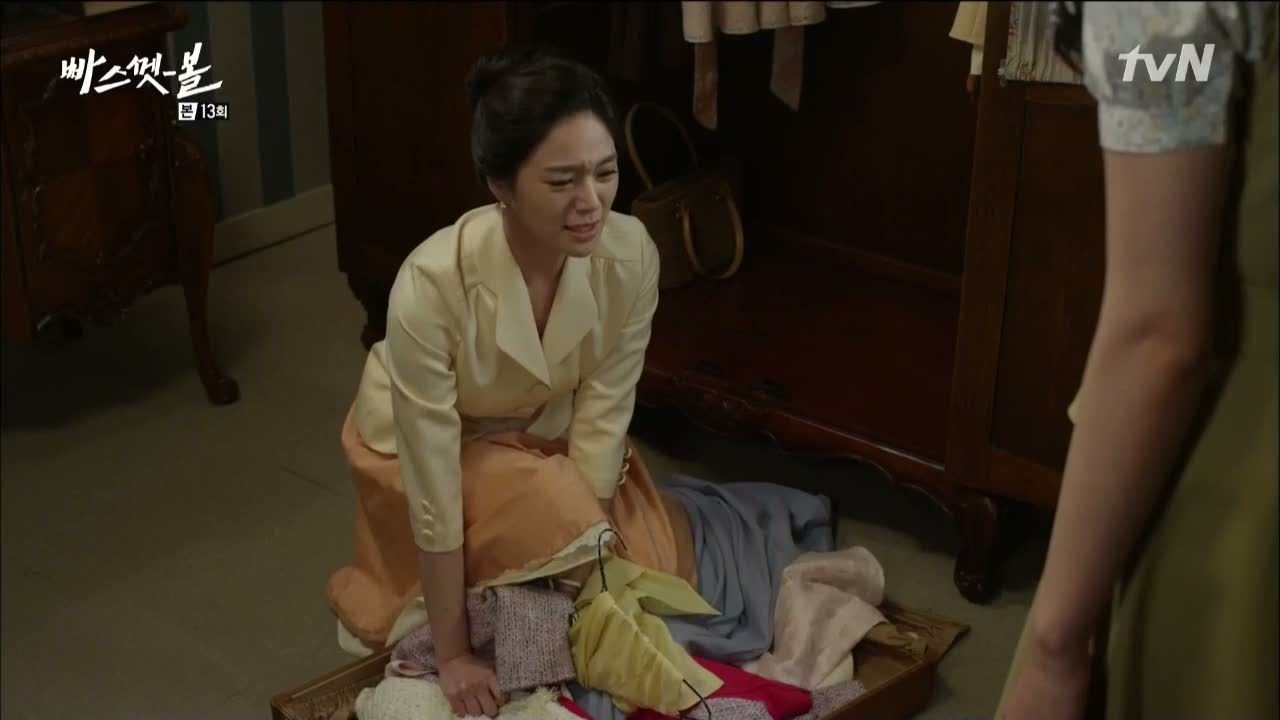 "As long as I stay in this house, I'll always be President Choi Je-gook's daughter, Choi Shin-young. Not the human being Choi Shin-young, or the journalist Choi Shin-young… I can only be Choi Shin-young, the daughter of a pro-Japanese henchman," she says, before she entreats Bong-soon for her help.
Sung-won and his comrades try to find a solution now that public favor is back in Daddy Choi's court, but they're interrupted when their government backers send them instructions on how to make a bomb.
Later, Bong-soon spots him and his group sneaking around and follows him. After he grabs her while mistaking her for an assailant and promptly releases her, she somberly tells him the news she followed him for: that Shin-young wants to see him, because she wants his help in becoming a real reporter.
She recognizes that up until now she's been a sham of a reporter chasing after gossip, and now wants to become the voice of the people in a country where their voices are repressed. (Small note: The song playing in the background, Do You Know What It Means to Miss New Orleans, didn't exist before 1947. You know how they could've found that out? Google.)
The reason why she's asking is because she thinks their newspaper went under during the raid, but Sung-won tells her they're still very much operational. The only problem is that they won't be able to avoid articles on Daddy Choi, so if she wants to join, she'll basically be going to war with her dad. She's okay with that: "I no longer want to be my father's daughter. I want to instead stand confidently as journalist Choi Shin-young." Good luck with that.
Sung-won pulls Bong-soon aside to apologize for grabbing her earlier and to explain that he'd vowed not to involve women in his life in order to stay focused on his goal, but he doesn't want to lose Bong-soon. So he asks her if she'll be his girl. D'aw.
Bong-soon qualifies that she's not educated and is just a maid, but if he really meant what he said about everyone being equal… then she'll help him achieve his goal. They hug, and Sung-won promises that he'll never leave her side and be with her always.
I knew Bookie Gong hadn't really turned over a new leaf, since we see him addressing a group of extras about how betting is going to work just like it did in the old days, only this time for the official teams participating in the league. They all bet on Team Baekhwa, which causes one of Gong's minions to whisper to him, "Are we going to lose then?" Huh?
San practices on his own until his hand is swollen, but he still can't sink a basket. Bookie Gong suggests that he sit out tomorrow's game until he can actually score, but San won't hear it. He's going to play no matter what.
Game day. Takeshi, looking like he pilfered a confused leprechaun's wedding tuxedo, joins Shin-young and her maid in the stands and taunts her over who she's really there to cheer for. It's Daddy Choi's team versus Team Baekhwa, with Jo Hee-bong and his fabulous eyebrows there to emcee the event.
The game begins, and Chi-ho scores the first point. When San grabs the ball he's again faced with the dilemma of passing it to Hong-ki or trying to score for himself, but he does the right thing this time and passes the ball. Yay teamwork!
Each team has their share of victories and setbacks, but it's not long before Team Baekhwa starts losing. A failure to pass the ball on San's part results in a score for the other team, which has Chi-ho shooting laser beams in his direction.
San's injured hand is shaking as they go into halftime, and Chi-ho asks him to think about sitting out the rest of the game. He brings up very valid points as to why, when San's desire to play even when he can't score or pass is putting the whole team at a disadvantage.
"Basketball is a team sport," Chi-ho reminds them. "As long as San won't make any passes, we have no chance of winning this game." So San volunteers to take up a defensive position where he can make short passes, which would work if Chi-ho and Hong-ki switched places—even though it'd mean that Hong-ki would have to give up his coveted center position to Chi-ho, who should've had it in the first place.
And just when it seems like Hong-ki might be warming up to the idea, Bookie Gong intervenes very adamantly, and all but orders them to keep their previous positions (even though, as Chi-ho points out, they've only practiced in those positions for a week). This must have something to do with the bet. Bookie Gong wants his team to lose.
The odds start turning back in their favor once Chi-ho steals the ball, but one of Bookie Gong's minions causes a foul. (I wonder if it was intentional.) Chi-ho steals the ball again regardless and scores a point for their team, which seems to only upset Bookie Gong.
Then he scores again, and again, only furthering their terrible coach's ire. San almost looks heartbroken as he glances from his missing thumb to Chi-ho and back again, and he re-enters the game with fresh determination…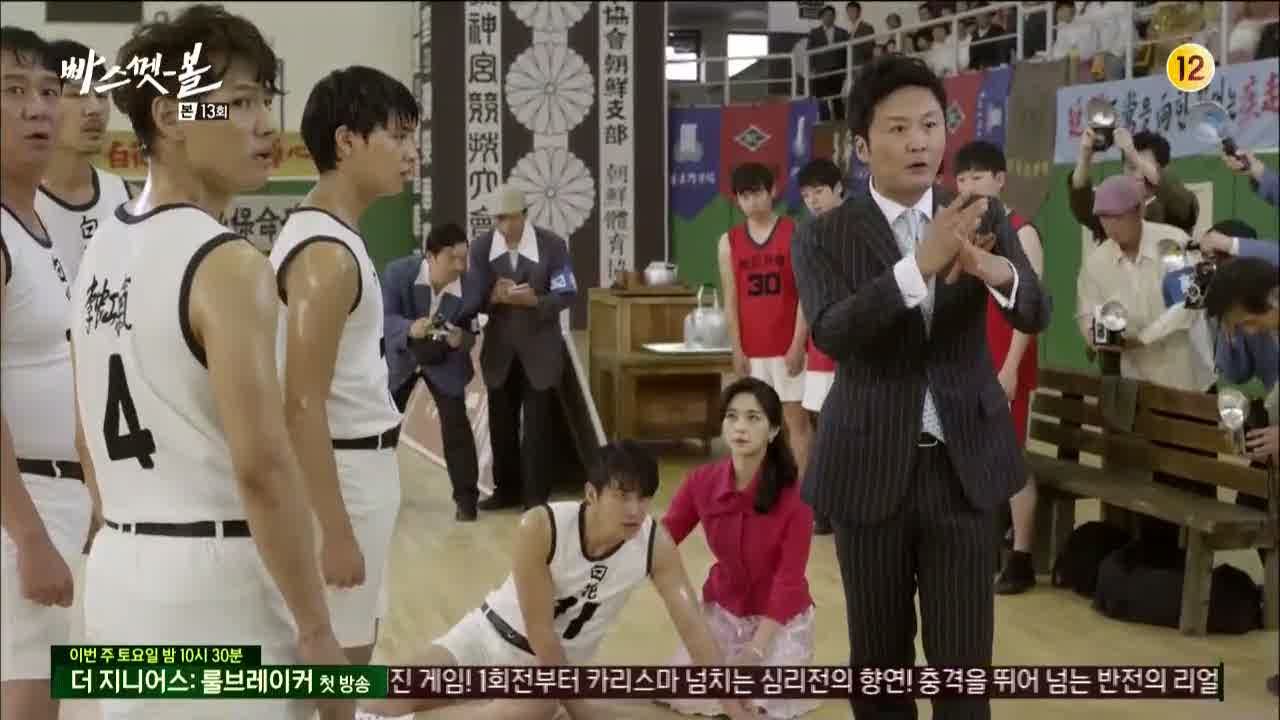 Only, in his competition for the ball, he collides with Chi-ho on the court and causes the later a bloody knee. Arrrrghhh, San. I'm trying to love you, but you're making it so difficult.
Shin-young runs to check on Chi-ho and shares an uncomfortable glance with San. Though Chi-ho insists he can still play, Bookie Gong is eager to get him out so that his team will lose as he wants. No matter how Chi-ho fights, Bookie Gong insists that San can take his place, knowing San isn't up to it. That's the point.
Chi-ho tries giving San a few pointers before he heads into the game, pushing San into uber-defensive mode as he yells that he doesn't need his help. Meanwhile, Bookie Gong tells one of his minions to make sure that they lose the game no matter what.
After San watches Shin-young helping Chi-ho off the court, the game resumes. He steals the ball and almost makes the perfect shot, but his missing thumb causes the ball to slip from his grasp.
And then, the two minions purposefully cause their team a foul that loses them the game. It's only after their loss that the crowd and the media take notice of San's missing finger, but he refuses to comment.
Meanwhile, Sung-won and Shin-young are on official newsie business, with her cover being that she's writing an article on Team Baekhwa.
Everyone knows that the minions threw the game without knowing that they meant to, but in their rush to blame each other, the whole team starts turning on itself. San especially gets a lot of flak for being selfish in trying to play when he's clearly not ready.
Hong-ki tries to take charge of the situation as self-appointed captain, but gets calmly shot down by Chi-ho for being too greedy—he's playing center position like he wants, even if it's not what's best for him or the team.
But when Hong-ki shoots back that Chi-ho was being greedy in trying to get San out of the game during halftime, Chi-ho replies, "I only made what seemed like the most sensible decision, that's all. Kang San's play during the game wasn't helping the team at all."
Now it's San's turn to be defensive (well, again) as he agrees with Chi-ho that he didn't like the way he played either, but he tried his best.
As Shin-young is brought to the room's threshold, San asks Chi-ho if he has the right to be so blunt about his skills just because he didn't like the way he played.

COMMENTS
Dun dun dun(?). It's not like cliffhangers were ever this show's strong suit, and god forbid we ever end an episode in a scene where all three romantic leads are not present. But at least the last twenty minutes of this episode were more compelling than the last few weeks combined, and while that doesn't give me confidence that we're on a permanent upward swing, even a glimmer of hope is better than none at all.
I'm a little confused on how to feel about San, and if that's the whole point, then it's one in Basketball's favor. I feel like his character faults wouldn't be such an issue if he wasn't 1) supposed to be the hero, and 2) in the same show as Chi-ho. If I had to name one fault of Chi-ho's, maybe it's that he's too blunt—it's certainly something that's been brought up to him more than a couple of times. Other than that, I'm hard-pressed to find any reason not to like Chi-ho, which means that it's tough not to root for him in scenes where he's pitted against San. And I'd love to root for them both, but San makes it pretty clear that he hates Chi-ho's guts and keeps creating conflict where there doesn't need to be quite as much.
So while Chi-ho may have one or two things he could work on, San has significantly more, and it leaves me wishing the show would try and plead San's case a little harder. I definitely wouldn't want that at the expense of making Chi-ho look like a douche, but there's no denying that what he said about San was true—he's just not a team player (yet). Whenever he sees Shin-young and flies into an internal jealous rage, San always does the absolute wrong thing, like calling out Chi-ho for his name, not taking his advice even when it's sound, not taking the white flag/towel Chi-ho offered, and running into him on the court.
At the point where Chi-ho is genuine about calling San his teammate and telling San that he can depend on him only for San to turn around and all but spit on his offer, it becomes difficult to really care for San's plight. Don't get me wrong, I feel bad for the kicked puppy that is San, and I understand his resentment toward Chi-ho with regard to the love of their lives. But I really do wonder if San's quest for romance would be more of a redeeming quality for him—the kind we could really get behind and root for—if Shin-young wasn't just the worst. You can't win 'em all I guess, but in the words of Samuel Beckett, "I can't go on, I'll go on."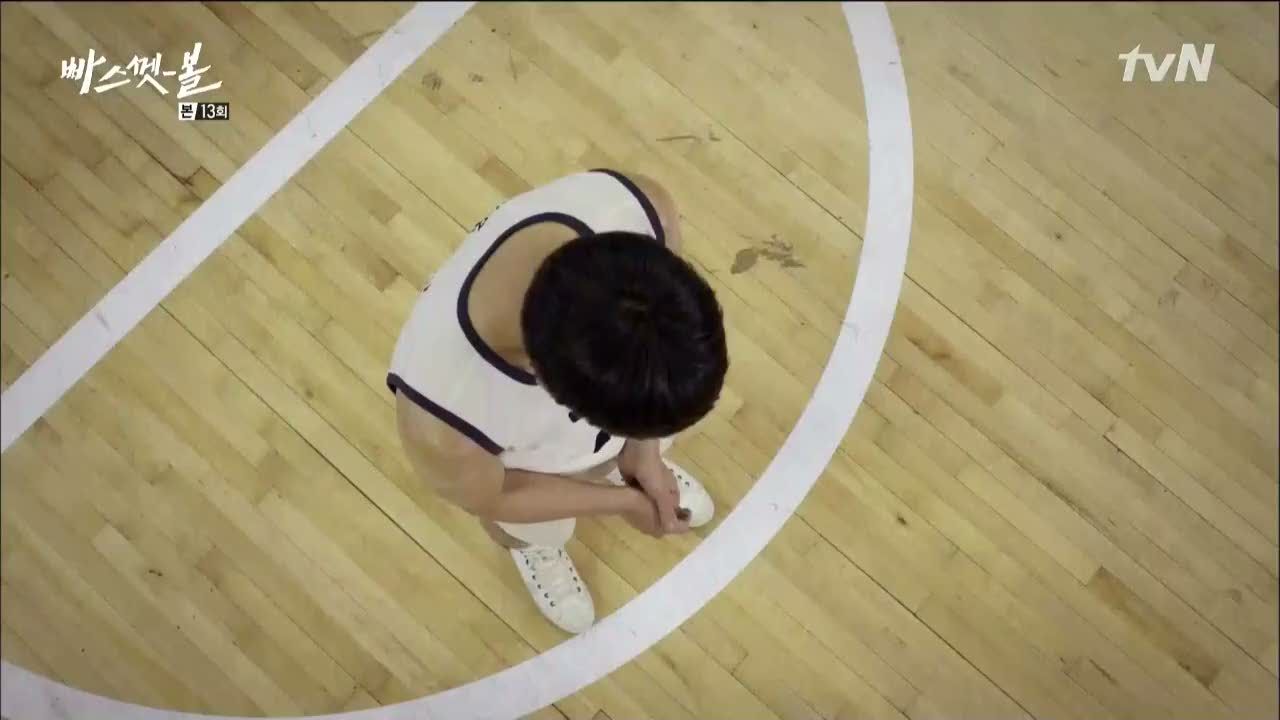 RELATED POSTS
Tags: Basketball, Do Ji-han, featured, Jung Dong-hyun, Lee Elijah