Basketball: Episode 15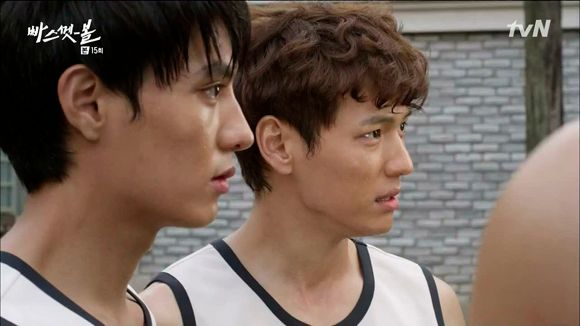 Lest we dared to believe that the upward trend from last week would continue, here comes an episode filled with the usual doom and gloom, with the questions of the hour being: "Why is there so much suffering? Why do bad things happen to good people?" Variations on these are asked more than once and by different characters, all with valid reasons to question the injustice of the world, all filled with the desire to do something about it. If the show wants to sell us on the idea that playing basketball has the power to change fate, I'm all for it, but it's a matter of showing rather than just telling. Not trying to rush anyone, but we've only got three episodes left…
SONG OF THE DAY
Urban Zapaka – "Blind (다르다는 것)" [ Download ]
Audio clip: Adobe Flash Player (version 9 or above) is required to play this audio clip. Download the latest version here. You also need to have JavaScript enabled in your browser.

EPISODE 15 RECAP
After San scores Korea's first one-handed basket, Chi-ho congratulates him. San replies that it wouldn't have been possible without his help, to which Chi-ho smiles and says, "Thanks to you, I was reminded why I play basketball. My calling as a basketball player… I'll never forget it again."
They decide to work together as a team, and we only hear of their win when Daddy Choi does, through the radio. This news, like all other news ever, makes him angry.
Bookie Gong celebrates with his team now that they'll be competing in the semifinals, and tells everyone that he had a dream about vomiting—so by that logic, he's vomited out all the bad and that means there's only good ahead. Hong-ki's mom corrects him that dream vomiting is actually a bad omen, which I'm only mentioning here because any talk about omens in dramas is usually Important.
Sung-won holds Bong-soon's hand at the table (aw), before everyone notices that Chi-ho and Shin-young are absent. Chi-ho's found her avoiding the festivities in her office and brings the drinks to her in order to talk to her about why she left him.
He knows it was because of her father, and is actually relieved that she didn't want to break up because she'd stopped liking him. But Shin-young still has reservations about their being together considering that her father is the reason his is still in prison.
"What kind of person your father is doesn't matter to me," Chi-ho assures her. "Because I love you."
Bookie Gong is abducted by thugs and brought to a (wait for it) abandoned warehouse where Daddy Choi is waiting. He's none too happy about San overcoming his handicap, and has Bookie Gong beaten until he clings to Daddy Choi's leg and swears on threat of losing his own hand that he'll cripple San for real this time.
With most of their other teammates passed out, San has a heart-to-heart with Sung-won about how Chi-ho's calling basketball his "calling" made him rethink everything about his own life.
He realizes now that aiming for success without mind of the cost was wrong, so now he wants to act in ways that will make him unashamed to stand before people like Shin-young. But he admits he was thrown for a loop when Daddy Choi targeted Chi-ho, because up until then San thought he was just unlucky because he was poor. And despite Chi-ho and Shin-young having more to their name, their suffering is the same as his. "So why is it that we need to suffer all this agony?" he asks.
Now that he's realized success isn't everything, and that something's wrong with the world they live in, he also realizes that he doesn't have a calling like Chi-ho—or if he does, he doesn't know what it is. That's when Sung-won asks San if he remembers what he told him one about basketball having the ability to make the world a better place, that it has meaning. "I think you're finally ready," he adds cryptically.
Hong-ki's mom's effort to secure a government position for her son backfires when the soldier she's sidling up to (a mustached Jo Hee-bong) tells her that her son is of age to be drafted into the Japanese army, now that war has broken out in Europe. (So we're getting closer to the events of the Second World War.)
She understandably flips out on behalf of her son, whom she claims is her "friend, husband, and sky" which is a little weird, but okay. Hee-bong gives her the propaganda runaround—think of it as Hong-ki serving his country—and she all but cries out that Japan isn't his country. At least she stops herself in time, though she finds herself stuck when Hee-bong hints that she CAN save her son… if she sleeps with him.
Ajumma finds Bookie Gong half-dead at her door, but when he comes to he instantly starts crying about what he should do (he's talking about San, but she has no idea).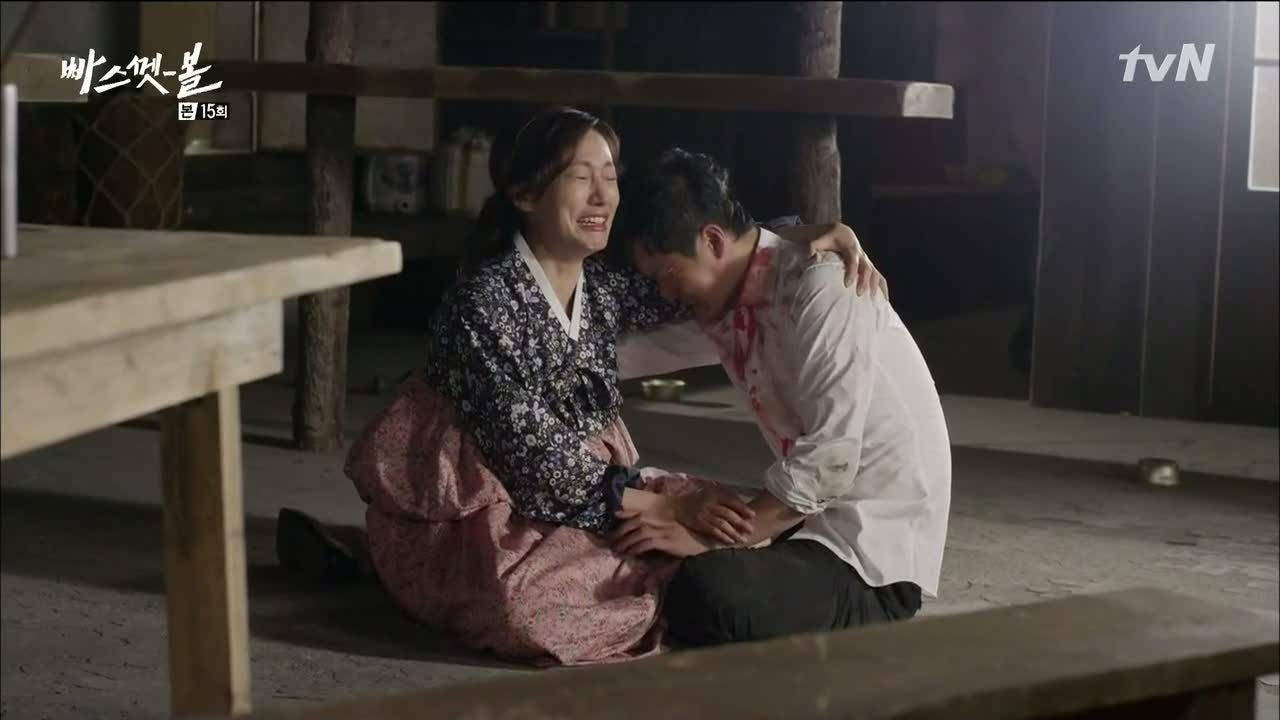 Suddenly Japanese soldiers start trashing Ajumma's restaurant with the order that all metal items are to be confiscated for the war effort. Since her pots and pans are her livelihood, Ajumma fights back, even saying that she'd rather give her body. Anything but her pans.
Bookie Gong jumps in to take her beating from the soldiers, cupping her face after they've gone. He tries to comfort her, but it's clear he's just as lost and powerless as she is.
Mr. Min is released from prison only to come home to the news that the government is taking their company away and putting it under Daddy Choi's control. While his dad might know that this is Daddy Choi's doing, his uncles don't, so Chi-ho tells them not to depend on their pseudo-in-law for any help—he's on the government's side, which means he's their enemy.
Bookie Gong temporarily moves Ajumma and her daughter to a shed near the basketball court and promises that he'll take care of them. What's foremost on his mind though is how he'll take care of himself, since he promised to chop off his own hand if he failed Daddy Choi.
At the next basketball game, Bookie Gong instructs his minions to break San's bones somehow, only to renege on his decision when they bring up the (valid) point that they can't win without San.
That's when two exposition fairies arrive just in time for Bookie Gong to overhear that along with the prize money that'd come from winning the championship, all members of the winning team would be exempt from the military draft.
Hong-ki's mom masks her disgust when dealing with Officer Hee-bong, and agrees to go to his house the next day in order to assure that her son won't be drafted. Hong-ki eavesdrops on some of their conversation before he gets the full story from one of his mom's coworkers, and comes to understand that his mom is loaning herself out for him.
It's heartbreaking when he tries to stop her, claiming that he'll just go to the military. She's more worldly than him and knows that it's a war, so he'd be sent to the front lines and likely killed.
"Aren't you ashamed?" Hong-ki asks her, which earns him a slap in return. His mom tells him that she's devoted her life to him, especially since he grew up without a father, and that short of hurting people she's done everything to support him. "That's your mom's life," she adds. "There's nothing to be proud of, but there's nothing to be ashamed of either."
At the factory where Shin-young and Bong-soon now work, they're informed that they'll be working nonstop, even overnight, in order to fill the new wartime quotas. Shin-young worries for the health of her coworkers, when the old and young are suffering so much.
Bong-soon's dad starts coughing blood and has to be taken to the hospital, where the doctor announces that he'll need surgery immediately, and that cases like his aren't uncommon with sewing factory workers, because the air quality is poor and the fibers can permeate the lungs.
But the surgery has to be paid for upfront, and neither Bong-soon or Shin-young have enough money.
Later that night, Mi-sook leaves her sleeping mother to get some air, only for a drunken Hong-ki to find her (his mom owns the court) and invite her for a drink. She's uncomfortable at first but takes what's offered, mostly because she's hungry, and Hong-ki's too drunk to know much better.
He asks her what her dream is and seems pleased when she says that she wants to earn enough money so she won't have to work at a restaurant her whole life. "That's right, you have to leave," he slurs. "Don't stay here too long. If you don't want to end up like my mother… then you shouldn't stay too long."
Aw, so he just wanted someone to talk to. Surprisingly enough they bond over a common thread—that their single mothers not only have to feed men but must also entertain them, and the fact that they hate the system but not their mothers.
When Mi-sook tells Hong-ki not to look down on his mother since he's her only support system, he just smiles dreamily at her: "Noona… you look pretty." Ha.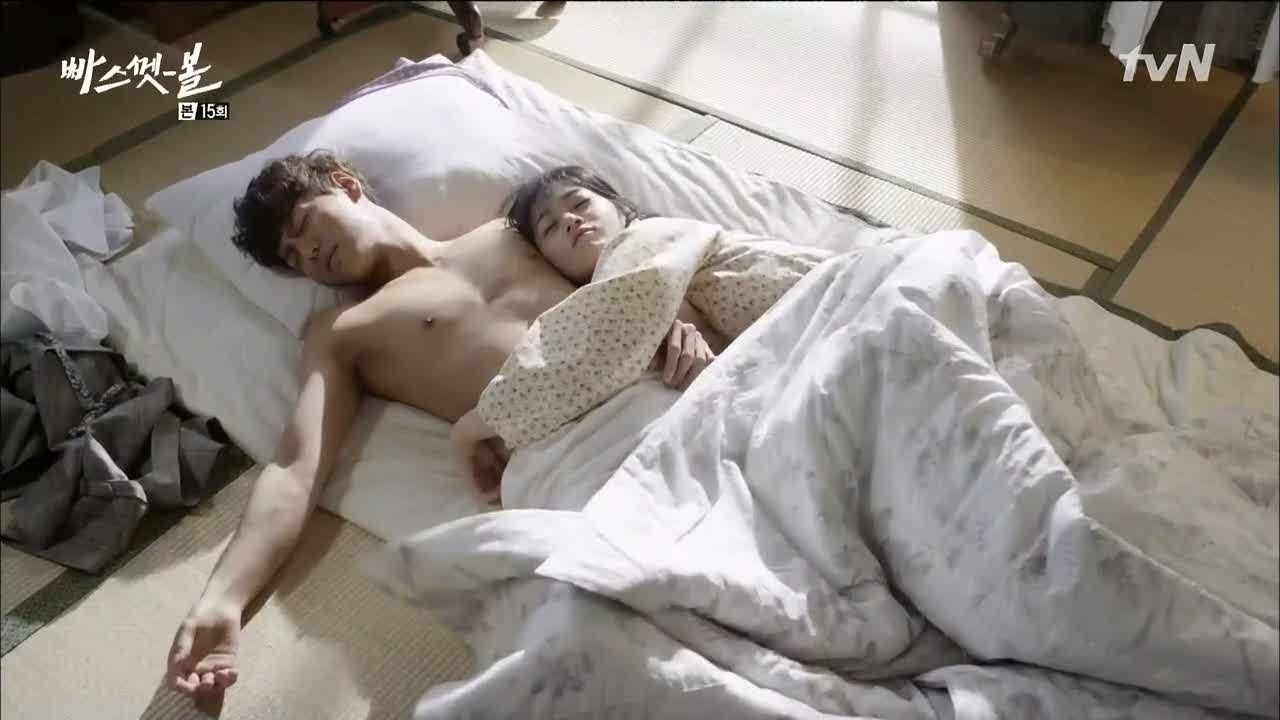 The next morning, Hong-ki is surprised when he wakes up, half-naked, next to Mi-sook. Whether they did anything is up for grabs, since he notes that she's fully clothed, but I do love that when he thinks she might've taken advantage of him she knows herself well enough to just be like, "Let's just pretend this never happened, okay?"
Shin-young finds Sung-won on the court with San to desperately ask him if she can get an advance on the paycheck she was to receive after the finals, because Bong-soon's father is in need of surgery. Sung-won sends San to the hospital with her while he checks with Bookie Gong.
When they get some time alone, Shin-young confesses how insignificant she feels now that she can't help Bong-soon. San comforts her by telling her that a person's worth doesn't change whether they have money or they don't, and then gets uncomfortable when he worries that she'll misunderstand his giving advice for amour.
But she's okay with him comforting her, because she admits that even when they were close before, she couldn't see into his heart like this. Great, now she's made things uncomfortable. I swear, if she ends up falling back in love with him, there will be WORDS.
Sung-won has bad news—Bookie Gong can't help them, and even with donations, there won't be enough. Shin-young wonders if they can do something because it's a work-related injury and rushes off to the factory while Sung-won stays with Bong-soon.
She tears up when he presses an envelope of money into her hand, promising that he'll find the rest somehow. As she recounts her father's life as being nothing but work even as he raised five children, she's inevitably drawn to the question of the hour: "Even after working so hard, why does he have to suffer like this until the end?"
Sung-won holds her close and gives her something to smile about, in that they'll greet her father, as a couple when he gets better. He still insists that he'll make the world a better place for people like her and her dad, though we still don't know how. (Hopefully not with that bomb.)
Shin-young tries convincing any of the factory workers to get a check up so they can start to make a case for their illness being caused by their working conditions, but to no avail. Everyone's too scared.
Mr. Min addresses Chi-ho as his eldest son (lending extra gravity to the conversation) as he tells him that their spinning company won't comply with the new government order, and that they'll be going on strike. He knows this will have ramifications for all of them, which is why he's letting Chi-ho know now.
But then he adds that the marriage with Shin-young is officially off, not because he wants revenge on Daddy Choi, but because he doesn't want the business between him and Daddy Choi to affect their children's marriage. Even if Shin-young has what Mr. Min calls "a great personality." Ha ha. He's so funny.
The Inspector General calls Daddy Choi and Vice Chairman Yoon to task over the strike, and authorizes any means necessary to end it per Daddy Choi's urging. Of course, he just wants to get rid of Mr. Min as competition, which gets Yoon into trouble when his talk of mediation hedges dangerously close to treating Koreans as people, an idea the Inspector General does not subscribe to.
Even so, Vice Chairman Yoon tries ordering Daddy Choi to persuade Mr. Min before taking violent action. Daddy Choi's sly smile tells us that he has no plans to obey Yoon any longer.
Literally everyone on Team Baekhwa plays terribly at practice, because they've all got bigger issues weighing on their mind. Bookie Gong finally pulls them in for a huddle, but Hong-ki declares it all worthless since they're going to be drafted to fight in the war anyway.
This comes as a shock to everyone but Bookie Gong, who tells the worried team that there is an exception—if they win this next game and continue to win through the playoffs, they won't be up for the draft. Hong-ki asks if Gong is saying whether they "might not" get drafted, or if he's sure that they won't.
So after a breath, Bookie Gong assures them that they won't get dragged off to war. However, the team they'll be playing against is no ordinary team, and is made up of the sons of Japanese noblemen and government officials. They play dirty, and a referee won't call a foul even if they commit one.
"Now that you all know that, what do you think you need to do?" Bookie Gong asks with a mischievous smile. "You should probably start practicing, right?" That wakes the boys up and gets them going. (But San doesn't miss the very worried look on Gong's face.)
As fate would have it, Takeshi has left his former team to join the Japanese team competing against our boys. At his welcoming party, he announces to the crowd that he was born of a Japanese mother and a Korean nobleman, and will bring honor to his clan and pride to his Japanese citizenship by beating Team Baekhwa. He's got a plan.
When Takeshi goes home after stealing Beetlejuice's wedding tuxedo, he shows San's mom the headline about the draft and asks her if she wants his help in saving San from it: "You once told me that you'd do everything I ordered you to do, didn't you?"
Daddy Choi tries acting all chummy with Chi-ho in order to convince him to talk to his father about ending the strike, acting like the marriage is still on even if it's not happening within the year. Chi-ho knows better, and defends his father's choices by firing back about the so-called "laws" regarding wartime mobilization Daddy Choi is hiding behind—those aren't Korean laws, they're mandates given by the colonial government.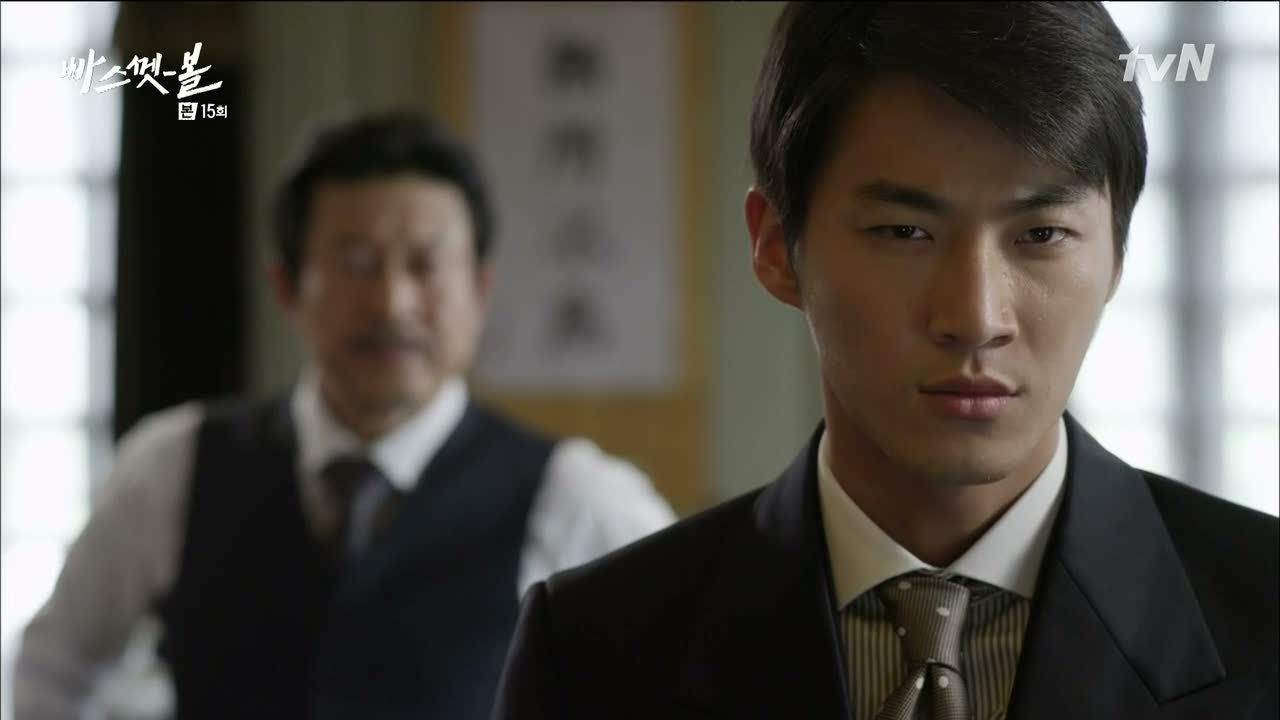 "My father is a Korean," Chi-ho says proudly. "He's not obligated to follow those orders. They don't have the right to order him to follow them, either." But Daddy Choi pulls out another card, asking Chi-ho if he's just going to give up on Shin-young, since he clearly only cares about his family and not hers.
But Chi-ho puts an end to Daddy Choi's psychology experiement by declaring that he has no loyalty to a man who's trying to manipulate his woman. Game on.
San visits the spinning factory to try and help Shin-young out, since the workers are much more willing to listen to the famous Kang San than a nobody. (He's using his powers for good, yay!) They all scatter in fear as soon as the factory foreman shows up though, and San makes the mistake of telling the foreman that he's trying to compile evidence that all the coughing workers are sick because of the conditions inside the factory.
The grandma that denied Shin-young before watches the exchange, and pretends to haul San away for a stern talking-to in order to save him from the foreman's wrath. She won't take San's evasion for an answer when she confronts him over his relationship with Shin-young, since she's noticed him watching her go to and from the factory in secret.
"It's not like that," San tries to defend himself, but she pulls the Elder card on him and smacks him one. Even when he's forced into explaining that Shin-young is already engaged, the grandma literally points to his family jewels and says they're wasted on him. HA.
However, she's warmed up to the idea of having a doctor check her out—after all, she's already old and has nothing to lose. She also knows Bong-soon's father from working with him, so she's more amenable to the idea of helping his cause.
While Chi-ho goes shopping for an engagement ring, his fiancée tries calling up her old friends to see if they'll lend her money, but it's no use.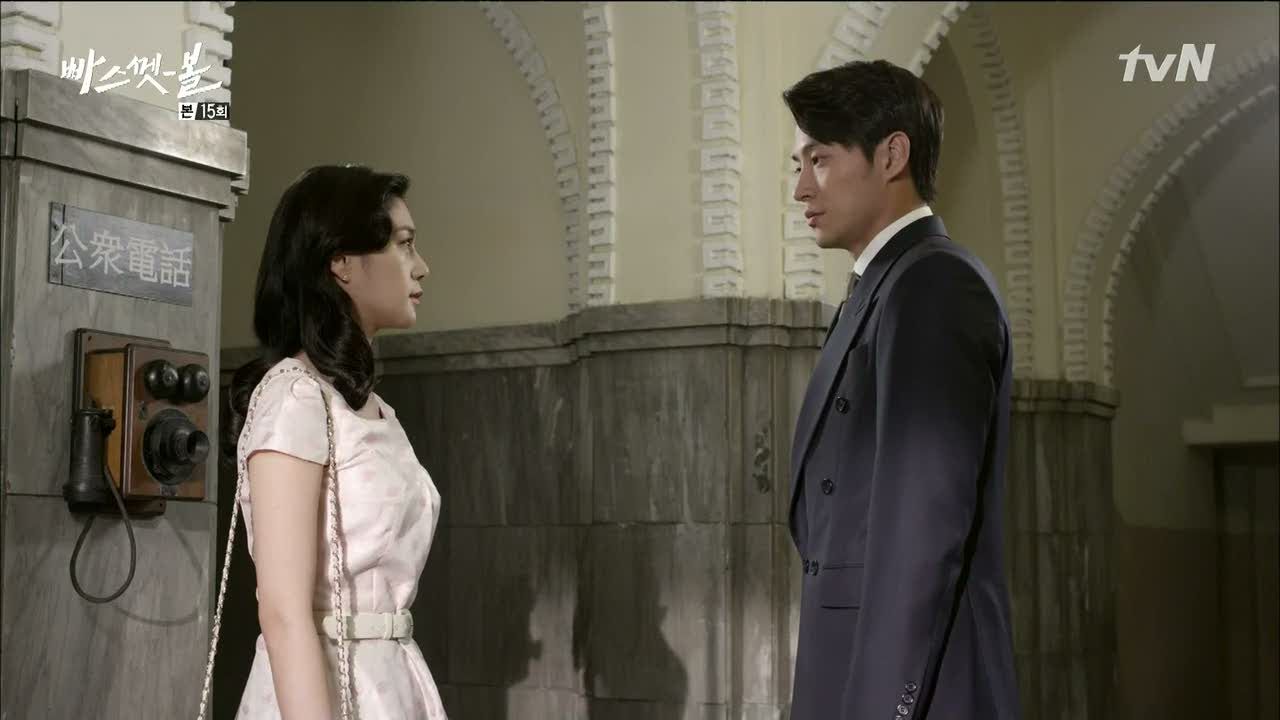 Chi-ho finds her in the hospital lobby, and neither of them notice San approaching with the factory grandma as Chi-ho tells her that though both of their fathers are opposed to their marriage, he can't let her go.
He then asks for her permission to stay with her and protect her, and promises to win the championship and use the prize money to buy a marital home for the two of them.
"Shin-young… will you marry me?" Chi-ho asks, as he shows her the ring he bought.
San, who's seen the entire exchange, calls out her name. Awkward stare-a-thon in 3… 2… 1…

COMMENTS
I'm not even going to go into it about the love triangle cliffhanger, because there's nothing more the show can say about it and certainly nothing more I can add on their behalf. We're stuck in the same place with only slight variations on what Shin-young feels, and honestly, if she waffles back to San after making all these declarations about marrying Chi-ho, I'll really be done. At the end of the day, out of all the stories Basketball seemed to want to tell, is this going to be what they leave us with? A love story with a popsicle stick at the center they glued googly eyes on?
Interestingly enough, the characters I'd panned for hogging up too much screen time in earlier recaps (Hong-ki and his mom) are the ones who managed to bring the most engaging conflict to the screen this hour—Hong-ki's mother offering to sell her body to save her son from almost certain death was, dare I say it, a noble and selfless act. Out of all of the "These are the terrible times we're living in!" arguments this show has tried to make, this is the one that actually landed with some emotional heart.
Not only did I feel instant sympathy and understanding for her because we could see that this was something she felt she had to do no matter how she didn't want to, we also got a better understanding of Hong-ki and what he's had to live through—the saddest part being that his mother acknowledged her failure to raise a strong, self-sufficient son, and felt that she had to make that sacrifice in order to make up for her failings as a mother. Not once did she blame Hong-ki for what she was having to do. Even though they are side characters, and I feel like their conflict will actually matter little with only three episodes left, it's nice to have something worthwhile to focus on in these comments rather than posting a list of grievances each recap. One scene does not a show save, but something's better than nothing.
That being said, I'm wondering if I missed the scene explaining Daddy Choi's utter hatred for San, because his vehement desire to make San a paraplegic seems weirdly personal. Even if we bought that he's trying to keep San and Shin-young apart—which isn't really an argument the show has made on Daddy Choi's behalf for a while—where has he made the logic leap that preventing San from playing basketball will accomplish that goal? And if it's not about his daughter at all, and Daddy Choi is still seeking revenge on San for doing almost nothing, then these extreme measures he's taking just to stop San from playing basketball come off as just… petty. It's villainy for villainy's sake, and at this point, it wouldn't even surprise me if San played through the finals in a wheelchair and died right after.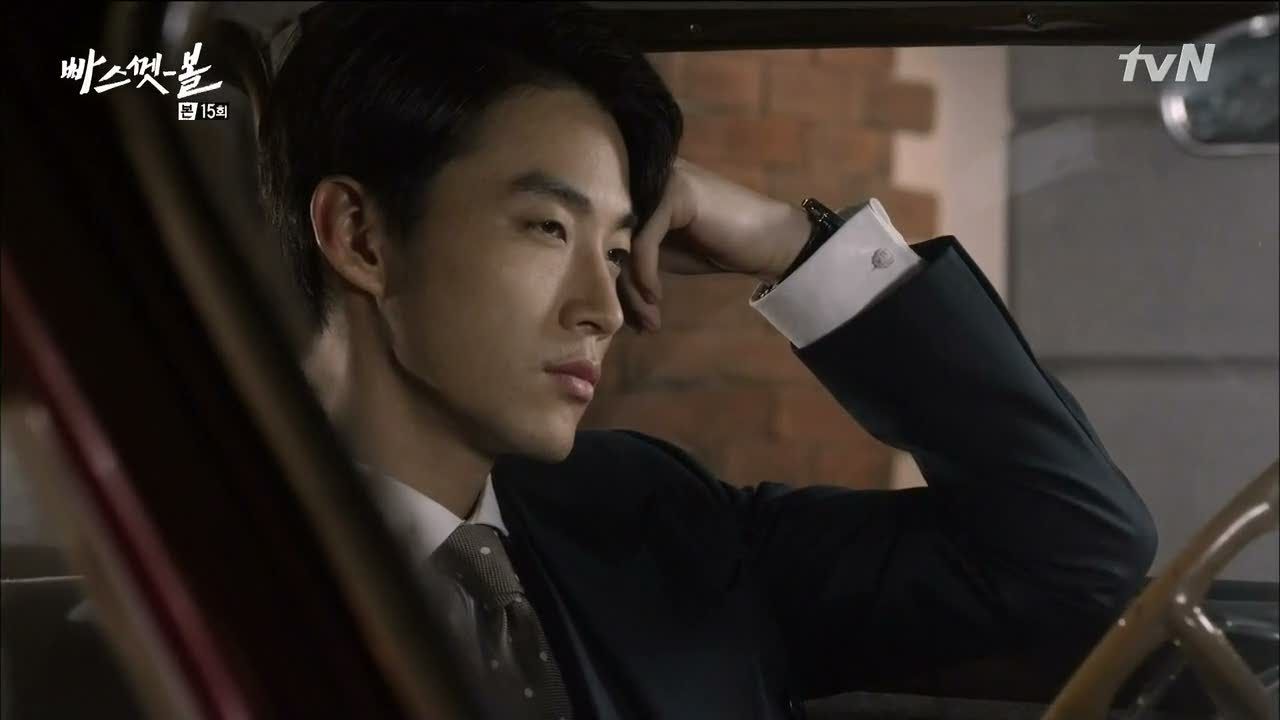 RELATED POSTS
Tags: Basketball, Do Ji-han, featured, Jung Dong-hyun, Lee Elijah