Basketball: Episode 17
If there's only one good thing about Basketball's penultimate episode, it's that we're just one episode closer to the end. (Yay!) I can't think of two good things, but I can say that the first half of this hour might be the closest thing to what we all thought this show was going to be like, while the second half is exactly what this show is: misery. Misery being an episode with 50% basketball, 50% everyone's-parents-getting-arrested-or-murdered. Just… one… more…
SONG OF THE DAY
Lim Chang-young – "A Guy Like Me (나란놈이란)" [ Download ]
Audio clip: Adobe Flash Player (version 9 or above) is required to play this audio clip. Download the latest version here. You also need to have JavaScript enabled in your browser.

EPISODE 17 RECAP
When Team Baekhwa starts getting ahead in the game, Takeshi decides to fight dirty by elbowing San in the chest. Referee Jo Hee-bong, sporting a set of comic dentures from your local Halloween store, refuses to call a foul.
Takeshi's team continues to play dirty, eventually causing Hong-ki's removal from the court based on a bogus call.
Meanwhile, Shin-young tells her father that he has no choice in making her (a woman!) his successor since she's the only child he has left. Chi-ho literally forces his way into her home to have a word with her regarding their breakup, wanting to know if she really meant what she said about living as her father's daughter.
While Daddy Choi watches, Shin-young stands her ground. When Chi-ho asks what he meant to her, she simply replies that he's just another person to her—nothing more, nothing less. Glycerine tears fill her eyes as she tells Chi-ho the most hurtful thing she can think of: that she's only ever loved San from the beginning.
Chi-ho's heart breaks as he ekes out, "I trusted you. What you said about trying your best for me, no matter how tough things got… I really believed it. I finally realize just how foolish I've been this whole time." Now they're really over.
Bookie Gong is overjoyed when Chi-ho finally makes it to the game, but he's not there to play basketball—he's there to confront San. In the middle of the game.
Chi-ho asks San about everything he'd said before, like how he'd accept Shin-young choosing him. San says nothing. Chi-ho demands to know whether San lied to him and just used him to make a comeback, genuinely hurt and betrayed.
San: "Thank you… for looking out for Shin-young all this time." Wow, San. Okay.
Chi-ho punches San with tears in his eyes: "I thought you were my friend! As much as I trusted Shin-young, I wanted to trust in you too." He then declares that he's never playing basketball with a bastard like San again, and you know what? I can't even blame him.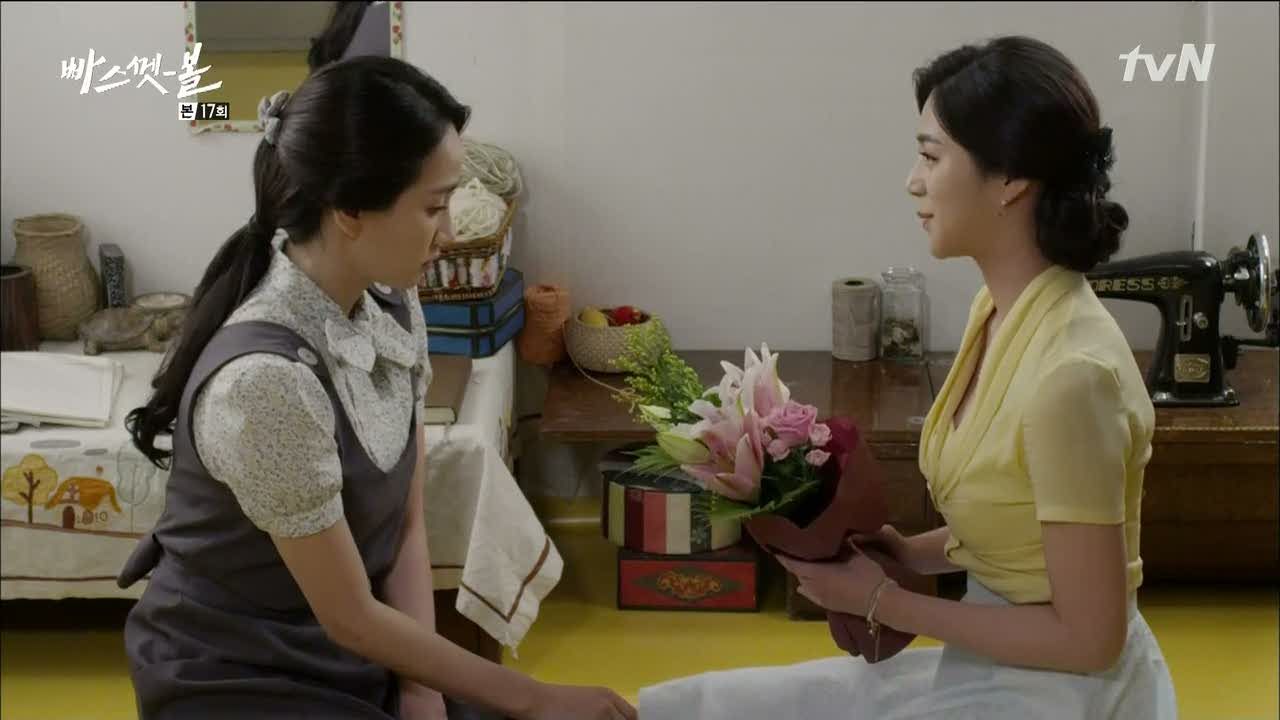 Bong-soon tells Shin-young everything about her breakup with Sung-won, and when Shin-young tells her that everything will get better with time she replies, "But what about now?" Aw, this is why she should've been the lead.
Shin-young offers her money for the immediate pain and a chance to come work for her in her father's house again. Bong-soon politely refuses to work as her servant again, especially since Sung-won taught her that all humans are created equal.
So Shin-young gives her flowers while romantic music plays and asks if Bong-soon will at least agree to stay as her friend. "Will you accept my heart?" Bong-soon does, but advises Shin-young to rethink her stance on San, the only person who's made her feel loved and cared for.
Team Baekhwa tries convincing Chi-ho to stay and play, but it's not until San finally speaks up that he seems to rethink his earlier declaration. San: "I've never once lied to you. To me, you've always been someone I wanted to be like, and someone I also wanted to surpass one day. You've been the best comrade to me." Yay, finally.
He eases Chi-ho's mind by telling him that Shin-young did her best to try and stay faithful to the promise she made to him, but in the end, she chose neither of them. He's sure that things will change when they grow older, but for now, the path she's chosen doesn't include him or Chi-ho.
So with that, he entreats Chi-ho to forget his anger and play basketball with them, because it's time to show the Japanese team a thing or two. Chi-ho thinks back to his father's words about why he chose to play basketball and decides to play only after Takeshi throws a racist slur at them.
He and San definitively make up when he asks San why he dropped the honorifics in calling him just by his name, and San's like, It's because we're friends! Aw.
The game resumes (now with Chi-ho) and Team Baekhwa swiftly makes up for all the points they lost with good teamwork and fancy, unpredictable plays.
Bong-soon drags Shin-young to the game in time for her to see San get tackled to the ground by Takeshi's team. Even though he's bleeding from the head, Referee Hee-bong doesn't call the foul since Takeshi threatens to have him fired.
San is ready to keep playing regardless, but Chi-ho demands he get treated first and gives the rest of the team a pep talk on how to avoid getting injured by the opponent's dirty tactics. It's actually a nice scene. If only this show had focused on basketball from the beginning. Siiigh.
But Takeshi's attempt to scare San's Mom into taking her son out of the game backfires when she suddenly grows a spine and tears him a new one. Takeshi looks legitimately frightened when she threatens to rip his face off and chew the pieces if he so much as touches her son. Go Mom!
Even though San can't get his bleeding under control, he's determined to keep playing. Mom cries with worry, but shows that she's changed by giving San her support. She promises that she'll never tell him to live according to his status in life again before she tells him to go show 'em what poor people can do. Even Bok-joo starts crying.
Team Baekhwa plays their best, but Team Takeshi won't stop trying to injure them. As they're beaten down again and again, the crowd shows their support by cheering on Team Baekhwa, eventually joining in unison to sing Aegukga, the Korean national anthem, in a moving sequence.
At one point, Takeshi even resorts to punching San in the face, and attempts to get Referee Hee-bong to call San out for the foul. But the ref has been moved by the solidarity of his people, and despite Takeshi's threat that he'll become jobless, he goes with his conscience and calls the foul on Team Takeshi.
This gives the ball to Team Baekhwa while the scores are at a dead tie, which means that whoever scores next will win the game. San and Chi-ho work together so that Chi-ho can make his famous jump shot.
He shoots… he scores! (C'mon, I couldn't go an entire sports show without using that line.)
The crowd, as well as Team Baekhwa, are overjoyed with their hard-earned victory. San gives Mom a big hug before declaring to a stupefied Takeshi that she won't be working for him anymore. From now on, he's going to live with Mom and make her happy.
Hong-ki and his mom also have their fair share of hugs, tears, and laughter. Sung-won's expression turns grave when he spots Bong-soon in the stands, as does Chi-ho's when he sees Shin-young.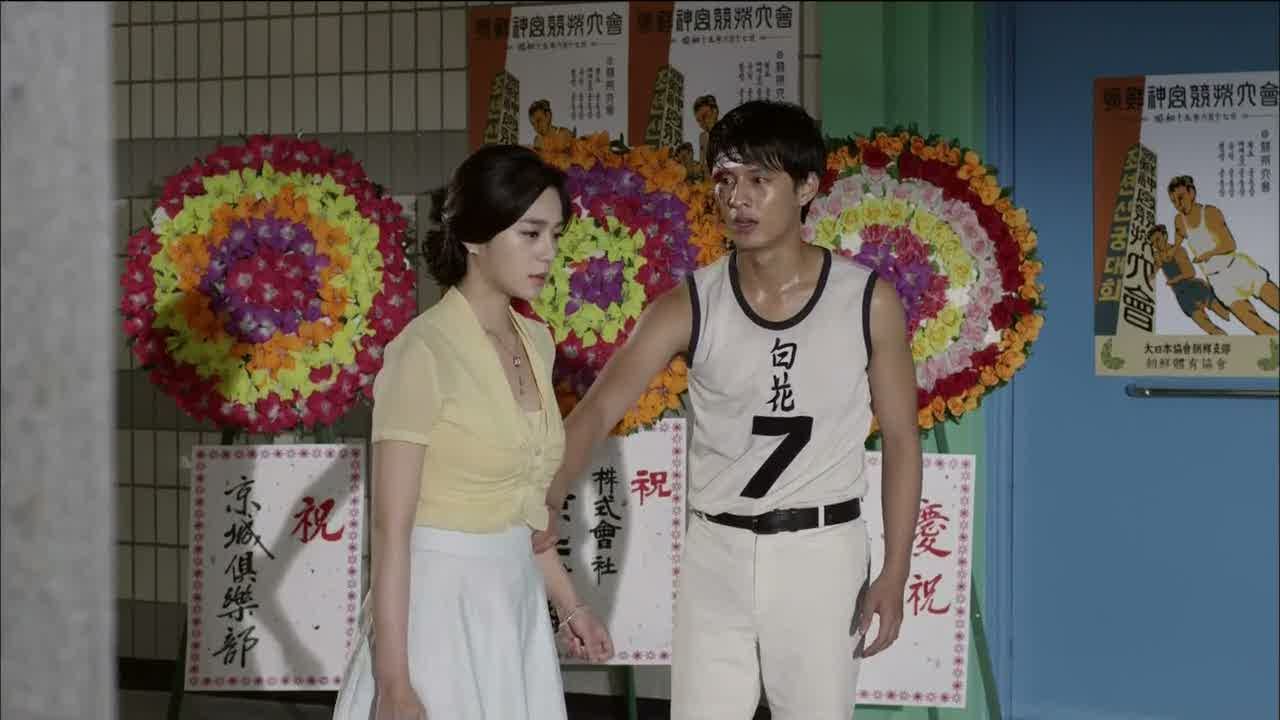 San pulls Shin-young aside as she's leaving to tell her that he understands why she's taking the path she's taking, but that he's sure their paths will converge in the future since they have the same goal: making the world a better place.
But Shin-young isn't so optimistic, and shoots down San's hope for the future by telling him to just forget he ever knew her.
Team Baekhwa triumphantly accepts their victory trophies in front of an adoring crowd, though their buzz is swiftly killed when it's announced that they'll go onto the finals… only they'll be representing Japan. During all this, Bok-joo notices Bookie Gong sneaking out.
No sooner does Hong-ki try to find the silver lining in all this—it's better than being drafted, right?—do they return to his mom's restaurant only to find Japanese police officers ransacking the place. They arrest Hong-ki's mom for selling smuggled liquor and drag her away.
As Hong-ki & Co. run to the Government-General Building for answers, Chi-ho is stopped by that torture-happy policeman, who seems to take joy in telling Chi-ho that his father has just been sentenced to death. (What.)
Hong-ki confronts Officer Hee-bong—who he knows is responsible for having his mother arrested—but only gets beaten up by more Japanese officers for the trouble.
Meanwhile, Bookie Gong heads to where he said he'd meet Ajumma and Mi-sook (to run away?), but a smirking Bok-joo has followed him… and he's brought Secretary Kim with him. And here I thought he was coming around. What a waste of 287328 reaction shots on him during the game.
Bookie Gong is dragged into an abandoned warehouse where Ajumma and Mi-sook are also being held prisoner, courtesy of Daddy Choi. They get to stay long enough to see him mercilessly beaten by thugs before they too are dragged off.
San knows something is wrong when he finds Ajumma's restaurant empty. That's when Bookie Gong's two minions arrive to tell San that Gong stole their prize money and ran away. (Ah, so that's the briefcase he was holding.)
Once confronted with Daddy Choi, Bookie Gong stays true to character and lies in order to save his own skin. He claims that San is the one who built the bomb, and that he plans on detonating it during the final game. He claims that if something isn't done about San, everything's gonna go boom.
Chi-ho finds his mother and his sisters, all of them in shock over Mr. Min's sentencing. His mother can't understand how any of this could even happen, but she understands enough to tell Chi-ho that finding a lawyer to try and win their father's freedom in a fair trial is a losing battle—after all, it was "the law" that put an innocent man like Mr. Min behind bars in the first place.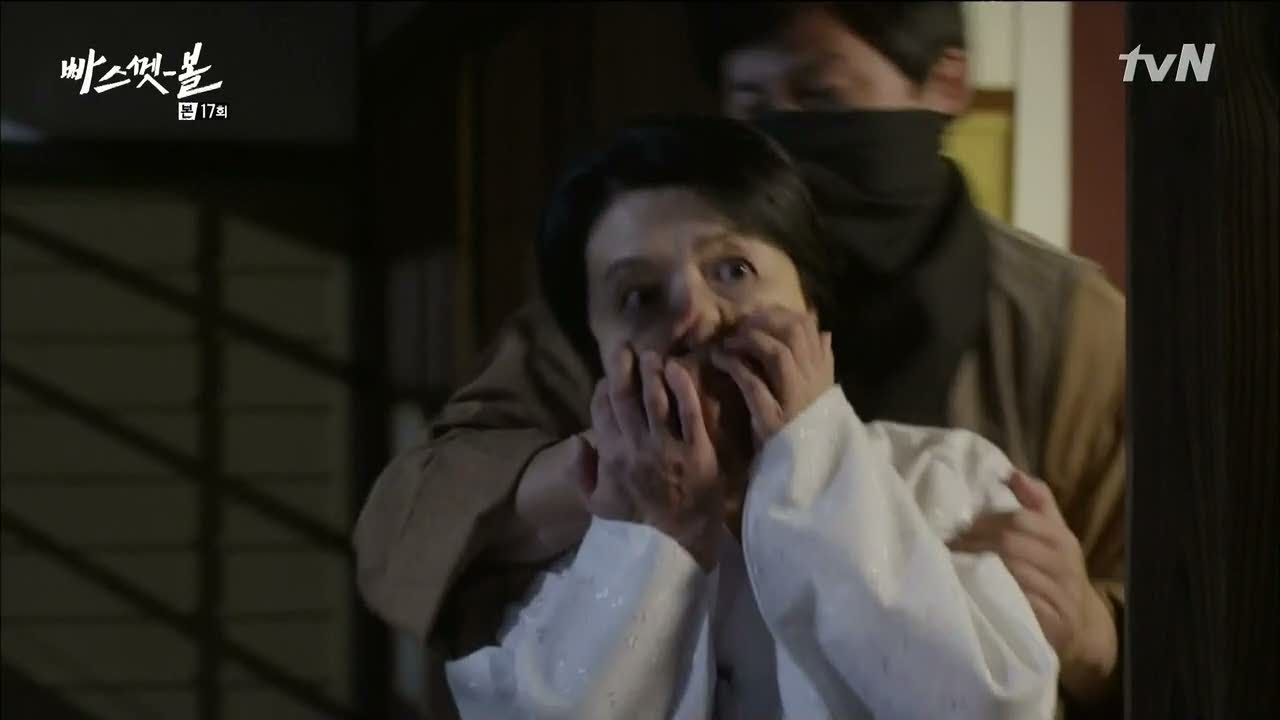 Takeshi, still fuming over the fact that San stood up to him, vows revenge. Under his orders, San's Mom is kidnapped. (Seriously? What else?)
San finds Hong-ki and Sung-won outside the Government-General Building and gives them the news that Bookie Gong ran away. They tell him that Chi-ho's father was sentenced to be executed just as Chi-ho meets them outside, where he swiftly turns down Hong-ki's offer that they still go to the final game. "I'm quitting basketball."
But Hong-ki declares that it's not about basketball—it's about revenge. All the top colonial officials will be at the final game, along with the cops persecuting Chi-ho's father and the officer who imprisoned his mother. They can use that opportunity to kill them all in one fell swoop with Sung-won's bomb.
I love that Sung-won is all, "Let's wait till you're not so emotional," while Hong-ki's like, "Oh, okay, so I'm being irrational when I just want to save my mom, but you're being rational when you want to die for your country?"
Hong-ki explains that he doesn't know what it feels like to have national pride, because being Korean never fed or clothed him—his mother did, by selling her happiness and her soul to send him to school. "I don't know a thing about this country," he admits. "But I'm going to protect my mom."
San refuses to join in on the plot, since he thinks that detonating one bomb won't change the world while Hong-ki just wants to get revenge.
Meanwhile, Takeshi's got Mom as a hostage, and she spits vitriol at him for kidnapping her. "Aren't you even afraid of heaven?" she asks, but Takeshi responds by hitting her—not once, but twice. Even his hired thugs look uncomfortable and scared.
Takeshi explains himself (poorly), something about how she shouldn't have bit the hand that fed her, and kicks Mom backward. She cracks the back of her head on a stone step and starts bleeding out, an outcome that Takeshi maybe wasn't expecting.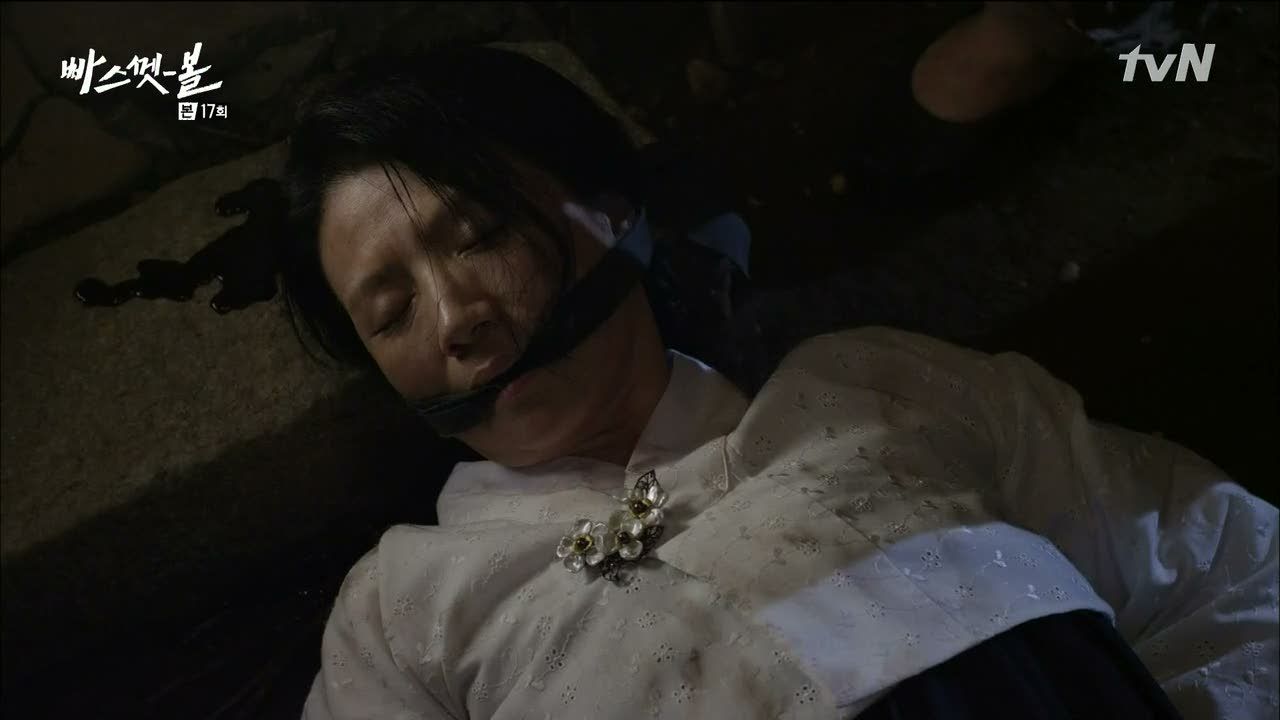 Count Byun calls his murdering son in to remind him about his meeting with Shin-young tomorrow—you know, because that engagement is still happening. Why not.
Chi-ho and Byeo-ri finally have a scene together, where she shows him her acceptance paper to become a comfort woma-… I mean, nurse. Chi-ho has a bad feeling about it and orders her not to go, even going so far as to rip up the paperwork.
But she says it's too late, since everything's been filed. Even though he reminds her that she'll be treating Japanese soldiers on the battlefield, she's made peace with it. She wants to leave Chi-ho with good memories of her rather than burdensome ones, even though I'm sure Chi-ho's telling the truth when he says he's never thought of her as a burden.
But Byeo-ri is determined to grow up and return to Chi-ho once she has. "So you have to wait and not get married until then, okay?" Awww, SAD.
Daddy Choi doesn't tell Shin-young where he's taking her, but she gets to drive her own car. Bong-soon now works for her as a secretary and goes with her, and the car ride is cute: Shin-young tells Bong-soon that she doesn't have to address her formally anymore, and Bong-soon agrees because she's one year older anyway. Ha.
So Shin-young calls Bong-soon "Bong-soon Unni" and Bong-soon uses banmal to call Shin-young "Shin-young-ah."
When Takeshi sees that San's Mom is dead the next morning, his only reaction is to tell his men to get rid of the body and tell no one. One of the lackeys looks like he has a guilty conscience, though.
Byeo-ri has left a letter for Chi-ho Oppa with a cute little drawing of him, where she tells him that she'll write when she reaches Manchura and ends with "Goodbye… My Prince Hamlet."
Chi-ho goes running to try and stop her from leaving, only he's too late—she's already been taken away on a truck filled with other ill-fated women. His search proves futile, and he realizes now that he's lost everyone dear to him as he finds himself outside the Government-General Building where his dad is being held. It's there he reaches his breaking point.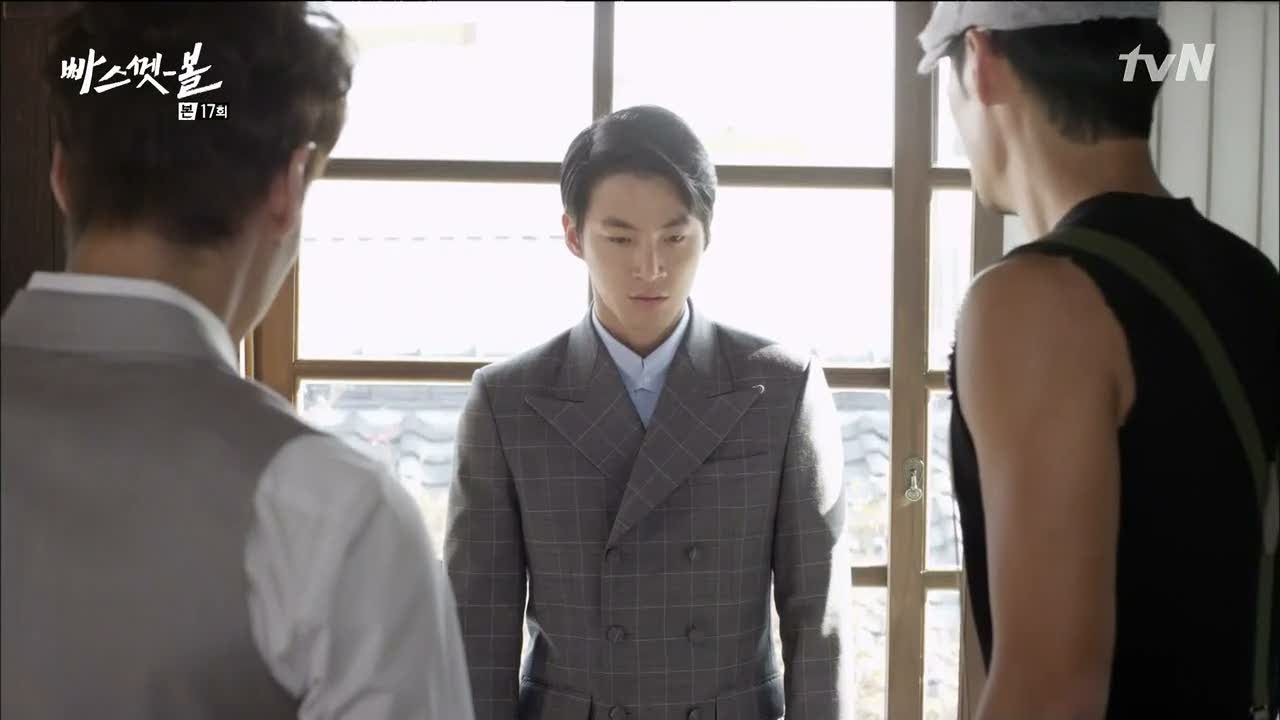 He finds Sung-won and Hong-ki and pledges to join them in detonating the bomb. "All the things I've lost… I want to get them all back."
Daddy Choi brings Shin-young to Takeshi's house for the engagement meeting, and it's nice to see her non-reaction to finding out her father's true intention.
At the same time, Secretary Kim notices some conspicuous men carrying a stretcher and follows them in time to see them load Mom onto the stretcher and "sneak" (they drop the body at least once) her outside.
San goes to Takeshi's house to look for his mother, and is instead met with the Guilty Conscience Lackey, who spills the beans about San's mom dying and where they're planning to take the body.
Cut to: the interior of the house, where the Marriage Lunch is taking place. Count Byun is happy to hear that Shin-young quit being a reporter (because women shouldn't work, of course), until she bursts his bubble that she's trying to learn her father's business.
Takeshi makes a remark about how a wife should be obedient, stay home, and take care of her husband, which causes Shin-young to make some polite yet biting remarks about Takeshi's "type." Daddy Choi can't help but suppress a small smile at his daughter's zingers, and offers Takeshi an apology-yet-not on her behalf, claiming that she's just too honest to filter what she says.
San runs to the forest to try to find Mom, and ends up searching late into the night. He ends up stumbling down a hill, which somehow knocks him unconscious.
Then it starts to rain.

COMMENTS
Okay, now this is just turning into a joke. It's like this show is never content with heaping just one tragedy on us and thinks that it needs to heap ALL the tragedy on in order to make a scene moving, when the effect is just the opposite. Maybe melodramatic moments can learn from comedy's rule-of-threes, in that two jokes in the setup can cancel each other out.
Similarly, two or more super melodramatic aspects in your melodramatic setup can cancel each other out: "He goes looking for his Mom's dead body in a forest, then he stumbles, gets knocked unconscious, oh, and it RAINS." It's all Too Much, isn't it? It's already sad enough that he's combing the woods for his murdered mother. What's the use of adding so much extra suffering when the end result doesn't resonate anyway?
I guess I'll never understand this show, especially when the first half was maybe the best thirty minutes we've seen yet. That one half-hour span delivered more on the premise of this show than the last seventeen episodes combined, maybe because it was actually about basketball, friendship, teamwork, and defeating the odds. But that was all a short detour on the road to Tragedyville, which in and of itself doesn't make a show bad—there's got to be plenty of joyless dramas filled only with sadness and pain, right? I'm hard-pressed to recall anything that isn't Fashion King, though.
What maybe makes Basketball a different beast than the rest is that it forgot to be entertaining somewhere along the way. It's not like everything would be fixed with just a little more levity, and more like the show's message seems to be just that the Occupation era was a terrible one. And while that is undoubtedly true, if that's all we end up walking away with after tomorrow, then this will all have been a grand waste of time. I'm holding out the small hope that the show might, at the very least, NOT slap all four of us in the face with a bad ending… But it's probably better to be prepared for the worst when there's a bomb on the loose.

RELATED POSTS
Tags: Basketball, Do Ji-han, featured, Jung Dong-hyun, Lee Elijah