Kang Dong-won and Song Hye-gyo play young parents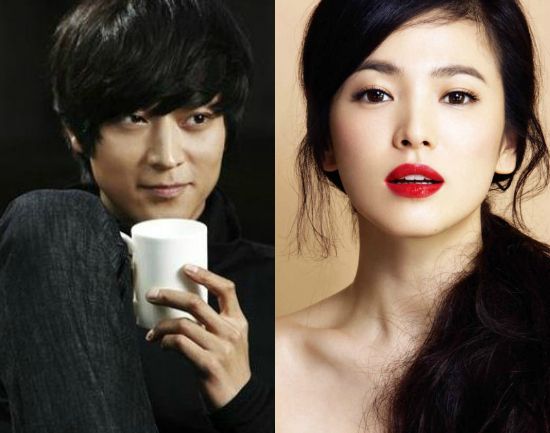 Aw, this movie is so going to tug at the heartstrings. It's been teased that Song Hye-gyo (That Winter, The Wind Blows) would be starring in the new movie Dugeun Dugeun My Life (dugeun is the sound of a heartbeat, like thump-thump) as a young mother, and along with her casting confirmation comes the news that Kang Dong-won (Psychic) will be playing her leading man. Now that is one good-looking couple.
The pair of actors have actually played lovers before, in the 2010 omnibus film Camellia–Love For Sale (the stills below are from their segment). This time they'll be playing once-teenage parents who now face losing their teenage son. Kang Dong-won plays a character who was barely sixteen when his girlfriend became pregnant; Song Hye-gyo's character is seventeen at the time. They have a son, but he's born with progeria, a genetic condition that causes rapid aging. Fast-forward to seventeen years later, when the parents are in their early thirties and their son looks older than them, and faces death at just seventeen.
Directing is Lee Jae-yong of Actresses, and the movie is being produced by the company behind Jeon Woo-chi and All About My Wife. The movie is an adaptation of a bestseller by the same title, and will be a thoughtful human drama about delicate emotions, age, and family. And it's called a cheerful uplifting movie rather than a melodrama, though I'm sure it won't fail to wring tears. The actors will be playing very ordinary people who may be young and inexperienced, but are the best loving parents they know how to be. Though it goes without saying that no wisdom of age can ease the pain of being parents who must prepare for the death of their son.
Dugeun Dugeun My Life plans to start shooting early next year for a 2014 release.
Via Osen
RELATED POSTS
Tags: Kang Dong-won, Song Hye-gyo