Miss Korea: Episodes 1-2
Miss Korea was the other new drama that premiered last week, and while I wouldn't call it a straight romantic comedy (it's a bit moody for that, though not in a bad way), it has some solid things going for it, like two charismatic leads and a backstory to keep their present-day connection crackling with chemistry and conflict.
Set in 1997, the drama has an interesting vibe—it looks appropriately dated given that the world was a different place then, particularly in the wake of the nationwide financial crisis—but I wouldn't say it feels dated. It's slightly nostalgic, but in a different way than the Answer Me franchise; it's tinged with a darker shade of realism, slightly bittersweet. But it's not all gloom either, and I expect to see a success story emerge among our team of underdogs, as well as a second-chance-at-love dynamic between the leads, which I look forward to watching unfold.
The drama reunites the Golden Time and My Princess director with the Romance Town writer; their last drama together was 2010's Pasta. As you'd expect given those credits, Miss Korea carries a lot of the same traits over, whether it's the familiar faces in the cast or the Every Single Day-driven soundtrack or the focus on the small, low-key moments in relationships. None of those is a bad thing, though I do wish the drama didn't also have that same dulled color palette and washed-out visuals—won't somebody buy this PD a new camera?
SONG OF THE DAY
Kim Greem – "우리만 있어" (We're alone here) [ Download ]
Audio clip: Adobe Flash Player (version 9 or above) is required to play this audio clip. Download the latest version here. You also need to have JavaScript enabled in your browser.

CHARACTERS & RELATIONSHIPS
This is OH JI-YOUNG (Lee Yeon-hee, continuing in her upward trajectory of acting growth), a 27-year-old "elevator girl" at a department store. She's the eldest of the bunch and has taken on a mother hen role to the other elevator girls, who look to her for guidance and protection, particularly since she's the only one with the spine to talk back to their sleazy supervisor. This is a double-edged sword, however, because her boldness has gotten her on her boss's shit list, and the vindictive little man isn't likely to let things slide without retaliation.
In the present-day timeline of 1997, the elevator girl is a dying breed, and department stores nationwide have been phasing them out to the point where Ji-young and her friends worry that they'll soon find themselves out of a career. The first step is when their supervisor gives them all the "option" to resign voluntarily in exchange for severance pay; that the next phase of firings won't be as generous is understood.
On the surface, Ji-young seems content enough with her lot in life—she's not on the fast track to anywhere, but she's not ambitious enough for that to bother her. She puts in her hours at work and enjoys clubbing at nights, where she'll dance her heart out while keeping men at a distance.
We do start glimpsing something under the surface, however, suggesting that a deeper unrest lies beneath the collected image she projects. One well-concealed complex is her self-consciousness over having a flat chest; it starts out seeming like a minor character tic but may possibly turn out to be more.
She lives in a modest home with four men—Grandpa, Uncle, Oppa, and a father she calls Mom. (I wondered for a moment whether the drama was doing something interesting with gender identity, but the official character description just says that her father has been a mother to her, and hence she calls him Mom.) They run a small neighborhood mart and seem like a loving bunch.
KIM HYUNG-JOON (Lee Seon-kyun), 30, is the president of a small cosmetics company named Vivi, which he runs with his former school buddies. He's on the brink of drowning in debt, with debt collectors harassing him and his staff for the 500 million won (half a million dollars) he owes.
Hyung-joon was timid as a high schooler and went to Seoul National University, which means that his crew is a brainy bunch. However, as their debt collector notes, merely having those brains didn't guarantee that they'd make money with them.
Desperate for ways of increasing revenues, the Vivi team dodges their loan sharks while trying to hit up contacts for investments. Their product is good, they know, but they just haven't found a way to make a breakthrough in the market.
Leader of the lab staff is HWA-JUNG (Song Sun-mi), a chemist who does a lot of the testing and developing. She's the eldest and has the fiercest temper, and her tenacity hints at hilarious and awesome things to come. The two other guys, Hong-sam and Kang-woo (Oh Jung-se, Choi Jae-hwan), on the other hand, are shy nerds. The four friends went into business together with lofty goals of making profits with high-quality cosmetics and hard work, and perhaps their lack of a business brain is why they're in the trouble they're in today.
Vivi is on the cusp of developing a new item that has yet to be picked up by their competitors—a wonder product called BB cream that'll revolutionize the industry and make them a hit. In hindsight we know they're right, but in the drama's present-day reality, their enthusiastic pitches do sound a little wild-eyed and fantastical.
Then there's debt collector JUNG SUN-SAENG (Lee Sung-min), whose name means Teacher Jung and raises eyebrows whenever he clarifies that yes, he actually was named Sun-saeng at birth. Thus he's not a teacher in any sense but he gets called Teacher Jung nonetheless, which is a bit ironic given that he's a high school dropout with a rap sheet and no real achievement to his name.
Teacher Jung is a wonderfully pathetic character who I think will add a ton of heart to the show, because he's in the traditional villain role of loan shark and yet he's quite bad at it, being too soft-hearted to break the knees or extort the money necessary to be successful at his job. He answers to a higher boss who warns him to get that money from Vivi or else, and so he goes after Hyung-joon with thugs and threats… but then feels sorry for Hyung-joon and offers himself as his bodyguard, even if it's to protect Hyung-joon from himself. His reasoning is that Hyung-joon looks close to suicidally desperate and if he should kill himself, Teacher Jung can't get his money. So he'll stick around to make sure he lives—and by extension, succeeds, because success for the debtor means success for the collector. And lo and behold, already an unexpected (to them) bromance starts to blossom…
In contrast to Hyung-joon with his lack of business sense, MA AE-RI (Lee Mi-sook) rules with shrewdness and cold logic. She's a beauty salon owner who became a star (and star-maker) when she produced a Miss Korea, and ever since then she has churned out a steady supply of them via her Queen Hair Salon. Coupled with her keen eye for girls with Miss Korea potential, she also runs something of a beauty queen boot camp, ruling her roost of pageant hopefuls with strict discipline. This means that Queen Salon has young girls (and stage mothers) lining up to be molded by Ae-ri, and those who flourish under her tutelage are practically assured a win in the pageant.
What's interesting about Ae-ri is that she has a stern, unbending side as the director of Queen Salon, but she also treats her girls with compassion. Ish. In one instance she takes aside an underage runaway who's hostessing in a bar and urges her to go back to school and teaches her never to let men take advantage of her, promising to take care of her needs. It's not altruistic, because she'll benefit by playing svengali… but there's a sincerity to her advice that softens her edges in an interesting way.

THE STORY
At Dream Department Store, Ji-young's smarmy supervisor power-trips his way around the elevator girls, most of whom are too young or timid to talk back to him. Ji-young is the only one cheeky enough to stand up to him, but ultimately she doesn't have any power to make him stop leering at the girls or barging into their locker room, because she doesn't want to be out of a job, either.
So she endures the tough hours, slapping on a smile for the customers' benefit and sneaking forbidden snacks when she can. I love the beat where the camera stays on her face as she chokes down food hurriedly between floors, and we just watch her painfully trying to eat as quickly as possible—it's so real and sad, that little moment. This is one of the things this drama does well, drawing out a human beat with the smallest of gestures.
Another example of that attention to detail comes when Hyung-joon visits an old high school classmate, LEE YOON (Lee Ki-woo), to ask for an investment into Vivi Cosmetics. Yoon's company deals in investments and M&As, but they all know that Hyung-joon is begging for a favor to save his skin. He doesn't even hide that he's desperate, allowing that this is pathetic of him but pleading for help just the same.
Hyung-joon isn't some highly principled hero who'll always do the right thing, and he even tries to offer Yoon a personal bribe. Yoon declines the cash and the investment, and Hyung-joon sinks one step further into despair.
As they're taking the subway, Hyung-joon and his two buddies witness the strange sight of Ma Ae-ri in one of her training runs with her pageant hopeful. The girl is told to strut as though she's competing onstage, and she drops her coat and does as ordered, Ae-ri's instructions ringing in her ear.
The attempt falls flat when the girl gets caught up in a subway melee (between political protesters) that kills her nerve and sends her off the subway sobbing. The guys shrug off Ae-ri's Miss Korea grooming operation as a silly idea for now, but it'll come back to them later.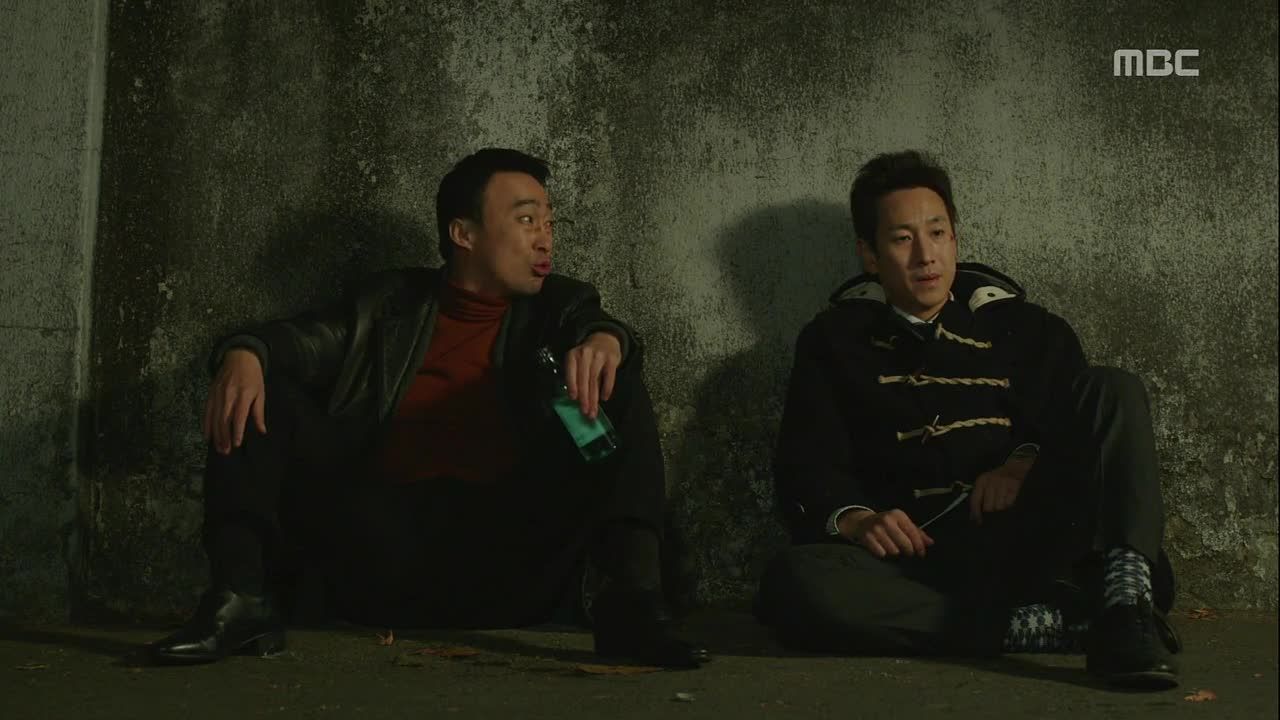 Hyung-joon gets cornered in an alley by Teacher Jung, who beats the stuffing out of him before joining him for a drink. The two men are both backed into a corner by their respective dilemmas, and this is when Teacher Jung offers himself as bodyguard. "Just don't die" is his main directive. Afterward, he shows up at their offices periodically to keep tabs on them, to amusing results.
The Vivi guys half-joke about making their own Miss Korea, since being connected to a winner would open doors for them. They cite examples of other people who have benefited by their association to sponsoring a Miss Korea, and start thinking that perhaps that will be the thing Vivi needs to drag itself out of its hole. The guys all vow to each find the best-looking woman they know for consideration, and this sends Hyung-joon on a series of reunions with old flames—he's always dated attractive women, but he's also been a crappy boyfriend, which results in a string of angry rejections.
This also sends him down memory lane, thinking of the most beautiful girl he knows—Oh Ji-young. They met when she was a first-year high school student and he was a senior, and she'd come to his mother's bathhouse and called him oppa, while all he could do was gape awkwardly.
Ji-young was so popular among the boys that a mere walk by the schoolyard would send them all to the windows, raining her in their cheers and adoring messages. On one occasion Hyung-joon sends a yellow paper airplane down to her and nearly dies of joy when it lands on her shoulder… though he's crushed moments later when she sends it flying onward.
Ji-young sells cigarettes at her family's shop, which results in boys lining up to buy smokes just to get to talk to her for a second. Yoon—as confident then as he is now—is the only one who actually asks her out, but his braggadocio takes a hit when she declines. Hyung-joon, on the other hand, is too cowardly to even muster the nerve to approach, though he catches a break when she'd talks to him first.
Ji-young guesses that he doesn't even know how to smoke and offers to teach him, demonstrating with a sausage stick. Through her cheery demonstration, Hyung-joon just stares, totally seized with terror and excitement, and makes an awkward attempt to smoke.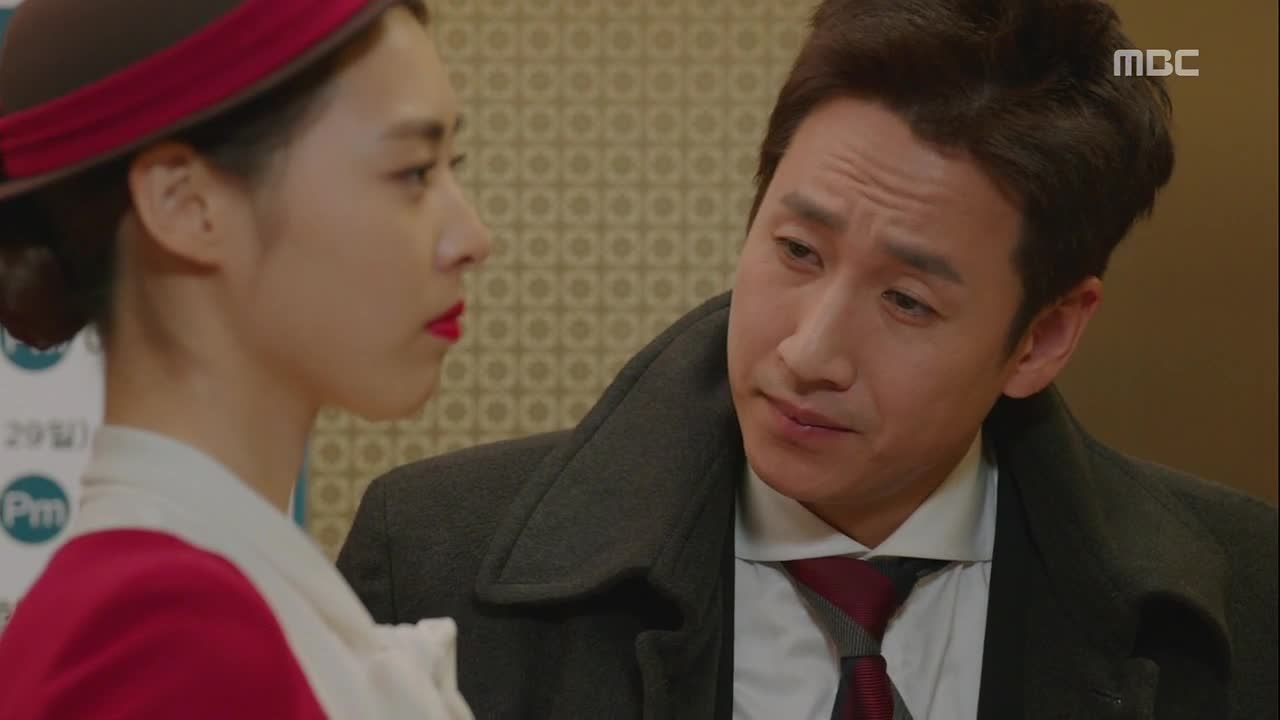 It's clear he was massively smitten with Ji-young, and for all we can see she was a sunny sweetheart as a teenager, so one big point of curiosity is finding out where things took a turn. Because when Hyung-joon shows up one day in Ji-young's elevator, the reunion is anything but sweetly nostalgic.
He tells Ji-young she's the prettiest girl he's ever known, but he says everything with an air of puffed-up superiority. I almost chalked it up to a false bravado to make himself feel important next to the girl of his dreams, until Ji-young turns on him and pins him to the wall, spitting back all the terrible things he's said about her in the past decade—that he went around calling her trashy and cheap and with shit for brains.
Hyung-joon's inner monologue wonders how she found out he'd said all that, though hilariously, he's still kind of hopeful that she'll look past that to work with him. Ha. There's a distinct jerk quality to Hyung-joon that I find interesting, if extremely exasperating, because I'm rooting for him and yet he's kind of a dick.
Though he rejected Hyung-joon flatly the first time, Yoon belatedly gets a report on BB cream's potential to be the next big thing. Thus he reconsiders the offer to invest in Vivi, and the Vivi boys make a few nervous boasts about having a future Miss Korea on their hands. Skeptical Yoon offers to give half the investment if they can produce a top-three finisher in the upcoming Miss Seoul pageant (as Miss Seoul winners historically go on to win the Miss Korea competition). And if she comes in first, they'll get the full investment.
All right: stakes established, premise locked and loaded. The problem is, now Hyung-joon's not only been turned down by Ji-young, he's also offended her and dredged up old memories. He dreams of her strutting in her Miss Korea bathing suit and mocking him for using her for his own profit. He'd called her easy before, so now Dream Ji-young says she'll play hard to get—and he can get lost forever.
What's great is that at this point I want him to have to grovel to get her on his team, because he's earned her scorn. And his words have struck a nerve; Ji-young spends the day fighting tears on the job, berating herself for frittering her life away and not trying harder to study or make something of herself.
Thus when Hyung-joon drops by her home late that night to try again, she turns him away coolly. Thing is, she's also been spotted by Ae-ri, who's always got her eyes peeled for the next beauty queen, and Ji-young gives Ae-ri's offer serious consideration. Her major hang-up is her huge insecurity over her chest; not only does she stuff her bra, she's terribly embarrassed about it and hides the pad. Ji-young secretly calls a plastic surgery office to inquire into the enlargement procedure.
Meanwhile, Ae-ri finds another potential contender in her son's girlfriend, KIM JAE-HEE (Go Sung-hee), who is set up to become the primary rival. Jae-hee is rather calculating herself, having finagled the son to get closer to the mother, since what she really wants is the Queen connection.
So Jae-hee makes her way to Queen Salon along with a whole crew of hopefuls to begin the grooming process. That's the same night that Ji-young finally plucks up the nerve to take the offer, and she arrives at Queen too.
Hyung-joon follows Ji-young, and when he sees where she's headed, he realizes he's about to lose his only shot at this Miss Korea gamble. It's lucky for him that Ji-young is stricken with last-minute doubts, particularly when she sees all the other glamorous girls with their plentiful busts, and she turns back to go home. Still, she isn't giving up: She decides she'll get her surgery, then present herself to Ae-ri and try out for Miss Korea. "That's my last chance."

COMMENTS
Coming into the drama, I wasn't quite sure how they'd explain the whole Operation: Miss Korea motivation; I could see the tagline working for a glossy studio rom-com (say, of the Miss Congeniality sort), but I wasn't getting a campy vibe from this production. Now that we've seen the setup, I have to say I like it, and for that we can largely thank the characterizations.
Right off the bat I love the Ji-young character, who mixes strength with vulnerability, confidence with lost-little-girl insecurity. I'm sure we'll get to see more of her past in flashbacks, and that should fill in some of the blanks with her and Hyung-joon, which is reason enough for me to tune in. I want to know why he turned into such a sneering ass where she's concerned, because it's definitely not where you thought he would turn out when you saw his bashful 19-year-old self.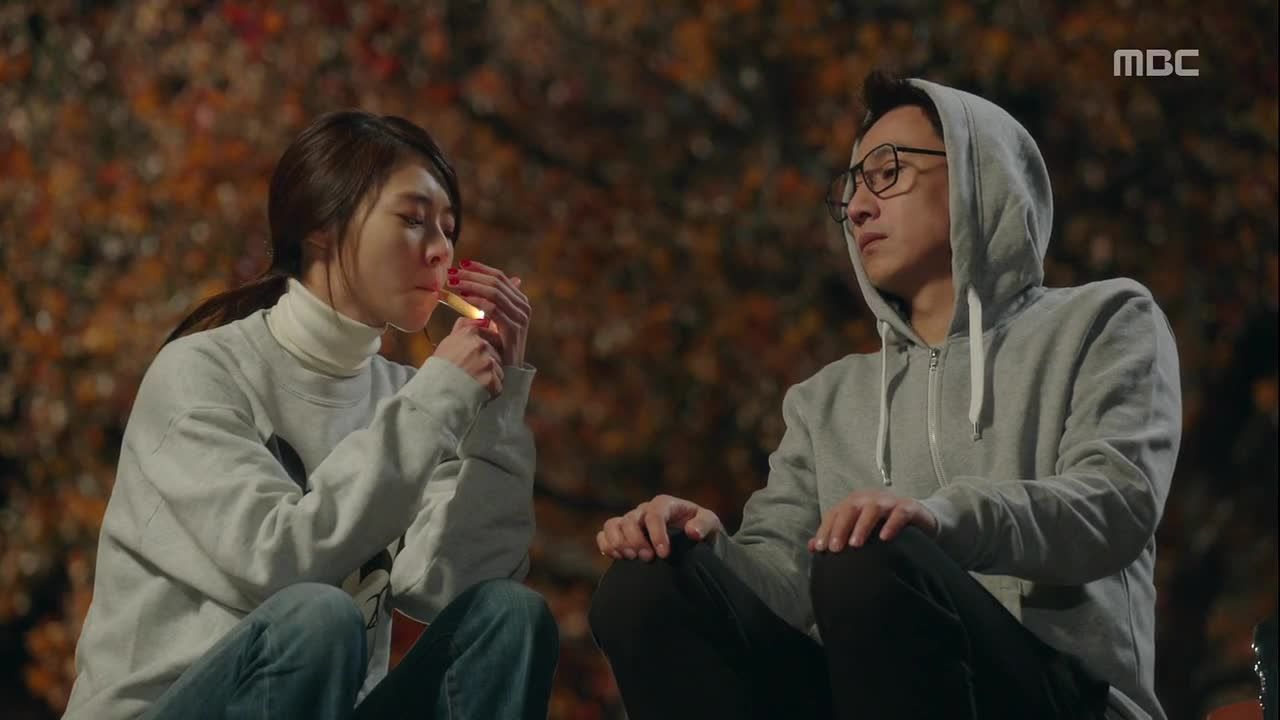 We've seen Hyung-joon being rather a charming douchebag with his ex-girlfriends, and Teacher Jung makes the incisive remark about the Seoul University/Vivi crew thinking themselves above the rest—they're educated and high on themselves, he says, and consider the others beneath their notice. I think there's a real ring of truth in his comments, although I don't think any of the Vivi employees know this about themselves. It's a perspective born of privilege in never having had to question that they were smart and going to make successes of themselves. And somehow this has manifested in the way Hyung-joon relates to the opposite gender—all women, not just Ji-young.
I'd be willing to be money it all started with Ji-young, though, and that's where my curiosity is highest. Hyung-joon seems like a very real character to me, in that he comes off like people I might know in real life, not just in dramaland where character traits are so often polarized into hero and anti-hero camps. What's your deal, Mr. Smartypants Snob? Were you so in love with a girl that you channeled your disappointment into anger, and fed that anger until it turned into overall cynicism? (Or worse, misogyny?) Did you tell yourself that the reason she didn't love you was because she was a slut, and not because of anything you did? The things he'd said about Ji-young over the years are pretty unsavory, despite the humorous way the scene was played, and seem to say a lot more about him than her.
So this creates this really interesting conflict within myself where I'm firmly on Ji-young's side, just waiting for her to make him pay for his crappy words (and beliefs), while still pulling for him to take up a real attitude adjustment and come out of it a better man. I have zero interest in rooting for this version of Hyung-joon to get what he wants and make lots of money and win the girl's heart, because who needs to reward bad behavior? Yet Lee Seon-kyun plays him with such lovely nuance that I can see hope for character rehab in his future, and I want him to earn his success—not just in the business sense, but also karmically.
Plus, I'm sure the drama will be filling in the intervening years to at least explain how they came to this point. The actors have great tension, both of the romantic variety and the antagonistic, and I think we're in for great relationship moments down the line.
With the BB cream and Miss Korea angles both in play, I think Miss Korea's 1997 timeline really works; I had wondered why the drama picked this particular year, but seeing the pieces being set in place, I see how they fit. On Hyung-joon's end, we end up pulling extra-hard for him to make it because we know that if he's the one to get in on the BB craze (or start it, even), he'll succeed wildly.
It also provides a nice counter to Ji-young's elevator girl status—not only is she a former beauty queen who flamed out in high school, she's on the cusp of becoming obsolete even in her daily job. I don't necessarily think Ji-young has spent her life in self-loathing, but now that her future seems insecure, it highlights the point that she really hasn't done anything with her life. At 27, if she gets fired (which is a distinct possibility), there's literally no job she'd be suited for, with her entire field disappearing with the times and her only on-the-job skills being professionally polite and pretty. So while it may feel a bit dramatic to look upon a Miss Korea bid as a "last chance," I can see why she'd feel that—it's a last chance to push for something big and life-changing before settling down with resignation and accepting her life's lot.
I'll be curious not only to see how our Vivi team can convince Ji-young to their side, but how they could actually outperform Ae-ri, who's so competent and connected that she seems unbeatable. Will they find something within themselves to challenge Ae-ri's drill sergeant techniques? Or will it be something special about Ji-young herself?
So while tonally the drama isn't quite a 100% match with my sensibility—it's a little plaintive, a little heavier than I'd like—I'm invested in the people and their trajectories, so it's likely I'll stick around to see where they all land.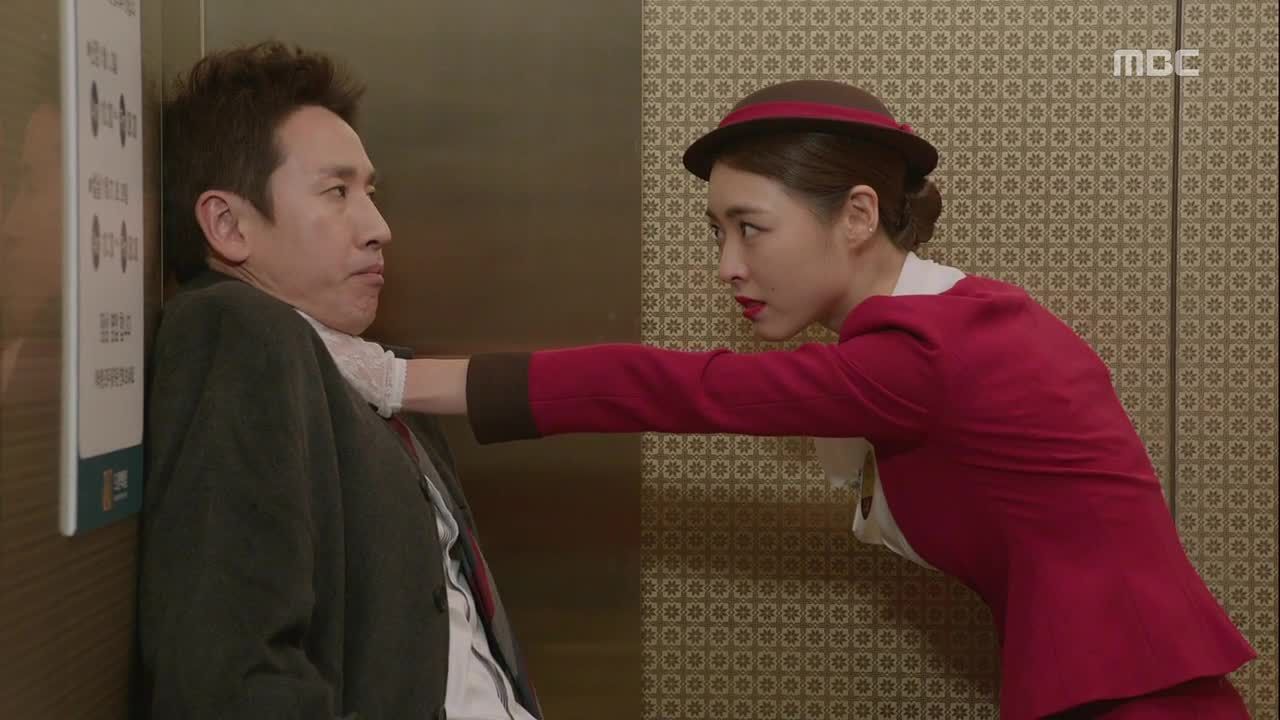 RELATED POSTS
Tags: featured, first episodes, Go Sung-hee, Lee Ki-woo, Lee Mi-sook, Lee Seon-kyun, Lee Sung-min, Lee Yeon-hee, Miss Korea, Oh Jung-se