Movie Review: Die Bad
While violent men are not universal in Korean cinema, an argument can be made that the large presence of violence among men in Korean cinema reflects on the violence that is endemic to that segment of Korean society. Professor Kyung Hyun Kim argues in The Remasculinization of Korean Cinema that this violence reflects Korea's transition to modernity and struggles with identity in the aftermath of the fall of dictatorship in Korea. And some of this argument makes sense as Korea underwent a rapid upheaval from agrarian society bound by tradition to the modern tech-fueled international wonder it is today, so it's no wonder that many in the populace would struggle with their place in a society that transitioned so quickly that their roles are no longer obviously demarcated by the longstanding traditions or authoritarian ruling.
Perhaps in the search for an identity in the absence of traditional roles as ascribed by the authority, many Korean men have taken to the primal standard of violence as a means to establish themselves. Or perhaps it's because of the constant threat of war with the North for much of the country's history, or the history of violence that the dictatorial government enacted against the people, or perhaps it has something to do with the standardization of masculine violence from corporal punishment and bullying in school through mandatory military service. And maybe it's a combination of these different elements, but violence in Korean cinema is noticeable and Die Bad, the debut feature by writer-director Ryu Seung-wan, takes the time to explore this violence in bravura fashion.
Die Bad was likened to Quentin Tarantino's work upon its 2000 release, probably because of several elements in common with Tarantino's early films: 1) the independent nature of the film, 2) the segmented narrative, 3) postmodern storytelling, and 4) the brutality of the violence shown onscreen. However, Die Bad is quite different from Reservoir Dogs or Pulp Fiction, grounded in a real world rather than being a creation of cinematic fantasy. It even takes into account the seeming injection of a supernatural element in the film, and rather than use violence to shock or titillate, violence is portrayed with a kind of authenticity and it is that authenticity that is shocking.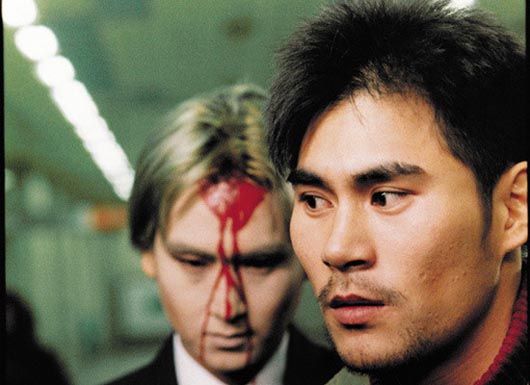 The segmenting of Die Bad into four pieces occurred in part because the film was built from four different short films, shot piecemeal over the course of a couple years, the first and third of these winning awards and probably enabling the completion of the feature. Each segment is presented in chronological order, but they also have time jumps between them.
The first segment is called Rumble. In it, a bunch of art school kids are hanging out in a billiards hall when Hyun-soo (Kim Soo-hyun – not the one from Dream High), their friend, comes in claiming to have beat up a tech school kid, continuing to disparage them knowing full well that two tech school kids, Seok-hwan (Ryu Seung-wan) and Sung-bin (Park Sung-bin), are playing in the same hall. Seok-hwan's temper makes him want to engage in a fight, but Sung-bin tries to cool him down, noting that they can't risk their future on another brawl. It works until their friend Jin-ta shows up battered and points an accusing finger at the smirking Hyun-soo. In the ensuing fight, Sung-bin accidentally kills Hyun-soo.
Nightmare, the second segment sees Sung-bin released from jail seven years later. His family situation isn't great and he's haunted by the memory of the dead Hyun-soo, but his brother (Jung Jae-young) manages to get him a job at an auto shop. However, as an ex-con he feels harassed by the police officer (Im Won-hee) assigned to check in on him, is avoided by past friends, and then chances upon a beating of local gang boss Tae-hoon (Bae Joong-shik) by rival thugs and intervenes. Now fired from his job and on the bad side of the cop, Sung-bin makes a fateful decision.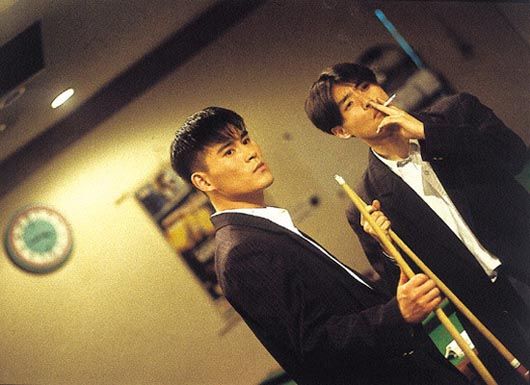 The third segment, Modern Man, follows the pursuit and brawl between Seok-hwan, now a police officer, and Tae-hoon, intercut with interviews of the two characters talking about their jobs.
The final segment from which the film gets its title ties it all together as Seok-hwan's younger brother, high schooler Sang-hwan (Ryu Seung-beom) roams the streets with his friends, getting into trouble. He hates school and is always hot for a fight and when he discovers the connection between his brother and the now-impressive gang figure Sung-bin, he decides that being a gangster is the life for him, despite warnings from one of his friends that the gang is just using him as a disposable pawn. And Sung-bin needs some pawns as he tries to take over the gang in the power vacuum left when Seok-hwan arrested Tae-hoon.
By the time you're watching the third segment, Die Bad almost feels disjointed, like the film is composed of ruminations on the almost omnipresence of violence in the lives of the characters, tied together by shared characters. And even if the movie were just that, it would still be quite good, but the segments are tied together smartly by the narrative as well.
Regarding those ruminations on violence, Rumble is intercut with an interview with the billiards hall owner, who talks about how kids these days simply are violent without reason and it was never that way under the dictatorship. By stating this outright, Die Bad might even be pointing out that the absence of oppressive political violence in the now democratic Republic of Korea has resulted in men using that latent violence to express their angst.
It's also interesting that Rumble would mention that past as it goes on to establish how ingrained violence is within the present system in Modern Man as the interview of the cop and the gangster reveal that both are quite similar, trying to play a role in establishing order in society. Yet this is intercut with one truly epic fight, implying that violence is the means by which this order is established, which itself might be drawing a parallel between the democratic system today and the autocratic one of the past. The cop and the gangster showing how those two systems might still be similar as well.
This discussion of violence returns briefly in Nightmare as the cop tries to explain that although he's not worried about Sung-bin, since he was an exemplary prisoner, that there is a violence latent within men and that those that have expressed it before are inclined to express it again. The patronizing cop traps Sung-bin in a perception of violence and Sung-bin can't help but instinctively clench a fist under the table. Later, when he engages in the brawl with the gangsters, he imagines that one of the gangsters is the image of the ghost of Hyun-soo that he's haunted by and pummels him mercilessly. Despite that violence is what brought him to this place, it's the only tool he seems to know how to use to escape it.
But Ryu's masterstroke in this film is the final segment, Die Bad, where he manages to tie together all the threads of the previous segments in terms of both story and theme, in such a seamless way that it appears to be made of genius. Not only is the takedown of Tae-hoon in Modern Man made relevant since it enables Sung-bin to make a bid for power, but it also brings both Seok-hwan and Sung-bin back to the initial fight in the billiards hall, having them confront the moment that changed Sung-bin's life permanently, with Seok-hwan having to deal with the fallout of the violence he instigated by having to learn that the legacy of that violence might doom his younger brother. This younger brother who almost certainly glamorizes violence because the authority figures he looks up to, his brother and, begrudgingly, his teacher, both employ that same violence as the means of their authority.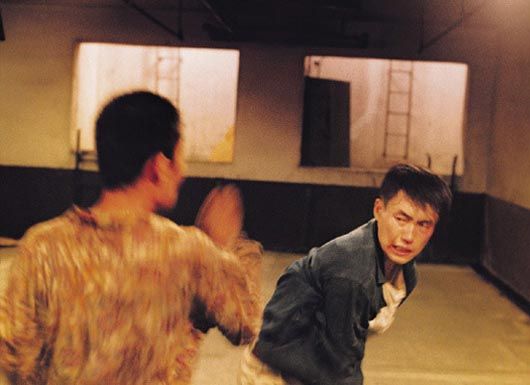 Even the film's most tender moment, as Seok-hwan and Sang-hwan reconcile after a fight, still cannot escape violence as the two weakly swear and hit each other.
The final moments of the film are almost classical Greek tragedy: In the wake of a terrible fight with Sung-bin, Seok-hwan finds himself blinded and crying out over the loss of Sang-hwan; it recalls Oedipus Rex after discovering that he had killed his father and married his mother, blinding himself out of horror. He did not know that his act of instigating a fight with the art students in the pool hall would lead to this end, much like Oedipus not foreseeing that killing a stranger would lead to patricide and incest, but the presence of individual and systemic violence, much like fate in classical mythology, leads to the inevitable replication of that violence.
There is not a moment in which Ryu portrays this violence in a positive way in the film. Most of the shots in Rumble are static with the fighting so thick that it's hard to pay attention to any particular action. This makes the scene seem more like closed-circuit camera footage, which further enhances the realness of the fight until the moment comes that Sung-bin swings a bottle against Hyun-soo's head.
Likewise, the two one-on-one fights in both Modern Man and the final segment are messy affairs, with lots of wrestling and poorly executed kicks and punches, never resembling the tightly choreographed fights of martial arts films, but seeming more like a real street fight. There is even a comedic moment in a different fight where Sang-hwan executes the kind of two-footed drop kick you see in all the Korean gangster films only to connect with air and fall on ground, a critique of the glamorization of violence in those films.
Perhaps the only thing that Die Bad struggles with is its obviously low-budget production values. It's shot on 16mm and it shows in the poor quality of image. But I think that Ryu actually makes the best of it since it almost gives the film the air of a documentary, further adding to the implied authenticity of the image. It's a pretty smart usage of the medium and Ryu also manages to assemble a strong cast with both talented young performers like his brother, Ryu Seung-wan, filling out the youth roles as well as the veteran cast, like Bae Joong-shik and Gi Joo-bong adding a lot to the older characters. Even the cameo from Lee Jang-ho as the angry verbally abusive patriarch of Sung-bin's family is quite convincing considering that he's known more for being a producer-writer-director than an actor.
In ninety-five minutes, the then-young director Ryu Seung-wan manages to present a stunningly deep rumination on the violence in Korean masculinity, showing its past and its present, on individual, familial, and systemic levels and then displaying the tragic impact that it has on the men caught in its seemingly endless cycle. Despite the rough production values, Ryu seems to have a masterful understanding of both the content that needs to be presented and how it needs to be presented to get his message about violence across. By immersing us in the ugliness of that violence, in form, function, and result, in contrast to so many visual messages of its glory in cinema, Ryu might be hoping to free the Sang-hwans of this world of its deadly spell. And that itself makes this often brutally violent film possibly the most compelling violent film of its kind. 9/10.
Note: An American remake of this film has been in long-gestating development hell. I cannot imagine any Hollywood remake of this film working.
Availability: Die Bad is currently only available on Japanese Region 2 DVD without English subtitles, although there have been other editions in print with English subtitles.
Tags: featured, Ryu Seung-beom