Noonas Over Flowers: Episode 1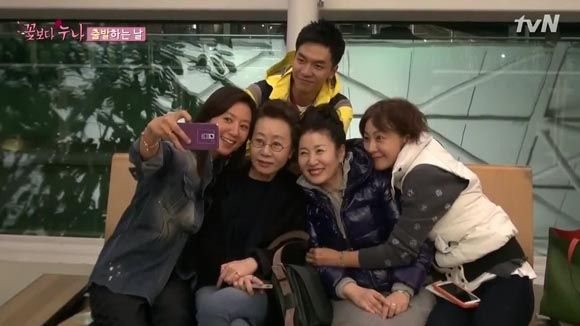 EPISODE 1. Broadcast on November 29, 2013.
javabeans: After much ado, we finally have the premiere of Noonas Over Flowers, which I hope lives up to its hype. This show hasn't exactly been on top of its advance planning, with the last-minute scheduling and the uncertainty over how many episodes we're getting, but at least I trust the crew to give us an entertaining trip.
girlfriday: Yeah I'm hoping that with Grandpas under their belts, this is just a matter of finding Noonas' own flavor. And that flavor is likely Seung-gi's tears. After a preview montage of what's to come, we go back to the cast's first meeting at the Answer Me 1994 writer's studio, since writer Lee Woo-jung is just insane enough to be going on this trip with Na PD WHILE her show is still airing.
javabeans: This is the location we've seen in the previews, with the cast gathered around the table discussing initial travel preparations. The noonas come in one by one, scenes of them getting acquainted with each other mixed in with their confessional comments shot later, and we can see little bits of their personality already. Yoon Yeo-jung, the eldest, is the straight talkin' sunbae, Kim Hee-ae is second youngest and appears to be somewhat demure and soft-spoken (though we know she's a big eater), and Lee Mi-yeon just sits right down on the floor and talks about how having short hair is great on a trip because you don't have to do anything with it.
girlfriday: And Kim Ja-ok seems exactly as you'd imagine, with that characteristic sweet delivery no matter what she's saying. Finally we have Luggage Boy Lee Seung-gi, and talk turns to what to pack for the trip. Already Seung-gi and Na PD stick out with their strange comments. Na PD: "CC cream? Is there a DD and EE too?" Seung-gi: "Can't we just take one hairdryer?" Yoon Yeo-jung sighs that he does well in school but uses his brain for useless things. Ha.
javabeans: Na PD announces their location as Croatia, and says that there are no direct flights there, which has everyone's jaws dropping. I dunno about you, but I wouldn't want a direct flight that long! Instead, they'll stop first in Istanbul, and Na PD says it's up to them to make their own travel reservations. Mi-yeon says in confessional that her mother opposed her going on the trip because she'd be seen in her less-than-best moments, and Yeo-jung says that her family opposed it too, laughing that she didn't expect a family opposition for anything less than a remarriage, lol.
girlfriday: I love that she ends her confessional with a cheeky, "Never trust an actress." Heh. Back at the meeting, the doorbell rings, and the cast is shocked at the arrival of the halbaes. Awww, I missed them.
javabeans: They all settle down at the table with wine, and then Il-sub halbae looks around for food. Ha, so now it's the new maknaes Mi-yeon and Hee-ae scrambling to find food in daughter-in-law mode, while Seung-gi heads out for takeout.
girlfriday: Omg, pressure.
javabeans: It is adorable when Ja-ok, who missed the halbaes' entrance, gets brought into the mix and she scurries back out, gasping, "Omo omo omo." The others joke that it's like she's meeting an ex-boyfriend.
girlfriday: She is SO CUTE. Even after she sits down, she squeals, "Oppaaaa~!"
javabeans: She directs that at Il-sub halbae while the others get called teacher, so Yeo-jung quips, "I bet they have something in their past." Ha, can you imagine her aegyo-calling him Oppa the whole time they were playing spouses?
girlfriday: Gah, how adorable. Now I really want a season where all of them go on a trip together. Seung-gi and Seo-jin can commiserate in the rear. After wine turns to soju, Gu & Sub get increasingly drunk and start yammering about stuff that has nothing to do with anything, and you can actually see Yeo-jung getting progressively annoyed, until she just yells, "Why did you even come?" I love her sass.
javabeans: Finally Soon-jae halbae is first to leave, and as he does he shoves an envelope in Yeo-jung's hand. Aww, is the mat-hyung giving allowance money to the mat-unni? She gives it to Seung-gi, saying that she'd just spend it, haha. Back at the table, Il-sub halbae hears that Soon-jae halbae gave 300 dollars and offers 200 more.
girlfriday: It's time to start planning for the trip and making reservations, and Mi-yeon is especially inquisitive about every little aspect, having never done this before. She also just seems like an over-planner.
javabeans: They must've each been sent home with a camera to record their planning, and I'm dying when it's Seung-gi's turn because he spends for-ev-er just making himself look pretty in the frame. I freaking love that Na PD kept that all in.
girlfriday: I know. I'm cracking up. Mi-yeon is all about the searches and travel details, and Seung-gi's like, Does this lighting make me look fat?
javabeans: Haha, he reads that one hotel provides a hair dryer and gets all smirky. The caption scoffs, "And you say I don't know women?" Oh Seung-gi-ya, way to fixate on what's important. Hee-ae, meanwhile, starts cooking up a bunch of Korean food she can take with her on the trip. I know this is such a Korean thing to do since I've lived with it my whole life, but it still strikes me as so weird that Koreans can't go on a trip and just trust that they will eat the stuff there—you need your kimchi and your ramyun and your pickled beef and your ready-packs of rice…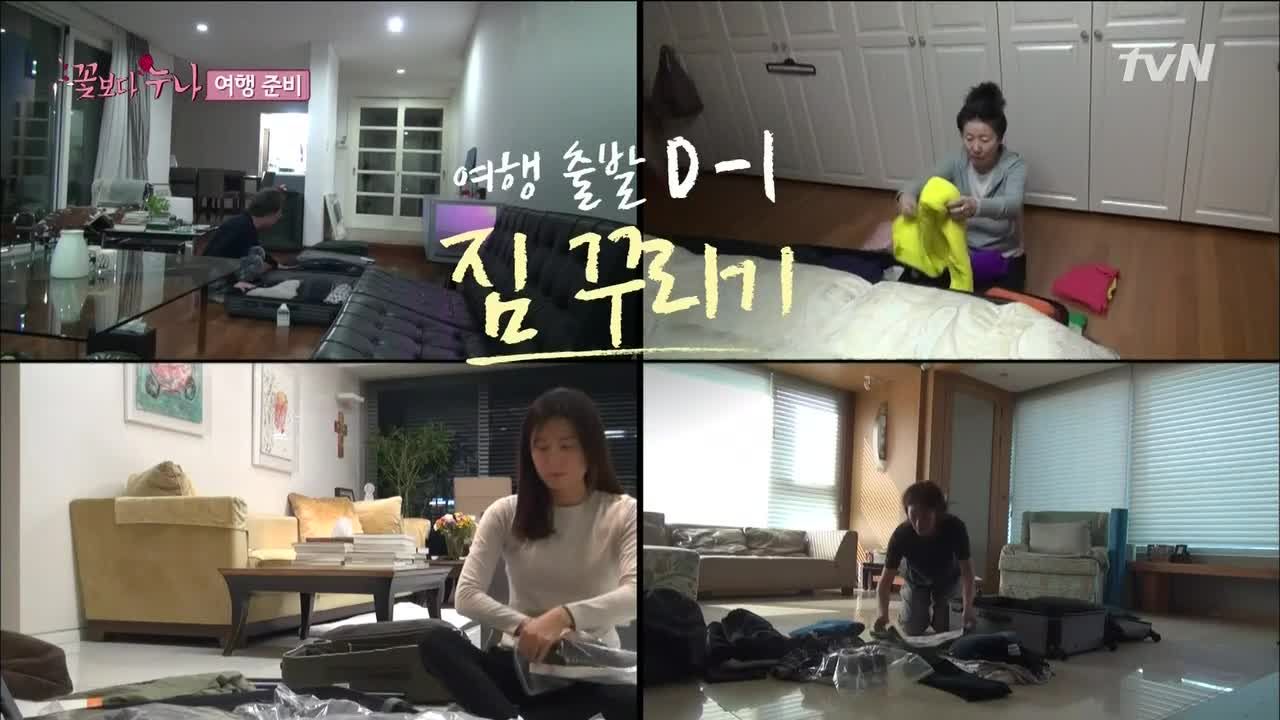 girlfriday: It's simultaneously practical and impractical, but that's just the way we roll. In the days leading up to the trip, we watch the ladies pack and then Seung-gi reads some of the group's chat on his phone. Mi-yeon asks if he's okay staying in a room with them and he points out he's probably the one who should be asking if they're okay with it.
javabeans: It cracks me up, especially the parts where they're talking about Seung-gi as if he's not there. Yeo-jung: "Let's not order Seung-gi around too much, his mom will call us." Then it's time to zip up suitcases and head out for D-day. Hee-ae is the first to arrive, and gets greeted by a line of fans carrying Noonas banners (and Seung-gi ones in particular). She's so cute, wondering if she's dressed all right—she opted for plane comfort with these huge wide-legged pants, but also wants to look pretty for her airport fashion moment.
girlfriday: Did Mi-yeon pack coffee for the group to drink at the airport?
javabeans: I love her already, she's so boisterous and positive. And up for anything. It's fun seeing her and Hee-ae together because they're similar in age but so opposite—Mi-yeon's all tomboyish and loud, and Hee-ae is very elegant and proper. Of course, then Hee-ae says she's really careful about what she eats for dinner (for diet purposes), only to be contradicted by tons of footage showing her chowing down with the best of them.
girlfriday: Hee. To the tune of "It's a lie, it's a lie, it's a lie~" no less.
javabeans: Haha, so the ladies chat about the ground nuts they eat for their health, and Na PD asks blankly why, all amazed at the explanation (you know, for your health). Ha, I think it's Na PD who doesn't know women—he and Seung-gi are going to be so hilarious together.
girlfriday: I know, I can't wait. Mi-yeon made the first night's hotel reservation on her own, so Na PD asks if she planned how to get there from the airport and she looks at him all aghast, "That's Seung-gi's job!" When Na PD pushes to have her do it, she suddenly gets all aegyo-y with her voice, "Why are you doing this… to m…e…?"
javabeans: Ja-ok arrives to a crowd of excited fangirls, and it's her reaction is so cute. I wonder if the noonas will go through the same thing as the halbaes did, of not really expecting this level of attention at this stage in their careers.
girlfriday: Yeo-jung is especially taken aback: "Fans? No really, who are they?" Then she realizes they're Seung-gi's fans because they have signs with requests to take care of their Seung-gi, and Yeo-jung quips, "What, are we gonna hit him?"
javabeans: Finally it's Seung-gi's turn to arrive… and right from the get-go Na PD is harassing him, teasing about his Everest-climbing gear and his last-place arrival and warning that his ten-day hell is beginning. The noonas point out that he's 15 minutes late, and he admits that he was a half-hour early but got the last-minute jitters over doing variety after a long break. He meets a wall of puzzled faces, 'cause they've never done any and are like, "What are you talking about? What does that mean for us?" Seung-gi's caption: "….why did I say that…?"
girlfriday: Na PD asks Yeo-jung about having to skip the Grand Bell awards for the trip, but she's like, "I figured I wasn't going to win so it's fine." They discuss the hotel reservations they've made in advance, and Na PD simply subtracts that cost and hands them the travel money that remains. It's that collective moment of horror when you realize how little you have on Day 1.
javabeans: Man, I wish the noonas would have gotten that tip from the halbaes of refusing to give up any money to Na PD, but they're so shocked that they sort of just let him run through the calculations. The brief teaser of future scenes shows us that they're gonna feel the pinch later down the line, but for now they're happy to hear that the production will at least cover transportation costs.
girlfriday: Even just getting to the gate is stressful with so many fans milling about, and Seung-gi loses Yeo-jung in the crowd for a brief moment. Hee-ae has this outburst when a staffer notices she doesn't know their itinerary and jokes that she's just here to play. She turns to the others expecting them to back her up that they're not here to work, but gets back blank stares. Obviously Seung-gi's here to work, and even Yeo-jung tells her it's a little murky. Welcome to variety.
javabeans: They stop by to make sure their phones are all set for internet and roaming services, and it's so funny to hear Ja-ok because it's like my mother trying to talk about the internet. She gets all her terms mixed up and doesn't quite grasp the difference between internet and chat and roaming, which is cute.
girlfriday: They finally get past the gate and the doors close behind them, but then ten minutes later Seung-gi comes running back out. It turns out Yeo-jung's carry-on had lotions that were too large to pass through security, so now he has to figure out how to fix it. He heads to the drugstore, and they have empty bottles of the right size he can transfer them to, which is a relief.
javabeans: LOL, I love how Seung-gi can only laugh to himself as he's squeezing toiletries into smaller bottles, because it's just so ridiculous.
girlfriday: There's something about the pump that makes it extra silly. We get a preview montage of all the Yeo-jung-related troubles in Seung-gi's future, and then he gets asked in a later interview what he would've done if those lotions were his mom's. Seung-gi: "I would've thrown them away instantly!"
javabeans: You see them make the first leg of their trip, and I feel like Seung-gi's brain is starting to unravel, little by little. It's not any one thing that is stressing him out, but the whole experience that's disorienting. He sorta leads, but isn't really sure he's going to the right place.
girlfriday: As soon as they get off the plane he's tripping on moving walkways and Yeo-jung worries they'll have to protect him.
javabeans: He's one step behind them, which is funny since the ladies are handling their baggage and he comes running up, too late to do his job. But he tries, god love him, and I swear it's like when you see a toddler following around a parent, totally wanting to help by getting in their way. There's this feeling that's both really entertaining and uncomfortable where Seung-gi (and Seo-jin before him) has to project an air of calm control, even as it's clear he doesn't know what the heck he's doing. Seung-gi is less good at this than Seo-jin was, so you can actually hear a thread of panic in his voice as he's guiding them along, all, If we just find a coffee shop, you can rest and I'll check all that for you…
girlfriday: And it's worse because the noonas are in no way trusting like the halbaes were. Women generally have less patience for inefficiency, so he's got less time to figure things out before Yeo-jung starts getting antsy about how capable he is. It only takes two minutes before she's saying, "I think we'll just have to do this on our own…"
javabeans: Upon exiting the terminal, there's a wall of Turkish Seung-gi fans with signs and flowers, aw. Seung-gi is so distracted with his need to find Starbucks that he can't really appreciate it, but Hee-ae has sort of taken up the role of his manager, which cracks me up, and takes the gifts saying, "I'll pass them on to him."
girlfriday: It's stressing me out that Seung-gi is so fixated on coffee right now, when that's not really his objective. It's supposed to be a distraction while he figures out how to get to the subway, but it turns into this whole thing.
javabeans: Isn't that totally one of his black holes? He fixates on the small thing as a way to get a grip on the bigger thing, and then the bigger thing gets away from him? Like Yeo-jung fusses with clipping a mic on her shirt and he gets all hover-y, trying to help with that.
girlfriday: It SO is. But it's so much worse when the fate of an entire group rests on his ability to just let that thing go. I'm scared. It's times like this I don't think I could be Na PD, because I'd just be like, "Seung-gi! Get it together!"
javabeans: Or like in those nature documentaries where you see danger and can't just let it happen? Yes. Seung-gi is the unsuspecting prey, and you just want to do it FOR him at a certain point.
girlfriday: Omg it cracks me up when Mi-yeon comes up behind him at the coffee counter and he freaks out that she's hovering, which is the EXACT same look that Seo-jinnie used to get every time he asked the halbaes to wait while he did a thing, only to have them follow and stress him out more. I guess the reaction is involuntary. What is it? What do you need? At least he finally realizes that he can leave Mi-yeon to the coffee and goes searching for a way out of this place. Baby steps. Meanwhile Ja-ok is like, "Why can't we just take a taxi?"
javabeans: He finally gets the relevant info, so that's good news, but the bad news is that it's only 4:30 am and most services don't start running till 6. They decide to take the bus to their lodgings, but that will require one transfer, and Seung-gi heads out saying, "I'll just find out where we board." And then the show replays that in ominous slow-motion… oh no.
girlfriday: He begins this endless quest for the bus stop and it actually takes him a full half hour just to find it.
javabeans: Back at the cafe, the noonas are getting impatient, and they admit that Seung-gi's a nice kid, but man is he slow. Yeo-jung says, "It's not that he's slow, but he doesn't know anything." Mi-yeon half-jokes that she's on the verge of complaining, "Are we gonna just sleep here?" In a later interview, Yeo-jung says, "I found out that Mi-yeon is the most impatient of all of us." Haha. But we do see a flash-forward of Mi-yeon and Seung-gi bonding over their trip, which looks really cute.
girlfriday: But right now she has no idea what she's in for, as she jokes, "He couldn't have gotten lost, could he?" Um…
javabeans: "Did he go all the way to the bus depot?" "No, he went to the depot, and rode it there and back."
girlfriday: Yeo-jung: "We should've followed Seo-jinnie. I think Seung-gi's going to get fired at the airport."
javabeans: Omo, and then Mi-yeon strikes up a conversation with two travelers ONE TABLE OVER, who happen to be Korean, who happen to be regular business travelers here. This cracks me up.
girlfriday: I'm dying. She's so gonna figure this out in two seconds, while he's still trying to figure out how to get back inside.
javabeans: Then Yeo-jung decides to do some asking herself, and gets into a fluent English conversation with an airport employee about how to get to the shuttle buses. In like two minutes.
girlfriday: Pwahaha. It has the double effect of being impressive and squashing Seung-gi to shame in one blow.
javabeans: And THEN, Hee-ae goes looking too, and looks into direct shuttles with pretty good English herself. Lol. They really would've been fine to travel without him—Seung-gi really is here just for entertainment value. I like Ja-ok's style, sitting calmly writing in her diary, saying, "Why is everyone so panicked? It'll all work out in the end." I hear ya. I'm the one wondering why they didn't all just sit sipping coffee till 6 so they could take the metro, instead of spending an hour running around frantically for alternate options.
girlfriday: It's hilarious how different they are. Ja-ok is the type to just lie down for a nap, while Mi-yeon and Yeo-jung are so control-freaky that it stresses them out just not knowing every detail. Yeo-jung determines that Seung-gi can't be trusted, realizing that he's probably never even taken the bus in Seoul. Ha.
javabeans: Every time Seung-gi says, "I'll just ask and be right back," it's like a collective Nooooooo from the group. He goes off to ask about taxis, and for some reason stops a traveler to ask how much a taxi would charge. Hee-ae and the writer just stand by watching, feeling sorry for him, and then Hee-ae leads him to the booth she inquired at earlier. Ha, she's basically spoon-feeding the solution to him, rather than stepping in with the solution that she already knows will work. She must be a mom.
girlfriday: Hahaha. She totally pretends to hear the information for the first time when he comes back and explains it to her, even though she already knew exactly what he'd say.
javabeans: It's so the encouraging noona/mom thing to do. She's all, Oh, really? That sounds like a good idea, Seung-gi. Good job.
girlfriday: And when Mi-yeon shows up to nag about how long this all took, Hee-ae shushes her so as not to bruise the boy's fragile ego.
javabeans: Hee-ae reports to the others, and when Yeo-jung approves and asks whose idea this was, Hee-ae is all, "We went together." It's cute how Yeo-jung might grumble when he's gone, but to his face she heaps on the encouragement.
girlfriday: And you can actually see the immediate effect on his face, because he really does just light up like a puppy when he's praised.
javabeans: Even if he admits later how several times he wanted to take off his mic and cry in the corner to himself. Aw. But it looks like this is only the beginning, because next episode begins the "curse." Uh-oh.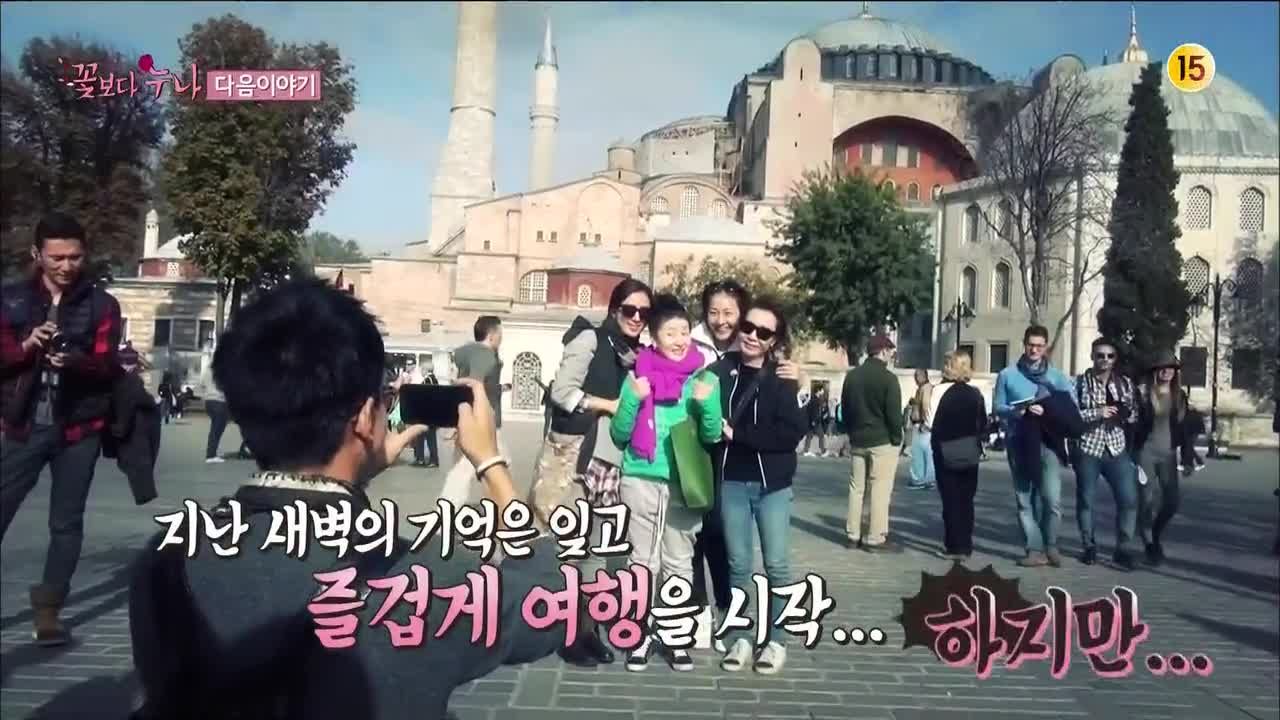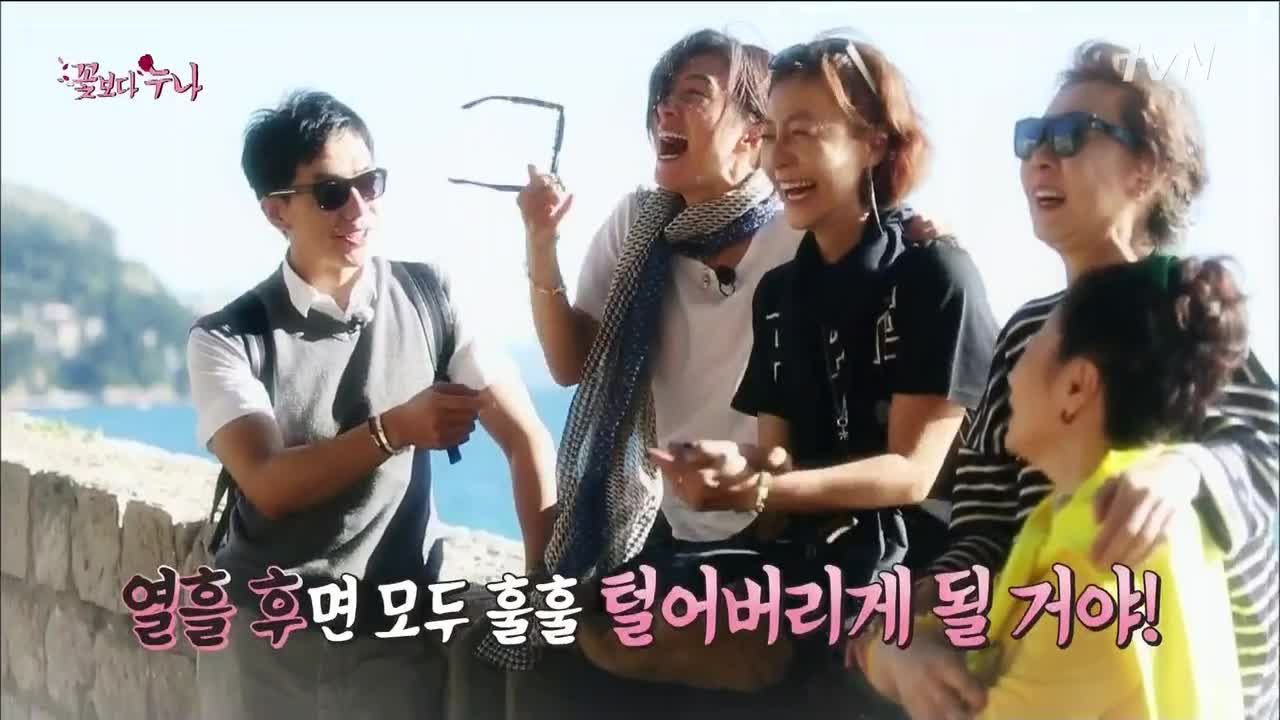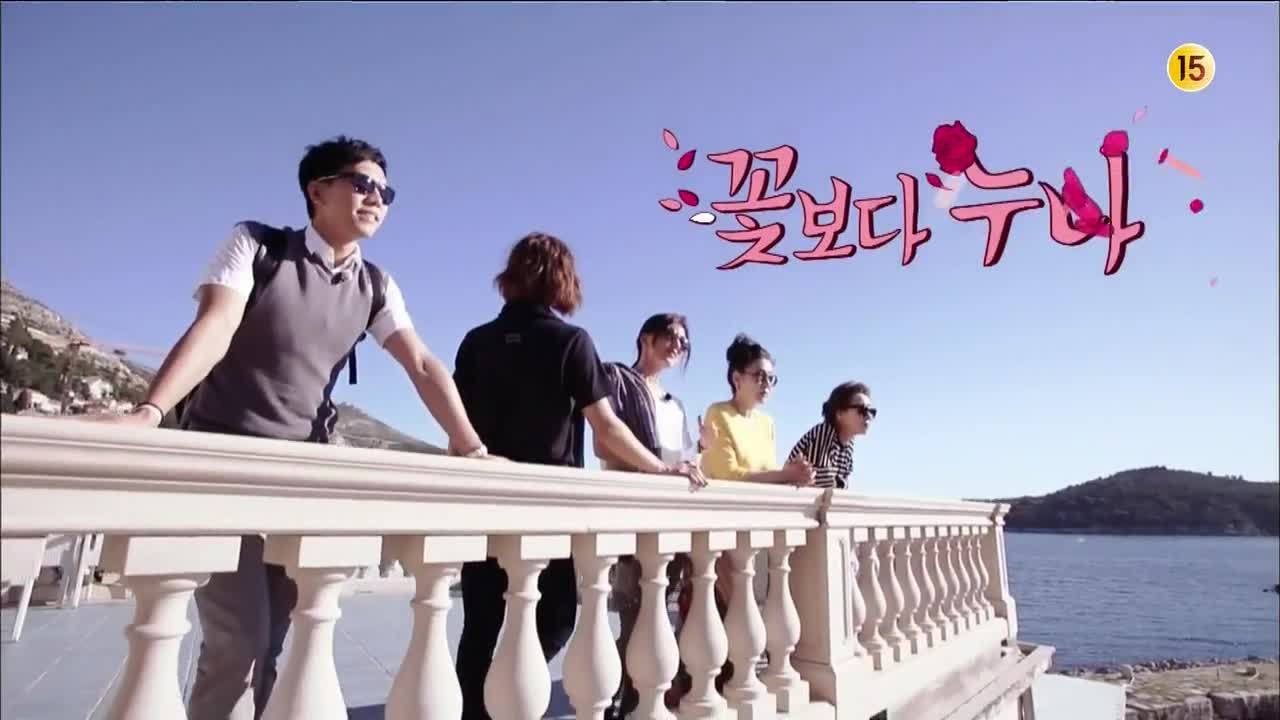 RELATED POSTS
Tags: featured, first episodes, Kim Hee-ae, Kim Ja-ok, Lee Mi-yeon, Lee Seung-gi, Na Young-seok, Noonas Over Flowers, Yoon Yeo-jung