Age of Feeling: Episode 3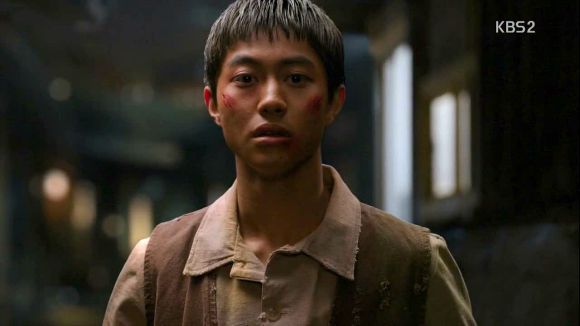 Another strong episode. If this show continues to churn 'em out like this, then we really could have a strong contender on our hands. I honestly came into Age of Feeling completely blind but cautiously optimistic, and am happy to report that it's proving to have quite the handle on the story it wants to tell and the characters it's using to tell it.
We may not have the full picture yet, but I'm really liking the world this show is presenting—one that hews to the historical period enough to feel authentic while taking artistic liberties with the heightened sense of reality (larger-than-life characters with superhuman abilities, oh my!) it presents. I have no doubt that the production itself will weather the cast switch, but the million dollar question remains: will we?
SONG OF THE DAY
Soundwash – "Absently (우두커니)" [ Download ]
Audio clip: Adobe Flash Player (version 9 or above) is required to play this audio clip. Download the latest version here. You also need to have JavaScript enabled in your browser.

EPISODE 3 RECAP
Jung-tae jumps as the train speeds behind him on the bridge, falling down into the water far below. Everyone holds their breath in the crucial seconds afterward, waiting for Jung-tae to emerge from the water.
But after seconds turn into minutes without a sign of Jung-tae, Jjang-ddol is sure that his friend is dead. He starts walking into the water like he's going to follow Jung-tae to the afterlife, but luckily his gangster hyungs save him.
In another bout of fatherly instincts that makes me love Boss Hwang to pieces, he tells Poong-cha to use any means necessary (and at any cost) to find Jung-tae's body. Aww, family.
But then they see something in the distance—it's Jung-tae! Everyone (except for Dissenting Opinion Gangster) breathes a sigh of relief and runs to the shore just as Jung-tae hauls himself up on land.
"Dobinori…" a shivering Jung-tae asks Boss Hwang. "Can I do it now?" Boss Hwang lets out a little laugh and says yes, since who could stop Jung-tae now? He even gives the boy an affectionate pat on the head, just glad that he's alive.
But Jung-tae knows that there's one more channel to go through, and asks Poong-cha next whether he can start train hopping. Poong-cha's impressed smile is his consent. (Side note: I'm loving the background score. It's so fitting.)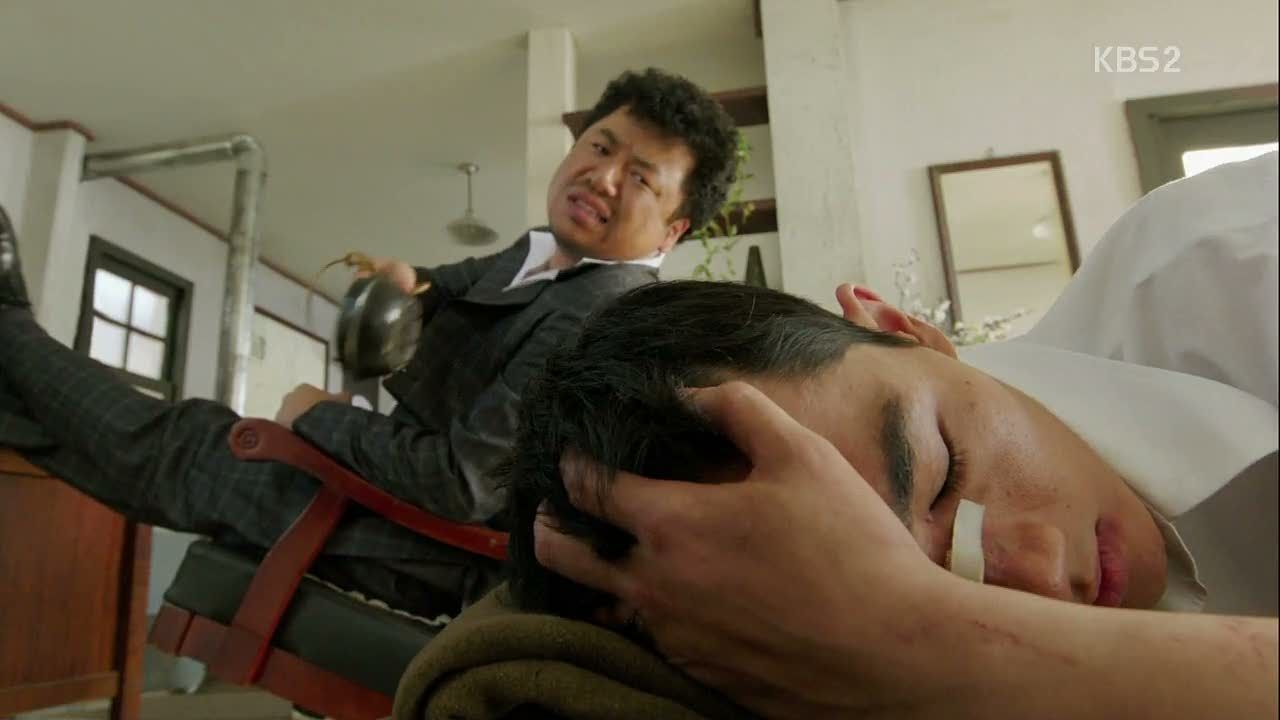 Meanwhile, at the Bool-gom Gang HQ, Bool-gom warns the hot-headed Dokku not to mess with the Dobi Gang for now. When the time is right, they'll strike when the gang least expects them and wipe them off the map. Poong-cha most of all.
Jung-tae visits his mother's grave to tell her that he'll be train hopping soon, and that it's the only way. Even so, he's a kid and he's still scared, and whether he's trembling from emotion or fear or a mix of both is uncertain.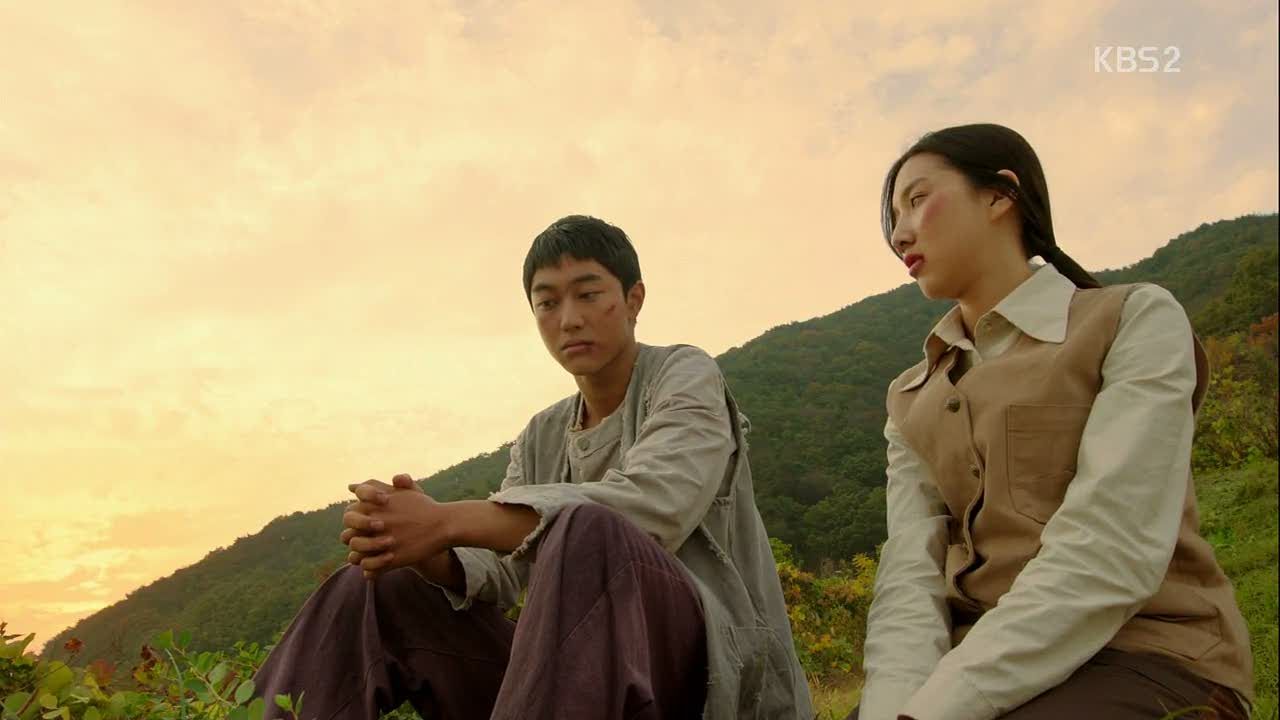 Suddenly a voice asks curiously, "Mom?" Kaya plops down next to him and chastises him lightly for coming to see his mom in such a sour mood—he should only come when he's happy.
When she admits that she was unable to breathe when she saw him jump from the bridge earlier up until he came out of the water, Jung-tae jokingly asks if she's coming onto him in front of his mother.
Kaya uses the pretense of returning the salve he gave her for her wounds and readies to go, but Jung-tae puts his hand on her and urges her to stay to at least see the sun set. She throws his earlier words back at him with a smile: is he coming onto her in front of his mother now?
Jung-tae just smiles. Aw, cute.
As they walk back into town, Kaya mentions how she has nowhere to go if she's feeling upset like he does (she doesn't even know where her mother is buried), so she asks for his permission to go visit his mother in times of trouble. He grants it.
Unbeknownst to them, Ok-ryun is watching from a ways away as Kaya plants a surprise kiss on Jung-tae's cheek. She looks heartbroken when Jung-tae finally notices her, and he has to chase her down to catch her.
He knows why her feelings are hurt and tries to talk to her, but she won't have it because she refuses to cry in front of him. Poor Ok-ryun.
Since Shinichi saw the fight between Dokku and Jung-tae earlier, he finds Dokku still healing up at the Bool-gom Gang HQ. Strangely, he seems to have acquired a great deal of information on our resident hot-headed bully, enough to know that Dokku was born in a brothel and that his mother died from syphilis.
He lists these facts without any sugarcoating whatsoever, which incenses Dokku's easy temper. But Shinichi creepily adds, "Your eyes brought me here. Those eyes… I'll buy them." He tells Dokku to become his dog (referencing the meaning behind Dokku's name—a rabid dog), and when Dokku protests, Shinichi presses down on an acupressure point just above his lip which paralyzes Dokku completely. He doesn't really have a choice in becoming Shinichi's slave at this point.
At the Shinuiju border (between what's now North Korea and China), Jung-tae, Jjang-ddol, and another Dobi gangster wait by the tracks for an incoming dobinori smuggler. The Dobi gangster comments that getting on is the easy part, the hard part is jumping off. Eight out of ten guys don't make the jump.
And as the train approaches, there clinging to its side is a dobinori smuggler. He's too fearful to jump, and Jung-tae shows his penchant for the task already when he proves that he knows the exact timing better than the smuggler.
He urges the kid to jump under his breath, but the kid misses the opportune window and jumps too late from the speeding train. He's all but thrown violently from the tracks, and by the time Jung-tae & Co. reaches him, he's already dead.
The experienced Dobi gangster treats the corpse like this is nothing new, and calmly takes the money the smuggler was carrying while explaining that they sometimes also smuggle secret documents—the kind they wouldn't want their government officials knowing about.
But it's only when the gangster prepares to dispose of the body that Jung-tae can't take it anymore and intervenes. That's a human being to him, but the gangster coolly replies, "A human being? Where? This corpse, you mean?"
It's his cavalier attitude that chafes Jung-tae the most, and he ends up punching the gangster in his righteous anger. The gangster retaliates by beating the crap out of Jung-tae, and hones home the point that no one will shed a tear for Jung-tae if he dies in this line of work.
And as for taking the money from the corpse, he asks Jung-tae if he'd bury the money with the guy, even if that money would pay for his sister's surgery. He warns Jung-tae against acting all high and mighty again if he wants to be a part of the Dobi Gang.
In light of leaving the body to rot, Jung-tae has one request of Jjang-ddol: "If I die, cry for me. I'd do the same for you."
As Daddy Shin (Jung-tae's absentee dad) pays a visit to that Fortune-telling Elder, Kaya's father rummages for scrap he can sell in an abandoned building.
Turns out that the elder has brought Daddy Shin to that same building with instructions to kill Kaya's father, Shinjo, if he wants to live with his children now that he's been released. Okay then.
Kaya's dad runs into some trouble with the beggar thugs who tried beating him up the other day, but seems to transform into a wholly different person when they mention harming Kaya. A fight ensues, and Shinjo dominates with insanely quick reflexes.
Shinjo freezes when Daddy Shin comes on the scene. It just takes one Vulcan death grip from Daddy Shin to send one of the beggars to his grave, and the rest running for their lives.
The shared past between Shinjo and Daddy Shin goes way back, especially since Daddy Shin explains that he's been looking for Shinjo for eighteen years. He'd been hiding in plain sight as a beggar this whole time.
But Shinjo slows Daddy Shin's anger by confiding in him that an assassin will come for him soon, and he's out of strength to keep running. Daddy Shin doesn't trust him, citing an incident from their past where Shinjo betrayed their comrades. (Yes, they're referencing another incident we know nothing about.)
He eases up when Shinjo swears on his daughter's name that he's telling the truth. They agree to meet tomorrow at midnight. Daddy Shin: "I'll trust you one last time. Not you, but your daughter's name."
Jung-tae & Co. return to Dobi Gang HQ to find the hyungs grilling meat and drinking American liquor. Boss Hwang instructs Jung-tae to deliver whatever they found on the smuggler to the Fortune-telling Elder.
But when they tell Boss Hwang that the smuggler died, he has all the boys gather around for a drink. In saying that he's not going to give a sappy speech about them all dying together, he ends up giving the tough guy's version of a sappy speech when he orders his men not to die like dogs. "It's bad enough that we have to live like dogs, but do we have to die like them?"
Then he adorably threatens all his men with retribution if they so much as think of dying before him. (I luff you, Boss Hwang.) Afterward, the Dobi Family parties late into the night.
Daddy Shin visits his daughter CHUNG-AH in the hospital that night to give her a teddy bear, though she never wakes in time to see him. Then, with his back turned, she emerges from the hospital room clutching the bear to thank him. He can barely give a choked response, clearly on the verge of crying.
Chung-ah thinks her father is just a friend of her father's, since that's the lie Ok-ryun told her. Orrrr does she, since she tells the ajusshi that she hopes he'll come back and gives him a letter to give to her father.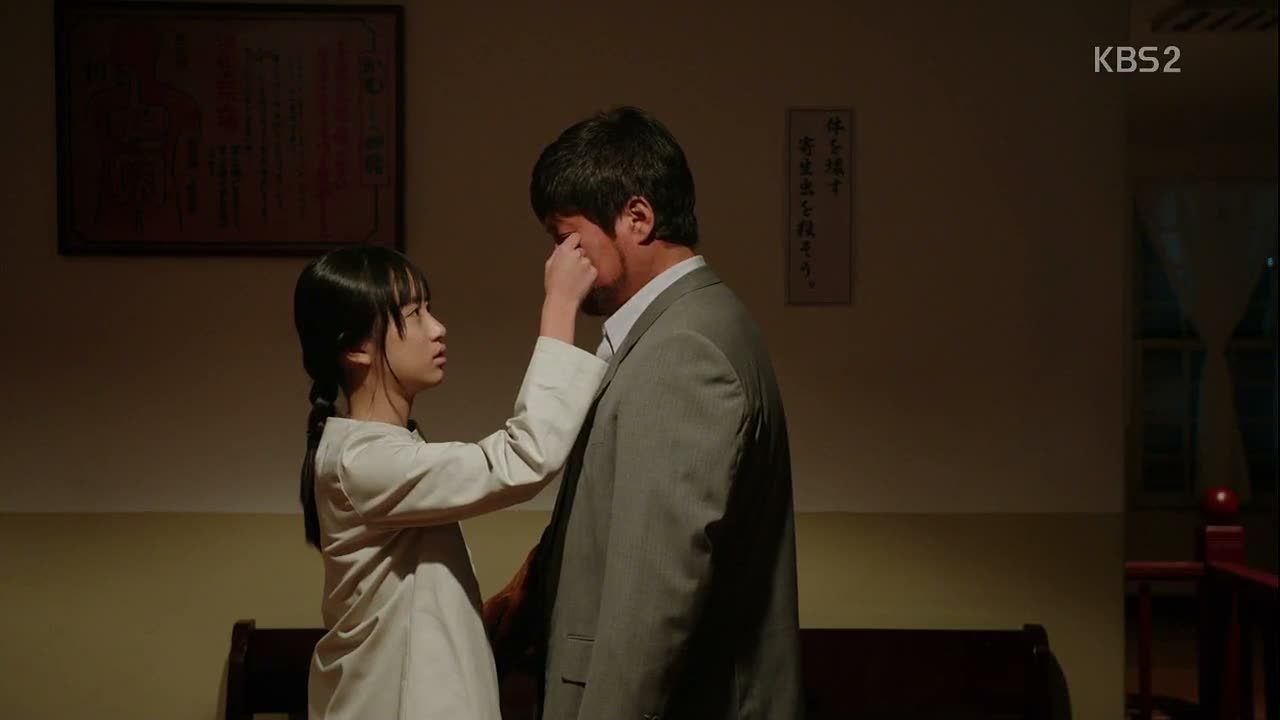 When Daddy Shin starts tearing up, Chung-ah wraps her arms around him. She asks if he could tell her father, when he sees him, that Jung-tae doesn't hate him—he just missed him so much that he can't express it properly. And to tell her father that she's doing well.
So it's either that she feels a special kinship with this man because she thinks he's a friend of her father's, or that she's simply going along with his lie and knows the truth. Either way, it's a sobering moment when she reaches out to wipe away her father's tears. I think she knows very well who he is.
Jung-tae gets some help from the gangster he fought with over the dead smuggler in digging a ditch that could help break a dobinori's fall. Though the other gangster tells Jung-tae that he'll get his chance to train-hop in good time, Jung-tae jumps the gun and decides to try hopping onto an oncoming train.
He starts running as fast as he can parallel to the speeding train, and chooses his moment to make a leap for it… and while he gets thisclose, he still misses. Luckily he falls beside the train rather than under it.
Jung-tae begs his gangster buddy to show him how to train-hop without dying, because he's out of time. If he doesn't get the money for his sister's surgery soon, she's as good as dead.
Kaya bribes a hard-nosed gibang maid with makeup so she can be let in to sell her wares to the gisaengs inside, and ends up getting some unsolicited help from Ok-ryun in convincing the gisaengs that the lead makeup they're currently using will rot their skin. Fun.
But Ok-ryun isn't of a mind to keep helping Kaya, since she attempts to warn the girl to stay away from her man. When Kaya asks if she even has the right to lay claim ("Are you his lover or something?"), Ok-ryun actually slaps her.
And ha, Kaya slaps back. She stops Ok-ryun's second attempt and tells her to drop the childish act, because her and Jung-tae aren't a thing. But Ok-ryun saw her kiss his cheek and won't let her forget it.
Meanwhile, the militant maid MAL-SOOK eavesdrops excitedly on their catfight until Mama Kim arrives, prompting the maid to sound the alarm to the two girls inside so that by the time Mama Kim sees them, Ok-ryun is awkwardly holding a hilariously disgruntled Kaya like they're besties.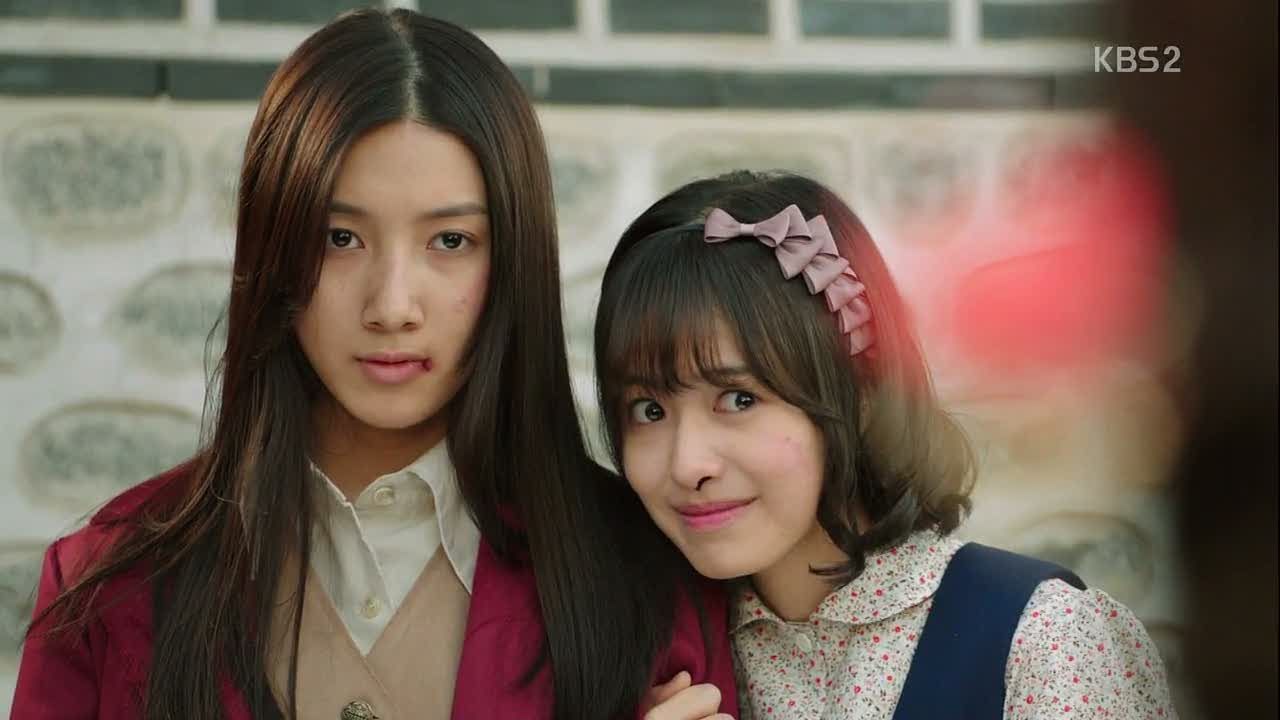 But Mama Kim knows there was a fight when she sees blood trickling from Ok-ryun's nose, and clucks her tongue disappointingly. Ok-ryun freaks out like a little girl while Kaya unceremoniously shoves a handkerchief in her face and tells her to keep it. Aw, I hope they become unlikely friends.
That night, Kaya's father looks through old family photos which show him with his Japanese wife and infant daughter. That's when the creepy assassin with the single blue eye (was he the one who murdered that unexplained houseful of people last episode?) finally comes for him.
Shinjo knows the assassin's name—it's AKA (Choi Ji-ho). He's been expecting him. And though he tries to lure him to the bamboo grove where he said he would meet Jung-tae's dad, Aka's not biting.
As Daddy Shin waits in the grove, he flashes back to Shinjo's moment of betrayal. He'd seen him running from a house filled with dead men. So either Shinjo murdered them, or he made it so that they were murdered by someone else. (I suppose that puts the houseful of people Aka killed in perspective, but it'd be nice for the show to throw us a bone on that.)
Aka and Shinjo have both exchanged cuts and bruises. While Shinjo thinks that Aka is unable to feel pain, Aka claims that such an inability isn't why he's so strong, but doesn't elaborate further. All he wants to do is kill Shinjo. Why? Your guess is as good as mine.
Kaya apologizes to Jung-tae for the improptu kiss, citing that she doesn't want to cause any problems between him and Ok-ryun again. She turns to leave it at that, but Jung-tae stops her with a small smile and says he'll walk her home.
At home, Shinjo fights for his life against Aka, even managing to embed a knife in his side. Aka pulls it out like it's a splinter before he stabs Shinjo in the gut and throws him across the room.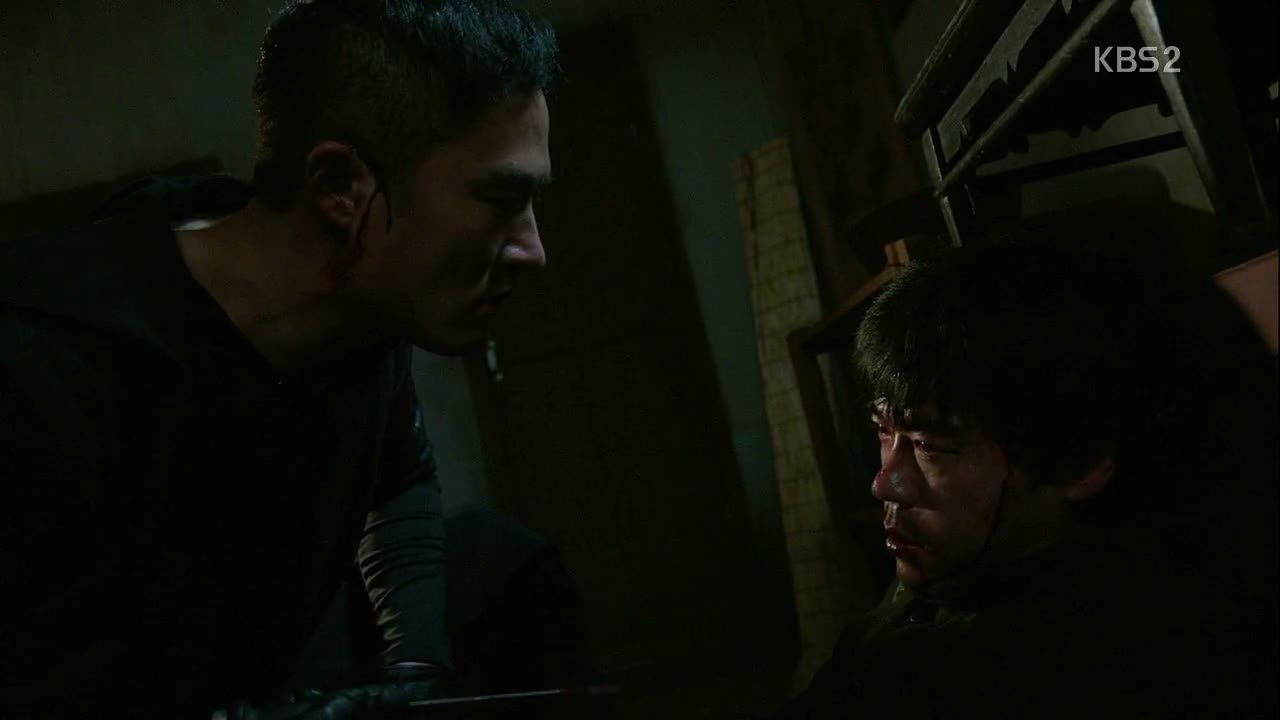 Shinjo can't get up after, and entreats the assassin not to kill his daughter. But instead of an answer Aka merely says, "I just kill." I'm just saying, maybe he should think about seeking other employment opportunities, because he squanders a chance to deliver Shinjo's death blow by just stabbing him somewhere-in-his-torso-but-not-his-heart.
This leaves Shinjo alive long enough to deliver a death monologue when Daddy Shin finally gives up on the grove and goes to his house. He wanted to die by Daddy Shin's hand to atone for selling out their comrades because of love, and now asks for Shin to end his life. Aka made it so that he'd die very slowly and painfully otherwise.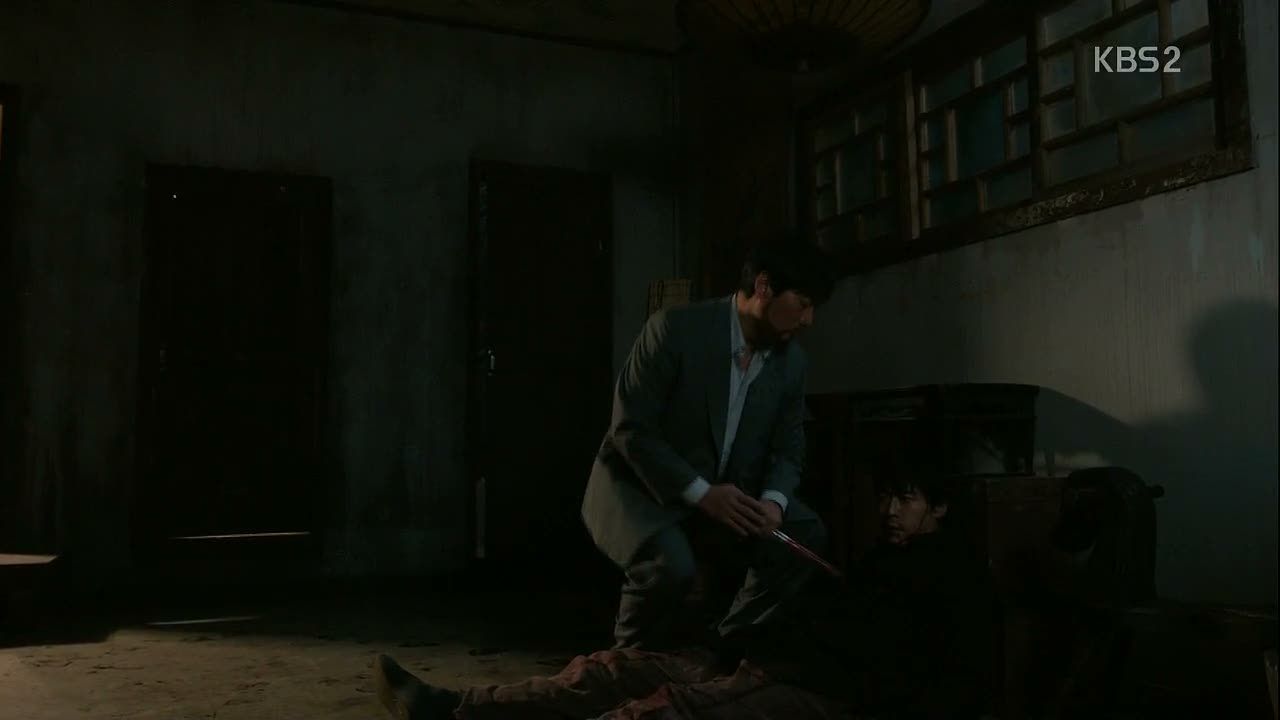 Daddy Shin somberly grants his request by stabbing him in the heart… but he doesn't kill him, not yet, and instead keeps twisting the blade while asking who did this to Shinjo. Shinjo names Aka, and Daddy Shin promises to kill him.
Then he twists the knife a few more times and at last, Shinjo shuffles off his mortal coil. Phew. I was beginning to wonder if he ever would.
After Jung-tae brings Kaya to her door, she awkwardly fumbles for conversation and starts to invite him to see a movie with her…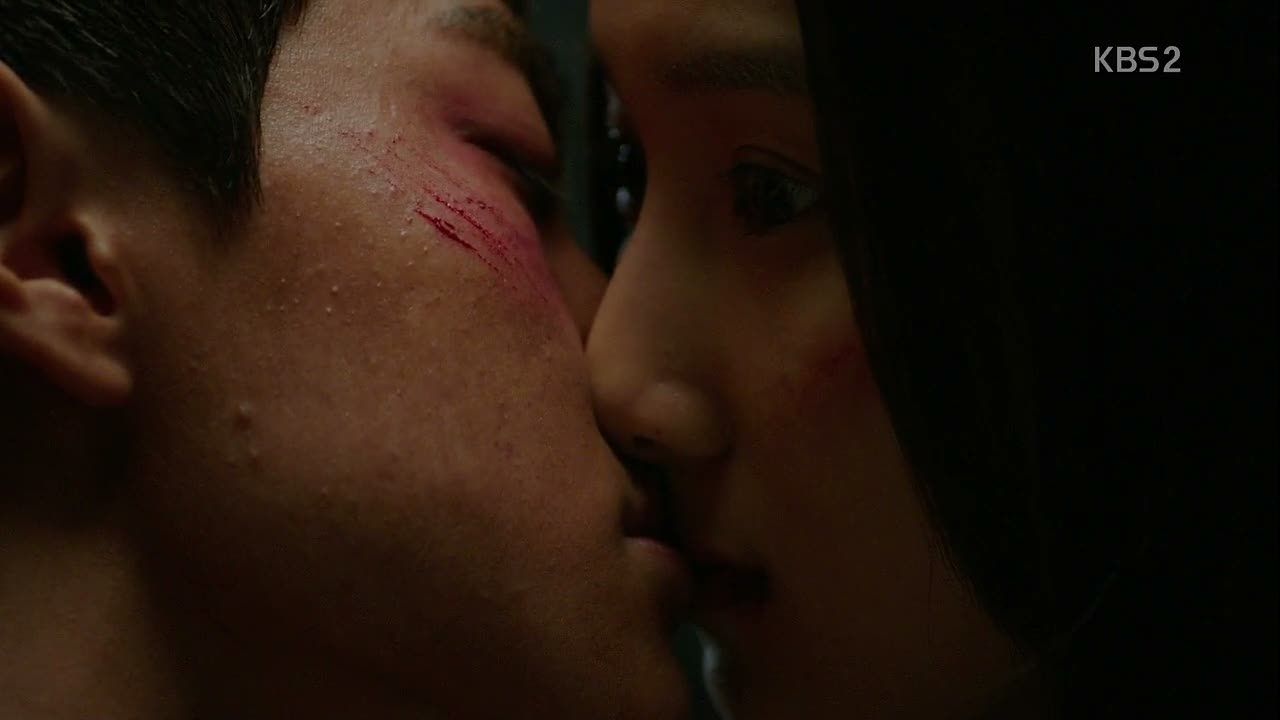 But she's taken by surprise when Jung-tae swoops in for a kiss. After the tiny brush, he smiles and agrees to go with her to the movie, leaving Kaya fumbling for words. D'aw, these two are cute.
Jung-tae remembers the hair pin he bought her only seconds after she's disappeared into the house, though he ends up running inside at the sound of her screaming. There standing over her dead father is none other than his father, and Kaya's eyes go wide with horror when she realizes who they are to each other.
Daddy Shin tries to tell them that this is all one big misunderstanding, but Kaya won't hear it and goes after him with a knife. Though he's able to hold her still, she shows no fear as she looks him in the eye and vows to hunt him down and kill him at all costs. He'll never be able to hide where she won't find him.
Though he tells her that he didn't do it, Kaya is beyond reason, so Daddy Shin knocks her unconscious. He leaves her in his son's care while vowing to find the man who actually did this, and Jung-tae trusts him enough to let him go.
But he warns his father that if he runs away again this time, he'll curse him for the rest of his life.
Shinichi arrives while Jung-tae's keeping watch over Kaya to check the dead body of her father. He tells Jung-tae, "I saw you once. You were a born fighter." He offers to erase the evidence, but Jung-tae doesn't want his help and wants him gone. "I'll protect Kaya."
But Shinichi goads him into a fight, eager to test Jung-tae's skills himself. It lasts less than a second before Jung-tae's on the ground at Shinichi's mercy, and he desperately asks him not to hurt Kaya while he's still barely conscious.
Shinichi draws his sword as he tells Jung-tae that he's misunderstanding a key point: "I would never hurt Kaya. Never." He raises his sword for the killing blow… but Kaya's voice stops him. She's awakened.
The only thing that stops Shinichi from killing Jung-tae is her promise to kill him herself. While Jung-tae is still awake enough to hear her, she vows to kill both father and son in the cruelest way possible, so that Jung-tae will see his father die and his father will see him die.
"So stay alive," she warns Jung-tae, just before he blacks out. "…Until I kill you."

COMMENTS
Nothing like a bit of "Your father killed my father, prepare to die" to squash young love right in its tracks, right? Though the promotional materials for this show have been a little vague at best (and extremely image-heavy at worst), the plot point that seemed more certain than the rest was that Jung-tae's father would kill Kaya's father and send the latter spiraling down a revenge-fueled vortex. We saw how it ended in the first scene of Episode 1, so the surprise will lie in how Kaya reaches that point and what Jung-tae will choose to do about it.
This show keeps compounding on its own mysteries, though it manages to remain just this side of intriguing rather than hopelessly confusing. We're still in the setup phase and the production seems assured enough to give me confidence that whatever we're seeing or not seeing is all part of a greater plan. Certainly it seems like the show knows its own internal logic better than anyone, since it's not chomping at the bit to dump information on us and would rather let it unfold gradually.
That being said, the ratio of questions to answers is currently unfavorable to the royal we. It seems like Kaya's father was (maybe) part of the independence movement with Daddy Shin, but betrayed his comrades to the Japanese because of the wife we saw in his pictures. What happened since then is anyone's guess, since Shinjo somehow managed to piss off some very important people on the colonial government's side and has been on the run for as long as Kaya can remember. What's even curiouser is how much Kaya matters not only to Shinichi but also to his master, the man who's pulling all the strings from Japan.
Kaya had never seen Shinichi before he saved her last episode, but Shinichi's obsession with her is so acute that I wouldn't be surprised if he knew her when she was too young to remember. Otherwise we'd have to believe that he has an inappropriate and possibly-psychopathic crush on Kaya… which I guess wouldn't be too out of the realm of believability in dramaland. Unrequited bodyguard crushes usually get my sympathy vote, and maybe this one will too when Kaya morphs into her adult form. Maybe.
I'm itching to know how the immediate story unfolds from here, with Kaya swearing revenge and Jung-tae having more problems on his hands than just the loss of a crush—like a dying sister and a father accused of murder. It was a little surprising to see the blossoming love story between Jung-tae and Kaya cut so short so quickly though, especially since I was just starting to warm up to their cute and impromptu chemistry. With what turns into two dead fathers, I doubt this show will be able to pile on the romantic moments from here on out—but after Basketball's physically and mentally scarring love triangle, I'm beyond ready for a show that's got more than one thing on its mind. Bring it on.

RELATED POSTS
Tags: Age of Feeling, featured, Im Soo-hyang, Kim Hyun-joong