First posters and stills for Ha Jung-woo and Kang Dong-won's action sageuk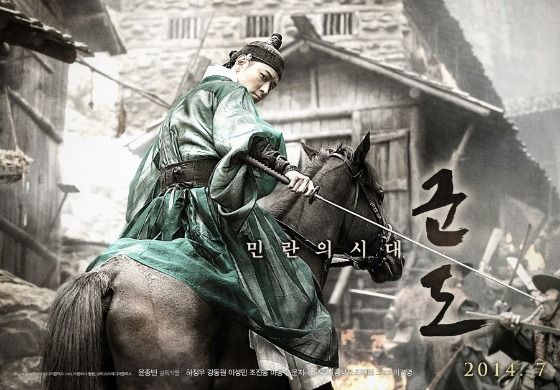 Has it been forever that they've been making this movie, or am I just really really impatient and excited to see it? Here's our first tiny peek at Band of Thieves (also going by the title KUNDO: Age of the Rampant), starring Ha Jung-woo (The Terror Live) and Kang Dong-won (Psychic) in his feature-length army comeback project. It's the role Ha Jung-woo shaved his head for, in case you've seen him promoting other stuff this past year and wondered why he was suddenly bald.
Part of the anticipation for the project comes from the re-team of writer/director Yoon Jong-bin and leading man Ha Jung-woo, who did 2011's hugely popular and still-quoted Nameless Gangster together, among other projects. Band of Thieves is a swashbuckling action film set in the waning years of the Joseon era, where corrupt officials rule the land and growing discontent among the people sets the stage for a band of outlaws to take over. It's described as a cathartic action movie where the bad guys who steal from the rich and give to the poor are the heroic incarnation of vigilante justice.
Ha Jung-woo plays the leader of the ragtag band of thieves, and Kang Dong-won plays the nobleman with the best martial arts skills in the land who chases him down. His character should be an interesting bad guy (er, antagonist, since I guess in this movie the bad guys are good and the good guys are bad) since he's also an illegitimate son and treated like a second-class citizen because of his birthright. I just love both actors so much, and can't wait for the showdown. Co-starring are Lee Sung-min (Miss Korea), Jo Jin-woong (To the Grave), Ma Dong-seok (Killer), Yoon Ji-hye (Ghost), Jung Man-seok (To the Grave), and Kim Sung-kyun (Answer Me 1994).
Band of Thieves is planning for a summer 2014 release. Seriously. You're killing me here.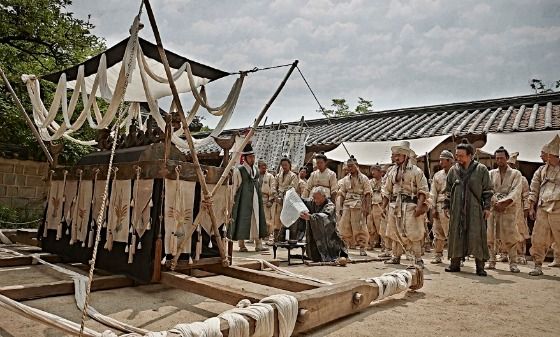 Via SBS E!
RELATED POSTS
Tags: Ha Jung-woo, Kang Dong-won