I Need Romance 3: Episode 1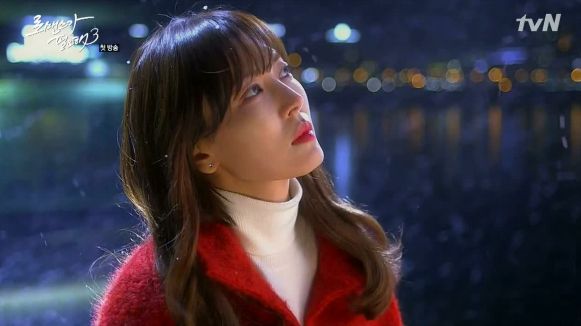 The third installment of tvN's I Need Romance franchise brings us much of what we're used to with previous seasons—a buoyant, candid look at dating, romance, sex, love, and being single. It has the same directorial style and writing of the first two seasons, and introduces our characters through contemplative voiceovers that help us engage with them from the start.
Not that Kim So-yeon and Sung Joon are going to give us any trouble with that. They're as fantastic as ever, and at a delightful 45-minute length, the first episode is like a fizzy cocktail—gone before you know it, leaving you wishing you already had another in your hand.

SONG OF THE DAY
Lee Hyori – "Don't Cry" for the I Need Romance 3 OST [ Download ]
Audio clip: Adobe Flash Player (version 9 or above) is required to play this audio clip. Download the latest version here. You also need to have JavaScript enabled in your browser.

EPISODE 1: "A Woman Who Looks Like Sing Sing"
As a little girl steps out on a winter day, a voiceover narrates: "On the day I was born, it was the first snow of the year. A seven-year-old Sing Sing left footprints in the snow where no one else had walked, as she came to meet me. I heard it all from Sing Sing. She said that on the day I was born, I was like a sweet potato. I don't believe her."
We watch her meet a little baby in the hospital and sigh from the other side of the glass: "How is he going to get through life when he's so ugly?"
He tells us that he grew up in Sing Sing's house, and that at a year old she declared him to be a steamed sweet potato, which meant he was even uglier than before. She tries to cover up his ugly face repeatedly, but then she smiles to herself as he falls asleep in her lap.
We fade from baby Sweet Potato to his grown-up version, sleeping on a bench in an airport. This is JOO WAN (Sung Joon), who tells us he's come back to Korea after seventeen years abroad.
As he scans the girls in his line of sight, he says that in his memory Sing Sing was smart and innocent and kind. "What will Sing Sing be like now?"
Cut to: grown-up Sing Sing, SHIN JOO-YEON (Kim So-yeon), strutting down the hallway with her co-workers and giggling over how an hour-long make-out session didn't lead to sex.
Her co-worker JUNG HEE-JAE (Yoon Seung-ah) is telling the story, about how she and her boyfriend had to keep moving alleys just to kiss without an audience, and before she knew it, an hour had passed.
They ask why she didn't just go to a motel, and she says because her boyfriend is studying for the civil service exam, they can only afford to go a motel once a month. At that, Joo-yeon suggests a communal petty fund for Hee-jae's "needs."
Joo-yeon gets a call from Mom letting her know that Sweet Potato is back in Korea, and she asks how old he is now and what he's doing. "Music? He grew up to be a total slacker, didn't he?"
But we watch him get picked up at the airport by a manager (who calls him by his stage name, Allen Joo), lining up the meetings and photo shoots he's supposed to go to today. Wan just takes the car and ditches the manager on the sidewalk and tells him not to call, not interested in doing as he's told.
Joo-yeon sighs at her mom's request to house Wan for a year, but then remembers she has the perfect excuse to talk him out of staying with her—a boyfriend. Meanwhile Wan drives straight for the beach and takes in the view, declaring his happy return to Korea and to Sing Sing: "I told Sing Sing I would return one day. And I have."
He beams when he gets a text from her and calls her right away. He points out that she's speaking to him in banmal when they're practically strangers now (even though he uses banmal right back), but she breezes that she's been using banmal with him since the day he was born, which you can't really argue with.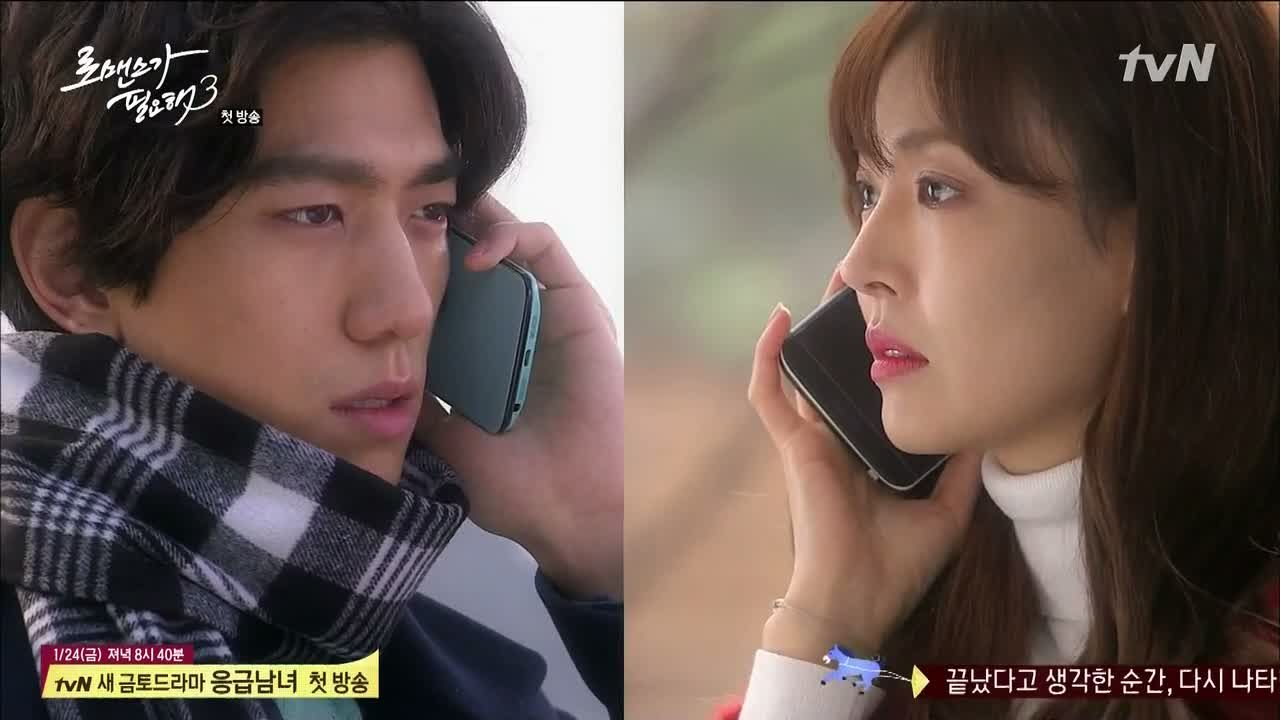 He wonders if she even remembers his face. Joo-yeon: "No, except that it was ugly." But he's surprised when she tells him she hasn't decided yet on whether or not to house him, because she has a boyfriend who sleeps over often. She figures he wouldn't want to hear her sex noises all night long, and demonstrates to hilarious effect.
She says she really, really, really doesn't want him staying with her, and he's taken aback and asks her directly: "Why don't you like me?" She admits that he just reminds her of the time in her life when Mom had to watch him just to make a living, and that they had to live off of that money.
She talks a mile a minute the whole time and tells him not to call her again, but he stops her at the very end to get one word in. She sighs and puts the phone to her ear. Wan: "I… missed you. I missed you, Sing Sing." She hangs up without a word.
We see that Joo-yeon is an ace at the home shopping channel where she works as a marketing director and her team's leader. They squeal when their latest item sells out, but Joo-yeon tells them not to be so obvious about it, only to run to her sunbae's office to brag with a dance. She's adorable.
Her sunbae KANG TAE-YOON (Namgoong Min) smiles at her antics and teases her good-naturedly, but it's the PD that she runs to hug (cameo by Alex), screaming, "Jagi-yaaaaa!"
Alex kisses her on request, though he doesn't look especially happy. She's too excited about their success to pick up on his mood though, and agrees when he asks her to dinner because he has something to say.
The maknae on her team, LEE WOO-YOUNG (Park Yoo-hwan), says he saw Alex at a jewelry store the other day buying a necklace with two rings on it. They conclude that he must be planning to propose tonight. They swoon at a picture of the necklace online, convinced that there could be no other reason he'd buy it.
But curiously, when we cut to Joo Wan who went to his photo shoot after all, the woman styling him (Girlfriend? Handsy fashion director?) is wearing that very necklace.
As Joo-yeon goes on her date with Alex wearing their matching couple rings, Wan writes music in his studio. In voiceover he tells us: "It was Sing Sing who first taught me music."
In flashback, Little Joo-yeon plays the piano and Little Wan closes his eyes to listen to the music. She asks him what each piece makes him feel, and they put emotions to each song, naming them things like Happiness and Pain.
Joo-yeon asks expectantly what Alex has to say to her, so excited that I can hardly watch. He hesitates, and finally says, "Let's break up."
Little Wan asks, "And what about Sadness?"
We can read the shock on Joo-yeon's face, but she takes a moment to process it and then just coolly orders dessert as if nothing happened. Alex has to be the one to point out that he just said they should break up, wanting more of a reaction out of her. But she says she isn't about to hang on to a man who just told her he's leaving.
"If I hold on, will you be held?" He argues that people don't hold on thinking it'll work, but they do it because how they feel is what's important. But she says coldly that feelings aren't important to her, at which he gives up and leaves her at the table.
Wan says to himself in his studio: "Sadness is…" and starts to play. Little Joo-yeon says, "Sadness is parting from someone—your heart hurts and that pain grows deep. Something gets tangled in your heart. That's sadness."
Little Wan: "Why do people part?" She answers, "There are people who part because they don't like each other, and there are people who can't see each other even when they want to."
Wan says to himself as he plays: "Sing Sing is the woman who raised me. The woman who taught me the piano. And the person who taught me my heart."
As Joo-yeon sits there at the table eating her ice cream alone, she tells herself: "There is no reason to be sad or hurt. It's natural for relationships to end." But she admits that she wasn't always like this.
We go back through her dating history, starting with her very first break-up with rocker boy John Park, who crushed her without batting an eyelash because what he really loved was rock 'n' roll.
Her next love Joo Sang-wook was straight out of a drama, as he told her not to wait for him because he'd have to study abroad and go to army. She cried and cried, but he insisted that she'd be better off falling in love and marrying someone else.
He sent her inside because he didn't want her to see his back as he walked away, playing the noble idiot to the hilt. Lol, it's every drama cliché in one scene.
She goes inside and runs back out moments later to shout that she'll wait for him as long as it takes because she knows she'll never meet anyone as perfect, except he's already long gone. She runs after him, still in the height of her romantic moment… only to find him down the street, stuffing his face at a food stand like nothing happened. Hahahaha.
She tells us that a month later she found out he never went abroad at all. She catches a brief glimpse of OH SE-RYUNG (Wang Ji-won) being interviewed on TV as a random college student, and she describes her as a friend, once. (This is the same woman who was with Wan at his photo shoot.)
Se-ryung tells her interviewer that boyfriends may come and go, but the value of the gold rings they bought her will last forever. Joo-yeon says that she never wanted to become like Se-ryung, scared that giving up on love would make her that jaded.
But then by the end of her fifth relationship, when she broke up with the guy because all he ever wanted to do was get her in bed, he followed up her farewell by begging her to sleep with him anyway… and something in her just snapped.
She says she remembered Se-ryung selling all her couple rings in that moment, and despite all her efforts not to become like her, she already had. She goes inside the hotel with the soon-to-be-ex, and tells us in voiceover that since that day, relationships ceased to burn hot, and breakups ceased to make her cry.
Back in the present, she finishes her ice cream and gets up from the table holding her head high. Too bad the hostess ruins her exit when she says that Alex didn't bother to pay for dinner, and Joo-yeon loses her cool when she's forced to pay for her own breakup date.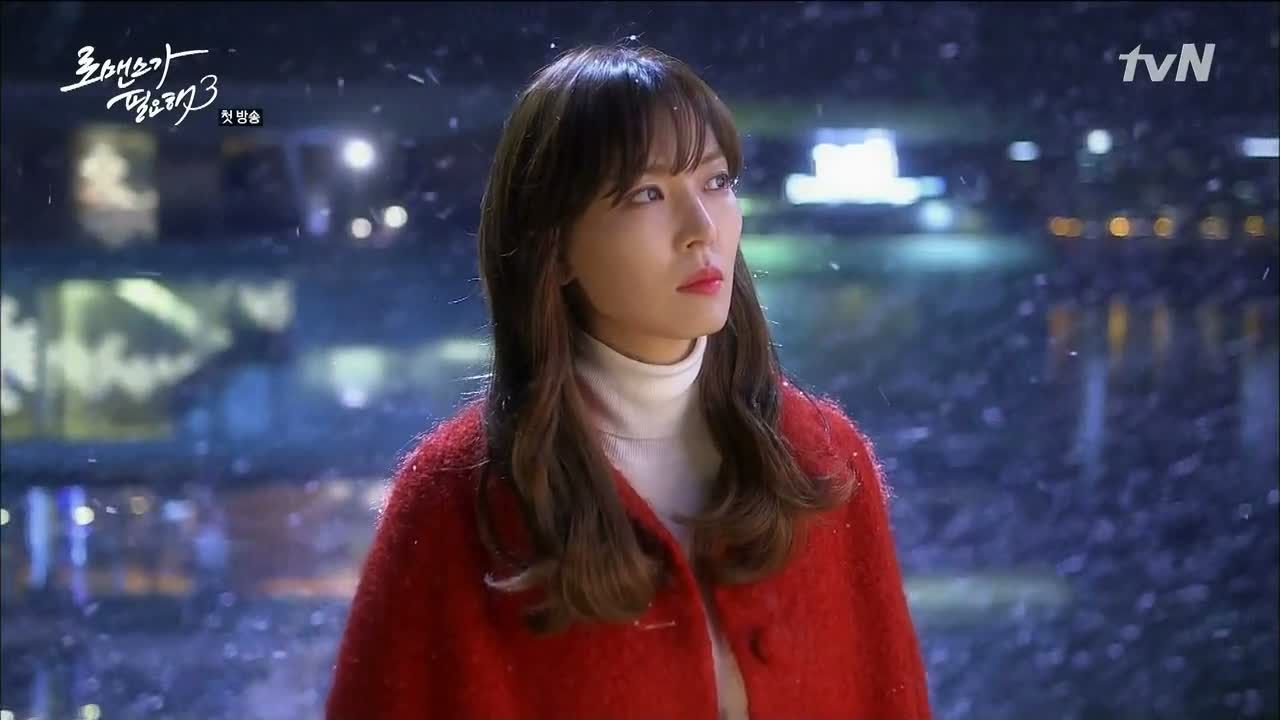 It's snowing when she walks out, and she narrates: "I didn't understand. There were things I wanted to ask. But I didn't ask. There is only one reason for farewell—it's because the climax of a relationship has ended."
Woo-young leaves work late that night and catches a post online from a co-worker out drinking with Alex post-breakup. He realizes that Joo-yeon got dumped instead of proposed to, and messages the rest of the team hurriedly.
Hee-jae worries about Joo-yeon and her boyfriend has to coax her to leave the work at work, which she tells him is impossible.
The other member of their foursome, LEE MIN-JUNG (Park Hyo-joo), gasps when she sees the posts online, and then gets back to her plans for the evening—a hookup with a guy she met online.
Her whole philosophy is that relationships are dull and marriage is hell, so she's basically looking for anything that won't tie her down, ever.
Joo-yeon walks down the street in the snow, and Wan calls to ask if she wants to meet because it's the first snow. She sighs that first snow calls for meeting with the person you're in love with, and tries to give him the brush-off once again.
But Wan says something that makes her stop in her tracks. "You've changed. I thought about it, why you've become this woman. Earlier today you said you had someone you were in love with, but that was a lie. If you were in love with someone, if you were receiving someone's love, you would be a person who treasured memories a little more. So if you are dating someone right now, you should break up, because it's not real love."
Tears spill out right then and there, though she doesn't say anything back. He says that they'll meet again even if she doesn't want to, because he's someone who keeps his promises. He hangs up with a smile and looks at the post-it he's stuck to his window with her address scribbled on it.
She stands in the middle of the intersection as though his words have frozen her in place, and lets herself cry a little longer.
She shows up at sunbae Tae-yoon's door and lets herself in, admitting she had nowhere else to go. He argues that he could've had a woman over, but she already knows he's not dating anyone, and beelines for the wine cabinet. She's obviously comfortable enough to treat it like her own kitchen.
He gapes at the expensive bottle she takes out, but when she tells him she just got dumped, he puts it back on the table. Aw, he's a good friend. They drink and watch the home shopping channel, chatting away about work, and she thanks him for taking her mind off of being dumped.
The team is surprised when she walks into work the next morning in high spirits, and they rave when she hands them invitations to a party. They get excited to see that Allen Joo is DJing the party, and look at her like an alien when Joo-yeon doesn't know who the genius songwriter and chart-topper is.
They get decked out to go to the party, and there in that giant crowd, Wan spots Joo-yeon as she's dancing. At first she just catches his eye, but he recognizes her, and seeks her out at the club.
Her friends notice him looking their way, and egg Joo-yeon on to go snag the hot DJ. Hee-jae counters that she just broke up with Alex and needs time, but Joo-yeon tosses back, "Do you go barefoot to buy new shoes? No, you wear old shoes."
She smiles back at him and gets ready to approach, but someone beats her to it. It's her frenemy Se-ryung, and wearing the necklace that Woo-young saw Alex buy, no less. Joo-yeon's expression hardens and she walks over with her claws out, correcting Se-ryung's introduction as her friend: "I know you put your lips anywhere, but speak correctly—we're not friends."
Joo-yeon scoffs at Se-ryung's breezy attitude, and says it must be because she's so easy that she could be happy about running into each other. She turns to Wan and asks if he knows what "easy" means. Wan: "I don't, but I know that you're ill-tempered and lack common sense."
He looks at her and thinks to himself, "Sing Sing wouldn't have changed this much. This is just a woman who looks like her."
Se-ryung asks if she's happy being so hardened, and Joo-yeon throws the question right back at her. Se-ryung turns to Wan, thinking that she seems to really be asking him if he's happy being with her.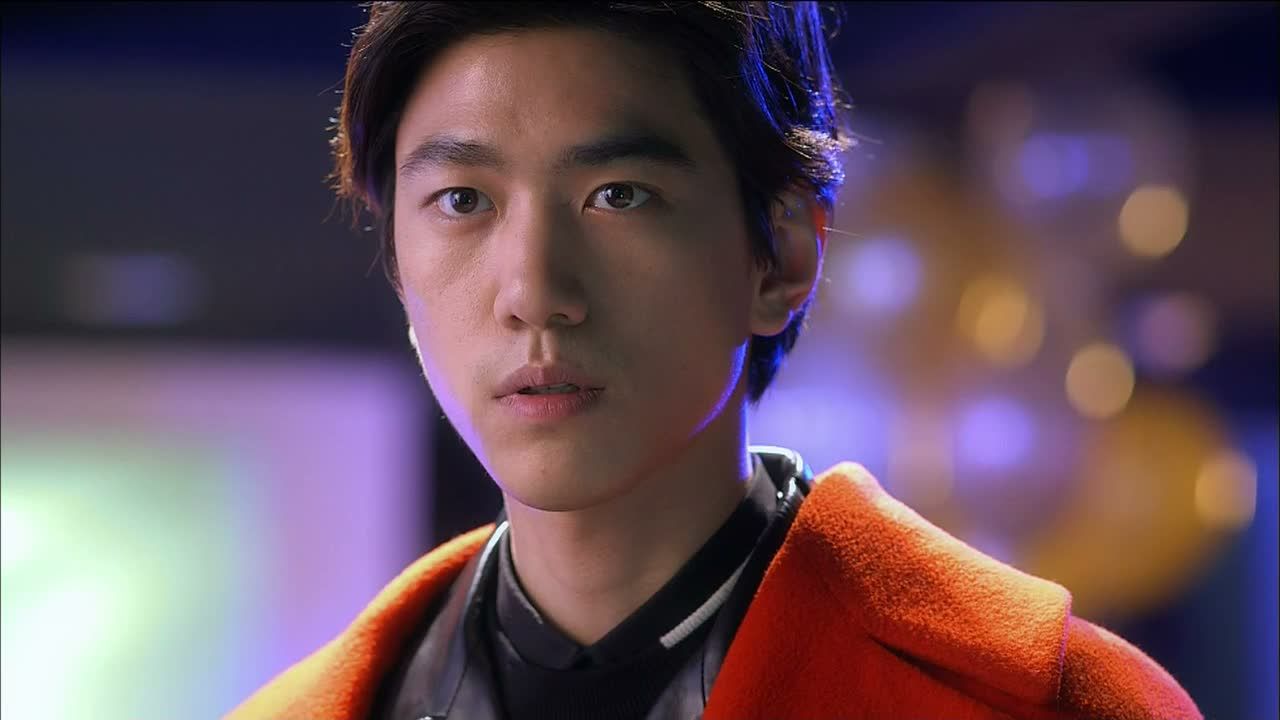 Wan kisses Se-ryung on the forehead as his answer, and Joo-yeon laughs condescendingly. She wishes them lots of happiness in an obviously insincere tone, and walks away.
Wan asks if Se-ryung did something to wrong her, so shocked by the display, and Se-ryung just glosses over it, musing aloud, "You live life so difficultly, Shin Joo-yeon." He makes her repeat the name, and then it sinks in: "That woman was Sing Sing."
He runs after her as she leaves the club, but he misses her just as she gets into a cab. She fights back tears, and he watches the cab drive off. "That woman was Sing Sing."

COMMENTS
We're off to a nice start, and the relationships have some great potential, whether antagonistic or romantic. I don't know that we needed to introduce quite so many characters in the first episode, but we've got time to flesh them out. I don't love that the I Need Romance franchise is always so obsessed with longstanding first loves (you'd think that in three seasons they'd want to diverge from the expected), but at least in this case we're not dealing with a relationship that's gone on for ten years.
Joo-yeon is perhaps Wan's first love, but she's more like a childhood ideal of the perfect woman, which makes the reality of who she's become even more interesting. It has shades of I Hear Your Voice's pedestal-breaking, where the heroine is so far from the picture he has in his mind that it throws him. The dissonance between Sing Sing and Joo-yeon is what will make him important to her character arc, if what she needs is someone to remind her that she wasn't always this person.
I like that she starts in a jaded place though, because I was expecting her to be crushed at the breakup, but instead it's sadder that she isn't hurt and doesn't care. It's great that Wan is already zeroing in on what's wrong without even seeing her. Sunbae Tae-yoon is going to give the hero a run for his money though, because he was a surprisingly warm, sweet friend, and I loved their easy rapport. They can't possibly make bestie romance war with noona romance, can they? Those are my favorite tropes! They can't go to war!
My favorite thing about this season is that the hero seems to be not a jerk, which was never a deal-breaker for me in the previous seasons, but always kept me from fully rooting for the lead couple. Sweet Potato seems to be just as sweet as his namesake, which makes me one happy camper. This time it's our heroine who veers into unlikable waters, but when Kim So-yeon layers her cattiness with vulnerability, you just can't hate her. I mean, why would you want to?

RELATED POSTS
Tags: featured, first episodes, I Need Romance 3, Kim So-yeon, Sung Joon