I Need Romance 3: Episode 2
Whoo, I really like the second episode. The first threw a lot of introductions our way and though I liked the setup to begin with, this second episode settles into characters in a nice way. I just adore the heroine, who hits so close to home that I already hurt when she hurts. She's rounded and flawed in a great way, and I feel like we're in the hero's shoes, just looking at her and overflowing with empathy, wishing we could make it all better.

SONG OF THE DAY
Lee Juck – "고독의 의미 (The Meaning of Loneliness)" [ Download ]
Audio clip: Adobe Flash Player (version 9 or above) is required to play this audio clip. Download the latest version here. You also need to have JavaScript enabled in your browser.

EPISODE 2: "Nobody loves me!"
Sung Joon photo shoot! Oh right, this is Joo Wan, doing his photo shoot and interview that day he first arrived in Korea. He talks about having moved to the States when he was nine, and how he started writing music at fifteen, in that stage of his life where he was super emo and would be impressed with himself. Thankfully he can laugh about it now.
He says that piano was the first instrument he ever learned, not from a trained technician, but from someone who taught him music as an expression of emotion, which we've seen in his flashbacks to growing up with Joo-yeon.
The interviewer asks if he's going to see that person now that he's back in Korea, and he says yes expectantly. But in voiceover he recants: "But I don't think Sing Sing was the Sing Sing I knew. She was strange and cold."
We go back to the club where they ran into each other at the end of the last episode, and this time there's a little more to the story. When Joo-yeon starts to walk away, Wan stops her to argue back what they've done to wrong her that she's so twisted up inside.
She steps in close and grabs his collar, purring that if he's so curious he can leave with her and find out. Whoa.
Clearly she's doing it to get a rise out of her frenemy Se-ryung, but since he's just the guy in the line of fire, he's left totally spun around. It's only when she leaves that he hears her name: Shin Joo-yeon.
After losing her out in the street he takes a cab to her house, and runs his hands along the wall on the way up the worn steps. When he reaches the front gate, he remembers running up there when he was nine, heaving sobs because he just found out he was leaving the country.
In between gasping sobs, he tells her to stick out her hand and gives her a tooth, scream-crying that he has to leave and he might never see her again but he has nothing else to give her. Ha. Crying Wan is too cute.
She smiles reassuringly and tells him that what he's feeling right now is sadness, and if so he shouldn't shout things in anger, but say what he really feels. He calms down and starts over again to say that he's moving away: "I'm going to miss you, Sing Sing."
He swears over and over again that he'll come back someday, so she wipes the tears from his face and smiles as she tells him he will, and they'll meet again.
Back in the present, he braces himself and calls her, and she answers drunk and annoyed. She gripes that she told him to erase her number, and complains about how hard it was look after him and worry about him when he was a kid, wondering why she'd have to do that all over again.
He listens as he narrates that Sing Sing had become a woman who was mean by default, and insulting others had become habit. She tells him to get lost and his shoulders sink as he walks back down the hill.
But then he turns a corner in the windy neighborhood and finds Joo-yeon inside a bar, arguing drunkenly with the owner that she's not too drunk to have one more bottle of soju. He sits down at the table and orders one for her, and she smiles.
She assumes he's followed her here, and she insists that she likes him and is a fan. He perks up a little at that, despite knowing it's a blatant lie. He asks if she's ever listened to any of his songs, and that if she's a fan she should know his name. He waits for her answer, but she just calls him by his stage name, Allen.
He asks if she's normally so disagreeable, and Joo-yeon concedes that his first impression of her might not have been so great because of her run-in with Se-ryung, but she also disagrees that being nice gets you anywhere in life.
He thinks it would at least mean she wasn't alone because someone would be by her side, and then she sighs to realize he must've sat down at her table because she seemed sad and alone.
And then her guard cracks for one tiny moment, as she admits aloud: "You're right. Nobody loves me."
But then a second later her wall is back up and she sing-songs, "But that's okay!" She says you live life alone anyway. She says she wasn't born to be loved (twisting the line from that cheesy song), and that of course she wasn't always this way. But at some point she discovered the secret to the universe: "Everyone but me is a stranger."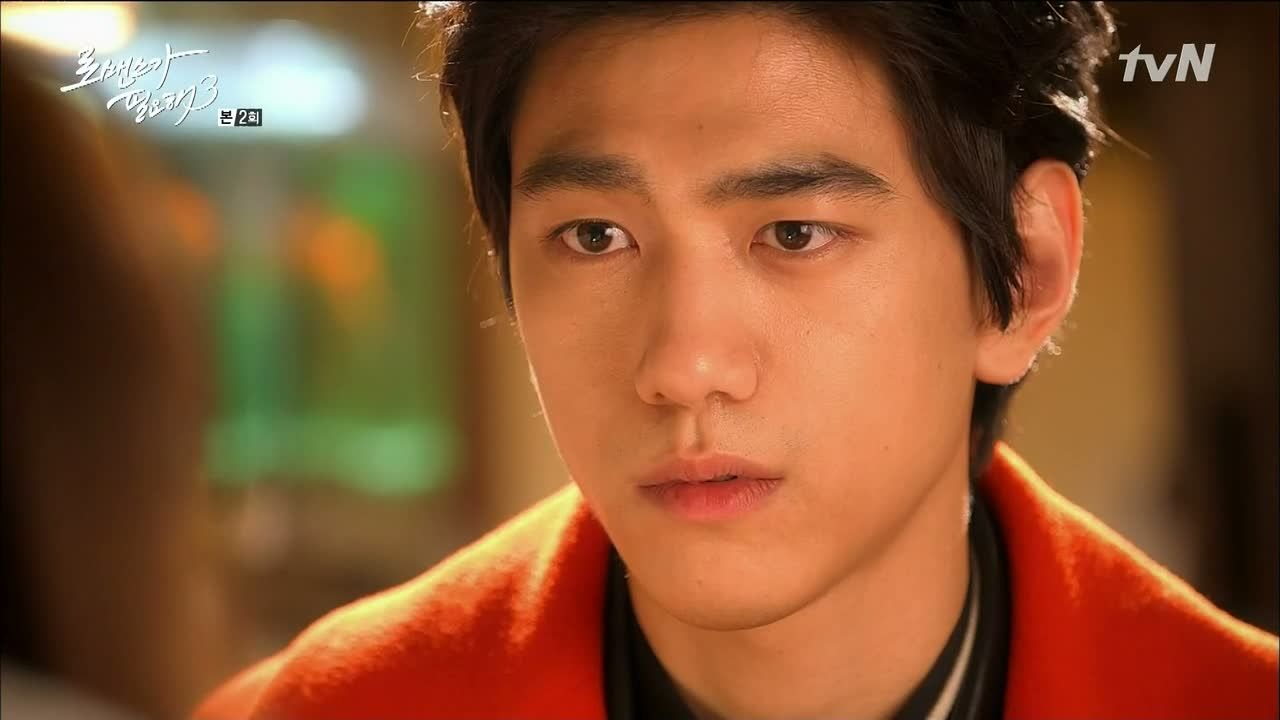 He asks if it isn't difficult to live that way, but she blusters that she's fine and it's wonderful, and that she enjoys being lonely. She says it's simple, really—if people don't like her, she doesn't like them back.
But halfway through her words she stops believing them herself, and has this moment where she's trying to convince herself to finish the sentence. She says that she only needs to put energy into liking people who like her, and doesn't care about the people who don't.
Joo Wan: "Are there people who like you?" Oof, he really has a way of asking the direct questions. She tamps down the tears and takes a moment before answering, "I already told you. Nobody loves me. That I'm okay."
She shakes herself out of the reverie and slaps a smile back on, and hobbles home muttering to herself the whole way. Joo Wan just follows a little ways behind her to make sure she gets to her door safely.
She reaches the front door and has this awesome drunk moment where she coaches her drunk self to get it together before entering the passcode, making sure to look around furtively like she's a super spy. And then she announces the number loudly as she's entering it, and it's 2918 (aigoo shibal = "aw fuck").
He laughs and then tries the code once she's inside. He knows he can't actually go in, but lingers on the doorstep for a second before closing the door again.
Joo-yeon sits in her empty house, and tonight all she can think of is being there with ex-boyfriend Alex. She remembers snuggling on the couch, and the first time he opened her fridge full of nothing but ginseng packets because she doesn't cook, and him making plans to cook for two.
Alex discovers a wine glass with all her old couple rings inside and pouts that she keeps them, but she says it's a reminder not to give up on finding love even if the glass gets full with the remnants of all her failed relationships. She teases that the search could end with him, and he tells her it had better.
In the present, she slides the ring off her finger and drops it in the glass. She repeats her mantra: "Everyone but me is a stranger. In the end, everyone becomes a stranger."
Her doorbell rings, and it's her team—Min-jung, Hee-jae, and Woo-young—here for a crash slumber party, announcing themselves at the door with a: "Jagi-ya, we're here!" Yay, friends.
They all change into PJs, and Woo-young gets ex-Alex's pajamas. They ask why Alex broke up with her, hinting at the possibility of another woman. It's then that Se-ryung's necklace raises a red flag with her, but she shrugs away the thought, feeling it needless to spend any more energy thinking about a relationship that's already gone.
The team is clearly split in their romance philosophies, with the younger twentysomething Hee-jae and Woo-young believing in forever love and the thirtysomething Min-jung and Joo-yeon shaking their heads at the silly notion.
Min-jung says there are only two kinds of men: good kissers with no souls, and men who are already annoying because they have no souls, on top of which are bad kissers. Woo-young frowns: "What about a man with a soul?" In unison: "I've never seen one."
They egg Min-jung on to tell them about her rendezvous with the man she met online, and Woo-young has to convince them he can handle the girl talk. So she tells them about meeting the younger man in a hotel, where she totally used Woo-young's name for her one-night stand. HA.
Later that night, Min-jung asks Joo-yeon what her history with Oh Se-ryung is, but Joo-yeon refrains from talking about it.
The next morning, Wan meets Se-ryung and asks her the same thing, and she says they were best friends once, attached at the hip.
But Se-ryung stole Joo-yeon's first love, and she knows she was in the wrong. But Joo-yeon just shut down and ended the friendship. Se-ryung admits that she really likes Joo-yeon (and understands her pride), but always wished she'd just hit her or get mad so they could fight it out instead of walking away.
At work, Joo-yeon's team gets passed up for a new development project, and she publicly declares her dissatisfaction at the company's backwards progress. It helps that sunbae Tae-yoon is her boss, which means she gets to tell him exactly what she thinks.
He surprises her though by offering to create a new brand department to back her team's proposal, and tells her the thing she was missing in her plan—a style director with a big enough name that they can collaborate with and use as the face of the brand.
The team gets excited and starts a list of style directors to recruit, and Min-jung mentions that Oh Se-ryung is a style director… and Joo-yeon tells them not to dismiss her from the pool just because of her.
Ex Alex walks into the cafeteria with the other PDs and the air gets tense. Joo-yeon gets up and you think she's going to walk out because it's awkward, but she goes right over to his table and tells him to enjoy his lunch with a smile, as if she's perfectly fine. Oh man, that pride.
Woo-young and Hee-jae struggle to pull their weight on the team, Hee-jae's boyfriend finds her falling asleep at the convenience store because she's barely sleeping just to keep up. He washes her feet in his tiny little gosiwon room, and she dozes off while dreaming of the time when he'll pass his exams and they'll get married and she won't have to live like a zombie.
The team gets a brand new office, but then their first big hurdle arrives when Ex Alex suddenly quits his job, leaving them in the lurch with a crappy PD. Joo-yeon flips out and storms his house, asking why he's letting personal stuff get in the way of work.
He sighs that even now all she's doing is talking about work and he's not fine like she is. She finally lets her feelings show just a tiny bit, and asks with tears pooling in her eyes, "Who says I'm okay? I'm not okay. I'm not okay! Do you know how much I—"
But before she can finish, someone else unlocks the door… and in walks Se-ryung, asking why he hasn't left yet. Uh. Oh.
Joo-yeon walks over with daggers coming out of her eyes, and asks, "Was it you? This time too, was it you?" Se-ryung smirks and says it was, asking what she'll do. Joo-yeon finally loses her cool and yanks that necklace right off her neck and tosses it out the door.
Meanwhile, Wan has turned around after dropping Se-ryung off to bring the cell phone she left in his car, and picks up the necklace as he walks up to see the two of them face to face.
Joo-yeon slaps her across the face, and she flashes back to watching Se-ryung run off with her first love, rocker John Park. She narrates that when her first love ended, it wasn't his betrayal that stung—it was hers. "Because she was my friend."
We see their high school days, when they really did do everything together, and when Se-ryung was the adventurous one nudging them to jump fences and get into trouble, while Joo-yeon was the scaredy cat over-thinker.
And back in the present, Se-ryung answers with a slap of her own. Dayum. Both Alex and Wan jump up at that. Joo-yeon narrates that from that day forward, she stopped believing in friendship, because it hurt too much, so much that she couldn't even fight with Se-ryung.
Joo-yeon slaps her again, and so does Se-ryung. Joo-yeon snaps and just starts yanking her hair, and it turns into an all-out hair-pulling brawl. The boys run in to separate them, and Wan drags Joo-yeon out by the waist, and then leads her out by the hand.
She narrates that she learned it today—that some things need to be fought out in the moment. Wan sighs as he looks at her, wondering what on earth he's going to do with this woman.
He asks if she really had to resort to fisticuffs, but she just turns to him to ask, "Do you know how many times I was hit? I think she hit me more than I hit her! I think I got in one fewer hit than she did!" LOL.
She pouts that she can lose to anyone else in this world except for Oh Se-ryung, and then her attention turns to his car, thinking it's Se-ryung's. She lights up in excitement and gives it a good kick and knocks the side mirror off, as Wan screams and flails trying to stop her.
She starts running to the other side and won't listen to him, so he does the only thing he can do, and tackles her onto the car. They roll off the hood and onto the ground, and she lands on top of him.
There's a charged moment where they're face to face, and then it breaks when she sees that she scraped her hand. He suggests they get up, and then asks, "Do you know how much my heart was racing?"
He means in relation to his car, as in not Oh Se-ryung's car, and she gasps in embarrassment. He suggests they settle this according to the law, so she throws her hand up to say that here in Korea, when both parties have done wrong, it's best to settle it amongst themselves.
He tells her to hand over her car keys, and leans in close to get her to listen. Rawr. Then he drives her to the pharmacy and sticks her hand out to ask if they can fix it. How adorable.
She's so caught up in the gesture that she doesn't notice he isn't paying for the medicine, and he tells her that he was taught that the person who's hurt should pay for medicine. She wonders where he learned something like that.
He tends to her hand on a bench outside, and he can see that she's in pain but refusing to admit it. He asks what about her heart—her boyfriend cheated on her, so is she okay? She says it was over the second they walked out of that house, again pretending that she's fine.
He says that when he was a kid, he was clumsy and always got hurt. In flashback, Joo-yeon tends to his wound on a bench just like this one, and tells him he has to get money for the medicine from his mom, because that's a huge chunk of her measly allowance that she keeps spending on his cuts and scrapes. That's when she tells him that the person who gets hurt is the one who should pay for medicine.
Little Wan grits his teeth through the pain, and Joo-yeon tells him not to pretend it doesn't hurt. But he insists he's a man and can take it. She laughs and corrects him that a real man should be honest about how hurting when he's huring, without concern for what the world thinks.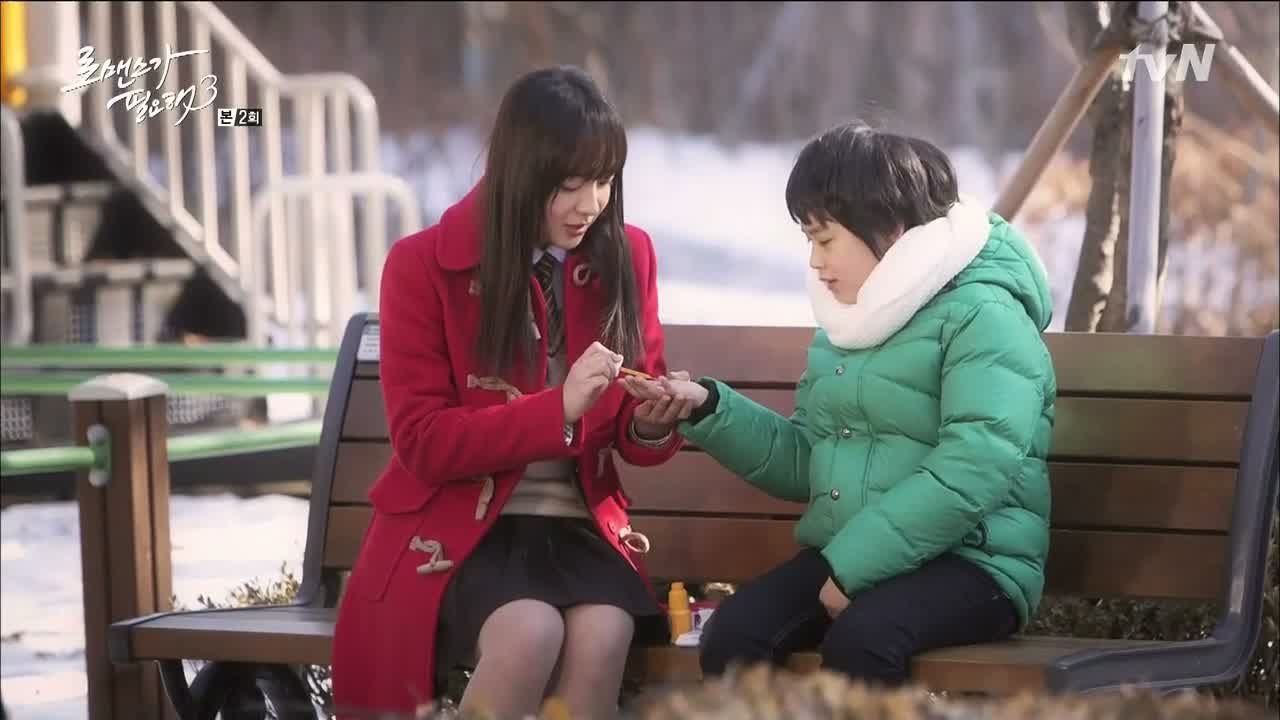 As he bandages up her cut the same way she used to do for him as a kid, Wan tells her that because of that person, he learned how to be honest about everything that he felt, without calculating what the other person would think.
Without knowing he's talking about her, she says that people change. He agrees, and says that person has gotten really strange. Ha. He says it hurts his heart that she's become that way, and so he'd like to put her back the way she was.
Once he's done patching her up, he walks her to her car and she tells him to give her his number so she can send him money for car repairs, and he tells her he needs a ride to a hotel. She shrinks back thinking he means to a hotel with her, and he laughs in his head at her presumption, but just rolls with it.
She asks if he's trying to seduce her, and he leans in: "If I am, will you be seduced?"

COMMENTS
Yum. I like their chemistry. Now that we've got more of a rom-com feel going in the interaction between the main couple, I sort of wish the misunderstanding would last a while so that she doesn't just dismiss Wan because he's Sweet Potato. Obviously it can't stay that way for TOO long, plus we have cohabitation hijinks to get to if and when she lets him move into the house per Mom's orders. And we wouldn't want to stall the cohabitation hijinks! But perhaps lingering in the sizzle a little longer won't hurt, right? Juuuust long enough for her to be unable to deny she was attracted, before he admits he was the runny-nosed kid she had to pick up after.
There's just a nice simple reversal in the fact that she used to be the mature one who took care of Wan as a little boy and taught him the difference between feelings and encouraged him to be honest, and now he's the mature one who's in touch with his feelings while she's locked herself away behind self-preservation and pride. Now he gets to teach her literally the exact same lessons she taught him, only I foresee much more pain on the part of the teacher this time around.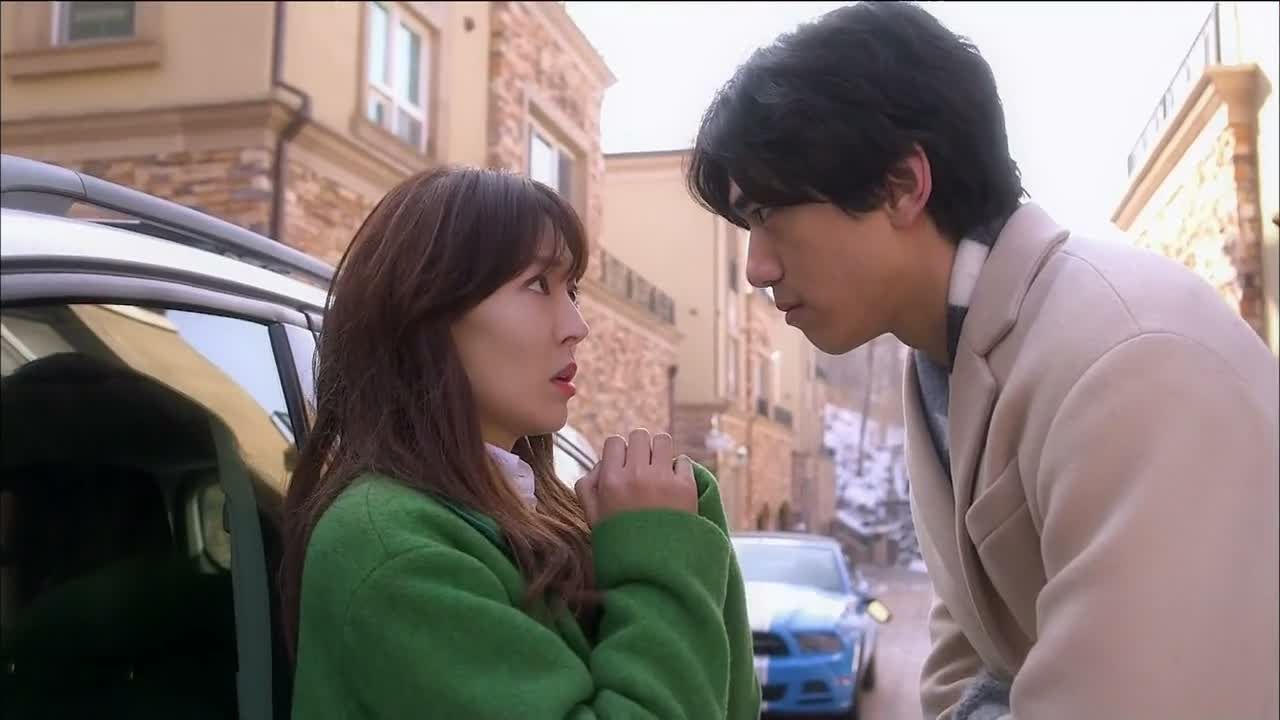 I'm so in favor of an interesting, complicated frenemy-ship between Joo-yeon and Se-ryung, and though the fight obviously puts them in a bad place, I think we'll see some good development with their characters. The different perspectives on their past was enlightening, how Se-ryung wanted to fight and work through it, not realizing that Joo-yeon backed off because she was so hurt. I'm not convinced Se-ryung is dating either Wan or Alex, and think she actually doesn't mind letting the world make her out to be the bad guy because it's easier than getting people to like her, which actually makes the two women pretty similar. I already like where we are with them, as two strong personalities who are equally matched.
The second episode feels much more relaxed and lived-in, and I really love everything about the heroine, especially her stubborn pigheaded pride. It's so real, that obvious blustering to cover up her wounds, and that inability to budge an inch and let down her guard, in case anyone might see how much she cares. That pride feels genuine, and it's the kind of fatal flaw that gets me in a visceral way. Kim So-yeon always plays her on the brink of breaking that façade, and that weaving in and out is so fantastically vulnerable and nuanced. I can't wait to see where we go with her character, because she's won me over, heart and soul.

RELATED POSTS
Tags: featured, I Need Romance 3, Kim So-yeon, Sung Joon