I Need Romance 3: Episode 4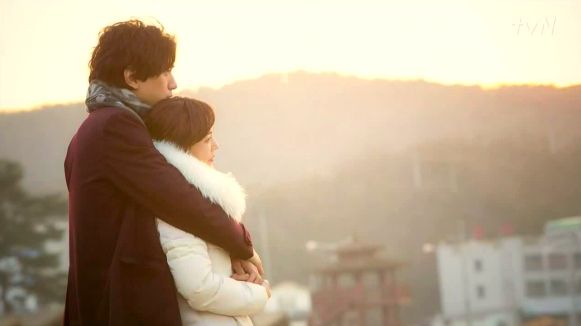 This couple is just too cute. They manage to be both sweetly innocent and sexy as hell, but I suppose that's the advantage of two relationships, one guy. Of course there is a downside too, and in this episode our hero teeters on the brink of being discovered one too many times. Part of me wants the ruse to last longer (The kisses!) but I also can't wait for the dongseng-boyfriend universes to collide.

SONG OF THE DAY
Peppermoon – "Peu A Peu" for the I Need Romance 3 OST [ Download ]
Audio clip: Adobe Flash Player (version 9 or above) is required to play this audio clip. Download the latest version here. You also need to have JavaScript enabled in your browser.

EPISODE 4: "I promised I'd come back"
Rewind. Re-kiss. Re-swoon. Wan tells Joo-yeon that he begins a relationship with a kiss, and pulls her close. This time we hear Joo-yeon's thoughts in the moment just before he leans in:
"The moment I looked into his eyes, my head went white. A woman can feel the moment of a kiss. He will come close…soon. I should push him away. I… don't… want… to…"
He kisses her, again, and again. She narrates that a woman's lips are the most sensitive part of her—they feel first, feel last, and remember the longest. "A woman's lips are the closest to her heart."
She flashes back to various friends describing the perfect kiss, from Se-ryung's new-world-opening-kiss, Hee-jae's perfect-timing-just-like-a-first-kiss-kiss, to Min-jung's very empirical data-gathering-kiss: "I can tell by a kiss whether or not this person fits with me."
As they pull away, Wan touches her lips, and she narrates: "All those words were true." They spend the afternoon running around hand-in-hand all over the beach, riding a tandem bicycle, and just being utterly adorable.
She says that she entered a new world, and then at home, she has this amazingly sweet little swoon with her hands on her cheeks as she thinks about the day. But her narration takes a turn: "I thought that this time, it was real."
She's floating away on a cloud as she gets ready for bed that night, and this time she tells her glass of couple rings to wait just a little longer, and she'll throw them out. She realizes she doesn't have his phone number, so she sets her phone by her pillow just waiting for him to call, excited that she has someone's call to wait for again.
She thinks back to him dropping her off that night, and how he waved at her and called her dangshin again, and she has the cutest little squee, with stompy feet and everything. I love her.
By morning, she narrates that nobody starts a relationship thinking of the end, but there's also no such thing as a relationship that doesn't come with nervousness and insecurity. She jolts up out of bed and checks her phone first thing… but her face falls when there are no missed calls.
She waits and waits all morning, trying to busy herself with not waiting. She narrates that at this point you start to take the puzzle pieces of the other person's heart and try to put together a picture. He said he begins a relationship with a kiss, then he kissed her, so they're dating… but why is he not calling?
It turns out Wan is at the market, picking up things that Sing Sing uses and things she needs in the house. He buys groceries?? Where is this man in real life, and how can I have him?
He guesses that she's waiting for his call, but smiles as he rides up and down the aisles: "You'll be the one calling me."
He has all the loot delivered to her house with lunch, even, and sure enough, she calls Sweet Potato right away. She asks if he's eaten and if he wants to come over, but he just breezes that he's a busy man and hangs up.
That night she wanders to the playground hoping to run into Allen by chance, and finds herself already wondering if he meant anything that he said. She even tries calling the one number she has for him—the hotel he called her from—but when prompted by the front desk she catches herself and hangs up.
She narrates: "I realized that it wasn't the first time I had done something so stupid. I've entered the hell that is dating." Wan doesn't call, but he kisses Joo-yeon's picture before going to sleep.
At work on Monday, Woo-young sighs that he doesn't have time to date but once the weekend rolls around, he has nobody to spend it with. Min-jung agrees, though her free weekend is by choice, because once she starts seeing Hotel Guy on a regular basis, that turns into a regular relationship.
Min-jung: "And that is the hell that is dating. You miss him. You expect. You get disappointed. You fight. You get hurt. You spend all your energy making up. And then it's hot again. And then it cools again."
Joo-yeon agrees that liking a man is crazy, and declares that she won't go to that hell anymore, and will adopt Min-jung's brand of mess-free non-dating.
Tae-yoon arrives for the team's meeting with Se-ryung, but she's downstairs waiting to run into him. The air is tense but he puts on a smile, and Se-ryung says she thought he'd call, at least once. She admits she didn't expect their relationship to end so easily, and he reminds her that she asked to break up.
She thought he'd hold on a little longer anyway, which was obviously not the case. He's surprised, having expected her to hate that sort of thing, but she counters that he doesn't know her very well at all, and the reason she accepted the job offer was so that Tae-yoon would get to know the real her.
The meeting doesn't last long, because Se-ryung refuses to sign a contract for a brand that wants to use her name but doesn't want her involved in any of the work. Joo-yeon doesn't want to actually work with her, and it's not long before tempers flare and Se-ryung walks out.
Tae-yoon remains calm throughout, and chides Joo-yeon later for not keeping an open mind about working with Se-ryung. He's a good boss in that he points out her mistakes without reservation, but says he trusts her to come up with a way to get Se-ryung onboard that works for all of them. But when Se-ryung texts him that he's gotten more handsome, his cool demeanor fades.
Joo-yeon catches Hee-jae texting her boyfriend at work, and sighs at her phone with zero incoming calls. She refuses to admit that she's waiting for a call, despite Min-jung having already seen her staring at her phone all day.
Wan lets himself into the house knowing Joo-yeon is at work, and sighs at the giant mess she made over the weekend. He rolls up his sleeves and gets to work. Wait, he cleans too??
He cleans the whole house and leaves his childhood journal behind on the coffee table. He's two steps away from the door with coat in hand, when Joo-yeon walks in earlier than expected. He ducks around the corner and barely dodges being seen, and thankfully she's busy talking to Tae-yoon on the phone to notice the house looking clean.
She changes as she talks on the phone (you know you're just friends when "I'm taking off my clothes" doesn't take the conversation on a sharp left turn), and Wan tiptoes past her room and does a double take at her standing there in a nightgown.
He overhears her totally embarrassing conversation where she tells Tae-yoon about the guy she kissed: "It felt like I was falling in love." But he hasn't called since, and she asks Tae-yoon what it means.
Wan whispers under his breath: "Because I can't keep fooling you." He tiptoes out before he's discovered and giggles shyly, wondering why she's asking another man about this stuff when she ought to ask him.
Tae-yoon calls her cute, surprised that a woman who acts so strong at work has the same insecurities as any other woman when she's in love. He turns it around and asks if a man acted cool in front of an ex, that woman might be asking these questions to someone else right now.
He tells her that the guy isn't calling because she must've been really pretty that day he kissed her, and she agrees ("I'm always pretty") but that doesn't explain why he isn't calling now. Ha.
It's then that she discovers Joo Wan's journal sitting on the coffee table and the spotless house. I love that she says it with such horror: "WHY IS THE HOUSE SO CLEAN?" She runs upstairs screaming for Sweet Potato and finds all his stuff up in the room and calls him in a rage.
He's at the playground, and admits that he just left the house five minutes ago and overheard her conversation about kissing some guy, feeling like she might be in love, and that she's waiting for his call. Hahaha. She dies of mortification.
He tells her that there might be no reason at all that the guy isn't calling, and the important thing is that she felt love again. She orders him to wipe it from his memory: "This is adult stuff!"
He adds that she should dress more warmly in the winter, and she looks down at her short nightgown: "How much did you see?!" Wan: "As much as you showed me. How could I possibly see any more than that?" So cheeky.
She hangs up on him, and he decides she needs to fix that hanging up habit of hers. She fumes that Sweet Potato is coming and going like he owns the place, and just as she wonders if he changed the lock code, he texts her that he changed it to his birthday.
She storms outside in a huff to change it back… only to realize that she doesn't remember his birthday. Lol. She's trapped outside and has to climb through her window, muttering the whole time that he's dead when she finds him.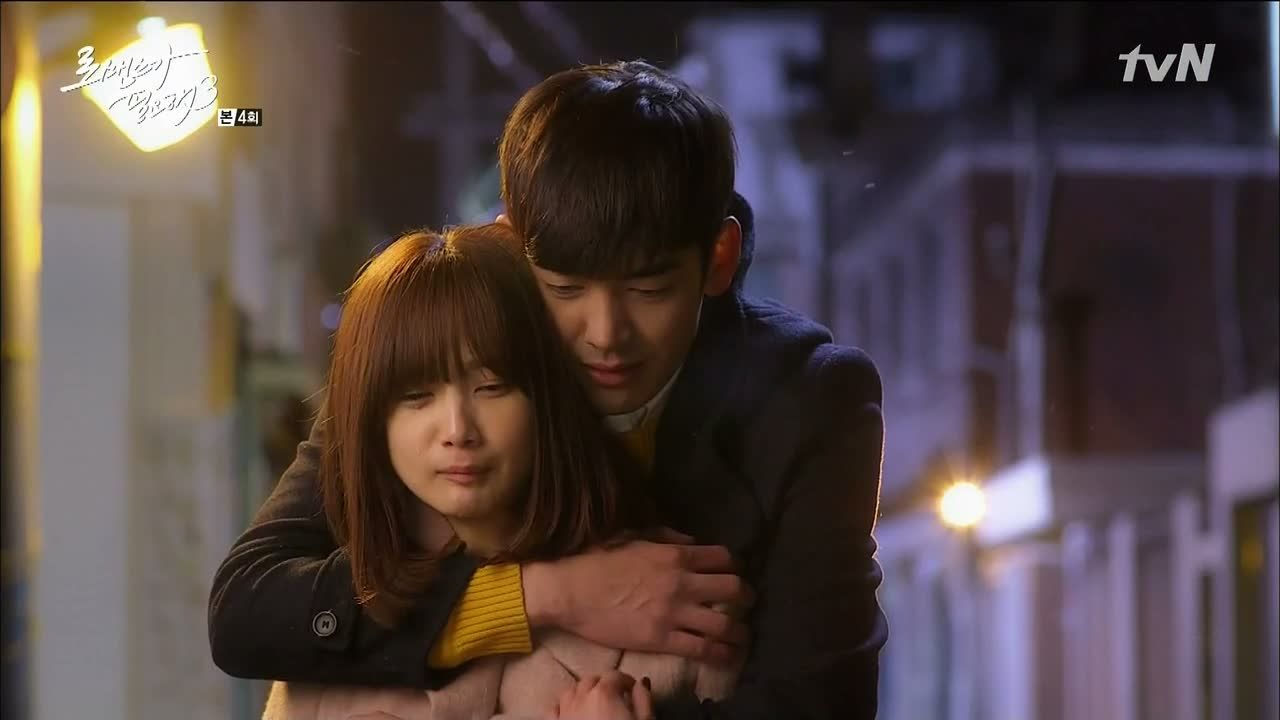 Hee-jae goes to her boyfriend's gosiwon that night, and he has to sneak her in and endure the ire of his next-door neighbors every time they make a peep. They get ready to sneak back out, when Hee-jae sees angry post-its on his door, asking him to keep the sex noises down and asking if they're shooting porn in there.
She rips them off and storms out, mortified and angry that they have to date like this, with no money and nowhere to go, wondering what it's all for. She rails at him that this isn't a relationship and tells him not to call her anymore, but he hugs her and says he's sorry. She's quick to apologize for always getting mad at him, but he tells her it's okay.
Joo-yeon reads Sweet Potato's journal, and we finally get an explanation for why he calls her shing-shing, literally meaning "fresh," because it's a word that makes him feel good and so does she. Okay, Fresh it is.
The journal is filled with stories about her, like the time he held her hand while she was sick, or the time they made a snowman and kept it in the freezer. There's a really cute one where he takes the statement that a woman's long hair is her livelihood literally, and worries when she cuts her hair short: "I'll save her."
Wan ponders what to say to Joo-yeon, and decides to be bold (though he does it via text, ha). "Shin Joo-yeon, for twenty years you've been a woman to me, and for twenty years, I've been a man to you." He immediately wonders if that's too much, but talks himself into sending it, which is cute.
But hilariously, when she gets the text, the word for "man" is missing a syllable, which turns it into: "…for twenty years I've been a stranger to you." It only reinforces her mantra about everyone being a stranger, and she just agrees. Pfft. Poor Sweet Potato and his failed attempt at being manly.
Hee-jae and Woo-young run into each other at a coffee shop, and he offers to buy the next morning's coffees, knowing how much she scrimps and saves. The next morning she shows him her idea for how to work with Se-ryung, and they get excited about her chance to be acknowledged by the sunbaes.
But when they get to the office, Joo-yeon is already presenting that very same idea to the rest of the team, and Hee-jae sighs to have her chance float away. She goes to the fire escape, and this time Woo-young comes with beers.
He boosts her confidence and reminds her she had the same idea, but Hee-jae sighs that it won't matter if she never gets to show them, not knowing how to keep up with their sunbaes. Woo-young tells her that someday they'll be the sunbaes, which to her only means that Joo-yeon will be even higher up and harder to keep up with.
Joo-yeon brings the revised contracts to Se-ryung's office for her to sign, and they have another tiff when Se-ryung asks about Tae-yoon. Ah, Joo-yeon doesn't know about their relationship, and warns her to stay away from her boss because she respects him.
Se-ryung isn't one to back down, naturally, and takes it as a challenge. Joo-yeon sighs that she should never have taken pity on the outsider with no friends, while Se-ryung remembers it as being so revered in school that nobody dared to come close.
They get into a petty thing with Joo-yeon's pen, kicking it back and forth because neither wants to pick it up off the floor, and Joo-yeon tells her to keep it, only to grumble under her breath as she leaves that it was expensive. Heh.
She steps out and runs into Wan in the hallway, which yikes, was not the way he was planning to see her next. She walks right past him, head held high, but he reaches for her arm and swings her around to face him.
He asks why she didn't call him at the hotel, giving the excuse that he told her how he felt, and thought it was up to her to answer. She doesn't buy it, and coldly turns around to walk away without a word.
He pleads with her in his head to stop. She does. He asks her to come back. She does. He smiles and turns to face her, hoping for her sincere reply. She says there's something she forgot to say, and then her narration cuts in: "It's only now that everything becomes clear. This bastard played me. Because I looked easy."
She smiles and says she had a great time the other day, acting cool as a cucumber and leaving him speechless. But before he can say anything, Se-ryung runs up to hug him (arg) and Joo-yeon scoffs to see them together.
She heads out, and then grins devilishly when she sees Wan's car. Muahaha. Se-ryung gets all snuggly with Wan in the elevator and pouts that he's not calling her dangshin anymore, and he tells her that that's a word you use for the person you like.
Joo-yeon watches them walk out together and groans that they look fantastically good together, fuming with jealousy. She peels out, just as they look down at Wan's car, side mirror freshly broken. Hahaha. He freaks out, "W-w-w-wow, I don't think I can handle her!"
Joo-yeon gets home and her bad day gets worse when she realizes she still doesn't know her own lock code. She scans her brain for Sweet Potato's birthday, and remembers it was winter, and the first snow.
She counts backwards from her age to figure out what year, and does an internet search for the first snow that year, and presto, the door opens. And then she realizes as she enters the date that his birthday is tomorrow.
Min-jung finds a note on her door from her next-door neighbor saying that he accepted her dry cleaning delivery along with his when they dropped it off.
Thankfully he isn't home when she tries the first time, but then later he comes to her door with dry cleaning in hand, and she stops cold to recognize Hotel Guy's face on her security monitor.
She lies and gets through the dry cleaning exchange unscathed, but panics over what to do from here on out.
Joo-yeon actually gets ingredients out to cook birthday soup (aw) and reluctantly wears the apron Sweet Potato bought in advance. She grouses that this is why she dislikes him, because the second he moves in, she'll be doing this all the time.
Wan packs the last of his things at the hotel, and Joo-yeon texts him to come by in the morning for breakfast. Eeee, this is going to be so terrible but so great.
The next morning, Joo-yeon sets the table with birthday soup and even a cake, and Wan unlocks the front door. She calls him just as he's about to open the door, and he says he just arrived. She gets up from the table to go meet him at the door…
…And you can actually see it on her face as she computes: Allen = Joo Wan = Sweet Potato = Brain go boom. He walks up and takes her head in his hands and leans in close: "Hello, Shing-Shing. Let's live happily."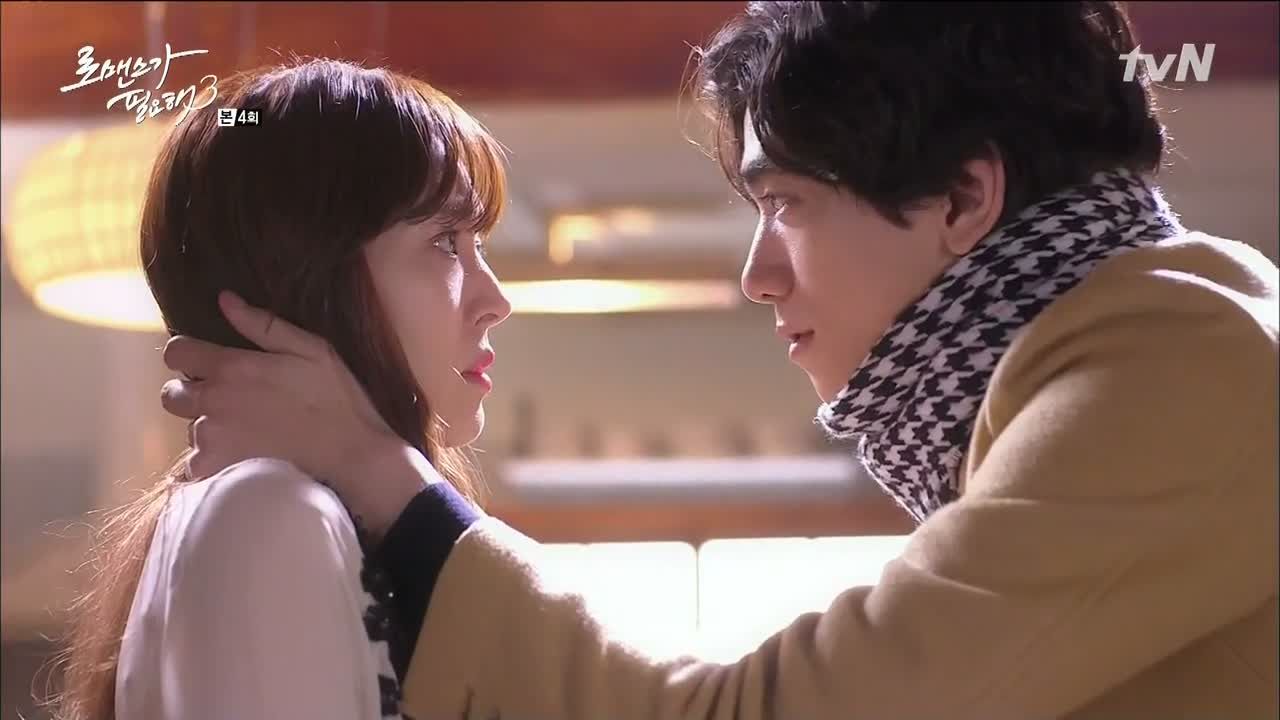 COMMENTS
Aaah, I have to wait a week to see the fallout? I like where we're headed, and I'm glad Sweet Potato didn't wait any longer to tell her the truth (or that she didn't find out accidentally, which would've been much much MUCH worse). It makes a difference that he's conscious about the lie and how it'll affect her, so it was nice to see that from his end in this episode, where he's warring with the desire to just play her new beau a little longer and call her when she's waiting for his call, and knowing that he can't actually play that part without hurting her in the long run. It's a shame that she thinks he played her, but I sort of want her to keep thinking he's with Se-ryung just to keep her jealous. Is that wrong? I'm sure it'll cost him a few more car parts, but her jealous fuming is really adorable and worth the cost.
This show has done a nice job with the timing, never dragging anything out longer than is necessary, and always changing gears before we get tired of waiting for the plot to advance. There's nothing worse than just waiting for the obvious, but I feel like despite knowing the general setup, the drama gave us a solid introduction to the characters and a few surprises. And just like that, as soon as their relationship begins, it takes another turn. It's a great place to be after the first quarter of the show—she's fallen for the one guy she'd never fall for, if she had only known his real name. The denial will be strong with this one, which is why it's so perfect to get an episode of her giddy schoolgirl reaction after one day of happiness, because there's only so much backpedaling she can do when he's seen her swoon and wonder why he isn't calling.
It's great to see that for all her jaded talk, Joo-yeon still falls hard and fast despite herself. I love how earnest her excitement is after the date—the squealing as she thinks about him, sleeping with her phone beside her, and how quickly it devolves into insecurity and wondering what he's thinking. It's SO neurotic, and so universal. I swear, if someone could make a pill that could stave off that cycle, I'd be the first to line up. But then, that's the thing about falling in love—you have to feel the lows to feel the highs, making miracle pills moot and hell a crowded place.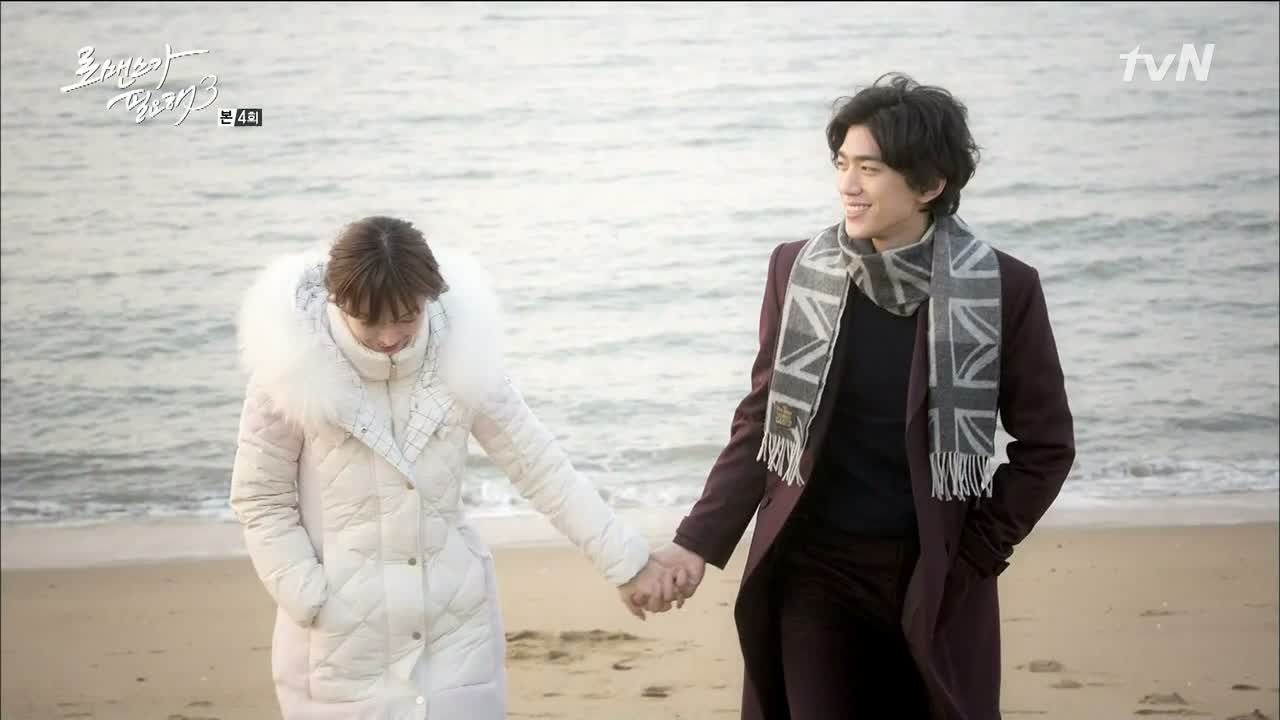 RELATED POSTS
Tags: featured, I Need Romance 3, Kim So-yeon, Sung Joon