I Need Romance 3: Episode 6
It's a fun episode where jealousy ignites some hilarious reactions out of everyone. I pretty much want sunbae to move in so they can start every morning with the Awkward Breakfast Threesome, which I could watch for days. Though of course along with petty jealousy come actual feelings that rise to the surface—some expected, and some game-changing.

SONG OF THE DAY
G.O – "You" for the I Need Romance 3 OST [ Download ]
Audio clip: Adobe Flash Player (version 9 or above) is required to play this audio clip. Download the latest version here. You also need to have JavaScript enabled in your browser.

EPISODE 6: "I hope you never know your own heart"
Wan works all night at the recording studio and then sets his alarm for early in the morning to bring Joo-yeon breakfast. But when he walks in the door, he finds men's shoes sitting in the doorway and then Tae-yoon coming out of the bathroom in a robe.
Both men look to the other and then to Joo-yeon for an explanation, and then she looks down at the sandwiches in Wan's hand and blurts that he's the delivery boy. Pwahaha, you did NOT just do that.
She grabs her wallet and stuffs cash into his hand and pushes him out the door, and he just stands there utterly flabbergasted. She says she's sorry but the other guy's just a work sunbae, "So don't think anything weird!" And she leaves him standing on the doorstep.
She comes back in to tell Tae-yoon that she's known the local sandwich delivery boy for ages so he lets himself in. And then her voiceover suddenly kicks in: "I've seen too many dramas. Why do I have to do this?"
Ha, so the sandwich charade turns out to be all in her head, and she decides to go with the honest-but-vague approach, and just introduces Wan as a dongseng she lives with. Tae-yoon knows she doesn't have an actual little brother, so she amends it to "dongseng I know." Wan needles, "Is that all we are?"
She introduces Tae-yoon as her work sunbae who drank too much and crashed here last night, and then adds that Wan is just living here for a short time because their moms are friends. It's pretty hilarious the way the guys look at each other and ask in unison if this is a situation in which they should be shaking hands and greeting each other.
Thankfully the awkward moment is interrupted by a burning smell in the kitchen. Wan's building agitation over everything he finds is awesome: You made hangover soup? You washed his shirt? And ironed it??
She asks Wan for to borrow a shirt, and he snaps that he doesn't have any and wouldn't let him borrow one even if he did. Ha. Tae-yoon sighs that the hole is in the back so he'll just wear it.
Wan asks if that guy slept in his bed last night, and Joo-yeon says defiantly that they slept in her bed together. He doesn't believe her for a second and she admits he crashed on the couch, mostly because she couldn't possibly carry him up to the second floor.
She tries to get a pair of socks out of Wan but he's even more peeved that she did Tae-yoon's laundry when she swore up and down that she'd never wash anything of Wan's. She checks on Tae-yoon and asks why he drank so much last night, and his mind drifts back to Se-ryung but he just says he felt like drinking.
Wan makes sure to point out how Joo-yeon can't really cook or do any housework, which Tae-yoon says he probably knows better than anyone. Joo-yeon grits her teeth and just calls Wan too young to know any better.
He refuses to let them leave for work together, insisting he has something important to say. He holds her back and tells her not to bring men here. She asks what business it is of his, and when he can't find a good reason, he goes with: "It's not good for my education. You're the one who said I was a kid." Pfft.
She calls Tae-yoon just a sunbae, which doesn't ease Wan's worries, especially sinc he's figured out that Tae-yoon is the person she was talking to about their kiss. She swears up and down that he's just a friend, and nothing more.
Wan: "But you don't know your own heart! Whether you're in pain or not, in love or not—you can't tell the difference between discomfort and a flutter." He asks her to think carefully before answering.
She says again that there's really nothing between them, but I'm even less convinced than before. Wan throws out a shaky, "I'll trust you" as she walks out the door.
Joo-yeon finds Tae-yoon waiting for her in his car anyway, and he guesses Wan will blow a gasket when he finds her car still parked at home. He jokes that she sure does have a lot of men—recent ex, man she kissed, man she lives with. She adds that there's another man who sleeps over whenever he's drunk.
Tae-yoon: "That man is the best one. You should date him." Joo-yeon: "Should I?" They both laugh. The car pulls away, and then Wan comes out exactly as Tae-yoon predicted. Wan: "L-look at that! They left in one car! I just HAD to come out and see it for myself and get hurt!" Haha.
Hee-jae sees Se-ryung arrive at work, and runs up to ask if she'll her sign her book. She's clearly a fan but not able to let on in front of Joo-yeon, and Se-ryung gives her a jacket just to be nice.
Her morning takes a dive when Tae-yoon's car arrives and Joo-yeon gets out of it. She notes that he must've stayed out all night because he's still wearing the same clothes from the bar last night, and Joo-yeon doesn't lose the chance to take a dig: "He slept at my house."
As she watches Tae-yoon buy coffee, she starts to become curious about what he's like when he's dating someone—if he smiles, and if it's a way he doesn't smile when he's with her.
Hmmmm, is that actual interest stirring, missy? Se-ryung breaks her reverie when she makes sure to gloat about Tae-yoon buying her coffee too.
Min-jung pores over her gray hairs at her desk in dismay, while Hee-jae skips through the halls wearing her new jacket from Se-ryung. She ducks behind a wall in alarm when she sees Woo-young coming, but he's already seen her and waits around the corner.
This time he stops her from running away with another excuse, and tries the kissing-is-no-big-deal approach. She gets flustered, arguing that of course it's a big deal, and then catches herself and adds that it also poses a problem for her if it is a big deal.
Woo-young takes it back, deciding he'd rather have it be a big deal after all, leaving her more confused than ever.
Joo-yeon and Se-ryung face off during the pitch meeting, where insults fly between both teams and nobody can agree on anything. Se-ryung offers to just do two separate segments and compete instead of trying to agree, and Joo-yeon finds it a reasonable solution.
Tae-yoon gives her the benefit of the doubt and gives her two time slots, trusting her to make it work despite the risk. He smiles to watch her take charge, as she tells Woo-young and Hee-jae to go join Se-ryung's team because it's up to them to actually make both segments a success.
Min-jung and Joo-yeon both take note of the jacket Hee-jae is wearing, and demand to know where it's from.
Wan does sweet things like making dinner or bringing home flowers, but Joo-yeon is so wrapped up in work that the food goes untouched and the flowers go unseen before they wilt. Aw.
Min-jung grows increasingly dejected when her eyesight worsens and she needs bifocals, and then worst news comes from her doctor, who tells her she has early-onset menopause.
She wanders back to the office in a daze, and tells everyone what the doctor said, and Joo-yeon just gives her a cursory, "Oh that sucks," and goes right back to work. She looks to the others to be more sympathetic, but nobody can offer even an ounce of compassion, and she breaks down, asking what kind of friends and co-workers are so cold.
Joo-yeon counters that Min-jung has been given plenty of time off all week to deal with personal matters, but this is the office. Min-jung bursts into tears, calling Joo-yeon a crustacean (lol) and a bitch with no blood in her veins.
She asks if they really couldn't offer one warm word of sympathy, and stalks off. She calls Min-seok to meet her at the hotel, refusing to believe that her sex drive is about to die on top of it all.
Wan finds Joo-yeon's car at home and runs out to meet her at her favorite drinking spot. He guesses she fought with somebody, and she asks him what a crab, a lobster, and Shin Joo-yeon have in common. He says they're all hard. She cries, "Just because they're hard, does it mean they have no heart, no blood?"
She sighs, "I got called a crustacean." He laughs and calls it a pretty apt nickname for her. He says that crustaceans are hard on the outside, but their weakness is that once that shell is damaged, they're pretty much done for.
But he adds that she's got extra protection because she has him, and he'll block anything that might harm her. She laughs, and then he just says out of the blue: "I love you."
He tells her to bear it even if it's cheesy, because he's going to say it often to remind her. She falls asleep at the table and he saves her from burning her face in a bowl of scalding hot broth, and then he piggybacks her home.
As he heads out with her on his back, he imagines young Joo-yeon standing there with him on her back, and they smile at each other. Wan: "See, I said I'd repay you. You're awfully heavy you know." Little Joo-yeon smiles back at him.
Joo-yeon narrates: "There was a time when we were stuck together just like this. There was a time when I thought we were one body. When we were really really young. But it feels like that now, for just a moment—that we're one body."
A flashback to earlier in the week reveals that she did see the rose he left on her nightstand. She thinks to herself that he's still living in that fairytale.
In a second flashback, tween Joo-yeon sits across the table from a boy, and Wan storms in, tells the other guy that she snores when she sleeps, and leaves a single red rose sitting on the table before stalking off. Haha. Pint-sized Wan is so cute.
Joo-yeon continues to narrate: "I didn't dislike it. And it felt like a small anticipation was bubbling up to the surface…the anticipation that this fairytale just might become reality."
He brings her home and laughs to find that she sleeps with her hands balled up in fists. He gets out her pajamas and tells her that it's just so that she can sleep comfortably, and starts to unbutton her blouse. Er, that's not okay. Thankfully he only gets to one button and realizes he can't do it. Show, do we need to have a talk about boundaries? Don't make me go there.
She manages to wake up for long enough to change and stumble out to the living room, but she falls asleep immediately, and he carries her back to her room.
Woo-young offers to drive Hee-jae home after working another late night, and he gives her a scarf he picked out. Her boyfriend is waiting just outside though, after calling a bunch of times and being ignored, and she leaves with him.
Min-jung texts the team that night that she quits, and Joo-yeon tosses her phone aside in frustration, just choosing not to deal with it. Hee-jae and Woo-young worry about her doing the broadcast without her, while Min-jung watches from home and hopes it tanks.
But then they go live, and Joo-yeon's broadcast actually does tank. Now I'm wondering if Se-ryung actually had the forethought to give Hee-jae that flowery blazer knowing this would happen. Too convoluted an evil plan, or just evil enough?
Her show hardly sells anything and is deemed a massive failure, while Se-ryung's show starts and immediately begins to sell out. Joo-yeon walks through the halls as her co-workers snicker loudly behind her back, and then braces herself to face Tae-yoon.
She opens the door and he looks up at her, not angry, but also not with the same warm smile he usually greets her with. He just asks her coldly if she has anything to say. Her face falls.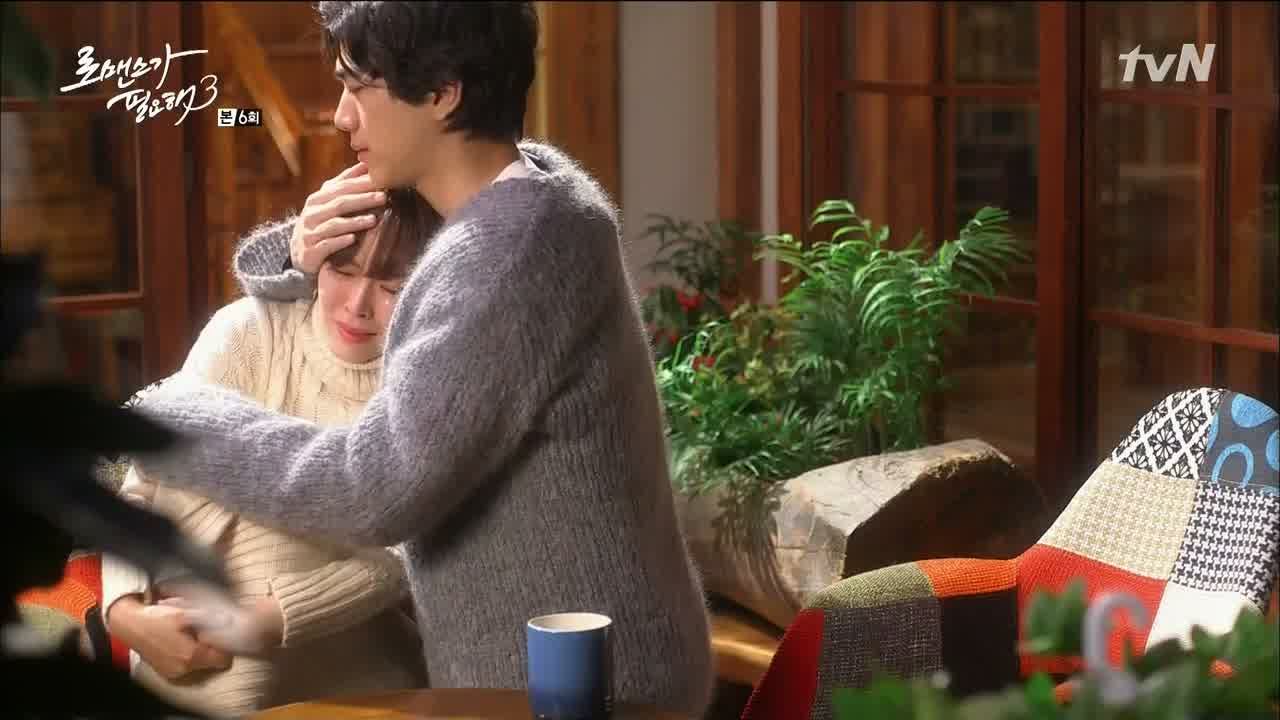 Wan comes downstairs that night and finds Joo-yeon sitting in the dark. He asks what's wrong, and she starts to cry as she says she ruined a broadcast. He tells her it'll be okay.
She knows that she can pick herself back up at work and just do better next time, and she can even handle other people delighting in her failure, or even Se-ryung winning this round. It's all okay…
"But… but that person… Whenever I finished a broadcast I'd go to that person…" Omo. Wan figures out that she's talking about Tae-yoon, and she thinks back to how Tae-yoon would always smile at her as she danced and gloated about how awesome she was.
"He always smiled at me, but he was so cold!" As she says the words, she bursts into sobs. It stuns Wan.
Wan (voiceover): It was this. The reason you weren't even sad when you broke up with your boyfriend. The reason you were fine right after fighting with another woman in front of him. The reason you kissed me, fell in love, and so quickly forgot that love. It was all because of that man. You were in love with that man. Because you loved him, all other love was just mediocre.
He holds her as she cries, and says aloud, "You're really dumb." And then he thinks: "But I hope you stay this dumb. I hope you never know your own heart."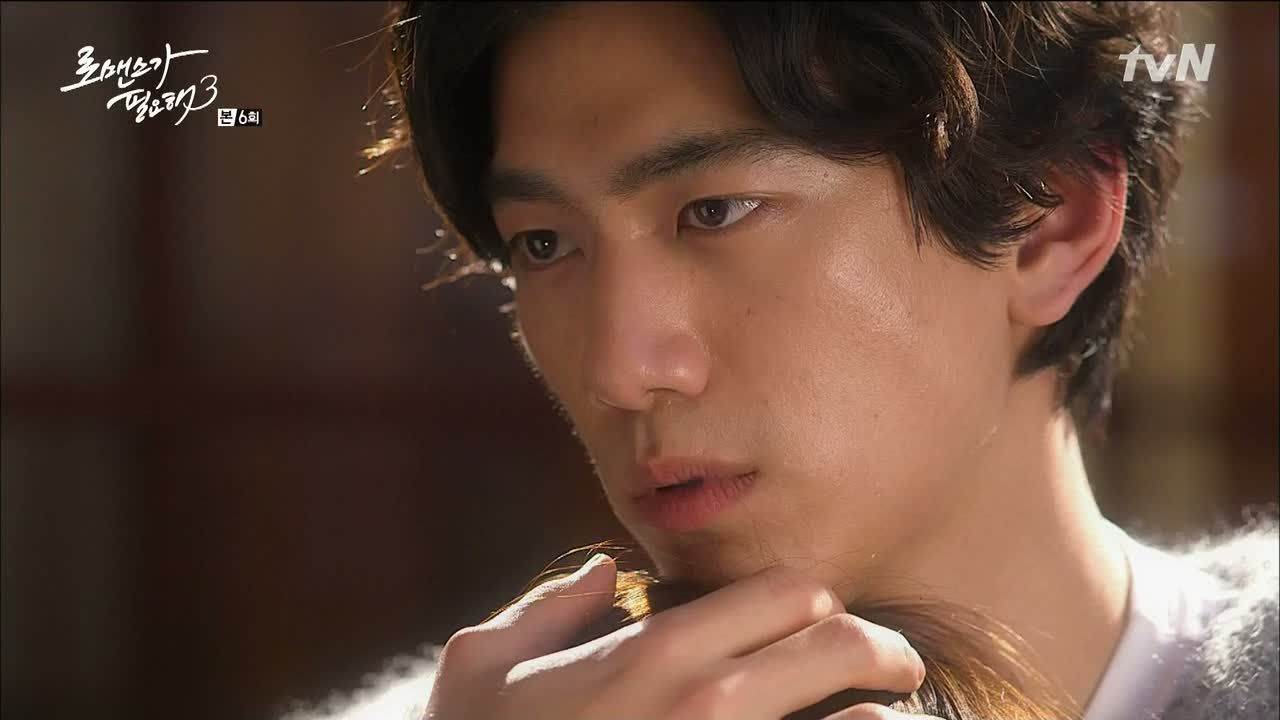 COMMENTS
Oof. Nice conflict. It's a great position to put Wan in, after him thinking so much of himself for knowing her heart before she does. He's not wrong about that, but now he has to deal with the fact that he can plainly see that she loves another man. It's the wrench he wasn't expecting to gum up the works, since her wall of defenses seemed like enough of a barrier to overcome, and the kiss gave him the confidence that she was attracted to him. But this changes everything. She's not a crustacean (okay, maybe she still is); but more importantly, she's in denial about her feelings for another man, and that makes his love unrequited.
I really like that we keep changing the game every few episodes because Joo-yeon is so clueless about her own feelings. It's a case where her being so unaware of her own heart actually serves the plot, and I find the process fun—we find out one new thing which in turn makes us reevaluate the past. She wasn't so jaded that Alex's breakup meant nothing; her heart wasn't in it because it was elsewhere and she didn't even know.
Okay, backing up: Omo, she loves Tae-yoon! I'm worried for her because he's hung up on Se-ryung, but the fact that she actually has such long-standing feelings for him changes things immensely. I actually thought the attraction might've been stronger in the other direction because he's flirtier than she is, like he might've had a crush on her eons ago and just let it settle into friendship. But now her hero worship makes more sense, as does their jokey banter about how great they are for each other.
It certainly makes the loveliness more complicated (in a good way). Now we've got Wan pining for Joo-yeon, who's in denial about her feelings for Tae-yoon, who's in denial about his feelings for Se-ryung, and one loose cannon ex-girlfriend ex-best-friend stirring pots. I wouldn't mind if Joo-yeon took turns dating both guys, if we go by Min-jung's wisdom that you don't know if you're a good fit till you've kissed a guy. Just sayin'. My heart's still with Wannie, of course, and the symmetry between him taking care of adult Joo-yeon and her taking care of baby Wan is endlessly sweet. It makes him feel like family and home when she was so alone in the world, and it's heartwarming to see her rely on somebody even just a little.

RELATED POSTS
Tags: featured, I Need Romance 3, Kim So-yeon, Sung Joon