Noonas Over Flowers: Episode 6
EPISODE 6. Broadcast on January 3, 2014.
girlfriday: So after that incident where Seung-gi maybe-sorta lost the noonas and Na PD and maybe himself, the group makes it to the apartment where they'll be staying. They decide to play rock-paper-scissors for room choosing privileges, and maknae Mi-yeon wins. Uh… is this a thing to be happy about?
javabeans: I'm cracking up because the choosing order turns out to be the reverse of the age order.
girlfriday: It is against the laws of nature.
javabeans: Yeo-jung says, "Go ahead and choose comfortably, really, I'm fine"… but she seems to be holding her breath over the answer. Mi-yeon hesitates, then chooses the shared room upstairs. HAHA. So she took the worst room and the natural order prevailed? The others remind her that she won the right to be honest in her choice so she picks the big solo downstairs room. (And warns Hee-ae that she'd better choose honestly too, otherwise she looks bad.)
girlfriday: It's so stressful for them because they can't pick the solo rooms, but then they can't NOT pick the solo rooms. It's a lose-lose. They should've just cheated at the rock-paper-scissors part.
javabeans: It's hilarious how every time Yeo-jung says it's okay, she looks away. Right now she's staring out the window, pointedly not showing her face. Next, Hee-ae chooses the other solo room upstairs, leaving the two eldest to share. The caption tells us: "Strangely a game where it's the winners who feel uncomfortable." I bet Na PD is doing cartwheels in his mind, because at least now there's ONE way to make Seung-gi's awesomely luxurious choice stressful.
girlfriday: Haha. I'm sure it was his idea to impose choosing right games in the first place, because surely Seung-gi couldn't have brought it up. Mi-yeon is smiling out her window in the morning after a relaxing night in her solo room, and upstairs Yeo-jung goes to shower and then calls out to Ja-ok to say that there's no hot water. Ack.
javabeans: Hee-ae literally boils a kettle of water to take to the shower. Eek. Then she busies herself with breakfast, in "full daughter-in-law mode."
girlfriday: After a while, Yeo-jung comes out and starts scrounging through every bit of her luggage looking stressed out, and when Seung-gi comes up, she tells him that she lost all her rings. Oh no.
javabeans: Eeee. She doesn't remember where she last saw them, while Seung-gi heads out on a mission: Fix Yeo-jung's broken curling iron. Aww, what a sweetie. I don't know why he asks to fix it rather than replacing it, but it's the thought that counts.
girlfriday: Lol. I love that it doesn't occur to him that replacing it is so much easier. But thankfully when he asks at an information desk, the women there tell him to just buy a new one.
javabeans: His English is so much better today. Maybe it's because he's less stressed. Man, he's gonna be so proud of himself over this, isn't he? Yeo-jung, meanwhile, is out to buy socks. Uh-oh, I'm really hoping she doesn't decide to buy an iron too.
girlfriday: Oh no, and negate Seung-gi's good job? That would be tragic.
javabeans: I don't think I could watch that. Thankfully, he texts her first and sends a photo of the choices (because he doesn't know which to buy). Phewww. It was only for about thirty seconds but I was worried. He literally digs through a pile of boxes to get the exact same barrel diameter, and is sooooo happy after he's bought it. When he brings it to Yeo-jung as they sit at a cafe, she tells him to have a beer, keke. And when she asks if he'd do the same for his mother, he jokes that he'd just buy Mom a hat.
girlfriday: Hee. I hope he takes a trip with Mom after this, because look at all the practical knowledge he has now.
javabeans: Or Yoon-ah. Did I just open worm-cans?
girlfriday: Na PD should just jump on that and send him on a trip with the girlfriend next.
javabeans: I like that they all sort of do their own thing in the morning—somehow I expected that they'd all do everything together, but they've got the freedom to pop out to cafes or wander on their own, which we see as Yeo-jung sits with Seung-gi in a cafe and Mi-yeon and Hee-ae head out together in the rain and come to a cathedral.
girlfriday: They go back and forth on whether or not to climb up to the top of the church tower, which looks really high. In the end they decide to go, and I love the moment that it sinks in for the VJ. Poor guy.
javabeans: That night in her solo room must've done her good, because Mi-yeon takes off all bursting with energy, like an excited rabbit. Hee-ae tries to keep up though she is in less of a hurry, and stops to chat with a man from Boston who's on his way down.
girlfriday: The view is worth the effort, and they take a look at the whole town from up there.
javabeans: I feel like Mi-yeon is the type to charge to the top to enjoy the view at the top, while Hee-ae is the type who likes stopping along the way to look around in the middle. They make their way back to ground level and join the other two at the cafe, and are shocked to see them drinking so early. (And then join them. Ha.)
girlfriday: You can always count on Koreans to find any reason to drink. Mi-yeon: "Because it's raining? Okay!"
javabeans: Hee-ae excuses herself to go for a walk, and I wonder if she's having one of those days. She asked a VJ earlier to not film her at cathedral (he stepped back to a distance) and said she needed some space just to herself—there's always that point in a trip, isn't there, when you need to breathe?
girlfriday: Yeah they're about halfway through so it makes sense that she'd want some time to herself. Yeo-jung notes that Hee-ae is also the type to keep things to herself when she's stressed or tired, which makes things harder on her. Yeo-jung goes back to base camp to go hunt for her rings with a few staff members for help, and eventually finds them sitting right on the dresser just under a bag.
javabeans: Hahaha, I was expecting them to be in her purse or something. She rattles off this mortified apology, all, "I worked really hard to buy these things for myself, nobody bought them for me, I earned them myself!"
girlfriday: And then she covers up her embarrassment by offering to buy them all dinner. Ha. She's so cute.
javabeans: Then Hee-ae stops to buy herself and her PDs some ice cream, only to be told (as the ice creams are handed over) that it's cash only. So the PDs have to pay, lol. And Ja-ok, who goes browsing in some shops, says disappointedly that she likes the shops on that other street better because the stuff there was weirder. Ha.
girlfriday: She's so awesome. She just starts dancing in the middle of the street because she likes the music. I don't think most people could just close their eyes and be in their own space like that, but she's just happy as can be.
javabeans: She is a better character than a drama character. Love her. She gets a few stares from passers-by ("So what if they stare?") but I do have to think she's lucky she's got a camera crew with her to at least mitigate the oddity somewhat.
girlfriday: Seung-gi goes shopping on his own for a bit and the crew eggs him on to buy his mom or girlfriend something (are we keeping this in now that it's out in the open that he has one?) but buys nieces and nephews clothes instead.
javabeans: He meets up with Ja-ok, and accompanies her on her quest to find some red shoes. He waits outside the stores she tries things on, and a PD jokes that Seung-gi reminds him of a boyfriend holding a girlfriend's purse for her.
girlfriday: It cracks me up the way he says it like he's putting his foot down: "I hate that! I never do that!… That is totally what I've been doing this whole time."
javabeans: He asks the PDs what they'd do with their girlfriends and wives, and the guys are all of the same mind: I wouldn't go in the store either, nuh-uh, not if I can help it! He waits patiently for a while, saying that he has to think of this as just a way in which women are different from men (different, not annoying), and then wonders, "Are there that many things in this store?"
girlfriday: He looks extra pathetic just squatting out there in the street, and even a dog passes him by like, I wouldn't be doing that either.
javabeans: That saleswoman is really selling those shoes to Ja-ok, heaping on all the compliments, when really Ja-ok totally likes them 'cause they're weird. She does end up buying them, though, and off they go, finally.
girlfriday: While waiting at the apartment on her own, Yeo-jung starts cleaning up and doing the dishes. It's funny the way the crew reacts when they see her, like they've done a terrible thing in letting her work, but she just thinks it's normal.
javabeans: Seung-gi finds himself waiting outside a lingerie shop next, and the PD teases him to go buy something, asking if he knows the difference in cup sizes. He says of course he knows the basics of A-B-C-D, but when pressed to explain, he just gets embarrassed and trails off. Then Ja-ok comes out and joins him, and I see the (young, male) VJ trailing her out of the store and think Seung-gi got off easy.
girlfriday: Hee-ae continues on her solo walk and goes to the edge of the pier to look out at the ocean. Flashbacks to the last few days show us that she's been physically drained, and that she went to bed early last night without eating dinner. I really love this moment where she comes upon a guitar player thinking it's going to be one of those movie moments where you're a little sad and he plays a sad song to match your mood, but then he starts singing this goofy song and she busts out laughing instead. It's pretty great.
javabeans: She goes wandering through the neighborhood, headed up the hillside a little at a time until she comes to the very top, overlooking the whole city and harbor. The view is pretty awesome.
girlfriday: And just as she decides it's time to head back down, the clouds suddenly turn ominously dark and the rain starts coming down.
javabeans: Back at the apartment, Seung-gi nervously checks his cell phone, and flashbacks show that all day he's been worrying about Hee-ae, out on her own, checking to see if she's okay and if she wants him to come find her. In the flashbacks she's laughing and sunny, but he gets increasingly more concerned.
girlfriday: It's a great bit of editing, because now it's all emotional, like she's out there in the rain by herself, and he's really been worried about her all day.
javabeans: Totally great editing, 'cause she's got a whole staff with her but the music is scoring this like a huge centerpiece moment in a drama where he's made the big decision. Especially when he grabs an umbrella and heads out to find her. Outside the weather takes a turn for the worse and the Hee-ae's crew takes cover in a building, while Seung-gi heads out into the storm alone (with a temperamental umbrella) to go on a one-man search party.
girlfriday: Awwww. It's just so sweet.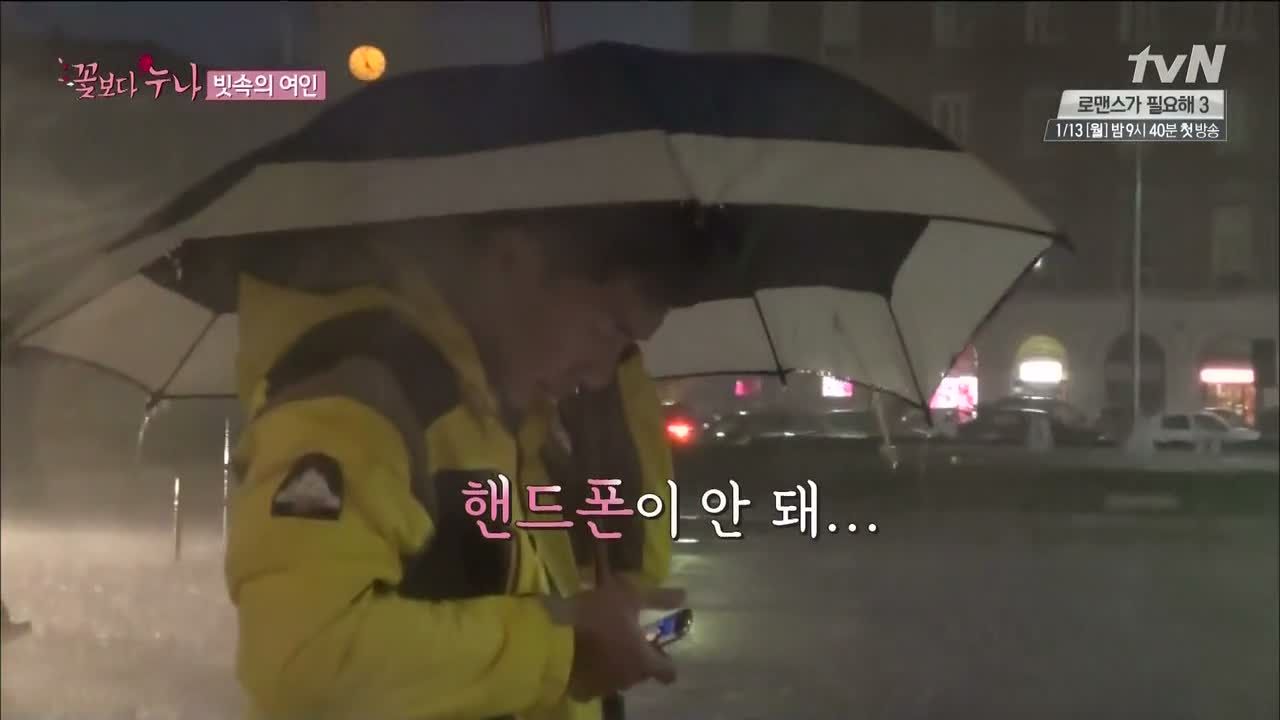 javabeans: Do you think Hee-ae is gonna cry when she sees the replay?
girlfriday: How can you not, when they've edited and scored it like the climax of a drama?
javabeans: Omg, Seung-gi's struggles with the Suddenly Collapsing Umbrella are making me laugh out loud, even with the dramatic Nice Guy music playing. It's like he's getting attacked by a giant squid. It's the funniest thing. Brb, I have to rewatch this scene a hundred times.
girlfriday: Hahahahaha. It's so like Seung-gi to undercut his own hero moment with the Umbrella of Doom.
javabeans: I'm dying laughing. Literal tears on my face. This is never gonna get old.
girlfriday: Meanwhile Hee-ae and crew manage to get safely to a car, and that's when she finally sees the string of texts from Seung-gi and hears that he's out there looking for her. He's still running in the rain like a movie, and then in an interview later, he says that he really came to like Hee-ae noona through this trip and came to rely on her, and laughs as he says, "It felt like like I was running to go meet my woman." Sometimes you wonder if people who make dramas experience everything through those eyes.
javabeans: He waits so long that he's all wet and he says his phone won't work anymore (it doesn't register his touch typing). His PD wonders if maybe they missed each other, and Seung-gi sighs, "I guess it wasn't fated to be." That's when Hee-ae arrives with the staff van, omg, it's so totally like a drama scene, and he goes all running toward her through the rain calling out, "Noona!"
girlfriday: Aw man, now I really DO want Seung-gi to do her noona romance drama.
javabeans: It's so adorable, Hee-ae plays up the movie moment and gestures grandly with arms outstretched to Seung-gi, and Seung-gi jokingly tosses his umbrella aside to grab her in this dramatic hug. And then he tosses away the broken umbrella again for sucking anyway.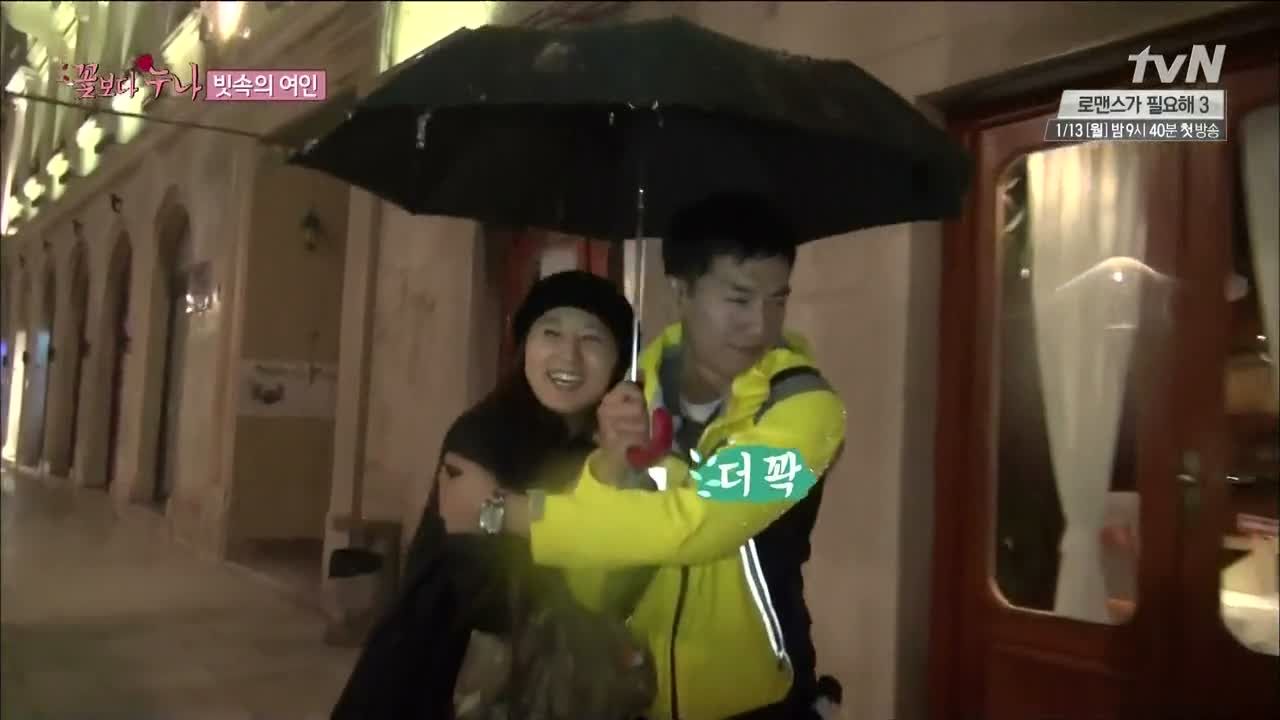 girlfriday: It's the cutest thing ever.
javabeans: A staffer jokes that it could get misinterpreted, but Hee-ae half-jokes that she might get bashed for making Seung-gi suffer, and links her arms as they head back together. They're so cute, I can't even.
girlfriday: I know, they're killing me.
javabeans: I wish I could see Na PD's reaction when he realized the gold just sitting there in his footage (he was part of Hee-ae's party and didn't see Seung-gi waiting and running around all day).
girlfriday: Is it weird that I picture Na PD seeing the footage and hugging himself?
javabeans: I was picturing a giddy little dance, with his toothy grin and Rumplestilskin-y stompy feet. So it wasn't a huge day in terms of itinerary, but so much character stuff happened.
girlfriday: Yeah it's kind of amazing the narrative you can milk out of something like that. Once they make it back safely, the group comes back out to enjoy some music once it stops raining, and that ends their last night in Split. In the morning they load up the car and get back out on the road.
javabeans: This road trip seems pretty light-hearted and cheery all the way, and it's nighttime by the time they approach their next city, Dubrovnik. Seung-gi's driving, so Yeo-jung calls into the hotel to alert the staff to their arrival, which is when they mention that she lived in the States for ten years. I totally didn't know that.
girlfriday: Also, her English is even better than most Korean ajummas who have lived here for twenty years.
javabeans: That's true. Her grammar is very correct.
girlfriday: They finally reach their destination by nightfall, and Seung-gi decides to set out to find the hotel on his own, and every time he does that my stomach sinks because he's going to lose somebody or everybody and it's going to be three hours before they make it inside.
javabeans: I knooooow. It always sounds so reasonable when he says it, but you just know there's so much opportunity for things to go awry. Also, Seung-gi's track record. And wouldn't you know, while they're waiting it's the noonas who find it first. They get shown to their lodgings and acquaint themselves, and I'm wondering what Seung-gi's off doing all this while. Probably on the other side of town by now.
girlfriday: Didn't anyone call him? I'll die laughing if they forget and it takes him an hour to find the place.
javabeans: Ha, and Seung-gi arrives after they've all had time to look around. This place is super spiffy—huge with large rooms and a great view, earning Seung-gi more credit. Ja-ok kills me: "I like this room. I'm little, so I like little rooms." Ja-ok then laughingly praises Seung-gi for his growth over the trip, and he says he was such a dummy back while they were still in Turkey.
girlfriday: It's super cute the way she's all, Who said that about my baby?!
javabeans: He says that nobody said so but he could just feel it, and it's heartfelt enough to make me kinda teary. Because he just tries so hard.
girlfriday: They take a leisurely stroll through the city, which is storybook-pretty, and have a drink at dinner to celebrate the last leg of their trip.
javabeans: Randomly, as they're walking along a window on the second story of a building opens up and this Korean couple calls down to the production—though I suppose a huge crew with cameras and famous people is hard to miss. They're spouses who are in the ninth month of traveling the world, which earns some admiration and envy. It's such a strange little chance encounter (just two heads poking out of a window) but kinda neat, for all that.
RELATED POSTS
Tags: featured, Kim Hee-ae, Kim Ja-ok, Lee Mi-yeon, Lee Seung-gi, Noonas Over Flowers, Yoon Yeo-jung