Noonas Over Flowers: Episode 7
EPISODE 7. Broadcast on January 10, 2014.
javabeans: We open in the morning as three of the noonas gather on Ja-ok's bed (Mi-yeon and Hee-ae with her) in their comfy new apartment, and Hee-ae tells a funny story about trying to shower last night that the production then turns into this harrowing horror scene. It really is all about editing, isn't it?
girlfriday: I know, it would've been a random incident (where she locks herself in the bathroom), but the music and the weird camera angle turn it into this creepy build, like you're waiting for someone to jump out at her at any moment.
javabeans: So we see the footage from last night where Hee-ae goes into the shower and closes the door. Shortly thereafter she's pounding on the door calling for help, getting so worked up that the mounted cameras start to shake as she starts yelling, only nobody can hear her. We see the other noonas lounging around in their rooms, while Hee-ae's struggle is depicted by a shot of her closed door. Caption: "Her lonely struggle continues…"
girlfriday: And then suddenly, after what seems like forever that she's pounding on the door, it just clicks open. BUT NOBODY UNLOCKED IT. Now I'm creeped out. She probably just didn't know how to work the knob or something. Ha, and in the morning, Yeo-jung brushes her teeth out on the terrace just because she can. That is one amazing view.
javabeans: They sit out there for a ramyun breakfast, and it's just gorgeous out there, overlooking the ocean. It's particularly impressive when we get the helicam view. Ja-ok spies an old man in the water and is scandalized: "He's naked!" (He's wearing swim trunks but yeah, mostly naked.)
girlfriday: Hee-ae opts for toast and a morning walk and texts her kids. She gets excited when her son tells her one of the pictures she posted is cute, and that he said yes when she asked if he'd come somewhere like this with her. "Do you think he meant it?" She's adorable.
javabeans: Aw, and then she gets this text from "the teacher I respect the most," which is writer Kim Soo-hyun. Asked what it says, Hee-ae actually bursts into tears and needs a moment to cry away from the cameras. After a while she stops and explains to her PD that it was because of the timing of the message — Kim Soo-hyun's message is a simple "Are you doing okay? Take some medicine if you're feeling tired out" — but it came right when Hee-ae was feeling the difficulty of travel. I imagine it's like when you're trying to hold it together and somebody asks really sincerely, "Are you okay?" and then you're suddenly just bawling.
girlfriday: Yeah it's just that one direct question that opens the floodgates. Mi-yeon takes a guidebook and goes for a walk, telling herself she can find stuff without Seung-gi. How quickly they've come to rely on him when they were so distrusting before. While she finds a church on her own, Yeo-jung and Seung-gi head out a little later, and she laughs when he says he got eight hours of sleep, reacting like he's just this tiny baby. In an interview, Seung-gi says he gets along best with Yeo-jung, who is such a straight-shooter that she's always honest and he never has to guess what she's really thinking. I can totally see how that would confuse him, and why he likes that she's so blunt.
javabeans: And then on the flipside, he tries to explain how Yeo-jung grabs onto his arm super tightly when they're walking together, and it's just this inexplicable feeling. I think he means that she's so strong and direct, but there's a contrast with the death grip she has on him, so it's like the caretaking vibe goes both ways. Ha, and Ja-ok settles down for some people-watching, which she just takes to with gusto, saying things like "Ooh I think that young man would worry his mother." The show splices in some footage of Il-sub halbae doing the same thing on his trip. Two peas in a pod.
girlfriday: Aw, so cute. I want them to go on a trip together so badly. She'd be all aegyo with the "Oppaaa~" and he would be way less grumpy. Mi-yeon discovers this cliffside cafe that's actually carved into the side of a cliff, and has a beer with her VJ crew.
javabeans: I love her reasoning: "I'm in charge of funds, you know! I'm just gonna spend now!" That's the nice part about skimping early on, though of course that comes with its own set of pain. Seung-gi leads Yeo-jung down this stone path and wonders what is down this path. Yeo-jung: "Maybe a prison?"
girlfriday: But then as they wander, Seung-gi suddenly says he hears Mi-yeon's voice, and sure enough they just happen upon her cafe. Now everybody's got a beer.
javabeans: I was gonna say this about Mi-yeon, but Seung-gi really looks like he's shooting some luxury beer commercial.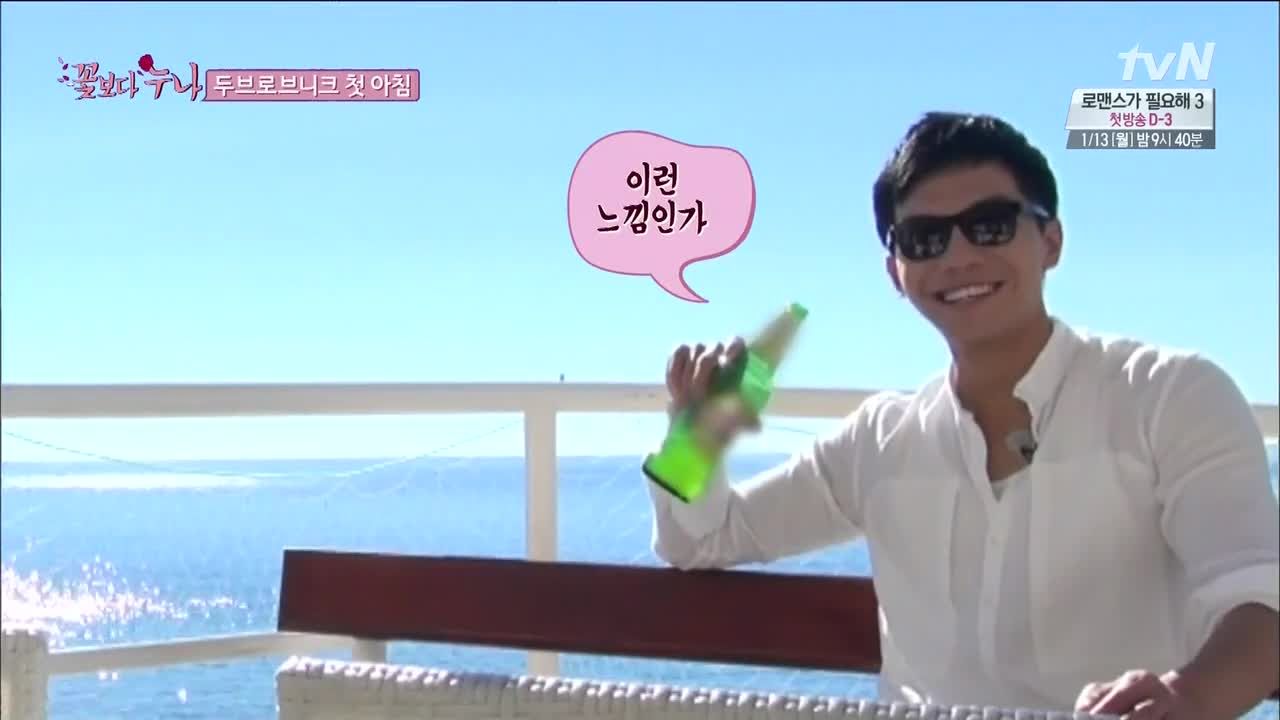 girlfriday: Na PD watches him for a second and then suggests that it would be a nice day for a swim. Pause. Pause. Na PD: "I'll pay you 10 kunas if you jump in the water!"
javabeans: Hahaha. Seung-gi's all, that's two bucks. And then he actually sits there and considers it.
girlfriday: It's the 1N2D. It's ingrained in you. You can't shake it.
javabeans: They all reconvene at the apartment and then head out together, at which point Mi-yeon darts off to see a few of the crew members coming with fresh goodies from some market or other, and digs around to help herself. The boys rather pathetically protest, "But… we paid for this…" and she's all, "Let's share!" Boys: "But… we paid money…" She grabs a sandwich anyway and CHOMP. Come on, VJ man, gimme the reaction shots of the poor crew boys!
girlfriday: As they walk, the noonas note that Seung-gi must always be hungry because generally they eat so little. It hadn't occurred to me that it would be an issue, but then we get this montage of the way the women order food at each restaurant (a few things to share), and Seung-gi's confused looks.
javabeans: He's all, "They even count salad as a dish! I've never heard of that before!" Because to him, salad is just a side thing, like a condiment. Do you like how the song playing as they talk about Seung-gi's hunger is "I have a dreeeeeeeeam…" (of being full)? So Seung-gi has been having to sneak food on the side, because he isn't going to tell the noonas he's still hungry after all their food is gone.
girlfriday: Haha. I can't believe he's sneak-eating. I guess after spending years eating with Kang Ho-dong, this kind of eating, on purpose, is alien to him.
javabeans: Did he just… eat five entrees?
girlfriday: Omg. Did he really eat all that on his own?
javabeans: I saw a few hands on the side that looked like crew members, but I think he mostly ate everything in front of him. And then also took the crew's leftovers. He rejoins the noonas for a climb up a long staircase to a nice view, and isn't this just classic Seung-gi? Yeo-jung: "How many steps do you suppose this is?" Seung-gi: "I'll count and tell you later."
girlfriday: I know, I died laughing. Why is that his answer? But that's just what he'd say, and mean it. Lol. When they get to the top, Yeo-jung remembers that Go Hyun-jung did a coffee CF here once, but all she said about the place was that it was far. Yeo-jung says she'll go home and brag that Hyung-jung may have done a coffee commercial, but she got to drink coffee here.
javabeans: I love them together. After seeing Actresses, I just assume that's what they're really like with each other and it's hilarious.
girlfriday: Seriously. Everyone else seemed like they were holding back, but those two were amazing in that movie, and exactly the way I imagined them in real life. Dramatized, of course, but just as awesome.
javabeans: Okay, this bit with the jumping picture is cracking me up. It's because it is SO a crystallization of their personalities. Hee-ae decides to jump off a bench for one of those mid-air photos, and does this really cute, soft jump in the air. She tells Mi-yeon and Seung-gi to join her, and Mi-yeon gears up like she's entering the Olympic event for this and gets all competitive. And then Seung-gi does a weird pose that gets marked with cartoony question marks.
girlfriday: Heh, their first attempt is too gung-ho so Seung-gi and Mi-yeon are headless, and then the second time Seung-gi misses the timing and gets caught making a surprised face as the noonas leap.
javabeans: Hee-ae just dies laughing looking at the photos, as she was the only one doing it like a normal person.
girlfriday: On their way back down, Hee-ae decides she wants to go have a beer at that cafe after seeing Mi-yeon's pictures, so Seung-gi leads the way. She takes off her shoes and goes down to the rocks to enjoy her beer, and is amazed when a staffer mentions that they only have one more day of their trip left, because she hadn't been keeping count.
javabeans: As they drink there comfortably, Hee-ae asks Seung-gi if he has honestly felt close to losing his temper, and he admits that the first night was rough, and while it's nothing now, he felt the pressure then. They laugh that they would've fought way more if they'd come with family or friends.
girlfriday: Yeo-jung and Mi-yeon have drinks at another cafe, and Mi-yeon asks for advice on what to do when you start a project that is so different from your initial expectations. I totally wonder this about actors, who must've been sold on a great premise only to find that the drama sucks, but by then it's too late. Yeo-jung says you just have to consider it like you stepped in poop, because you can't back out once you say you're doing something, and in the end she always comes away with something earned, like a new friendship.
javabeans: In a separate talking-head interview, she gets a little more philosophical about explaining her approach to life, which is to stick to a decision once she's made it and not complain, because everybody suffers at some point, and she likes to laugh at ridiculous things and find the fun in life.
girlfriday: She's a cool lady. Seung-gi says in his interview that he started this trip with that crazy elaborate extended family scenario in his head, but now he says it really does just feel like they're family. They all watch the sunset and close out the day.
javabeans: Afterward they head to dinner, and the noonas all urge Seung-gi to meet a good woman and get married, which just seems so weird now that we all know his dating status. He's distracted all throughout the conversation though, until finally they're joined by the people he's expecting, those two students they kept running into earlier whom they've now invited to dinner. I had totally forgotten about them, but there they are, looking super young and eager as they sit down at the table.
girlfriday: How sweet, they've been traveling for thirty days straight and say they were reaching a really tiring slump when they ran into the cast, which totally boosted their spirits.
javabeans: In another flashback to earlier, we see the noonas chatting with two young men who are traveling together, but who had started their trips solo and just happened to join up midway and become buddies. And it turns out that one of them is actually from Seung-gi's high school, and for one year they'd been at the same school together. Seung-gi hears this and immediately switches to close sunbae mode, joking that he feels like he has to give the guy some allowance money now.
girlfriday: Haha, but all he has is a handful of coins like the poor luggage boy that he is, so then the noonas hand over the allowance for him.
javabeans: That totally is the thing about being Korean and traveling abroad, because you're just so glad to see someone familiar even if you've never met before, and it becomes this shared experience. I'm sure it's the same with other nationalities too, but somehow I feel like it's really easy to identify Koreans in a crowd of strangers, haha.
girlfriday: Seung-gi talks about all the help he's gotten along the way from strangers on this trip, and I do agree that they happened to meet some really helpful nice people. Or maybe Seung-gi just looks more helpless than Seo-jin.
javabeans: Yeah I'm surprised at just how much help he got, from the friendly hotel staff to random strangers on the street who saw that he was floundering.
girlfriday: Then it's the morning of the last day, and I'm wondering what footage is going to be left for the last episode after this.
javabeans: Maybe it'll be a special like with Grandpas?
girlfriday: Oh maybe. Seung-gi gets up extra early to deliver Hee-ae's pastries, which is already routine now, and the noonas bring breakfast out to the terrace.
javabeans: Yeo-jung shows the staff the daily notes she's been taking, which are less diary entries and more like a captain's log of what she did that day. She explains that she does it to help remember what she did, because at this point there are more things she knows because she writes those down than through recall. I'm both sad and grateful for this tip, which I somehow feel like I should start doing.
girlfriday: I know, it's amazingly vigilant, this daily habit. My problem is, I'll put it off until it's no longer helpful to start. Hee-ae decides she wants to go to the market today, and gets nervous when she's told she'll have to take the bus. She hasn't taken the bus on her own since she was seventeen.
javabeans: Then there's this whole sequence where she's basically asking strangers for help and the music is "Pretty Woman" and she's just being super sweet and smiley so that nobody can be annoyed when she pulls out her map and asks for directions at every step of the way. It's almost Seung-gi-esque, the way she's all, "How can I get to the big market? Market? Big market?" But she ends up there so it's totally effective.
girlfriday: She succeeds in buying some seafood at the market, and even flirts with the ajusshi to try and get a discount. Hee. Meanwhile, Mi-yeon and Ja-ok have coffee and run into yet another group of Korean tourists who recognize them.
javabeans: Aw, one cheery woman takes an extra moment to grasp Mi-yeon's hand and wish her happiness, and that little bit makes Mi-yeon well up in tears and she has to step aside to collect herself.
girlfriday: Don't you just get the feeling like it's been so long since anyone's just given her simple fan love?
javabeans: I do think it's hard being in her stage in life, like the way the older actresses talk you know they've got a different perspective after being lifers in the biz. But Mi-yeon and Hee-ae are in their forties now, and their roles and images are changing, and a flashback to just four days ago lets us see a bit of that as Mi-yeon says she's hit a lot of slumps in her career and feels like she's in one now.
girlfriday: In a different late-night conversation, Yeo-jung asks Mi-yeon what's holding her back from taking projects, and Mi-yeon admits to being unsure how long she can act, sometimes struggling with that feeling of wanting to be the one to dump a boyfriend before you end up being dumped. But Yeo-jung gives her the advice to just take whatever comes her way and make each project a new beginning.
javabeans: Seung-gi goes shopping for swimsuits, and then orders two of everything. Uh… is he going to do that challenge after all? And is it too much to hope that other pair is for Na PD?
girlfriday: Yes please!
javabeans: Omo, it is! He walks out with these huge bags of suits, sandals, and towels, and chirps, "Let's give Na PD his present now!" And now it's his turn to hunt down and unsuspecting director, who reacts to the present with an agitated "Wh-why? N-no!"
girlfriday: You can see the wheels turning in his head, and he tries to process while Seung-gi tells him he has to go in the water now that he bought him a swimsuit, and suddenly Na PD starts speaking back in jondae, all formal-like.
javabeans: He does the whole guilt trip too and it's so hilarious. Seung-gi: "I was SO NICE to get you this gift, how can you not go? Well I guess I won't go either. [SIGH]" And Na PD finally has to be all, "Let's take a look first." Ha, it never ends with just a look! I love SO MUCH when the luggage boys find their way to manipulate the sadistic boss.
girlfriday: And then somehow, a minute later, Seung-gi is half-naked on the beach while Na PD holds a towel up to cover him while he changes, and repeatedly pretends to take the towel away. Don't be a tease! He takes a nice refreshing swim in the ocean, and leaves Na PD on the shore (boo).
javabeans: Now it's time to summarize Seung-gi's arc over the trip, starting with his inauspicious beginnings when everyone joked that he was on the verge of being fired at the airport. He interviews that he's been lucky to have been on the receiving end of a lot of love and praise, and not much criticism, so it was a jolt to find himself being taken to task by his sunbaes. So then he studies and runs and immerses himself in trying to do better, and now all the noonas are full of love for how well he grew up and how decent he is.
girlfriday: Later they get started on cooking a big dinner for their last night, and Hee-ae and Mi-yeon seem to be doing fine, but Na PD finds Seung-gi struggling over something and comes to pick nits: "You look like you're about to fail at something." Lol.
javabeans: That cracked me up. Then again, it's Seung-gi cooking, so…
girlfriday: Odds are in your favor that failure is imminent? Over dinner Yeo-jung talks about how her one regret as a mom is not being able to cook for her children because she was so busy just trying to work enough to raise them.
javabeans: She says she was so pressed to raise them on her own that she just had no space to think about anything else. It's so interesting, this kind of dialogue that emerges with actresses that you don't see necessarily with actors, like Mi-yeon saying that she has difficulty letting go of this need to be the leading lady.
girlfriday: Yeo-jung agrees that her forties were the hardest, where you're stuck between always playing the lead and not quite in mom territory yet. Hee-ae admits that it's going to be hard to let that go, but she is slowly coming to terms with her ajummadom. That just makes me extra happy for her that she's doing a hot noona romance next.
javabeans: Ja-ok has this cheerfully simple answer that is so her: to act your true age. You can't change age so portray yourself within it. I like Yeo-jung's point about this being her first time being 67, and that if she'd known what 67 was like, she would be doing everything differently. Thus everybody's doing their lives for the first time and you can't plan for it, so you just do it.
girlfriday: Man, I just want to be her.
javabeans: I know. I want to be her when I'm 67. I wouldn't mind having her perspective now either, but going off what she just said, I'm just gonna have to live with being me for the first time, I guess. SIGH. Then it's time to pack up and head off to the airport, and we get a last clip of Yeo-jung in an interview being asked, "So…. where shall we travel next?" And she blurts this knee-jerk PSH, you're crazy! The producers laugh their heads off at her refusal, and she's all, "Go with other actresses! There's Lee Mi-sook and Go Hyun-jung, go with them!"
girlfriday: Oh my goodness, can you imagine that trip? I was all ready to be sad that it's ending, BUT THEN… sometime in the future, Na PD sits Seung-gi down for an interview and asks oh-so-innocently, "If you WERE to do it again, what would you do differently?" Cut to: A mystery dinner where Seo-jinnie sits down next to Seung-gi. Eeee!
javabeans: Omo. Omo. Omo.
girlfriday: Don't you love how they caption Seo-jin's introduction with his age, job, nickname, and then at the bottom: "Specialty: Halbaes' ideal type." They ask Seo-jinnie if he watched Seung-gi's trip, and he totally calls Seung-gi ridiculous. Ha. Apparently he got panicked phone calls from Seung-gi on the very first day. Guess we'll see more behind-the-scenes stuff and this final dinner in the epilogue.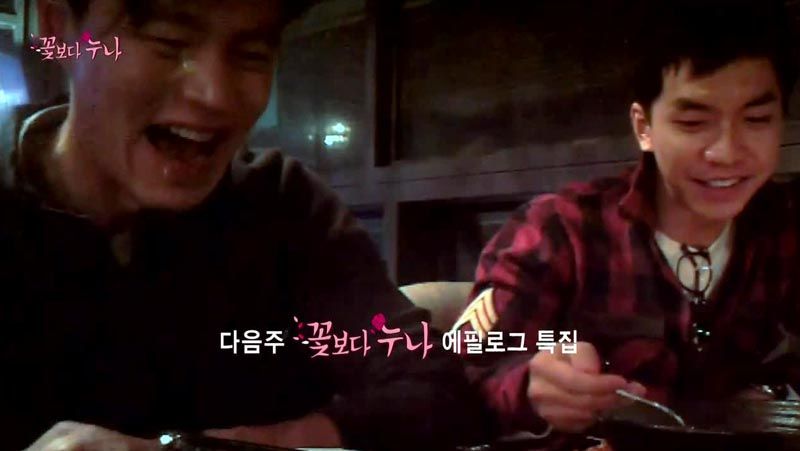 RELATED POSTS
Tags: featured, Kim Hee-ae, Kim Ja-ok, Lee Mi-yeon, Lee Seung-gi, Noonas Over Flowers, Yoon Yeo-jung