Prime Minister and I: Episode 10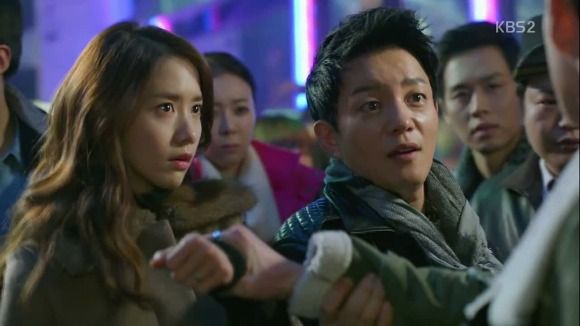 We're crossing into dangerous waters as weaknesses are exposed and threaten the status quo. But at least there's enough cute to buoy us through the hour despite the hints that something ominous lies ahead in the horizon. But until then, I'm just going to enjoy how a wardrobe change and hair can make an already attractive man look years younger.
SONG OF THE DAY
Jeollamhwe (Exhibition) – "하늘높이 (Up to the Sky)" [ Download ]
Audio clip: Adobe Flash Player (version 9 or above) is required to play this audio clip. Download the latest version here. You also need to have JavaScript enabled in your browser.
EPISODE 10 RECAP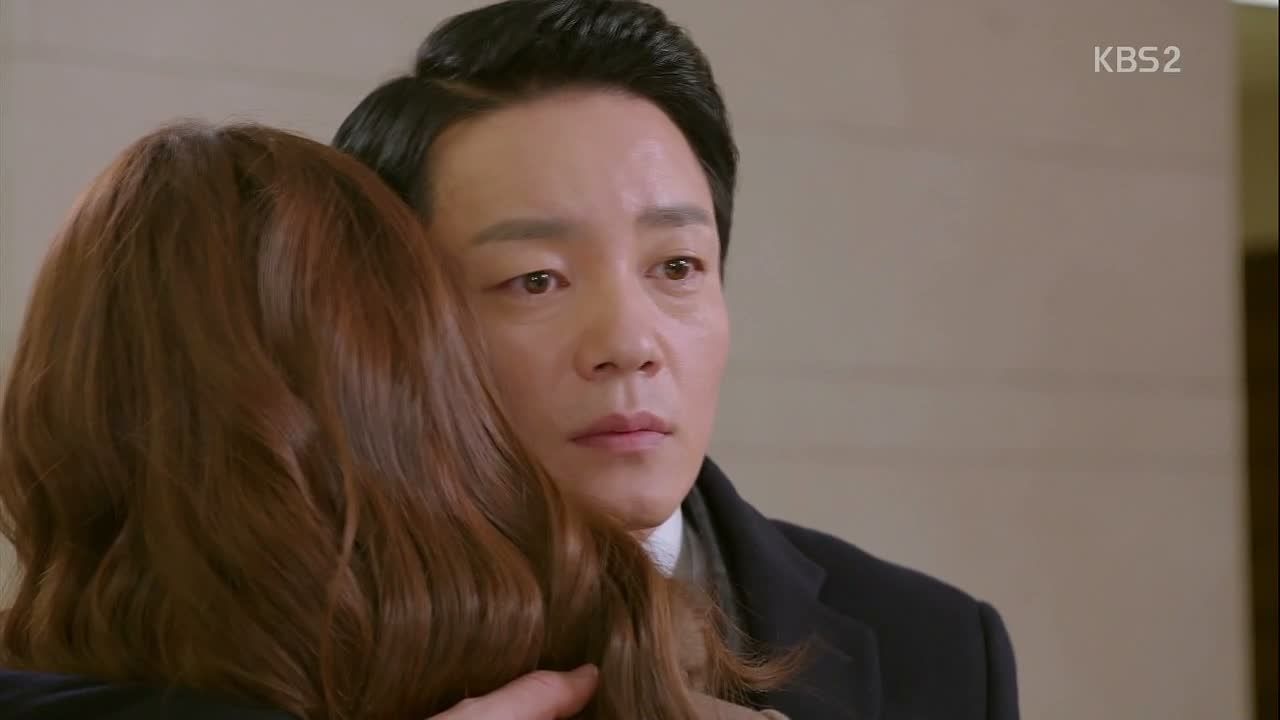 We backtrack a few minutes in the hotel room with a furious Madam Na and her galpals, who are convinced that the secretary booked the room for Joon-ki and Hye-joo. At the sound of the door, they hurriedly hide in the closet.
So naturally neither Yul nor Da-jung are aware that they have an audience as he pulls her into a hug. Yul tells her that it isn't her fault and that he isn't angry with her either. "I'm just angry with myself."
He apologizes for putting her in such a precarious situation, and then notices a bit of fabric disappear into the closet. His attempts to silence Da-jung get trumped by her insistence to heap on his praises, so he kisses her to shut her up.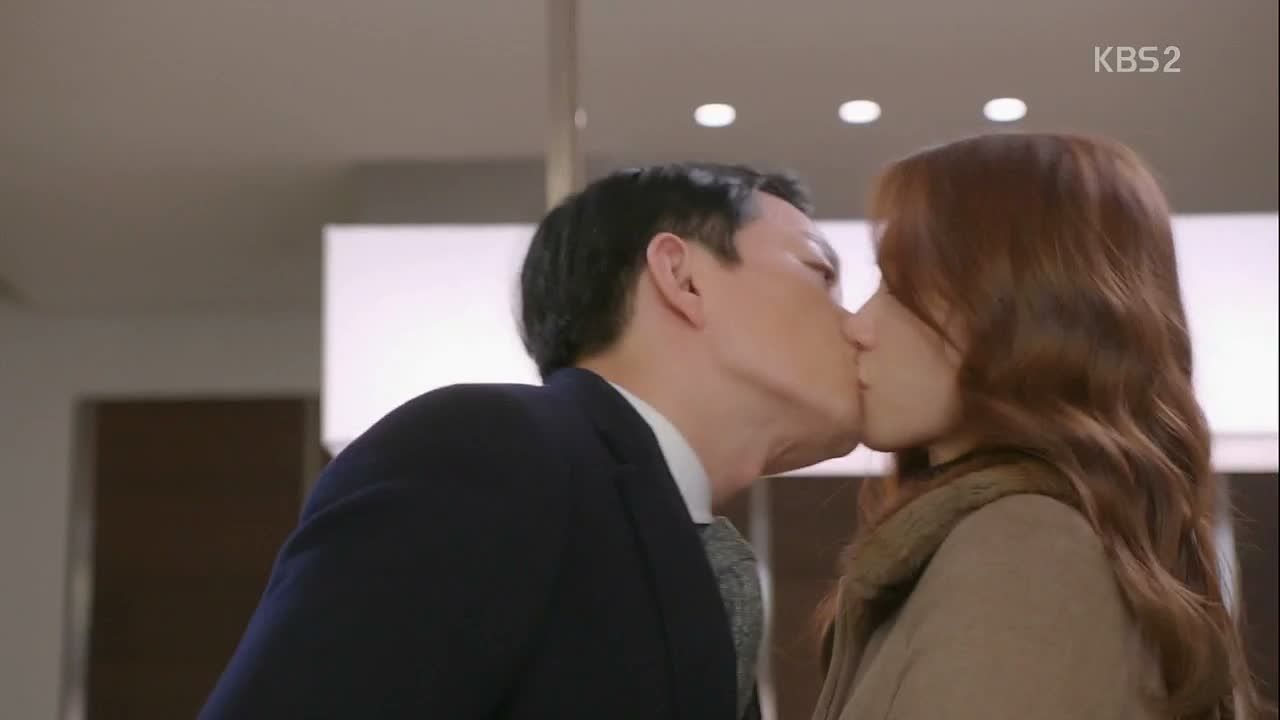 She's left wide-eyed in surprise, and Yul tells her in a slightly exasperated voice, "You talk too much."
Then Yul walks over to open the closet door, and the trio come spilling out. They quickly scramble for an excuse before scurrying out in embarrassment.
Once they're alone, Da-jung asks hesitantly whether Yul had kissed her because he knew they had company. He says he did, but then shifts uncomfortably when she points out that he could have easily covered her mouth with his hand instead. Yes, but that's just not as fun for you or for anyone else.
She asks if his words of comfort and the hug were for show too, and is peeved at his answer that he had no choice. Yul gets defensive when she calls the sudden kiss a breach of contract, pointing out that she violated the terms first with the lip-smacking incident.
He tries to downplay the kiss, which only annoys Da-jung further, and she counters that Yul was the one who said they shouldn't cross the line. Dang, she has a point there.
Meanwhile In-ho beelines for a restaurant and fights past the guards to angry burst into the ministers meeting to find Joon-ki. The two men relocate to chat, and In-ho reminds him that his target was Yul alone.
Joon-ki asks why he should listen to In-ho, and is shocked to hear a recorded snippet of their previous conversation. All of their correspondences have been recorded and Joon-ki has more to lose in this situation, In-ho threatens.
In-ho cuts off their ties now, leaving Joon-ki seething in his wake. Joon-ki then orders a background check on In-ho, which, er, if you were gonna do that, shouldn't you have done so earlier?
Yul and Da-jung sit separately in the car, and they both snap at the driver when he hilariously tries to cut the tense air with moody music. Still annoyed, Da-jung demands that they stop the car and storms out on foot.
Yul chases after her and grabs her arm, but Da-jung wrenches herself out of his grip and slips into the nearest nightclub. Yul and his bodyguards try to follow, but are barred entry because of their age and wardrobe.
Next thing we know, Yul appears in the club wearing a leather jacket and jeans, topped off with an edgier hairstyle. HA. I love a man in a crisp suit, but this makeover instantly makes him looks years younger.
Yul immediately deals with the douchey clubgoer harassing Da-jung, announcing himself as her husband. She's not as impressed with his efforts and plans to stick around longer, but that's when the guards pick her up and escort her back to the estate.
She's surprised when Yul admits that he's wrong and apologizes to her. That melts her peevish mood, but she gripes that just saying sorry isn't enough, and she really wants to punch him, to his shock.
But Yul adorably allows it, even sticking his jaw forward to give her a clear shot. He urges her to give it a go, but Da-jung hesitates and drops her fist, and they both break into a smile. They're so cute.
The children gape in shock to see Dad dressed so casually when he walks in the door. Yul tells his kids to hurry to bed and takes refuge in the bathroom, where he laughs at his wardrobe.
The music turns ominous when Yul sits down at his desk and calls Joon-ki. Hm.
Reporter Byun yells up a storm at the Scandal News office, only to get cut down by Hee-chul, who sternly scolds the reporter for stooping so low until Reporter Byun finally cries out that he's sorry. But Editor Go has overheard their conversation and asks what's going on.
In-ho hands over the snowball fight photos to Yul, and it's as if he's trying to read Yul's reactions as he explains that he was framed while trying to confront Joon-ki about the photos.
But Yul says that it's his own fault because Joon-ki is trying to target him. To that, In-ho asks if Yul isn't curious about how these photos came about or what kind of relationship he has with Da-jung.
He supposes that Yul's lack of reaction is probably because the marriage isn't real—he'd probably feel differently if they were of his real wife with another man. Those words remind Yul of the photos of his first wife taken with another man, and In-ho adds pointedly that he wouldn't be idling around if it were him.
Yul asks in a deflated voice, "What's the use? Her heart already lies somewhere else."
In-ho runs into Da-jung outside and he apologizes for yesterday's incident. She insists that she's fine, to which In-ho asks if she's really okay or merely pretending to be.
He knows that Da-jung is trying her best in this contract marriage for her father's sake, but given recent events, this setup may not be the best for her.
Da-jung: "Then… what should I do?" She came in knowing that her days wouldn't always be rosy, though, she hadn't accounted for last night's ordeal either. Still, she'd like to focus on the happier notes: to make her father happy, to play out her part, and she likes being here.
She invites him to join them for breakfast, but In-ho declines to keep their professional boundaries in place. He vows never to put Da-jung in another difficult situation again, because that's as much as he can do for her.
Before he leaves, Da-jung asks if they can't go back to being on friendly terms like before, but In-ho doesn't answer.
Madam Na carefully tries to appeal to her husband again, only to be rebuffed yet again. Worried that Joon-ki might find out about her run-in with the prime minister, she and her gossipy friends sit down with Da-jung at a cafe.
Da-jung assures them that the prime minister is tight-lipped as they come, and then asks why they were at the hotel in the first place. One of the women blabs about how they thought Hye-joo had gone to see Joon-ki, to everyone's alarm.
Da-jung finds that hard to believe since Hye-joo is too pretty and smart to chase after a married man, and Madam Na takes offense: "Are you saying that my husband isn't attractive?"
In his office, Yul thinks back to his conversation with Joon-ki, who had scoffed at the warning not to mess with Da-jung. He wonders why there are so many people out there worried for her welfare, which prompts Yul ask what he means by that.
Now that he knows Da-jung is Yul's weakness, Joon-ki plans to do what he can to use that against Yul. Those words weigh on Yul's mind as Hye-joo walks in with a possible solution. She suggests that Yul officially register his marriage to Da-jung now, since Joon-ki will likely use that against him.
It's a bold step for Hye-joo, who tells herself outside that she's doing this for Yul's sake. She's called out to see Da-jung just then, and all but rolls her eyes to hear that she's still suspected of being involved with Joon-ki.
Hye-joo firmly refutes that idea, saying that she plans to return the favor to Madam Na in kind. She asks if Da-jung came all the way here just to warn her, and then drops the hint that Yul is out of the office.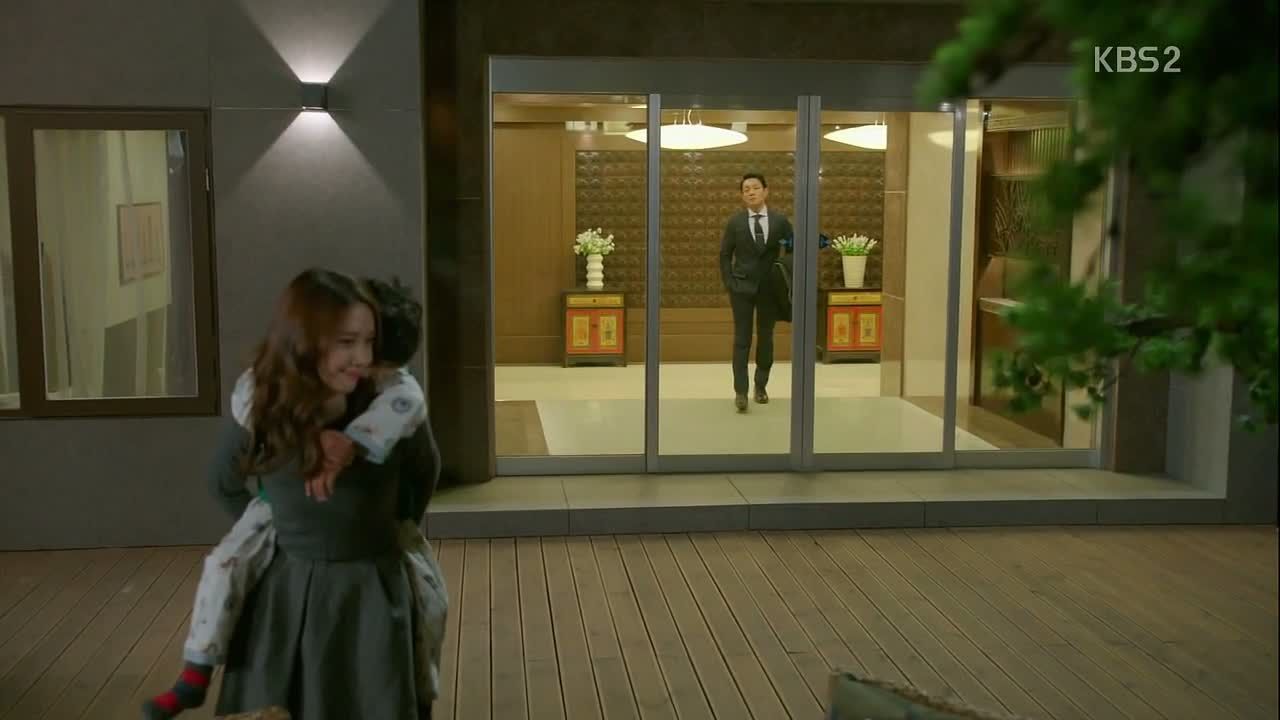 Yul returns home later that evening to see Da-jung carrying a sleeping Man-se on her back out in the patio. The sight brings a smile to his face and they both tuck the little one into bed.
He looks around at the pile of completed frog dolls and notices that their legs and arms are different. Da-jung panics, but they both sit down to fix the dolls before the morning, and it cracks me up that Yul is the better sewer between them.
She thanks him for helping her, and he says he's only helping because it bothers him, an answer that only amuses her. Then Da-jung asks if his assignment is going well.
Yul nods, saying that he found a solution. She's glad to hear it, and then asks if Joon-ki was his assignment. At the question of whether they'll ever be able to reconcile, Yul says it would be nice but it'd be difficult.
He in turn asks if Da-jung isn't afraid of this situation, to which she cheerily answers that she isn't because Yul is here and she's not one to take things standing down. She compliments him on his improv skills, impressed that he'd mention such a romantic occasion on the spot.
Da-jung asks if he knows if their real 100th day since their wedding is this Saturday. Yul scoffs at that and gruffly leaves her to finish on her own. He turns back to call out to her again, and she asks if he has something to say. He says he will later.
Da-jung is all set to sell her frog dolls at the bazaar, and she thanks Hee-chul for his help for saving her skin before. She confirms that In-ho is merely someone who helps her out, and Hee-chul warns her to be especially careful around the gossipy politicians' wives.
She puts on a smile for Madam Na and her crew, who drop off their completed dolls (they outsourced the work, of course. Heh) and giggle at the ridiculous idea that they have to actually work at the bazaar.
They aren't scared when Da-jung pulls out the president card, but when she says that she'll just have to call the prime minister over, they agree to help out. Hehe.
But Da-jung runs into another problem later as Yul hears that she hasn't sold any yet. He reminds her that she's not one to give up that easily, and asks if she's hoping that he'd help her sell them. He promises to treat her out if she sells them all, and Da-jung brightens.
Unfortunately, she fails to sell a single doll, and it's cute how Hee-chul gets so upset for her. Editor Go does little to uplift her downtrodden spirits, and Da-jung sighs deeply at the mountain in front of her.
Turns out that Madam Na had instructed the other rich wives not to buy the dolls. Feeling smug, she purposely knocks into Da-jung so that the bag of dolls falls to the ground.
She and her friends take turns to make barbs at Da-jung, who thanks them for their efforts and apologizes that this event wasn't at par with their standard. But Madam Na corrects her, saying that it's Da-jung who doesn't fit in with them.
After a few more jabs, one woman kicks the bag into the pouring rain. Da-jung stuffs the dolls back in, which is how In-ho finds her. He packs in the rest for her.
At the same time, Yul is busy at his office… looking up fancy restaurants and scouring the internet on romantic places for a 100th day of marriage. Aw.
In-ho takes Da-jung out to gorge on Subway sandwiches to lift her spirits. He does his best to keep his voice light, asking himself why he confessed his feelings when they could have just remained friends.
Da-jung asks if they really can't do that now, and In-ho tells her in a more serious voice that he neither wants to be her friend nor guardian angel. But he laughs and says that he's joking. He offers to be whatever is most comfortable for Da-jung until this contract marriage is over.
They joke back and forth about how she'll be a divorcee then, and how he's not even sure if his feelings will change in the future. She asks if she's being too shameless about all this, and In-ho smiles that that's part of her charm.
And then Da-jung gets the good news that someone has bought all the dolls. Aw, it's Yul isn't it?
It is. That's adorable. Yul smiles to hear that the buyer will remain anonymous and tells his driver to keep it a secret from Da-jung.
Then the family (sans Woo-ri) eats more Subway sandwiches, and Yul picks up on Da-jung's good mood with a knowing smile. You can see how proud Yul is of himself as Da-jung wonders about who her kind and warm-hearted donor might be, unlike someone else she knows.
Yul laughs in response and says they should go out to dinner that weekend to fulfill his promise to take her out, and he has something important to say. Da-jung lights up at that and says it has to be somewhere delicious and expensive. Hahaha.
Hye-joo tenses at the standoff with the international harbor project, but slaps on a friendly face for Joon-ki. Her sudden amiable mood towards him pings his suspicion radar, and he shifts uncomfortably when she scoots a chair next to him and brings up old memories.
She asks if his offer about giving up on his revenge if she comes to his side is still good. Joon-ki isn't easily fooled however, and he asks if she's doing this to protect Yul.
But Hye-joo leans in to brush off Joon-ki's jacket, which is when Madam Na walks in to see the two appear rather cozy. She's understandably upset over this situation and is borderline hysterical when her husband stops her from clawing at Hye-joo.
With that, Hye-joo takes her leave and Joon-ki chases her down to the hallway. He asks if she set this situation up on purpose, and Hye-joo counters that it was nothing compared to what he orchestrated at the hotel to ultimately ruin Yul.
He should be thankful that she didn't do the same for him, Hye-joo continues, and then turns to leave. Then Madam Na rounds the corner and slaps her husband across the face.
Da-jung sits at home imagining what important thing Yul might have to say to her. She dismisses the possibilities that he'd thank her for being so good to his family ("No, he's not the type to say that") or nagging her for her messy habits.
Then she giggles at the thought of Yul giving a romantic confession, complete with roses and an Elvis Presley's "Love Me Tender" score.
She spots Woo-ri leaving the house and Na-ra hops over to tell her that oppa's been acting weird lately, claiming that he's been going to church. So they both follow him, and when Da-jung asks why she tagged along, Na-ra says she wanted to blackmail him, but methinks she's just warming up to Da-jung.
They're surprised to see him actually enter a church, where we see him singing on the upper level. Na-ra's eyes fall upon the pianist (EXO's Suho) and aw, is that a crush a-brewin'?
The opposition to the government's reevaluation into the international harbor center project is growing, and Yul advises Hye-joo to keep an eye on the public opinion for now. Hye-joo asks about his evening plans and frowns to hear that he's reached a decision that involves Da-jung.
He asks if Hye-joo will be able to understand him whatever that decision may be since they've known each other for such a long time. She assures him that she will, but we don't get to hear exactly what that decision is.
Back at the estate, Da-jung praises Woo-ri on his wonderful singing voice, to which Na-ra gripes that the piano oppa is tons better and wants to know everything about him. Plus, he looks like EXO's Suho. Ha.
Da-jung gets a reminder call about tonight's dinner and she hurries to get ready. Meanwhile, In-ho shares dinner with Dad at the hospital and explains that both of his parents died early, so mainly his hyung raised him.
He adds that Da-jung won't be able to visit tonight, and Dad replies that he already heard that the married couple planned to go out to celebrate their 100th day together.
In-ho deflates at that, but he has more pressing matters to attend to as he returns to his hyung's room only to find him missing. A nurse explains that a man took him out for a walk, and In-ho scours the grounds in search.
He finally finds his hyung…. with Joon-ki. Oh, crap. Joon-ki demands to know if the reason why In-ho is working under Yul is because of his hyung Soo. Awwwwww, crap.
Yul and Da-jung arrive at the restaurant and Da-jung happily skips ahead, saying that no one will recognize him in his tweed jacket. It's one of those super romantic places where lovey-dovey gestures are a norm, and Yul says that the driver made the reservation. You mean the one always trying to get you two together?
So you can imagine his surprise when the MC announces that the prime minister is up next to sing to his wife tonight. Lee Beom-soo singing? Yes, please!
The longer he stalls awkwardly, the more they call out for "Kwon Chong-ri" like it's his name (Chong-ri also means prime minister) until he finally takes the microphone. He tells the audience that he promised his father-in-law that although he couldn't promise to make his wife happy, he would make sure she would never cry because of him.
"But… I've made her cry a lot," Yul confesses. "But she's someone whose smile suits her better. For my wife who has both cried and laughed often because of me, I will sing this song for you."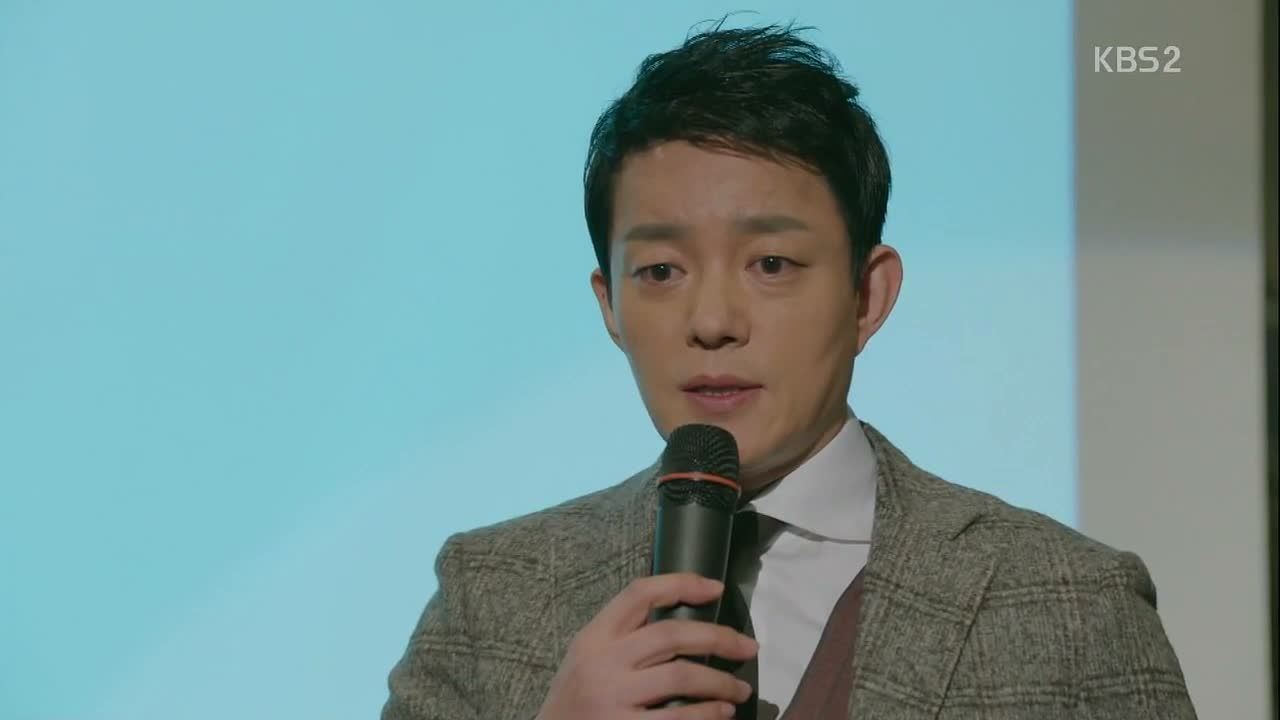 Then Yul sings "Up to the Sky" (originally by Jeollamhwe) to Da-jung as a montage captures the highlights of their relationship from first meeting to their wedding and beyond. I think I'll let the lyrics do the talking:
I think of you when I'm having a hard time
As I walk down the street drinking coffee
Before I knew it, I had grown tired
of a life that's always the same

Even if we can't meet again
You became an unknowable source of strength
Your memory has always been a warm comfort to me

The night you left, I wanted to fly so badly
towards the starry sky
There's nobody, there's no sound
Soaring high far into the sky
To a place I can never return from
COMMENTS
Oh, swoooon. I'll have Lee Beom-soo's voice to serenade me to sleep any day of the week. Who knew that this man had such a wonderful singing voice? *drinks in the feels* To be honest, while I thoroughly enjoyed the sweet romantic gesture, I can't help but be anxious. It's like the calm before the storm with that unnerving feeling that the waves are going to hit and send everything topsy-turvy. And with the show hitting all of its marks in a classic romantic comedy timeline, it's about time the angsty wave will come rolling in.
So then the question is what Yul will have to say to Da-jung, and there's that unsettled feeling that none of Da-jung's imagined scenarios might come true. There's no doubt that Yul cares for Da-jung and wants to protect her, but neither does he want to bog her down to an actual marriage. Officially registering for a marriage is the key element here (since you can still hold a wedding without going through the legal documents in Korea), and while I wouldn't put it past him to ask her in a romance-filled environment about signing a piece of paper, doing so crosses the boundary where their previous arrangement becomes something real and tangible.
His reaction (or lack thereof) to the snowball fight photos is telling, as In-ho reads him like a litmus test of any feelings for Da-jung. Then Yul's statement that "her heart lies/gone elsewhere" makes me question how the happy marriage fell apart in the latter stages. Did Yul already presume that his first wife then loved someone else? Or was that too, a misunderstanding? And now Joon-ki knows of both Yul and In-ho's weaknesses, which, grahh. But then again, I suppose he's not that clever of a villain if he leaves a paper trail that his wife can find, and we all know she's not the sharpest tool in the shed.
Still, it's the words that Yul will say next and Da-jung's reaction to them that will threaten and shake up the picturesque reality that they've built for themselves and the children. I know I have to brace myself for whatever comes next, so it's time to cling to my frog doll and chomp down on Subway sandwiches.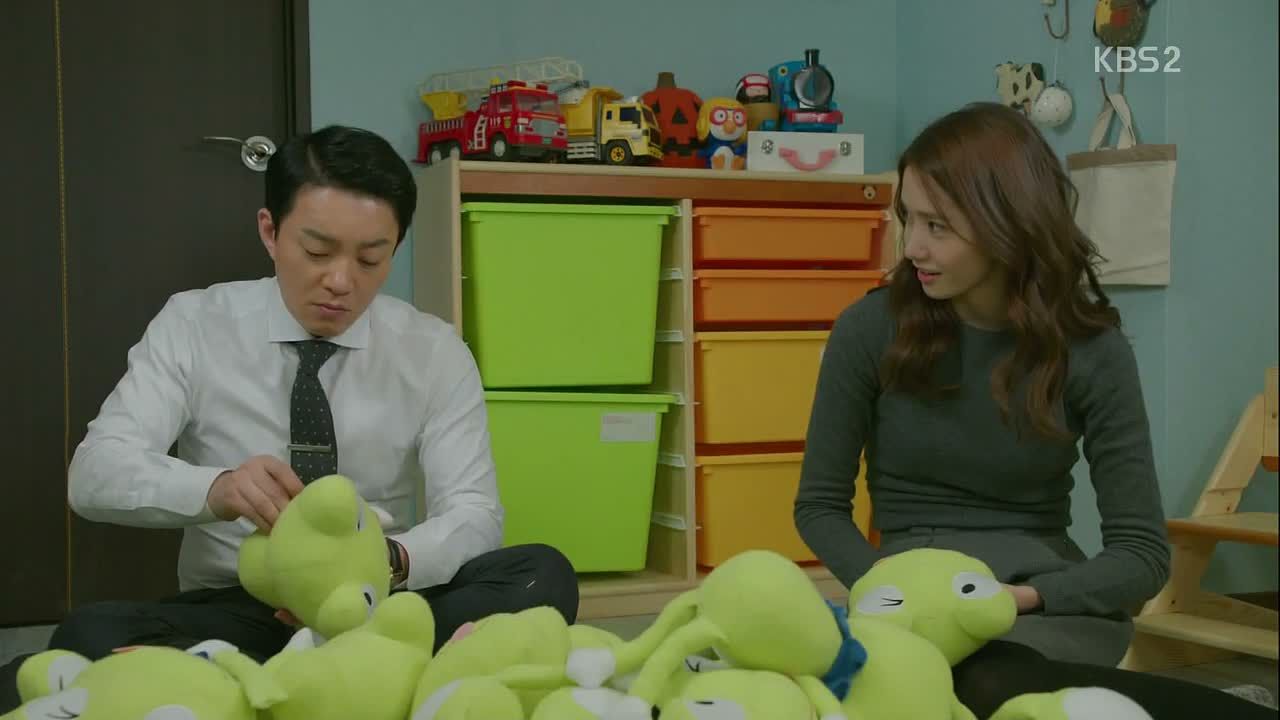 RELATED POSTS
Tags: Chae Jung-ahn, featured, Lee Beom-soo, Prime Minister and I, Yoon Shi-yoon, Yoon-ah