Prime Minister and I: Episode 12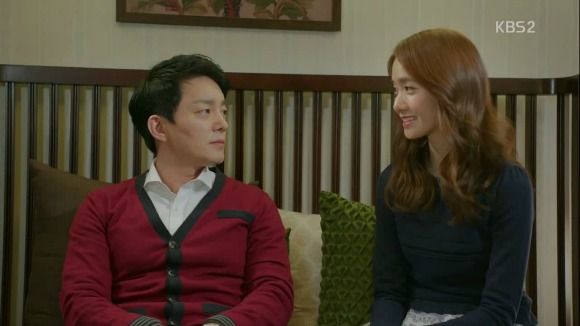 It's amazing how dangerous situations can bring our married couple closer together and how understanding someone's heart can go a long way. Yul learns how little he knows of the ones who matter most, and the past goes deeper than anyone could have anticipated as it comes back to haunt our characters in the present.
After what I've seen, maybe I'm the one who needs to be read to in bed in order to sleep tonight.
SONG OF THE DAY
July – "In Love" [ Download ]
Audio clip: Adobe Flash Player (version 9 or above) is required to play this audio clip. Download the latest version here. You also need to have JavaScript enabled in your browser.
EPISODE 12 RECAP
Yul is wheeled into the operating room, his vision blurry as he slips in and out of consciousness, hoping that this is just a dream. As he's prepped for surgery, he thinks to himself: "If I knew things would turn out this way, I wouldn't have said those things to you."
We flashback to when he had told Da-jung to leave the estate and stay out of his family's lives. "I wouldn't have made you cry like that," he says. "And I would have told you that I didn't mean those things."
He wonders if he'll be able to awake from this dream later and just before he goes under, he thinks, "Will I be able to see you again?" And we see Da-jung anxiously waiting outside on the verge of tears, her hands clenched together.
Joon-ki is shocked to learn of the stabbing, which is a double relief since it confirms that he wasn't the one to call the hit and that he wouldn't actually want to inflict physical harm on Yul. And why would he when emotional guilt has worked so well for him thus far?
Hye-joo doesn't think the same however and storms into his office to pin the deed on Joon-ki. That's when Joon-ki realizes that it was likely his father in law, Chairman Na who was behind the act, and Hye-joo vows to take them both down.
Da-jung puts in a call to a worried Woo-ri to assure him that everything's fine and to take care of his siblings. Woo-ri says his sister already knows but the youngest doesn't. Before they hang up, he quickly thanks Da-jung and entrusts their father to her care (the words could also stand as an acceptance of Da-jung, which double aw).
Yul's surgery is a success and Da-jung sits vigil by his bedside as he sleeps. Through tears, she urges him to wake up soon because she has something to say to him. Hours later, Yul wakes and the memories of the past day come flooding back to him.
In-ho sits Da-jung down to eat something in the cafeteria. She asks about the stoic group of suited men nearby and is told that a mob boss is also hospitalized here in the VIP suite.
Da-jung finds it funny that Yul was passed over by the mafia and promptly feels guilty for laughing in the midst of such a grave situation.
But In-ho tells her that she shouldn't feel bad and urges her to eat up. When she declines, In-ho reminds her that he's her guardian angel—her job is to gather her strength to tend to the prime minister while his job is to take care of her.
Da-jung returns to find Yul still asleep and chides him for lying there until Yul speaks up to say she shouldn't say that to a sick person. Washed with relief, she tells Yul to rest.
Meanwhile Joon-ki is barred from seeing Chairman Na, whose douchey secretary refuses to disclose his employer's whereabouts. Someone has to take the fall for the assassination attempt and it isn't hard to guess to whom that suspect arrow is directed at.
Yul watches Knifey's arrest being covered on the news. Da-jung promptly turns off the TV and tells him that his staffers are taking care of everything, so it's his job to rest up. She may as well be talking to the workaholic in a foreign language as Yul hilariously answers that he's fine.
But Da-jung knows better and scolds him for giving her such a fright, pointing to the dark circles under her eyes. Yul laughs at that, and then asks if she cried again. Da-jung admits that she did and Yul feels bad for disappointing her father again for making her cry because of him again.
Taking his hand in hers, Da-jung says that's not important because she's just glad that he's alive. He says he knows. And just outside the door, Hye-joo walks away in dismay.
In-ho reports to Hye-joo on how to proceed next and is surprised to see Hye-joo leave the prime minister in Da-jung's care. Hye-joo explains that she doesn't believe she has a place by Yul's side anymore and the same goes for In-ho towards Da-jung.
When In-ho says he's content with keeping watch from behind, he's told that even doing that is hard enough.
Madam Na gripes over having to pay a visit to Yul, but presses on after she's told doing so will win brownie points for her and Joon-ki with the public. She's appalled when the group of surly men don't recognize her, unaware that she's dealing with the mafia and not, say, Yul's bodyguards.
Which means she marches into the mob boss's hospital room with her galpals. For a minute there, I'd hoped we might get a Kang Ho-dong cameo, but the boss's backside definitely doesn't belong to the iconic MC.
So Madam Na lets out great dramatic sobs until the mob boss finally has had enough and turns to face her. HA, why hello there Oh Man-seok. That's a pretty great cameo entrance.
Her chaebol friends come running, interrupting Da-jung and Hye-joo's conversation to save Madam Na. She's firmly wrapped up in Oh Man-seok's arms by this point, and he asks why she's playing hard-to-get with him.
Hye-joo and Da-jung arrive to her rescue, at which point Oh Man-seok casts her aside to eye the pretty, young ladies. Hye-joo sends them out to deal with him herself, and when he grabs her, she issues a warning through gritted teeth.
When he ignores it, Hye-joo twists his arm and grabs a fistful of hair. Da-jung gets in on the action before taking Hye-joo's hand, and the ladies get the hell out of dodge.
Now out of danger, Madam Na thanks Hye-joo for her help and apologizes that she's too frazzled to see the prime minister before running off. Hye-joo is still bitter about how Joon-ki's side would dare to swing by after endangering Yul's life (since she thinks Joon-ki is behind the attack) but drops the matter when Da-jung asks what that means.
Hye-joo notices Da-jung's blood-spattered coat and offers to bring her a change of clothes. Da-jung asks what Hye-joo wanted to ask her about earlier, wondering if it has something to do with Yul. Hye-joo replies that it did, but now she thinks she knows the answer.
Back in Yul's room, Da-jung is caught off-guard when Yul asks what it was that Da-jung wanted to tell him, explaining that he had heard her in his semi-conscious state. She nervously laughs that he must have been dreaming and quickly changes the subject, asking if he farted yet post-surgery
That confuses him and Da-jung makes an excuse before darting off, which he finds amusing.
Joon-ki isn't happy to hear that his wife swung by to see the prime minister, and informs her that he'll be handing in his resignation soon. When Madam Na argues that it was her father who seated him in the strategy and finance minister position in the first place, he counters that she doesn't know what kind of awful person the chairman is and figures she's better off not knowing.
In-ho goes to see his brother and feels guilty for worrying about Yul, especially when he's the reason why hyung is bedridden like this. Dad informs him that the kind volunteers take good care of hyung here, and then points to someone(?) we don't get to see.
Yul arrives home with Da-jung from the hospital and winces slightly when Man-se hugs him. He promises his son that both he and Da-jung won't be going anywhere, then thanks Woo-ri for taking care of his siblings. Aw, these two.
Da-jung asks where Na-ra is, and we see her in the middle of an earnest prayer, thanking God for bringing her father back safely and promises to attend church regularly if things work out with Suho oppa. Haha, so cute.
That's when Suho calls out to he and Na-ra worries whether not being baptized yet means her prayers will go unanswered. She asks if she'll get a baptismal name like his if she does, and brightens to learn that they share the same birthday. He tells her that it'll likely be Michaela, similar to the angel Michael, and he finds her reactions cute. She beams.
When Da-jung finds Yul at work again in the study, she has to pry the papers out of his hands, sternly reminding him that the doctor ordered complete rest. When Yul asks what he has to do, she answers, "You have to rest!"
Joon-ki goes ahead to inform the president of his resignation, arguing that taking the fall will better the government's image. The president thanks him for his sacrificial decision. Joon-ki's secretary asks what he'll do now and Joon-ki ironically laughs that he'll take some time to rest.
Upon hearing more information about In-ho's brother (whose name is Su-ho, not Soo, d'oh!) moments later, Joon-ki heads straight to meet with In-ho. It turns out that Su-ho was Na-young's college sunbae and psychiatrist, and In-ho adds that hyung was also the last man she loved.
He asks if In-ho believes Yul is responsible for the car accident and orders In-ho to bring all the evidence he has to Joon-ki. "I'll finish Kwon Yul," Joon-ki vows.
Da-jung brings Yul and the family to church for a winter festival. She informs Yul that Woo-ri didn't want to disappoint his father so quit playing in the band, but he loved singing so much that he opted to sing in church instead. D'aww, Woo-ri.
Yul tightens at that, but then his expression softens as he hears Woo-ri sing. He sits with his son after the performance if Woo-ri wanted to sing that badly that he would defy his father.
Woo-ri confesses that he did a little. To his surprise, Yul allows him to keep singing then because it's been a long time since Yul has seen his son so happy. Delighted, Woo-ri asks if that means he can rejoin the band and is told he has to raise his grades first. Hee, Yul, you big softy.
Na-ra gets bullied by a group of girls outside for liking their church oppa. Da-jung steps in the fray and the girls scoff in return, asking who she is. Na-ra cries out, "She's… my mom!"
The term shocks everyone, especially Da-jung, who takes a beat before giving the girls what for. An adorable awkward moment passes between Da-jung and Na-ra once they're alone, but Man-se is quick to tattle on his sister to their father. Y'all are just the cutest.
Hye-joo waits alone at the estate, perhaps for hours, and leaves behind her get-well bouquet for Yul. The family arrives home sometime later and Yul reads the note belatedly. He tries to call, but Hye-joo ignores and walks on with tears welling up in her eyes.
She recalls when Yul had made it into the National Assembly and she was on his campaign team. He had thanked her for her efforts, but she had said she was far from repaying her debt to him for molding her to be a decent person.
Da-jung frets over Yul at home, worried about his feverish state. He genuinely thanks her for today because she helped him understand Woo-ri's heart and his own.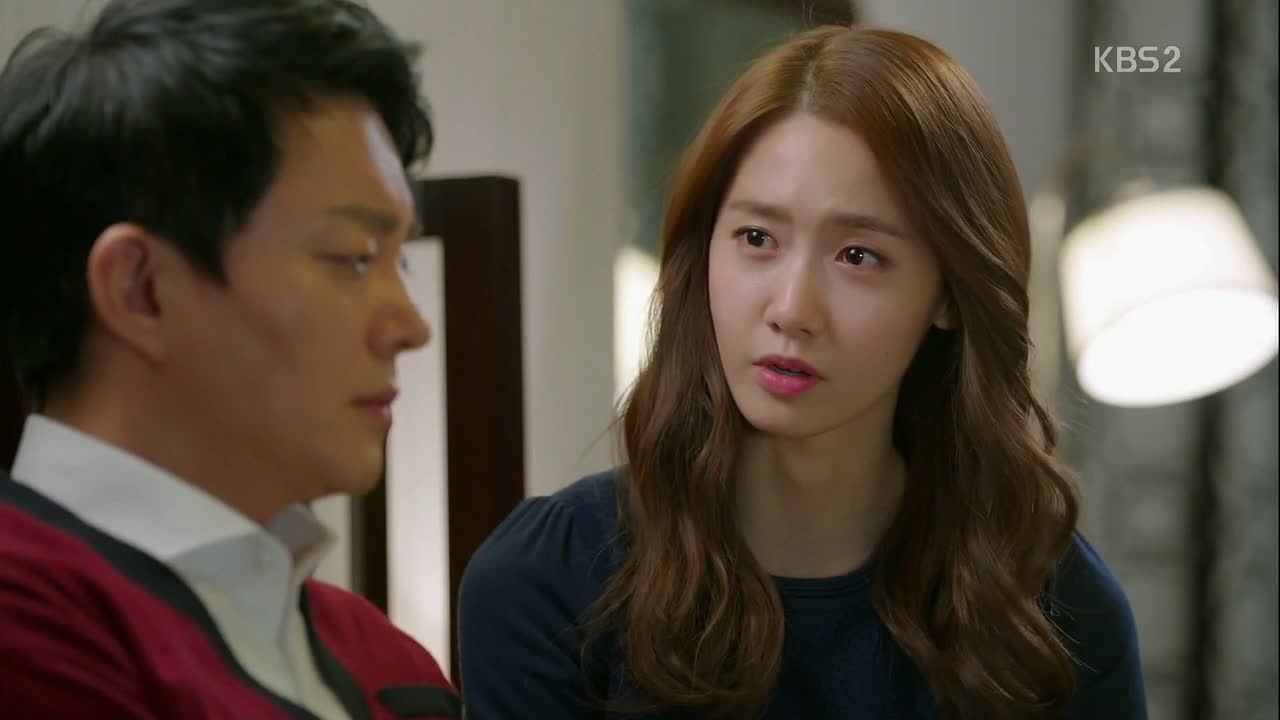 He previously hated the idea of Woo-ri pursuing music because it brought back painful memories of his past wife who also loved music, Yul explains. Da-jung asks if he didn't miss her and why thinking of her would bring pain instead. Yul: "That… that's because I resented my wife too much."
Da-jung muses that it must be the case that the departed leaves those who remain with resentment. She felt the same towards her mother once, but later realized that it was her mother who was most pitiful.
Yet there's still a tomorrow for the living to live out, Da-jung notes. She realizes this is the first time Yul has mentioned his first wife and offers to lend an ear whenever he wants to talk about her.
Then Da-jung offers to read to him tonight, promising him that she won't fall asleep this time. Yul settles in to listen as Da-jung reads how Scheherazade told an unending story to the sultan every night because, "when this long story ended, she would have to leave the sultan's side."
Looking at Yul, Da-jung continues, "Because she didn't want to part from him. Because… she came to love that person. Thus Scheherazade, who didn't want to leave the sultan, ultimately decided to confess her feelings to the sultan."
Yul stops her right there and asks if that last part is truly written there because he doesn't recall that passage when he read the book. Flustered, Da-jung says he hasn't read all six volumes and this is the fifth one.
He points out that if that were the case, then the sultan would have had Scheherazade killed after her confession. A woman who confesses her feelings first would make her too easy, Yul notes.
Da-jung figures that's probably true and takes her leave with the explanation that she wants to live for a long time. He calls after her to leave the book, but Da-jung is already out the door and sighs dejectedly.
Yul searches the house for Da-jung the following morning to find her gone. He sees the book and picks it up to read where she left off and discovers that the passage differs from her reading.
Meanwhile Da-jung raps on In-ho's car window when he arrives at the estate, and he hastily stuffs the contents of the envelope (including the picture of hyung and Na-young) back inside.
They go for a walk and smile while talking about Da-jung's next visit to her father. In-ho veers the conversation to a more serious direction and comments that he likes the way things are between the now. He worries how long he'll be able to see her smile at him for because there may come a time where everything might change between them.
Da-jung asks if the task he previously mentioned he had to do has something to with his brother. If it's revenge, she advises him against it, not because of the cookie-cutter reason that forgiveness is the best kind of revenge, but for his own sake.
After In-ho reports to Yul about Joon-ki's resignation, he wonders why Joon-ki would pull such an unexpected move. Hye-joo tells him not to be surprised if something else comes up unexpectedly and offers to accompany Yul to their alma mater today.
Yul is reminded of their college days as he walks around campus with Hye-joo. She asks why he hasn't said anything about Joon-ki's resignation, and Yul asks in return, "If I were to turn back time, when should I turn back time to?" When he met Joon-ki? Or when he married Na-young?
Hye-joo says she would turn back time to her middle school days, specifically to the time when Yul saved her from her own gang friends. She had called him an old man back then and it's already been over twenty years since that memory. She thanks him for those happy years, which sounds an awful lot like a goodbye, and then hands in her resignation letter.
Yul was the first person who taught her hope outside of a life running away from her drunk abusive father, Hye-joo explains. She had learned from him what righteousness meant and acquired the courage to live, "And I liked you a lot. From the moment we first met."
Fighting tears, she realizes that she's finally confessing her feelings now that she's leaving and tells him to take care. What a brave and sad moment for Hye-joo, who packs up her things and entrusts the prime minister to In-ho's care.
Just then, In-ho is called into the hospital where he's told that hyung has been transferred to the intensive care unit due to his persisting seizures. Through tears, In-ho tells hyung that he can't die, not when he hasn't even started to avenge him yet.
Then In-ho calls Joon-ki to agree to hand over his revenge material. He gets into his car and drives past… wait a minute—that's Na-young aka Yul's first wife. Ack, you're supposed to be dead! Or at least the world did! I think!
In-ho spots Na-young too, but he's blocked before he can go after her. At the same time, Da-jung stands outside the locked piano room, wondering when Yul will open his heart.
As for Yul, he mulls over Hye-joo's words of when she had asked what kind of person she is to him, when she had promised to protect him as his bodyguard.
He finds Da-jung waiting for him outside back at the estate and informs her of Hye-joo's resignation, only now realizing just how little he knows of the woman who's been by his side for the past twenty years.
He guesses there will come a day that Da-jung will leave too, and asks that Da-jung tell him ahead of time if or when she does: "If it comes so suddenly, to part without warning, I think it'd be too much to bear."
Da-jung assures him that won't happen because she won't ever leave him. "Because I love you." Omo. Omo omo omo.
She repeats the words in a stronger voice and Yul tells her not to kid around. But she isn't joking: "I really like you."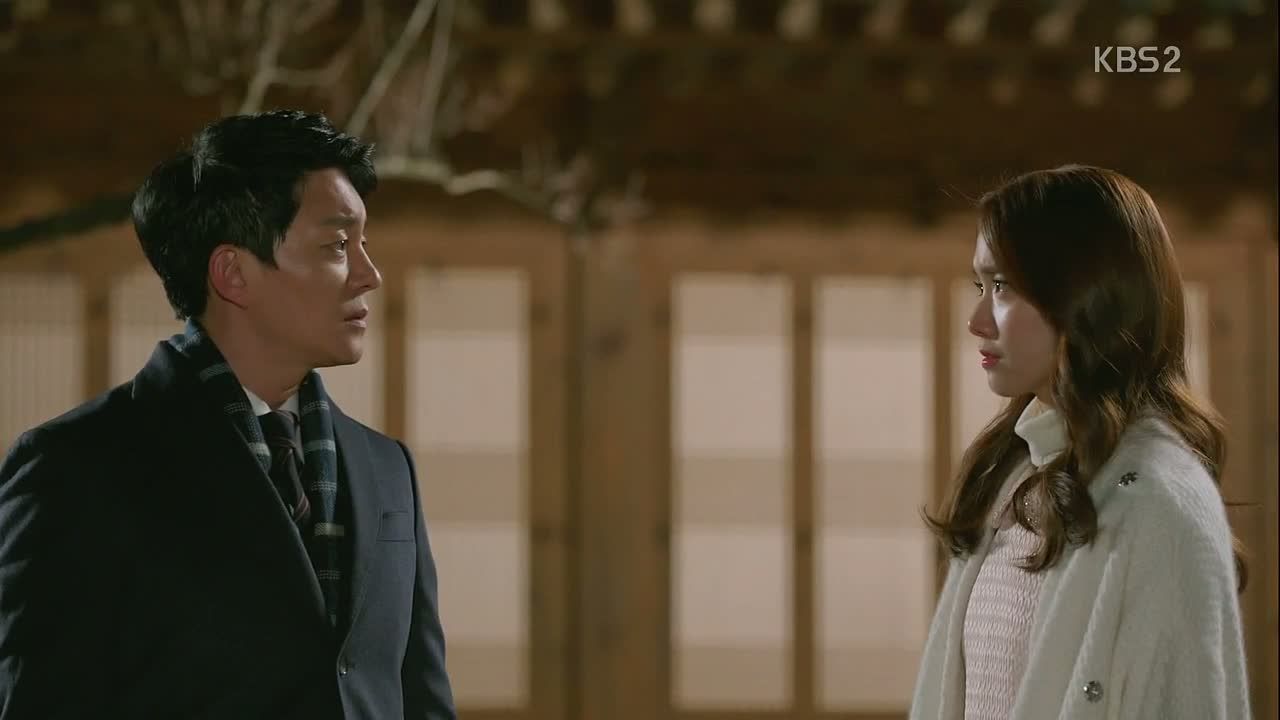 COMMENTS
I'm going ahead to say it again: omo omo omo. For the most part, I do like how the cliffhangers are handled in this show, whether it's a quiet, contemplative moment or a surprise kiss or a confession like this one. Furthermore I love that it's Da-jung who takes that step to confess her feelings towards Yul first and spells it out for him that she won't leave him. How's that for easy?
The tie-ins to One Thousand and One Nights are added touches that I continue to enjoy, especially the dense few seconds when Yul found the ad-lib confession odd, only to find out that it was directed at him, the grumpity sultan. And while I'd love for Yul to accept her feelings, confess his own, and have them live happily ever after, we're still at Episode 12, which means we're still in for some bumps in the road ahead.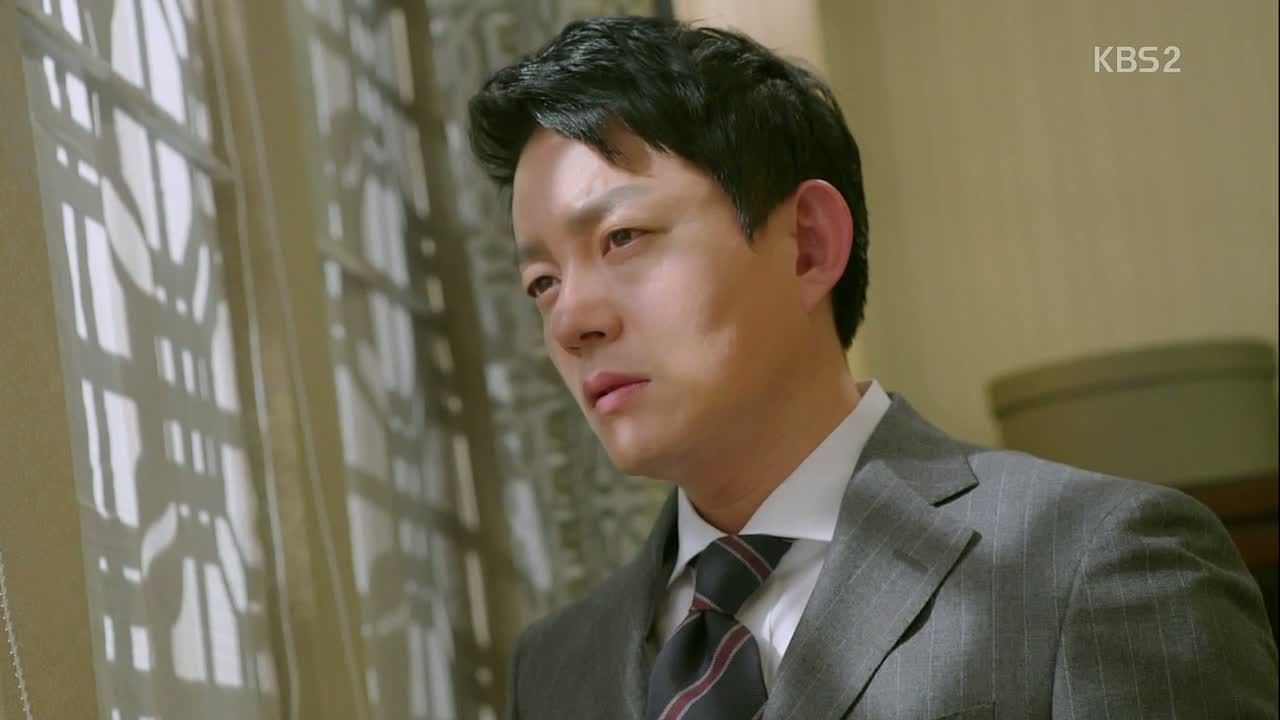 Speaking of bumps, I had to go back and review the news headlines in the first episode, which reported of Na-young's disappearance versus death after the car crash. So you could say that saying Yul's first wife was "presumed dead" is the safer bet after all these years, and knowing that now, it changes how we approach Na-young's re-appearance in the present. Even now, I'm hesitant to say that it is Na-young until we're fully certain that it isn't some doppelganger or other self. 'Cause this is dramaland where out-of-left-field possibilities can come true for the sake of dramatic conflict. But don't you do it, Prime Minister!
However the mention of Na-young's visits to a psychiatrist (who also happened to be In-ho's hyung, whom she loved. Oy, conflict of interest much?) opens up the broad spectrum about Na-young's psychological state leading up to the accident. I do wonder what she suffered from (Anxiety? Depression? Another psychological disorder?), and how that might play into the story at large. Pair that with how Yul suffers from insomnia post-car accident, and you've got more questions than answers with the hint morsels this show has given thus far.
Be that as it may, I still savor the wonderfully sweet family moments in this show as the Kwon family form one family unit. Like how Yul finally came 'round with Woo-ri's passion for music or how Na-ra referred to Da-jung as her "mom." But now I'm nervous at how Na-young's reappearance will shift the pseudo-family dynamics, because if it is her (see how I'm hedging? I blame my doubts on you, dramaland!) I expect an explanation as to where she was these past seven years. Is it resentment when your loved ones leave you or when they come back?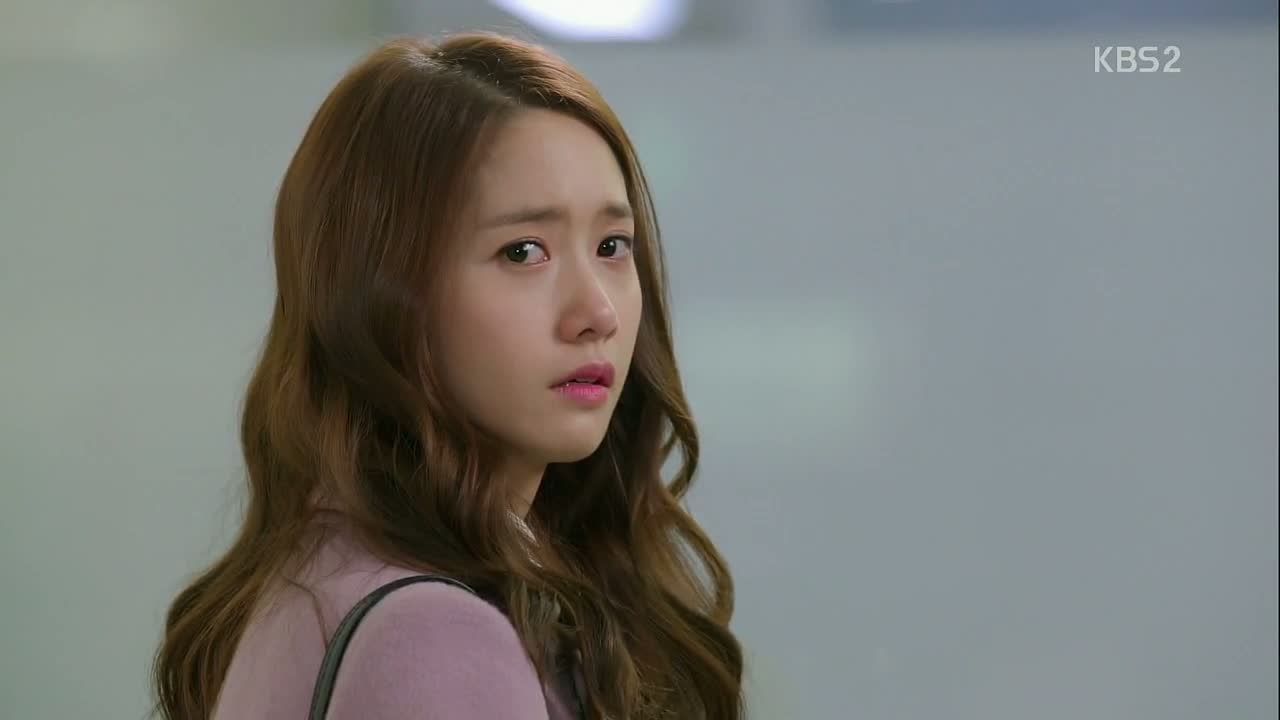 RELATED POSTS
Tags: Chae Jung-ahn, featured, Lee Beom-soo, Prime Minister and I, Yoon Shi-yoon, Yoon-ah