Prime Minister and I: Episode 14
It's time for the other nearly dead shoe to drop, and the past comes to rear its ugly head. I'd say that that truth is welcome here, if only that truth didn't threaten to send everything we've come to love topsy-turvy. Never have I wanted to wield a blazing sword to protect the happiness of the Kwon family as much as I do now, so you can take that angsty bug elsewhere. Shoo, fly—don't bother this family.
SONG OF THE DAY
Yoon Gun – "죽을만큼 사랑하라" (Love To Death) for the OST [ Download ]
Audio clip: Adobe Flash Player (version 9 or above) is required to play this audio clip. Download the latest version here. You also need to have JavaScript enabled in your browser.
EPISODE 14 RECAP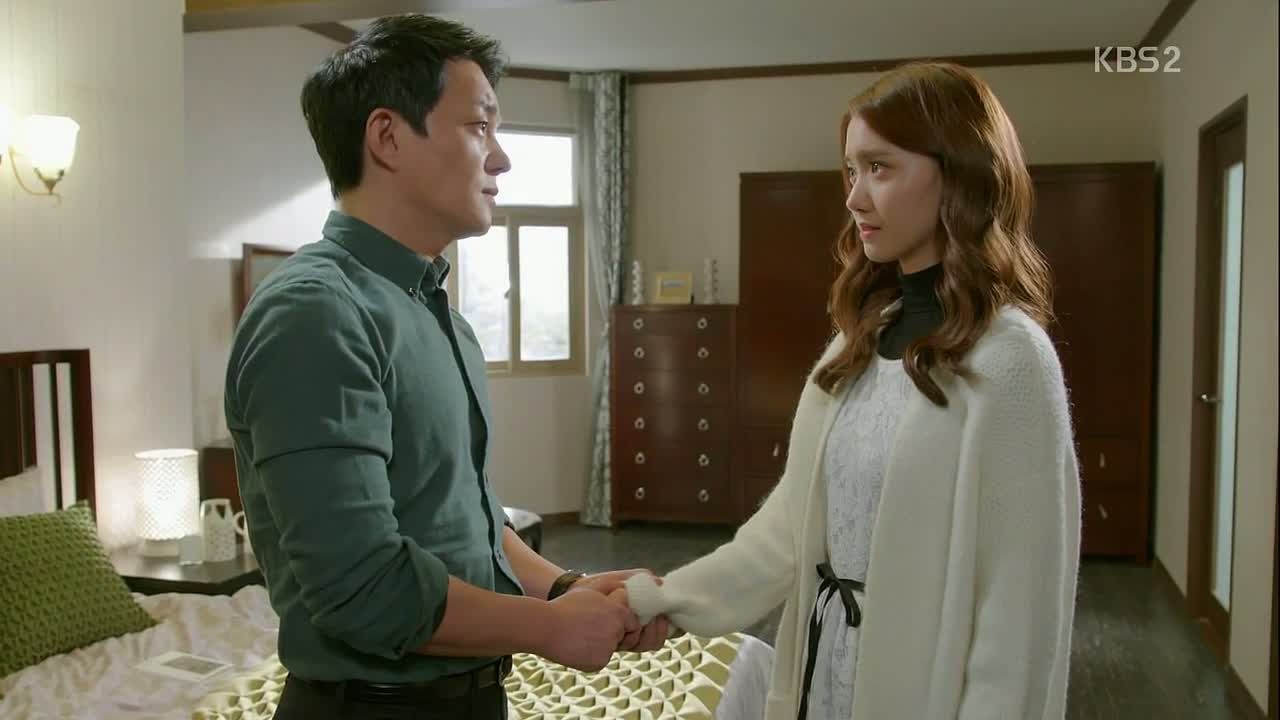 Yul confesses his feelings for Da-jung and wipes away her tears, apologizing for making her cry again. He takes her hand and vows never to let it go. Oh, swooooon, now that's romantic.
But their sentimental moment is cut short when little Man-se bursts into the room seconds later, and then throws an adorable tantrum over how Da-jung chose to sleep here with Daddy last night and not him.
Boo, Na-young is still lingering outside the estate—I rather hoped you were just a figment of my imagination last week. A security guard asks her to state her business here, but she leaves without another word.
Looking at Na-young's photo, Joon-ki wonders if Yul is really the reason behind her death. Oh boy, are you in for a surprise. Then Joon-ki is actually somewhat kind to his wife for a change, telling her patiently that his liaison to Hye-joo is purely business. Did that slap spur a personality change?
He plans to take everything away from Yul, starting with Hye-joo. Once he's gone, Madam Na says what we're all thinking out loud, wondering why her husband hates Yul that much and thinking it's about time he gives it a rest.
Back at the estate, Da-jung sees Yul off to work and both of them can barely hide their smiles at each other. Little does he know that his car drives past Na-young on the way out.
Da-jung discovers the bow hairclip while cleaning up Yul's study, which calls to mind his previously awkward suggestions about doing something with her hair. She laughs at the realization that it's for her.
She surprises Yul at work with a packed lunch, saying proudly that kimbap is her speciality since she had to make her own after her mother passed away when she was young. He admits that it's better than her ddukbokki attempt. Hee.
Realizing that Da-jung grew up without a mother as well, Yul asks if that's why she's so good to his children. His kids have changed greatly since Da-jung has entered their lives, and so has he. Aw.
As for In-ho, we see him lying in bed in a sweat. He recalls his conversation with Na-young, who'd told him that he'd gotten it all wrong. In-ho had spit back that he distinctly remembers how scared his brother was following his meeting with Yul. Moreover, he had heard it was Yul who was chasing after them and reported the accident.
But Na-young had cut him off, saying that Yul wasn't in the wrong: "The accident… it was all my fault."
Da-jung's calls to In-ho go unanswered, which makes her think that In-ho must really be sick, something Yul agrees is atypical of his aide.
Da-jung puts on the hairclip while Yul isn't looking, then shows it off to him. Yul nearly chokes at the sight. Ha. At the question of why Yul didn't give it to her sooner if it was meant for her, he grumpily says it because it makes her look old-fashioned.
That strikes a nerve and she gets up to leave, but Yul stops her to repin the hair accessory himself. Aw, these two.
When Hye-joo reports to Joon-ki at the office, she declines his suggestion to speak casually when they're alone, citing professional boundaries. Joon-ki respects that and notes that's probably why Yul had no idea about her one-sided crush for all those years. Dude.
Joon-ki still doesn't understand why Hye-joo agreed to work for him, but satisfied with her answer that she couldn't work for Yul again and wouldn't pass up an opportunity to work at the Blue House.
She turns the question back on him—did he employ her to provoke Yul? Joon-ki doesn't deny it, but reminds her that her loyalty lies with him now, not Yul.
Da-jung swings by In-ho's place after he calls her over, and ack—he looks like he's halfway to death. She urges him to rest, dismissing his apologies for making her come, and then puts down her things. Unbeknownst to them both, the envelope's contents spill onto the floor, exposing Na-young's photo.
The air is tense when Joon-ki and Hye-joo cross paths with Yul, who says seeing his plans through will be tougher now that Joon-ki is working so closely with the president. Joon-ki warns that that's not all Yul should be worried about.
Yul asks for a private audience with Hye-joo, and once they're alone, he asks about her new job. Hye-joo asks if he doesn't hate her, but Yul simply smiles in return, adding that he wanted to apologize to her in person for putting her through so much over the years.
Hye-joo holds back tears at his concern and praise, and manages to get in a final word of gratitude. She adds one last word of warning before she leaves: to be careful of In-ho.
Da-jung returns with porridge, only to find In-ho muttering in his sleep. He awakes sometime later to see Da-jung still by his bedside and pulls himself up. She asks what happened that made him so sick, and he reveals that the person he previously thought dead is in fact alive.
In-ho acknowledges that it should be good news, but he's held onto his revenge for so long, only for everything to come crumbling down at the revelation that the woman, his hyung's lover, is the one responsible for hyung's vegetative state.
To that, Da-jung asks carefully what his brother would have wanted for In-ho—would it have been revenge? She's certain that isn't the case, and that his brother would have wished to see In-ho be happy.
Feeling much better, In-ho offers to take Da-jung home later that evening. He climbs out of bed to get ready, which is when she spots the photo on the ground. Uh oh.
She recognizes Na-young's picture since it came up in her background check on Yul, and wonders why it's in In-ho's possession. He answers that it's part of the process to declare Na-young legally dead.
Meanwhile, Yul waits outside for Da-jung to return home, which aw. She smiles to see him standing there and is amused at his grumpiness for making him wait outside in the cold. Hee.
He sits with her as she eats and asks after In-ho's health. She answers that he was pretty sick, but people need to get sick in order to get better, then adds that In-ho will be back at work soon.
Yul is relieved to hear it, and Da-jung asks why he isn't saying anything about how she spent the entire day at another man's house. He picks up on her hopes for a jealous reaction out of him, and laughs, "Do I look like someone who would be jealous?" And then admits that of course he did. Haha.
Da-jung just smiles through his lecture about how he won't let her off next time, and he finishes, "Is this what you were hoping for?" Cute.
Then Yul confesses that it felt nice to wait up for someone; he thought he had forgotten that exciting feeling, but Da-jung brought that back in him, so he's grateful.
He remembers that tomorrow is when Da-jung visits her father at the hospital, and offers to clear his schedule so that they can go together. She lights up at that, and then it's her turn to thank him. Gah, I love how they make sure to show their appreciation for each other, even in the little things.
Yul retires to his study to do some work in order to spend time with Da-jung tomorrow, and takes out the marriage registration paperwork. At the same time, In-ho calls to ask for another meeting with Na-young, who interestingly goes by a different name now.
We pick back up with Na-young and In-ho's conversation at the cafe, the latter clearly in shock. Now we learn the real story behind the accident, as Na-young recounts how she and Su-ho had intended to run away together to the States that day, but he had pulled a hard stop on those plans.
He had told her to go back home, arguing that she wouldn't be any happier with him. Considering that a crueler fate, given how she walked out on her family, Na-young had chose death and unbuckled her seat belt.
In his efforts to stop her, the car had swerved out of control and rolled down the hill, and we know the rest of the story from there. What the? How did Su-ho end up as a vegetable while wearing a seatbelt whereas you recovered just fine without one? Fate really is a bitch.
In the present, Na-young cries over a photo album containing pictures of her children. Wait, how did you get those? Damn, I know things were hard on you, but that was a shitty explanation and my sympathy for you has flown out the window.
Reporter Byun is understandably suspicious about the Scandal News Team intentions over dinner. When Editor Go fishes for a hot story about Joon-ki and Hye-joo, the reporter blanks before lying that he can't go around spreading such rumors.
But Hee-chul calls Reporter Byun out on his bluff, which just adds to the plethora of reasons why he's awesome. Reporter Byun has one tidbit, though: Hye-joo is a spy.
Then we see Hye-joo rifling through Joon-ki's desk for clues and considers a report from the prime minister's office as evidence that In-ho was passing along information. She finds a file on Su-ho right behind it and hastily puts everything back just before Joon-ki's arrival.
She processes through the information once she's alone and notes that Su-ho was Na-young's psychiatrist… then makes the brotherly connection.
Da-jung and Yul visit Dad at the hospital, and the two men are adorably sweet together as they pour each other shots of OJ in lieu of soju. Yul says that he'll pour juice for Dad every day… because he plans to have Dad live with them at the estate. Aw, yay!
Little do they know that Na-young is conversing with In-ho at the same hospital. Through tears, she confesses that she came to her senses at the sound of Man-se crying. In-ho points out that she could have gone back then, but that's when she found out about Su-ho's hospitalization.
She would have returned to her family if Su-ho had died, but the guilt of knowing she was responsible for his unresponsive state. In-ho notes: "You really lead a dumb life. Like me." Is what I'm sayin'.
She knows she has to right to apologize, but does anyway. In-ho tells her that if Na-young is truly sorry to him and his brother, then she won't ever appear in front of Yul and the kids nor keep watch close by and ruin their present happiness.
Na-young asks if Yul loves his new wife very much, and In-ho says he does. She asks what kind of person Da-jung is, and In-ho answers, "A good person—a warm and good person." He reminds Na-young that her reappearance will only serve to hurt that person, and tells her never to return as her former self.
She answers that she has no intention to, especially when she has no right as a mother. She promises to stay away from the family, but asks to continue to look after Su-ho.
Aw, Yul plays a round of go-stop with Dad, who stops the game to say that he'd rather stay here and see them live happily. Yul smiles back that he can't bear to see Da-jung cry again, referring to her as his wife (and not by name) for the first time. And that's that. Cute.
Da-jung meets with the doctor and recognizes Na-young at a distance. She follows after her out the hospital but loses sight of her, which is when In-ho appears to ask what she's doing here. At the same time, Yul wonders where In-ho's brother is staying. Eek!
In-ho dismisses the notion that Da-jung saw Na-young, saying that she must have been mistaken. Then he grows anxious to hear that Yul is here with her at the hospital.
That's when Yul appears to join them, and when Da-jung suggests they visit In-hyo's brother, Yul says he has to get back. Hm, did you already see him?
The answer is yes, as we see that Yul had indeed dropped by the hospital room to see In-ho's brother. The realization that the man lying in the bed was his first wife's lover had hit belatedly, and the words of warning about In-ho echo in his head.
Yul confides in Da-jung and asks how much one should trust someone. What if that person turned out to be much different than one initially expected?
She asks if he's referring to Hye-joo, but he replies that it's a rhetorical question. What scares him the most is the betrayal of someone he once trusted. Da-jung asks if he wants to trust that person anyway, and when he says he does, she tells him to go ahead and trust them unconditionally then.
She points out that he must trust the person if trusting that someone is what he wants. Even if that same person were to betray him later, it isn't Yul's fault for trusting them in the first place.
She gets upset when he laughs at that, wondering if he finds her simple explanation foolish, but Yul says he's grateful. He suggests that she'll become his problem-solver from now on, and she agrees.
Da-jung thanks Yul for having Dad come to live with them, and he says that's a given because they're going to be a real family soon. Omo.
"I'd like for you to become my real wife," Yul proposes. "Let's get married for real." Eeee! Who knew that a proposal to sign a piece of paper would be this swoontastic?
Yul walks back inside and placing a hand on the piano, he asks Na-young in his head if it's okay for him to be happy now and to forget her.
Yul meets with In-ho in his office and divulges that he hired In-ho because of the look in his eyes. He admits to being envious of that bright-eyed expression that made him wonder if he was the same when he was young.
In-ho asks where this is coming from, and Yul explains that a bright-eyed expression cannot hide the hurt behind them. He doesn't know what pains In-ho's heart, but hopes that In-ho can be happy from now on.
He's only repeating the same words that were told to him—that it was okay to be happy, to laugh now. Those words gave him peace and now he's passing them on to In-ho. "I trust you. I trust that you'll be happy."
Back at the estate, Da-jung worries whether she can become a good mother to the children if she officially marries Yul. That's when Na-ra comes home bawling, and Woo-ri explains that her church oppa crush is leaving for seminary to become a priest. LOL.
Woo-ri mentions that he got this strange feeling that someone was watching them at church. Da-jung instructs him to stay at home with his sister while she goes to fetch Man-se.
In-ho meets with Hye-joo, who reveals that he's the reason why she switched sides. She surprises him with what she knows about big bro, and accuses him for exacting revenge on Yul. Hate to break it you Hye-joo, but you're two steps late on the guilt train.
Na-young keeps watch over Man-se at school, and he recognizes her as the ajumma who comes by occasionally. He asks her whose mother she is and surprised that she already knows his name.
Man-se is confused by her tears and asks if she's hungry. Aw, kid. So he offers to give her a hug, because that's what his ajumma taught him. But then Da-jung calls out to him… and then sees Na-young. Da-jung sets off after her and loses her again, but now she's gotten a clear shot of Na-young's face.
Elsewhere at a church, Yul smiles at a new set of rings, one of which he's already wearing.
Hye-joo says that she won't tell Yul, but she cannot stand by either. In-ho tells her that he'll figure it out and asks for time. He gets a call from Da-jung just then, and she keeps repeating that she saw Yul's first wife.
In-ho says that he's on his way, but Hye-joo has heard him say Na-young's name aloud. She can't wrap her head around the idea, so In-ho spells it out for her: "Park Na-young… is alive."
Yul waits for Da-jung at the church for hours. He smiles at the sound of her entry, but then his face falls to see her on the verge of tears. As Da-jung falls into his arms crying, the ring clatters to the ground.
COMMENTS
Oof, I knew that getting these two together wouldn't be that easy. Seeing these two in wedded bliss for an hour should have been the warning light, but why would I worry about the looming angst when these two are just so darned cute together? Now that we've gotten a glimpse of how happy they can be together, I know that whatever is up ahead is going to hurt all the more. But man, does it hurt good all the same.
Even in the first waves of the dramatic contractions, I do think that Prime Minister has done a fine job of unraveling its conflicts and doesn't let a pesky one-episode extension ruin the narrative flow. No, I wasn't thrilled with Na-young's not-so-dead reappearance either, but I appreciated that our characters' reactions weren't dragged out until the finale week, either. In a way, that makes the story feel secure as we count down to the last few episodes.
In that same vein, I love the moment when In-ho explicitly warns Na-young from showing her face to Yul and the kids, because while she may be very much alive, they've already accepted her death and moved on. He knows just how happy Yul and Da-jung are and how much they love each other, and even he would put aside his own feelings to protect that happiness. That's what makes me sympathetic for his character more than the traditional tragic second lead (but boy is it tragic—his tear-filled eyes says it all), and I believe that we're witnessing the turn in In-ho, with the guilt of holding onto a misplaced grudge and a genuine longing to right his wrongful intentions. Dang it, I want to trust him just like Yul does!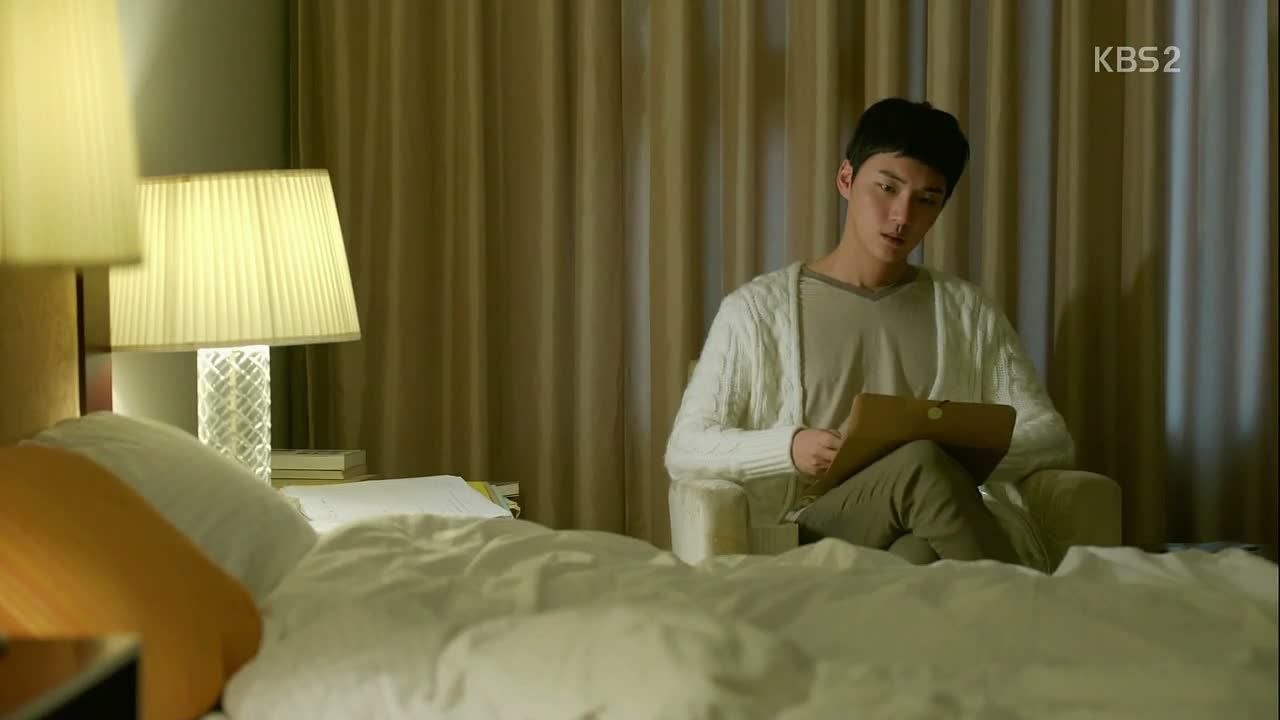 That's more than I can say of Na-young, who I hoped had a better explanation for her absence than the decision to abandon her family and then stay presumably dead for years. It sounds harsh and yes, she admits to her own cowardice, but is it that hard to send a postcard? I kid on that last bit, but surely there must have been other means to end an unhappy marriage than adopting a whole new identity, letting the whole world think you're dead, and putting them through grief—certainly, THAT is a crueler fate.
But again, I can understand if Na-young doesn't have that same resilience and resolve that Da-jung does, and I can pity her longing to see her children as their birth mother. But we all know, including herself,that she relinquished her motherly rights the moment she decided to walk out on them to pursue her own life elsewhere. I wish that dramas wouldn't always paint abandoned mothers with weak explanations of so little sympathy, but I really have to wonder: if In-ho hadn't discovered her, how long did Na-young plan on remaining hidden and watching her kids grow up at a distance?
On a brighter note, however, I still love seeing the marked changes in Yul's behavior and actions. I'm to the belief that those affectionate and endearing qualities in him were all part of his character, masked under the grief and resentment. His principled nature sets him apart from the traditional rom-com prickly hero since we've seen him respect and appreciate our heroine time and time again. I love that he wants to believe the best out of people and can genuinely hope for someone else's happiness because he's happy. Well, up until about five seconds ago when he saw Da-jung's tears. And mine. Let me tell you, those will be great big tears.
RELATED POSTS
Tags: Chae Jung-ahn, featured, Lee Beom-soo, Prime Minister and I, Yoon Shi-yoon, Yoon-ah