Prime Minister and I: Episode 8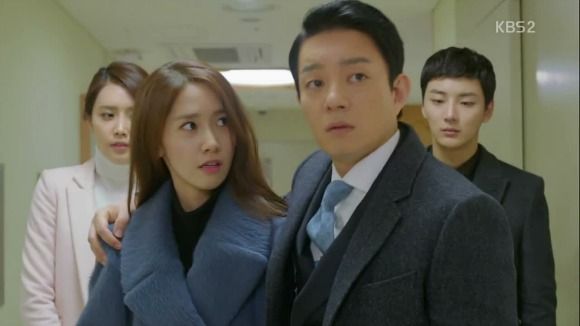 A new year means a fresh start for all, making new goals for the future. Our optimistic heroine chooses to live in the present while those around her continue to cling onto the past. Long-buried feelings of bitterness and resentment come to light, which brings with them painful memories.
Yet I could watch these two dance around their feelings all day, especially since their loving and affectionate actions betray their words of denial.
EPISODE 8 RECAP
Yul pulls Da-jung out of harm's way but sustains an injury. Hye-joo abruptly ends the press conference to relay the news that the prime minister was involved in the car accident. Reporter Byun eavesdrops on the Scandal News team's conversation and picks up the tidbit that the prime minister once branded Da-jung as a stalker.
At the hospital In-ho frowns to see Da-jung fret over the prime minister's well-being. Thankfully Yul is perfectly fine apart from his fingers (he says they were crushed under a 50 kg weight, and Da-jung defends that she doesn't weigh THAT much, heh), but Hye-joo narrows her eyes at the idea that Da-jung is the reason why Yul is injured at all.
Once they're alone, Yul is relieved to hear that Da-jung is okay, and when she asks why he ran out to save her after his big speech about how she isn't his real wife, he reminds her that he had promised to be a good husband to her no matter what.
He presumes that Da-jung was just trying to be a good wife too, to which Da-jung smiles and says that's not the only reason. They're interrupted before she can elaborate, and Yul gapes at the huge hospital bill—all medical tests Da-jung had done as, y'know, her health as a married woman. Ha.
They exit the hospital room smiling for the cameras. Da-jung offers herself as a crutch, which Yul grumbles that she's a pretty uncomfortable one. She says that's because he's not leaning against her properly, so Yul wraps an arm around her, not noticing that the move affects her.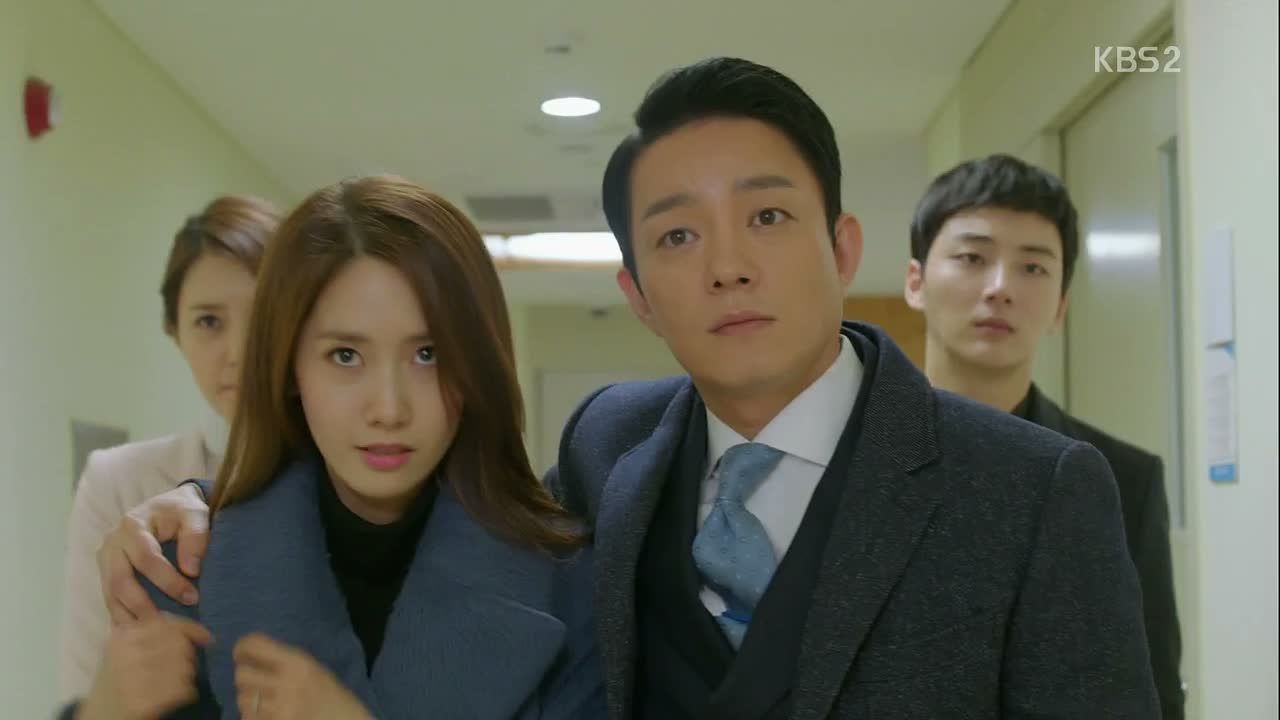 They get through the the crowd of reporters looking more affectionate than before, and Editor Go complains at how Da-jung barely gave them a second glance. His growing resentment makes me little uneasy, but that's nothing compared to Reporter Byun, who heads to the police station.
Omg, little Man-se has his own mini-door. That's just adorable. He tells big bro Woo-ri that Dad is home, but gets turned away with one stern look. Aw.
Da-jung, meanwhile, insists on helping Yul with his jacket and tie, feeling guilty that he's hurt because of her. She even goes as far as to try unbuttoning his shirt for him (rawr?), to which Yul says that he can do it himself.
But the button accidentally falls off in the midst of their back-and-forth and Da-jung quickly turns away in embarrassment. Yul splutters and asks if she isn't a pervert, to which she counters that he was probably the one harboring lewd thoughts.
Appalled, Yul barks at her to get out (and covers himself up, hee), and Da-jung mumbles that she was just trying to help.
In-ho declines Hye-joo's invitation to join her for a drink. That's because he's in the middle of a meeting with Joon-ki, who still doesn't trust him and demands that he bring proof that Yul's marriage to Da-jung is fake.
Lest we think that In-ho is under Joon-ki's employment, he makes it clear that he has his own motivations for targeting Yul. He refuses the aforementioned demand, saying that his objective is Yul, not Da-jung.
Pointing out that Joon-ki is also in a loveless marriage, In-ho argues that that can't be the only basis for calling it a fake marriage. He'll take care of covering Yul's eyes and leave it to Joon-ki to render Yul immobile like a human vegetable. Eeek.
Madam Na reads up on alluring ways to appeal to her husband at home. Too bad they don't work, and she leaves, defeated. Aw, points for trying to sweet-talk him though.
Yul ponders over a picture of his children, especially Woo-ri, and then contemplates some more by the window. Da-jung walks in, and the mere sight of him sends her heart thumping wildly.
In fact, Yul has a literal aura about him in her eyes, and she accidentally pricks herself with the needle. So Da-jung practices kendo in the yard to get a hold of herself, which is when comes up behind her to correct her posture.
Yul holds onto her as he teaches, and is impressed by her willingness to learn. He instructs her to join them for morning kendo practice starting tomorrow, adding that cold weather doesn't prevent them from exercising.
He's headed off to the Blue House today, where the president disapproves of his logical and principled approach to revisit the international harbor center project and redistribute the funds elsewhere.
But Yul remains firm on the idea that they have to do what's best for the people and fix the issue at hand. He trusts that the president will make the right decision, though, the president shifts uncomfortably.
On their way out, Hye-joo asks what Yul will do if the president vetoes his proposal, and he jokes that he'll pack his bags and leave. He declines her offer to take him out for lunch since he plans to spend time with his children.
Hye-joo's face darkens at the mention of Da-jung, and reminds Yul that she's gone to see her father at the hospital.
Da-jung isn't alone however, as she explains to Dad that she hitched a ride here with In-ho, who's here to visit his brother. Both In-ho and Da-jung freeze when Dad cheerily recounts that a fan dropped by earlier asking about the story of how Yul and his daughter met.
In-ho warns Dad that he could have been a reporter in disguise, and Da-jung instructs her father not to talk about her relationship with Yul. Dad has taken a liking to In-ho and suggests that he date Da-jung if he's single, and belatedly realizes that she's already married.
But In-ho confesses that there is someone he likes, which sparks some playful teasing, unaware that Editor Go is spying on them from around the corner. He's eager to dig up a juicy story, and I don't like that gleam in his eye as he wonders curiously at their friendly rapport.
Yul sighs deeply at Da-jung's empty seat, and then tries to make conversation with his children in turn. I especially love how he stops short every time he discovers that his strict parenting approach have been replaced by Da-jung's words that children should enjoy their childhood.
He tries to regain control by telling them to chew their food properly, which triggers an imaginary Da-jung telling him that people need to enjoy their meals. He smiles, but that earns him strange looks from his children, who are probably wondering if Dad's lost it. Heh.
So he proposes that they spend the afternoon together as a family, but each of the kids politely decline until poor Yul is left at the table alone. It's both a hilarious but sad sight, and he spends the afternoon reading—well, sorta reading because he keeps wondering what's keeping Da-jung.
Da-jung is delighted to hear that Dad is responding to his chemo treatment. She feels bad about not visiting her father enough, to which she's told that Yul comes by to see Dad often. Aw, that's sweet.
In-ho catches the Scandal News team snooping around and confronts them about trying to write up gossip stories about their former co-worker. He offers to either to turn a blind eye or let them take it up with Da-jung herself, and they leave. Heh.
In-ho then meets up with Da-jung outside, and the two engage in a playful snowball fight. Unbeknownst to them, Reporter Byun excitedly snaps photos of the two at a distance. Eep, was he the reporter who talked to Dad?
Meanwhile at home, Yul waits up for Da-jung, constantly checking his phone and even sewing more dolls to pass the time. Night falls by the time Yul gets annoyed enough to step outside where he finds his youngest waiting outside for Da-jung.
Man-se asks his father if he's waiting for Da-jung too, and Yul answers that he stepped outside for a bit of fresh air. That's when Da-jung arrives with In-ho, and the latter confesses that his hyung is currently hospitalized at the same facility at Da-jung's father.
Da-jung asks why Yul is standing outside in the cold, of which he answers that he wanted some fresh air, and not of course, because he was waiting for her or anything, nope. Hee.
Once inside, Yul wonders why In-ho didn't mention his hyung until now, which Da-jung answers breezily that it was probably a sensitive topic. She's more than happy to help today, completing all of Yul's requests with a smile, which he finds particularly odd.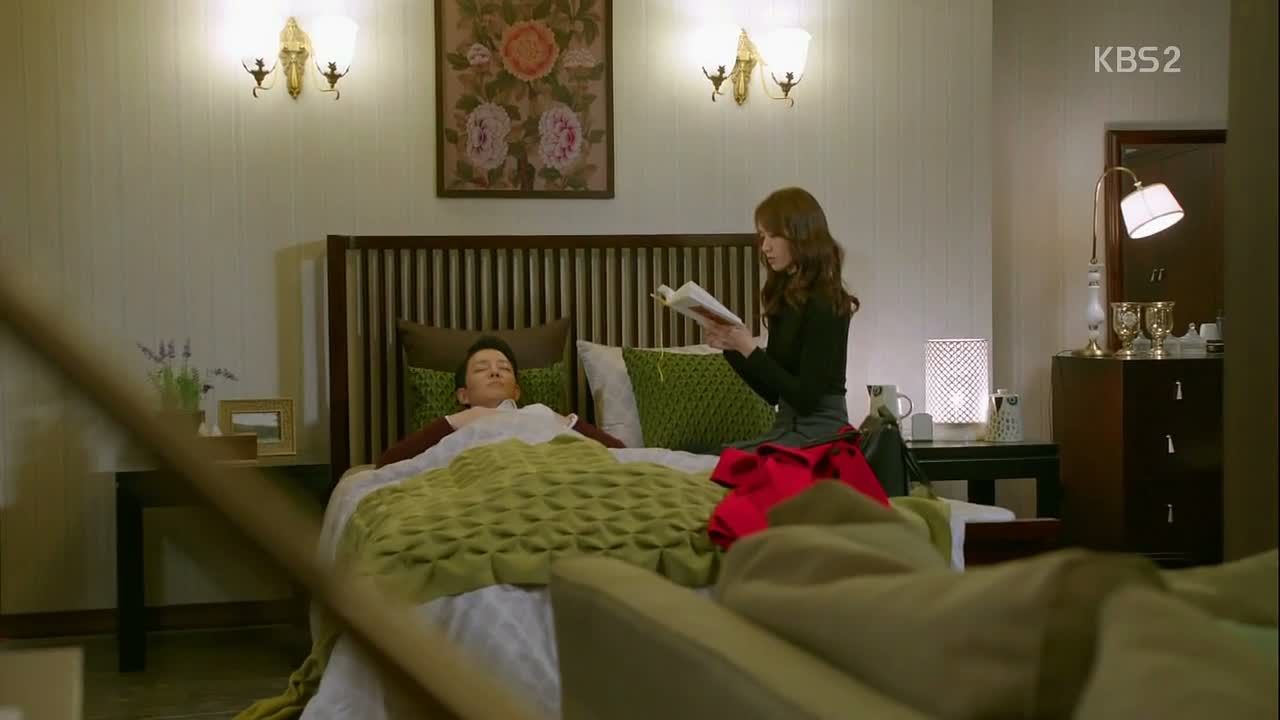 She simply smiles that she's in a good mood today and offers to tuck Yul into bed and read to him tonight. Yul gruffly replies that she doesn't have to, and she narrows her eyes: "Do you want to lie down or shall I do it for you?"
He climbs into bed obediently, still dressed in his day clothes. Haha. Da-jung reaches across for the copy of One Thousand and One Nights and starts reading aloud, about how Scheherazade left off her story unfinished and the sultan vowed to do away with her once she would.
Yul falls asleep to the sound of her voice, and Da-jung smiles to realize that this method actually works. She scribbles a note on his bandage and whispers a word of thanks for looking after her father before she bids him good night.
Then she sneaks outside so as not to wake him, and it's only after she leaves that Yul opens his eyes, still very much awake. He laughs at the get-well-soon note on his bandage.
Da-jung has the younger kids line up to see their father off to work the next morning. Yul gives Man-se a hug, which Na-ra acts as if she doesn't care, though her bitter remarks says otherwise.
Yul swings by a marketplace to speak with the shopkeepers as the media documents a visit. He buys a gift for Na-ra and another bow hairclip (for Da-jung perhaps). Anyone else is getting You're Beautiful flashbacks?
Then he's informed with good news that the president has agreed to put the international harbor center project back on the table.
Needless to say, Joon-ki isn't happy at this turn of events, and he gets a visitor in the form of Reporter Byun, who has deduced for himself from his various interviews that there's something strange between the prime minister and Da-jung.
Little Man-se bawls his eyes out when his father returns sans a present for him while Nara is pleased with hers. She spots the hairclip, which Yul hastily stuffs in his pocket.
Da-jung walks in just then and comments on Yul's thoughtfulness. She suggests that he reduce the children's assignments, which prompts Yul to ask whether she's kept up with her daily logs.
She stammers that she has, and he has her bring it to him for review. It's really just an excuse for Yul to try and present Da-jung with the hairclip in his study, as his initial attempts to do so get clouded by her excitement about celebrating together with his staffers.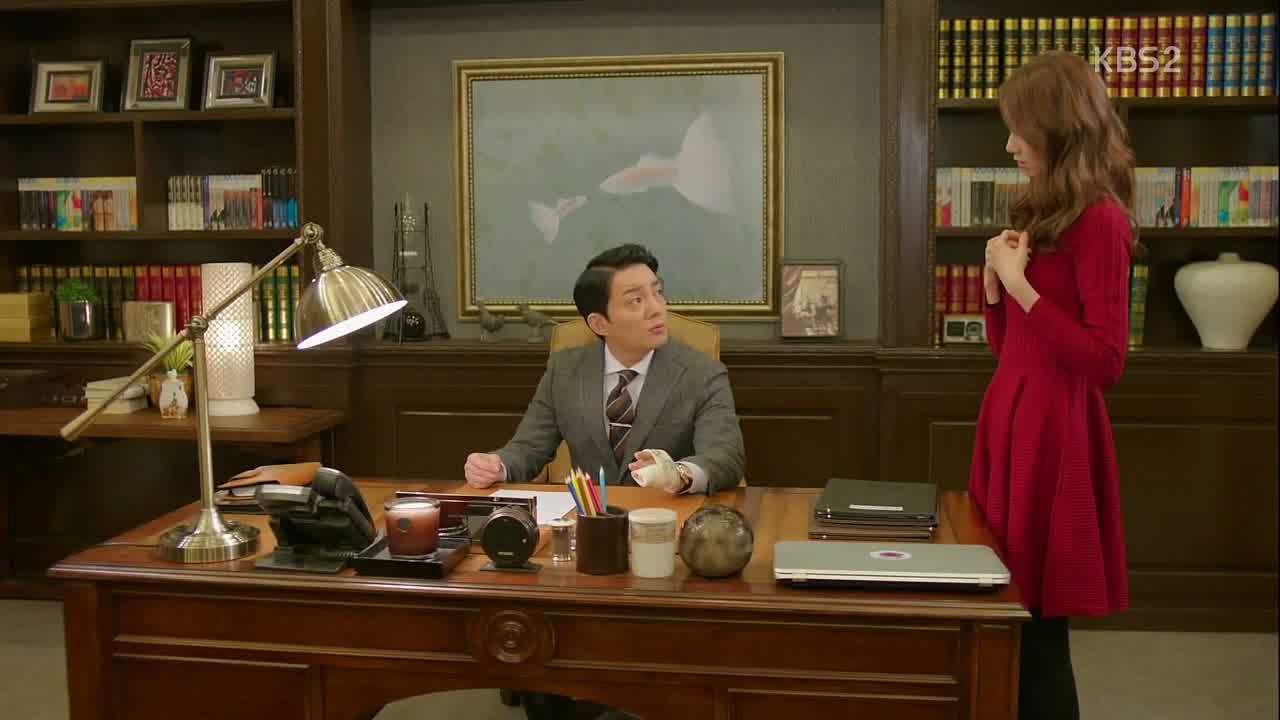 The way he tries to drop hints is rather adorable, as he awkwardly comments about her long hair and how she should er, do something about it. He says a hairclip will do, and just as he's about to take it out of his pocket, Da-jung says she hates such childish things at her age.
Tucking it away again, Yul gets pissy about her response and criticizes her journal too, which leaves Da-jung pouting and she storms out in annoyance.
Yul takes out the hairclip again after she leaves, wondering to himself what he's doing.
Joon-ki recall his earlier meeting with Reporter Byun, who had offered to provide evidence that the prime minister's re-marriage is an act. He gets called in to see the president.
Yul and Da-jung share a celebratory drink with Hye-joo and In-ho, praising them on their efforts. He asks if In-ho isn't tired from working so hard, and In-ho sneaks a glance at Da-jung before answering that he's quite happy lately.
Da-jung cheerfully asks for a drink too, and Yul refuses, the memory of her drunken antics still fresh on his mind. She adorably pouts that she won't then, and Yul laughs in amusement before giving in.
Both staffers notice how smiley the couple are with each other, and Hye-joo pulls Da-jung out for a chat. She asks how it is spending time with Yul, and when Da-jung answers that he's a good person but can be difficult at times, she replies that that's true in the twenty years she's known him.
Da-jung is surprised that their history goes that far and listens to how Hye-joo describes Yul as someone she highly respects. Hye-joo says that's likely how Da-jung feels about Yul as well, adding gently that Da-jung isn't to cross beyond that line with him.
In-ho tenses when Yul asks about his brother, but In-ho answers that his hyung was in a car accident with the woman he loved. Yul asks what happened to the woman, and In-ho says, "She died."
In-ho admits that he still regrets not preventing his brother from meeting that woman, and then asks pointedly if there's anything Yul regrets in his past. Yul answers that he does, and when pressed to specify, he says everyone has "one secret they don't want to tell anyone else."
Da-jung returns to enliven the tense mood in the room. Her thoughts trickle back to Hye-joo's advice not to harbor attraction for the prime minister. Hye-joo swallowed her tears before telling Da-jung that Yul won't ever forget his first wife, no matter how much time passes.
Joon-ki takes in the president's apologies about the international port center in stride, and then says there's something else that worries him—is the president all right with how Yul is garnering more popularity than him?
Da-jung is cheerily tipsy by the time she shares her new year's wish (to do away with the daily logs, ha). She asks after Hye-joo's wish, which Hye-joo replies that she hopes this contract marriage will end well and both parties will part ways.
Da-jung asks what happens if it doesn't, an question Hye-joo wonders if Da-jung is relying on this marriage as a kind of insurance. In-ho comes to her defense at that, and Yul cuts them off before another spat arises.
Then he says that whenever this contract marriage does end, he'll help and look after Da-jung, no matter what she does. He turns to Da-jung and tells her to take her time to think it through.
Da-jung mumbles that she'll focus on the present and worry about the future as it comes. In an effort to brighten the mood, she gives the floor to In-ho to share his wish (or "Tell Me Your Wish," for the Girls Generation song meta joke).
In-ho: "I'm going to confess my feelings towards the women I like." As they leave, Hye-joo asks if that woman is Da-jung, and adds that it seems that she likes someone else. Oof.
Da-jung reflects upon In-ho's romantic wish outside, and then decides for herself that she won't confess her feelings for Yul. That's when Yul instructs her to come inside.
She says there's something she wants to tell him, and Yul snaps back that her daily journal assignment stands. But he stops when Da-jung asks, "Do you still love your late wife?"
Slurring her words, she asks if that's the reason why he locked the piano room and hated the idea of Woo-ri pursuing music. "Those times you look lonely, that's because you're reminded of her, right?"
But Yul doesn't answer and walks away.
Da-jung sniffs back her tears just before In-ho joins her. As they stretch together, Da-jung wonders how lucky his crush must be if someone as great as In-ho likes her.
He asks Da-jung if she'd like to know, and she nods eagerly. When he describes the woman as "strange and fun," Da-jung exclaims, "Why, that's me!"
In-ho goes on saying that there wasn't a reason for him to smile after his hyung's accident, but that person made him laugh. "I laughed a lot and enjoyed myself because of her, but strangely enough, I'm not happy when I see her anymore. My heart hurts."
He starts, "That person… the one I like—" but Da-jung cuts him off to excuse herself, having figured out the answer for herself.
She steps away but In-ho stops her with a backhug to finish his confession: "The person I like… is you." Shocked, Da-jung rushes inside and pours herself another drink.
Yul enters the piano room thinking back to Da-jung's question of whether he still loves his late wife. As he looks at the keys, we flash back to when Yul had discovered photos of his then wife taken with another man (omo, is that In-ho's brother?) next to a car.
He finds Da-jung passed out on the dining room table with an empty liquor bottle nearby. He tries to gently shake her awake, but she doesn't stir. Then Yul takes a seat across from her.
As Da-jung mumbles in her drunken stupor, Yul thinks to himself: "Nam Da-jung, what should I do with you? My assignment… is you."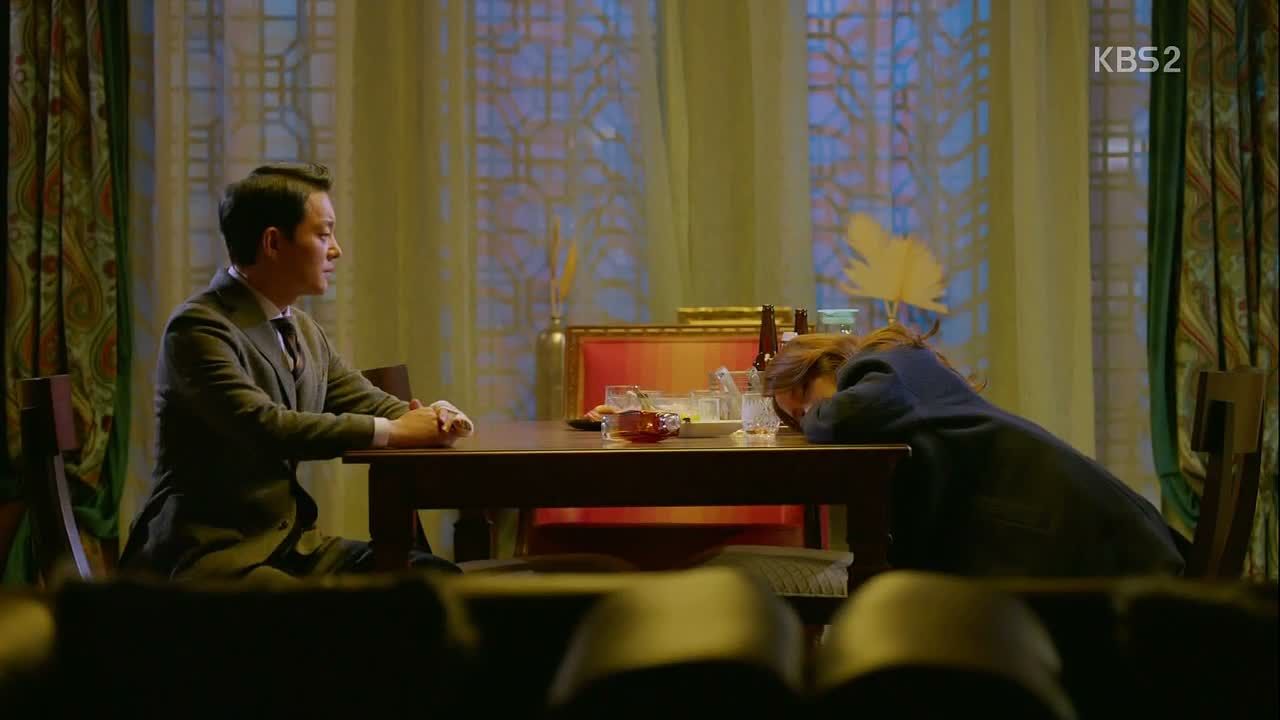 COMMENTS
Aw, how like Yul to also frame his growing fondness for Da-jung in a logical way. I often find his principled nature sweet whenever he wants (and chooses) to take care of Da-jung and swoon-worthy when he sticks to his promise to be a good husband. Who knew that keeping principles and promises could be so smexy? We're seeing some nice strides in his character development as well, and I loved how he put in some real effort to try and connect with his kids. Those attempts didn't always work out so well in this hour, but he's putting Da-jung's words into practice, and I smiled whenever they did, like how he hugged little Man-se and picked up a present for Na-ra.
It's nice to get a bit more information about the car accident, and I think we've gotten enough hints to say that In-ho's brother harbored romantic feelings for Na-young aka Yul's late wife. It's hard to say whether she returned those feelings, so it still feels early to assume an extra-marital affair (though, really, who knows?). Finding out why or how those photos ended up in Yul's hands might help us answer some questions (Was it blackmail? Did he keep tabs on his wife?), and makes me wonder if history will repeat itself in that In-ho likes Da-jung, who is technically-sorta-kinda married to Yul.
I admit that I still have a tough time with In-ho's one-sided crush on Da-jung sometimes. They're sweet and adorable together, but In-ho's vengeance mission throws up that invisible barrier and all I can see is the constant pain his eyes in every episode. His confession adds in some more angst which is to be expected at this midway point, so I'm sure we'll be in for awkward interactions between In-ho and Da-jung, and perhaps another scandalous headline if Reporter Byun gets his way. The contract marriage setup is always in a pressure cooker, and only matter of time until the sham comes out into the open.
Speaking of unrequited loves, Hye-joo's warning to not nurse a crush for Yul made me sad for her character. Those words are well-intentioned (and not vindictive, as I had feared) and we can see that Hye-joo is the result of someone who's kept those feelings towards Yul bottled up for two decades, waiting for the day Yul might return those feelings. This is where she differs from Da-jung, who will address the issue, albeit drunk, versus tiptoeing around it. Da-jung is the one who challenges Yul to be a better father, husband, and person (and he in turn for Da-jung) because while good things come to those who wait, sometimes you have to go after those good things yourself.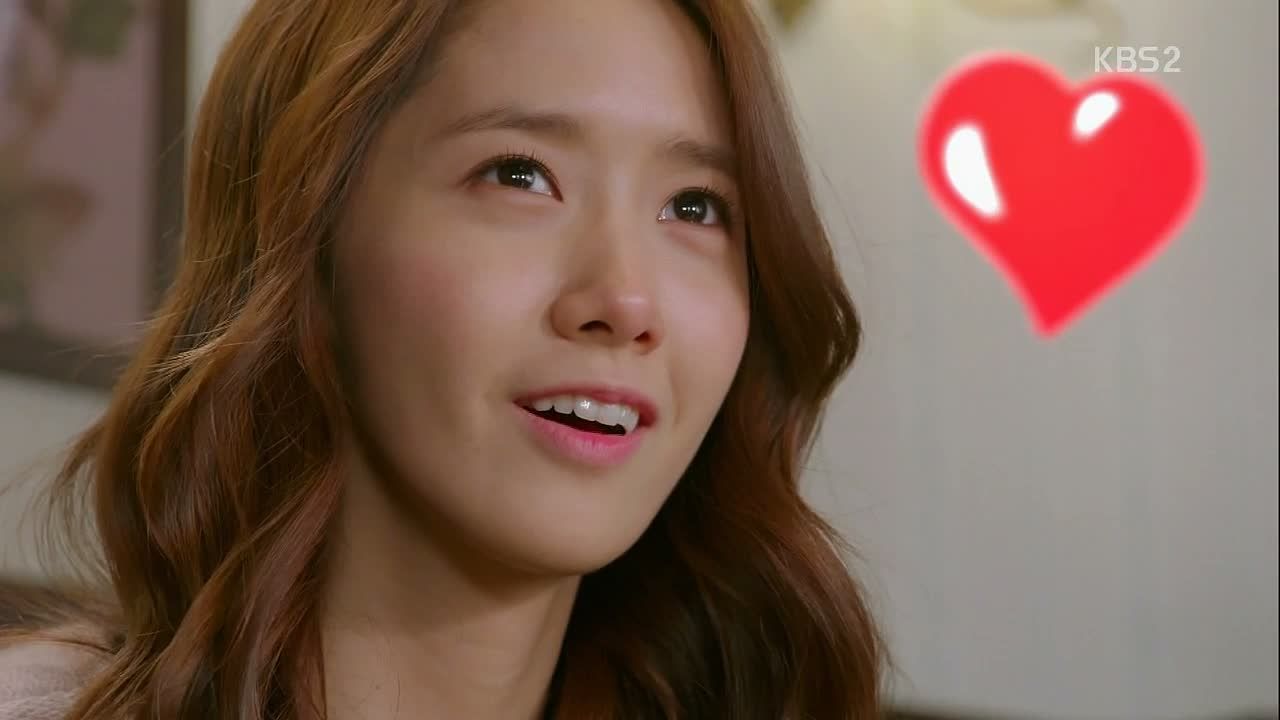 RELATED POSTS
Tags: Chae Jung-ahn, featured, Lee Beom-soo, Prime Minister and I, Yoon Shi-yoon, Yoon-ah