Prime Minister and I: Episode 9
What happens when everyone can see how much you adore each other, but neither of you will admit to it? Outside influences continue to put pressure on the contract marriage, and just when our couple takes two steps forward, another tug at the guilt strings takes them one step back. But the thing about attraction is that at a certain point, it simply cannot be contained and requires the courage to take a step in the same direction.
And finally, and I mean finally, we get to hear the full three and a half minute song we've all been waiting for in this drama in all its warm and fuzzy goodness. Yay!
SONG OF THE DAY
Taemin – "발걸음 (Footsteps)" for the OST [ Download ]
Audio clip: Adobe Flash Player (version 9 or above) is required to play this audio clip. Download the latest version here. You also need to have JavaScript enabled in your browser.
EPISODE 9 RECAP
As In-ho oversees the preparations for the new year's press conference, he thinks back to last night's backhug.
Da-jung wakes with a blinding headache and falls back into bed. Yul clucks disapprovingly, but her hangover doesn't excuse her from today's public appearance. He barks at her to get ready and walks out… only to peek into the bedroom again, concerned. Aw.
Meanwhile the reporters arrive at the estate, including Reporter Byun, who smiles devilishly at his hidden card (the snowball fight photo). He tells the Scandal News Team to look forward to his big moment, as Editor Go mentions that he too has another card up his sleeve.
Still nauseous, Da-jung leans against the wall in the hallway for support. She freezes when In-ho approaches and keeps her eyes averted at his concern and subsequent advice on how to tackle the media's questions.
Just when he's about to bring up the previous night, Da-jung quickly excuses herself and runs off, to his dismay.
Da-jung catches her breath outside and is joined by Yul, who places a hand on her forehead. He tells her that she can sit it out if she's still feeling unwell, but Da-jung smiles and says she can't be absent.
Turns out Editor Go's petty revenge plan against Da-jung involves a spiked drink. He's miffed when he gets ignored when she walks in and gleefully adds the laxative. I'll laugh if Reporter Byun ends up drinking that glass, especially given how he's downing his own.
Da-jung does swing by to say hello though, and Editor Go hands her the drink himself when Hee-chul hesitates to do so. Noticing how nauseous Da-jung looks, he points out that it looks like she's trying to fight a hangover.
But that's when Yul moves in to answer that his wife isn't a drinker, and then downs the glass in one gulp. The Oh, shit expression on the editor's face is priceless.
Da-jung does her best not to puke during the press conference. When she's asked what kind of husband Yul is, she takes a beat before answering that Yul can be difficult and frustrating at times, "but he's the best kind of husband to me." Aw.
Then Reporter Byun rises for his big moment and drops the bomb of how the doting couple is deceiving the entire nation with their so-called marriage. He asks outright if it isn't a contract marriage, which puts Yul and Da-jung on edge.
Slamming the photos down in front of them, Reporter Byun reveals all his cards that support his accusation that this marriage is a sham. Yul finally loses his cool, and then crumples at the reporter's feet, begging for forgiveness. Ha, it's just the reporter's imagination, isn't it?
So Reporter Byun laughs maniacally as he drinks in the crowd's praise… which is when we cut back to reality as Da-jung finishes her answer. Then Reporter Byun rises from his seat… and farts. HA.
Hee-chul confirms that he gave the spiked drink to Reporter Byun instead, who fights his bowel movements while spluttering some sounds, then exclaims, "Where is the bathroom?!" before running out.
But Editor Go pieces those utterances together in his head, and then asks if the couple have agreed to a contract marriage. And to everyone's surprise, Yul answers that it is.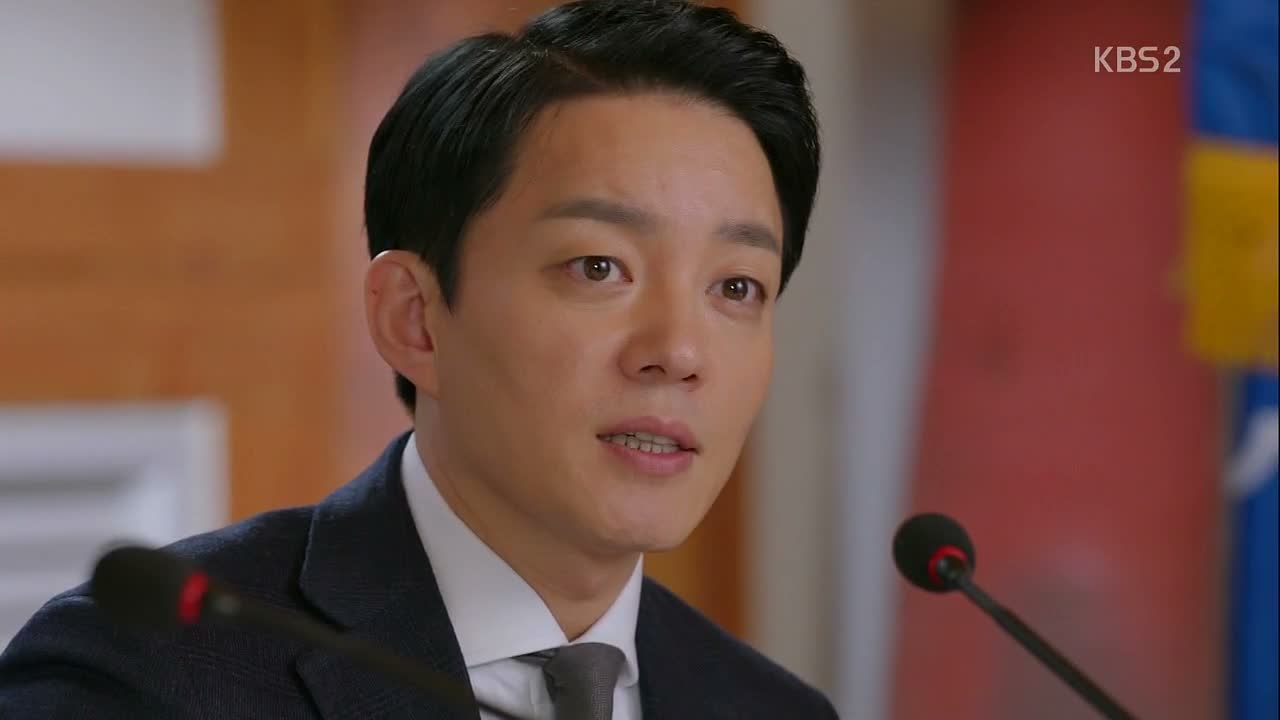 He further explains that contract is an agreement between both parties, and they had agreed to do their best as a married couple. It technically isn't a lie, then Yul turns to Da-jung and finishes, "I'm never going to let this woman go." Oh, swoooon.
Their marriage is a lifetime contract, Yul declares, and that silences the entire room. Da-jung starts to gag just then and the media immediately speculates whether the young prime minister's wife is pregnant.
They manage to dispel the pregnancy rumors, and Hye-joo remarks on how Yul has changed to say things he doesn't necessarily mean anymore. Oy, if only really knew. In the bathroom, Da-jung giggles to recall the swoon-worthy statement before hurling again.
Needless to say Da-jung still feels awkward around In-ho, who stops her from making another exit. He says he didn't sleep a wink last night reflecting upon his confession, but he doesn't want to regret saying the words because his feelings are real.
He thinks it's better that things are awkward between them now; he'd rather be someone she feels uncomfortable around than someone she feel comfortable with but oblivious to his feelings.
Reporter Byun returns to find his incriminating photos missing, and we see that they're in Hee-chul's hands now. Aw, you're looking out for your co-worker noona. He hastily hides them before Editor Go sees.
Back at the estate, Da-jung has Yul sit down to share a late-night snack together. She offers to read to him tonight as well since it seems he's having trouble sleeping again.
She asks what's worrying him, and he answers that he has a new homework assignment but doesn't tell her what it is. She advises him that he shouldn't procrastinate on it, but he can put it off long enough to indulge in today's pleasures. He smiles at that.
They dig into the ramyun Da-jung made for them, which Yul admits isn't half-bad. Heh. Then they share in an almost Lady and the Tramp moment over a shared noodle. Yul breaks away first and Da-jung slurps it up.
Yul tsks and points to the trail left on her face. He takes it upon himself to clean it with his thumb when Da-jung has trouble finding it… which is when Na-ra and Man-se walk in and ask what they're doing. HEE.
The kids assume that the adults were about to kiss, and then proceeds to tease them for it. Cute. Man-se happily chirps the story to the staff in the morning, and they eat it up readily. I love how the housekeeper hints that the kiss was nothing compared to what she walked into.
Da-jung takes offense when Yul sighs why he has to put up with such an unpleasant misunderstanding. She says she never asked him for his help, all while cornering him into the wall.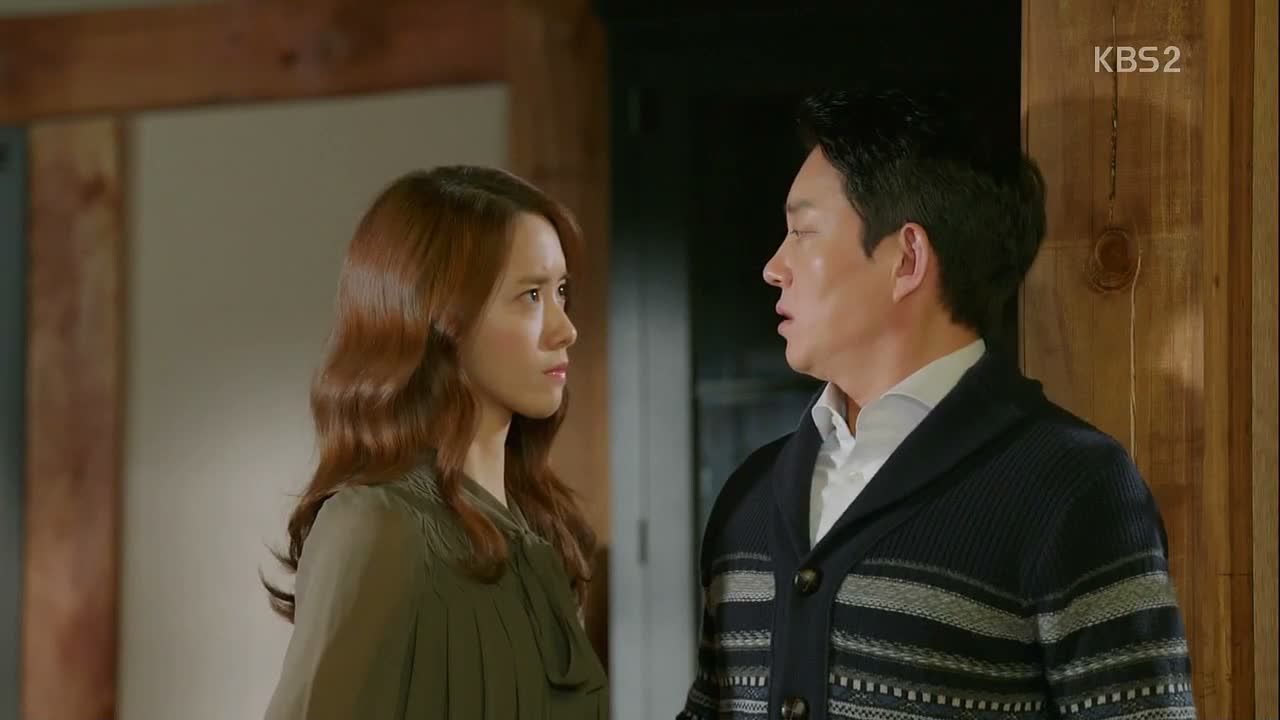 The proximity has Yul gruffly tell her to back away, and Da-jung leans in even closer to ask if she's the only one at fault here. He pushes her away with his finger and tells her to stay at a two meter radius, adding his "That's an order!" line for good measure.
Yul breathes deeply once he's alone and remarks that his heart is beating fast. He thinks it's because of this misunderstand, but we know better. A little later, the housekeeper wonders why Da-jung is still here when the prime minister and children went off skating.
Reporter Byun apologizes to Joon-ki for his failed mission and vows to find the ones who stole his photos. That prompts Joon-ki to ask if those were the evidence he was talking about, and the reporter shows off the copies on his phone.
Now Joon-ki realizes why In-ho didn't want to implicate Da-jung in this matter, and he tells the reporter to hold off for now.
Hye-joo spots the two together at the golf course, and calls In-ho to confirm his suspicions. In-ho picks up a tail of his own, however, and is it just more or do those shoes look oddly familiar? Sure enough, it's none other than Hee-chul, here to talk to him.
At the same time Hye-joo runs into Madam Na and her gossipy friends, who immediately jump to the conclusion that she's here to meet Joon-ki. One sharp glance from Hye-joo causes Madam Na to stand down, and Hye-joo declares that she doesn't get involved with married men.
She charges past them complete with an awesome hair flip, and when the gossipy friends offer to give her what for, Madam Na says Hye-joo is stronger than she looks. Heh.
Joon-ki informs his secretary that he didn't want to make his move against In-ho with flimsy evidence. He finds it hard to believe that rumor has it that the prime minister and wife are a doting couple, which is more than one could say about his own marriage.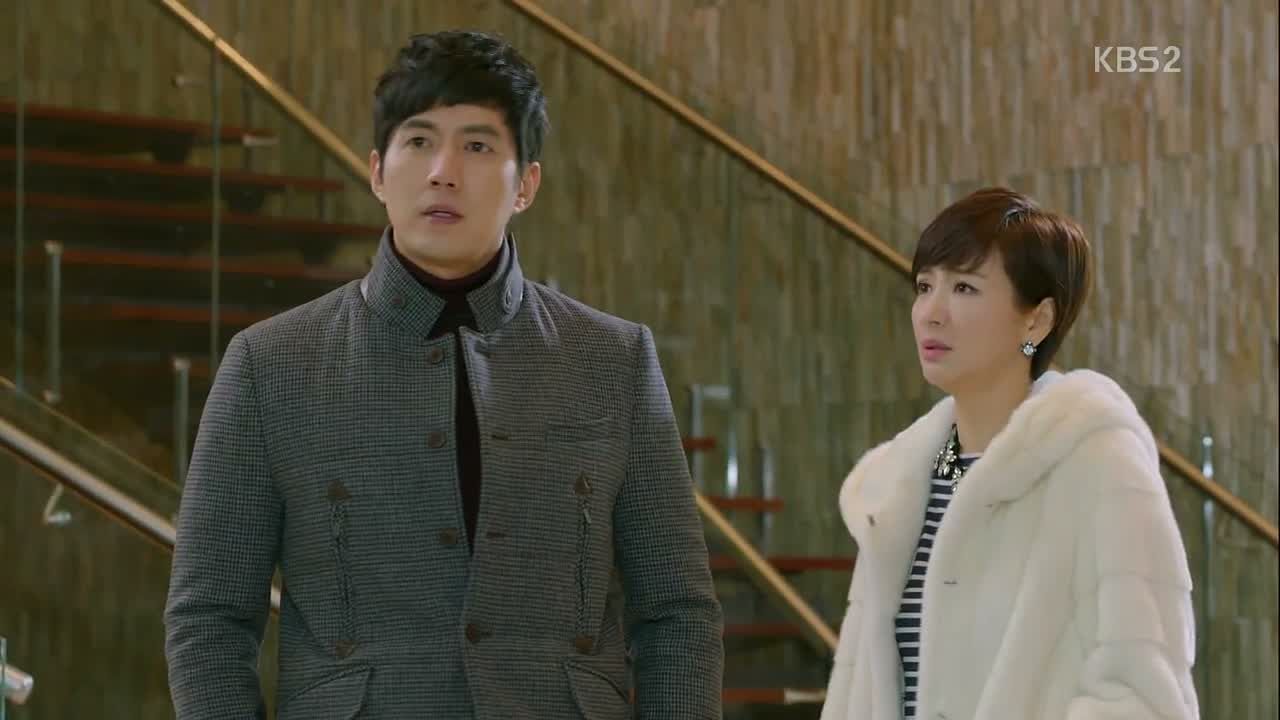 He chides his wife when she says she brought lunch, and she pouts that he's always so harsh with her. I gotta agree with her on that. She cries that she just wanted to spend time with him, just like how she heard that Yul is off skating with his family.
At the skating rink, Man-se says that it would have been nice if ajumma joined them. Turns out the outing was Woo-ri's idea, and he asks his sister if she doesn't remember coming here often when they were younger. Hm, did their mother bring them here?
That's when Da-jung arrives to join them, and she sees Yul skating out on the rink like a pro. Suffice to say she's impressed, and Yul comes to clean stop in front of them.
When he asks what she's doing here, Da-jung replies that it isn't good for anyone for her to be left out. He asks if she hadn't thought about how she'd be happier about getting some alone time, but she's happier spending time together.
He tells her to do whatever she wants then, but breaks into a smile when he turns away. Aw. Yul leads his family in a speedskating lesson, and walks Da-jung through the steps himself.
He catches her when she nearly falls and holds her hands (for balance, of course). The family enjoy skating together until the kids complain that they're hungry and tired. Yul says they can't take a break now, but that's when Joon-ki arrives at the rink with his family.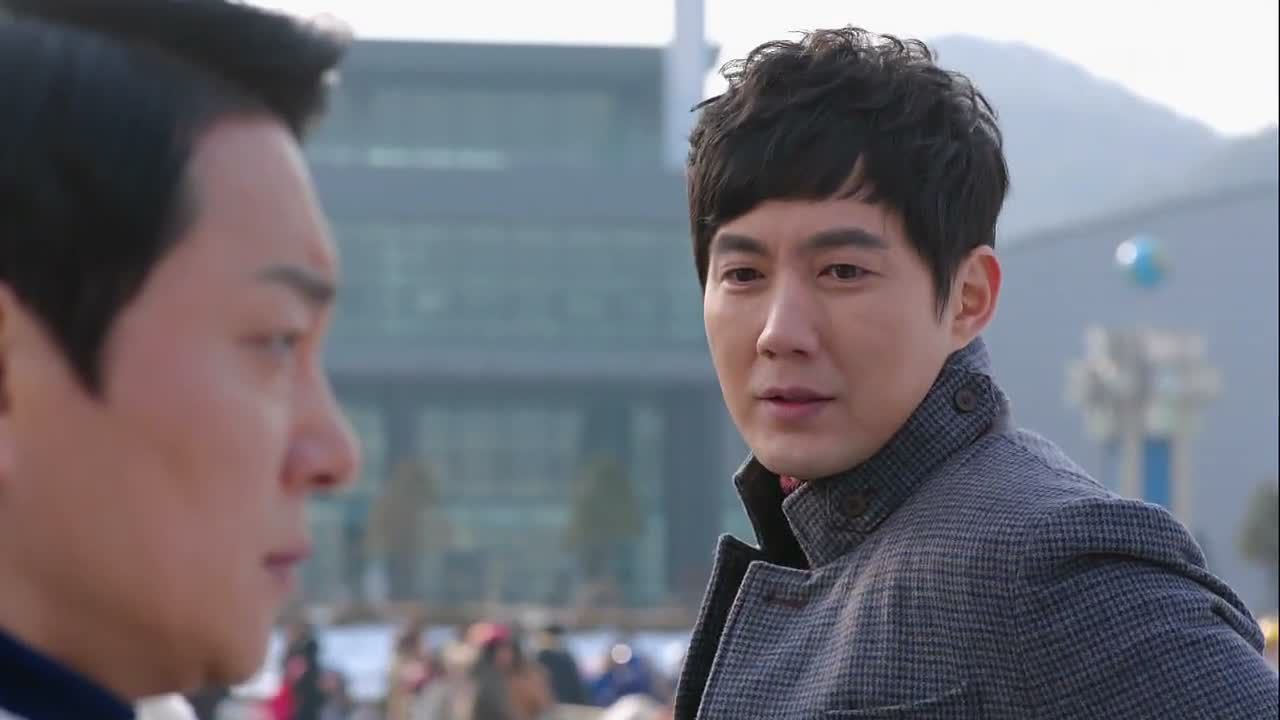 Joon-ki remarks that Yul has sure changed a lot with his display of public affection and even spending time with his family. Coming here was Woo-ri's idea, and Joon-ki relishes in how Yul had no idea that the children's mother frequently brought them here as a distraction from their busy father's absence.
Da-jung speaks with Madam Na inside, who sneers that she's too busy a person to be sewing silly frog dolls. She's shocked to learn that Yul has also made a few despite his busy schedule.
Jealous of the prime minister's newlywed bliss, she says they must be very happy together, and Man-se chirps that they are because he saw them kiss last night. Ha, this kid. Da-jung hurriedly ushers him away, and Madam Na seethes.
Joon-ki sits down a minute later, and when they catch Yul taking care of Da-jung outside, Madam Na wonders why her husband told her that those two didn't have any feelings for each other.
We check back in with Hee-chul, who hands over the snowball fight photos to In-ho. He says that he'll deal with Reporter Byun and advises In-ho to be more careful in the future.
Hye-joo joins In-ho at the same cafe a bit later, informing him that she doesn't know what the reporter and Joon-ki are up to. She hits a sore spot when she asks if In-ho confessed his feelings for Da-jung yet, and is impressed to find out that he already has.
She admits that In-ho has won in the one-sided love race, but let's be honest—nobody here in this dramaverse (well, maybe Joon-ki) can beat nursing a crush for two decades. She asks where he gets that kind of courage from.
Joon-ki gets a call from In-ho to meet up before he exchanges goodbyes with Yul and his family. Once they're alone, Joon-ki says that it seems Yul has forgotten all about his first wife because of Da-jung.
Yul ponders over those words that evening, and finds a bowl of his favorite strawberry ice cream with a sketch by Da-jung waiting for him in his study. But the ice cream remains untouched and melts by morning.
Then it's as if he's fallen back to his gruff ways with Da-jung, being stern with her at kendo practice and dismissing meals. Da-jung sighs, wondering what's suddenly changed, and Na-ra complains that she's being too loud.
Man-se pops in with a question while holding Da-jung's phone. It's Dad, who's calling to ask if his calculations about his card game are correct (they are) and to tell Da-jung that she appeared in his dreams last night.
He worries that things aren't going well at home, but Da-jung assures her father that everything's fine. Dad abruptly hangs up when she asks if he's taking care of his health, and then we see that he's actually playing cards by himself, talking to the air. Oh, Dad.
Da-jung find Yul deep in thought in the courtyard that evening. She offers to help him with whatever he's worrying about, and Yul tells her to go inside. She asks if she did something wrong, and when Yul says she didn't, she asks why he's avoiding her and acting as if he's mad at her then.
So Yul tells her that he feels uncomfortable around her now, "just because." He appreciated her efforts for encouraging him to spend time with his children, but now he finds that burdensome. They're in a contract marriage, he reminds her, so there's no need to go the extra mile for each other.
Tears well up in her eyes as Da-jung says she doesn't like that idea. Placing her hands on his arm, she says she's someone who lives in the present and is determined to play her part as his wife to the fullest.
Shaking her hands away, Yul asks if Da-jung regards this as a game—is it fun for her to play married? It isn't for him, he continues, and asks that she doesn't cross that line again in the future.
He walks back to his study where he takes out the bow hairclip from his pocket. Both Yul and Da-jung spend the rest of the night brooding separately.
Yul looks at his bandaged hand, and then calls up Da-jung (saved as "Nam Geok-jung," hee) before thinking better of it. In-ho enters moments later and asks to be excused for a couple of hours.
I assume it has to do with the text he received, and as he runs out, Reporter Byun calls in to report that everything is in place. And not far off, Hee-chul worries that the reporter is up to no good.
In-ho arrives at his destination and rings the bell to the hotel room. He's surprised to see Da-jung open the door from the other side, having received a text to meet In-ho here.
They head inside before anyone sees them, and Da-jung shows him the message she received. But In-ho says he never sent it and it occurs to him that they're being framed.
And outside the hotel, we see Joon-ki look back at the hotel and think to himself how Yul could dare to forget Na-young. Dude I know you're still hurting, but it's been seven years; maybe it's time we learn how to move on?
Reporter Byun leads the media pack once they arrive, while In-ho and Da-jung survey their surroundings before sneaking out. Eeek, couldn't you two leave separately or something? Catching you together is going to make it look worse!
Thankfully Da-jung arrives at that solution after they're nearly spotted by Madam Na and her friends. But In-ho says he won't go anywhere without her, and they backtrack when the exit is locked, only to find themselves face to face with the pack of reporters.
Reporter Byun alerts everyone to their presence and In-ho lets go of Da-jung's wrist. In-ho shields her as the press snap their photos and pegs them with questions. Feeling smug, Reporter Byun then asks what business the prime minister's wife and the aide might have to meet at a hotel so late at night.
When Da-jung starts to answer, In-ho replies that he was to escort Da-jung to an important appointment. That only raises more suspicion and Reporter Byun demands an answer. Then In-ho looks up and replies, "Prime Minister Kwon Yul."
Yul walks through the pack and informs everyone that he wanted to hold a personal romantic gesture for his new wife. Reporter Byun cringes in embarrassment and Yul keeps a smile on his face and leads Da-jung to the hotel room, where he asks what happened.
In-ho is fighting angry tears by the time he steps outside and learns that Yul and the rest of the staff were given a tip-off from Hee-chul. When Hye-joo asks for an explanation, In-ho gets into his car for a broody ride instead.
Da-jung truthfully recounts the story to Yul, who tells her that's enough. She asks if she made another mistake and placed Yul in another sticky situation today. He says that it isn't the case, but rather he finds these kinds of situations cumbersome and tiring now.
Near tears, she says her head was full of worries about how much this situation would affect and trouble Yul. Walking up to her, he tells her to stop.
But Da-jung says that she has her own two cents to add and asks why everything has to be Yul's way. He's angry with her because he thinks that this is really her fault, she says, "and if you dislike me and are displeased with me that much—"
And then Yul pulls her in to hug her.
COMMENTS
Eeeeee!!! (lots of indiscernible squealing) I'm so happy and relieved that Yul acted upon his feelings with the hug, since the deliberately cold and distant Yul leading up to it was hard to watch. I don't think either he or Da-jung truly realized how their relationship appeared to everyone else, given how their care and concern for each other evolved so organically. It's like the entire world knows how they feel about each other but themselves, a notion so common in rom-com land.
So when Joon-ki poked a guilty pressure point about Na-young, I can understand the reason behind Yul's one-eighty in his behavior towards Da-jung. Losing a spouse is tragic enough, and that truth is compounded with how his three children will grow up without their birth mother. For such grief to be followed by new joy, it's natural that guilt would accompany that happiness. I'm just glad that Yul didn't wallow too long before he spontaneously hugged Da-jung—unplanned accidents do these two good.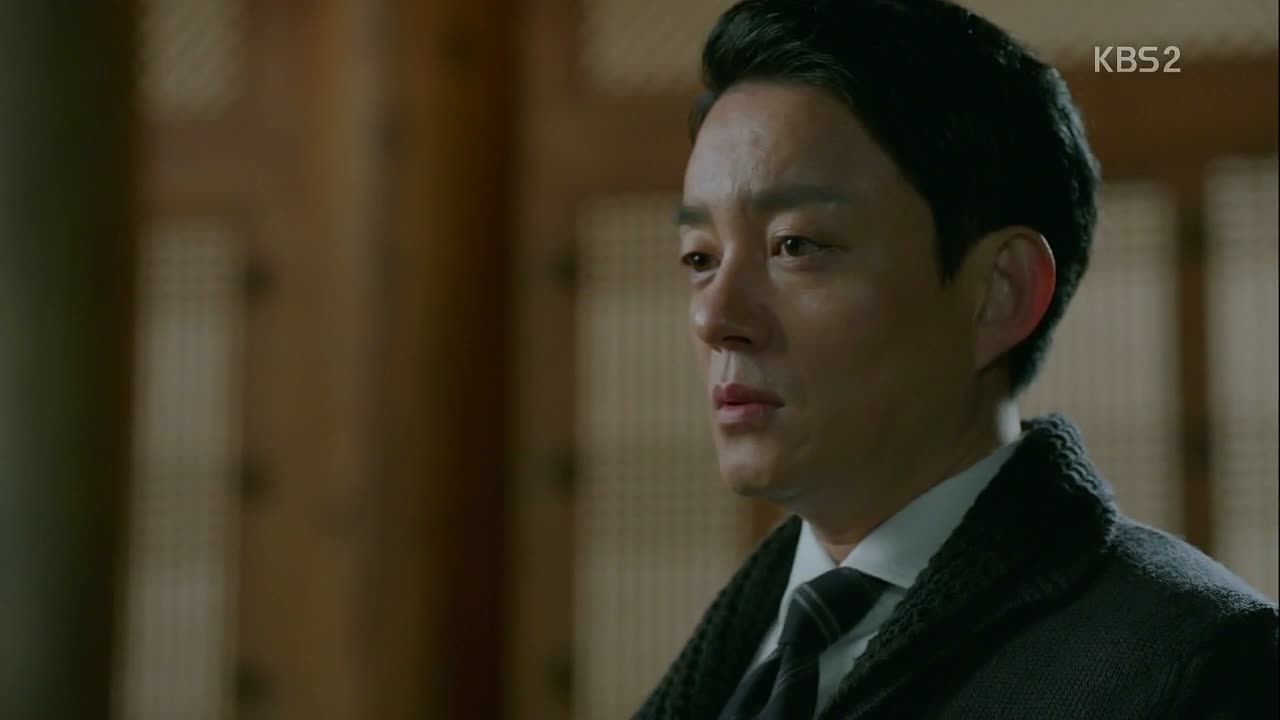 For someone as stubborn and frustratingly difficult as Yul can be, it's interesting that he does listen and considers the words of those around him. In fact there are times I feel that this thoughtful aspect in him is also his weakness, because he's so preoccupied with these worries.
His character feels so wonderfully layered, especially when compared to Joon-ki, who continues to be the straight villain fixated on his revenge plan. His "how dare you forget about Na-young" was almost laughable because it was as if misery wanted company. So while Yul is putting forth effort to getting to know his kids, Joon-ki would be the bully who constantly jabs him about not doing so earlier. Which is pretty ironic coming from a man who hardly shows any affection for his own family.
Oh In-ho, what will we do with you? I had expected the awkward tension now that his feelings are in the open, and for some reason, I find that this consequence and words feels even more burdensome than before. I nearly facepalm-ed in frustration when he insisted on staying by Da-jung's side at the hotel when the other less suspicious escape route was available (though I could see how Da-jung leaving a hotel on her own could still be suspicious), but I shouldn't be surprised that his feelings are also clouding his judgment. Still, I appreciate how truthful he is to his feelings, and I suppose it's hard competing with a man, let alone a prime minister, who says he won't ever let go of the woman by his side in this lifetime.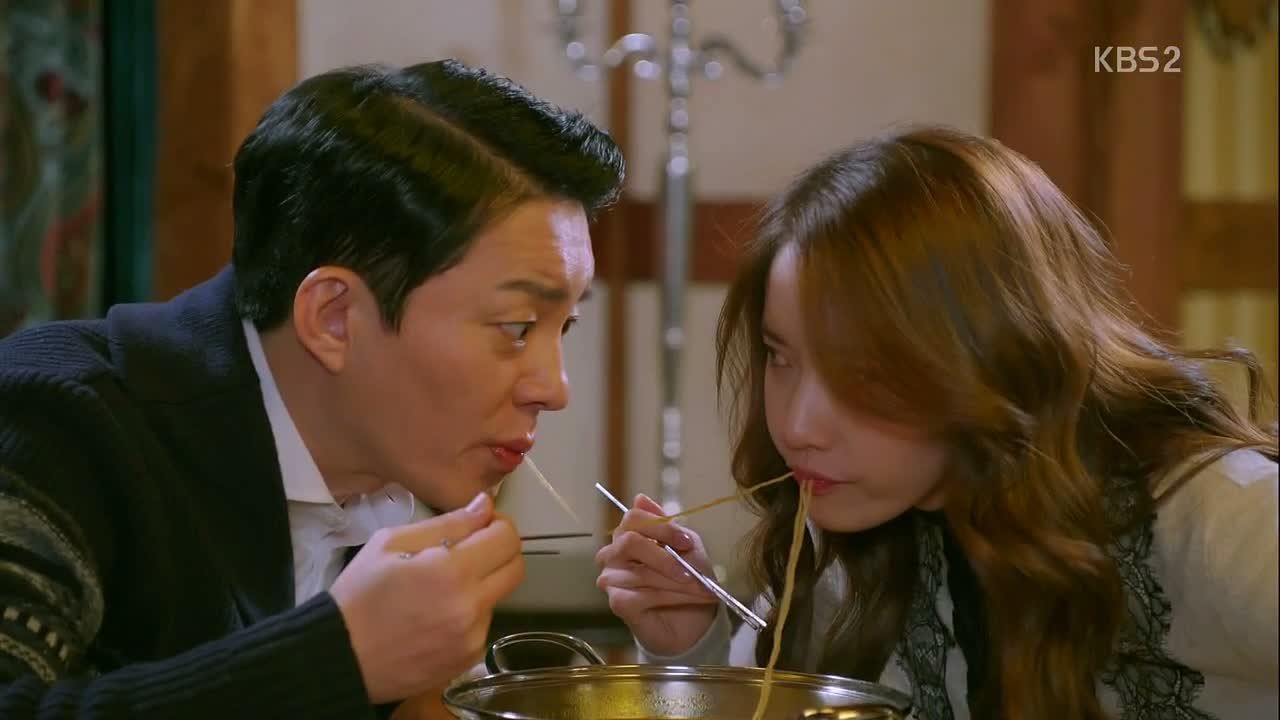 RELATED POSTS
Tags: Chae Jung-ahn, featured, Lee Beom-soo, Prime Minister and I, Yoon Shi-yoon, Yoon-ah