Running Man: Episode 180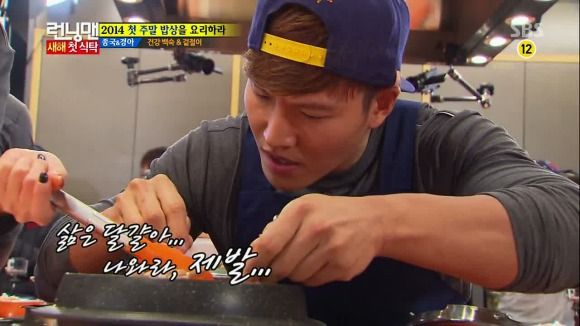 We finally get to the actual cooking portion of this intense showdown in this second half. It's best that you eat dinner before watching this episode, lest all the yummy looking food makes you salivate. Yet at the end of the day, the taste will speak for itself. Can they take the heat of the kitchen or will it prove to be too much to handle?
EPISODE 180. Broadcast on January 12, 2014.
We resume the cooking battle as Jae-suk sits down for his interview and the PD jokingly asks for his name. Ha, as if any of us wouldn't recognize the nation's MC. He gets heckled some more about his prepared menu of rockfish before we get a quick recap of last week's episode.
The teams arrive at their kitchen stadium and greet each other for the first time today. Jae-suk says Jong-kook looks pint-sized next to model Kyung-ah, and Sunggyu hilariously greets Soo-hong with the mention that he once saw the MC at a club. Hahaha.
Everyone trickles in and Jo PD officially kicks off the cook-off. We re-introduce today's judges, including star chef Raymond Kim, food researcher Shim Young-soon, webtoon artist Jung Da-jung, and chocolatier Louis Kang.
The cast is understandably nervous at the prospect of being judged by the experts, who will evaluate them according to various measures. Jae-suk wonders if their measly cooking skills are even up to par to be judged at all.
Raymond Kim wants to see them enjoy the process. Cue laughter, that immediately cuts out when he adds that doing that will lead to a lower score. Jae-kyung asks if Louis Kang is single (he is), and then Soo-hong calls Teacher Shim "noona." Gary: "She doesn't frequent clubs!" Hahaha.
Da-jung is surprised to be referred to as a noona compared to Kwang-soo, when in fact, she's much younger than he is. He asks who her ideal type is, and she whips back that it isn't someone like him. Ha, I like her.
After a few more questions about decorations, they start the timer for a hundred minutes. A series of interviews reveal that Jong-kook doesn't expect to win with his little cooking skills whereas Dong-wook is confident in his team's main ingredient… and nearly makes off with the golden horse. Hee.
The competition is already intense as Jae-suk tries to boost everyone's morale… and Jong-kook snaps back at him for being too noisy. Soo-hong praises his sous chef Jae-suk on his speediness, and later we hear him say that he wishes Jae-suk was always working for him.
Whoa, Soo-hong even brought his own personally-engraved knives for the occasion, which Jae-suk is quick to boast about. Jealous, Kwang-soo adds: "I would have brought my own if I'd known." Suk-jin: "Who doesn't have their own personal knife set?"
Soo-hong switches to serious professional chef mode as Jae-suk recounts to us (again) about how they caught those fresh fish. Jae-suk can only cringe as his teammate expertly cleans off their catch, and tells the PD that he's satisfied with his teammate.
If he had the chance to switch teammates? Jae-suk answers readily: "Jae-kyung." HA.
Either the show thought we'd forgotten what happened last week or needed more footage because they show us how Ji-hyo's team acquired their king crabs. Her theme for their menu is a play on words: "Really delicious Table" (really and crabs are homonyms in Korean).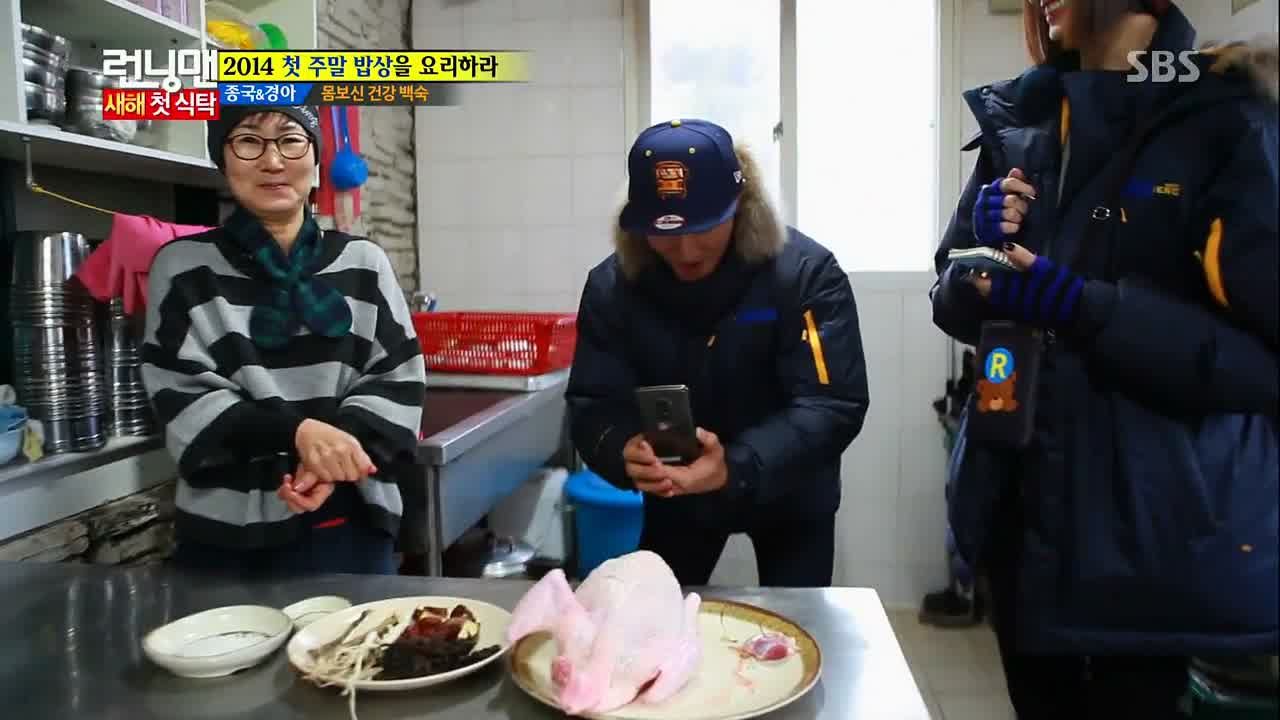 Omg, it's been less than twenty minutes and already the food is making me salivate. Haha cringes at the sight of the skinned chicken ("It has a head!") as Jong-kook tells us that the focus of the new year is being healthy. What else would we expect from the gym rat?
He and Kyung-ah had received tips about the prep process and ha, Jong-kook even took pictures of the raw chicken as reference. They had picked up some seafood to supplement their menu, and Jong-kook keeps pelting his teammate with questions, nervous that he might mess up.
Kyung-ah finally bursts, but it's adorable that Jong-kook just wants to do a good job and get it done right. She tells us again in the interview that she didn't know Jong-kook would talk THAT much, and Jong-kook says he only did as he was told, though, he did talk a lot in the end.
As for their team harmony, Kyung-ah laughs that she did all the work, but Jong-kook was a great support. Aw.
Haha gives this long analogy and likens the cast and crew to the ingredients of their Jeonju bibimbap, all combined to form one dish. They soak their rice in beef bone broth, which sounds pretty delicious and fry their other veggies.
Luckily for them, the rice looks pretty yummy, but Haha worries if it actually tastes okay.
Suk-jin says his eel dish is good for one's "stamina" for you know, when it's business time. Jae-kyung keeps throwing words of encouragement at Gary, who's told that he would probably still be happy even if he didn't win today.
Gary: "Cooking is love!" The staff snigger at that, and we see that Gary gets worked up when they laugh again during his personal interview. "Why are you laughing?!"
I honestly lost him on his "love is a kebab" reference, but things seems to be going well for this team. Jae-kyung's chopping skills are pretty impressive, and Haha says that he'd want her to be his partner on her cooking abilities alone.
He isn't the only one of course, as both mat hyungs answer that they'd like to work with Jae-kyung. When Jae-suk is asked who he thinks definitely won't win, he answers Kwang-soo and John—turns out that's a pretty unanimous opinion.
John seems to have a hard time getting his batter going, and Kwang-soo doesn't appear to be doing much better. They had even learned pro tips, but you wouldn't be able to tell that now given how much trouble they're having.
They're alarmed to hear that twenty-five minutes have already passed, and Jae-suk wonders if that team wanted the laughs.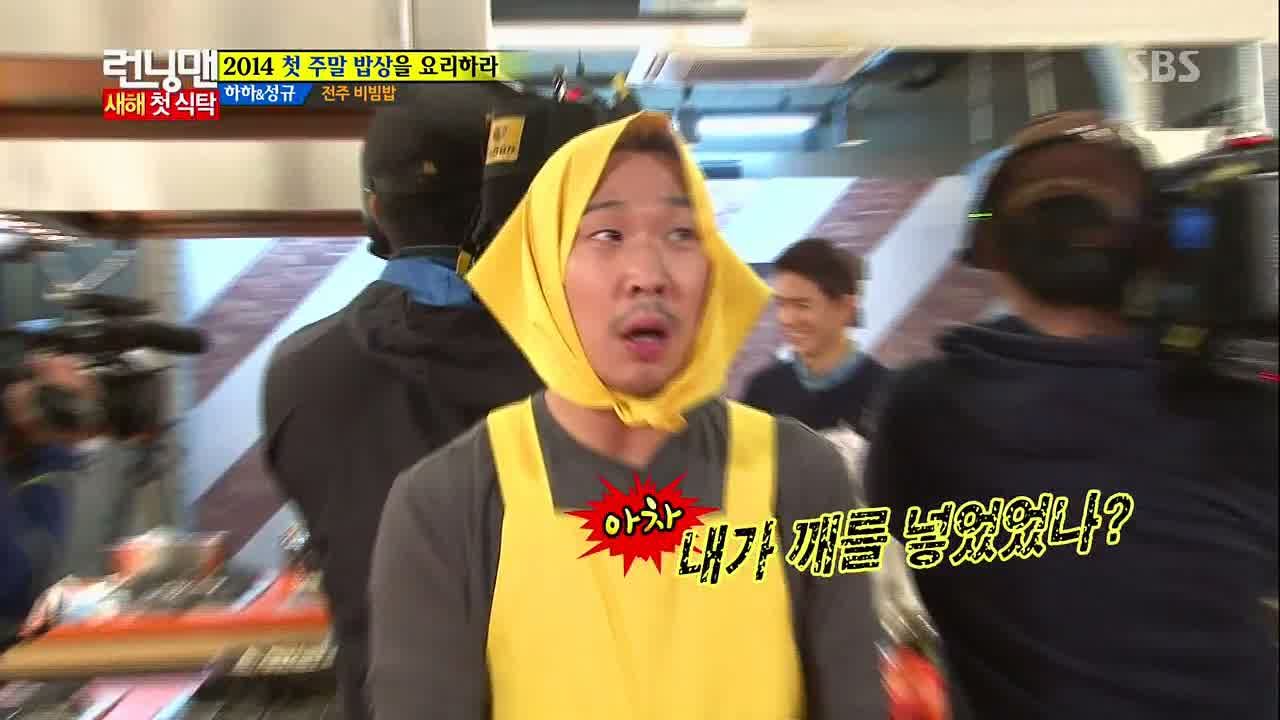 That's just the beginning of the cast's worries as Haha freaks out whether he's forgotten an ingredient. He's relieved to find that Sunggyu had the foresight to add it in ahead of time, but then they both get confused whether they have to cook the mushrooms or not.
They do, but something's off because Sunggyu reels at the taste. So does Haha and they wonder why it's so salty.
Jae-suk jumps when their fish—which is cut, mind you—starts to move, and then jumps back a good foot when it flails on the plate. At that, Gary tells Soo-hong to stop going to clubs because the fish are flicking their tails (or flirting), too. Ha, so punny.
Ji-hyo and Dong-wook take out their steamed crab and get to work on the stew, which Ji-hyo's cousin taught them how to make. John is still works at his batter tirelessly and worries over his too-thin noodles.
The judges walk around at the halfway mark, which immediately puts everyone on edge. Kwang-soo puts on an air about how wonderfully delightful it is to cook, and Da-jung remarks, "I think you're going to spit on the food." HA.
Kwang-soo keeps chattering away as the judges make their rounds in an effort to appease them, to John's annoyance. Teacher Shim is nice enough to drop some tips along the way.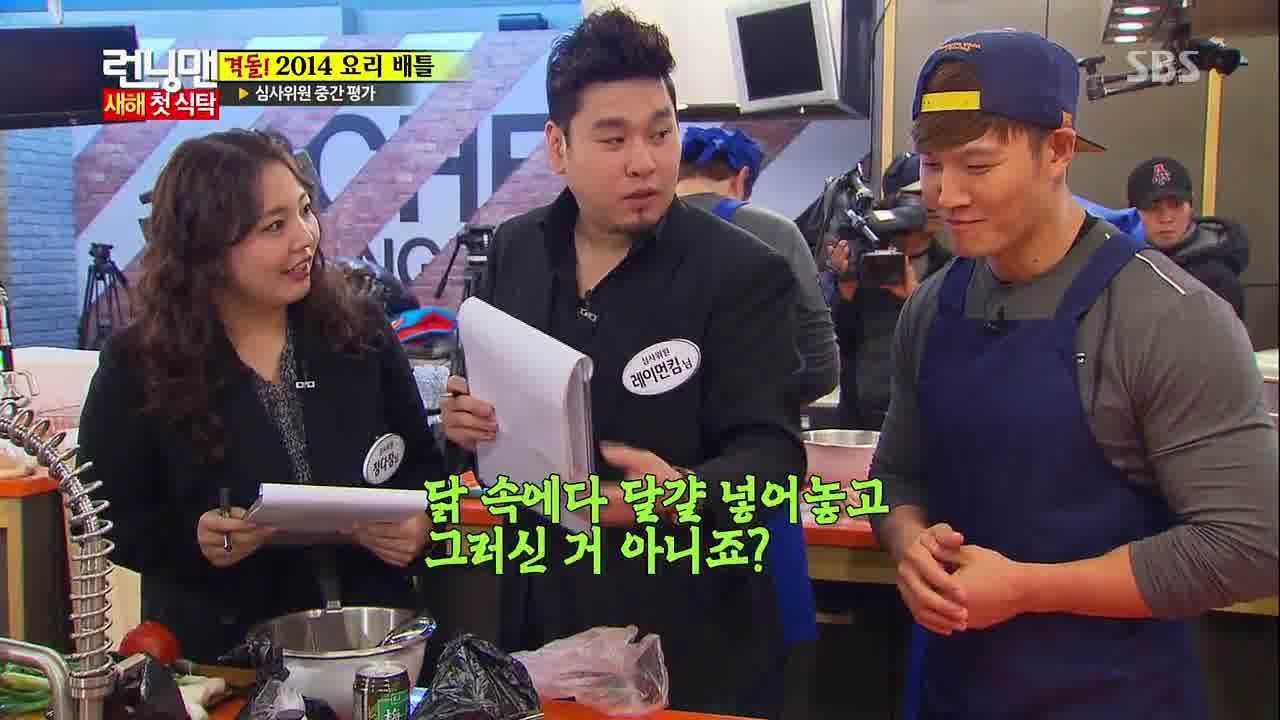 Jong-kook talks up his chicken dish to the judges with the emphasis on health. At the end of it, Raymond asks: "You're not just going to stick eggs inside the chicken, right?" From Jong-kook's flabbergasted expression, I wouldn't be surprised if that was the original plan.
Then it's doubly funny because it turns out that placing boiled eggs in the chicken's cavity was Kyung-ah's idea. Jong-kook in the middle of explaining how he doesn't plan to use much salt either when a ruckus shifts their attention.
It looks like Suk-jin's team had forgotten about the oil in their pan, and I love how John just moves the pan over like it's no big deal.
Teacher Shim goes around to fix everyone's techniques and criticizes Jae-suk's cutting skills whereas she simply gives Soo-hong an encouraging pat on the back.
Jong-kook and Kyung-ah are still gung-ho about their hard-boiled egg-in-chicken method, and the show portrays the process as if it were some type of serious medical procedure.
He flips when the egg pops out and employs Kyung-ah's help, and I'm sitting here laughing at the oh-so-dramatic mood of this one task. Gary cuts the tension by asking if they're trying to revive an already dead chicken, and it's another ordeal just trying to get that half-stuffed egg out.
Now that they're in the clear, Jong-kooks suggests they anesthetize their hands before proceeding. I'm so amused at how he's the cautious one whereas Kyung-ah taps her foot impatiently. They finally manage to insert the egg, to their relief.
Meanwhile, Suk-jin and Kyung-ho run into a different problem when Kyung-ho mixes the ingredients too early. The end result tastes fine, but the food itself doesn't look too pleasing. Then Soo-hong groans when his fried rockfish breaks in the pan. Jae-suk later retracts his praises on his partner, saying that Soo-hong actually doesn't cook that often. Heh.
Soo-hong says this happened to him during his professional test too, and he saved the dish with some sauce. Could that trick work twice?
Jae-kyung and Gary's meat seem to be grilling well, but the same can't be said for Haha and Sunggyu, who are told that theirs is undercooked and bland. Uh oh.
About an hour passes before John finally cooks their noodles, and Kwang-soo tells us that they probably cooked those noodles for a good forty minutes or so. Er, that's not good.
The Death Star theme song can't mean good things, but things seem to look good for Dong-wook and Ji-hyo. Not too far off, Kyung-ho comments that the eel is good, but worries that it's too soft, and Suk-jin says they'll just say that the eel is soft in that area in Korea.
The teams are given a ten-minute warning and they hurry to wrap up. Dong-wook says that cooking is no easy task, adding that he'd rather do the bungee jump back in Macau.
Kyung-ho keeps a close watch over Suk-jin's shoulder as they plate their food and the other teams rush to keep their time. Unsurprisingly, Jong-kook keeps nagging as the seconds count down until it's time over.
It's judging time and each team will be evaluated in turn. Jae-suk and Soo-hong are up first as they introduce their rockfish stew and sweet-and-sour rockfish dishes. They have this hilarious back and forth about how they were told it was virtually impossible to catch this fish, but they did it.
They nearly talk a big game about it until they finally let the food do the talking. When the PD mentions that they're covering the judges' shot, Jae-suk and Soo-hong resort to serving their dish from the floor. HA.
Problem is, the judges whisper that there's a fishy smell, and the actual criticisms are no joke. They're told that the sweet-and-sour dish tastes like sauce over a fish, and that the fish in the stew is tough.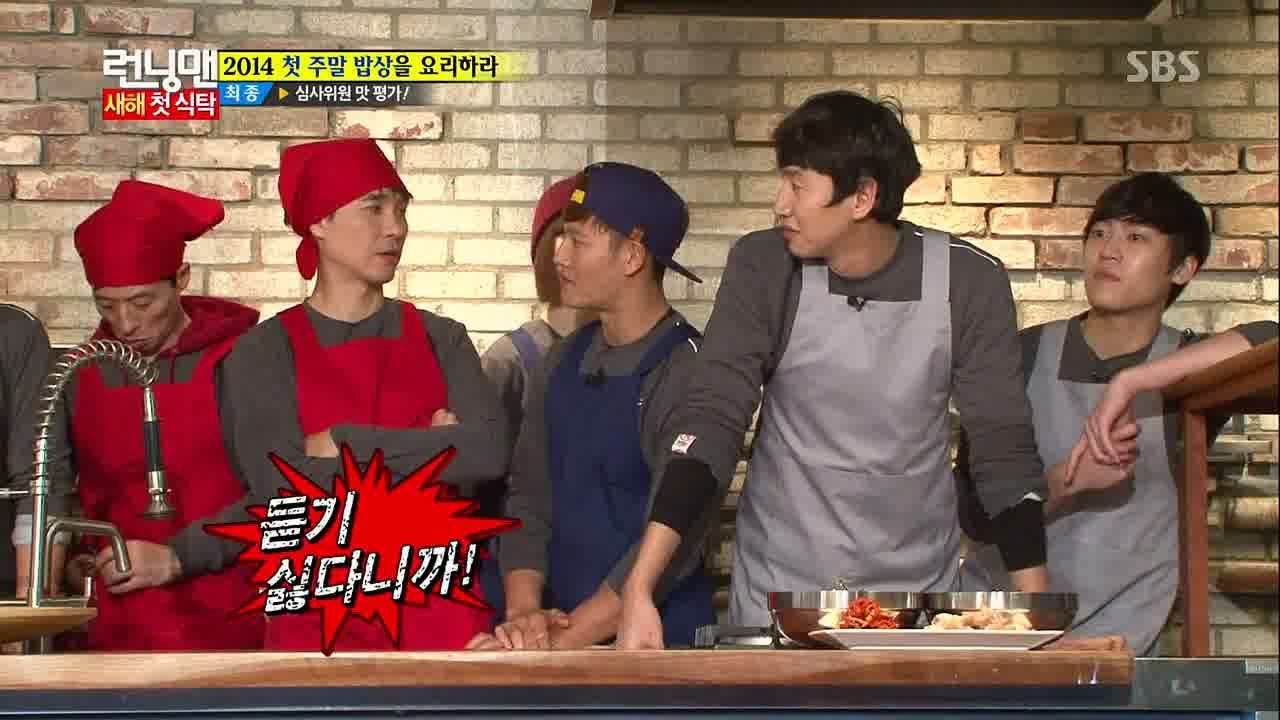 Jong-kook sticks with his health-conscious spiel for the judges (whereas Kyung-ah had admitted she wanted to make a bold fashionista-like dish), and Kyung-ho tells them to hurry up before the food gets cold.
The judges are impressed and the duo is heaped with praises, much to their relief and delight. Jong-kook doesn't hesitate to give Soo-hong some tips, which only annoys him more: "Is it my fault the fish was fishy?"
Ji-hyo and Dong-wook's crab dish is met with some disconcerting expressions. Teacher Shim remarks that she's never had porridge (this chewy) in her life. It slays the entire room.
So it was Ji-hyo and Dong-wook's porridge that Teacher Shim calls "completely ruined," though, the judges praise them for steaming the crab well enough.
Haha and Sunggyu's adorable intro makes the judges laugh, and Haha lets out a maniacal laugh in his interview that they prepared a cold sesame sprout soup.
Da-jung says that it tastes like water, and Haha replies that salty food will only fatten her up. DUDE. She takes it like a pro though and whips it right back as the others ask if Haha just dissed their judge.
They earn a round of praise from the judges, and Da-jung says it was delicious… probably because she's having a growth spurt right now. LOL. She's great.
Suk-jin speech about their great efforts is met with unenthused faces from the judges, whose expressions read, …So? Louis comments on the presentation, and Kwang-soo calls out: "You don't have to eat it if you don't want to."
The judges give their criticisms, and Raymond asks if they like to drink (since the food would pair well with alcohol). Kyung-ho blurts out that he enjoys a drink or two. Hee.
But Teacher Shim says they nearly hit the mark and adds that they'll do well outside of this competition. That's a pretty nice compliment from her, and they accept it.
The judges are already impressed with Gary and Jae-kyung's food presentation and laugh at the lovey concept. The others are in awe at Jae-kyung's articulate answers to the judges' questions as they keep eating in mostly silence. In the end, the judges praise them on their dishes.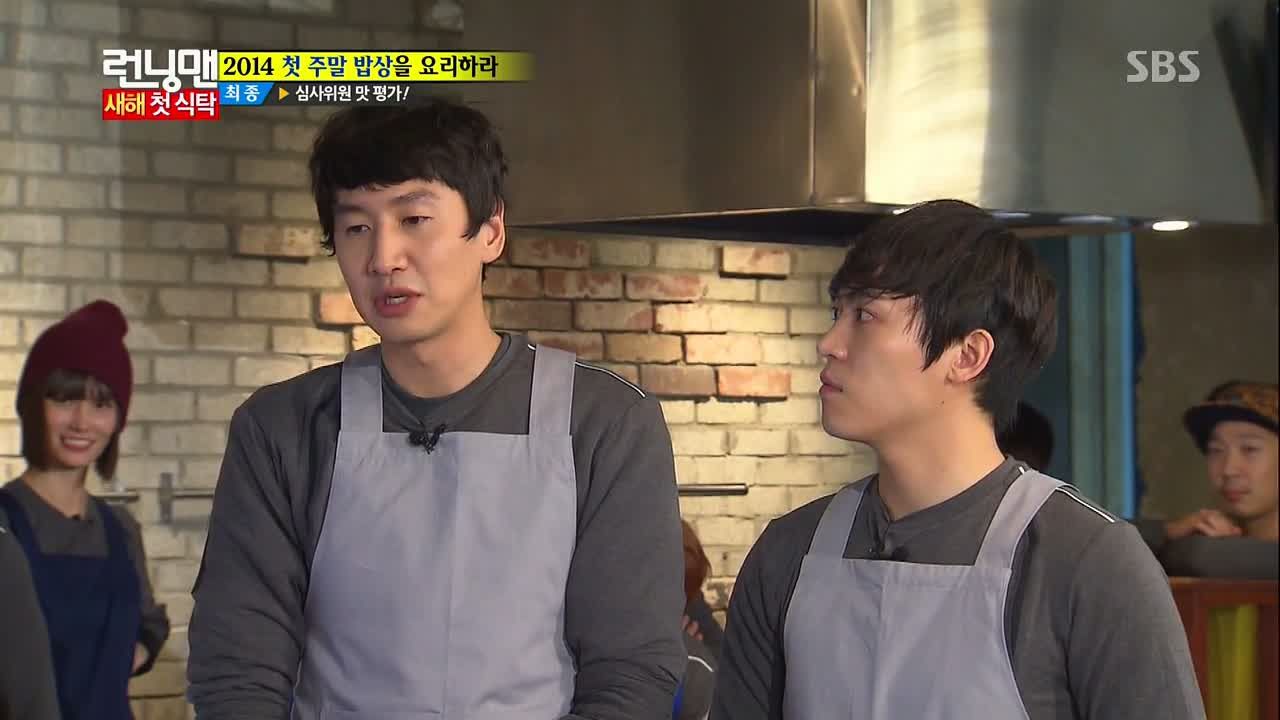 Finally, it's Kwang-soo and John's turn, and everyone can only laugh at Kwang-soo's long-winded corny introduction, including the bit that the edible gold flakes are there to symbolize that everyone's a winner.
Kwang-soo admits that they didn't make the marinated radish themselves, and switches on a dime when Raymond asks if they just brought it as is then. John: "Don't lie [to them]." HAHAHA.
Then in a video message, John addresses to his teammate: "Kwang-soo hyung, let's not work together again in the future."
Kwang-soo adds that John will even sing for them, and Teacher Shim says they'll listen after their evaluation. Then she gives this roundabout compliment/criticism(?) about how she understands that they're great entertainers and they'd put the chefs out of business if they could cook, too.
Heh, is she saying that no one's perfect? The Babo Brothers drink in her words at face value however, and John belts a happy tune on the spot. The show's recap captions reads: Umm….
The judges give some last encouraging words before the top three teams are called forward: Jong-kook and Kyung-ah; Gary and Jae-kyung; and Haha and Sunggyu. That is, until Da-jung adds the last one was a mistake and chooses Jae-suk and Soo-hong instead.
The teams stand nervously as only one team will be declared the winner. And Teacher Shim lifts up Jong-kook and Kyung-ah's names.
We hear Jong-kook narrate in voiceover that he didn't know how to cook, but now he wants to cook for his parents in the new year. He and Kyung-ah accept their gold prize and Jae-suk calls out to Yoon Eun-hye that she's out of the running now. Hey, anything's possible in the new year, right?
RELATED POSTS
Tags: featured, Haha, Ji Suk-jin, Kang Gary, Kim Jong-kook, Lee Kwang-soo, Running Man, Song Ji-hyo, Yoo Jae-suk