Taecyeon romances Basketball's Lee Elijah in new drama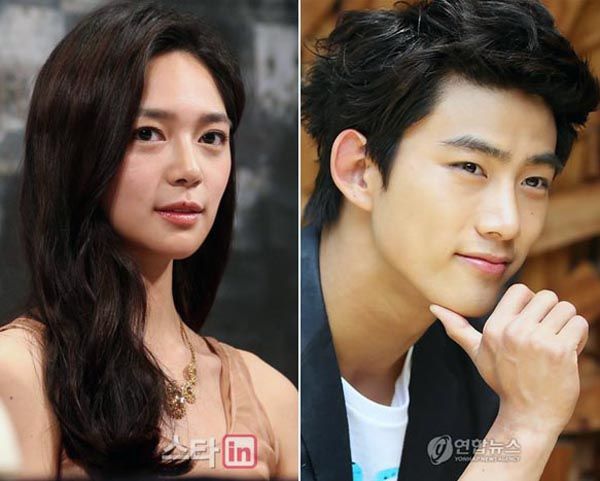 I'm wondering who it is that watched the ill-fated Occupation-set period drama Basketball, took in lead actress Lee Elijah's awkward and sometimes confusing performance, and thought, "Yes, let's ask her to act some more." Because I would like to suggest to that person that a re-evaluation might be in order of their eyes, decision-making process, and perhaps also career path. 'Cause let's face it, she was not good in that drama, and it wasn't merely a case of greenness that experience might eventually overcome, but bad enough to make me angry at her for being so frustrating. (On paper there's no way the love triangle shouldn't have worked, but mostly I just thought less of both guys for being dumb over her.)
Be that as it may, Lee Elijah has landed herself another drama: She'll be romancing Taecyeon in upcoming weekend series Wonderful Season, whose headliners are Lee Seo-jin and Kim Hee-sun. It's the drama written by Lee Kyung-hee, scripter of compelling melodramas like Nice Guy, Will It Snow For Christmas, and Thank You, so I expect it to be fast-moving and watchable at the very least.
The drama centers around a prosecutor (Lee Seo-jin) who rose out of his impoverished beginnings to success, who comes back to his hometown in the sticks fourteen years after leaving it. In the process, he'll learn the importance of family, the greatnesss of love, and the value of neighbors and warmth. Taecyeon plays one of Lee Seo-jin's brothers (Ryu Seung-soo plays their hyung), and he'll get caught up in a bickering romance with Lee Elijah, who plays a teacher at a rural school who grew up comfortably in a well-off family.
To give her character a bit of a quirk factor, she also happens to be the regional president of the SHINee fan club and always uses SHINee examples while explaining her lessons. Ha. Please tell me there'll be lots of 2PM digs at Taecyeon's expense—you can't pass up such a golden opportunity for meta jokes!
Wonderful Season plans to premiere in February after the currently running King's Family wraps. Though at the rate King's Family is going, I wouldn't be surprised if it got extended a bit, after having repeatedly broken 40% ratings and established itself as a national drama. Sure that show's crazy and nonsensical, but people are watching. (And yes, so am I. I don't even know why. Don't ask me hard questions.)
Via Asiae
RELATED POSTS
Tags: Kim Hee-sun, Lee Elijah, Taecyeon, Wonderful Season