Yoo Ah-in to romance Kim Hee-ae in Secret Love Affair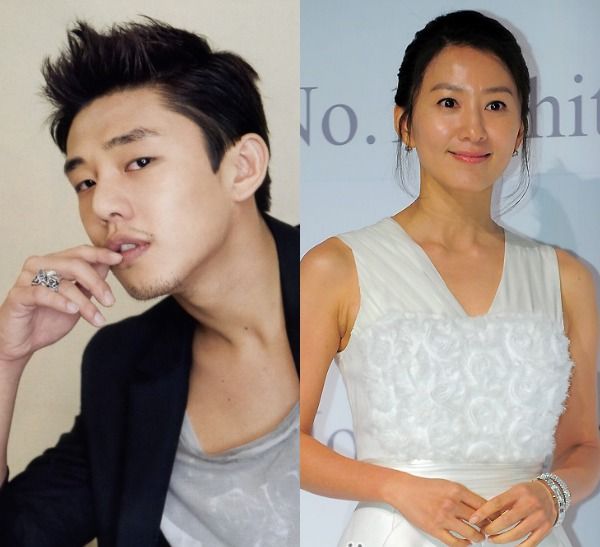 Humona. YES PLEASE. I wasn't really expecting a big name for her co-star when Kim Hee-ae's new drama Secret Love Affair was first announced, but the production has just confirmed that Yoo Ah-in (Jang Ok-jung, Live By Love) will be playing her noona-killer boyfriend. It's been a while since I've been happy with Yoo Ah-in's dramas, but I think this ought to make up for past crimes against dramaland and then some.
The new melodrama for cable network JTBC comes from the crew behind Kim Hee-ae's last drama A Wife's Credentials, and features a boundary-pushing love affair between a fortysomething woman and a twentysomething man. Kim Hee-ae plays the sophisticated director of an arts foundation, while Yoo Ah-in's character is a geeenius pianist from a poor background. Ha, he's literally a poor starving artist. They'll begin a steamy relationship that they have to keep under wraps because it threatens to unravel both their lives.
Between airing on cable and the fact that every description of the show includes the words "passionate" and "hot," I think it's safe to say this won't be your average chaste noona romance. Yoo Ah-in is a great choice for the early twenties hero who can look like a boy but act like a man, and I don't think I'll have any trouble buying the pairing as long as they have some onscreen chemistry. From Seung-gi's noona love to Yoo Ah-in's, I'd say Kim Hee-ae is off to a happy start for the new year.
Secret Love Affair follows current Monday-Tuesday drama Can We Love and premieres in March.
Via Star News
RELATED POSTS
Tags: Kim Hee-ae, Yoo Ah-in