You From Another Star: Episode 8
Better and better. I'm almost nervous at how much more I like the drama with every episode, because it makes me scared that it'll have to dip at some point. I mean, I suppose mathematically speaking (…ish), a thing can just climb higher and higher and not come back down, inasmuch as that thing we're talking about isn't gravity, and who's to say there's a ceiling on emotional gratification? But it also stirs the conservative side of my soul that's always braced to soften the pain when it hits. I suppose in the scheme of things, this is one of those Problems That Aren't Really Problems. You know, I'll take it.
SONG OF THE DAY
Papercut Project – "사랑에 빠질 수 밖에 없는 얼굴" (A face you can't help but fall in love with) [ Download ]
Audio clip: Adobe Flash Player (version 9 or above) is required to play this audio clip. Download the latest version here. You also need to have JavaScript enabled in your browser.

RECAP: EIGHTH RECORD
Backing up a few minutes, an unconscious Song-yi is belted into the car by Jae-kyung's secretary while a henchman tampers with the brakes. They sent the car rolling down the hill, satisfied that the job is done.
Min-joon picks a location overlooking the city and hones his super-hearing, scanning the cacophony for any sign of Song-yi. Thus when she screams his name in a panic, he locates her and appears in the nick of time to stop the car with brute force. Song-yi sees Min-joon standing there and gets out of the car on shaky legs, only to find that nobody's around. She's alone.
She gets a call from Hwi-kyung and tells him what happened. She's in unfamiliar surroundings so he instructs her to turn on her phone's GPS, picking her up and then returning her to the hospital.
That's where they run into Min-joon, who walks up looking calm as can be, hand casually in his pocket. He says he's returning from the police station, but Song-yi asks if he was at the cliff with her, because she's sure she saw him. Min-joon deflects and excuses himself, while Hwi-kyung supposes she must have seen things in her shock.
As Min-joon walks away, he overhears her thanking Hwi-kyung: "I really thought I was going to die. If I didn't have you, what would I have done?" Only now does he pull his hand from his pocket, which is scraped up and bloody from stopping the car.
The secretary reports about the failed murder attempt to a displeased Jae-kyung, explaining how he was thwarted. In flashback, we see the moment that the secretary had seen the mystery rescuer standing in front of the stopped car… who then disappeared into nothing. Seconds later, he and the henchmen were attacked by a fast-moving blur and knocked unconscious.
Hwi-kyung argues with the doctors about dosing Song-yi with improper medication, but they insist they gave her nothing out of the ordinary, and Song-yi can't identify the doctor who gave her the added dosage. The doctors will have to run tests to identify the drug, and Hwi-kyung asks to see CCTV footage.
At home, Min-joon cleans up his wound and wraps his left hand. He picks up the conversation out in the hallway when Song-yi arrives, escorted by Hwi-kyung, who promises to get to the bottom of her attack. She asks him not to report it to the police, not wanting the media circus that would ensue.
Moments later, he hears her scream. Song-yi trembles in shock to see her home ransacked, and in seconds Min-joon is pounding at her door. She stops him from going in to check, worried that the intruder might be still hiding inside. That means she may not be safe here, and he tells her to stay in his place for the time being. Yes, I will take any and every excuse to keep these two living together.
Song-yi notes that he's always there when she needs him, and asks again whether he really wasn't there earlier. He plays dumb and she drops it, just as she notices his bandaged hand. Min-joon scrambles for an excuse and blames it on a minor accident outside the police station, though it doesn't look like Song-yi really buys it.
Hwi-kyung drops by Se-mi's to worry about Song-yi, which has Se-mi rolling her eyes in annoyance. So when he asks her to stay the night with Song-yi just in case, she's hardly jumping to agree. Hwi-kyung is surprised at her lack of reaction and assumes they must have fought, and asks her to be understanding because she's the nice one. Se-mi is tired of being nice, though, and says in frustration that she's actually mean: "I was just acting nice, because that way you—"
But she cuts off, and he says that she's the nicest girl in the world. That's why he can tell her all the things he can't even tell Song-yi, which flashes us back to their school days:
Teenage Hwi-kyung tells Se-mi that he likes Song-yi, and her hope crashes into disappointment, because she'd thought his confession was for her. Hwi-kyung asks her to help him become Song-yi's friend, adding the words that would come to define and/or haunt her: "Please. Because you're nice."
So now, Se-mi tells Hwi-kyung that she has seen the man from Song-yi's accident, adding meaningfully, "If I were to tell Song-yi this, what do you think would happen?" Ooh, emotional blackmail. Se-mi, you sly fox. Granted, it doesn't look like she enjoys resorting to this tactic… but on the other hand, it doesn't stop her from going there, either. Hwi-kyung asks who that man is. She doesn't answer.
Wearing Min-joon's clothing after a shower, Song-yi "apologizes" for getting him all hot 'n' bothered, because she knows what it means for a woman to wear a man's clothing in his home. Min-joon says he doesn't care, and she continues, "Yes, I know you'd say that" and tells him not to feel too bad about saying one thing while hoping another. Because everybody loves beautiful things and feels butterflies to look at them. LOL. Gotta love her healthy ego.
To prove her wrong, Min-joon holds up a vase and says it's beautiful, but it doesn't make anybody feel butterflies. Neither does a cute dog, or a pretty tree. Song-yi is, to him, no different from a very pretty vase, or dog, or tree. So rather than "worry" that he'll get too flustered over her beauty, she should just get some rest instead.
Miffed, Song-yi heads to the couch to go to sleep. But Min-joon surprises her by telling her to sleep in the bed. Aw, ya big teddy bear. (Not the creepy spying kind!) Song-yi asks for a book to help her sleep, and Min-joon looks up in disbelief: "You read… to fall asleep?" The blasphemy.
He heads to his library to select some, gritting his teeth at Song-yi's assumption that he's collecting all these books just to show off. He tells her to pick from his stack, and she opens an old Joseon manuscript and wonders, "Is this an alien language?" He looks at her incredulously: "It's hanja!" She retorts, "I said I wanted to sleep! I have to be able to read it to sleep."
Song-yi likes the one with pictures, so Miraculous Journey it is. She reads to herself in bed about Edward falling down a hill and looking up at the stars. Out in the living room, Min-joon listens, continuing the recitation himself: "How many more times must he leave without even being able to say goodbye? Edward's heart ached. He wanted to cry."
Song-yi reads, "Open your heart. Someone will come for you. But first, you must open the door to your heart."
Min-joon continues, tucking Song-yi into bed: "No, don't believe it. You can't believe it. But it's too late. The doll's heart…" Min-joon freezes time, then finishes, "…has already begun to open."
At the crack of dawn, he heads to the fish market to buy the food Song-yi's been hankering after, gaebul. It's a type of marine worm sometimes called a penis fish, so, HA.
That means the house is empty when Song-yi rises, and she pouts a little to be left alone. She looks around for an umbrella to head out… and comes upon her glittery heels in the shoe cupboard. Lol, I wanna see him talk his way out of this one.
When he walks in, Song-yi confronts him with the heels. He hilariously retreats defensively, knowing this looks bad. Song-yi flings all his words back in his face (his harshly phrased denials back when she first asked him about it), and he thinks for a moment how to get himself out of this. He offers the gaebul, which she scoffs at (then snatches from his hand).
Then she tells him he should've just been honest about his preference for women's shoes, which is totally his prerogative, and says she could've given him tons of pairs to choose from. He tries to protest, but she shushes him with a knowing smile, saying it's okay. She'll buy him some as a gift. I absolutely love his grimace of impotent frustration.
As Yoon-jae walks along the street, his father tearfully watches from across the road, getting a brief look at his son the only way he can, as he did when he hung around the hospital for a glimpse of Song-yi.
To avoid being noticed, Dad whirls around and gets knocked down hard by a passing scooter. But that draws Yoon-jae's attention and he's at Dad's side in a flash, though he doesn't recognize him as his father. He helps him to his feet and inquires politely whether he's okay, and Dad stammers that he's fine and limps away in a hurry. Dad painfully recalls leaving the family back in the day, when young Yoon-jae clung to his leg crying for him not to go.
Song-yi eats her gaebul with relish, then insists on doing the dishes. Only she drops the plates on the floor, breaking them into a dozen pieces. Min-joon gapes in shock, and later in his interview he sighs that it was a personal gift from Joseon-era artist. Adding insult to injury, Song-yi comments that all his dishes are chipped and worn anyway, and offers to replace the whole set. He blurts, "Don't!" and takes her off dishwashing duty.
Next, he hovers anxiously as Song-yi vacuums, wanting to step in to stop her. True to form, she knocks over a vase with the vacuum, and a slack-jawed Interview Min-joon says that the vase featured the handwriting of Heo Gyun himself, famous Joseon scholar. By this point he's nearly speechless—you'll have to excuse him. He can't speak of this now. The pain is too raw.
Song-yi apologizes and promise to buy him an even better one, since this kind of stuff is sold everywhere, like at roadside rest stops. When she turns back to her vacuuming, Min-joon darts forward and grabs her in a back-hug to keep her from wreaking any havoc. (Best excuse for a back-hug EVER.)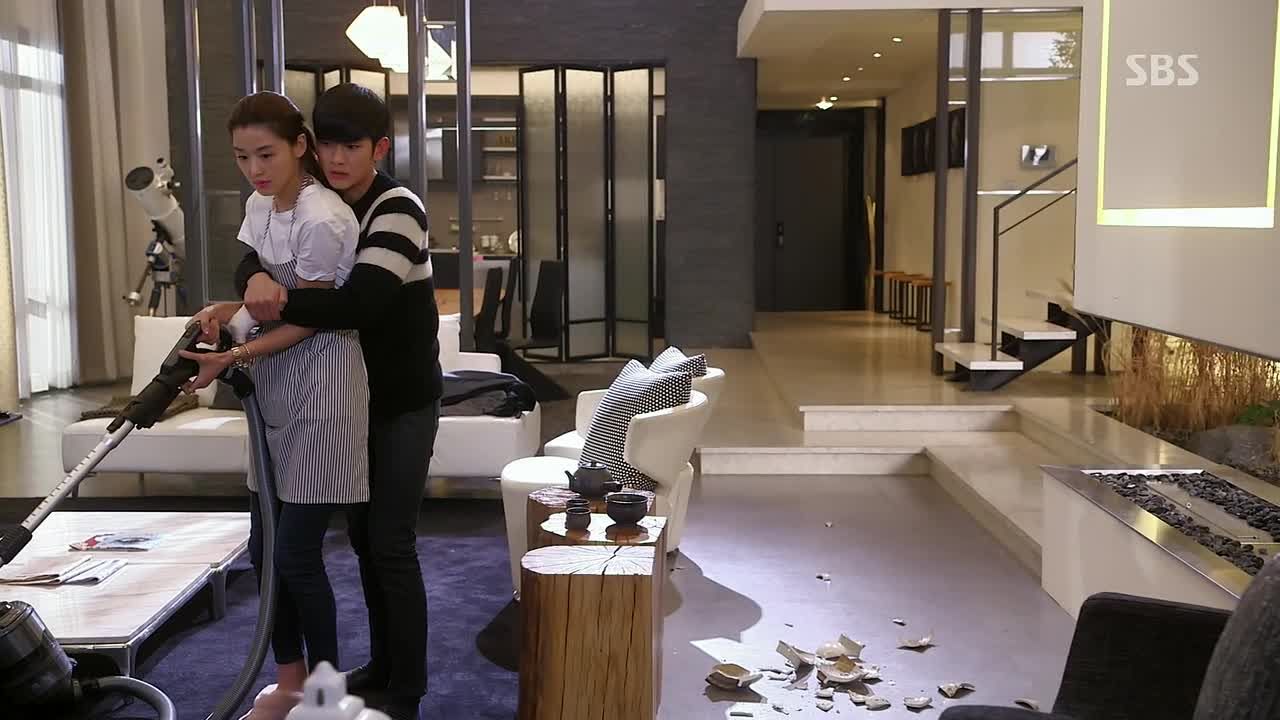 Seok and Detective Park talk to the police about the man who assaulted Song-yi, who turns out to be a fierce Yura stalker who had even had a restraining order put on him. Looking over his file, Seok finds something strange: The stalker stated that just a month ago he'd seen Yura and a male companion going to one of those death experience places, where you walk through a mock funeral, get your memorial photo taken, and—most salient to their interests—write a mock will.
The problem is, the police spoke to the center and requested security camera footage, but the CCTVs were conveniently down at the time. Still, this solidifies the investigators' suspicions that foul play is afoot. Especially if Yura's companion had taken her there intending to use that will to deflect attention.
Jae-kyung reviews his teddy bear footage of Min-joon finding the camera, still trying to figure out where the USB drive is, because his secretary hadn't found it while ransacking Song-yi's apartment. We see that it's because Min-joon has it, who had taken it after discovering the spycam. In fact, it was featured in one of his premonitions, which shows a man wrenching the drive from the hand of a body lying in a pool of blood.
Hwi-kyung drops by to see Se-mi to request a favor: Don't tell either Song-yi or himself who the mystery man is. Then, continuing his trend of just missing the point in the worst way, he says he read her interview admitting to a longtime crush and asks why she never told him about it… because he could go talk to the guy for her. Sigh. He tells her to confess to him, suggesting that she call and say her piece before he can say anything.
As he walks away, Se-mi calls his phone. She's standing right there, but despite not Getting It for a long moment, eventually the ball drops for Hwi-kyung. Ohhhhh.
Min-joon is visted by Song-yi's mother, who wastes no time grilling the new manager with personal questions. What does his father do? How old is he? Does he have a girlfriend? Min-joon asks blankly, "Do I have to answer?"
Mom is pleased with his response, citing that a manager needs to be cagey with personal details. With that, she gives him her number and instructs him to be available 24/7.
Song-yi drops by the manhwa shop, and Bok-ja wonders why she's returning books lent to "our Do Min-joon-nim." (Song-yi doesn't like hearing Bok-ja call him that, heh.) Bok-ja asks why she's sending around such a handsome man to do her personal bidding, adding that she'd been wrongly annoyed with "our Do Min-joon-nim" when it was Song-yi's fault for not returning the books.
Song-yi has more pressing concerns, though, and consults with Bok-ja regarding her mysterious cliffside savior. Hearing the story, Bok-ja takes Song-yi's hand and urges her to the hospital, ha.
Still, Song-yi does as advised and consults with a doctor about the strange events of recent days. Thing started with the kiss that was too real to be a dream, but too ridiculous to be real. Then there was the rescue from the vase-dropping stalker, and then the car's near-miss on the cliff. She supposes the doctor thinks she's crazy, but he attributes these events to a stress reaction: She is feeling fear and anxiety due to recent shocks, and that has manifested in hallucinations.
She asks why she only sees one person in her visions, and the doctor replies that it may be because she wants to rely on him. However, it may not be wise to depend too heavily on that person, because it could tax their relationship. He suggests that she relax her dependence on him, and try talking to other people about her burdens.
So when she runs into Min-joon outside, she repeats the doctor's words and insists that she's not someone to rely on others unduly, so he shouldn't feel burdened or tired out by her.
They go to the mechanic's shop to check on her car, and learn that her brakes were tampered with. Min-joon has a flare-up of jealousy when she tells him of her dinner plans with Hwi-kyung, and it doesn't help that she's trying to distance herself by repeating that she won't rely on or burden or tire him out.
The investigators receive word that their stalker witness has died. Oddly, the stalker was riding his motorcycle on a cars-only expressway in icy conditions, and now their only witness to Yura's will potentially being fake is out of the picture. Ha, what's the body count now? I swear I've lost track.
On her way to dinner, Song-yi runs into Jae-kyung in the elevator. He advises her to be careful given her accident, and she muses that it must be the same person who sent her the teddy bear—and if not for "that person," she would really have been in trouble. Angling for information, Jae-kyung asks who found the camera in her teddy bear, but missteps by mentioning a detail she hadn't stated, which she picks up on. Jae-kyung shrugs it off like he just made the obvious deduction, but her suspicions are stirring.
Dinner is a muted affair, and Song-yi brings up the Yura case with Jae-kyung. I suspect she knows she's playing with fire, but she presses forward anyway in saying that she doesn't believe Yura committed suicide. She explains watching a strange video in which a woman urged Yura to leave "him" or risk death, which puts Jae-kyung on edge.
Hwi-kyung wants to take this to the police right away and clear Song-yi's name, but Jae-kyung argues that it could blow up in her face. He asks where the video is and offers to take a look, only to be told that it disappeared.
Min-joon plays chess with Lawyer Jang long into the evening, until his friend is ready to fall asleep. Min-joon is mildly huffy about not being in any rush to go home—not like somebody is waiting for him—and grumbles about Song-yi flitting out in the snowy weather, saying she can do whatever she wants. Lawyer Jang laughs to realize that he's jealous, and what's cutest is that Min-joon hadn't even realized it, or at least confronted the idea.
He comes home and finds Song-yi's already there, and is that him perking up? She insists he join her for a snack and shoves a beer into his hand, assuming that he doesn't drink from lack of experience. He contradicts her, saying that he's drunk before, which sends us back to Joseon times:
Min-joon is part of a festive gathering, and the leader passes around a primitive cocktail of soju and makgulli. Min-joon thinks up an excuse to refrain ("I don't drink and drive," which in this case means riding horseback, hee), only to be told he can leave his horse and call a sedan car. Ha. Pressured to drink, he does, and soon he's swaying and light-headed.
He forgets himself and summons his drink bowl to him, and soon dishes and cups are dancing in the air. He does this with a childlike wonder that's adorable, but the other partygoers don't think so and rear back in terror. He even raises the leader into the air, and the others run out screaming that he's some kind of goblin.
Soon the whole yard is filled with floating objects, and off in the distance a happily drunk Min-joon rides his horse home—in the sky, all E.T.-like.
But Song-yi takes his refusal as an affront, referring to his comment about her being a pottery-puppy-tree that stirs no emotion in him. Bothered by his (apparent) indifference to her, she says that she is brimming with charm and appeal, so much so that men go crazy over her and women burn in jealousy.
Min-joon tells her drily to check herself into a hospital if she's serious, but she says she already went to one. It's because of Min-joon that she talked to a doctor and was diagnosed with being too reliant on him, she says accusingly. How could he call her pottery, or a puppy, or a tree? "If you're human, how could you see me and feel nothing?!" she demands.
She declares this a big problem that must be solved before she makes her comeback, because she can't exude confidence this way. "This won't do," she says. "Give me just fifteen seconds." She explains that people call her the Fifteen Second Fairy, because she can enrapture hearts in the span of a fifteen-second commercial. If he still feels that she's a pottery-puppy-tree after that, she'll acknowledge that she's unappealing.
Min-joon scoffs and gets up, but she pushes him back into his seat and sets the timer. Then she begins her series of CF poses, staring him right in the eye, doing everything in her arsenal to stir a reaction.
The seconds count down as they sit there staring at each other. Min-joon's expression doesn't change the whole time and Song-yi seems to lose confidence, breaking eye contact.
And then it's Min-joon who pulls her to him suddenly. Kisssssss.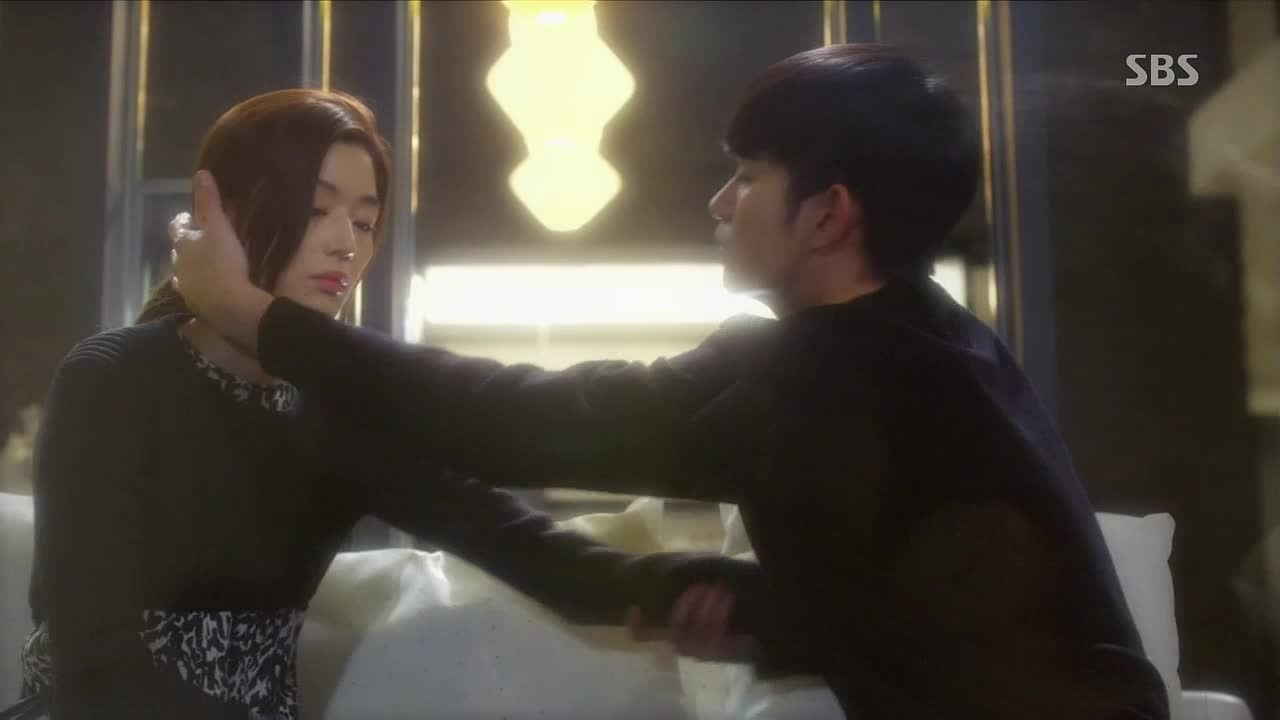 EPILOGUE
Back at the chess game, Lawyer Jang sighs that while he can tie up all Min-joon's business affairs, he can't resolve his feelings for him. Min-joon admits that his feelings won't be resolved, and he keeps looking back and feeling regret:
Min-joon: "For not once living a normal life like others do. Eating breakfast or dinner with someone, returning home where somebody is waiting, expressing my sincere feelings about liking somebody—those things. People who don't even live a hundred years do all those things, which I had scoffed at for being trivial. All of those small, warm, beautiful things of everyday living—now I want to do them. What do I do?"

COMMENTS
Aw, smoochies! To be honest a kiss was exactly what I was expecting in that scene, but I had figured Song-yi would be the initiator, to prove her visceral appeal. But I love that Min-joon is the one who initiated, for a whole bevy of reasons, starting with the fact that she was the one to kiss him the first time on the boat. It also underscores the point that he's warming up to the appeal of human interaction, especially as he finds it harder and harder to keep himself at a distance. Sure, he puts up that brusque facade when Song-yi's being silly, but that's to save face more than anything—for all intents and purposes, he has given up trying to fight it.
That doesn't mean that he is actively embracing humanity, because his ticking clock (or in his old-fashioned terms, the emptying hourglass) is an ever-present concern. He's only got two months left, and the more he entangles himself now, the more terrible the goodbye will be. Not that he has a choice in the matter, because as the story-within-the-story tells us, the doll has already opened its heart, and we just have to see what happens after that.
The kiss does make me eager for Song-yi's reaction, because she doesn't have the same reasons for hesitating, and I'm dying to know how she takes this. Will she merely take it as sign of her fifteen seconds doing its job? Will she admit her own feelings? While I'm sure she's traveling down the same emotional path, I'm not sure she's operating on the same timetable, and she may be unready to admit anything… which is all the more worrisome because she doesn't know about the ever-encroaching deadline, either.
On the other hand, she's already aware of the curious connections between all her rescuers—how long before she connects the dots and decides she's not crazy? (Well, not in that way, at least.)
Speaking of which, Se-mi sure is walking straight for that dark side, isn't she? I could see yesterday's confrontation with Song-yi being born of jealousy and hurt feelings, but today she went one step further in holding Mystery Man over Hwi-kyung's head as a threat/bribe/hidden card. It sort of reminds me of Yura trying to blackmail her lover into marriage, and we all know how well that worked out for her. (Side note: How crazy is she to have hard evidence that Jae-kyung is a potential murderous liar and still want to marry him? I'm sure it was partly motivated by his status as a chaebol, but surely she harbored affection for him as well. WHY she did is beyond me.)
But I have to say that I almost forget to care about the other plotular aspects to this drama because I love the romance so goddamned much. It just makes me giddy inside. Eeeeeeeeeeeeeeeeeeeeee.
RELATED POSTS
Tags: featured, Jeon Ji-hyun, Kim Soo-hyun, You From Another Star