Age of Feeling: Episode 11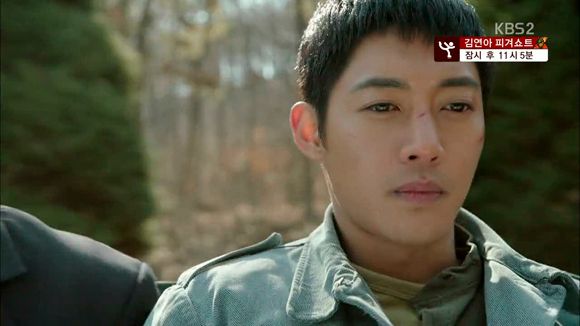 The gangs of Shanghai take up precedence this hour as they join in a mad scramble to get a dead man to his funeral in time. And not just anyone's funeral mind you, since whosoever holds the body of the almighty and dearly departed father to Jung-tae gains untold riches and power… or something of the sort. It's a little tough to explain, mostly because it's not really explained. It's the most morbid game of hot potato ever, pretty much.
SONG OF THE DAY
Age of Feeling OST – Rhosy – "The Road" [ Download ]
Audio clip: Adobe Flash Player (version 9 or above) is required to play this audio clip. Download the latest version here. You also need to have JavaScript enabled in your browser.

EPISODE 11 RECAP
It's just like the old days with Ok-ryun caring for an unconscious Jung-tae, only this time she's got the help of Doctor Jung, who I'm guessing just moonlights as a hot water saleswoman/innkeeper.
Since she and Ok-ryun are on an unni/dongsaeng basis, she ribs the younger girl over her pining and waiting for Jung-tae over the past five years. Ok-ryun becomes embarrassed and defends herself, all, Who was waiting? I wasn't! Mmhmm.
It really is deja vu (in a nice way) watching her wait through the night for Jung-tae to come back to his senses. A tear escapes her eye as she mutters, "Jerk."
While getting everything ready for Daddy Shin's official funeral, Leader Seol orders a somewhat-reticent Baek-san to retrieve Jung-tae himself. He's set on moving Jung-tae's heart so he'll continue his father's legacy, which apparently includes the very important work of running Club Shanghai.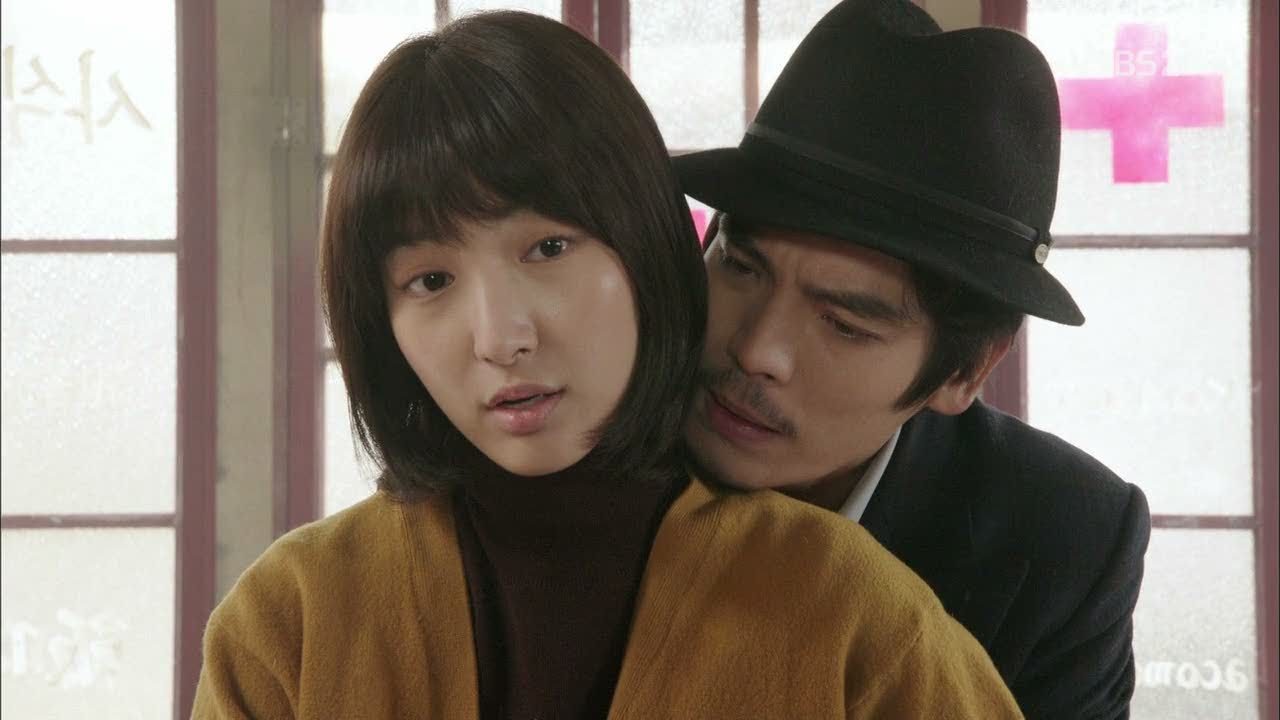 Meanwhile, Jae-hwa tries getting handsy with Doctor Jung (which would explain why he took her previous night's scolding without complaint), only to have her stick an air-filled syringe in his hand with the threat that she'll push the plunger down.
It's kind of funny how he racks his brain to remember what would happen, like a student reciting a lesson for a teacher. Only he sounds much too happy with himself when he remembers that air in the bloodstream would cause death, causing Doctor Jung to just shake her head and brush him off. This is a routine they're used to.
Jae-hwa tries introducing himself amicably when Jung-tae stirs awake, though it's understandable that Jung-tae's more than a little wary. Even I'm having a little trouble following Jae-hwa's sudden about-face, since it was only last night that he had Jung-tae attacked. (Maybe it's a ruse?)
He acknowledges that his men attacked Jung-tae, but passes it off as being due to the unstable situation in Shanghai that came about since Daddy Shin's passing. When he introduces Jung-tae as Daddy Shin's son, all his men bow respectfully.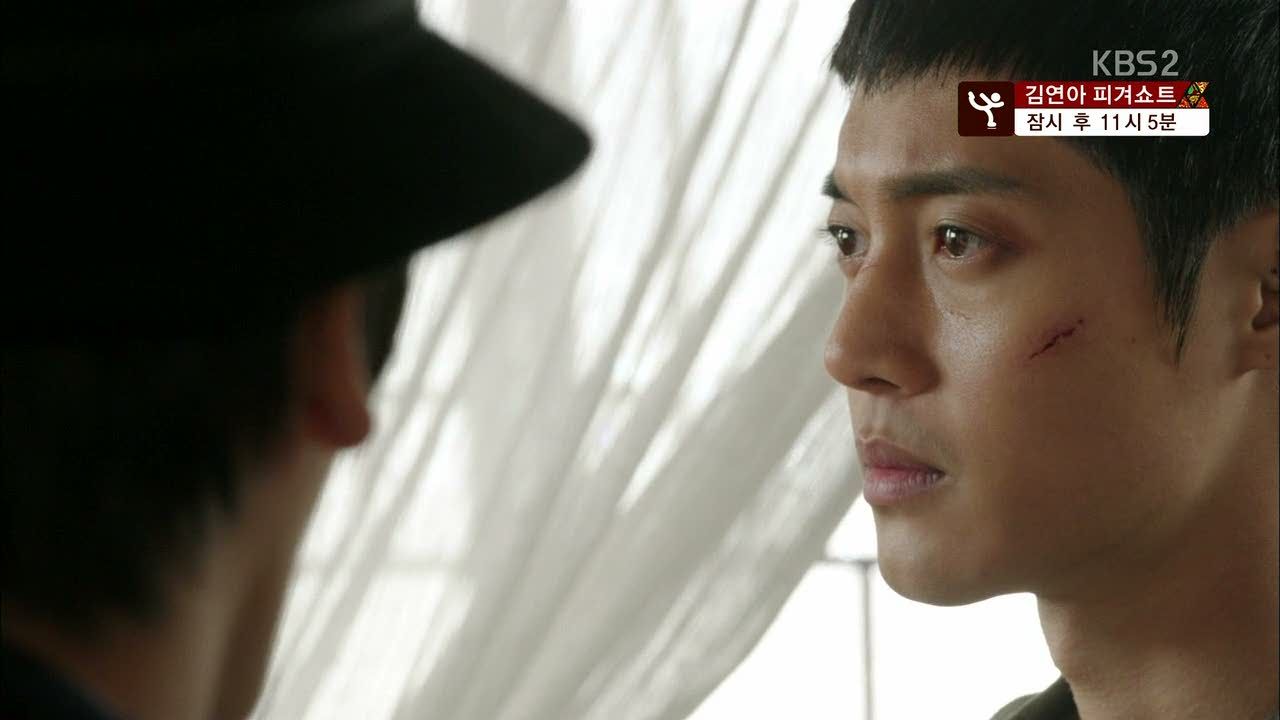 Jae-hwa acts like the scuffle is all water under the bridge/a friendly bout of hazing, since Jung-tae is their new honorary gang member. But when Jung-tae refuses to follow him to collect his father's body for the funeral, citing that he doesn't care, Jae-hwa is shocked. Would he care if his father's body was dumped somewhere to become food for wild animals? Jung-tae: "No. To me, my father died a long time ago."
Jae-hwa continues with the graphic analogies, and really seems to be putting his heart into it as he tells Jung-tae that his father, the man who practically ran Shanghai, now lays stabbed and beaten by his murderer. "Aren't you even curious as to which son of a bitch did that to your father?" he asks.
Though Jung-tae stays stone-faced, his voice is unsteady as he replies, "No. I'm not curious at all."
Outside, Jung-tae is met by Ok-ryun, who tells him to go retrieve his father's body. "I know who your father was to you," she says by way of comfort. "I also know how much you hated him." But she's arguing for him to care because she doesn't have the same luxury with her own mother, who died on their way to China (from the gunshot I presume), and whose body they had to leave in the river.
She also mentions that they had to do the same with Ajusshi Choi, though I don't know whether this is a plot inconsistency (since he never boarded the boat), or whether she's just assuming that he died from the gunfight. No mention of Soo-ok, of course, but Ok-ryun's point is that she'd do anything to have a grave to mourn over.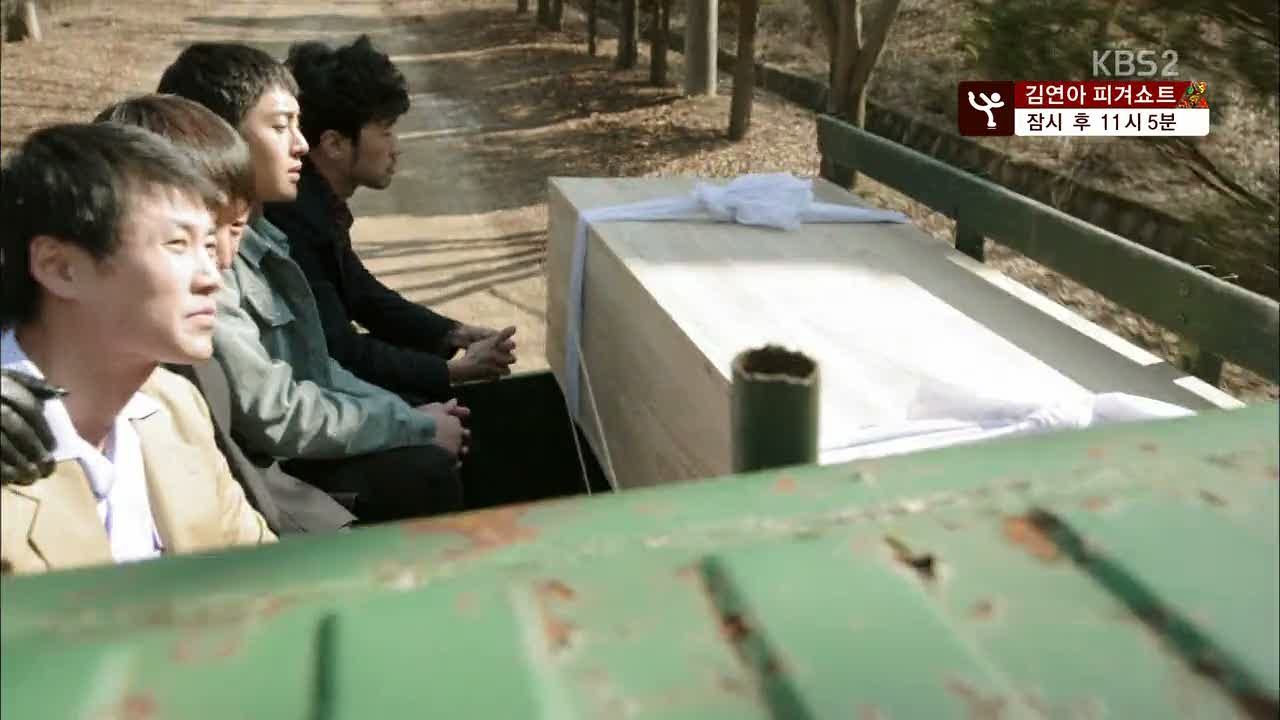 Now that Jung-tae has that opportunity, she won't let him pass it up out of his overriding spite. Jung-tae apologizes for her loss as well as the loss of the gibang to the Japanese, since no one told him what happened at Shineuijoo or what happened to her. (Did he maybe try asking?)
Ok-ryun: "Since I didn't know what happened to you, I guess we can call this even." Jung-tae apologizes to her before she leaves him, and joins Jae-hwa in retrieving his father's body.
Kaya's got her unimpressed face on as she reads about the upcoming funeral, especially so when one of her minions explains how Hwangbang (Leader Seol's gang) got the backing of an important pseudo-governmental/public security body in Shanghai called Chilinbang.
She knows Leader Seol plans to use the funeral and his ties with Chilinbang to push her out and take over Club Shanghai. And she is Not Having It.
But, she's got to take care of business first. She threatens the lackey who started the fight at Club Shanghai that she'll gouge his eyes out and cut his ears off before sending his severed head to his family, whereupon she will kill his wife and children the same way she killed him while his severed head gets to watch.
Before the lackey can give up a nervous Yamamoto as the man behind it all, Kaya kills him. The excuse she gives Yamamoto is that she didn't want the uttered name to cause discord in their group, but what she's saying is clearly a threat—she's onto Yamamoto, and effectively scared him into obedience by killing his lackey. Now he'll do whatever she wants.
Ah, so Jae-hwa did have an ulterior motive by being nice to Jung-tae—he didn't have Leader Seol's permission to fetch the body from the morgue. Jae-hwa's plans aren't all that nefarious all things considered, since he plans on bringing Daddy Shin's body so that he can hold the funeral and prove to the world that he's the man to run Club Shanghai in Daddy Shin's likeness.
Even Kaya is in on the Musical Coffins game, since she's getting live updates on the body's location and is all but placing bets on who will really end up with it. Since she's got Yamamoto guarding the road in, she's expecting quite a spectacle.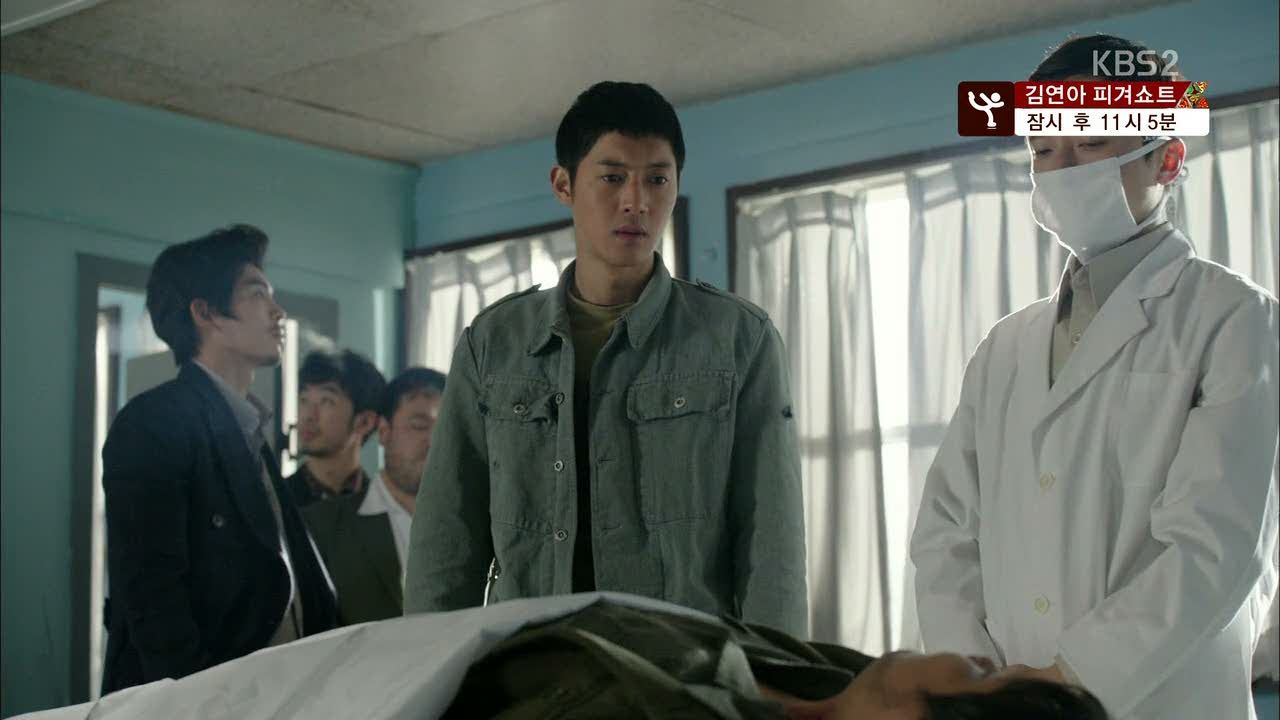 At the morgue, Jung-tae is able to confirm his father's body and receives his personal effects. Baek-san shows up to insistently tell Jung-tae that they'll handle the body, so he can just go on home now. He does.
Baek-san and Jae-hwa go back and forth about who really has the right to take Daddy Shin's body, with Baek-san claiming that they've got the backing of Chilinbang (y'know, that group that we've never heard of before or seen but which holds an untold amount of power, including the ability to threaten Ilgookhwe).
Jae-hwa knows this isn't so, since part of the reason he wants to escort the body back is so that he'll win over Chilinbang's elders. There's no other way to solve their tiff but a fight—and after Baek-san takes down Jae-hwa's minions, they decide to take the fight outside.
It's just Jae-hwa and Baek-san now, and despite the sound effects coming fresh off a tape of the world's biggest rockslides, they trade powerful blow after powerful blow. Even though Jae-hwa is out of his league against a martial arts master like Baek-san, he doesn't give up.
The fight ends when Baek-san lands a hard blow to Jae-hwa's solar plexus, causing the leader wannabe to cough up blood. That means Baek-san, under the auspices of Hwangbang, gains custody of the body.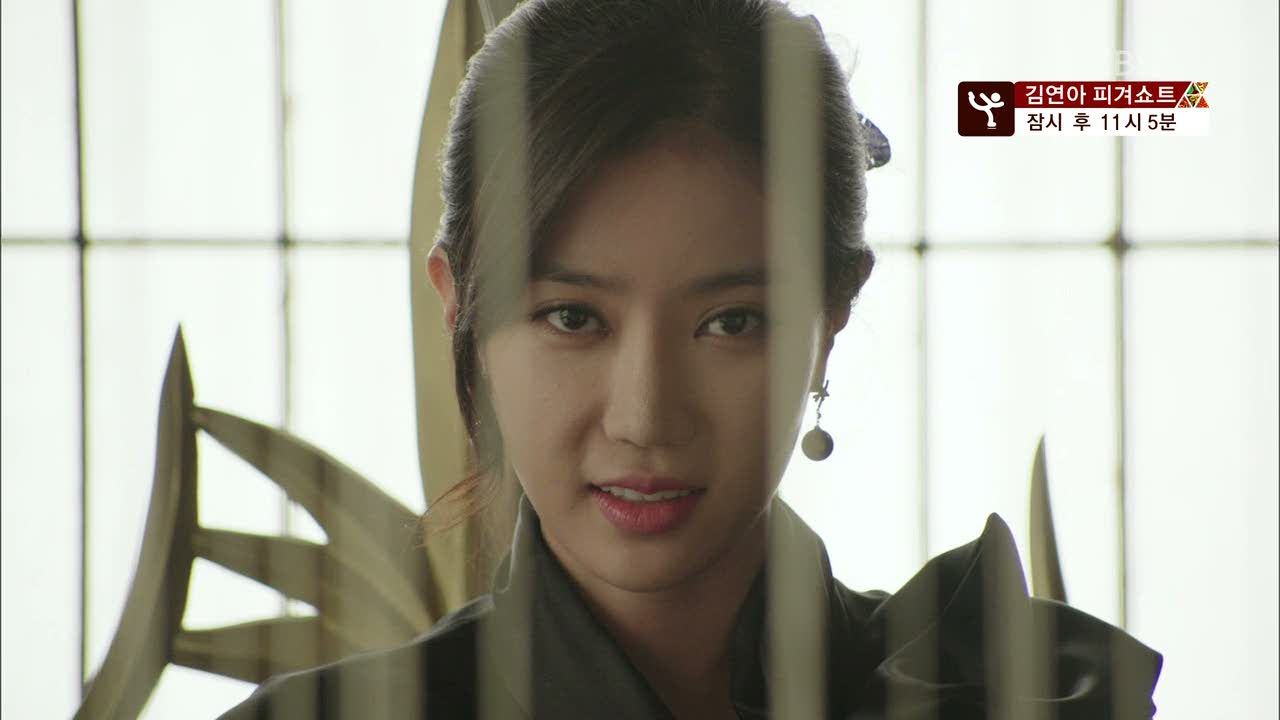 And naturally, Kaya learns of the events as they're happening through her personified messenger pigeon, who gives her up-to-the-minute updates on who has the body and their exact GPS location.
Kaya seems to have a darker plan in mind (she wants to meet all these mystical Chilinbang elders) when she tells her minion to send a flower wreath to the funeral under Ilgookhwe's name and inform them that she'll be going to pay her respects.
Ok-ryun's prepared a hot bath so Jung-tae can wash up before the funeral, and it's only once he's alone that he goes through his father's effects, his hands shaking when he comes upon a picture of himself, his sister, and his mother that his father kept in his wallet all this time.
Though he's remained tearless about his dead father this whole time, he can't hold back tears when he reads a letter he'd sent to his father as a child, which his father also kept with him always.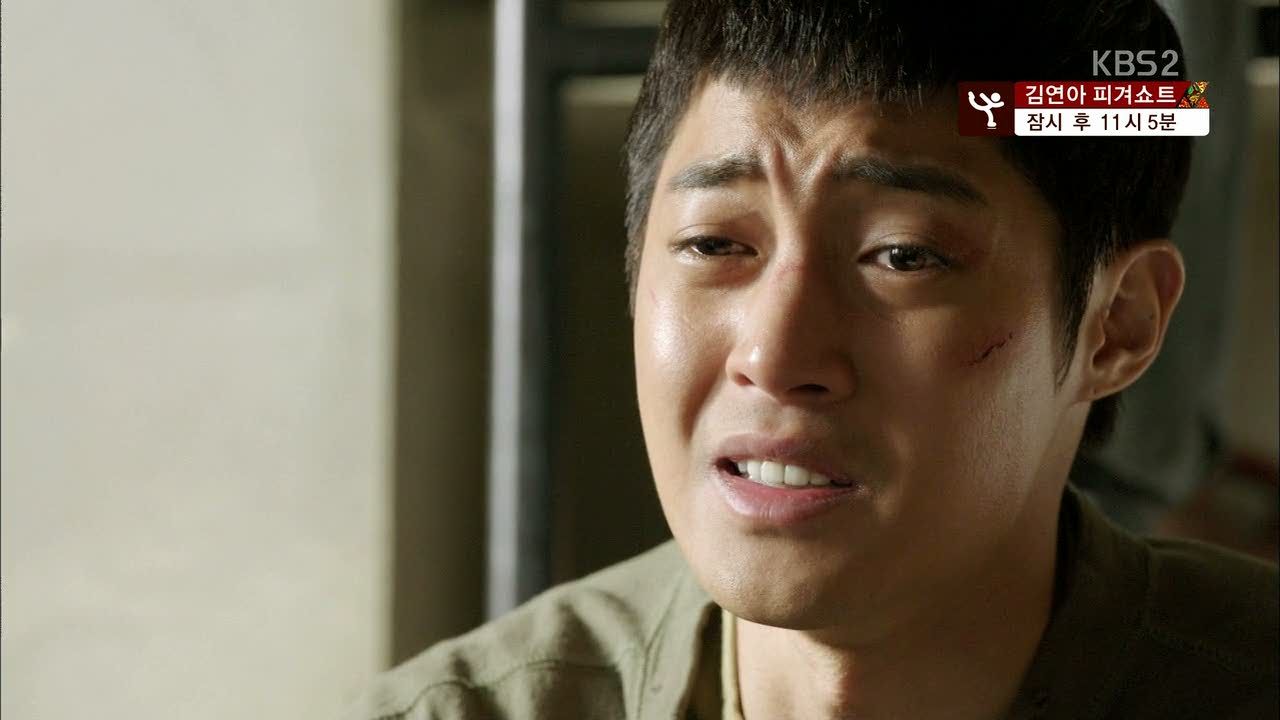 After flipping through his father's bank book, he cries as he asks the void/Daddy Shin why he never tried to find them even one more time before he died. Jung-tae never even got a chance to tell his father how much he hated him. (I'm not kidding, he literally says that.)
"I thought you'd forgotten me," Jung-tae cries. "I thought you'd forgotten a bastard like me." Now he knows that wasn't so. But still, why didn't Daddy Shin ever visit even once?
Leader Seol is reluctantly apprised of Kaya's declaration that she'll be coming to the funeral before he's made painfully aware of the fact that Ilgookhwe controls the one road into Shanghai that Daddy Shin's body needs to pass through. Ruh roh. (But if it was on a map, why didn't they consult it before they planned the route?)
Yamamoto and his men attack Baek-san's caravan as they're transporting the body. Yamamoto drives off with it while Baek-san fights off his minions.
Leader Seol hears of this through his personified messenger pigeon and orders out his troops to retrieve the body, because they can't allow it to fall into Ilgookhwe's hands…
…No matter that that's already happened, since Kaya is updated on the success of the body-stealing plan. She smirks to imagine the look on Leader Seol's face before she tells her messenger to tell Yamamoto (these messengers are sure earning their paychecks today) not to touch the body and to take it to the safest place in the city. She, meanwhile, will go to Hwangbang in her finest Chinese funeral dress.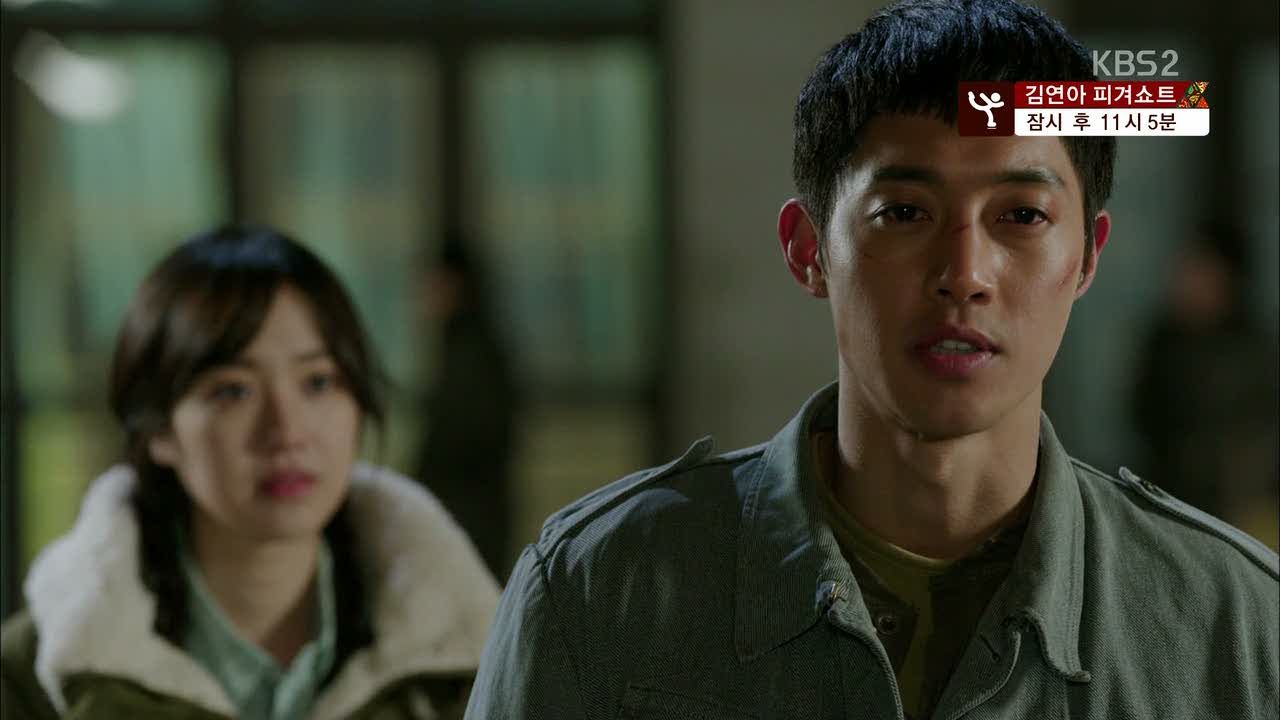 Ok-ryun escorts Jung-tae as far as she can go on the funeral route, because there's a law(?) mandate(?) rule(?) which stops her from entering the Shanghai French Concession (basically, a territory owned by China but occupied and even governed by foreign powers). A pass is needed that she doesn't have.
Before he goes, Jung-tae says, "I've never forgotten you, Ok-ryun. When I return, will you tell me about what happened in Shineuijoo?" She doesn't answer.
Baek-san follows Yamamoto and his men to the house where they plan to keep Daddy Shin's body, and kills all of Yamamoto's minions violently and single-handedly. Then it's down to just him and Yamamoto.
So-so spots Jung-tae as he enters the general funeral grounds for Daddy Shin, but doesn't understand why he'd be there since he seemed to hate the deceased so much.
Jung-tae deadpans that the funeral is for his father, which So-so doesn't believe until someone comes to take him to the VIP area. Inside, Leader Seol doesn't tell him anything about the corpse kerfluffle and tells him to go get properly dressed.
When he's told that the Chilinbang Elders have arrived, Leader Seol instructs his minion to prepare the coffin anyway. They can fool them until the official ceremony, and hopefully they'll find the real body before anyone notices.
Because if not, Leader Seol claims that their entire organization will be decimated overnight. Because… wait, why is this a thing, again? Is it because of the all-powerful Chilinbang? I get that there are strong feelings surrounding Daddy Shin's body, but since when did that coffin house the power to destroy worlds?
Baek-san defeats Yamamoto in a fight (but doesn't kill him) and takes the body, while Leader Seol greets the guests as they arrive at the funeral.
So-so finds Jung-tae as he's changing into his white funeral garb and starts smelling his bare chest and tummy like a dog, supposedly to see if he smelled bad—which, according to her, he does.
She uses his smell and the fact that he's complicit in Daddy Shin's Hwangbang-based funeral as proof that he's not his real son. Daddy Shin's home was in Bangsamtong, and it's there that his funeral should be held.
Jung-tae is confused, and asks why the location of the funeral is so important. So-so acts like she's talking to a guy with rocks for brains (which she thinks he is) and tells him that most of the people Daddy Shin saved in Bangsamtong can't come to the funeral because it's in the French Concession area of Shanghai, and they don't have passes to enter.
So-so leaves Jung-tae to think on that, though I'm not sure what she'd like him to do at this point. Can't they just hold two funerals and make everyone happy?
Kaya arrives at the funeral in time to greet the Chilinbang Elders, whom she treats with almost saccharine pleasantness and respect—though Leader Seol knows exactly what Kaya is doing. She's playing to the crowd, and the elders are eating it up.
She then officially pays her respects to Daddy Shin before turning to Leader Seol with a small smile, "Isn't it the custom of Chinese funerals to look directly at the face of the deceased to give a final farewell? Isn't that so?"
Leader Seol's expression grows grim, while the Elders chime in like proud fathers, all of them so proud of Kaya's immersion into Chinese culture. They all agree that she's right to request to see the body of Daddy Shin, which is of course the reaction she wanted.
Now Leader Seol is stuck between Kaya and a hard place, unaware that Baek-san is racing against the clock to bring the body to the funeral. But with the coffin in the room with them, it seems impossible to do a switcheroo…
Kaya acts too weak to open the coffin herself in order to purposefully enlist the all-too-ready elders to rush to her aid. And they do, in fact, open an empty coffin. Cue dramatic music and camera angles as everyone reacts in shock. "How could you hold a fake funeral without the deceased?!"
Just as Kaya readies to give her explanation as to the body's whereabouts, Baek-san rushes in to "ask" if he can replace the fake casket with the real one now, making it sound as if they planned it.
Leader Seol explains his reasoning for having a fake casket in a way that makes Kaya look ignorant of Chinese culture, while also speaking to her directly about how he didn't want whoever murdered Daddy Shin to desecrate the body. Huh. I wonder if he suspects it's her.
Kaya is still suspicious, and asks to see the body in the real coffin. Leader Seol is more than confident and gives her the go-ahead.
They all gather around the coffin to open it… but it's not Daddy Shin's body that's inside.

COMMENTS
Okay, so, I'm going to try (key word) and break down the who-has-the-body plot as I vaguely understood it, and as best I can: Daddy Shin's body is the new MacGuffin—everyone wants it. Leader Seol wants to hold a funeral for Daddy Shin not just to honor him but also to impress an arbitrarily new organization which holds ultimate power, the full reach of which we're only told about. Everyone acts like they're incredibly important without delving into why or how, other than that they can make or break any gang in Shanghai and pretty much own the town. The rules surrounding the funeral suddenly become about who has the physical corpse, because having it equals power in Chilinbang's eyes, which everyone suddenly cares about. A lot.
Though the funeral planned for Daddy Shin is that evening, and though the Chilinbang Elders have been invited, Jae-hwa devises a scheme to steal the body and hold a separate funeral, somehow, in order to keep Club Shanghai in operation—a club which we've maybe seen in operation once, and which has continually bloating importance that Really Matters to newly-introduced side characters. Again, it's another thing that everyone talks up all the time but which has no relatable qualities to us, the audience, meaning that we get to spend an hour watching wooden characters like Leader Seol worry about an organization we've never met while operating under rules we don't understand. (Yay!)
Meanwhile, Kaya guesses that Leader Seol plans to use the funeral and body to win over the Chilinbang Elders somehow maybe, and that the consequence will be her getting ousted from Shanghai, kind of. Since Daddy Shin's body is now a tool for power plays and turf warfare, she decides to send her minions to steal the body in order to one-up Leader Seol, assuming that Chilinbang would turn against the fraudulent Hwangbang leader, see her with the body of the man they presumably knew (at least enough to know he had no ties with Ilgookhwe), and go, "Congratulations, you won! Here's the key to Shanghai. It's all yours."
I get that Daddy Shin was a larger-than-life figure and that people would want to honor him, but I still don't get why his body is everyone's holy grail. The show didn't either, so they literally just made up an all-encompassing reason why everyone who matters should care about owning that body—never mind that those elders would maybe start to suspect something after one sham funeral or two. Instead of personalizing this unique grieving process for Jung-tae (though he did have a nice moment to mourn his father, in his own way), he spent an entire episode having no idea that the corpse of his father was getting thrown around, fought over, and stolen. That's how little that specific plot point affected our hero's journey.
I'm hoping that Jung-tae was behind the newest disappearance of Daddy Shin's body, if only because it'd mean that he got to make a decision. Even if he was getting into too many fights to save the children of the world, Jung-tae had things he cared about and was willing to fight for. But now he's getting relegated more and more to being The Chosen One, continuously being pulled around by forces greater than him but which he has no affection for—and for what? What is it that Jung-tae really wants, when all is said and done?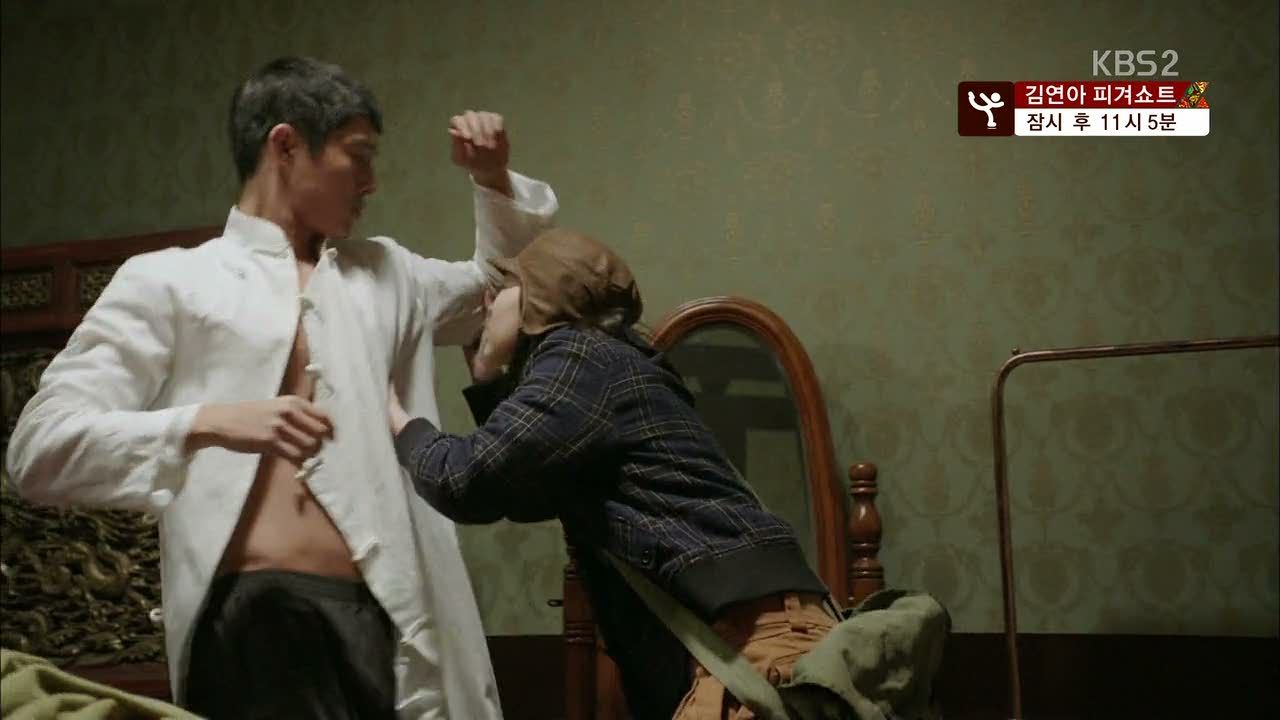 RELATED POSTS
Tags: Age of Feeling, featured, Im Soo-hyang, Jin Se-yeon, Kim Hyun-joong, Kim Jae-wook