Age of Feeling: Episode 8
If someone's not getting beaten up this hour, it's likely because they're getting shot up, cut up, or smashed up—you name it, and someone's probably done it. But this show continues to do what it does best by never giving us a dull moment, even if it means that Jung-tae must continue being everyone's punching bag and/or pin cushion… not to mention the world's most well-meaning boyfriend, the world's most loyal gangster, and the world's best brother. What's not to like?
Ratings went up to 8.9% for Age of Feeling this episode, drawing ever-closer to that elusive 10% milestone. Remember when the gold standard was twice that? Ah, memories.
SONG OF THE DAY
Jaurim – "Icarus (이카루스)" [ Download ]
Audio clip: Adobe Flash Player (version 9 or above) is required to play this audio clip. Download the latest version here. You also need to have JavaScript enabled in your browser.

EPISODE 8 RECAP
In order to help Jung-tae learn how to fight against swords, Boss Hwang takes him to the gibang to meet Ajusshi Choi. Though Jung-tae's known him for a while, he seems unaware of Ajusshi's past as a guard for the Korean Empire (which ended in 1910 when Japan annexed Korea).
So Ajusshi Choi takes Jung-tae under his tutelage, and despite what I thought, Jung-tae isn't trying to learn how to use a sword, but to fight unarmed against one. Sorry if this is a stupid question, but… why wouldn't he want to use a sword even just as a shield instead of relying on his squishy human flesh for protection?
But Jung-tae answers that question by learning Ajusshi Choi's lessons with lightning-quick accuracy, and in the end, wins the fight with his fists. Ha, and he apologizes immediately after punching Ajusshi in the gut—he is his elder, after all.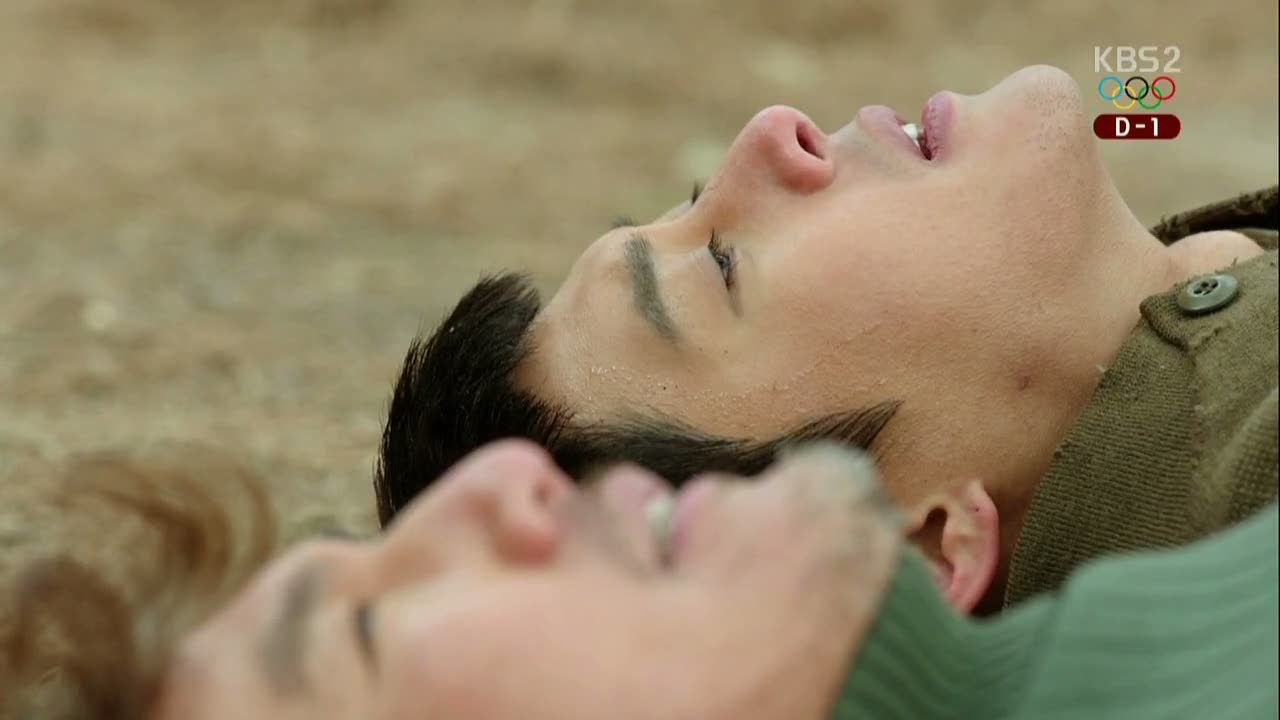 While they rest after the fight, Ajusshi Choi asks Jung-tae whether the man he's planning to fight is stronger than him. When Jung-tae says yes, Ajusshi sighs, "Then you're going there to die."
He claims that going against a stronger enemy is a death wish in itself, but that all isn't lost—he knows of one man who won a fight where the odds were so severely stacked against him, and that was Jung-tae's father. "Make sure you win," Ajusshi advises him. "You have to want to live in order to win."
After Jung-tae gets a shirtless training montage using Mother Nature as his gym, he pays a visit to his mom's grave with the letter Chung-ah left behind. He's never been able to bring himself to read it, too afraid of its contents, so he buries it near the grave for Mom's safekeeping.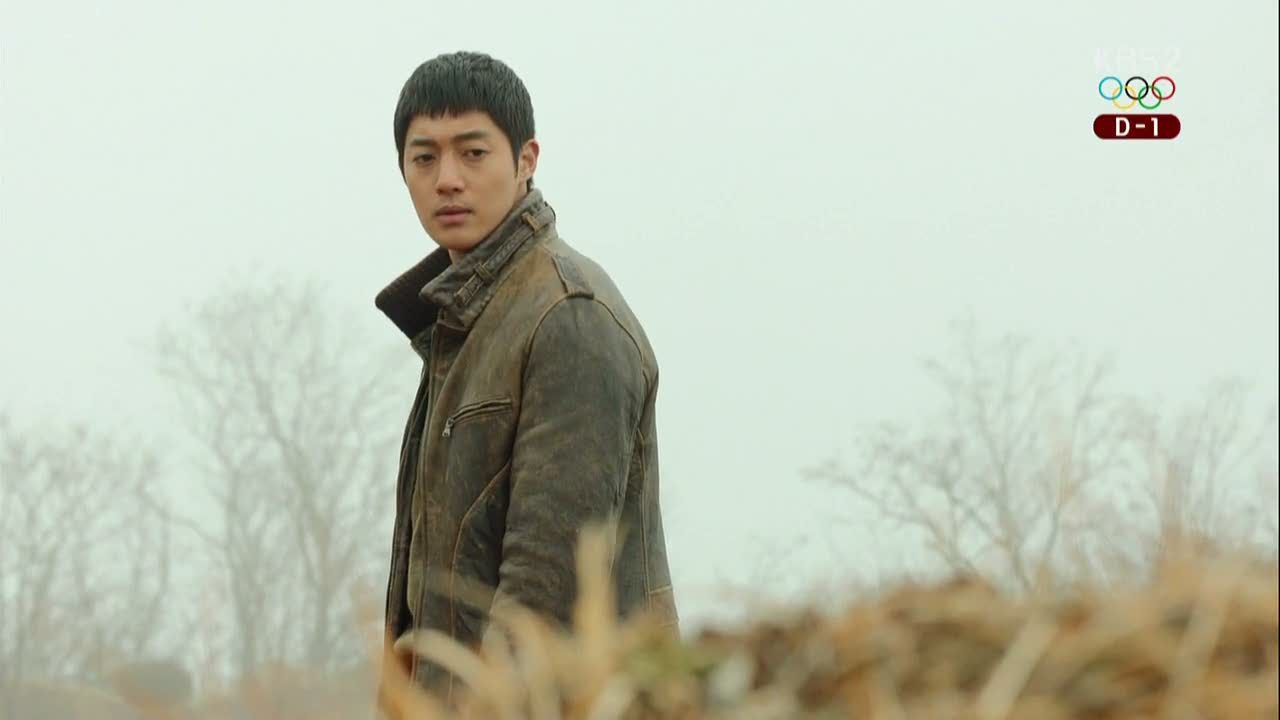 "Later, when I meet Chung-ah again, I will read it. Let's all meet then with a smile." Before he leaves, he gives the grave one last longing look.
Ok-ryun hides away a music sheet Soo-ok must've given her when she sees Jung-tae as if she feels guilty for it. Jung-tae pays that no heed as he asks her out for a whole-day date tomorrow to make up for all the hours he wasn't able to spend with her on their missed dates, which, aww.
She's rightfully worried that something's wrong, but she's also not foolish enough to pass on the opportunity. She agrees.
Their day of adorableness starts with him biking her around while she sits behind him, though Jung-tae takes it to that next level by offering to teach a reluctant Ok-ryun how to ride one herself.
They're just so cute, especially when she starts freaking out about him letting go. He keeps promising, "I didn't let go, I didn't let go," all while secretly letting her go once he feels confident that she can do it. And thus, she learns how to ride a bike.
Next up is a picturesque day shopping at the market, where they have fun making each other look silly (Ok-ryun's really determined to get him to start wearing hats, isn't she?) and stuffing cotton candy in each other's mouths. C'mon, this isn't even fair. The Puppy Bowl looks like Pieta next to these two.
While Jung-tae heads to Ilgookhwe's side of town, Kaya rummages through Shinichi's things to find a picture he's kept secret of him as a young boy with her mother.
When Shinichi catches her, she confronts him with the picture and demands answers—instead, they end up fighting over the picture until it's torn neatly in half between them, therefore separating Mini Shinichi from Idolized Mom.
He looks like he's about to cry, but Kaya couldn't care less and orders him to tell her how he knew her mother. He ends up taking out his anger on a nearby table instead of her as he roars, "I refuse that order!"
They're interrupted when Jung-tae arrives, declaring that he's ready to "end this." I can't tell if he's talking to her, Shinichi, or both.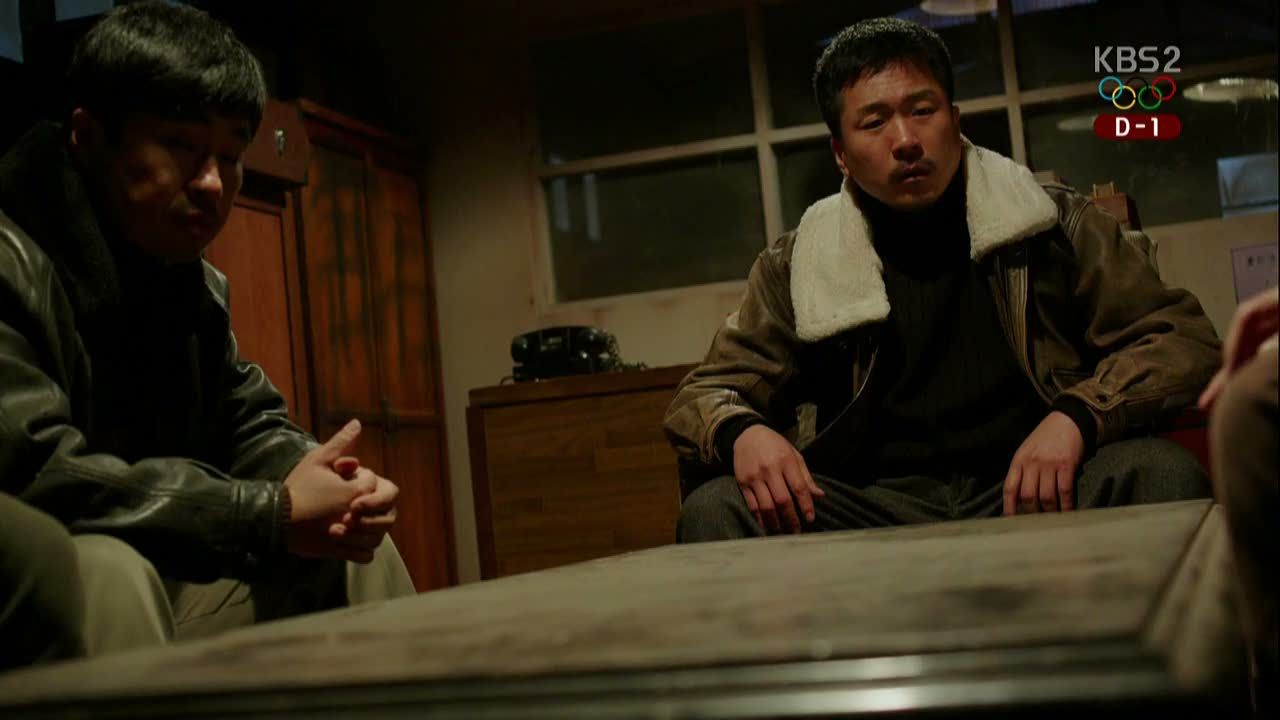 One of Jung-tae's Dobi brothers tells Boss Hwang that he saw Jung-tae go to Ilgookhwe, which (of course) is something that Dissenting Opinion Gangster didn't want him to know so that he wouldn't help Jung-tae.
But after a long moment of silence, Boss Hwang orders the men out so that he can make an important phone call. (Geeky aside: I've praised the directing in this drama a lot, but it's a rarity to see good directing just do its job without begging for attention. Notice the use of the Dutch angle when Hwang is making up his mind. Perfection. /endgeek)
We finally meet one of the ajusshis from the show's poster, SEOL DU-SUNG (Choi Il-hwa), as he warns Il-hwa that their haven in Dandong won't be safe if Ilgookhwe takes over the border town of Shineuijoo.
What's more interesting is that they both seem to know Jung-tae's father, since Il-hwa comments on how impressed he was after their fight: "Like father, like son."
Ajusshi Seol wants to protect Jung-tae and entreats Il-hwa to help him if the situation should ever arise, which prompts Il-hwa to respond just as cryptically that he'll do it because he owes a debt to Jung-tae. Curiouser and curiouser.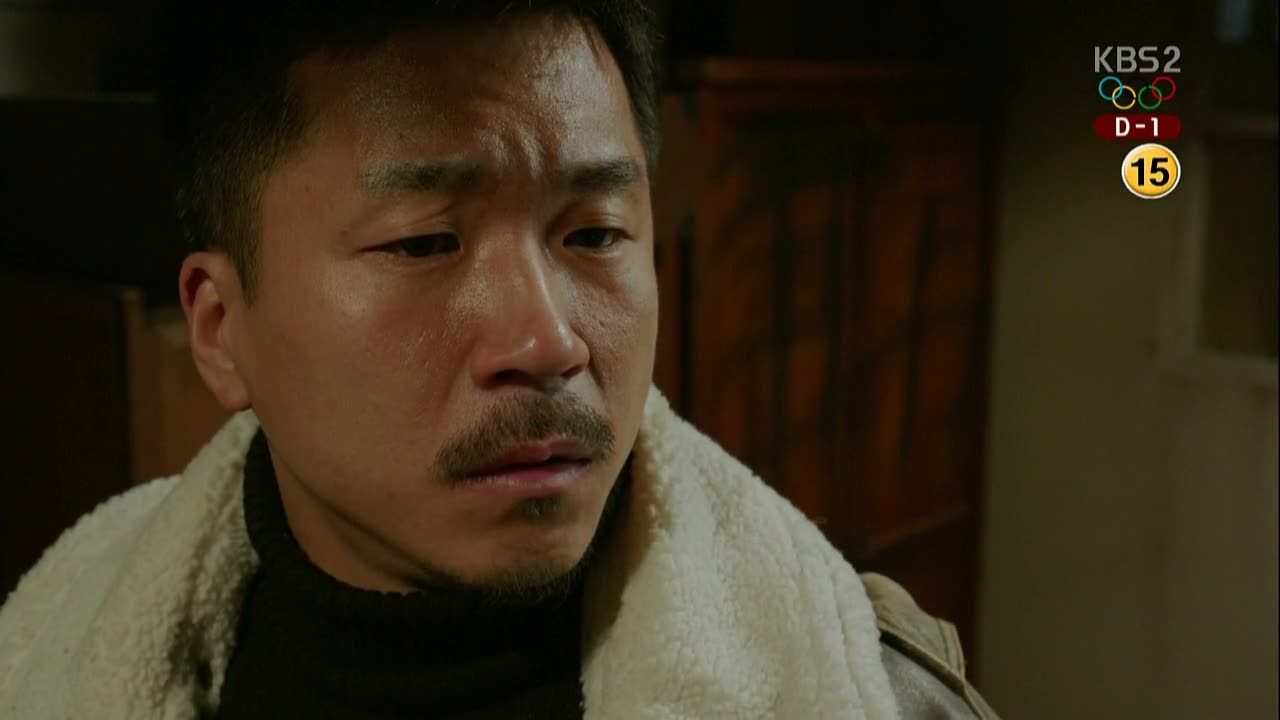 Turns out the call Boss Hwang made was to Il-hwa regarding Jung-tae. Guess Il-hwa will get his chance to help Jung-tae after all. But why does Boss Hwang look so sad? (Please tell me he's not going to die. Oh god, that's what this is about, isn't it?)
After Boss Hwang bids farewell to the boys (and is unknowingly tailed by Poong-cha), we return to Jung-tae's standoff. Kaya has no idea that the two men have made an agreement to fight, and Shinichi doesn't help by telling her that his instructions are simple: Jung-tae came to them on his feet, and he'll leave in a coffin.
Jung-tae and Shinichi begin the fight unarmed, and each time Jung-tae takes a hit he remembers the lessons he learned from his previous fights with Poong-cha and Il-hwa. As soon as he remembers them he applies them, which puts him on surprisingly even footing with Shinichi as they exchange blows and body slams.
Shinichi is faring worse than Jung-tae soon enough, and Jung-tae reasons that it's because Shinichi is so used to fighting with swords that he's probably never experienced a beating like this. Whereas Jung-tae's spent his whole life getting hit, and knows it's what he does best.
"You said protecting Kaya was your duty," Jung-tae says. "I just wanted to make Kaya laugh… because seeing her laugh made me laugh, even though I didn't know why." Kaya's face softens at his words, just as Jung-tae asks if it was such a sin to dream about making her happy.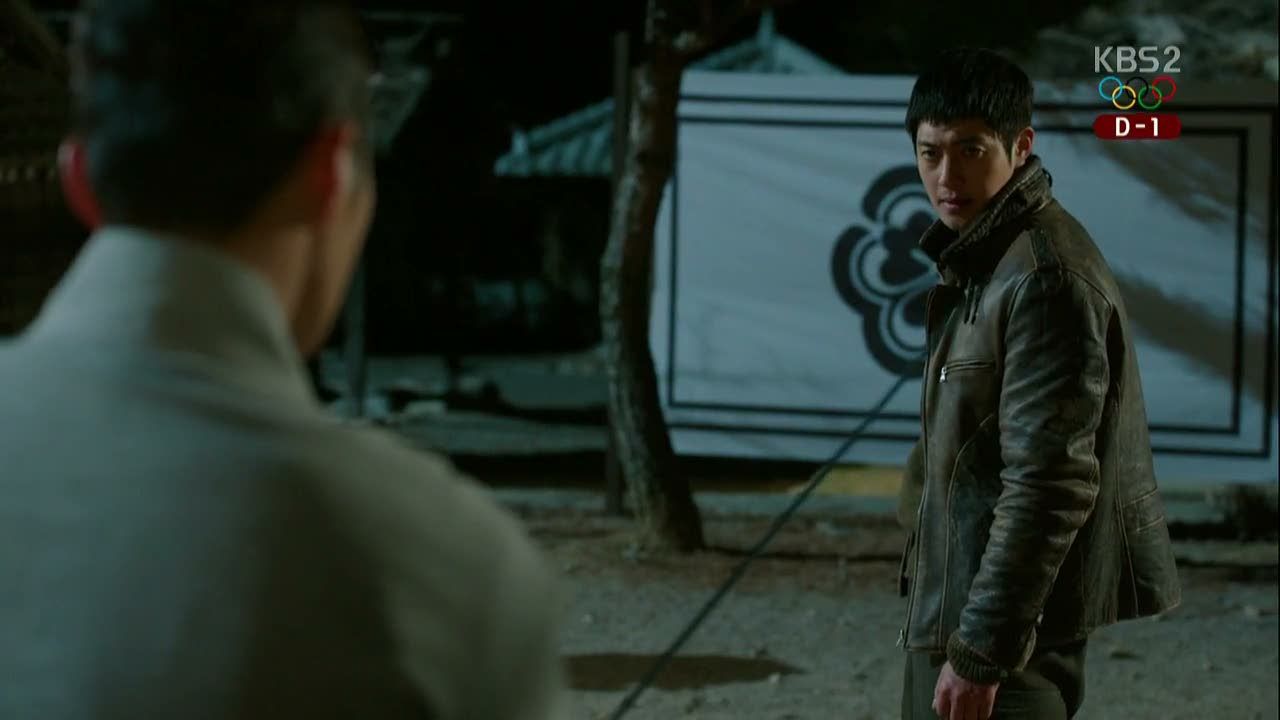 To which Shinichi replies: "It is a sin, because you dreamed of things you shouldn't have." Now this fight's getting personal, though I guess it was fair for Jung-tae to ask why he's being targeted.
We know it's time for the final round when Shinichi finally grabs his sword, though he keeps to his word and instructs his lackey to let Jung-tae go free in the unlikely event that he wins the fight.
When Poong-cha finally reveals that he's been following Boss Hwang, it's in a bleak and empty forest. (And what Poong-cha doesn't know is that he's been followed by one of the Dobi boys.) This scene is unsettling in so many ways, because no one's saying what's really going on, but the two longtime friends are acting as though Hwang made a deal with the devil and is going to pay his due.
And for all intents and purposes, that could actually be what's happening. Boss Hwang's attempts to get Poong-cha off his tail are futile, and Poong-cha considers him for a long moment before knocking his friend unconscious.
Tears fill his eyes as he states his wishes for Boss Hwang's future—like getting married and putting a lid on his gigantic bleeding heart—in what sounds like a loving, but very final farewell. I have no idea what's going on, but the Dobi boy reveals himself, causing Poong-cha to leave Boss Hwang in his care. He's going off to die in his place.
Shinichi starts slicing at an unarmed Jung-tae, and our hero manages to hold his own. He avoids getting gutted by getting close enough to Shinichi to engage him in hand-to-hand combat, but he starts to lose his footing when he has to block Shinichi's sword with his bare hand.
Luckily he turns it to his advantage by stealing Shinichi's sword, but Shinichi pulls out his backup sword… and stabs Jung-tae right through the gut. Oh no. No no no nooo.
Shots of an oblivious Ok-ryun are juxtaposed with a bloody Jung-tae, even as he uses the close proximity caused by Shinichi stabbing him to punch his opponent in the face. (Repeatedly.)
It's only when Shinichi yanks his sword out of Jung-tae's belly that Kaya steps in to stop the fight. Shinichi needs only to remind her that disobeying direct orders will get her banned from Ilgookhwe, which would mean an end to her revenge. Is she prepared to give that up for Jung-tae?
She hesitates, and seems to be leaning more toward "No" as Shinichi's lackey prepares to deal Jung-tae a death blow. If Kaya was going to intervene, she loses her chance when Poong-cha breaks down the door. Alone.
Though he's surrounded by sword-wielding minions, he makes it over to Jung-tae: "I'll save you no matter what. Just hold on." Then he covers Jung-tae with his jacket. (No, I'm not crying already. It's just been raining. On my face.)
"I came here to die today," Poong-cha announces fearlessly, before he takes on the whole group of samurai guards.
At the same time (or in a flashback), we see Il-hwa's moment of decision as he chooses whether or not to help Jung-tae and the Dobi Gang. It's not just personal—if he doesn't try to stop Ilgookhwe's actions in Shineuijoo, he knows they'll come for him in Dandong next.
But his eventual decision to go to Shineuijoo isn't just based on practical matters, since he reveals why he's indebted to Jung-tae: the man who saved him from the Japanese soldiers who killed his mother was none other than Jung-tae's father. That man sure gets around.
Blood drips from Poong-cha's mouth as he sizes up the few opponents he's left standing. He even manages to kill another with nothing more than a neck-breaking vice grip, but that's when Shinichi's lackey finally intervenes by slashing Poong-cha across the torso.
Poong-cha still manages to stumble to his feet and knock the lackey out, just because he's awesome like that. Once it's just him standing among his fallen opponents, he addresses an impassive Kaya and Shinichi: "This should be enough now."
He's barely hanging onto life as he desperately tries and fails to pick Jung-tae up. "Wake up," he chokes out. "Let's go home. Hyung will take you home." He's all but crying blood into Jung-tae's chest. Is he really dying? He can't, though. He just can't.
Poong-cha: "Jung-tae… I really liked you. In a world where people pretend not to notice a rotten corpse in the street, you'd be hurt by the smallest wounds. I liked that about you. So we have to go home. I'm sorry… Hyung and I… love you."
And then, after one last labored breath, Poong-cha dies.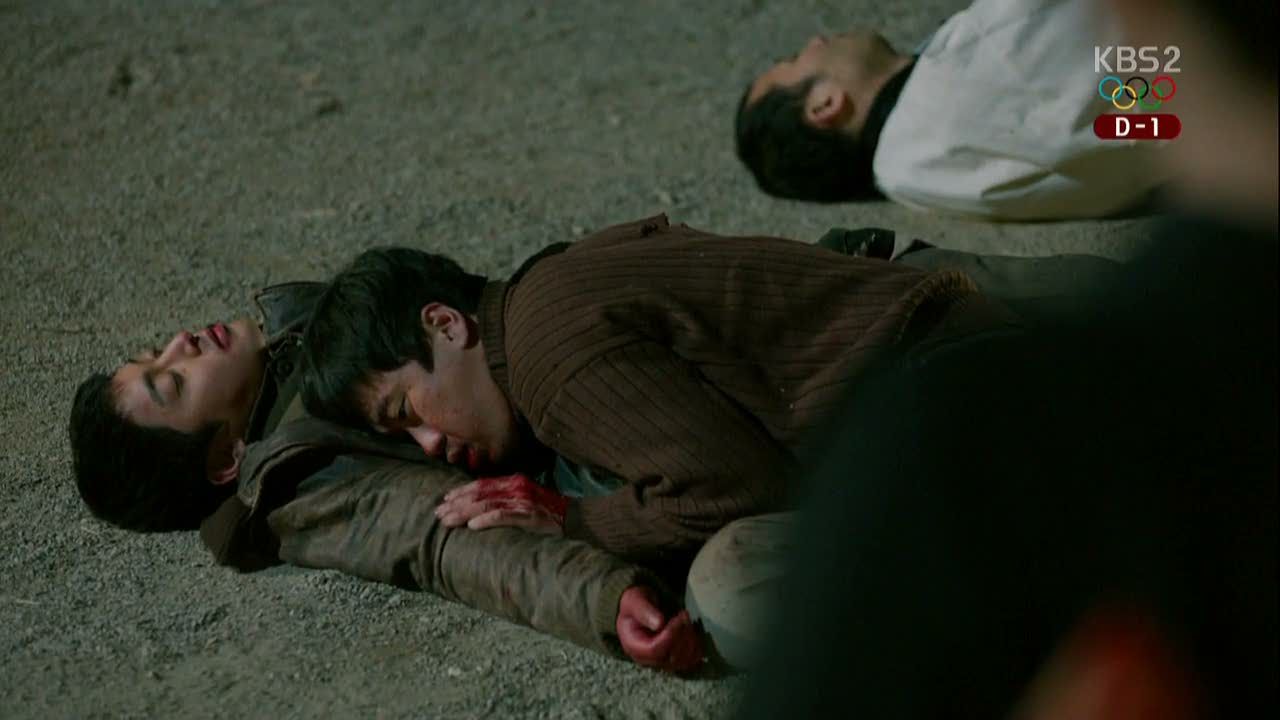 Kaya's so moved (I'm guessing) by Poong-cha's valiant death that she orders Jung-tae's life to be spared. Oh cool, so one word from her could've stopped all this, buuut she didn't invoke her position until a bunch of people died? What changed from the beginning of the fight to this moment that will save her from getting banned for defying orders? Ilgookhwe is the most arbitrary gang ever, I swear.
While Jjang-ddol gets caught by the police with smuggled whiskey, Soo-ok presents a freshly-composed music sheet to Ok-ryun so that they can hum an early rendition of the Tums theme song together.
Soo-ok is reluctant to drop Ok-ryun off at home, but she doesn't give him any opportunities to draw out their time together. She enters the gibang to find it unusually quiet, but the sound of a slap and her mother's scream draws her and the gibang maids to the guarded room where Mama Kim entertains their shady guest.
The customer's guard shoves Ok-ryun away from the door while Mama Kim argues with the Japanese officer inside (the same one Aoki threatened), since he thinks he's at a brothel and refuses to take "No" for an answer.
He sets to beating Mama Kim while her daughter is again shoved away. But Soo-ok comes to save the day, and takes care of the guard while Ok-ryun rushes inside to find the officer trying to rape her mom. He then slaps them both around because he's a monster, and is only stopped when Ok-ryun smashes a bottle over his head.
Soo-ok feels for the officer's pulse, but the verdict is uncertain. (Is he dead?) It's Ajusshi Choi who ends up saving them from the officer's gun-wielding guard, and he wastes no time in ordering the girls to pack. They've got to run away.
After enlisting Soo-ok's help, Ajusshi Choi digs up his sniper rifle. The two of them go ahead to clear a path, with Soo-ok needing only to describe the position of the enemy in order for Ajusshi to coolly put a bullet in their head.
They go back to retrieve the girls while Ajusshi leads the way, gun in hand. I'd say Soo-ok is handling this pretty well. Almost too well. Methinks this isn't his first rodeo.
At the same time, Aoki gets the artist's approximation of the assassin, Ajusshi Choi, from Japan. He rushes over to the gibang alone only to find the dead(?) officer and his wounded guard, who managed to overhear that Ajusshi was headed to the river.
A gunshot from Aoki's rifle rings out as Ajusshi helps the girls (plus Soo-ok) onto the skiff he's prepared. The bullet lands in Ajusshi's shoulder, causing him to entrust the girls' care to Soo-ok so he can save them by distracting Aoki.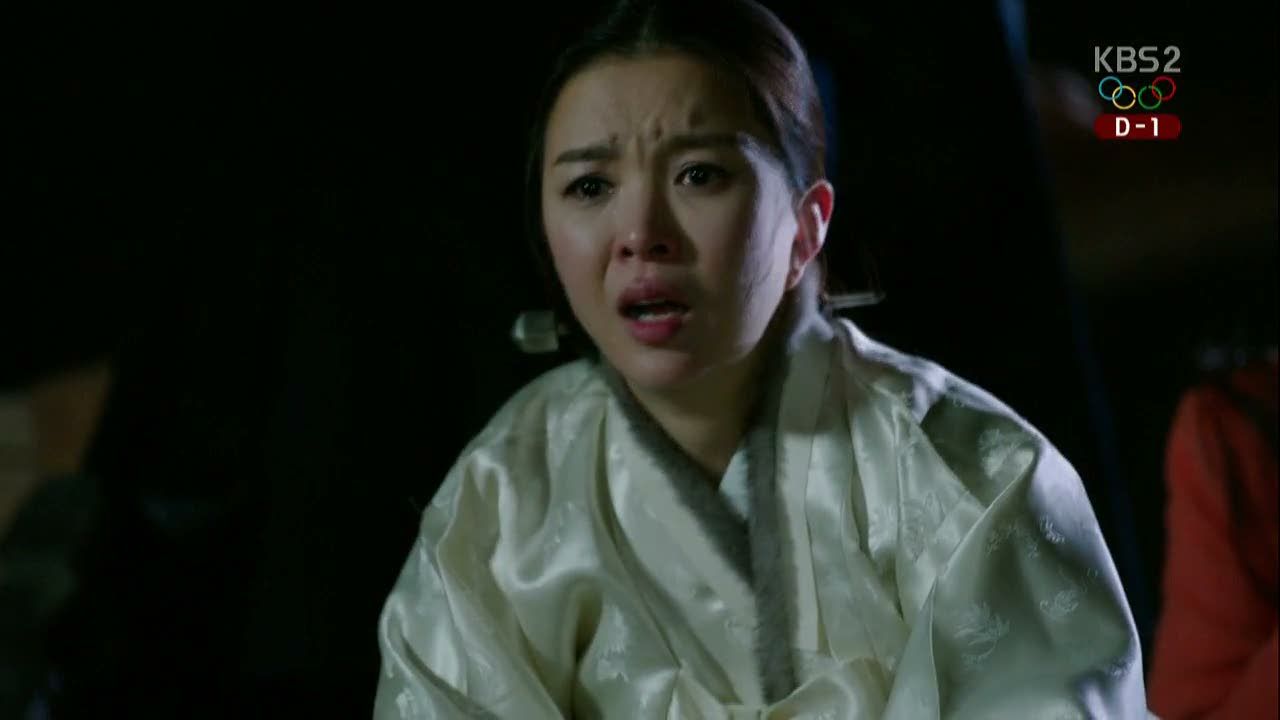 Mama Kim begs Ajusshi not to leave her, but he promises that he'll find them no matter what. In the end, Soo-ok rows the boat down the river and away while Ajusshi leads Aoki on a merry chase.
The high brush temporarily hides them from view, but when they encounter an opening, they immediately start shooting at each other. Ajusshi gets Aoki in the leg and shoulder, while Aoki gets two shots of his own in.
Somehow they're still able to stand, and they end up shooting each other at near point-blank range. It's not clear where each bullet has landed, but both men collapse.
News of the skirmish reaches Denkai, who's not concerned even though his men haven't managed to find Aoki. Based on Aoki surviving for eight days as a child after his mother died, Denkai knows that his survival instinct is too strong for him to die so easily.
After Denkai gives the usual "conquer and destroy" orders, we find Jung-tae recovering under Kaya's care. Ha. Why is this so funny after the stink Shinichi made about killing him?
Speaking of, Shinichi's post-fight checkup bodes ill for his future—the internal wounds he sustained from Jung-tae are enough to kill him, and they likely will in the future. (Shinichi: "I'm not dead yet!")
He finds Kaya tending to Jung-tae, but his eyes go eerily soft as he looks at her and tells her just how much she looks like her mother… to the point where it gives him chills. Phew. And here I thought he was going to say something creepy.
Il-hwa and his right-hand man, WON-PYUNG (Lee Joon-seok), arrive at Casa Kaya to respectfully announce that they'd like to fight. I love this drama's world. You can just go to someone's house and have your servant be all, "WE DEMAND COMBAT!" That seems so fun.
Despite Shinichi's warnings, Kaya's confident enough in herself to greet Il-hwa. And because every battle must have a wager, Il-hwa offers control of Dandong if he were to lose. But if he wins, she has to give Jung-tae to him.
The battle begins, with Kaya using her two jitte swords while Il-hwa chooses to remain unarmed. She manages to draw blood, which even seems to surprise Il-hwa. He knows that it hasn't been long since she took up the sword, and comments that there's such a thing as "genius" after all.
Il-hwa takes his kid gloves off, and promises that he'll do his best from now on. "You can look forward to it."
Kaya smirks as she tells him to bring it on. They rush toward each other for round two, with Jung-tae's life on the line.

COMMENTS
I love that all the separate entities we could barely keep up with when the show began are now coalescing, because the story's just getting better the deeper we go. One of the show's bigger mysteries revolves around Jung-tae's dad, and it's really what they don't reveal about him that makes him so interesting—we hear his deeds talked about in such hushed, reverent tones. Even though we've seen him (briefly), the image of him everyone paints with words is that of a superhero more than an ordinary man, which wouldn't be too far-fetched for this drama's world. I don't quite know how he gets around so much, but Jung-tae's lucky that his dad made some of the friends he did.
Speaking of fathers, Jung-tae couldn't have done better with the ones who adopted him. The Dobi Family continues to be the best family, and they never fail to get me right in the heart. The good-hearted Poong-cha couldn't have gotten a more heroic sendoff in saving both his hyung and Jung-tae, not to mention how he took down a small army before he finally succumbed. And how heart-rending was his final goodbye, even knowing that Jung-tae might not have heard any of it? And with "Hyung and I love you" as his last words? I can't even. Poong-cha, you're already missed.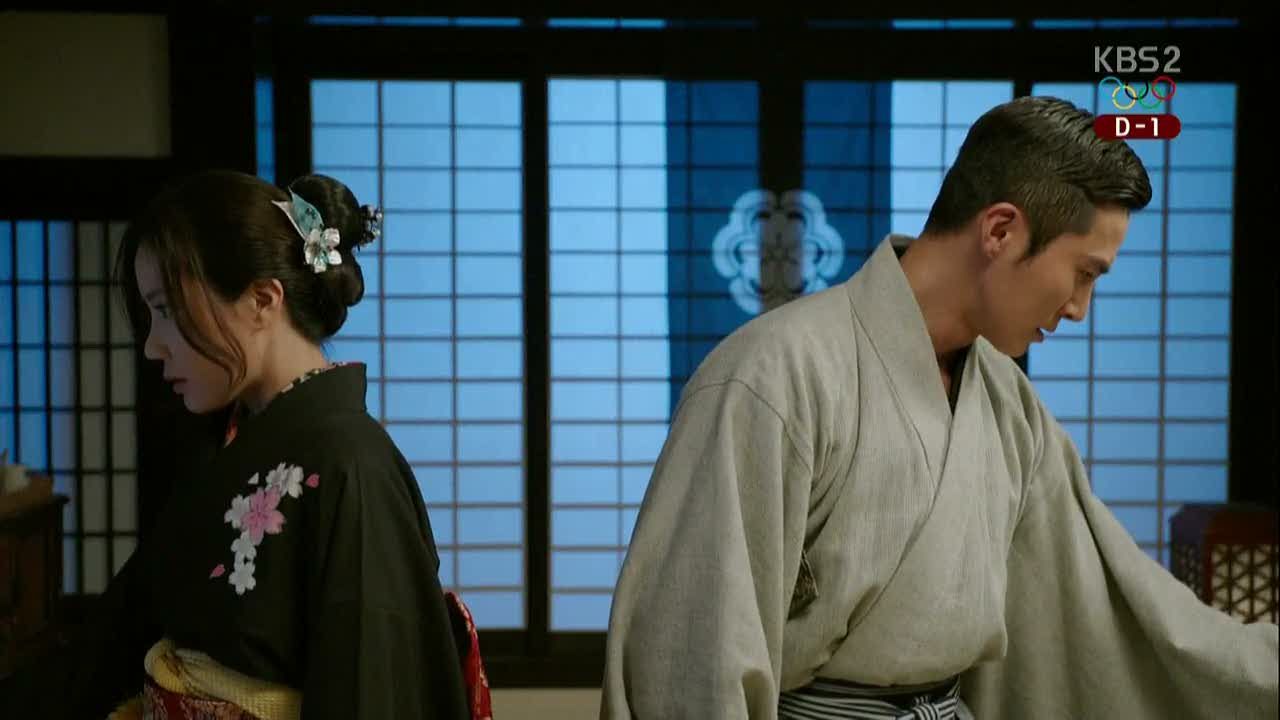 The whole setup leading up to Jung-tae's big fight with Shinichi used some wonky logic that's not so unusual for this show, but even then, we did have to stretch our suspension of disbelief just a hair thinner. It doesn't help that Ilgookhwe seems to be operating under its own brand of special lunacy, with rules which have little to no real-world application… in that I can't see why their methods necessarily create stronger fighters, or better gangsters. All their rules feel so arbitrary if everyone gets to keep changing them, so there's the added effect of making the stakes more eye-rolling than genuinely frightening.
For instance, Shinichi claimed that there was no way out other than to obliterate the Dobi Gang, yet he had enough power to use the you'll-live-if-I-lose card. You could argue that he really didn't expect to lose, which I'd buy, but then when Kaya gave a mild mew of protest before Jung-tae was almost killed, Shinichi told her that she had no choice if she wanted her revenge. He was giving her a technical choice, but it was either Jung-tae or everything she's been working toward for… well, the last three years.
Enter Poong-cha, who kills a bunch of guys but doesn't succeed in getting Jung-tae out. I can believe that Il-hwa is the eagle scout of gangsters and has a strict code of honor, but does Kaya? Does Shinichi? They're much more unpredictable, but not in the fun way. Kaya took the opportunity to save Jung-tae because that's what she'd wanted all along, but when Shinichi caved with a: "Okay… but just this once," I felt my forehead hit my palm. I can't take you people seriously when all you do is make empty threats and then change the rules so you don't have to follow-through with them! It's high time for them to shit or get off the chamber pot. In the meantime, I'll be on Team Il-hwa. All the smoldering helps keep the winter chill at bay.
RELATED POSTS
Tags: Age of Feeling, featured, Im Soo-hyang, Jin Se-yeon, Kim Hyun-joong, Kim Jae-wook