Age of Feeling: Episode 9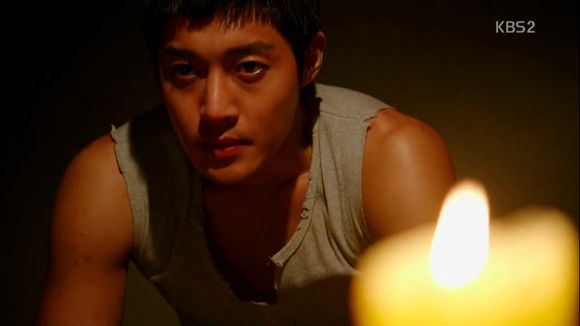 This is the last episode before the unexpected (and still quite shady) writer switch, so breathe it in while you can. We finally circle back to where it all began, which means our flashback days are over—though I'm sure I'm going to miss them, if only because I had just gotten settled in with the world and its characters. It kind of feels like we're starting all over again, since this time skip brings with it new locations, new faces, and new stories to explore. As if we didn't have enough on our plates already.
SONG OF THE DAY
Age of Feeling OST – Kim Gun-mo "Bruise" [ Download ]
Audio clip: Adobe Flash Player (version 9 or above) is required to play this audio clip. Download the latest version here. You also need to have JavaScript enabled in your browser.

EPISODE 9 RECAP
The fight between Kaya and Il-hwa continues, though the two seem pretty evenly matched—for every cut Kaya lands on Il-hwa, he returns with a powerful blow. And since this is a real fight, he's not holding back when it comes to punching a girl in the face.
Boss Hwang wakes up in a truck parked in the middle of nowhere. He hasn't connected the dots yet about Poong-cha and thinks that he's late in saving Jung-tae, though the Dobi member who drove him there, KKAB-SAE (Nuel) has thrown away the truck keys on purpose.
Poor Kkab-sae barely keeps himself from sobbing as he says, "Poong-cha Hyung-nim said… to stop drinking…" Oh no. You can see how Boss Hwang is slowly starting to understand just what happened, and the mixture of disbelief and sadness that comes over him is gut-wrenching. C'mon, don't make me cry in the first five minutes guys!
"Where is Poong-cha?" Boss Hwang asks, though he already knows the answer. "Where is Poong-cha?!" Kkab-sae can't answer and only devolves into wretched sobs, which tells Boss Hwang all he needs to know. His screams of grief are hard to bear.
During the fight, Il-hwa catches onto the fact that Kaya is deliberately stopping herself from inflicting serious damage, even when she keeps getting the chance. An unspoken agreement seems to pass between them while Shinichi watches.
Kaya puts on a show for Shinichi in order to make her eventual defeat by Il-hwa look real. Il-hwa congratulates her on her skills, but leans in as he reveals what he now knows to be true: "You love him."
He knows she threw the fight to save Jung-tae, even if she can't bring herself to admit it.
Il-hwa and his lackey Won-pyung carry Jung-tae away from Ilgookhwe, only to find a forest full of Shinichi's minions waiting for them. He knows it wasn't an order given by Kaya since she let Jung-tae go, so by process of elimination, Shinichi is behind this cowardly act.
Unfortunately, he knows exactly what Shinichi is doing—while occupying them here, he's sent his men to take over Il-hwa's fortress in Dandong. (Have they figured out a way to teleport to China? How is everyone globe-trotting so quickly in this show?)
This leaves Il-hwa and Won-pyung to face off against a small army, but it's no sweat off Il-hwa's magically talented back. His only regret is the knowledge that they're too late to save their Dandong base. And he's right, since Denkai has now taken over his former home.
But at last, Il-hwa is finally overcome by the army of gangsters, and smiles as he prepares to face his death. Oh no. (Not him too!)
At the last moment, Boss Hwang and his men come barreling through to save the day. Phew. He thanks Il-hwa for saving Jung-tae and rallies his men with a battle cry before they take on Shinichi's thugs.
Meanwhile, Denkai addresses his army at their new home in Dandong as he proclaims that this is just the first step before they take over all of China. (Taking over the world would sound so generically eeevil if that wasn't what Japan was actually trying to do at the time.)
After their opponents have been defeated, Boss Hwang entreats Il-hwa to save Jung-tae, since he brought him back from the brink before. Il-hwa agrees, knowing that he'll have to rely on some friends in Korea for housing since Dandong is lost.
We can see how deep the bond is between Boss Hwang and Il-hwa when the latter puts his hands on Hwang's shoulders, both as a way to keep himself standing (he's been through a hell of a lot today), and as a way to support his friend.
When Boss Hwang suggests that they unite and take revenge against Ilgookhwe, Il-hwa just smiles gently as he replies that now is not the time. It's better for them to wait, gather their strength, and prepare to fight off Ilgookhwe when they eventually set their sights on taking over Shanghai.
Shinichi tries taking Kaya to task for letting Jung-tae live, but she answers back with just as much fire—she's not about to be schooled by a subordinate.
But she's unaware that Dandong has been taken over until Denkai literally arrives at her doorstep. He tells her that her next target for conquest is the Japanese-occupied Manchuria, now that she's taken over Shineuijoo (when did that happen?) and Dandong. She's to make Manchuria into an opium route and help establish the new emperor, who will of course just be a puppet for the Japanese.
Now that she's fulfilled her end of the bargain with Shineuijoo (somehow), she demands the answer Denkai owes her about her mother's death. He answers that Jung-tae's father visited Ilgookhwe's base in Shanghai the very day her mother, Denkai's daughter, was killed. He leaves her to connect the dots.
Dokku eagerly reports for duty as an Ilgookhwe member only to be revoked by Shinichi, who has no plans to stick to his word. The only bargaining chip Dokku has is that he knows Chung-ah's whereabouts, but it isn't enough to sway Shinichi. He coolly orders Dokku to be killed on the spot.
Kaya saves him at the last moment by claiming that she's been wanting a dog, and Dokku kisses her feet to prove his subservience. As always, Shinichi cautions her against any decision she ever makes, but it never changes her mind.
As Il-hwa takes a boat with Won-pyung and a still-unconscious Jung-tae to their island destination, he comments on why he decided to leave Dandong behind and take Jung-tae with him.
Because he plans on taking revenge someday, the debt Boss Hwang now owes him because of Jung-tae will be of help in the future. But to his right-hand man Il-hwa wonders, "Was the reason I came to Shineuijoo to repay the favor twofold, or was it to repay the enemy tenfold?"
While Jjang-ddol continues to obliviously waste away in jail (for smuggling whiskey), Aoki is given a promotion to Major in the Imperial Army.
At the same time, Dokku is initiated into Ilgookhwe officially by drinking the Razorblade Fish Scale Tea. He smiles even as he bleeds from the mouth as Kaya gives him his first order: to find Jung-tae.
Shanghai, China. We meet back up with the fortuneteller and Daddy Shin, as he's updated on all the goings-on happening with Ilgookhwe's takeover. The only thing he remains ignorant about is the fate of his children, since the fortuneteller lies that both Jung-tae and Chung-ah are well before he walks off, murmuring, "I'm sorry… I'm sorry."
To no one's surprise, Daddy Shin is running his own gang operations in Shanghai, as he's referred to as "hyung-nim" by one of his underlings, JUNG JAE-HWA (Kim Sung-oh).
Jae-hwa asks Daddy Shin about a martial arts master named Yamamoto, since he's apparently been beating up their guys in droves. He all but stomps his feet when he learns that Daddy Shin is leaving again (his disappearances seem common), even though it's to protect their turf from Ilgookhwe.
Daddy Shin leaves Jae-hwa in charge while he's gone, as seems to be their custom. But only after he leaves does the loyal puppy-dog look in Jae-hwa's eyes change to something more menacing. He's got his eye on overtaking Daddy Shin's position, all right. Permanently.
Jung-tae finally regains consciousness after a week in Il-hwa's care, and you can't help but love how cool Il-hwa is about the whole "Kaya took over my position in Dandong" thing. I also love how he's all, I got you out of there. You owe me.
He hands over a letter from Boss Hwang when Jung-tae gets all uppity about seeing his Dobi buddies, perhaps because Jung-tae hasn't come to understand that they're far from home.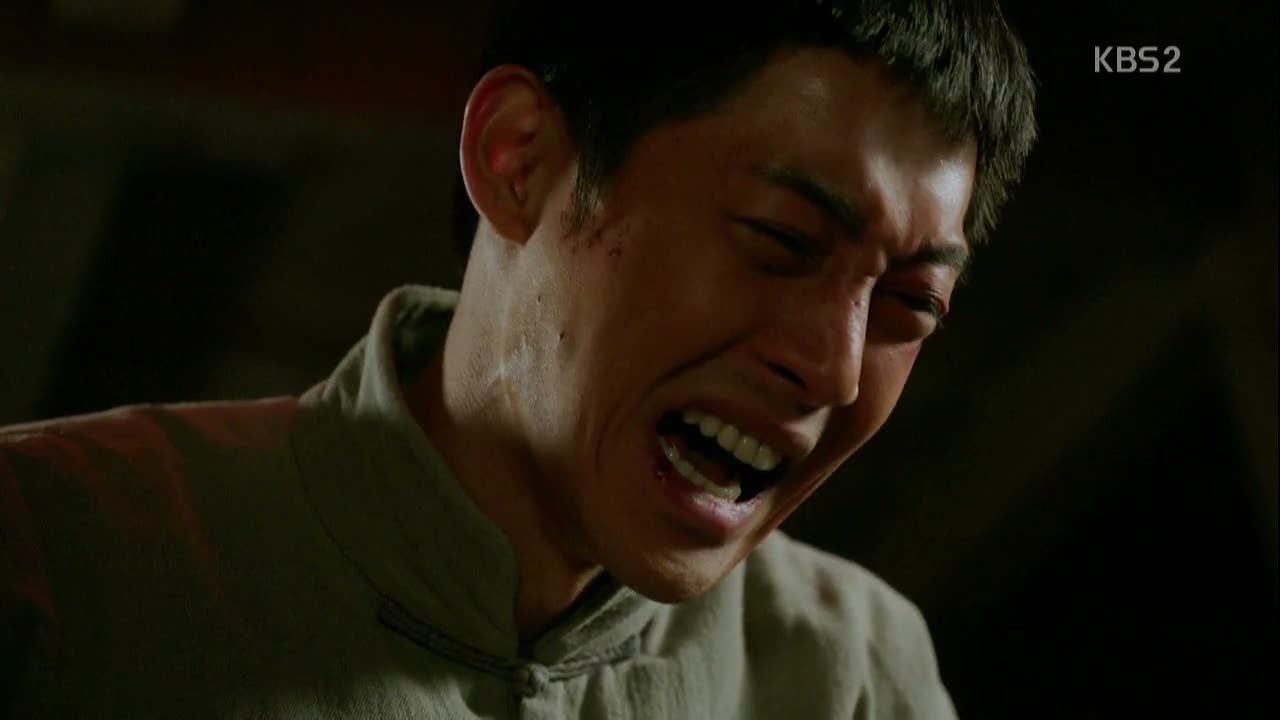 In the letter, Boss Hwang tells Jung-tae that he's sure Chung-ah is alive, because he searched and searched but never found her body. "Don't give up on Chung-ah," the letter reads. "And though we're apart right now, we'll definitely meet again." Aw, and he even adds a little warning about Jung-tae getting into silly fights, because he wants his best dongsaeng to stay alive and take revenge for Poong-cha.
That last part prompts Jung-tae to ask about Poong-cha's fate, and Il-hwa's somber silence is his answer. Jung-tae looks like someone just punched him in the gut as disbelief and sorrow hit him all at once. His mourning is a mixture of sobs and screams, which are just so heartbreaking and raw. (This is also Kim Hyun-joong's finest moment to date. He's really improved his craft.)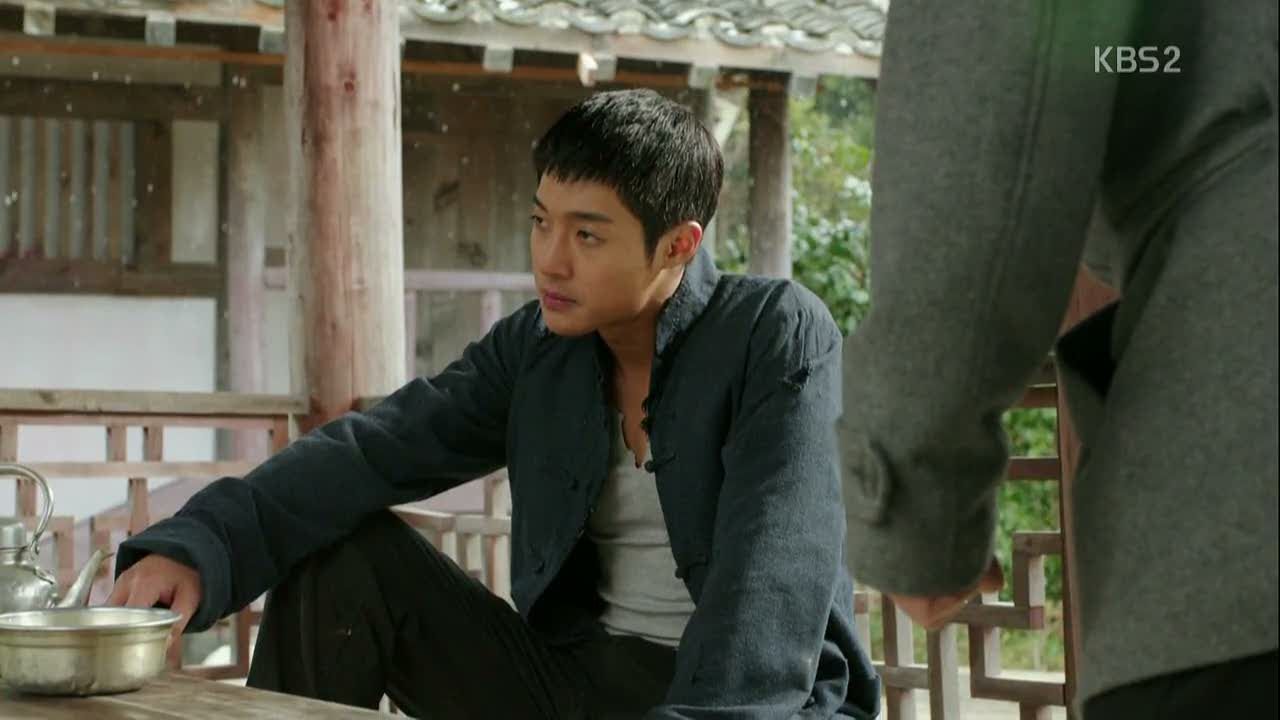 Five years pass with Jung-tae and Il-hwa remaining in Daeryun, Manchuria. A much more world-weary and hardened Jung-tae is wrangled by the bookie we saw in the first episode to take the place of a fighter he beat up in the gambling arena. Which means we're in the moments leading up to the scene the show opened with.
Likewise, this means we find Kaya moments before her long-awaited encounter with Daddy Shin, now that her minions have finally found him. But she finds the place already ransacked, and Daddy Shin already weak and on his last leg. Someone's gotten to him before her.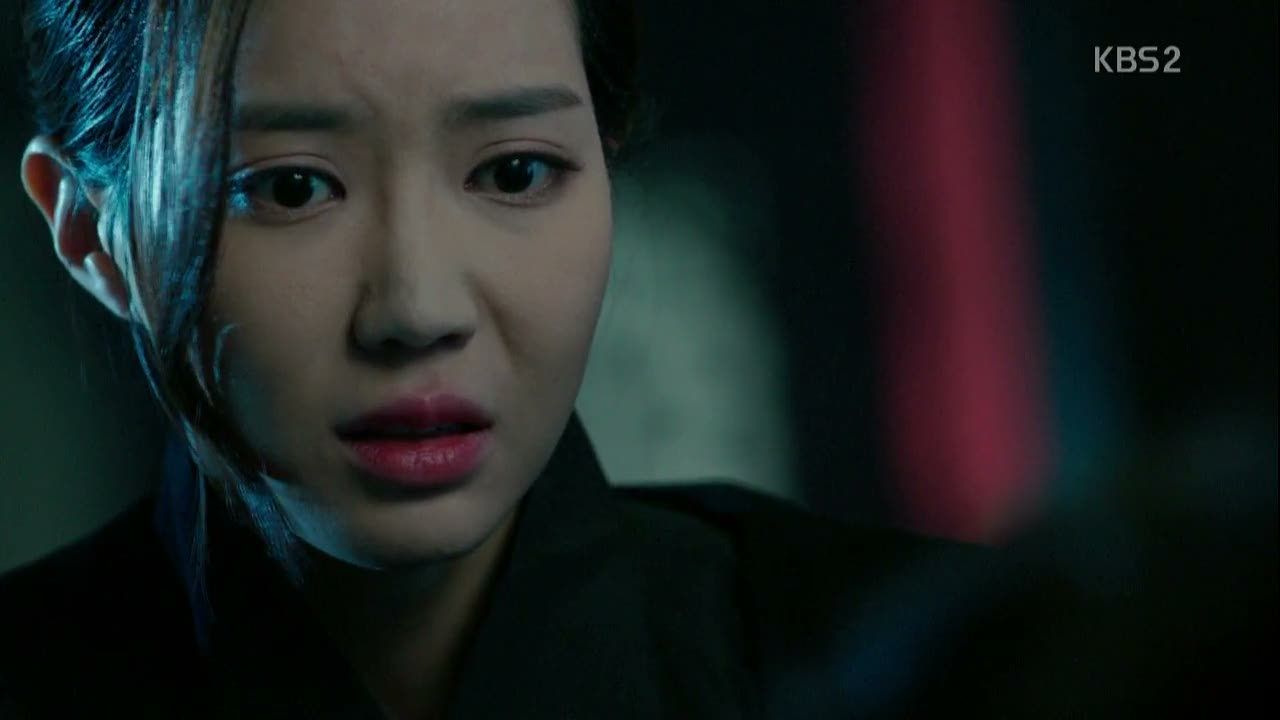 Regardless, Daddy Shin doesn't fight back, even after she throws him through a window and pulls out one of her jitte blades. She gives him one last chance: "I'll ask you for the last time. Did you kill my father?"
"Kill me," Daddy Shin replies. She thinks he means for her to kill him, until Daddy Shin finishes what he was trying to say: "That was your father's final request for me." He explains to her that he's now in the same situation her father was in—that of being in excruciating pain en route to a slow and terrible death.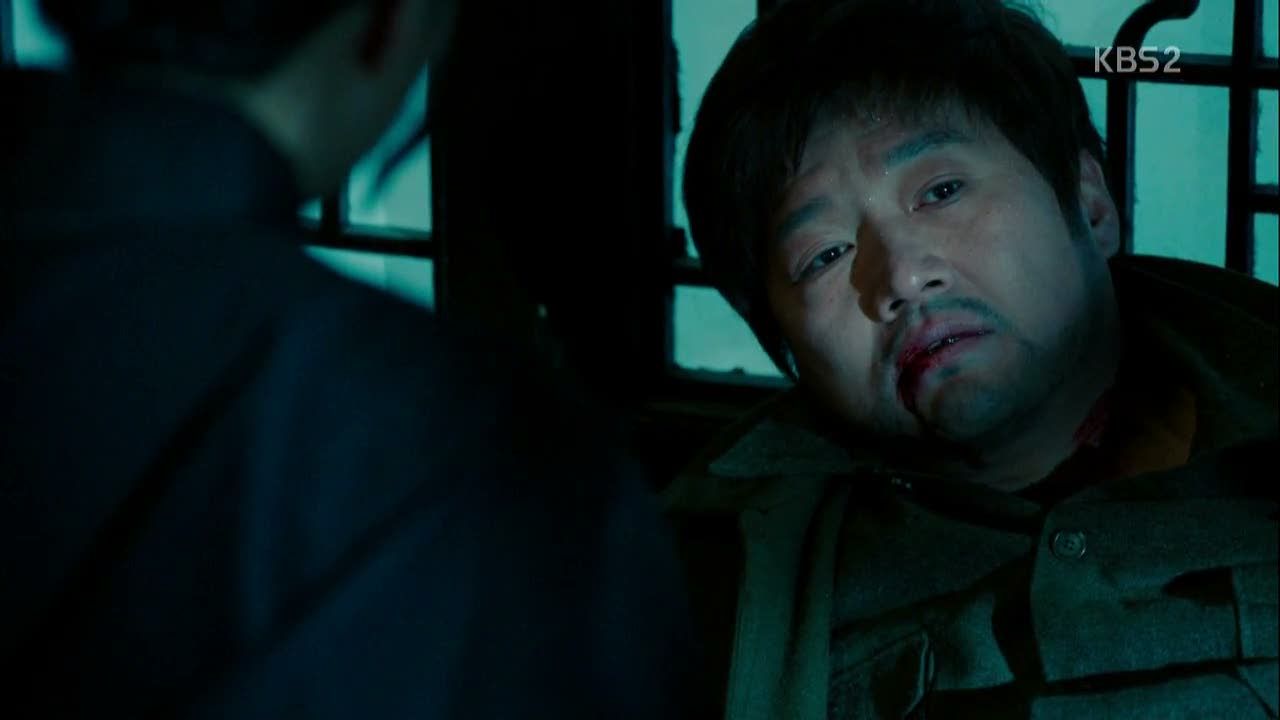 Kaya believes him when he says that he ended that misery for her father, and demands to know who it was that attacked them both. She doesn't heed Daddy Shin's last regretful words about being unable to go home to his children as she then asks, "Are you the one who killed my mother?"
But again, she listens to reason when Daddy Shin says he could never have done that—not to his best friend's wife. Kaya looks like she's about to break as she all but begs Daddy Shin to tell her the truth, to finally tell her who was really behind what happened to her mother, father, and now him.
Daddy Shin just shakes his head. Even in his final moments, he refuses to tell Kaya in an effort to save her from seeking revenge. But he does beg her to kill him and end his suffering, and as Kaya holds the blade to his neck, tears escape her eyes.
Despite his warnings, Kaya swears that she'll find the man who killed her father (and now Daddy Shin), and kill him with her own hands. Then she whispers a solemn goodbye before she ends Daddy Shin's misery.
It's as if Jung-tae feels the moment of his father's passing, even though he doesn't understand what it means. As Kaya leaves Daddy Shin's body, a silhouette behind the screen watches her. Is it Shinichi, the attacker, or both?
Now we've almost caught up to the events of the first episode, with Jung-tae fighting fair and square (but also gritty and raw) in the gambling ring, while his opponent chooses to cheat and bludgeon Jung-tae into unconsciousness.
After Jung-tae bargains more money from his bookie, he tries drowning his sorrows at a sad-looking little saloon. The barmaid hits on him, partly out of attraction but mostly from curiosity, since he's the only customer who's never shown interest in her.
Though she claims that the natural order of dating is drinks/dinner/gifts/sex, he turns it around: "Sleep with me. Then we'll eat, I'll give you gifts, and then I'll buy you drinks." I assume his pretty face is the reason why the barmaid is far more intrigued than offended.
We've seen the part where Jung-tae's sore winner of an opponent comes to pick another fight with him, and he gets his wish when he manhandles the barmaid and raises Jung-tae's ire—if there's one thing he can't abide by, it's women getting hurt.
Jung-tae takes his opponent down with just a few blows, showing that he could've easily won the fight earlier had he chosen to. That's when the mysterious onlooker, WANG BAEK-SAN (Jung Ho-bin), finds him to tell him of his father's death.
"I don't have a father," Jung-tae says, but Baek-san doesn't let him pass so easily. He hands Jung-tae the ornate stone and tassel as he tells him where to go in Shanghai for answers.
If he was waffling at all about whether to make the trek to Shanghai, a sudden letter from Dokku changes his mind. In it, Dokku writes that if Jung-tae comes to Shanghai, he might hear news of his sister.
Cue Jung-tae on a ship headed for the big city. (Okay, now this is exactly where Episode 1 left off. Took us a while, didn't it?)
Kaya, meanwhile, is on a train presumably headed to something-like-but-not-necessarily-Shanghai. She's still representing Ilgookhwe's interests in conquering all of Asia, with her focus now on a crucial piece of territory currently guarded by Koreans—specifically, Jung Jae-hwa. I assume he's now in charge of Daddy Shin's gang.
Jung-tae disembarks, but is instantly drawn by the sound of a girl's cries. Two men threaten her menacingly for stealing food, and just when they get all rape-y, Jung-tae steps in to defend her.
He gives the two racist douchebags a proper beating, but the girl he saved looks more frightened then ever as she warns him to run away, lest he get caught by a man named Hiroshi and killed.
Lo and behold, he runs into Hiroshi—a Japanese samurai who claims to have the ability to differentiate his superior personhood as compared to the lowly Korean person Jung-tae is.
And since Jung-tae can't walk two feet without getting into a fight, he and Hiroshi have to duke it out. Hiroshi eventually uses his sword, but only manages to graze Jung-tae when he was trying to cut off one of his limbs.
Jung-tae doesn't seem too reluctant to have the chance to fight a samurai opponent, but is instantly disappointed when two more guys show up—an unfair fight isn't a proper samurai's way.
So Hiroshi agrees to a proper duel with Jung-tae, though he keeps losing his temper. They exchange death threats, barbs, and blows before Jung-tae escapes the scene by jumping onto a moving truck and letting himself inside.
The driver doesn't seem at all surprised, but admonishes Jung-tae on his manners—he should greet an elder properly, especially when that elder is more handsome than he is. Ha.
Maybe the reason the elder isn't surprised is because he's driving a truck full of corpses, and claims that Jung-tae is the first living passenger he's ever driven around.
Out of the kindness of his heart(?), the elder gives Jung-tae some pointers on how to survive in Shanghai—namely that there is no way to survive in Shanghai.
"If you want to live another day, leave this city," the elder warns him. "This is Shanghai."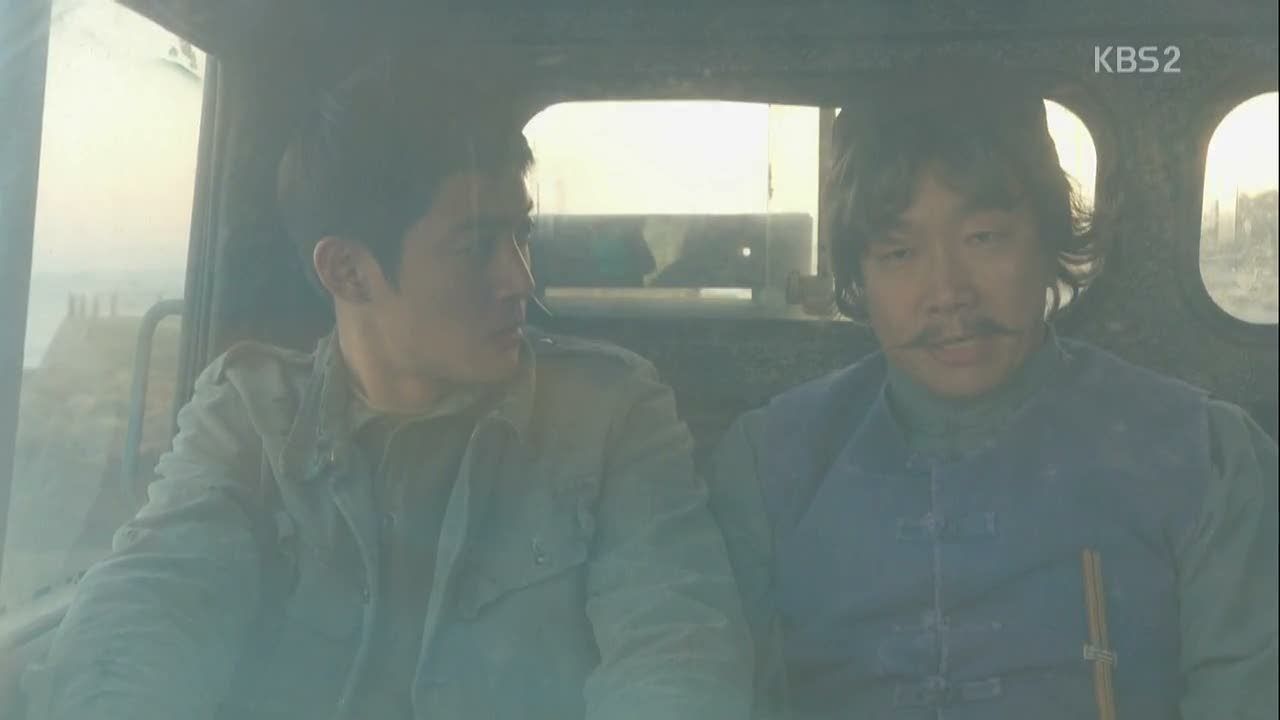 COMMENTS
Not much seems to have changed over the five year time skip other than location, has it? I'm curious as to why the time skip was written in at all, especially when Jung-tae gets to pick up right where he left off with Dokku regarding his sister—which, for the record, was going nowhere. What's changed in five years? What needed to change to make those five years necessary?
There were two great emotional moments this episode, unsurprisingly delivered by the two people who would be most impacted by Poong-cha's death. What I loved about both of them was the completely raw quality of their grief, because it seemed so in keeping with the overall style of the show. These weren't pretty tears of bottled-up sadness, they were outright screams of grief, the kind of crying that you don't want to see men do precisely because it's so unsettling.
And unsettled I was, since I wanted to cry along with Boss Hwang when the realization hit him that he was too late to save his best friend. I wanted to cry along with Jung-tae when his whole world came crashing down around him only when he was miles away from his family. It's the little touches, like Boss Hwang's letter to Jung-tae and his unfailing attempts to find Chung-ah, that continues to endear their characters to me.
It was nice of Daddy Shin to try and save Kaya from the hell of her father's making, even if it was all pointless in the end—Kaya seems as attached to her revenge as ever, even if it's now been eight years since she started on her quest. It's one of those vague motivations that has no checkpoints or immediately attainable goals, since Kaya and Jung-tae are both still more or less passively waiting for essential information to be given to them.
At least Kaya was able to achieve one thing in hunting down Daddy Shin, and I liked that she wasn't so blinded by her revenge to actually hear him out. It's like she wanted to believe him all along and needed no coaxing to trust him, which is a much better outcome than her killing him in cold blood because of a big misunderstanding. Though I wonder if this means she'll get to stop threatening Jung-tae with death and despair, 'cause that's kind of become their thing now. But who knows—maybe all this production hullabaloo will lead Kaya and Jung-tae in a new and better direction. Or the behind-the-scenes drama will tank the actual drama. For what it's worth, I'm trying (so very, very hard) to stay cautiously optimistic.

RELATED POSTS
Tags: Age of Feeling, featured, Im Soo-hyang, Jin Se-yeon, Kim Hyun-joong, Kim Jae-wook