I Need Romance 3: Episode 7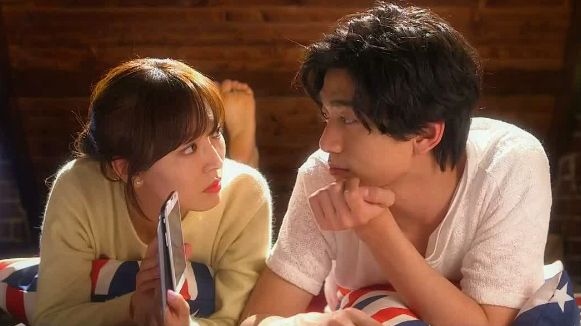 Aaah, we're hitting all of the classic noona romance beats—unrequited love, puppy love declarations galore, and more cuteness than I can handle. Oh, let's not kid ourselves. Give us us cute! Lines start to blur and just as Sweet Potato gains some ground, he faces his first real challenge: tell the woman you love that she loves another man, or keep your trap shut and hope it goes away?

SONG OF THE DAY
Vanilla Acoustic – "밀린 하루 (Backed-up Day)" [ Download ]
Audio clip: Adobe Flash Player (version 9 or above) is required to play this audio clip. Download the latest version here. You also need to have JavaScript enabled in your browser.

EPISODE 7: "It's not your body that's hurting but your heart"
We open on Joo-yeon sitting by Wan's side as he plays guitar, humming along and making up a tune. This… is a dream, right?
Wan narrates that it's been two months since he's moved in, and then his tone changes: "Shing Shing doesn't have time for stuff like this." Cut to: a real morning in the house, as Joo-yeon runs out the door while yelling at someone on the phone, and Wan chases after her with pink kitchen gloves on, sighing that she's leaving without breakfast again.
"On the days she is home, she's no different from a corpse." She falls asleep at the table, on the couch, and has a bloody nose once a week.
He regularly has to carry her to bed and tuck her in, and always uncurls her balled-up fingers. "She always sleeps with her hands in a fist. As if she has to wake up tomorrow and fight. She's like a person who goes out to battle."
He notes that she often comes home with bruises but doesn't even know where she got them, and he puts medicine on her battle wounds as she sleeps.
It takes her five alarms to wake up in the morning, and this time Wan brings her breakfast in bed just to get her to eat something before she leaves the house. She groans that she doesn't have time, but he spoon-feeds her and says she can eat while she wakes up. You're seriously the best ambiguously not-a-boyfriend/not-a-dongseng ever.
As we watch the rose on her nightstand wilt, we go back to the scene that closed out Episode 6 as Joo-yeon sobs in his arms.
Wan (voiceover): "You, who doesn't notice whether the flower has bloomed or wilted, are crying… because of the man you like. Just as you didn't know where those bruises on your arm came from, you cry without knowing that these tears are caused by love."
She sniffles back her tears and suddenly asks if there's anything to eat because she's hungry, and beams at the apple she finds in the fridge. He watches her like she's an alien, wondering if she's really the same person who was crying a minute ago.
She tells him that the minute she walks into work tomorrow, her new nickname will be two hundred thousand won per minute, because that's how measly her selling rate was on the segment that she tanked today.
Sunbae Tae-yoon is the one who came up with that moniker, and we watch everyone else on the team take a turn being ridiculed at the office in the past. Wan asks what kind of person Tae-yoon is, and she says she learned everything about work from him.
A flashback to her early days as a rookie reveals a familiar dynamic—she was basically Hee-jae and he was her Joo-yeon, cold and strict, and heartless about showing the tiniest amount of weakness: "Who told you that you could get sick? Is that something a pro would do?" Or vulnerability: "Why are you crying in front of me? Am I your boyfriend? Your oppa?"
She says the only way to survive in the workplace was to become a crustacean. Wan listens and sighs inwardly: "This is the man who ruined you."
But then she starts to swoon a little as she says it's strange, but despite Tae-yoon's overlordy ways, she feels comfortable around him, and respects him enough that she finds herself being obedient and rather enjoying it.
Wan's face twists into a silent rage. She asks if he knows what that's like, to enjoy being bossed around by someone. Why no, he'd NEVER know what that feels like, nope.
He prods for Tae-yoon's bad qualities, and she says there is one thing she'll never understand—the fact that he dated Se-ryung.
At the same time, Tae-yoon is popping open a bottle of champagne at the office to toast Se-ryung's first successful show. Her teammates note that she's wearing her lucky necklace again, and Tae-yoon recognizes it immediately.
She tells them that someone she loves gave it to her, and that she discovered she loved him more after they broke up. She follows Tae-yoon to his office to ask if he wants to get a drink, adding that she's trying really hard for someone with her pride.
He snaps that she should stop right there, scoffing at her declaration that she loves him more now, correcting her that it's more like she just wants what she can't have. "You should've known what a great thing you had while you had it!"
He counters that the only way to continue being loved by her is to never accept her heart—that way she'll always want him. She takes that as a good sign that he still loves her, but he tells her to live the way she was meant to, and not be tied down to someone like him.
He leaves her in tears, and she tells herself to get it together before stepping out. The whole time the team was celebrating, Hee-jae was glaring and sulking, and now she stomps over to Se-ryung with that flower blazer in hand, demanding to know if she sabotaged their team on purpose.
Se-ryung is surprised by the accusation, but she just goes with it, letting them think that she planned it this way all along. Gah, now I see why you have so many enemies. Just explain yourself. Is your pride SO easily bruised that letting people think you're evil is better than one explanation?
She smirks that they were so easily manipulated, but Tae-yoon overhears the conversation and tells Hee-jae that she didn't sabotage them at all, and drags Se-ryung away.
He asks why she lets other people just assume the worst about her, but she smiles up at him and says that the people who know her know the truth, and that's all that matters. She hugs him, and he sighs like he doesn't know what to do with her, and gives in.
Hee-jae asks Woo-young if they should go over to Joo-yeon's place, but he shows her the text he already sent her, and her reply that she wants to be alone. He suggests grabbing a drink on their own, but Hee-jae feels uncomfortable being alone with him, and says no.
He gives up and goes home knowing he shouldn't push, but then Hee-jae sighs that he should've asked one more time.
Joo-yeon goes out for a midnight run with Wan trailing after her, as she basically pep-talks herself out of her funk (in rap, HA) and he asks if doing all this to convince herself she feels better actually makes it all better. She believes firmly in mind over matter, but he notes that she always misses the most important thing: how she really feels.
She dismisses the idea, but he thinks to himself that the truth is, she likes Tae-yoon, was hurt because of that, and cried. He tells her that what she does is cry, and then without ever having known why she cried, she wipes her tears and runs and makes herself feel better.
Wan: "But if you keep living that way you'll never know—why you're sad, why you're hurting, what you like, whom you love. You'll live not knowing yourself."
She doesn't think wailing and wallowing is very appealing, but he says it's okay to let herself do that sometimes, "because then you'll see the bottom, and the bottom is where your sincere feelings lie."
She notes that he talks about it like he knows what he's talking about, and he tells her about his wayward youth spent rebelling and being angry and hitting rock bottom. He says he spent a year like that, but once he hit the bottom he saw one thing: her.
He decided then that he'd return to her someday, knowing that he'd find what he wanted here. She asks what that is, and he looks at her, "Someone to worry about me. Someone to be with me. Someone who looks inside my heart."
She agrees that there are some advantages to living with him, like breakfast and midnight runs and conversations like this. "You're comfortable living with noona too, right?" He frowns as soon as the word noona comes out of her mouth and pouts, "No! I'm not comfortable at all! And I don't like that you're comfortable either! I want you to be uncomfortable! I'm a man!" Hahaha.
He starts to lean in closer and tells her not to forget the fact that he likes her, and she wonders where he learned to be so direct. He says he learned it from a girl who thought she was really smart, and inches closer, pleased when it makes her nervous.
Once he points it out, she pushes him back with a finger to the forehead like he's a kid, and he insists that he won't call a woman he kissed noona, so she can stop trying. "Even if I close my eyes and reopen them a hundred times, I'll still see you as a woman."
She mutters that he makes her uncomfortable, and he slides his fingers between hers to hold her hand on the way home, and she doesn't pull away. Swoon.
He brings her upstairs and plays the songs she used to play for him that they called Happiness and Pain, but she doesn't recognize them at all. She can't put feelings to music anymore and reacts as if he's speaking a foreign language to her.
But once he plays Sadness, she manages to connect the feeling for a brief second: "It feels sad." He starts to play Love, and she drifts off to sleep on his shoulder.
He smiles at her and decides, "It's better that you don't know love right now." He gives her a little kiss on the forehead and moves her to the bed, and when he unfurls her fist, this time she curls them back up around his thumb and holds on tight.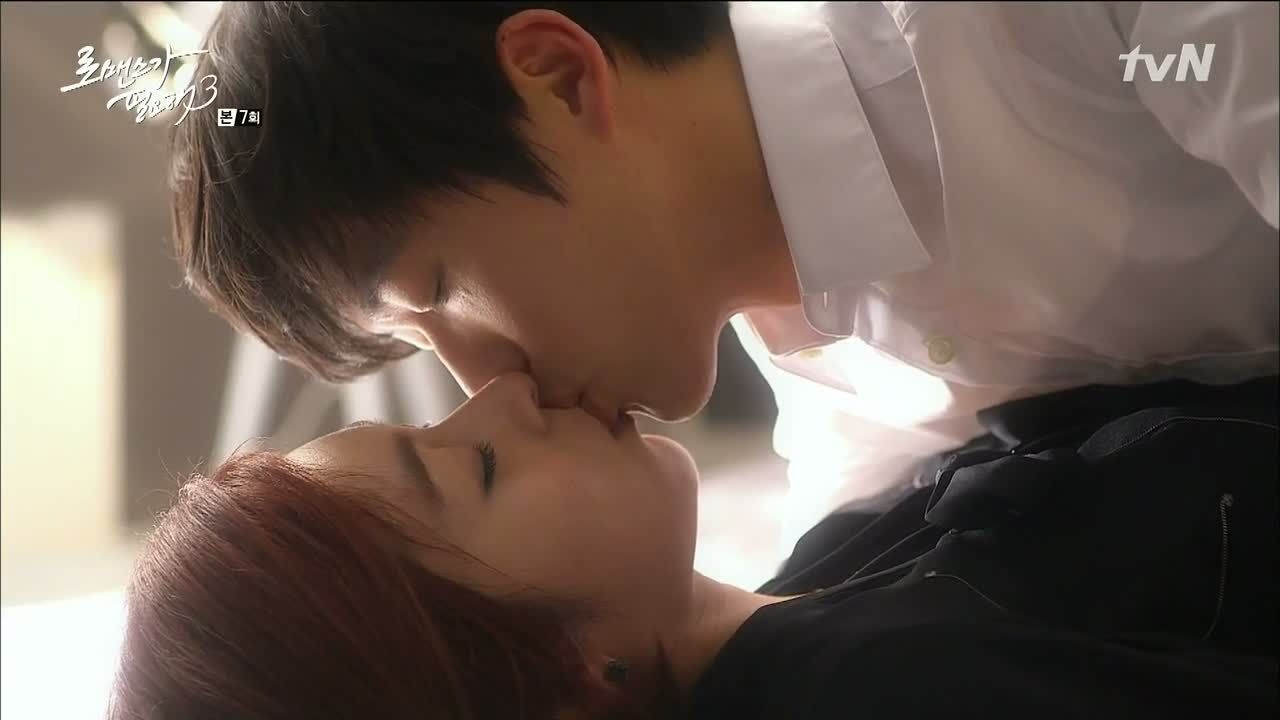 Tae-yoon and Se-ryung go to their bar and play with the dog, though it means that they both need allergy medicine. She says she doesn't have any at home, which they both know is a flimsy excuse to come over.
He kisses her softly, admitting now that he thought about her always, and it's not long before kisses land them in bed.
In a far more chaste bed, Joo-yeon stirs awake in the morning in Wan's arms, still holding onto his thumb. He's already awake and shuts his eyes waiting for her reaction, and his internal monologue is hilarious: She's awake. She'll scream right? And she'll hit me with a pillow?
He braces himself, but when she gets up, she looks at him curiously and reaches over to smooth the hair out of his face. But he's so on edge that he darts up with an explanation the second she touches him, expecting violence. LOL.
Wait! So, what happened was, you were there, and you fell asleep, and you were heavy, and your room is far, and then you held my finger, and…
But she's not at all mad, and she thinks the more interesting thing is that she slept through the whole night without tossing and turning, and even overslept, which she never does.
She says it was really comfortable, and then scoffs, "A man? You're just a dongseng and a Sweet Potato." He's not exactly content with that result, but lets himself be happy about it for now, and breaks into the most adorable smile.
He runs after her and backhugs her, and when she complains he counters, "You said it was comfortable. That I'm not a man. Then I'll be your Sweet Potato." Kyaa.
It's enough to make her smile, but when he suggests they sleep together every night, she wriggles free and tells him to cut it out.
Se-ryung wakes up with red spots on her face and asks for allergy medicine, which Tae-yoon makes her chase him down to get. We cut back to Wan chasing Joo-yeon around the house before they cuddle up to watch TV together, and then go back to Tae-yoon and Se-ryung snuggling on the couch.
Joo-yeon narrates that a fairytale might've ended here, with the promise that these two couples would live happily ever after, the end. "We call that a happy ending, but in real life it's just one moment in a never-ending story. We must live the story that follows under the name Life, not as the leads of a fairytale, but as the leads of reality, not knowing what moments lie ahead."
Min-jung goes back to the doctor, only this time she gets told that she's pregnant. What the. What happened to early onset menopause? I hope they're not intending to make this some sort of quick fix for her storyline, though it is interesting that the news horrifies her. The doctor tells her it'll likely be the last time she can get pregnant, which of course sends her into a tailspin about what to do.
She comes home to find Joo-yeon waiting on her doorstep, and starts out giving her a cold reception but has to let her inside in a hurry when her neighbor comes out. He knocks on her door to give her a package, sighing that she's making it seem like he's some weirdo.
The solution is of course to have Joo-yeon come out pretending to be Min-jung, and I love that his jaw drops at his gorgeous neighbor. She asks pointedly if he's going around calling her an old maid hermit, and he swears he isn't.
She tells him to spread the news that the woman who lives here is hot and single, and tells Min-jung she followed the script like she asked. Ha.
In exchange for playing the part, Joo-yeon gets her to come back to the office, saying that she filed the days off as vacation time. Min-jung starts to tell her the news that she's pregnant, but Joo-yeon freaks out, literally putting her hands up and inching away from her. Auuugh, Joo-yeon. Nooooo.
Even as Min-jung cries in front of her, Joo-yeon can't handle personal talk, and says that she can't help even if she knows and that's her business anyway, so she doesn't want to know, and walks out before any more beans can be spilled.
At home she tells Wan all about it, and he sighs to hear about her horrible reaction. I love that he stops to water her while watering the plants. She says defensively that she doesn't know what decision Min-jung should make and can't take responsibility for that, and Wan tells her that all she had to do was be there, listen, and say one thing: No matter what you decide, I'll be rooting for you.
She thinks that's a cop-out, and he just shakes his head in disbelief. The hilarious thing is that she's following him all over the house prattling on about this problem of hers, frustrated that he's not listening to her.
He lets it go on for a while until she's mad, and then points out that this is how Min-jung felt but worse, when she refused to listen. It FINALLY gets through to her, and so then he coaches her through a text message apology to send to Min-jung.
She follows his instructions and types out that she's sorry for earlier and that she's rooting for her no matter what she decides, and then cringes in embarrassment, deciding she can't send it.
So Wan sends it for her, and she gasps in horror, "You take responsibility!" He finds her so adorable that he just rolls around in bed with her, squeeing the whole time that she's cute. Gah. Min-jung is more shocked than anyone, and mutters that this scares her more.
At work, Joo-yeon can't stand the other teams talking about their failure, and declares that she's going to sell every last one of those jackets without needing to rely on anyone's help. Her teammates cringe when her solution turns out to be selling them in a street stall, which is as embarrassing as it is difficult.
But Se-ryung shows up (partly because her collection was cause for returns and complaints, just as Joo-yeon predicted), and as soon as she does, the jackets fly off the racks in no time.
The whole team celebrates with dinner, and Joo-yeon calls Tae-yoon to brag about doing a good job. The tension between the two teams is slightly thawed, though they still throw barbs back and forth about Joo-yeon's teammates calling her a heartless crustacean behind her back, while Se-ryung brags that her team loves her.
As they walk out, Tae-yoon pulls up ahead, and Joo-yeon smiles thinking he's here to pick her up. Oh no. But Se-ryung steps up to say that he's here for her, and Joo-yeon's face falls as she watches him throw her coat over her shoulders and usher her into his car without so much as one glance over to the rest of them.
That's when they all realize he must've gotten back together with her, and Joo-yeon gets a pang in her heart.
Wan calls while making dinner to ask how far she is, and she says she's at the drugstore to pick up medicine for her sudden heartburn. He races out and meets her on the steps outside, and she describes it as a sharp pain in her chest, like something's stuck there.
He's worried at first, and asks if she needs to go to the hospital, and when it started. But then she says that it started when she saw Tae-yoon arrive and take Se-ryung home when she thought he had come for her. She decides she needs another dose of medicine and reaches for more. Wan pulls it out of reach, and she asks why.
Wan (voiceover): "For a brief moment, I hesitated. I didn't want to tell you that it's not your body that's hurting, but your heart. I didn't want to tell you why your heart was hurting." But then he says that thirteen-year-old Joo-yeon once taught him, and we see her explain to Little Wan that love is happiness, and bright shining light, and not lying.
"So I have to tell you. Because if I don't you'll keep taking useless medicine, and you'll keep wandering aimlessly. Because love is not ignoring the fact that you'd be wandering that way."
She whines that she's in pain, and this time he turns to her and says that it's not heartburn, but her heart that's hurting. "The reason your heart is hurting is because you like someone."
Joo-yeon: "I do? Whom?"

COMMENTS
Oh, I love that he decides to tell her. I really expected him to hold out a little longer, but when he actually steps up and puts her heart before his own, that seals the deal for me that his love isn't just selfish or childish or a connection to some idyllic past. Maybe she began as a fairytale for him and she's the reason he returned, but the stuff that gets to me is that the expression of his love is everyday and practical—he feeds her breakfast, he listens to her, he pushes her to be a better friend, and he waters her plants and worries about her.
One of my favorite things about noona romances is an unabashed hero who wears his heart on his sleeve, because they do that thing that's so impossibly difficult to do in real life—declare your love freely knowing full well it's not returned. But after Joo-yeon's early heartbreaking confession that nobody loves her, it feels like he's watering her heart one "I love you" at a time. It might not be appreciated and she might not believe him, but he does it anyway. Of course it's better that he's human and petty and not some saint, but despite the grumbling, he does the difficult thing and puts her happiness first.
Sometimes she still shocks me with her level of coldness and her inability to empathize or give a little of herself for a friend. She's obviously an extreme case, and this is a huge part of her character arc—to learn how to be a real friend by Sweet Potato's example. The more we see of Joo-yeon in this light, I can see why her falling out with Se-ryung has two sides. It doesn't help that Se-ryung clearly has such an issue with her pride that she can't even defend herself to someone when there's a misunderstanding, and her idea of a true friend is absolute unwavering trust—not exactly a thing that the distrusting, insecure Joo-yeon just hands out willingly, hence the impasse. I was hoping they'd patch things up, but now that Se-ryung has gotten back together with Tae-yoon, I worry about those odds.
Despite her lack of empathy, everything about Joo-yeon shutting herself off from her own emotions and being clueless about them is feels like a natural result of being a survivor and feeling alone in the world. Sure it's extreme that Wan needs to act as an interpreter for her heart, but isn't it great that what he's doing is connecting her to herself? I'm just going to brace for impact when she hits rock bottom, but at least I know she's got a Sweet Potato around to pick up the pieces.

RELATED POSTS
Tags: featured, I Need Romance 3, Kim So-yeon, Sung Joon