I Need Romance 3: Episode 9
Is it the rebirth of a friendship, or the start of a dangerous game? Two old frenemies bury the hatchet, which naturally starts to complicate the love square. We just got our heroine to start feeling feelings again. Is it too much to ask for one day to process before new problems come hurtling at us? Why do I even ask.

SONG OF THE DAY
Two Months – "Talk to Me" [ Download ]
Audio clip: Adobe Flash Player (version 9 or above) is required to play this audio clip. Download the latest version here. You also need to have JavaScript enabled in your browser.

EPISODE 9: "Don't make me regret coming back to you"
Wan tucks Joo-yeon into bed after she cries herself to sleep. She gets repeated calls from Tae-yoon (his number is saved as "venomous snake," though I'm pretty sure Wan knows who's calling), and he can't help himself and finally answers it out in the hall.
Unsurprisingly, Tae-yoon isn't calling to apologize for his sucktastic non-date stunt earlier, but to give Joo-yeon more work to look over before a last-minute meeting they have in the morning. Seriously?
Wan erupts and tells him that Joo-yeon came home crying and just now fell asleep, so there's no way he's waking her up for that. That is so going to backfire on you later.
At six in the morning, Joo-yeon wakes up and sees the email from Tae-yoon and screeeams Sweet Potato awake for answering her phone last night and saying embarrassing things. She scrambles to get ready for work early, muttering incessantly at Wan the whole while.
Wan trudges to the kitchen to pack her breakfast, and offers to drive her. She runs to the car and shoos the breakfast away to get some work done, snapping at him with a mocking, "Food, food, food, food, food!" because he nags her so much about eating.
It's his turn to blow up at her, pointing out that he's out here in his pajamas and slippers, just so that he can make sure she's fed and off to work on time. The argument is sincere, but I love that when he orders her to take it back, she takes it back and then silently mocks him some more.
She runs off to work and leaves her purse and breakfast behind, so Wan has to chase after her with all her stuff. He runs into Tae-yoon and hands it off to him instead, adding the helpful fact that it's breakfast for one, so he can't have any.
Tae-yoon just looks Wan up and down from bedhead to bedroom slippers in that silent judgy way that says it all, leaving Wan suddenly insecure. He wonders what Joo-yeon sees in that guy, and then assures himself that he's way cooler. Insecure Wannie so adorable.
Tae-yoon plops her stuff down and hands Joo-yeon the meeting preparation that he stayed up all night to do. He grabs her by the wrist and drags her to the cafeteria to make her eat breakfast, which is of course his petty way of getting back at Wan (whom he repeatedly calls "the man you live with").
He asks if she really cried herself to sleep, and if what he did last night was upsetting. I can't believe you even have to ask, but I guess it's better to ask than to ignore. He mentions that he hasn't seen her cry since she was a rookie, and then says that she has more tears than he thought. You've seen her cry twice in ten years and that's a lot of tears? What planet are you from?
She corrects him—he made it so that she couldn't cry in front of him, but there's no such thing as a person without tears. She admits that she cried, though she says she was just annoyed at having to be the bridesmaid to someone else's romance.
He apologizes and says it's because she's the person he's most comfortable with, because she's not swayed by emotion and he can rely on her. The words land with a thud in her heart, and she thinks to herself that it's not a compliment anymore for him to say that he's comfortable around her.
She narrates that ever since she's discovered her feelings, even the sensation when he holds her hand for a brief moment is completely different. She runs her fingers along her wrist where he held her earlier.
"Will every daily interaction with this man feel new? How will I endure the discomfort?" She decides that she'd rather not have her feelings uncovered if she's to be rejected.
Se-ryung is ever so quick on the uptake, and asks Wan over lunch if Joo-yeon likes Tae-yoon. She figures that it's pretty natural for such a close working relationship to turn into mixed feelings on both sides, and needles Wan to intervene because he likes Joo-yeon.
But he says if that's what Joo-yeon sincerely wants, he's not going to stop her, which Se-ryung doesn't understand in the least. She's jealous of any woman who gets near Tae-yoon, but none more than Joo-yeon.
She compares the feeling to seeing a pair of shoes or clothes she wants, and buying them so she can put them in her closet before someone else can have them (which says so much about her, doesn't it?) and Wan has to tell her that people aren't like objects.
She sighs that if he won't do something she'll have to, and though she might not have a way to stop Tae-yoon, she does know how to stop Joo-yeon. Hm, should we be worried?
Tae-yoon gets chewed out at the meeting for backing Joo-yeon's new brand, and afterwards she promises to succeed so that he doesn't get any more flak. He might be a terrible boyfriend but he can be a good boss, and he tells her to be decisive and learn from her choices, and that she doesn't have to worry about failing because he'll always back her.
She notices that he still has chronic gastritis, and rattles off a list of foods he should be eating to counter the symptoms. He's surprised that she just knows this, and asks, "Do you like me?" Ack.
It catches her off-guard but she rolls with it like the question is absurd, which of course he accepts at face value because they're always joking about that stuff. He puts his hands on her shoulders and assures her she'll do a great job with the new brand, which is right when Se-ryung walks in and discovers them standing uncomfortably close.
She's here to do an interview with Joo-yeon on their new brand, so they both wear their biggest fake smiles as they tell the interviewer how they just clicked because they've been lifelong friends, and how their tastes have always been similar.
Joo-yeon doesn't see why Se-ryung had to go so far with the syrupy friendship backstory when their original plan was to keep it professional. But Se-ryung says she wasn't lying at all—she's always seen Joo-yeon as a friend, then and now.
Ooooooooh. This is your plan? To cozy up to Joo-yeon so she can't steal your boyfriend? If that's what this is, you're worse than I thought.
We go back to her conversation with Wan, where she totally admits that this is her plan. Augh. Wan tries to tell her that she can't use Joo-yeon's feelings that way, but she doesn't see anything wrong with doing her best to get what she wants.
So after the interview, Se-ryung tells Joo-yeon that she was right about everything and it was all her fault. She swears that she really wants to be friends and do a good job with their project, promising to do what she can to help get her a promotion.
She calls her breakup with Tae-yoon a cooling-off period, describing it as a normal occurrence in their relationship. She sounds really genuine about wanting to be friends again… and Joo-yeon falls for it hook, line, and sinker. Aw, that's gonna hurt, but I'm glad you trust her anyway.
Min-jung has decided to cut all ties from Min-seok, and gets a new cell phone entirely. When he can't get a hold of her, he starts to piece together the few things he knows about her from meeting her online, and starts digging for clues in her messages, like the fact that she works in fashion.
Hee-jae looks furtively across the room at work, trying to signal over at Min-jung and Joo-yeon to ask for supplies because her period is starting.
They're trying to be discreet, but then Woo-young (who finally got a haircut, thank goodness) walks over and opens a drawer where he's already stashed a pack of pads.
Their jaws drop as he says matter-of-factly when each of their periods start and how it affects their mood and diet in different ways. Hee-jae is mortified, while Joo-yeon and Min-jung are mostly impressed, and wonder if he's maybe gay. This, of all things, is the thing that makes you ask that?
Hee-jae jumps in and blurts that he likes women, which just turns their curiosity over to her: "How does she know that?"
Wan asks Joo-yeon when she's coming home, and I love the way she lights up when she reads his texts. She tells him she wants seafood pasta for dinner, and he laughs because he's already bought the ingredients for that exact dish. He sends her a picture of dinner supplies: "I'm one step ahead of you. Isn't this what they call soulmates?"
Min-jung tries cautiously to bring up her baby-decision-making woes, and Joo-yeon shuts down as always. But this time Wan's words niggle at her, and she remembers what he told her about just being there to listen to her friend.
So she tells Min-jung that she might not know the answers, but she'll listen, and encourages her to say what's on her mind. Aw, good for you. Min-jung was just dying to talk to somebody, and tears spill out as she admits she wants to have the baby but is terrified of how it'll change her life.
She used to not be afraid of anything because she was only ever making decisions for one, but doesn't know how to go forward when everything scares her. She's afraid that she'll never date again, and says she thought about quitting her job because of the scrutiny of being single mom, but then realized she actually really loves her job too much to do that.
Joo-yeon brings her a tissue and tells her that no matter what she decides about having the baby, she shouldn't quit her job. She promises to be on her side and fight with her, against all the people who talk behind her back. Look at you, being such an awesome friend. I'm so proud.
Min-jung: "Are you on drugs?" It's so funny that she's touched and frightened at the same time. Joo-yeon adds with a smile that Min-jung will never stop dating till the day she dies, so there's no need to worry about her love life ending.
As Joo-yeon sits by Min-jung's side like a good friend and then comes home, she narrates: "Ever since Wannie came to my side, many things have changed. I no longer have to come home to a dark house. There are no more nights where I have to watch the home shopping channel alone."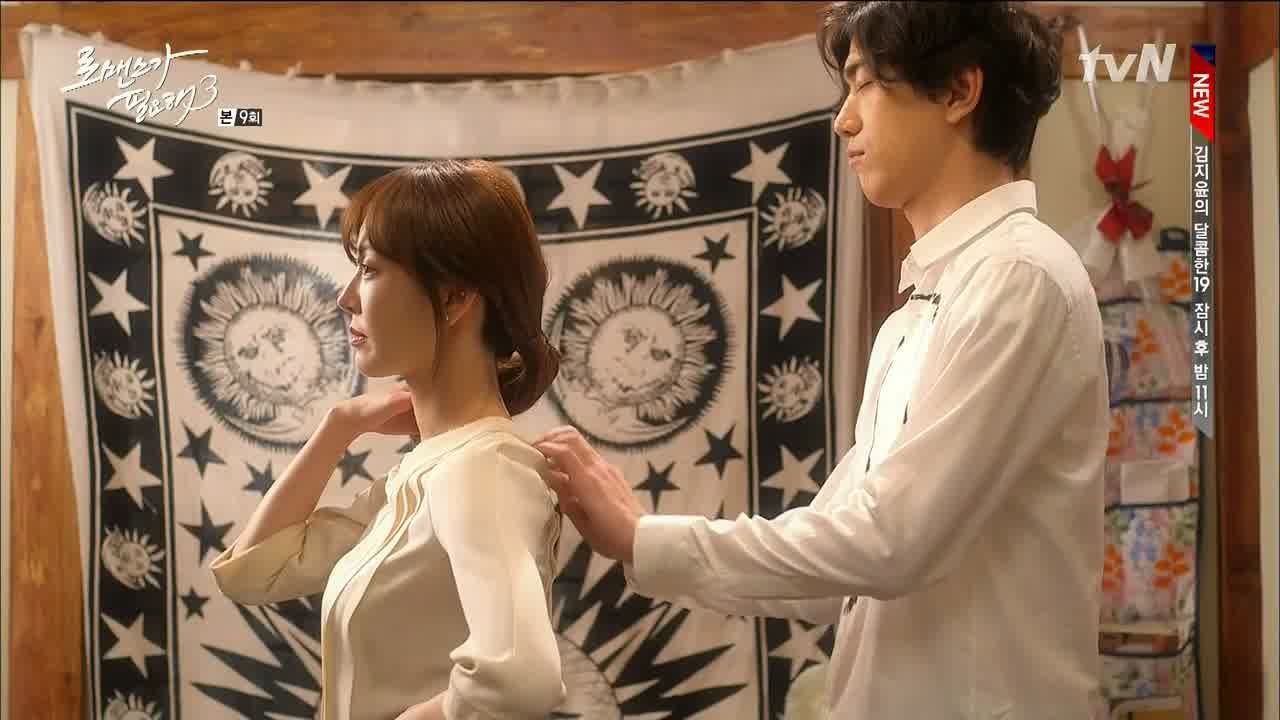 Wan greets her as soon as she comes in, and then she orders him to shut his eyes as he unbuttons her dress in the back (after which he stands there with his hands up in the air, ha). She narrates that she no longer needs to struggle to get a dress off on her own.
She flashes back to the night he held her as she cried, and narrates: "I've become a person who no longer needs to hold back her tears."
She's even become someone who enjoys cooking and eating at home, as we watch her make dinner with Wan and actually have fun making pasta. Over dinner, she asks about his mom, who hasn't responded to her emails.
He says that's par for the course with Mom, who's too busy running her company for stuff like that, and adds that she's probably never even heard his music. He still remembers his first CD sitting on her shelf, still wrapped in plastic.
Joo-yeon looks at him sympathetically and says he grew up well despite that. He grumps that she's talking to him like he's a kid again, and asks how she'd like it if he said she grew old well. Touché.
He says that it's because he grew up in a warm, loving home, and that if there's anyone to credit for that, it's her.
She comes up to his room and asks to hear his music, and when he plays one of his songs for her, she suddenly remembers the thing he mentioned to her when he first arrived—about going to see the giraffes.
When he was little he had drawn a picture of a camel and mistakenly thought it was a giraffe, and she made fun of him for not knowing the difference, wondering if his mother never once took him to a zoo.
He says forlornly that his mom is too busy, and tries to cover up the camel's humps in embarrassment. So Little Joo-yeon takes him to a toy store and buys him a stuffed giraffe to show him the difference between camels and giraffes, and on their way out, it begins to snow.
Back in the present Wan flips through his journal and says no, it was a real giraffe at a zoo, pointing out the very accurate picture he drew. She laughs that he doesn't remember anything correctly, and says it was definitely a toy store and a stuffed giraffe.
He asks when she's going to take him to a real zoo then, and she says she will soon. She asks to hear more of his music, and he plays her the Happiness song that she taught him when they were young. This time she can put a feeling to the music: "It's happy."
She says that he must've been lonely in the States and she didn't even know that she was lonely here, "But I came to know it after you arrived—that I was lonely before you came."
She admits that she doesn't really have huge expectations from life, perhaps because she's become a robot like he said. "And life is still as hard as it always was. But now I don't think—will it get better tomorrow? Instead, I know that things are good right now, that this one moment is happy and peaceful."
She rests her head on his shoulder, and he says with a smile, "It's a relief that you've learned how to feel the present moment." She murmurs that she can't fall asleep here, and dozes off anyway.
He notices that she isn't sleeping with balled-up fists today, and kisses her hand goodnight.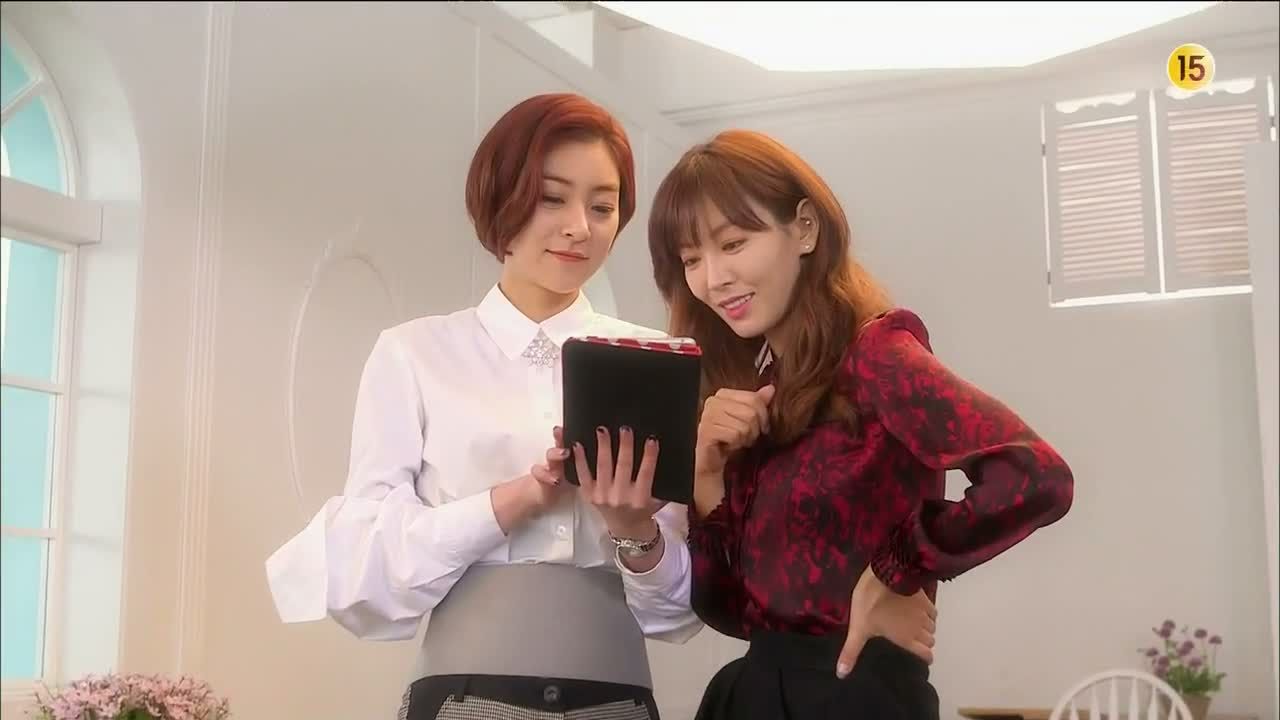 Hee-jae decides to bring her ex-boyfriend some food when her mom makes one of his favorite dishes, but then discovers that he already moved out of his gosiwon after passing his exams. That sucks, but I also have no sympathy for you when you're the one who drove him away.
Se-ryung plays up her friendly act with Joo-yeon, and their next show is a huge success. The first person she thinks of is Tae-yoon, of course, and braces herself before going up to see him.
He's already waiting for her with congratulations, and she can barely contain her tears as she tells him how much she wanted to do well for him. He offers to buy her dinner, and she counters that she deserves more than just a meal, and asks him to spend Sunday with her.
Tae-yoon: "Are you asking me out on a date?" She smiles, "Yes, go on a date with me." And around the corner, Se-ryung overhears their conversation and she realizes that her plan backfired.
At home, Joo-yeon tells Wan that she cottoned on to Se-ryung's ploy from the start—she knew Se-ryung wanted something from her, and that she probably knew about her feelings for Tae-yoon.
So she decided to beat her at her own game and accept her friendship, and use it to get what she wants. Yikes. You did what?
Wan's face falls. She says she never once forgot that the workplace was a battlefield, and used Se-ryung's friendship against her. She says she has a date with Tae-yoon this weekend, and admits that she wanted to hurt Se-ryung.
Wan: "Which is first, your desire to hurt Se-ryung or your feelings for Tae-yoon?" Joo-yeon: "Both." He tells her to just think of her feelings for Tae-yoon and not think bad thoughts, but she asks defensively what's bad about wanting to get even when Se-ryung is doing the same to her?
She says that people who get stepped on step on others, and that's what makes the world go 'round. Wan: "No, you're wrong. The reason the world goes 'round isn't because of people like you. It's because there are people who are patient, and giving, and loving. You're the same as Oh Se-ryung. You're no different from her."
Wan: "Don't make me regret coming back to you."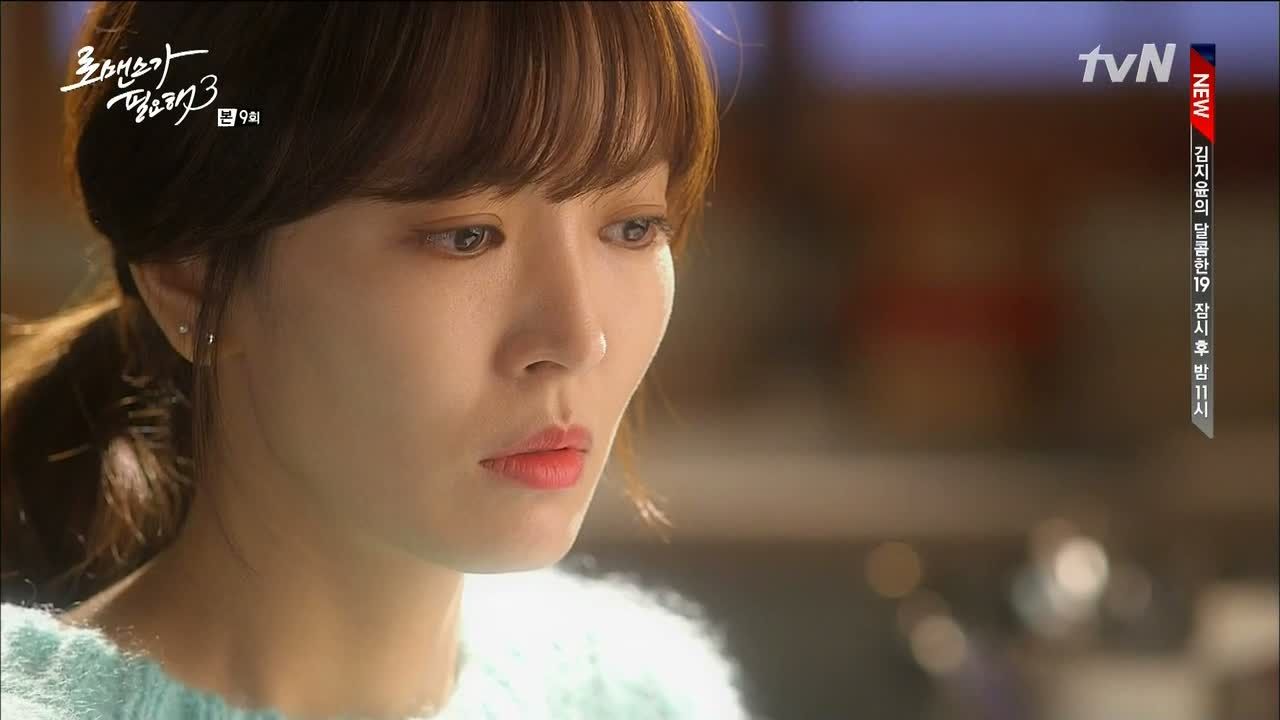 COMMENTS
Just when I was so proud of her for learning how to be a good friend, she stoops to Se-ryung's level. That was a blow, especially because I was feeling so sympathetic when it seemed like she was falling for Se-ryung's lies. I hated that Se-ryung would stoop to faking a friendship with her to block a budding romance with Tae-yoon, but I loved that Joo-yeon fell for it (or so I thought), because it showed that she was still innocent and hopeful on the inside, and wanted to see the good in people. I took it as a sign that she was willing to take risks with her heart in both friendship and romance, and despite knowing she'd be hurt, it mattered more that she was willing to trust someone again.
But grar, it turns out she's just as bad as Se-ryung, and countered with fake friendliness of her own, and with zero remorse to boot. When Se-ryung pulled that move I was mad, but when I found out that Joo-yeon did the same, it broke my heart. Granted, I don't think that Wan is always right, but his outburst at the end of the episode really needed to be said. I wanted her to be better than that.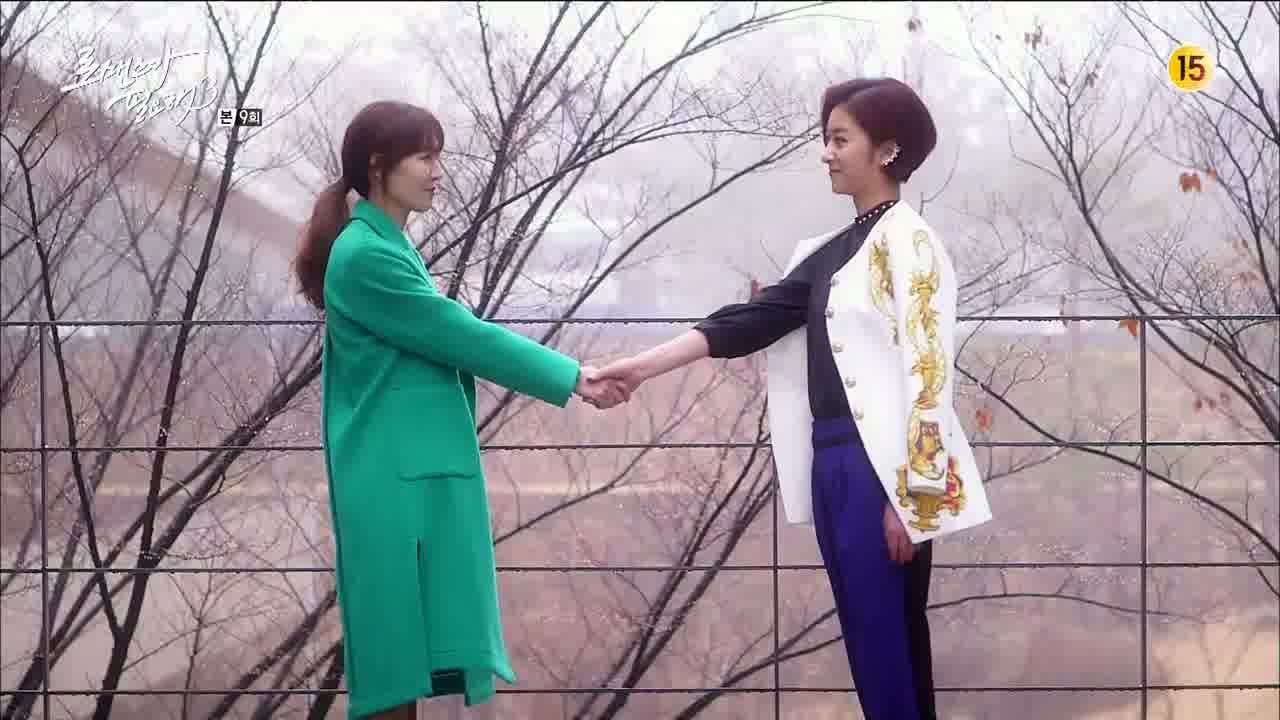 I say all that because I love her like she's a real person, gaping insecurities, prickly defenses, and squeaky robot emotions all. Overall her character arc as a heroine has a really nice progression, and it's great to have a character so flawed that just rooting for her to find herself is enough of a conflict to drive her story. Finding love along the way is sort of the extra reward, but the journey is about her discovering her own happiness and learning to be comfortable in her own skin.
She still has miles to go, but the fact that she took Wan's advice to heart and actually listened to Min-jung and offered her support no matter what choice she made—well that's the kind of friend you want to keep your whole life. I know it was two steps forward and one giant step back today, but there's hope for you yet, Shin Joo-yeon. Don't succumb to the dark side.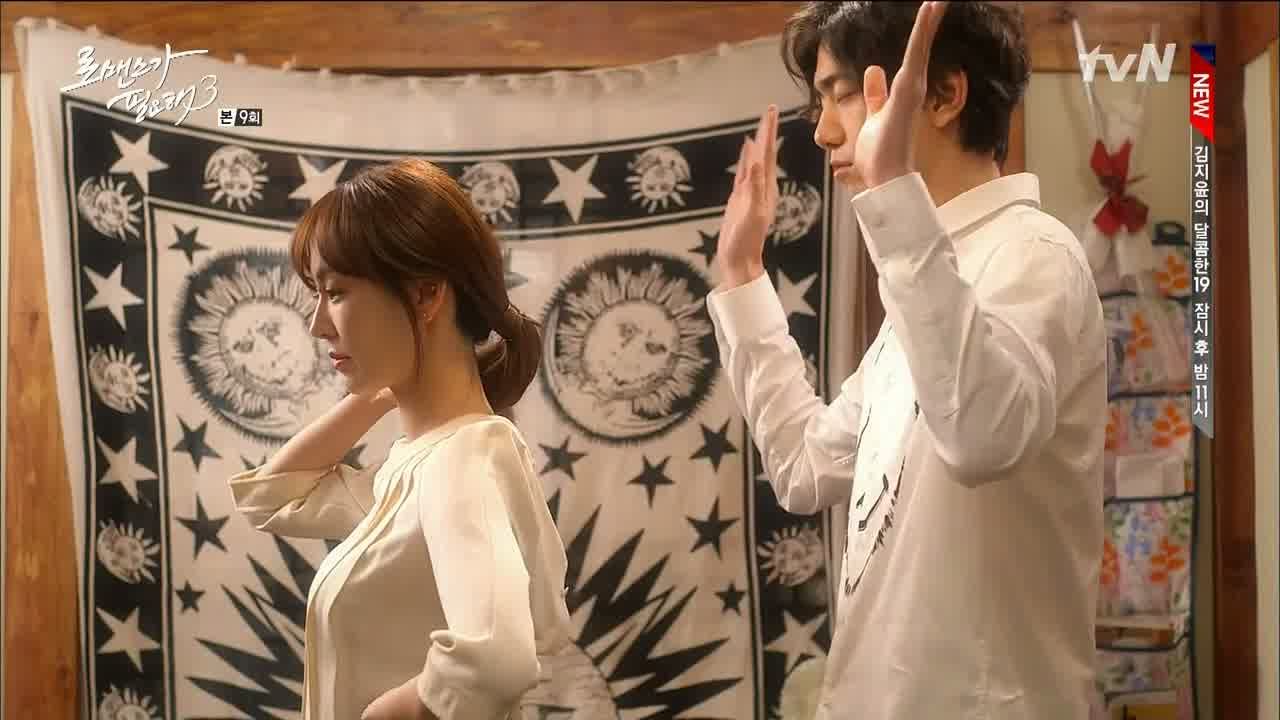 RELATED POSTS
Tags: featured, I Need Romance 3, Kim So-yeon, Sung Joon