Joo-won offered lead in Korean remake of Nodame Cantabile
Ooh, interesting. Dramaland is pursuing a Korean remake of hit Japanese drama (and manga and anime) Nodame Cantabile, and while it's only in the very early stages, already the property has generated a lot of buzz about potential casting.
The first big name to be floated as the clumsy but lovable heroine was IU, but her reps swiftly put the kibosh to those rumors, saying that she had yet to receive a formal offer. The same back-and-forth met the latest news about Joo-won being offered a leading role ("It's still early in the process!" "He hasn't even received a synopsis!" "Oh wait, yes he has!"), but his agency did eventually confirm that he'd been offered the part.
I haven't seen the classical-music-themed Japanese drama—which was quite popular in Korea as well—but I have seen the anime, and was pleasantly surprised at how much I liked it after expecting something simple, loose, and unassuming. Nodame Cantabile is set at a music college and centers around students studying to become professional musicians and composers, with a quirky set of characters led by heroine Nodame and the uptight perfectionist she falls in love with, Chiaki.
The story has a witty, sardonic touch to balance out the wacky cast of characters, which is great in grounding the zaniness (as Japanese dramas can get rather surreal and over-the-top in their comedies). It also makes lovely use of classical pieces (which I love, as a big fan of classical music) and has an understanding of the music without necessarily getting bogged down in it—above all, it's a story of blossoming relationships and personal growth. And now I'm pretty much going to finish writing this post and hunt down the live-action drama now that this news has reminded me to watch it.
I can definitely see why IU would be the go-to name to play Nodame, the chirpy, cheery savant who can barely read music but has a magical touch with the piano. IU has the ability to play quirky and bumbling in a relatable, charming everygirl way, as she's done in her previous roles (Pretty Man, Dream High, You're the Best Lee Soon-shin).
And now that Joo-won is up to play Chiaki, I can absolutely see him as the piano virtuoso with the sterling reputation, who harbors the secret wish to shift his attention from playing the piano to conducting. Their relationship kind of reminds me of IU and Jang Geun-seok in Pretty Man, actually, with her basically throwing herself at him all the time and him gradually getting attached, despite pushing her away in disdain at the outset.
Manga and manhwa adaptations have been all the rage for years now, but they've met with mixed success so I really hope they do a proper job of remaking Nodame Cantabile, which I find too charming in its existing versions to muck up with a bad version now. I also recall that Beethoven Virus was touted as a pseudo Nodame series when it launched, but that show sorta became all about Kang Maestro (for good reason) and aside from being vaguely about classical music I found it very little like Nodame.
Producing the remake is Group Eight, which has basically cornered the market on manga and anime remakes (see: Boys Before Flowers, Tamra the Island, Goong, Pretty Man). They've licensed the property and are aiming for a broadcast in the second half of the year. Fingers crossed, y'all.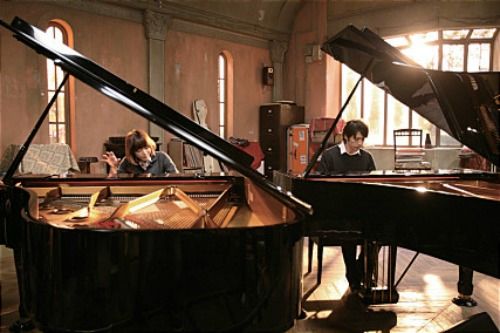 Via Newsen, Star News, TV Daily
RELATED POSTS
Tags: adaptations, Cantabile Tomorrow, IU, Joo-won, Nodame Cantabile, remakes