King's Family: An overview
KBS's six-month-long weekend juggernaut of a drama King's Family (also called Wang Family) just wrapped up its 50-episode run a week ago, and for some inexplicable reason I watched the whole thing. I even liked it sometimes!
And because watching such a bizarrely entertaining show for no reason leaves me vaguely dissatisfied at having given it so much of my time when there are so many better shows still on my to-watch list (not to mention feeling shame* about what this says of my time management priorities), I figured I would write about it, and then wash it cleanly from my hands. I can't promise everything will make sense; I just needed to work all these thoughts out of my system. Phew.
(*I kid, somewhat. I've long outgrown feeling shame over my drama-watching preferences and firmly believe that there is never a reason to feel legitimate embarrassment over your choices, nor should we feel compelled to have to explain it away with excuses. We likes what we likes! Our time is our own! Still, there's a useful neatness to the term guilty pleasure—even when I refuse to feel any sort of guilt about it.)
SONG OF THE DAY
Lunchsong Project – "가족의 힘" (The power of family) [ Download ]
Audio clip: Adobe Flash Player (version 9 or above) is required to play this audio clip. Download the latest version here. You also need to have JavaScript enabled in your browser.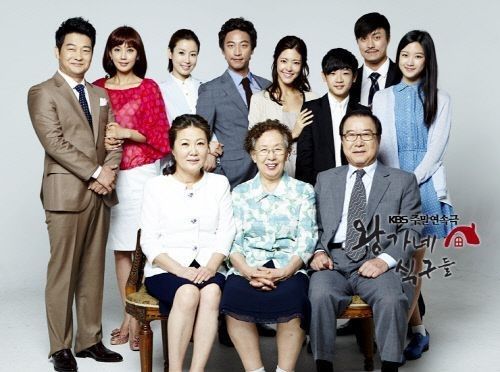 King's Family is not by any stretch of the imagination a quality drama, in any sense of that word—its story doesn't cover ground that dozens of family dramas haven't trod before, its characters aren't especially lovable, its dialogue is more on-the-nose than clever, and its plot is laughably bereft of anything resembling logic. Nor is it well-produced, amazingly acted, or witty about its histrionic story tendencies.
Nope, King's Family is a straight-up makjang angst-fest, above all else designed to push emotional buttons. The tactic worked—if not for the Olympics, I do believe viewership ratings would have topped 50% in its final week, though it ended up having to settle for a not-so-shabby 48.3% instead as its peak rating.
If you're unfamiliar with dramas in the weekend family or daily categories, watching one may be a jarring experience, especially if you've set the slicker, higher-budgeted mid-week miniseries as your standard for production, story tropes, pacing, and all that good stuff. I grew up watching these family dramas on endless repeat at home (if you've seen one, you've seen them all, right?) so I went through a long period of avoiding them, only to come back around in recent years. So it's only now that I've rediscovered (or perhaps discovered for the first time) an affinity for this type of storytelling—obvious, simple, unsubtle—which my preference for taut, well-plotted miniseries had overshadowed for years.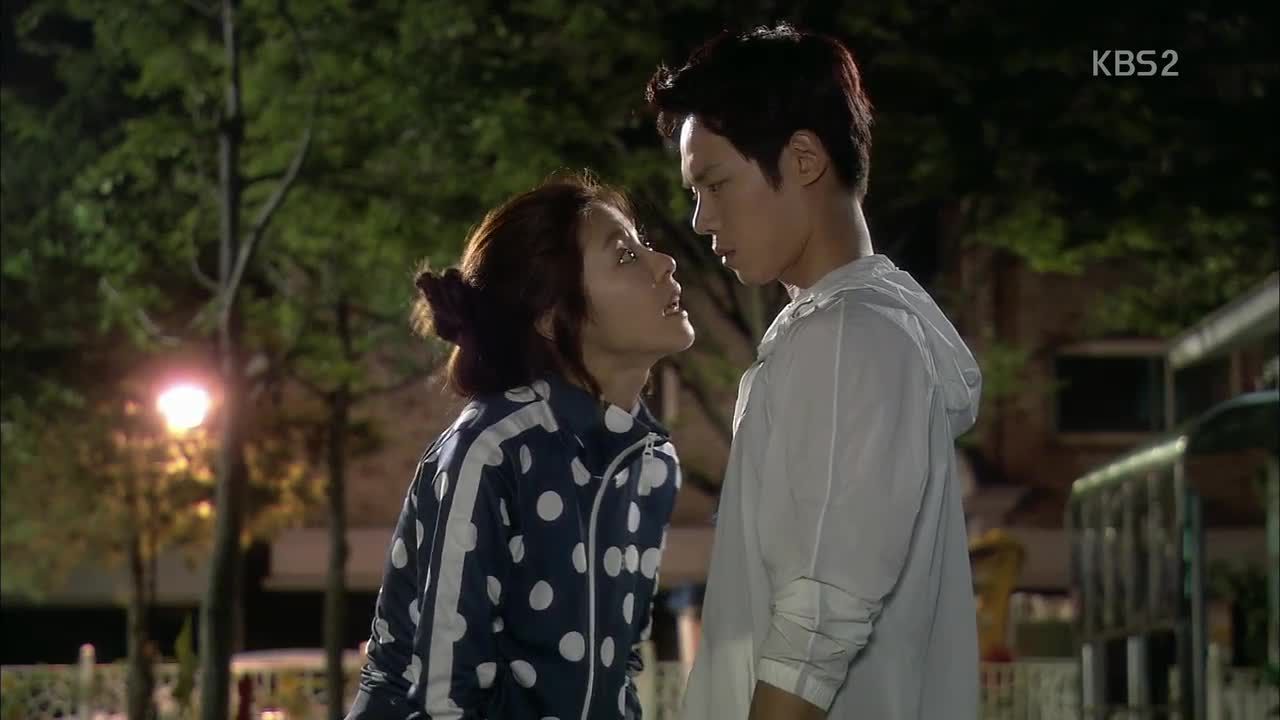 These are dramas about interconnected worlds more than a central premise—relationships and neighborhoods more than single characters. Comfort food, familiar and easily digested, not haute cuisine.
Even so, I'd say King's Family is more obvious, more simple, and more unsubtle than many dramas in the genre, choosing to hit you over the head with its plot rather than let anything develop on its own. Characters are extreme to the point of absurdity, and also given hilariously Dickensian names to underscore their personalities. Consider the following:
The punny humor is hard to translate, but we've got characters like the macho Choi Sang-nam (read as choisang nam, the name means manly man), the cautious Go Min-joong (gomin joong means in the throes of dilemma), the terrible runaway mother Oh Man-jung (arrogant), her sweet sister Oh Soon-jung (pure), the huffy peacock of a father-in-law Choi Dae-se (latest trend), our conceited Heo Se-dal (full of it), his brash mother Park Sal-la (smash!), the little girl Gu Mi-ho (gumiho, just for lulz), the mistress Eun Mi-ran (secret), and Wang Dae-bak (daebak!).
It may be for that reason that right from the get-go, the drama drew complaints for being over-the-top—even as it clocked in sizable audiences week after week. It's enough to make you wonder why people would bother to come back to a show to watch horrible people doing horrible things, which could spike your blood pressure to dangerous heights if you let it.
Still, for the past six months this show has (mostly) entertained me with its outrageousness. I would argue that what makes King's Family compelling (if not quite addicting) is that despite the constant barrage of conflict, the show was also very diligent in dishing out steady doses of gratification. It wasn't always as fast as I wanted, but every time I thought, Arggggh I wish I could reach into my screen and slap him/her/it, the show would oblige you by delivering that slap shortly.
The show divides rather neatly down the middle between characters who are terrible (cheaters, sneaks, and generally selfish bastards) and characters who are paragons of virtue (often getting beat down or abused, always unfairly, like Cinderella living in a village of stepmothers). There's a loud, sprawling family at the center, and I would say that roughly half of them are what we might deem normal people in terms of sanity and general reason, and the other half are perhaps operating on another realm of logic where selfishness and resentment form the chief motivators for any and all interaction.
For example: In the first half, we had to deal with not only bad behavior but also frustrating reactions to that behavior. People being mean, I can understand. People reacting to that meanness in this drama, however, I often couldn't understand. A wife (Lee Tae-ran) discovers that her husband (Oh Man-seok) is cheating, and then begs him to come back and forgive her for pushing him toward adultery rather than kicking him out or holding him responsible for his lapse in morality. The husband is willing to leave behind his two kids to shack up with his mistress and sugar momma, who's a hotel heiress, yet the wife keeps begging.
There's also the good husband working his ass off doing menial labor to recover from a business bankruptcy. His wife screams at him for being incompetent, all while being proud of never having washed a single dish in her life. She's also proud to tell people she doesn't know how to raise her kids, as though being rich enough to afford help means she's too good to provide it.
Then there's the strangeness of watching "Korea's Mom" Kim Hae-sook put in her time as an off-puttingly shrill, materialistic matriarch who actively shuns one daughter (the hardworking one) in favor of the useless one (because she's pretty).
What makes it all worth it, though, is in the payoff. And here's where the show's oversimplistic storytelling becomes gratifying, because everybody gets exactly what they've had coming to them, with interest:
Take that cheating husband with the mistress. Well, after berating his wife into giving him a divorce he insists on, he gets kicked to the curb in his underpants. Literally. He goes from preening gigolo to homeless man overnight, having lost both wife and mistress, and damn if it isn't satisfying.
The eldest daughter's storyline is perhaps the most aggravating of them all (and that's saying something), but I will allow that the character of Soo-bak (played by Oh Hyun-kyung) seems too terrible to be real. And once someone crosses that line into cartoonish evil, it becomes easier to swallow their antics, however horrible they are. And they are horrible:
Early on she disdains her sincere husband (Jo Sung-ha) for going bankrupt, and is mortified when he takes up a menial job as deliveryman to make ends meet. She reconnects with her old flame and starts something on the side, after which she seeks divorce intending to swap husbands—then lets her family believe that her husband was the one cheating. He is so good-natured that he lets them believe that rather than snitching on her.
At one point she declares her children a burden that she wishes she never had, so forgive me when I react to her motherly turn later with a massive eye-roll. She's the one who's always using her former glory as Miss Korea pageant contestant as an excuse not to do things, like cook or earn a living or be a functional adult, and while that grating refrain gets old real fast, it is perhaps mitigated by the in-joke that the actress was the 1989 Miss Korea.
But Soo-bak gets her just deserts, not in the form of death or destruction, but in the much harder-to-swallow form of realization. She gets her divorce, but right away is cheated by her old flame, who flees the country after taking her money—and also the house deed she stole from her parents because she was soooo sure he was right about doubling her investment overnight. And kicking her parents out of their home has a way of making her feel a shame that she somehow was able to avoid through being a horrible wife and mother.
Meanwhile, the (now-ex-)husband lands back on his feet and sets up a new business, returning to his former white-collar comforts just as she is losing hers. She realizes that she threw away a good man and angles for reconciliation… just as the husband finds love again (with the woman named Pure, of course). Adding insult to injury, the sweet new wife offers to raise Soo-bak's children, and Soo-bak has nobody to blame but herself for her misery. Best/worst of all, she understands this and accepts it as her due.
Am I making this show sound horrible? I'm making this show sound horrible, aren't it?
All that said, King's Family isn't dreary or even angry as a show. It moves quickly from plot point to plot point, so that no single bout of angst lasts very long, and before you know it the situation has resolved and we've moved on to the new crisis of the day. Because the action flies by, we don't really get too attached to any one storyline, but sometimes all you want is swiftly moving surface entertainment. We don't always have the mindspace or the mental wherewithal to pour ourselves into the worlds of our characters, and a show like this is designed to offer quick hits of payoff.
For instance, we know that Lee Yoon-ji is going to get her man, so we don't need to fall into the trenches with her to feel her Sturm und Drang about the rocky courtship—it's enough to see that the couple struggles, then gets their happy moment. And I suppose if we must have some parental opposition to gum up the works, why not go for that laugh factor full-force by putting on a Daughter-in-Law Audition? (In one of the show's silliest segments, Dad-in-Law decides he doesn't like her and wants an excuse to pick any girl instead, and therefore puts out an open casting call for his son's wife-to-be. What chicken-leg-fights or tire-dragging races have to do with marriage I'll never understand, but I'm pretty sure it wasn't meant to be understood.)
And ultimately, this is an upbeat show that doesn't leave its characters in misery. They all cycle back round and find some measure of happiness or peace in the end. We get to indulge our schadenfreude when the hateworthy characters hit rock bottom, but it's also safe to enjoy their lows because the show predictably digs them out of those holes eventually. It would be mean of us to gain pleasure in their long-term desolation, but we can feel a moment of vindication in momentary struggles before they manage to escape, having learned some valuable lessons (we hope).
For instance, the cheating husband begs his wife to take him back, and while he hardly deserves a second chance, the wife agrees on the condition that he become the housewife. Er, house-husband. He's so relieved not to be homeless that he accepts the arrangement with alacrity and soon finds himself enjoying the role, even earning a spot with the neighborhood ajummas in their gossip sessions.
So he learns to appreciate his wife, and eventually the two settle into a new dynamic that works much better. Turns out that things were rough when the wife was being held to unrealistic expectations of both keeping house and breadwinning, and now the roles are split—contravening traditional gender expectations, to boot. And wouldn't you know, they're happier that way.
In a sense, watching King's Family feels like an exercise in indulging your id, where the situations provoke basic, childlike emotions in us—whether it's fear, indignation, giddiness, or satisfaction—and then allow us to experience those petty thrills vicariously through the character. We've probably all silently stewed in situations where we dearly wanted to throw a glass of water in someone's face, or say "If I died you'd all be sorry!" or live in a pity party after experiencing heartbreak, only to be forced to do the mature thing and act responsible. No wallowing, no tantrums, no hair-pulling.
King's Family steps in to provide that secondhand glee, and while it may not be very enlightened of me, I'm for sure going to get my yuks when the horrible Soo-bak has to move into a rundown shack with an outhouse and literally craps her pants because she's too fussy to use the toilet. At least in the context of this show, we get to wish dire things on meanies and then laugh when karma turns around to bite them.
The series dishes up a whole mountain of mundane crises to keep us zipping from week to week, and somehow manages to preserve each character's quirks—annoyances and all—while strangely, magically, making them gradually less off-putting. By the end, we're downright attached to many of them, even the ones who said and did some really unlikable things earlier, whom we'd written off as unredeemable.
Perhaps it's a case of the characters rounding out and smoothing out their rough edges, and ending up in happier places. Or perhaps that's just what happens when you stick with people (even fictional ones) through times of emotional turmoil and come through the crisis together. It's a classic example of miwoon-jung, or hate-affection, which Koreans use to describe growing fond of something you don't really like much at all.
Maybe that's an extension of the family themes at the heart of King's Family, which depcit family as a sort of beloved hell, one you cannot change (at least not usually, and without great effort). One you must learn to love or be doomed to spend the rest of your life resenting—it's a scab you cannot resist picking at, for the momentary gratification it gives you despite the lifelong scar it leaves. And one day it's healed and you're recovered, and all that drama seems like such a small thing in the larger scheme of the universe.
RELATED POSTS
Tags: featured, Han Joo-wan, Jo Sung-ha, Kim Hae-sook, King's Family, Lee Tae-ran, Lee Yoon-ji, Oh Hyun-kyung, Oh Man-seok