Prime Minister and I: Episode 16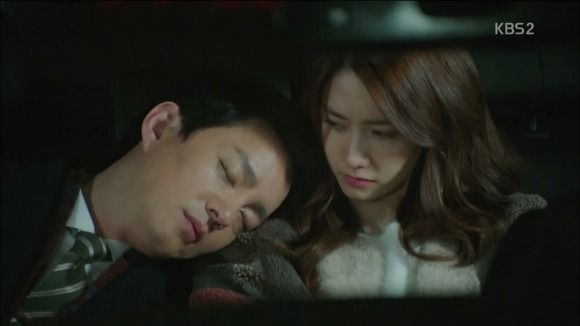 We're closing in to the end in the finale week for Prime Minister and I, though the show's wheels seem to be turning slower in this last spurt to extend time for its last hour. Honestly it's a jumbled kind of episode with lies and excuses from our heroine, whose actions betray the words coming out of her mouth.
So it's refreshing to see a hero who both sees that and acknowledges it, then counters those words with truth and justification. Because while you could call being noble a virtue, somebody's got to call you out when it crosses that line and becomes silly.
SONG OF THE DAY
B.A.P. – "1004 (Angel)" [ Download ]
Audio clip: Adobe Flash Player (version 9 or above) is required to play this audio clip. Download the latest version here. You also need to have JavaScript enabled in your browser.
EPISODE 16 RECAP
Despite Yul coming to collect her, Da-jung declares that she won't be going back home with him, and adds for good measure: "Let's break up." But Yul refuses to hear it and takes her suitcase before ushering Da-jung into the car by the hand.
It's a mostly silent ride until Yul pulls over to the side of the road and gets out to finally get some air. When Da-jung follows him, he demands to know her train of thought by having him meet his not-so-dead first wife and leaving them—was it for his sake? Or the children?
"It was for me," Da-jung answers. The idea of becoming the children's stepmother had scared her despite her feelings for Yul, and felt it appropriate to step aside now that their mother had reappeared.
She says she had approached the whole contract marriage like a fun game and played her part as wife and mother with gusto. However, she was overwhelmed with fear in the face of that fantasy life becoming a reality.
This was a chance to live her own life as she sees fit, Da-jung finishes. Why does all of that sound like a lie? And why do I get the feeling that Yul thinks so, too? She turns away at that, and Yul lets out a deep sigh.
Back at the estate, the news that Joon-ki has put a stop to the upcoming press conference has Yul wondering why his brother-in-law is suddenly so eager to help. He's told that Joon-ki knows the truth, which is when it occurs to him that everyone knew about Na-young except him.
In-ho can only hang his head apologetically, taking in Yul's pent-up rage of how he was made a complete fool of by being the only one kept in the dark.
Having heard that the shocking reunion was Da-jung's doing, Hye-joo confronts her about it at the hospital. Da-jung truthfully answers that she didn't want to deceive Yul and keep the truth from him, politics be damned.
Hye-joo tells Da-jung to stop pretending that her actions were for Yul's sake and scoffs at her moral barometer. She asks to whom Da-jung plans on telling next—Woo-ri, perhaps? Then she adds scathingly that lying to the children might tug at Da-jung's guilt strings before storming out.
It appears that Da-jung did take the ring with her, as we see her hold it, near tears, while sitting vigil by Dad's bedside. And like another reflection, Yul looks at his own in his study.
Dad is both surprised and suspicious to see his daughter beside his bed in the morning. His condition seems to be getting worse too, seeing as he needs post-its to recall items and oversleeps frequently lately.
He narrows his eyes suspiciously, wondering if the married couple is fighting again, which is when Yul arrives with a cheery smile. He quickly smooths over the situation, making sure to add that they're definitely not fighting and he's definitely not having an affair. Lol.
Yul and Da-jun sit down to talk afterward, and he tells her that he doesn't believe what she said last night, so there's no need to beat herself up over it. He'll give her time to think because he also has to attend to his own affairs that could affect them all. Therefore he hopes that Da-jung won't leave him and endure those trials while staying here with Dad.
He gets up to leave at that, and Da-jung says she plans on staying with Dad but won't ever go back to Yul. Those words affect him, but he leaves anyway.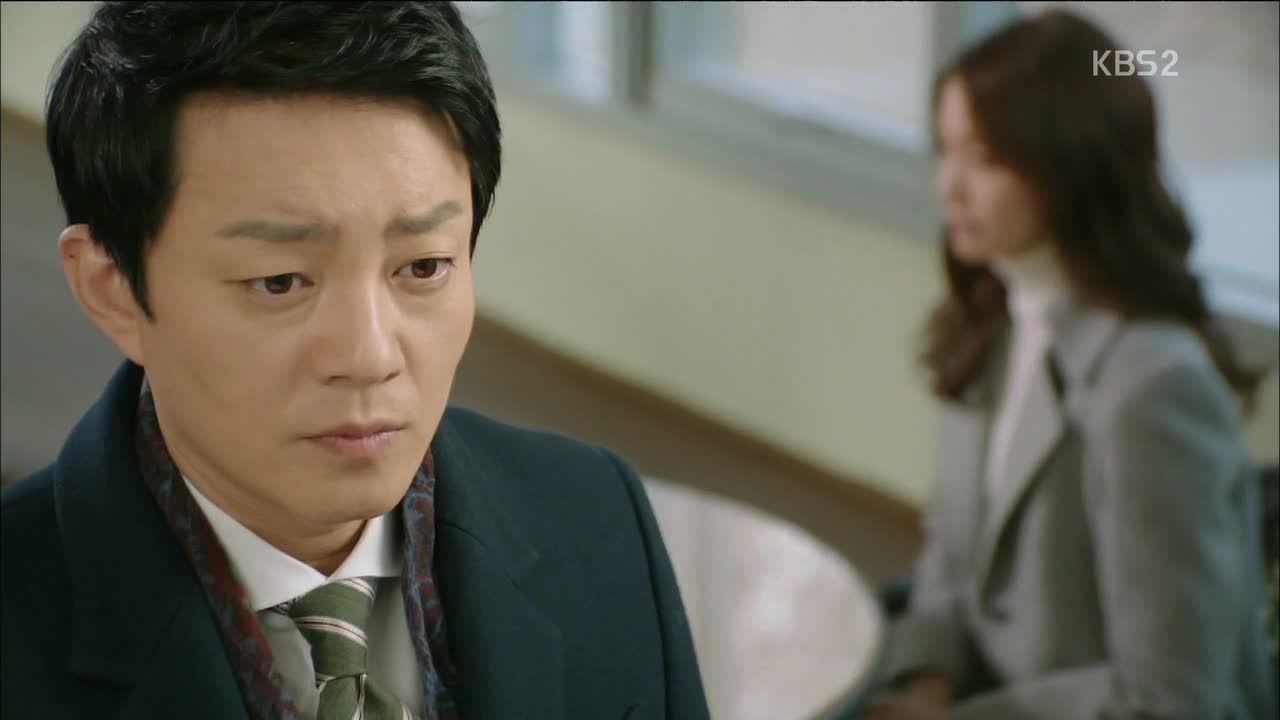 At the news of the prime minister's possible dismissal, Reporter Byun relays to the Scandal News Team via exposition that that's unlikely since Joon-ki is running around to prevent that from happening. It strikes him as odd, but his audience is interested in getting more dirt on Hye-joo, and the reporter muses admiringly, "She's… a goddess." Ha, is that a crush a-brewin'?
Yul receives the upsetting news that the international harbor project is back on the table, and that the police investigation on Chairman Na has also stalled. He sighs dejectedly at the little difference he's made in this position, recalling his initial promise to be a representative to the people.
In-ho says it's courageous enough that Yul has always stuck to his principles. Yul appreciates the comforting words, but now he has a great assignment ahead of him—and there's someone he must meet before taking it on: Na-young.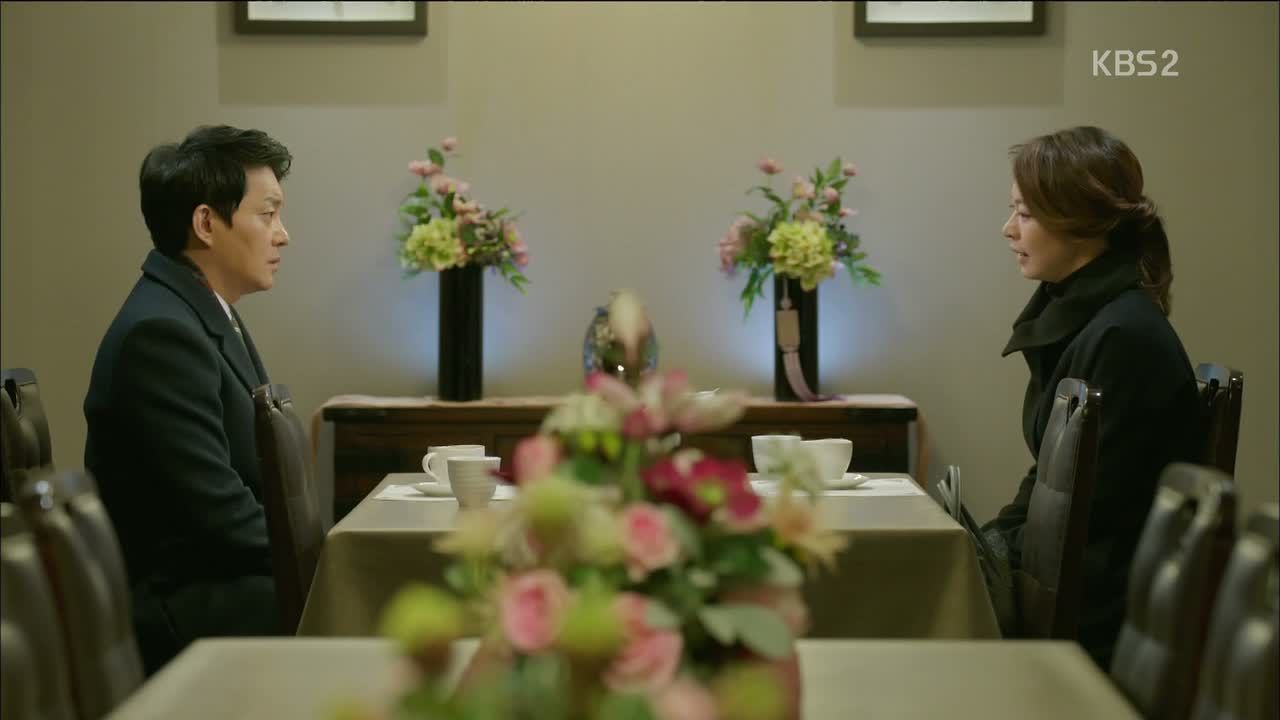 As Na-young waits nervously at restaurant, she thinks back to her brother's pleading to return to her children to be her mother. She's on pins and needles when Yul joins her, and I honestly wouldn't blame Yul at all if he thought that seeing his supposedly dead wife living and breathing in front of him is still a jarring experience.
Na-young speaks first, keeping her voice as light as she can until she can't ignore Yul's steady and silent stare. She guesses that Yul must resent her for showing up alive. "You hate me, don't you?"
He admits he does, and still in shock, he asks softly how Na-young could let the entire world take her for dead all these years—if she were alive, she should have said so.
"How could I?" Na-young returns. She had debated whether to return to Yul and the children, but she was afraid that she'd ruin his career if word broke about her affair. She was already presumed dead and responsible for turning Su-ho into a vegetable after all.
"Do you consider that a reason? Did you not think of the children while you were hiding? Didn't you miss them?" Yul counters. Thank You, good sir.
Na-young cries that of course she did and even now, she misses them terribly. She knows that Yul wouldn't allow it and she'll accept his anger, but she still wants to see their children.
Surprisingly, Yul allows it: "Be their mother. I'll let you meet them." Although Na-young can't return to him as his wife, she can come back to be the children's mother.
On their way out, In-ho asks why Yul hasn't said anything about his own involvement in regards to the past. But Yul has already let bygones be bygones and sticks to his word to trust In-ho.
When In-ho asks if he can stay by the prime minister's side, Yul says he needs people on his side—he'll be too lonely if In-ho follows Hye-joo's footsteps and quits too.
Da-jung hears from the doctor that Dad will only get worse, but keeping a journal may help his memory in the meantime. So Da-jung gifts her father with a journal that looks like hers and encourages him to write in it, and Dad asks about the news that Yul might be out of a job soon.
Her phone rings before she can answer, and Da-jung is called out to dinner with Yul at a fancy restaurant. It makes me nervous to see Yul take Da-jung's questions about his possible dismissal with a smile, and he asks, "Does that mean you'll do as I say today?"
He requests that they talk about more lighthearted topics, and then asks teasingly if Da-jung has a plan for after she plans on breaking up with him. Heyyy, that doesn't fall under "lighthearted". When she points out as much, Yul asks that she humor him today.
That prompts Da-jung to ask if something else is bothering him, and Yul masks his worries with a denial, saying that he simply wanted to see her instead.
Yul insists on giving Da-jung a ride back after dinner, and it pains me to see him trying so hard to keep up a cheery mood. And ooh, I'm so happy to see the love song dj/driver again, who tells Da-jung that the kids miss her, especially little Man-se.
Da-jung grows silent at that and she and Yul sneaks sidelong glances at each other during their ride. Then at one point, Yul dozes off and rests his head on Da-jung's shoulder. Aww.
Yul is still fast asleep when they arrive at the hospital, and the driver notes that it's the first time his employer has fallen asleep in the car. Da-jung says they should let him sleep for a little while longer. Awwwww, so why would you push him away if you care so much?
In-ho runs outside the hospital looking for Da-jung and he softly smiles to see them in the car together. Sometime later, Yul wakes to find Da-jung already gone and she stands by the window to see his car drive off.
Da-jung runs into In-ho on her way in and is disheartened to learn that Yul was likely troubled because he met up with Na-young earlier today.
Joon-ki visits the estate to see the kids and Man-se is still depressed over Da-jung's absence. He notes that the children still call Da-jung "ajumma," and when they say prefer that, he answers a little too understandingly that they wouldn't call her their mother, not when they have their own, something that Woo-ri doesn't miss.
Yul sits with Joon-ki when he returns home and wonders if the reason why his vengeful brother-in-law has now taken such an interest in his affairs is because of Na-young. Joon-ki doesn't deny it and asks that Yul take his sister back.
He points out that Yul's marriage to Da-jung becomes invalid the moment Na-young's existence is made known—isn't that why she left Yul? That last question crosses the line with Yul, but Joon-ki still speaks for his sister's defense, arguing that the children should live with their living birth mother.
At that moment, the study doors open and Woo-ri walks in, baffled at what he's just heard. "What do you mean my mom's alive?"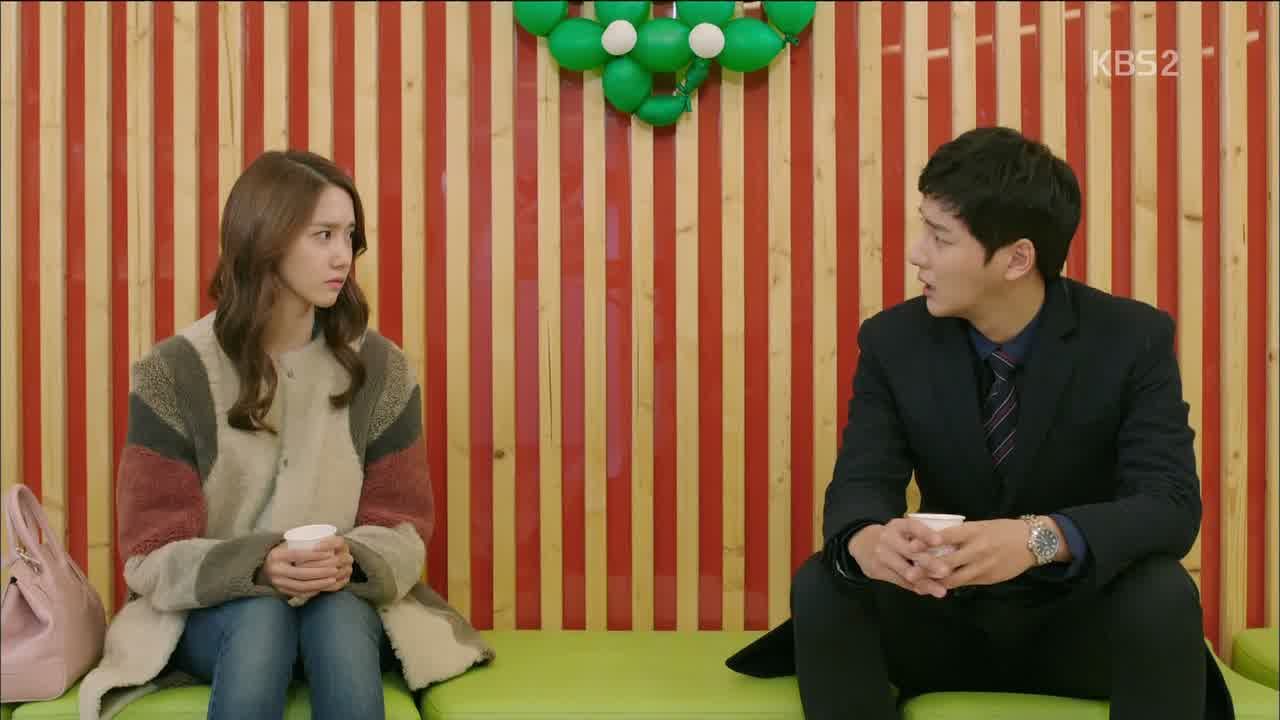 Upon hearing that Da-jung plans to separate from Yul, In-ho asks what she'll tell her father. She won't, because the news that her marriage was a sham would shock him. Yul doesn't agree with the idea of breaking up, to which In-ho proposes, "Then date me instead." Is… that your genius solution to all this?
But that provokes a reaction out of Da-jung, which In-ho uses to point out that she doesn't want to actually break up with Yul. He asks why Da-jung keeps deceiving her own feelings, "You can just like Yul and worry about what comes next when it comes." Gasp, are you being a voice of reason?
The Da-jung he knew wasn't such a coward, but the tough love approach doesn't work on her. She tells In-ho to stand by Yul's side now, just like he had once promised her.
Da-jung returns to Dad's room and is alarmed when he doesn't stir. Thankfully he wakes from his deep slumber a long minute later. Phew.
Yul sees Joon-ki out, and the latter apologizes that he didn't intend for Woo-ri to find out this way. Yul says he planned on letting his son meet Na-young anyway, and adds that although she is the children's birth mother, she cannot live with them.
Then Yul seeks out Woo-ri in his room, and in a calm voice, says that he should meet his mother. Hurt and angry, Woo-ri cries, "I don't have a mom! She died in a car accident!" Oof, poor kid.
He's completely torn up over the fact that their mother didn't come back to them when she's in fact been alive all these years. Thus he refuses to meet his mother, who tells Su-ho excitedly that she might see her son.
It's really like Joon-ki got a new personality chip ever since he learned that his sister is alive, as he accepts Hye-joo's apology for snooping around last time. He feels that Hye-joo is too smart and capable to simply work for him and sincerely hopes that she aims higher in life… but doesn't go through his desk anymore.
Da-jung is on edge to see Yul pay another visit to Dad and walks him out. He notes that Dad's memory seems to be getting worse, and then asks her for advice on an important decision he needs to make today.
He then posits his question as a metaphor: What would Da-jung do if there's a road that appears before her that isn't shown on the GPS navigation system? Would she take it?
She asks if there's a definite destination, a place she really wants to go to. When he says there is, she answers that she must go because even if it takes her off-course, she'll eventually arrive at her destination. "And somebody has to take it for there to be a road."
He's pleased with that answer and tosses out a second question: "Do you really want to break up with me?" Da-jung: "Yes, I do." And this time, Yul takes that as his answer and sends her back inside.
Yul heads to the elevator and we see Da-jung come running just as the doors close. She takes the stairs and catches up to him within a distance of twenty feet… but just watches Yul walk out the door. GAHHHH, you have a mouth—use it!
As for Yul, he thinks upon Da-jung's words that somebody needs to take the undriven path for it to become a road. Next thing we know, Yul hands in his resignation letter to the president, citing that he initially took this job because he felt that they shared similar goals, but they're clearly walking different paths. Good for you.
In-ho asks if Yul isn't giving up on his goals by leaving his job, but Yul says this is just the beginning of seeing his plans through. And In-ho sincerely congratulates the soon-to-be former prime minister on his resignation.
Da-jung sits down with Na-young at the hospital and is understanding towards Na-young's desires to meet the children, hug them, and be called "Mom." In an encouraging voice, Da-jung says she's certain that day will come for Na-young.
Na-young returns a smile at her, saying that she now understands why Yul likes Da-jung so much. He had told her that she could be a mother to their children, but not his wife, and Na-young agrees with that sentiment.
Da-jung receives a panicked call from Hye-joo informing her about Yul's resignation. She rushes out at the news, missing Woo-ri and the other kids coming in (to see her, aw) by mere seconds.
Dad frowns to hear that the kids are here to see Da-jung, but they chirp that they missed him too. They even have a gift for him (double aw), and when Woo-ri steps out to pick up drinks, he passes by his mother, but neither of them are aware of the almost encounter.
Meanwhile Da-jung takes to the streets in search of Yul, whom we see wandering the streets alone. It's nightfall now as he thinks back to how he had once told Da-jung that he would walk towards her one step at her time.
He eventually ends up on that same road when he stops again… to see Da-jung standing there.
Back at the hospital, the kids decide to finally head home after waiting for Da-jung to return. They tuck Da-jung's present in her bag and bid Dad farewell, who lies sleeping(?) in bed with a smile.
The trio laughs together on their way out, but suddenly stop when Woo-ri sees their mother and utters, "M…om." Ohhh crap.
Da-jung nags at Yul about ignoring his phone after handing in his resignation, and he asks if she came all the way here to say that. She turns to leave, but Yul calls her back to ask her one more question: "Can you live without me?"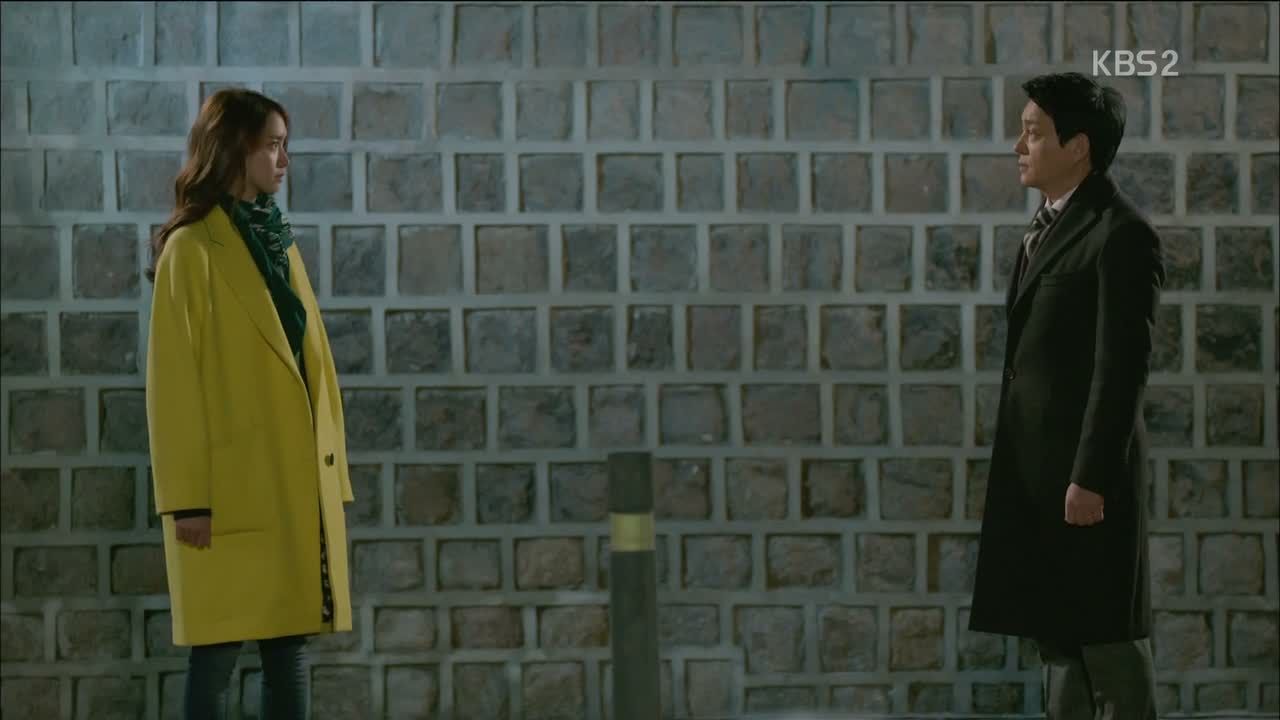 COMMENTS
Oy, what an episode. Overall, this hour rather feels like an extended trailer to set the stage for the finale, and we see the strained narrative seams of that one-episode extension taking its toll more than ever. I could see the argument that the story lost some steam when Na-young's storyline was thrown back into the mix, and I agree with that to an extent, though I would also say that the show had enough time to work in another hour of material and that Prime Minister is one of the better cases in dramaland in terms of extensions.
That being said, I'm still frustrated with our heroine Da-jung at this point, who does that annoying drama heroine Thing in the penultimate episode of retreating even further from love when those around her are telling her how silly it is. Which is why I loved that In-ho hung a lantern on how Da-jung wasn't the same spunky girl he used to know, and that there really isn't much barring her from pursuing a relationship with Yul, especially when being with him is what Da-jung wants deep inside. Listen to the man who used to like you! (Or still does, but he's put his feelings aside now.)
This is where Yul steps in and I can't give him enough credit for doing the opposite drama hero Thing and instead sees past her lies and continues to pursue Da-jung. He's even considerate enough to give her personal space while he's busy settling his own affairs to ready a place for her. He's handling the whole "my supposedly dead wife is actually alive" shocker remarkably well, as well as the pressure to accept Na-young back to the family. I love that he drew the boundary with Na-young in their conversation, because while nothing will change the fact that she is the children's mother, there isn't a way for her to be his wife again. And well, I think it's safe to say that that's not what Na-young wants (or hoped for) either.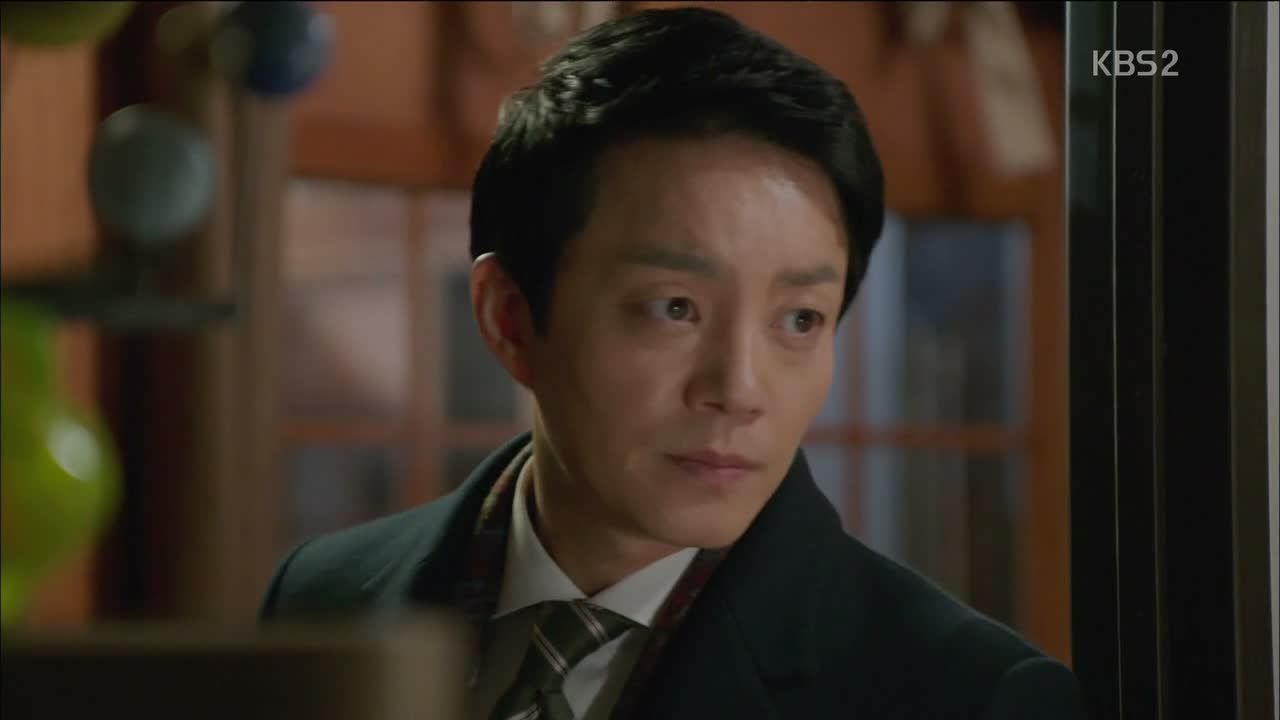 Speaking of the whole marriage issue, I realize that we're swimming in murky waters in terms of whom Yul is legally married to. While Yul and Da-jung held a wedding, their marriage wasn't officially registered and therefore aren't a married couple in the eyes of the state and/or law. Then there's the fact that Na-young wasn't declared legally dead until recently, which begs the question of whether Yul was still legally married to Na-young to the present. I honestly don't know the answer to that question, but what I do know is that Yul was preparing to have Na-young declared legally dead (and perhaps already did by now) and then proceeded to attempt to officially register a marriage to Da-jung. And because Yul is a principled man, I don't think he would have done these things out of order.
That brings us to Joon-ki's assumption that Yul's marriage to Da-jung would be nullified if Na-young was to assume her original place in the family. I presume that becomes a non-issue if we argue the point that Na-young has assumed a different identity now (though to what extent we don't know) and if the name Park Na-young is legally dead. I can't blame him for clinging onto the past, when it's what he's mostly been doing all series long. And yet at the same time, it feels like our villain's one-track motivation was pulled out from under him (and us) once he learned that Na-young is alive. To his credit, he does seem remorseful for harboring such vindictive intentions, though the personality makeover now makes him a declawed villain.
At this point, Yul really seem to be carrying the narrative weight of the drama on his shoulders (and wonderfully portrayed by Lee Beom-soo, whose timbre melts my heart). I'm excited to see what his post-prime minister era will look like since somebody needs to take that rogue path to make it into a road. And that road better lead to Destination: Happy Ending.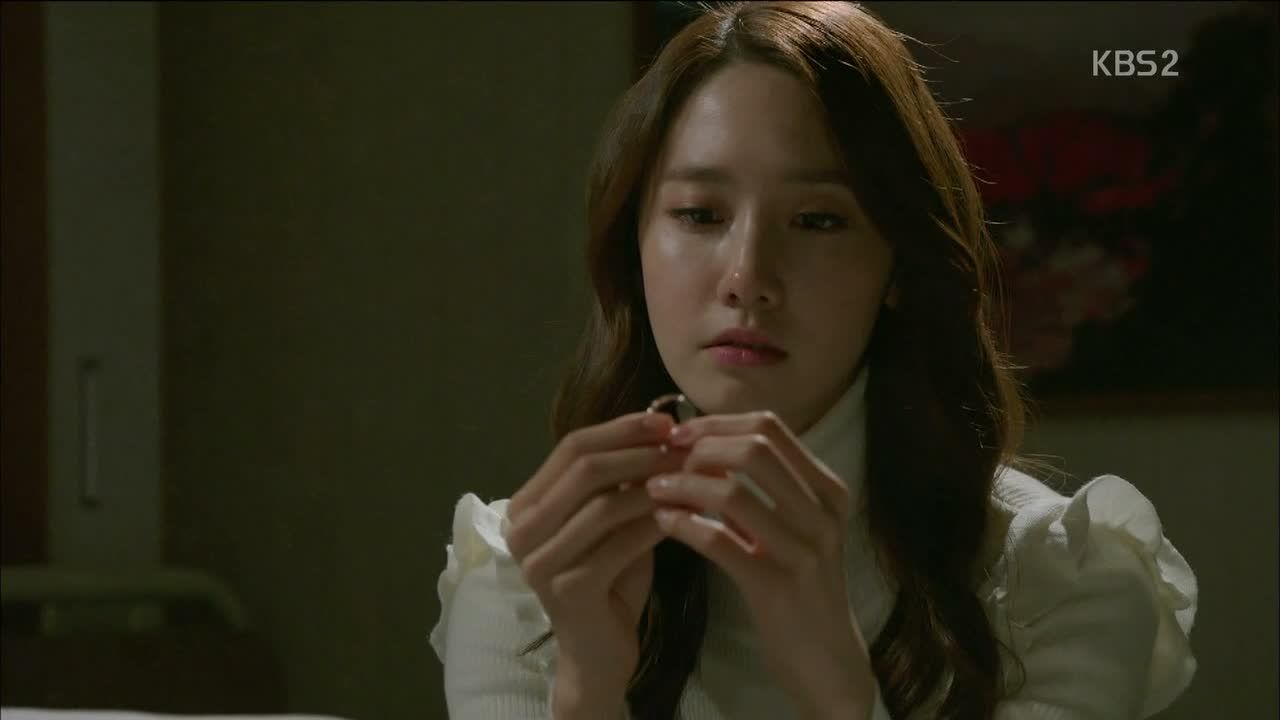 RELATED POSTS
Tags: Chae Jung-ahn, featured, Lee Beom-soo, Prime Minister and I, Yoon Shi-yoon, Yoon-ah