Running Man: Episode 183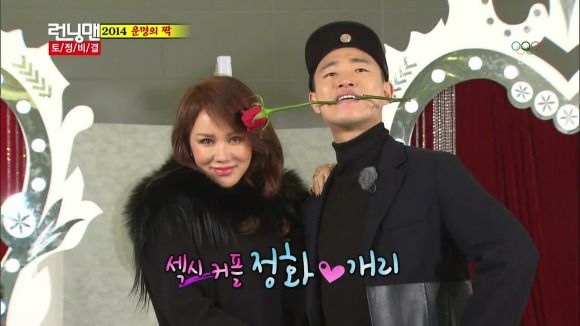 Our cast gets their fortunes told in this episode in hopes to find their destined match. While some pairings might surprise you, others will be an obvious choice as they try to figure out who fits best with whom. Destiny may help you make some choices, but the future is what you make it.
EPISODE 183. Broadcast on February 2, 2014.
We start with a brief intro on the "Secrets of Tojeong," written by Joseon scholar Lee Ji-ham (aka Tojeong) who constructed his own matrix from 64 symbolic hexagrams to foretell the future (based on the Chinese text of philosophy called "I Ching" or "Book of Changes," and dates back to more than two millennia).
Seeking out a fortune teller is still a fairly common practice in Korea, and the above text continues to be used to make annual horoscope forecasts (for career, love, the future, and so on) based on a person's date and time of birth.
As for our opening: Jae-suk emerges on to the hearts and roses decorated set to meet his partner and guest, actress Moon So-ri. She's brought her unnis with her today, and Uhm Jung-hwa struts down the runway like a sexy queen. Ha, she's so full of energy.
Then Jong-kook gapes in awe at his partner, actress Jo Min-soo, who's more happy to be teamed up with him: "I think I can win today!" Hee, the mat unni is already adorable.
The Easy Brothers are disappointed to be paired up together, but then again, you two were the ones eyeing that Best Couple Award this year.
Once everyone is coupled together, the cast gives their lunar new year greetings. Today's race will be based off of the cast's actual fortunes told by a diviner, then they all move to meet their guest.
Jae-suk sits down first and told that he's a man of drive, fighting spirit, and chivalry—all aspects we already know to be true of the nation's MC. Moreover, he was to be on the rise with great honor and fame in his mid to late thirties.
All the ribbing from the sidelines cracks me up. Suk-jin: "Will he decline after that?" In regards to Jae-suk's luck in money and women, Suk-jin adds: "As far as I know, he doesn't have any luck with women." Pffft.
In any case, it's a good year for Jae-suk to plan on having more children (he has one son), which gets him all flustered. Aw. Basically, it's a good fortune for Jae-suk overall, and I have to wonder if we're going to have to sit through everyone's fortunes today.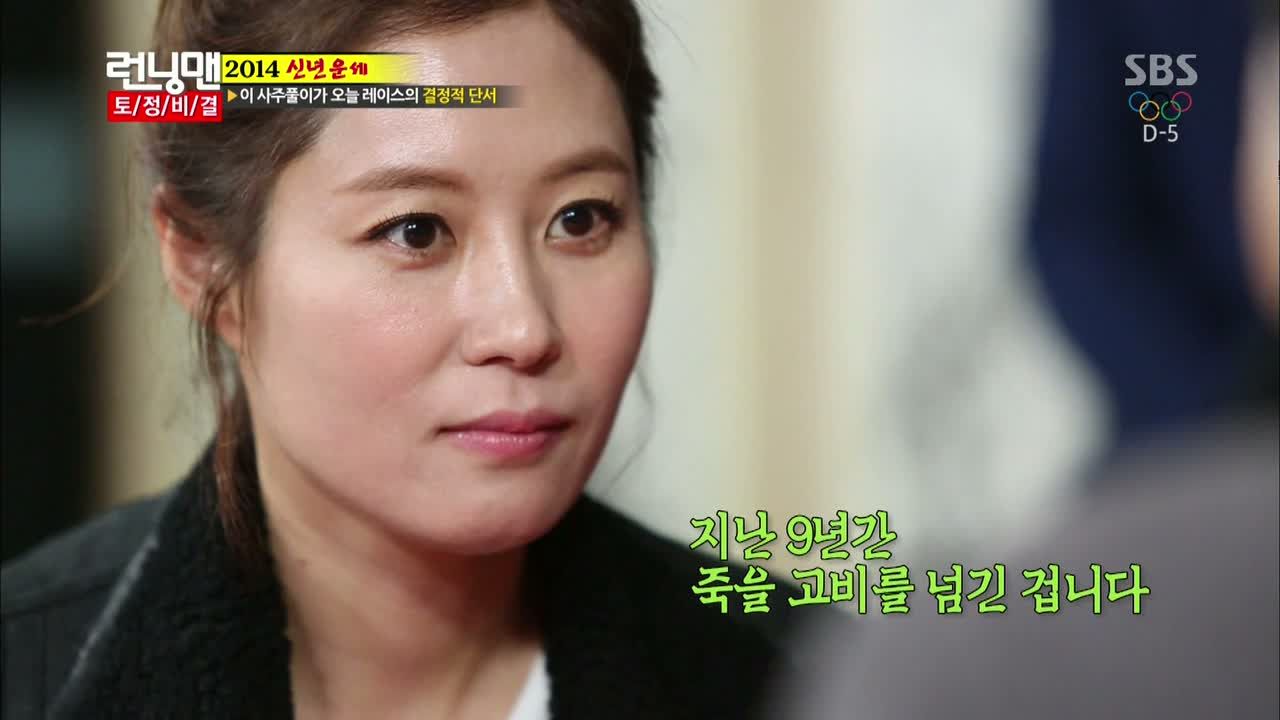 So-ri is praised for her strong will but advised not to bottle everything in, which she mirrors as truth. Though I'm not a big believer in divination myself, I can relate to that eerie spookiness of someone speaking to some truth in your life that brings on the tears.
At least So-ri is told that this will be her last year of big crises, and it's sweet how the cast try to cheer her up. Haha: "Noona… this is variety." When she's told that following her film director husband (Jang Joon-hwan)'s decisions will be best, Jae-suk jokes that the hubby is probably slapping his knee in agreement. Heh.
It's Jae-suk turn to rib on Suk-jin when he hears his fortune. At the mention of his lucky wife (versus his own supposedly failed ventures), Jae-suk quips: "It's true! She's rich!"
She's a good wife and smart mother, "So don't turn your eyes elsewhere…" HA, with women or other things in life? Must be the women thing because the fortune teller alludes to how Suk-jin could have ladyfriends to bring him luck, a statement that slays the whole room.
But he means in the completely platonic sense (so someone like Ji-hyo?), and then advised against the misunderstanding that a great opportunity will appear this year. Oh man, it's so sad, but why is it so hilarious?
Jung-hwa crumbles to hear that she's a natural worker (as in, working class) versus So-ri's aristocratic status. But what we're interested in is the love horoscope for the golden miss, who's told to take a serious approach towards marriage.
There's a saying about wealth and honor, and when she laughs over how she can't have both, she's told that wealth can be accrued on her own, but honor can only be achieved with her partner.
Mind they're talking about Confucian-based philosophies here with matchmaking and the like, but I get the feeling that Jung-hwa would like to get married if she had the opportunity. But it's funny how the recommended husband characteristics all point to one person: Jong-kook.
It's doubly funny on Jong-kook's end, because he was advised to date a woman with large eyes. The cast jumps in: "It's because you have small eyes." "Eyes as big as a Shitzu?" "Or Candy?" HA.
Kwang-soo's overall description of being kind, generous, and generally handsome, leaves everyone in disbelief until they hear the reasoning: "You're really lanky [like a tree]!"
I love how the fortune teller is cracking up while telling Kwang-soo that he's an overall good guy (which I feel we don't get to see enough with his variety persona) that people might mistake him for nerdy. LOL. In regards to his unchanging personality, Haha quips, "He consistently betrays us."
Things look good for business prospects too, but not until his thirties: "You'll fail if you do it now!" Staying in the entertainment biz right now is good for him, daresay the best, and Jae-suk twists the words to a joke: "Are you saying the present is his peak?"
The goal of today's race is to correctly guess their destined matches among themselves (five in all) based on their fortunes. They'll work as a collective unit to acquire hints and change up teams in each game. Correctly guessing all five matches will earn them gold rings as their prize.
It's a beautiful snowy day out (albeit freezing), and the pairs play rock-paper-scissors to figure out who buys snacks. Jae-suk and So-ri run off and then have to hurry back as the train pulls into the station.
Thankfully they make it back just in time, thanks to a three-minute delay. It turns out the train ride is the mission, and all the couples must succeed their tasks to gain hints—any team who doesn't return will be left behind. Jae-suk: "That's usually Kwang-soo."
I love Min-soo's sassiness already, like when she's told not to open their envelopes, she snaps, "Why? Do we have to listen to everything you say?" Ha, she's like the female version of short-tempered Jong-kook.
Everyone groans at their complicated tasks as they arrive at the train station. With just nine minutes to spare, it's the Easy Brothers I worry for the most as they wander aimlessly through the terminal.
So-ri's competitiveness is surprising, but it's her thoroughness that has me laughing, as she balances being polite and demandy in a sweet high-pitched voice. Jung-hwa wonders if completing their mission is even possible, to which Gary tells her that the staff probably did a simulation so… yeah.
They run into trouble with the photobooth accepting their bills, but if the machine lets you take two separate shots, couldn't you two have switched out instead? Either they're too frazzled or there's another reason because they run off to exchange more cash.
There's less than four minutes left on the clock as Haha fights brain freeze while Ji-hyo eats crunchy noodles. They eventually finish both as the others rush to catch the train… only it's empty? Oh no.
The train's early departure had also surprised the staff, and it appears that the layover time was reduced in order to make up for the three-minute delay earlier. The staff agrees to honor the original time limit—problem is, the Easy Brothers aren't back yet with less than a minute left.
The Easy Brothers make it back, but fail the mission for arriving too late, which earns them a round of scolding from the others.
The good news is that their unexpected turn of events earn them one hint, and they're told that none of their current pairings are matches. Jong-kook: "But [Min-soo] and I get along so well!"
They realize that their fortunes held some hints, so they decide to pair off the Monday Couple as well as Jong-kook with Jung-hwa. A train and a bus ride later, the cast gathers together at a restaurant for their next game.
Here, the teams will spin a roulette wheel containing names of celebrity friends and past guests ("How can we call Jackie Chan?!") and call up said person—a call that goes unanswered doesn't count.
Jong-kook and Jung-hwa are tasked to call Lee Min-jung, whom thankfully Kwang-soo knows (they're co-stars from Wonderful Radio). The problem is Kwang-soo's complicated passcode formation, and we suddenly hear another phone go to voicemail.
Jung-hwa admits: "[I called] Lee Byung-heon," aka Lee Min-jung's hubby. HA.
There's just a few seconds left when they finally call, but it goes unanswered and Kwang-soo belatedly realizes, "Oh she said she was busy lately…"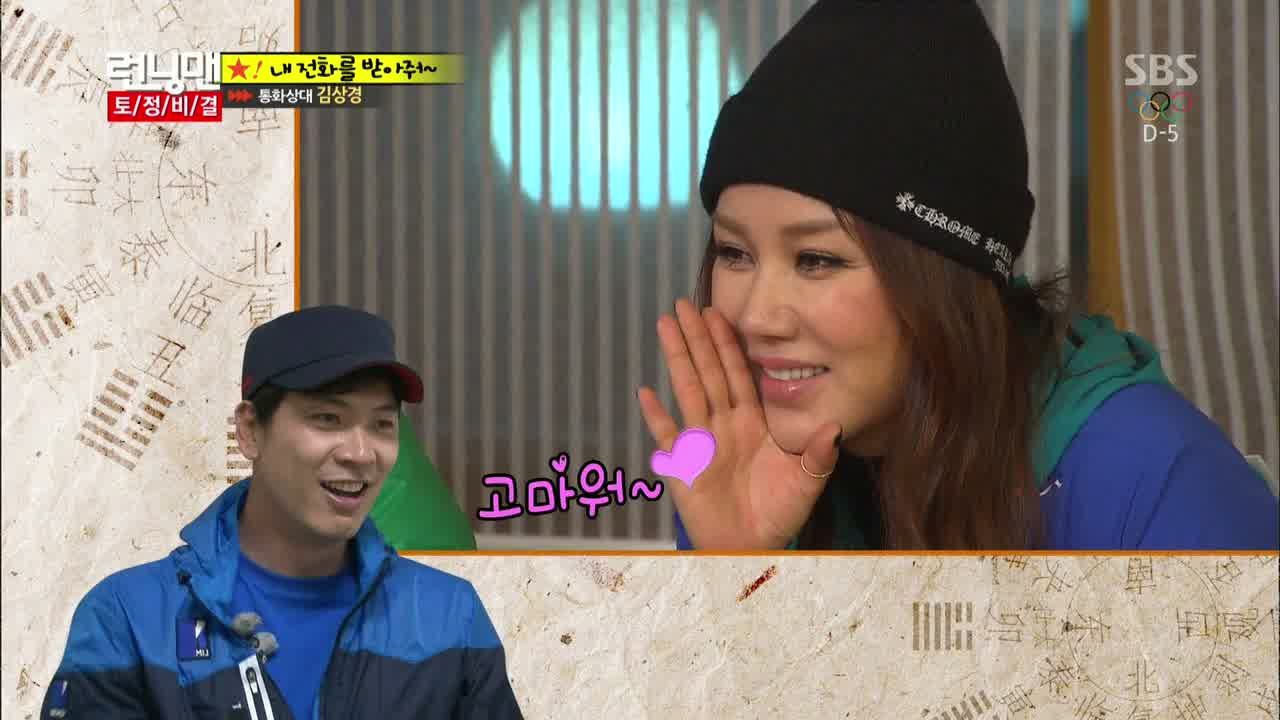 Suk-jin is confident that he must have Kim Sang-kyung's number, only to realize that he doesn't. Thankfully Jung-hwa does, and he picks up. Yay! He gives a small shout-out to the guests' upcoming movie Law of Attraction (or Venus Talks), and when they ask what he's doing, he admits: "I'm drinking."
Haha and So-ri lands on Park Tae-hwan's name, to which the others point out that the swimming sensation is likely overseas at present… and the marine boy picks up, to everyone's delight.
The Monday Couple worries that they don't know too many people between them. The Easy Brothers jump up when they land on Ji Jin-hee's name, and Kwang-soo immediately pantomimes his complicated passcode again.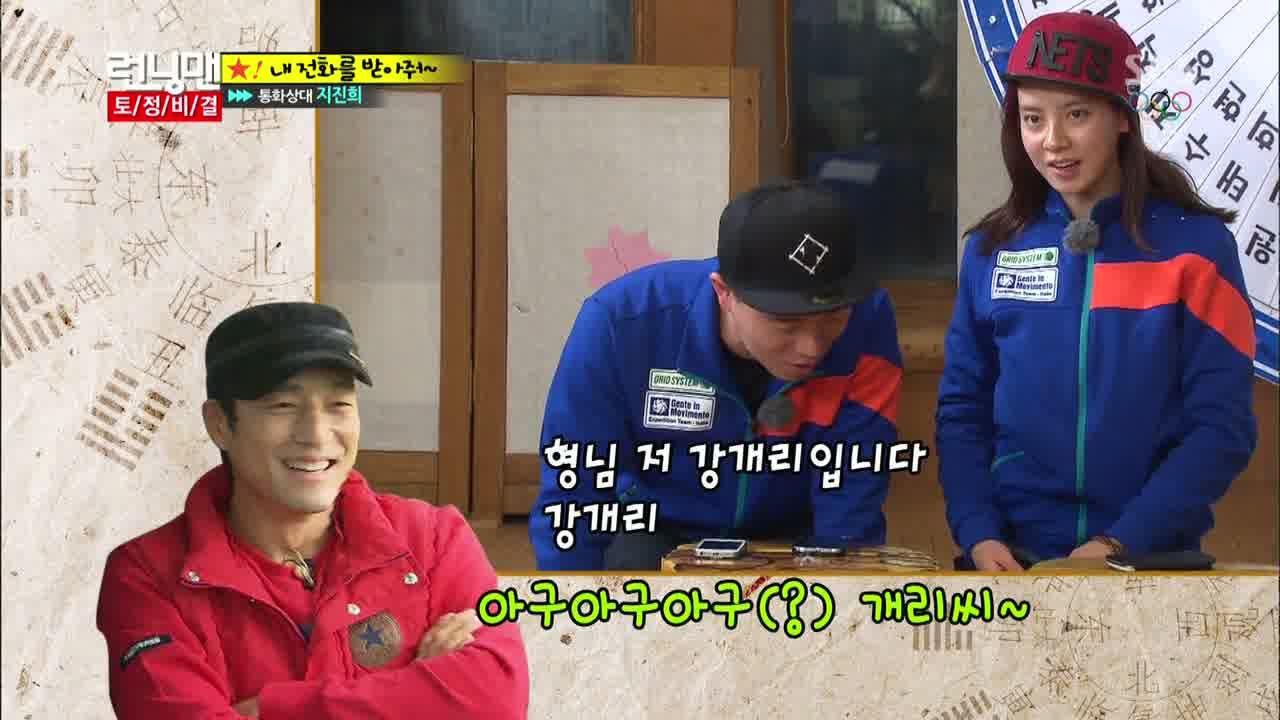 Jin-hee answers the call (through Kwang-soo's phone) and confirms that he is indeed friends with Suk-jin. He greets all the guests in turn, wishing them luck on their movie, and then ignores Kwang-soo. D'aww.
Was anybody else upset that the wheel didn't land on Kim Woo-bin's name? They're tasked to call Jung Woo-sung instead, but since since no one has his number, they call up Sol Kyung-gu (Cold Eyes).
They manage to get Woo-sung's number, but it's too late, and Min-soo bursts: "How ridiculous! Everyone's working at this hour!" So-ri adds: "Those who have families can't pick up either!"
They're like a one-two punch against the staff as Min-soo argues against the rules while So-ri says the wheel is uneven. In the end, Jo PD changes the rules and So-ri instantly brightens: "You seem like a nice person!"
So-ri calls her film director husband, and snaps impatiently at the mention that he could be busy at this hour. He does pick up, and aww, the couple speaks to each other in jondaemal.
After a round of greetings, Haha mentions possibly casting Kwang-soo in the future (So-ri: "He doesn't even cast me!"), to which director Jang notes softly, "Ah… Kwang-soo's fun…"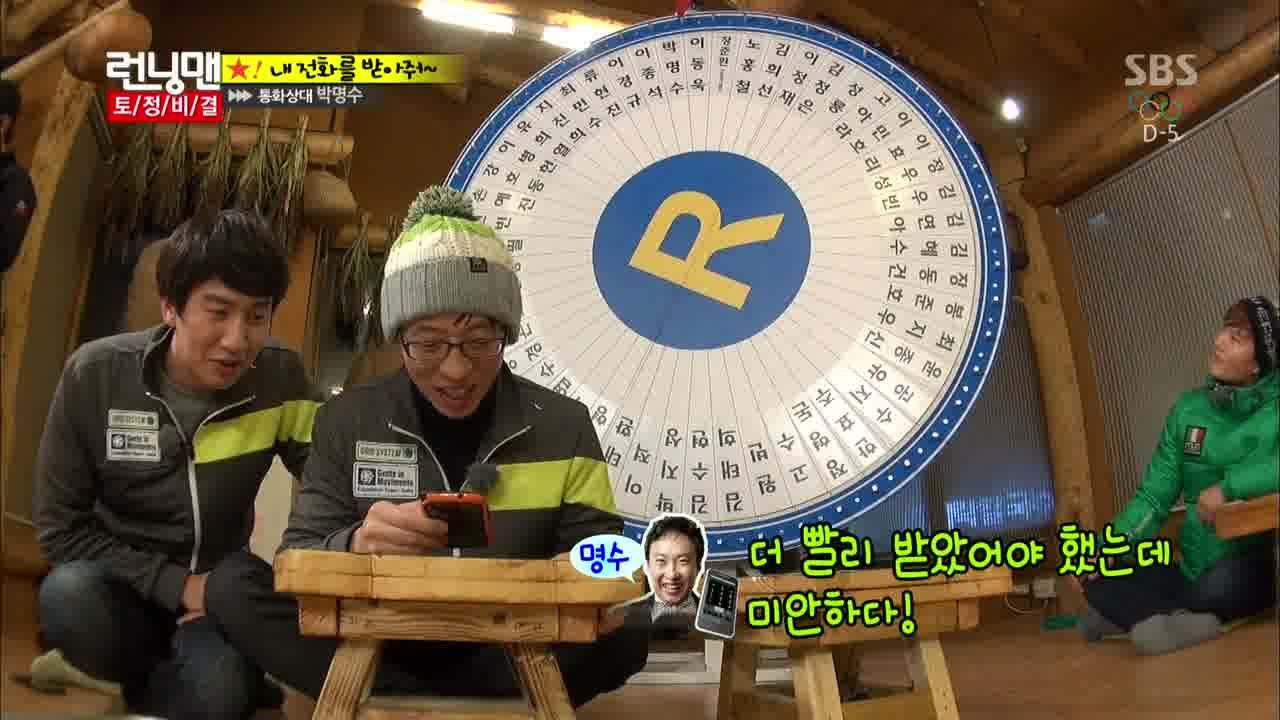 Aw, Lee Dong-wook picks up Ji-hyo's call right away, and now the calls go rather smoothly. Clubber MC Park Soo-hong doesn't pick up though, and neither does Gong Yoo. But with barely a second remaining, Park Myung-soo does answer their call.
As a variety veteran, Myung-soo apologizes for not answering sooner once he hears about the mission. He mentions that his guest appearance boosted his popularity, and suggests to the PD to fire Haha and hire him instead. Hee.
They earn one hint with their amended rules, and Jong-kook tries to finagle a hint out of the staff. It doesn't work, but Jo PD does affirm that there is a match (or more) among them. Hee, then he blunders that there are actually two matches.
It's back to the SBS building afterward to their final mission. Eep, there's a dropout floor in case the cast guesses wrong. It's time to deduce their guesses, and they're sure that the Monday Couple is a match.
With one more hint at their disposal and what they know of their last game (that was edited out), Kwang-soo must be matched with Min-soo.
Their guesses in place, the cast is instructed to have their most certain couple stand first. That would be Kwang-soo and Min-soo, and he asks if Min-soo isn't amazed at their possible destiny. Haha: "Film We Got Married then."
Jong-kook and Jung-hwa stand next, followed by the Monday Couple, Suk-jin and So-ri, then finally Jae-suk and Haha. It's the moment of truth to confirm each couple one by one…
Their first guess is correct and so's their second. In fact, Jong-kook and Jung-hwa are well-matched (according to their fortunes), and the others rally that they should date each other.
Yay, the Monday Couple are also extremely well-matched (in terms of fortunes). Let the fanfiction begin, people! The staff checks the last two teams simultaneously… and confetti flies into the air. Wooooot!
Aw, Suk-jin gains a new friend in So-ri, and the two joke to go real estate shopping sometime. Everyone takes their gold rings and Jung-hwa smiles: "I get to take gold AND Jong-kook. I think I'll be able to get married this year!"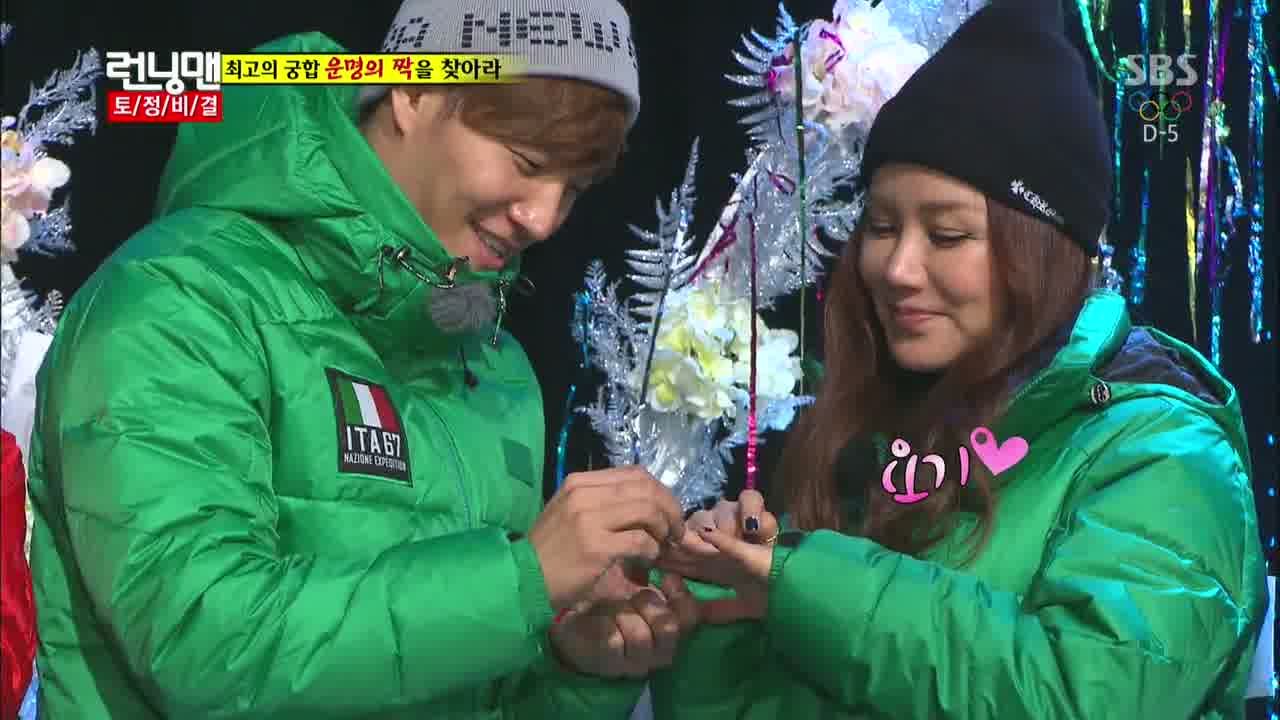 RELATED POSTS
Tags: featured, Haha, Ji Suk-jin, Kang Gary, Kim Jong-kook, Lee Kwang-soo, Running Man, Song Ji-hyo, Yoo Jae-suk