Running Man: Episode 186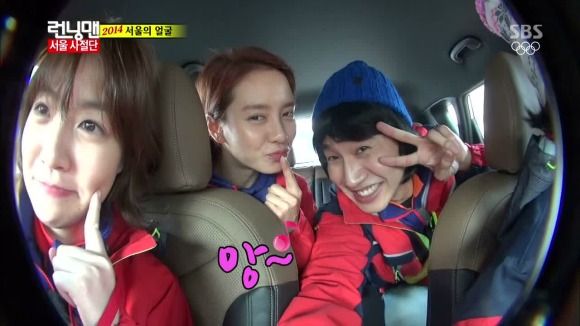 Not the faces you expected to capture the beauty of Seoul? Well then, let the Running Man cast be your guide to take you on a whirlwind trip through the city to show you everything that it has to offer and more. You might find that variety is the most entertaining way to learn some history, visit the tourist attractions, and play the wackiest games that may or may not represent Korea as a whole.
Well, at least you have the prettiest faces to spend the next ninety minutes with, so enjoy the ride.
EPISODE 186. Broadcast on February 23, 2014.
We get a rockin' start to this episode with a mini-concert that showcases our cast's musical abilities. Or sometimes lack thereof (as Suk-jin's guitar cable pops off, ha). And yet, it's a creative way to introduce today's guests, including actress Shim Eun-kyung (Suspicious Girl, Sunny).
I wonder if there are some Sunny influences in the all-girl band performance (I haven't seen the movie, but it's on my to-watch list!), and I love how the setup gives the show an excuse to bring back Kwang-ja and Jong-sookie (Kwang-soo and Jong-kook's sassy female personas), as their booming voices threaten to upstage their vocalist.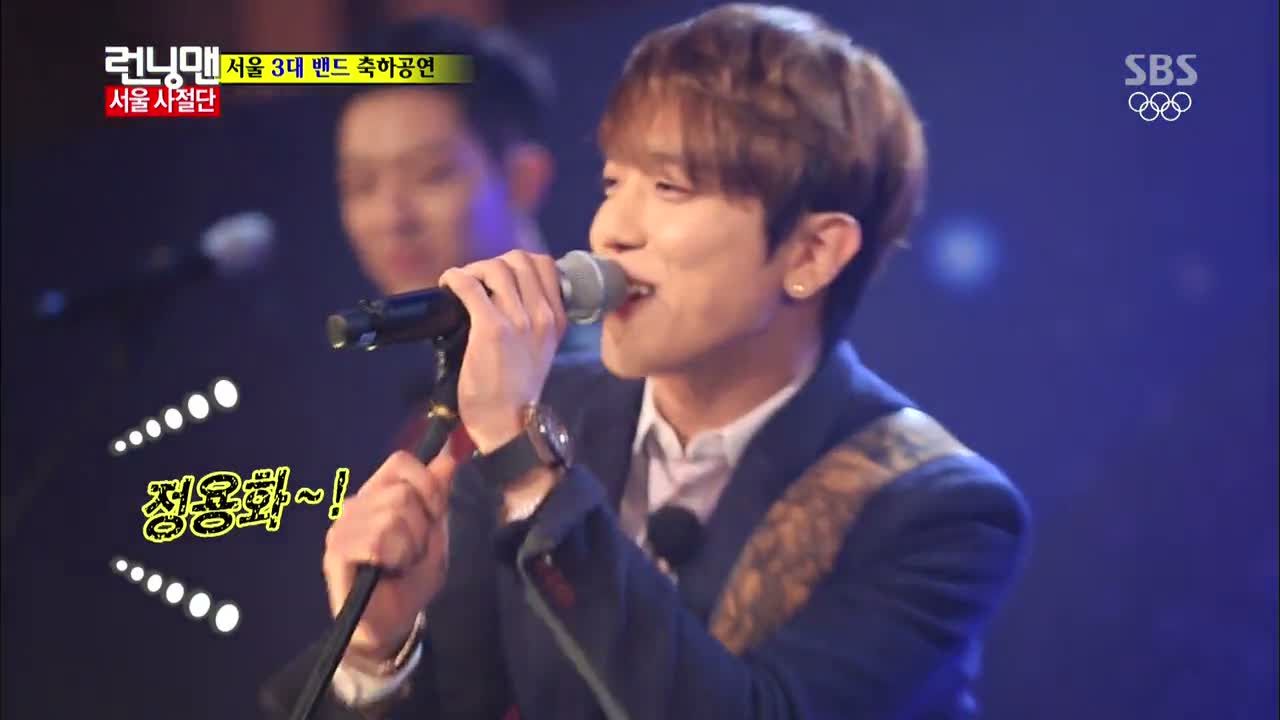 Then it's time for the finale with a real band in the form of CNBlue (Jung Yong-hwa, Lee Jong-hyun, Kang Min-kyuk, and Lee Jung-shin), whom you might have seen in at least one drama between the four of them. Or if you're a longtime Running Man viewer, you've seen Yong-hwa appear on this show countless times before.
The cast is too excited to sit through the teensy morsel of their new single "Can't Stop," which aw—they just want to say hi to their old friend. I honestly lost count of Yong-hwa's visits, but the show has, and today is his TENTH guest appearance.
Gary and Haha's twinsie mushroom cut wigs makes for a pretty hilarious sight gag, and Gary defends that he's in the music biz too, and that he "showers." (A reference to his solo single "Shower Later"; the music video was banned from broadcast, but major kudos for the subtle but bold line—not like Gary needed any extra promotion since the song topped music charts anyway).
Today's race will keep our cast stationed in Seoul as cultural delegates, but they'll be running around the city playing games to acquire coins which will be useful for the final mission. The winners will then become the representative faces of Seoul this year, which sounds appropriate for a show with a worldwide viewership.
Our team breakdown is as follows: Yellow (Jae-suk, Suk-jin, Haha, and Gary); Red (Jong-kook, Kwang-soo, Ji-hyo, and Eun-kyung); and CNBlue (Yong-hwa, Jong-hyun, Min-hyuk, and Jung-shin).
I must say I like Jo PD's clear and concise introduction today, and hope that we'll get a straightforward tourism episode that's still plenty entertaining of course. Because while themed episodes can be fun, a convoluted setup or rules can easily ruin them.
Still, I love how Jong-sookie and Kwang-ja embrace their feminine side, telling Jo PD of their preference for pink. Kwang-ja: "Even my underwear is pink." Okay, that's a bit TMI.
We learn that Eun-kyung has some experience in taekwondo and kendo, which is kind of surprising coming from such an unassuming petite young lady. In another car, the Yellow Team figures that the handsome CNBlue boys embody the faces of Seoul, though, Haha adds that their flower boy image could also be burdensome.
Cut to: CNBlue, who are simply put, handsome. Ha. The boys turn to their leader Yong-hwa for guidance and playfully tease him for his confidence as a tenth time guest.
The teams arrive at Gwangjang Market (Seoul's oldest market eatery) where they'll stop at different stations to eat the food. All they have to do is pick the right card afterwards to pass the game, but why would you want to when everything looks so delicious?
That seems to be what the teams are thinking too as they munch away happily. On the one hand, getting a dud card puts them further from their starting point, but on the other hand, it isn't every day the cast gets a free meal (if at all) without fear of negative consequences.
There are a lot of cards to choose from, and despite the all-male Yellow Team's initial groans at picking a dud, they quickly realize that they can eat more. Win-win.
Thus they're more than happy to stuff their faces at the next station. Jae-suk hopes that they keep picking duds because they couldn't care less about whether the other teams move on before them. Because, well, FOOD. I love the nervous captions from the staff, all, This… isn't what we were really expecting…
It makes me happy to see everyone so excited about eating, and while Jae-suk converses with the Kwang-ja and Jong-sook Sisters, Eun-kyung helps herself. Ha, I like your priorities.
Aw, their earnest Engrish attempts to connect to their global demographic cracks me up: "We are Seoul Face!" "Seoul is wonderfulest!"
The Yellow Team joyfully moves on to the next station after another dud, but the Red Team isn't so lucky because Kwang-ja draws the right(?) card, to her teammates' shock and annoyance. Ha, I suppose the variety gods shine favor upon Kwang-soo's alter ego, too.
Which means they can only look as the Yellow Team scarfs down on bibimbap… and now I'm hungry. Dangnabbit, thanks Running Man. And then Kwang-ja has to be literally pulled away from the food by a PD.
I love CNBlue's overall good-natured and relaxed personalities, like how Yong-hwa says, "Who cares if we don't win? It's more important that we ate well." Wise words, good sir.
They catch up with the others at the bibimbap station with a losers' mindset (and even do a little cheer) while the Yellow Team groans at actually passing the mission this time around. Ah, no dessert for them then.
A kind storeowner feeds a bite to the Red Team, who take out their annoyance on Kwang-soo, revoking his right to choose anything else today. A still starving Eun-kyung celebrates their 10 coin win with a weak, unenthused celebratory cry.
Learning that there was an endless number of food pitstops only adds to the teams' grumbling, and in the car, Kwang-soo asks if they can be the beautiful faces of Seoul if they eat everything they wanted to. Ji-hyo points out: "We can just work out afterwards!"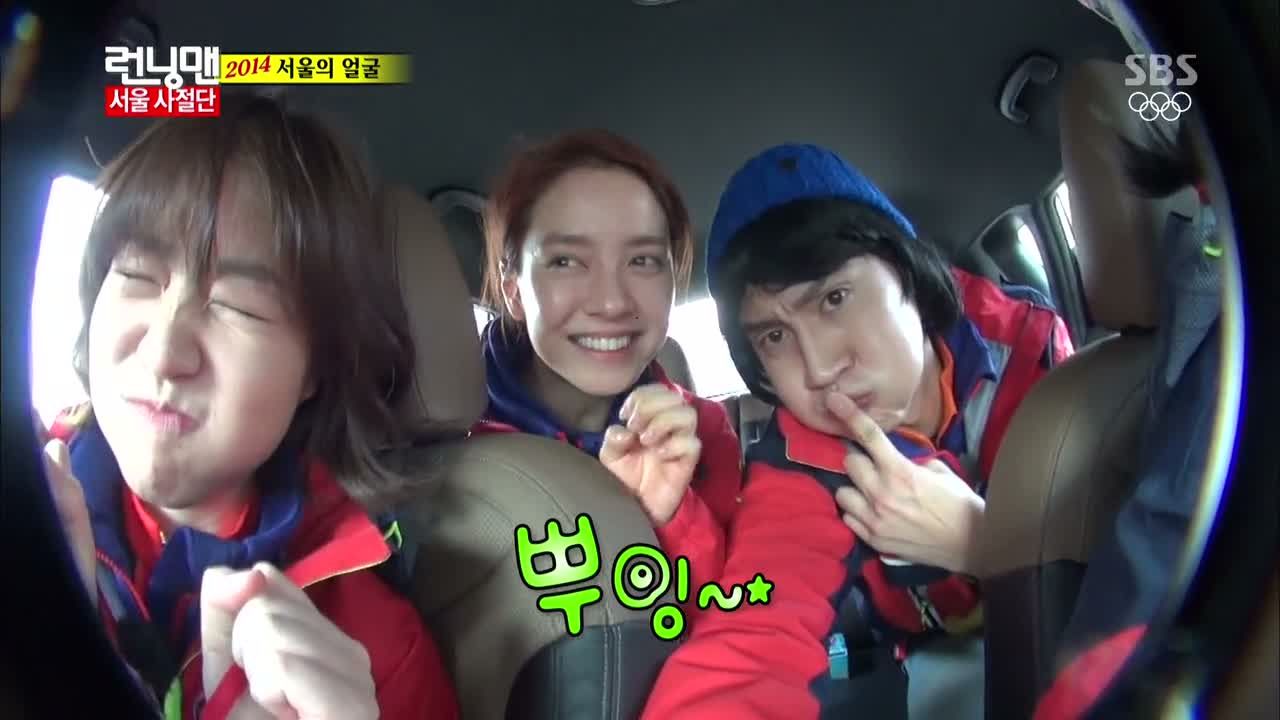 One mustn't eat past 1 PM, according to Kwang-ja's beauty protocol, to which Jong-sookie laughs if she has to fast for a health exam the next day. HA.
At least the girls have fun playing with the camera, trying out adorable poses which brings a smile to my face.
Jae-suk makes sure to let Haha know the full rein of his disappointment in cutting their food extravaganza short. "Don't let Dream [Haha's son] watch this episode when he gets older." Hahaha, because you think his son will be disappointed in his Daddy Haroro too?
Then it's off to the iconic Namsan Tower where Kwang-ja talks up to a foreign fan about how famous they are before Jong-sookie barks back at her to cover their embarrassment. Kwang-ja keeps trying though, adding "-est" to make everything into a superlative.
They soon find out that CNBlue are right on their tail (Yong-hwa Tip #1: "You have to always be running on this show!"), which brings on another wave of scolding for Kwang-soo: "They got to EAT everything!" And then they literally close the door on the possibility of sharing a cable car together.
On their way up though, Jong-sookie says that hiking up the mountain makes for great exercise, and Eun-kyung quietly warns that he'll get tense muscles. Ji-hyo: "Don't worry, [Jong-sookie's] got 340 muscles!"
At top of the mountain, it's a souvenir photoshoot that requires some audience participation. The Red Team hurries to gather their fifteen volunteers, but that isn't as bad as CNBlue, who has to collect twenty people to simultaneously jump together. But really—what fangirl wouldn't want to help out Oppa?
The Yellow Team succeeds in finding someone super tall to take a fifteen person selca together using their limited English, and then use their noggin' to invite young kids to fill the rest of their numbers.
I love it when the cast interacts with younger and older fans alike from all different backgrounds. Kwang-soo volunteers to translate, and his hilarious simplified body language makes his instructions easy to understand.
Like how they all have to play "Cham-cham-cham" (a game where you win by turning your head in the opposite direction of your opponent's hand), and Kwang-soo explains as so: opposite direction ("Yess!!!"); same direction ("Noo!!").
Well, that is if they can get everyone to pay attention because one fangirl can't take her eyes of her CNBlue oppas. Ha, can't say I blame her. So they let her hug her idol oppa (and have to drag her back, heh) to make sure that she focuses to the task on hand.
Everyone points in different directions on the Red Team, who then teasingly berate a few volunteers for not following the plan, only to realize there was also someone else who didn't either: Kwang-soo.
CNBlue is up next with their crowd, and when one girl screams that she's a Leessang fan (to Gary's delight), he calls out her name in distraction just as the camera clicks. And sure enough, she's the only one out of twenty who misses the timing.
Jong-kook is especially popular with the kids today as a little girl can't stop laughing over his pigtails, and he explains, "I'm not a man!"
The Yellow Team is given another chance after their first attempt, and pull in another fan when one volunteer goes missing. They're more than happy to oblige and then squeeze in with their new tall friend Chris and the kids. And whaddayaknow, it's a perfect shot.
The Red Team strategizes together before their next turn, and this time, they beat the staff. And it takes a couple more tries, but CNBlue eventually succeeds too, and as they celebrate, Min-hyuk points out: "But we're dead last!"
The teams head to Hangeul Gaon-gil, a stretch of road that illustrates the history of hangeul (which seems appropriate since it's also nearby a statue of King Sejong the Great). Their task is to collect and assemble the various Hangeul characters hidden in this road to form the word "Hunminjeoneum," the first document written in Hangeul.
Both the Yellow and Red Teams discover the white pieces alongside the road, sparking the initial back and forth. Jong-kook runs before handing one to Eun-kyung, who makes off with one piece.
However, it isn't long before she exhausts herself and struggles to catch her breath. Aw, you haven't built your stamina for this show yet.
The CNBlue boys catches up soon enough, and nearly pass by one piece before they realize that's what they're looking for. Yong-hwa: "Isn't this it?" Min-hyuk: "That wasn't a pile of snow?" Ha, these boys.
Ever the Ace, Ji-hyo has her arms full, wondering where her teammates are. They're busy wrestling over pieces with the mat hyungs, and Eun-kyung stubbornly holds onto one piece, exclaiming that the boys won't let girls off easy. No, not this time, methinks.
Jong-kook is flagged down by Jung-shin and Jong-hyun who butter up to their singer sunbae for a few characters. He obliges before trying to run off, but that's when the other two come running. I think this is the first time I've seen Jong-kook run away from an entire idol group but it is HILARIOUS.
Meanwhile, Ji-hyo has a pretty decent haul herself, but soon finds herself surrounded by the CN Blue boys (which doesn't seem like a bad situation to find oneself in) and drops a few pieces behind as bait.
They let her run off to examine their pieces (but ask themselves, "How can that noona run so fast?!"). They only need a couple more to win it, and then Kwang-ja charges at them to steal those foam characters back.
It quickly evolves into a three-way fight once the Yellow Team gets involved, and Kwang-ja manages to steal a much-needed character while blinded (Jae-suk pulled down her beanie over her head), only to then crash into the camera crew moments later.
It's Eun-kyung I worry for the most though, as she struggles to keep pace with Jong-kook. At one point, she breathes there's no point in preserving her image on this show (agreed) and admits that it's far more exhausting than any athletic competition.
She and Jong-kook try to prevent CNBlue from attaching their characters onto the board. And where Eun-kyung lacks in the stamina department, she makes up in perseverance as she steals a character from Min-hyuk.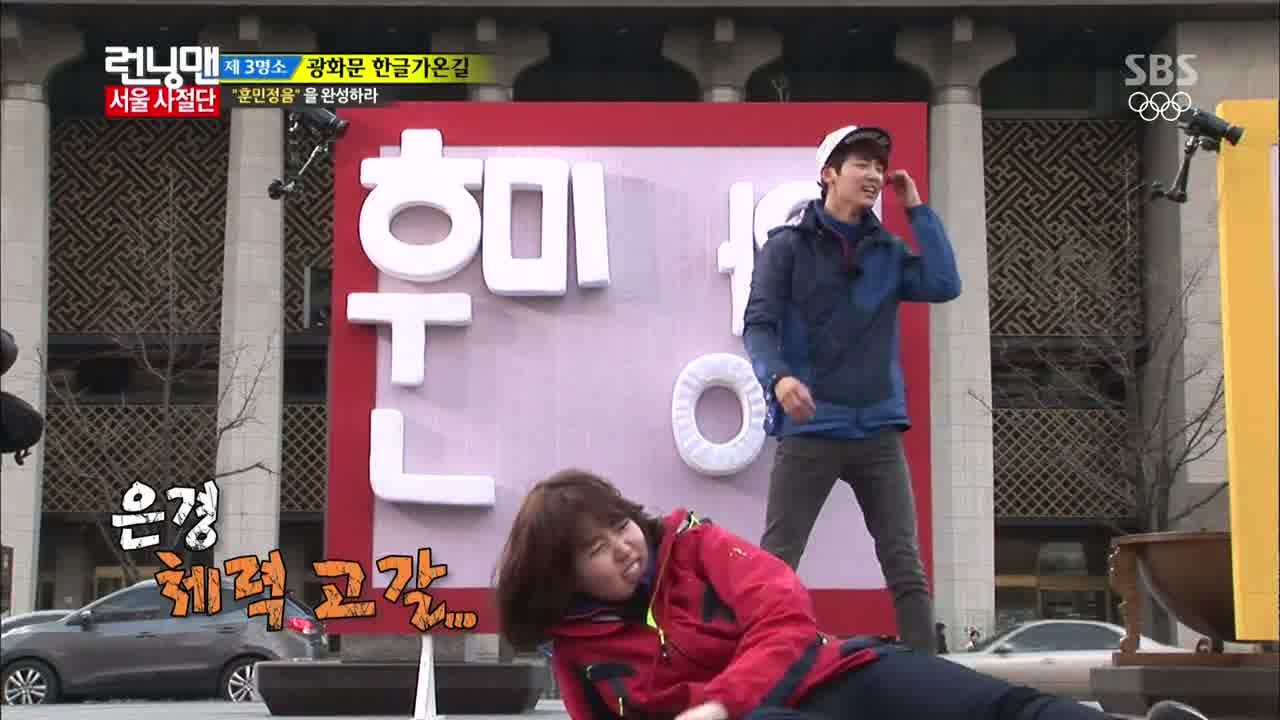 And then, you know, collapses in front of her team's board once she hands it off seconds later. HA.
Another three-way tussle breaks out when the others catch up, and Yong-hwa slips in to steal one last character to win it for his team. The other teams ask Eun-kyung about her physical stamina (because she had said she had wanted to run), to which she tells them to watch the broadcast to see how that played out.
Seems like the stories she heard from her friend, rhythmic gymnast Son Yeon-jae didn't prepare her for the rigorous nature of this show, and Eun-kyung gripes, "It would have been nice to have a warm-up, but we just started running…" Yes, welcome to Running Man.
Our final mission takes places at a mall where the teams will need to find two R-stickered boxes of their choice that contains names of various games and gather at the flag. Yong-hwa discovers two right away, though he hesitates at the thought of whether he can beat Jong-kook in a chicken-leg fight.
Some of the vague names makes it hard to tell exactly what game it is, but everyone's willing to find out. One team will choose one of their games and will get to choose the following game if they win. If they lose, that decision goes to another team.
CNBlue gets to choose first, and they settle on a Pop-Up Pirate game (a luck-based game where you insert sword pieces into slots, and whoever inserts the one that launches the pirate is the loser) which is both fair and entertaining. Jong-sookie: "What happens if we destroy the barrel?"
After they draw for team representatives (Jong-hyun, Suk-jin, and Ji-hyo), the teams are told that they'll also be betting the coins they've won today. The teams place their bets, and Jae-suk jokes that it would be hilarious if Suk-jin started off the game by eliminating himself in the very first turn. "But that's not what we're hoping for!"
The techno Pirates of the Caribbean remix seems rather appropriate for this nerve-wracking situation. They get through the first two rounds just fine, though, Jong-sookie gets annoyed when Kwang-ja offers some advice from the sidelines.
It's a game of pure chance, but luck seems to be on Suk-jin's side today as he get through a couple more rounds. Eventually there are only three pieces left prior to Ji-hyo's turn, which means it's either down to Suk-jin or Jong-hyun (whom Haha points out are typically unlucky celebrities) if she passes one more time.
Time for the moment of truth as Ji-hyo inserts her final piece… and the pirate goes flying. Whoa, that was a long and intense game.
They reset for the next round between Jong-hyun versus Suk-jin, but then the mat hyung loses on his very first try. HAHAHAHA.
CNBlue chooses the next game (Titanic), where the teams will drop marbles into a bowl in turn until it "sinks," hence Titanic. Ha, that's a remarkably simple yet ingenious game. Everyone makes their bets, and when Jae-suk says the others are too safe, Jong-sookie retorts, "No, it's ladylike!"
Min-hyuk, Gary, and Kwang-soo step up for their teams, and Eun-kyung issues one last advice/warning for her teammate: "Oppa, do it properly."
Eventually Kwang-soo gets worked up enough at Jong-sookie's constant nagging to snap back that maybe she should do it instead. Jong-sookie: "I wanted to play!"
Jong-kook encourages Eun-kyung to offer some tips too, and when she says it's her first time playing this game, he answers: "It's our first time too." Ha.
Then it's Jong-sookie turn to get annoyed when Gary drops in a tiny marble: "I'm afraid of ending up dating someone [cowardly] like you!" Jae-suk says that he can say the same thing of her as Jong-sookie, and Kwang-ja finishes, "That's why I broke up with Jae-suk!"
We skip ahead to when it's Kwang-soo's turn again and everyone hopes for another golden variety moment. They're disappointed when he picks up a tiny marble, and gets subsequently pelted with a triple verbal attack. Despite the 3:1, he goes for it anyway.
What's more hilarious to watch, however, is Suk-jin's panicked reaction to Gary's choice of marble ("It's going to sink!"), only to soften seconds later at Gary's reassurance. Pfft. But as the marbles pile up, the bowl gets ever close to breaking the water surface tension.
But then one final marble from Min-hyuk does the trick and the bowl sinks below the surface.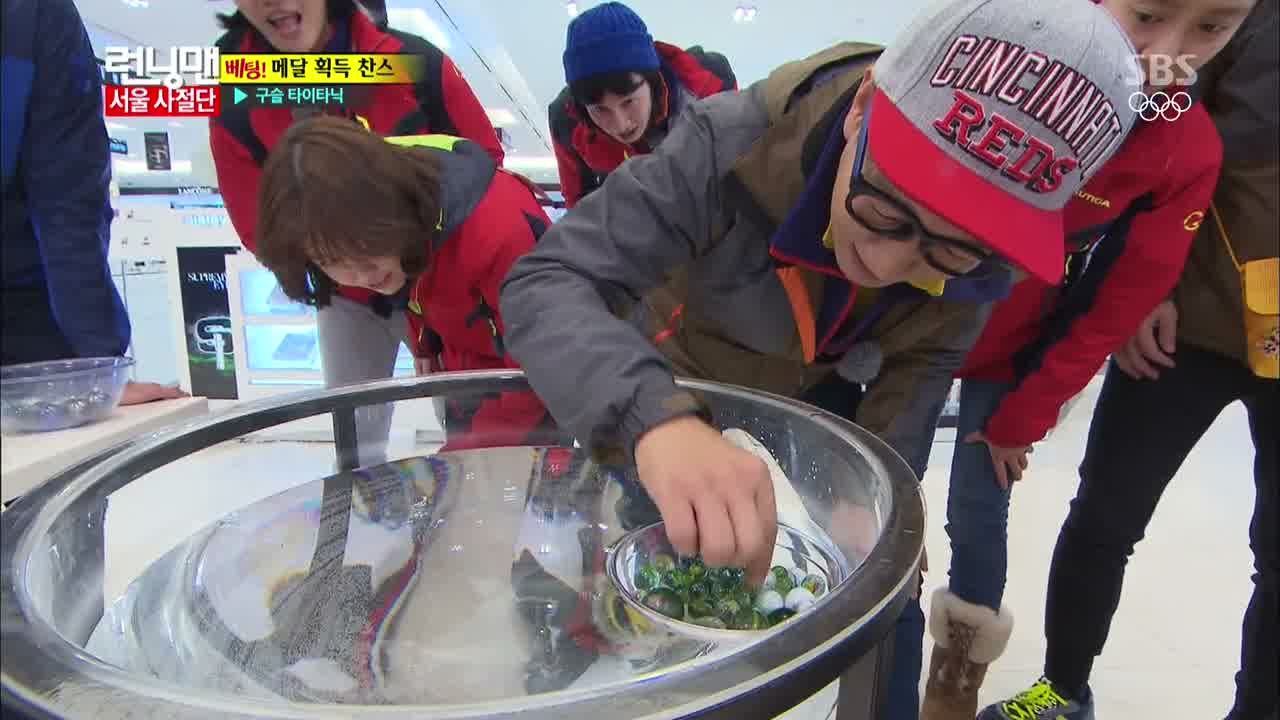 Suk-jin and Eun-kyung face off for their teams, and now it's Gary's turn to be on the edge of his seat for his teammate. At one point, Haha admits that he loves Suk-jin, but he hates it when they're on the same team (because of the anxiety).
Eun-kyung explains her smaller marble choice as being timid, to which Haha counters that Suk-jin probably wins in that department. The mat hyung admits it, and gains the new nickname of Dumbo. Lol.
Big Nose Dumbo embraces the new facet to his variety persona even when Eun-kyung calls him out on his own hypocrisy. It cracks me up how he flaps his ears like the elephant character.
Tension runs high in both the cast and bowl as both Eun-kyung and Suk-jin place their marbles in one by one. Then Suk-jin drops in one last marble which floats for a split second before submerging below the water's surface.
The teams reconvene outside where the Yellow Team is told to step back since they're out of coins. Turns out in their last game, it was Jae-suk who collapsed the coin tower and cleaned out, which makes them ineligible to win.
Unveiling a giant roulette wheel, both the Red Team and CNBlue are invited to mark their places on the wheel. They both have about a quarter of the wheel to occupy (since they have 25 coins each), and out of the goodness of their hearts, give up one slice each to the Yellow Team.
That tiny glimmer of hope (2%) boosts the Yellow Team's morale, and they give the roulette wheel a good spin. It lands on white, so they give it another spin… and this time it lands on blue, giving CNBlue the win.
The boys celebrate and Eun-kyung gives a final few words about the strenuous reality of this show, and yells, "Beautiful!" Wait, isn't that Han Hyo-joo's sign-off?
RELATED POSTS
Tags: featured, Haha, Ji Suk-jin, Kang Gary, Kim Jong-kook, Lee Kwang-soo, Running Man, Song Ji-hyo, Yoo Jae-suk