Age of Feeling: Episode 19
Friends become enemies in the blink of an eye as the turf warfare escalates to familiar heights, with the gold standard for solving problems being the tried-and-true method of setting up a duel for any day that isn't today… and then taking up all the time left before the scheduled date to talk about it and/or prepare. Y'all know the drill by now.
If there's a silver lining to be found amongst all this waiting, it's that Kaya's storyline takes an interesting upswing as she finds the courage (or stupidity) to take on the people responsible for killing her parents. Asking who or why or how we got to this point is a surefire way to a rapid headache—I know because I've still got one. Ye hath been warned.
SONG OF THE DAY
I.D. – "Like a Flame (불꽃처럼)" from the OST [ Download ]
Audio clip: Adobe Flash Player (version 9 or above) is required to play this audio clip. Download the latest version here. You also need to have JavaScript enabled in your browser.

EPISODE 19 RECAP
Aoki's bits of vague information aren't enough to entice Jae-hwa, at least until Aoki sweetens the deal by offering Jae-hwa a chance to gain more of the people's respect than even Jung-tae has… by partnering with Ilgookhwe to take down Hwangbang.
To cement them as allies, Jae-hwa will get ten percent of all revenue flowing into Ilgookhwe's casino, which will keep him afloat and secure in his position since Hwangbang takes all the earnings from Club Shanghai. In return, Jae-hwa will have some added backing in his fight against Hwangbang, something they both know he needs in order to win.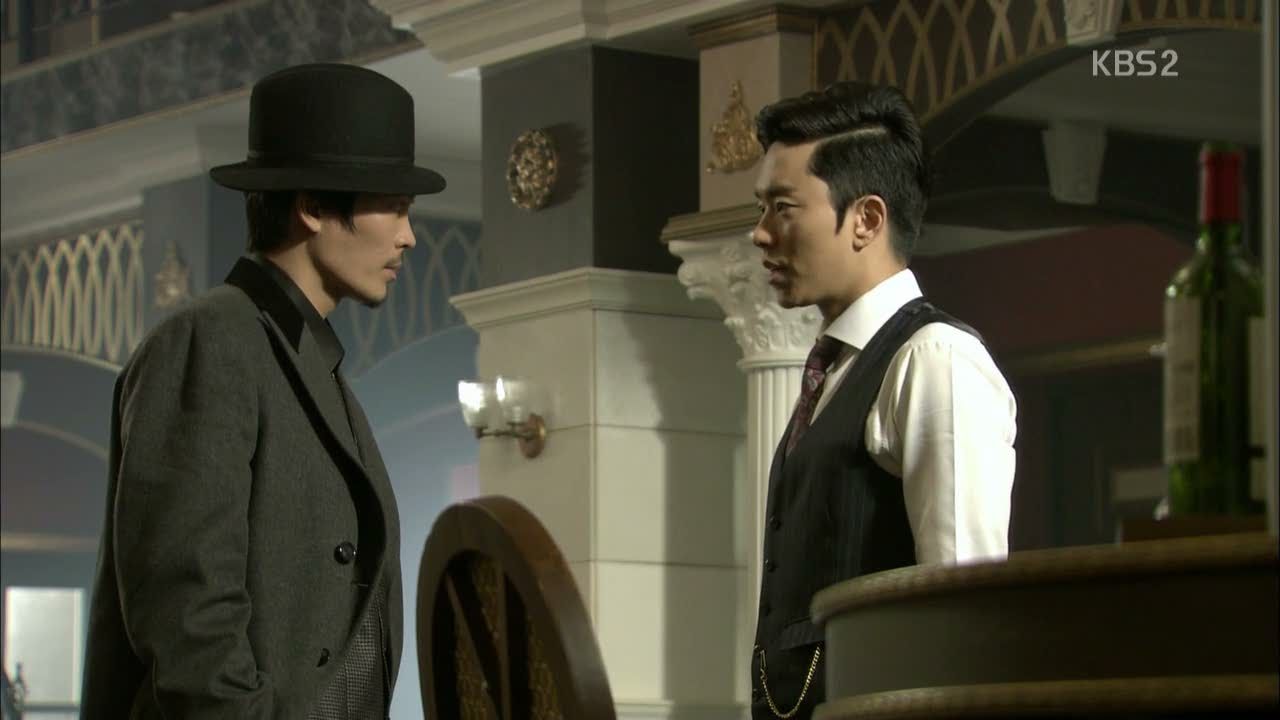 While Leader Seol makes his devil's bargain for Jung-tae to kill Jae-hwa, the latter still holds some reservations with Aoki's deal. He worries about what would happen to the people of Bangsamtong as well as Ilgookhwe should they fail in attacking Hwangbang, which makes Aoki laugh—Japan has already invaded China, so Ilgookhwe has little to fear.
But he warns Jae-hwa that Jung-tae will kill him without his aid, and issues a subtle threat regarding Jae-hwa's precious Doctor Jung. "You need my help," Aoki says confidently, "or else you'll die." He leaves Jae-hwa to think on that.
Jung-tae runs into Ok-ryun and So-so in Hwangbang's dojo, with Ok-ryun's spirits back in order now that she's had time to rest (after witnessing the massacre). She promises Jung-tae that she'll be fine here—and besides, she's got So-so to watch over her.
Just to be sure, Jung-tae warns Dokku to take good care of Ok-ryun. Dokku smirks as he notes that Ok-ryun is his singer before she's Jung-tae's girlfriend, right before he tries showing off his new kung fu skills to Jung-tae.
And then Jung-tae downs him with one solid punch to the stomach. "Your left hand was too low," Jung-tae says about his poor form. Ha.
Aoki remains confident that Jae-hwa will take his offer, at least until Denkai shows up in front of Club Shanghai with a small army following. A kimono-wearing Kaya is also in tow as Denkai surveys Club Shanghai like a proud prospector, noting that the building hasn't changed a bit.
A drunk Jae-hwa has taken to calling Jung-tae the English word "bro", even though by this time they both know that Jung-tae is maybe-kinda-sorta out to get him. Since neither of them want this scenario, Jae-hwa is forthright and tells Jung-tae all about Aoki's deal.
But Jung-tae doesn't want Aoki's help, and seems desperate when he tells Jae-hwa: "Hyung-nim, let's crush Hwangbang." Despite Jae-hwa's warnings that one wrong move will spell the end of them and Bangsamtong, Jung-tae is insistent that they leave out the middle men and just do things themselves.
"If I want to protect the people of Bangsamtong and take revenge for my father, we have to make a move now," Jung-tae urges. But Jae-hwa won't allow it, which causes Jung-tae to add mournfully that he might have to remove Jae-hwa from his position.
The grieving families of those killed in the massacre blame Jae-hwa for their plight, and it's clear that he does feel guilty. He even puts his men on double shifts to make sure that the people of Bangsamtong are well guarded.
Denkai presides over an Ilgookhwe meeting to talk about their strategy to economically undermine Chiang Kai-shek's army by producing counterfeit money in Shanghai. By doing this, they'll pave the way for the Japanese army to conquer China.
But for reasons left vague(-ish, since Leader Seol is helping to fund Chiang, their enemy), Denkai claims the only place they can start their counterfeiting operation is in Bangsamtong.
He starts tearing into Kaya for not having taken over the place in the month she's been in the country, as well as for the fire she set at the intelligence office. He's almost shocked into silence when she deadpans her defense of her inaction: "It's probably because I love that Joseon man." By which, of course, she means Jung-tae.
She says it in front of everyone, and to make matters worse, she repeats herself when Denkai answers her with utter disbelief. "Didn't you just hear me? I love Joseon's Shin Jung-tae. I was so immersed in my feelings that I completely forgot about my responsibilities to Ilgookhwe." Is she being contrary on purpose or just dead honest?
Denkai wonders the same thing, but Kaya answers back unafraid: "If I love a Joseon man, just like you ordered my mother's death, are you going to order mine?" Oh, right. Because she found out about the truth behind her show-long search off screen.
Shinichi tries to protect Kaya by begging her not to answer when Denkai asks her, at sword-point, whether she truly loves a "Joseon bastard." Kaya looks her grandfather dead in the optic stems as she confirms that she does love Jung-tae, that she's loved him since meeting him in Shineuijoo and has never stopped.
Aoki looks wounded at her confession, even as Kaya dares her grandfather to do to her what he did to her mother, since the rules forbid a woman of Ilgookhwe from being with anyone not in Ilgookhwe.
But since Denkai can't do the deed himself, he orders Shinichi to do it… only to be refused. "I cannot kill her," Shinichi proclaims. Since Denkai gave him to Kaya, he isn't bound to obey his orders. Even when Denkai pulls a sword on him, Shinichi defends himself, citing that only Kaya can kill him and no one else.
Denkai flies into a rage until Aoki finally steps in to stop him. He begs him to calm down and think of the bigger picture—they're at war, and they can't afford to lose Kaya and Shinichi right now. Of course he's saying that to protect Kaya, and suggests demoting her for the time being so she can be punished later.
The old man wants blood though, and demands punishment for those who disobey Ilgookhwe. Aoki takes his sword to carry out the punishment and slashes down at Shinichi, sinking a bit of the blade into his shoulder.
Kaya screams and wraps her arms protectively around Shinichi, claiming that only she can kill her own swordsman. The flesh wound apparently marks the end of Shinich's career as a swordsman, and as Kaya's eyes pour angry tears her grandfather makes the proclamation that every Ilgookhwe member can and should kill Shinichi on sight.
After she's officially demoted from her position as head of Ilgookhwe's Shanghai branch, Kaya takes Shinichi away for medical care. Though Denkai orders Aka to kill Jung-tae, Aoki intervenes by claiming that he has a plan in mind already and needs Aka to help him.
Leader Seol is apprised of Shinichi's banishment from Ilgookhwe, but is more concerned about what Denkai came to Shanghai to do. All they know is that his "Mori Strategy" was devised by Hideki Tojo, a general of the Imperial Japanese Army who would later become prime minister of Japan during the war.
Jung-tae knows something's up when Old Man Fly shows him all the extra money Jae-hwa's been giving out to Bangsamtong residents recently, since Jae-hwa wouldn't normally have that kind of dough.
Sure enough, he finds Jae-hwa with Aoki, which means he's taken the deal. Even though Jae-hwa knows Jung-tae is trying to take Club Shanghai from him on Hwangbang's orders (which Jung-tae denies), he offers his dongsaeng one last chance to join him and Ilgookhwe to take down their enemy.
Since Jung-tae abhors the thought of Ilgookhwe, his refusal is firm. He'd join Jae-hwa in taking down Hwangbang if he would work without Ilgookhwe, but he won't join their little club.
So in return, Jae-hwa declares that Jung-tae is no longer his dongsaeng/family and picks tomorrow night as a date for their duel (because nothing gets settled without one). After Jung-tae is gone, Aoki assures Jae-hwa that he'll receive a helpful gift before the fight.
Aka waits for Jung-tae outside the club and bids him to follow him unless he wants people getting hurt. And lest we get our hopes up that anything else would happen, the rural spot Aka leads him to is for them to—waaait for it—fight.
After a short warm-up round, Aka is unimpressed by Jung-tae's fighting skills, since his father was far better. However, he promises to give Jung-tae ten hits to defeat him. If he's still standing after, he'll kill Jung-tae.
Nine hits from Jung-tae don't do much, but he uses the tenth one to deliver a Baek-san-esque punch to Aka's chest. He only thinks that he's won, but Aka quickly springs back up to throw Jung-tae down a nearby hill.
There, he grabs Jung-tae in a chokehold while Jung-tae tries to punch and kick his way free, all to no avail. Jung-tae's vision starts to fade as Aka turns him around to face Jae-hwa, who knocks him unconscious. (Did that really happen?)
Jung-tae wakes up in the clinic under Il-hwa's care. In the hour Jung-tae's been out, Il-hwa learned that Aka doesn't feel pain, which would explain why he defeated Jung-tae.
As for why he left Jung-tae alive, Il-hwa guesses it has to do with his upcoming fight with Jae-hwa. He advises Jung-tae to delay the arbitrary duel because his shoulder has been dislocated, since he knows that will put him at a huge disadvantage. But of course, Jung-tae refuses and vows to go on with the fight as planned.
Meanwhile, Jae-hwa instructs one of his lackeys to fetch his "toenail" from Doctor Jung's clinic. He uses the literal word for toenail (baltob), though we can guess that it's code for something much more sinister since his lackey seems nervous at the thought of Jae-hwa using it on Jung-tae.
After Baek-san lets a maniacally-elated Leader Seol know of the scheduled fight between Jung-tae and Jae-hwa, Ok-ryun and So-so arrive at his behest. They're offered food since they're at his restaurant—you know, the one with the curiously modern ambient music always playing through the totally 1930s speaker system.
It's there that Ok-ryun recognizes the neck tattoo sported by the Bangsamtong murderers on some of the restaurant's Mongolian patrons. She tells So-so about it when they're alone, but their attempt to sneak out and warn the people is thwarted by the same murderers acting as Hwangbang's guards.
Jae-hwa's "toenails" turn out to be Wolverine-like claws worn like brass knuckles, which he hides the second Doctor Jung comes knocking. She slaps him mid-sentence for taking the weapon from her care, where he'd placed them when he promised to stop hurting others and live by his fists like a true gangster.
She tries to get him to stop before he loses who he was and who she knew him as by traveling down the dark road ahead of him—but he's insistent that what he's doing is for Bangsamtong and because he wants the people to love him just like Jung-tae.
He doesn't seem to get that he's going about it the wrong way, and even Doctor Jung can't convince him otherwise.
Old Man Fly tries his hand at warning Jung-tae away from the impending fight, especially since he knows Jae-hwa has brought out his claws. He mentions Jung-tae's current poor condition as well as the fact that only one person (well, two people, including himself) could ever defeat Jae-hwa and his claws, and that was Daddy Shin.
While Ok-ryun and So-so devise an escape plan from Hwangbang HQ, Jung-tae tries to get some tips from Old Man Fly on how to defeat Jae-hwa. Of course there's absolutely no way for him to win UNLESS—waaait for it—he were to learn yet another super special martial arts tactic conveniently created just for this purpose.
Old Man Fly isn't all that confident though, since he joins the betting pool for the fight but can't decide who to put his money on. Then Leader Seol spends some time wasting ours.
Time for another training montage! This time, Old Man Fly teaches Jung-tae how to be better, stronger, faster, and more alert by forcing him to keep his eyes open at all times—one blink could equal his death.
Jae-hwa also uses the night to train, but gives up on punching the punching bag in lieu of just slashing it to bits instead.
Later that night, Hwangbang's assassins sneak into Ok-ryun's room to murder her in her sleep. Luckily, she saw it coming and got out of harm's way with So-so, though their daring escape ends with them being surrounded by the same dangerous men.
Il-hwa and his lackey come to save the day, and easily beat up the two assassins—even when one of them pulls out a gun. He offers to escort the girls back to the clinic, but Ok-ryun politely refuses. So-so is much more reluctant to leave.
Now that Il-hwa has the two men who massacred the people of Bangsamtong, he plans to give them over to Jung-tae. Hopefully the gift will lift his friend's spirits before the big fight.
Jae-hwa muses over his lot ruefully the night before the you-know-what: "It's all because I wanted to live a good life." He sighs about how hard he fought over the years to claim this little bit of turf, and how he's not ready to give it up. Even with his claws, he's still nervous about possibly losing the fight.
On Fight Day, Doctor Jung gives Jung-tae a shot that will help dull his shoulder pain through the fight, in order to even the odds Jae-hwa stacked against him.
Even though she's on his team, she still has feelings for Jae-hwa and asks Jung-tae not to go easy on Jae-hwa, but not to go too hard on him either. "Because if he gets hurt, I may have to take care of him for the rest of his life," she says, her eyes glistening with unshed tears. "You too, Jung-tae," she adds in encouragement.
When Il-hwa delivers Hwangbang's assassins to Jung-tae, Jung-tae looks about ready to kill them himself as he screams, "Why did you do it? Why did you do it?!"
But Il-hwa stops him from doing any major harm to them by telling him that he has a choice now—what will Jung-tae do with these men?
Aoki finds Kaya training fiercely with her small swords, and she wastes no time in asking him if he still stands by the promise he made to help her with her revenge… even if it's against Denkai, the leader of Ilgookhwe.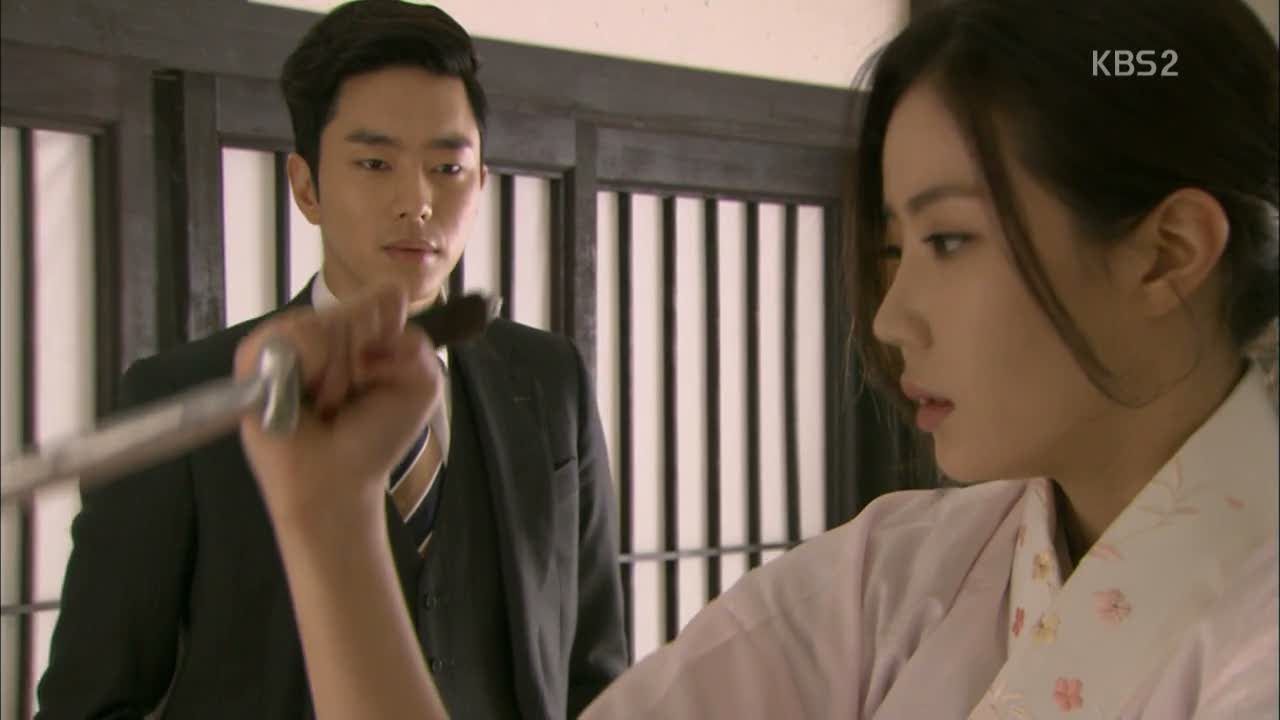 His expression is as steadfast as his answer: "My answer will never change, now or in the future. Whether it's the leader of Ilgookhwe or the emperor of China, they're all the same to me."
However, Aoki asks if she'll grant him what he wants in return for his unwavering aid. "What do you want?" Kaya asks.
"What would you do if I said I wanted you?" he replies.

COMMENTS
I didn't quite believe it when Kaya admitted to Shinichi that she'd learned the truth behind her mother's killing off screen last episode, and decided to withhold judgment until the show had another hour to explain itself, maybe by giving us a flashback to the conversation she was referring to. And then it didn't.
I couldn't believe—or rather, refused to believe—that the one question Kaya's been asking since this show's infancy ("Who killed my mother?"), the one question that brought her to Ilgookhwe and drove her to give up everything she once knew so she could commit murder while acting the part of a dolled-up slave in the service of lunatics, that one question which she wanted to know above all else… was answered OFF SCREEN. Seriously, let that marinate for a second. Isn't it awful?
What's worse is how we found out—not by her showing, but by her telling the audience that this major, life-changing conversation had not only transpired without us, but that it happened a good few episodes back. We had no way of telling anything had changed from Kaya until she up and said it, which is literally the worst possible and completely self-negating way to deliver a reveal like that. Not necessarily because the issue of who killed her mother was all that important to us, since the culprits were pretty obvious if not cemented down from day one, but because eons had been spent imparting the importance of that question and answer to Kaya.
And to rob her that moment of revelation, to rob us from being with her character as she finally received an answer to the question that's been haunting her for years (and for us, most of the show), isn't even a matter of what an audience is or isn't owed. It's not even the fact that the writer essentially flipped us the bird. It's the fact that such a gargantuan disservice has been done to the story and her character, in a way that's made it almost impossible to connect with her as she goes forward. They had one job!
That's not to say that everything would've been solved if we had seen that one mystical scene, but hell, it sure couldn't have hurt. I'm honestly just mystified at how this show still manages to be vaguely watchable as it hobbles along week to week, struggling to fill the space between the big fights it sets up in order to distract us from the fact that it has no idea what it's doing, where it's going, or why. And the only thing more unfortunate than wasted time is squandered potential.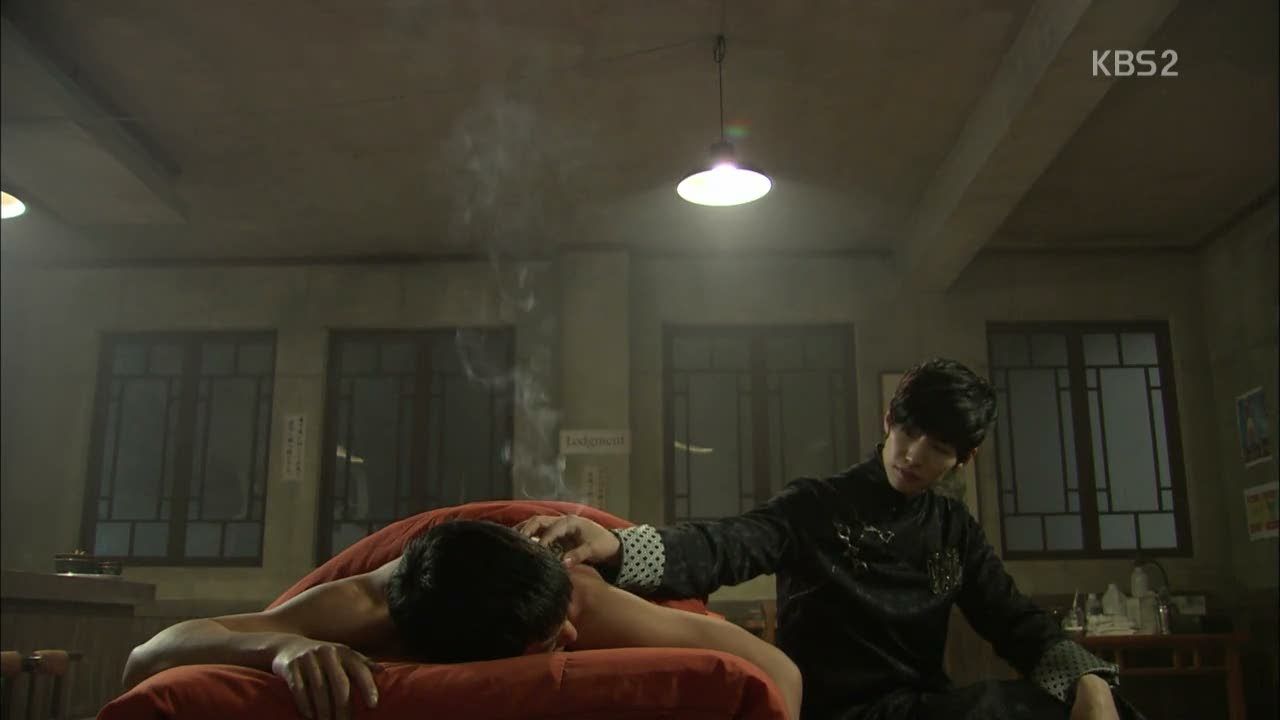 RELATED POSTS
Tags: Age of Feeling, featured, Im Soo-hyang, Jin Se-yeon, Kim Hyun-joong, Kim Jae-wook