Age of Feeling: Episode 21
The time has come to prepare for an all out war between the factions and their representative territories, in what's turning into a small-scale depiction of the Second World War. Luckily, our hero plays it smart this round by reverting to old school war strategies to hopefully defeat his two opponents before they can do the same (or worse) to him, but only time will tell whether all his planning will pay off. Battle royale, here we come!
SONG OF THE DAY
Shinhwa – "This Love" [ Download ]
Audio clip: Adobe Flash Player (version 9 or above) is required to play this audio clip. Download the latest version here. You also need to have JavaScript enabled in your browser.

EPISODE 21 RECAP
Ok-ryun spots Jung-tae sneaking into Hwangbang HQ during her escape, and makes her presence known after he conceals his face. He's here to get her out.
Elsewhere in the compound, Kaya jumps into the fray to save Shinichi from all of Hwangbang's minions. She pleads with Baek-san to let him leave with her, and when Shinichi protests, she snaps: "You're my swordsman. From now on, I'll protect you."
But Leader Seol intervenes with the final word, and won't hear any of Kaya's excuses. He orders Baek-san to kill both of them and put their severed heads on display as a warning to Ilgookhwe, and so the fight that ensues with Kaya and Baek-san (since Shinichi is too wounded to assist) turns into one for her life.
Kaya tries her best, but Baek-san's super-powered gut punches prove to be too much for her. Jung-tae watches some of the fight unfold, and is faced with a dilemma—escape now while the guards are distracted, or help Kaya.
He chooses the later, and Ok-ryun instantly latches onto his arm to beg him not to go. He gently pries her fingers away and promises that he'll return.
As Baek-san approaches a weakened Kaya for the killing blow, Shinichi can do nothing but helplessly grab onto his leg in an attempt to stop him. Baek-san kicks him away like a pest before advancing, only to find that Kaya won't give up so easily.
But just when things are looking grim, a masked Jung-tae swoops into the fray to defend her. She kind of defeats the purpose of him hiding his identity by immediately identifying him by name, but everyone pretends like it's an opera aside (where everyone can hear you without hearing you).
Jung-tae orders her to escape with Shinichi while he distracts the guards, which only works for so long—Baek-san sends his guards after the escapees while he takes on Jung-tae (who he doesn't know is Jung-tae) alone.
Aoki tries to defend Kaya's choice to save Shinichi to Denkai, but the old man isn't having it. He claims that attacking Hwangbang while Leader Seol still lives is suicide for them, and that Aoki's perspective is too warped to see the bigger picture because of his love for Kaya.
While Aoki is willing to use the Japanese soldiers already in China to help Kaya, Denkai is not. He'd warned Aoki never to let his feelings show in front of him, prompting Aoki to ask, "Will you kill me too, then?" Only for the cold Denkai to reply that Aoki is expendable—there are plenty of others to replace him.
Back at Hwangbang, Jung-tae continues to feel out Baek-san by fighting him, and actually figures out a way to take less damage from Baek-san's signature gut punch by relaxing his body to absorb the hit, rather than tensing up and getting his ribs broken.
He can't stay and play though, since he's got to find a way to escape with his identity still unknown, otherwise Ok-ryun will be in danger. But since Baek-san has no plans on letting him go without tearing off his mask, Ok-ryun saves Jung-tae by flipping the main breaker switch to cause a blackout at Hwangbang HQ.
So maybe her plan wasn't to escape, since she sneaks back to her room only to scream when she finds Dokku napping in her bed, her hand-drawn maps of Hwangbang HQ resting on his face. Uh oh.
Kaya helps Shinichi down a deserted Shanghai street, all but carrying him on her back as she tries to support his weight. He's insistent that she leave him to save herself, while she's insistent that if she'd wanted to do that, she wouldn't have come to save him in the first place.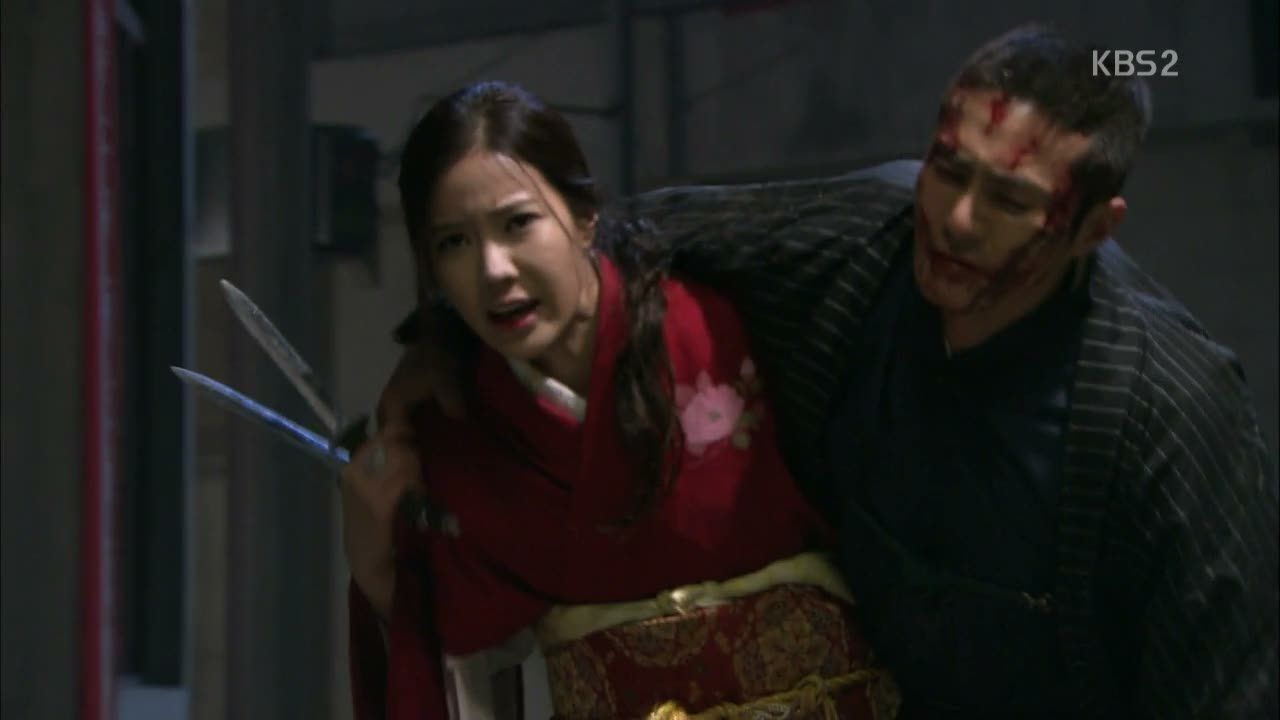 Shinichi eventually resorts to forcefully pushing her away, though Kaya still isn't deterred. He pushes her again, all but begging her now to leave. She keeps telling him that he only needs to hold on a little longer, but now that Shinichi's down, it doesn't seem like he'll be getting back up.
There's a bittersweet moment as they both realize this, with tears cascading down Kaya's cheeks the second Shinichi asks her if she read his letter. She says yes, and he ekes out, "Even though you read the whole letter, you came to save me? Me, the one who killed your mother?" Aww.
Kaya cries that there's no one else but him to tell her about her mother, in an attempt to keep him with her. But Shinichi knows his time is short, since he adds that he'll be going to the afterlife before Kaya in order to tell her mother just how beautifully her daughter grew up. (This is seriously sadder than I expected.)
With his last breath, he gives his hope for Kaya to become the shining beacon for Ilgookhwe. And then, he offers a final apology before his chin drops to his chest.
Just like that he passes away, with Kaya left sobbing and clutching his body as she begs him to just open his eyes one more time. Gah.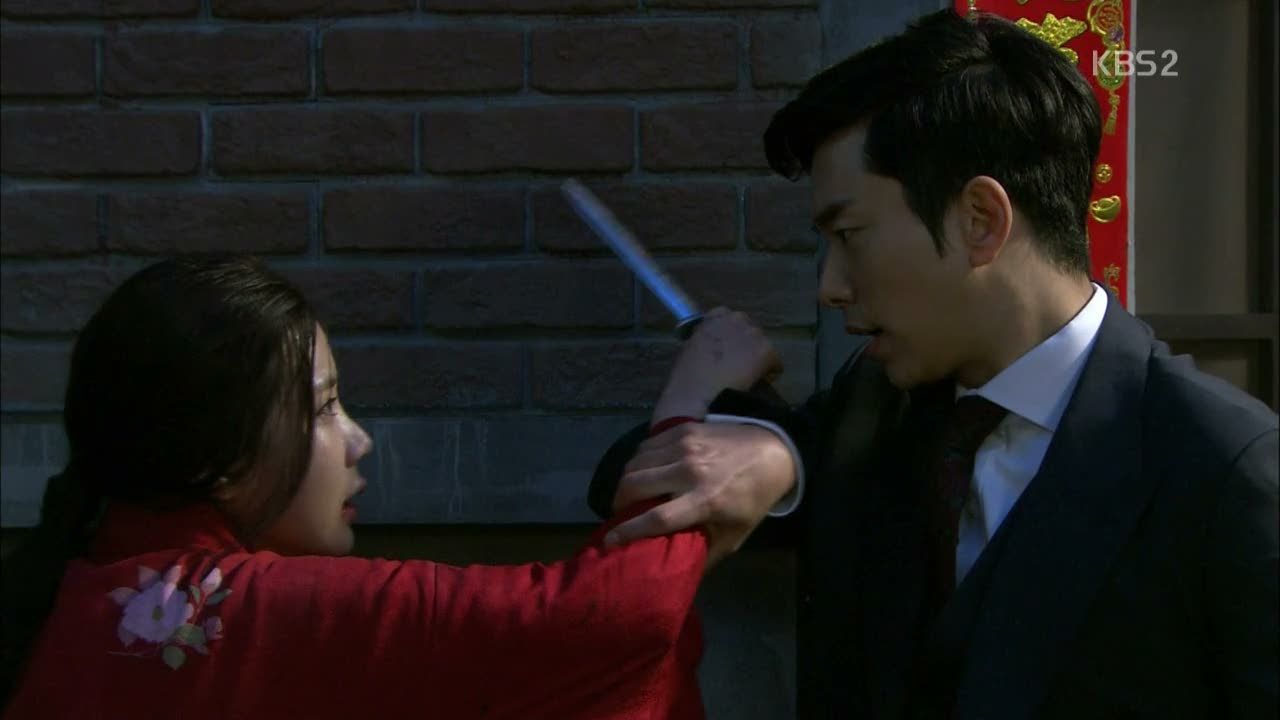 Her grief is cut short when Hwangbang's minions start filling the streets to look for her, and out of reflex, she turns on the man who suddenly grabs her with her sword ready. It's Aoki, but that does nothing to ease her mind as she accuses him of being there to kill her.
"I came to save you!" Aoki all but shouts in order to bring her back to her senses. He promises to take care of Shinichi's body, but for now, they've got to get the hell outta dodge.
Leader Seol is almost sure the masked intruder was Jung-tae, and finds more evidence when Dokku shows Ok-ryun's drawn maps as evidence that she was working to help Jung-tae.
She turns it around and claims that she just drew them for herself—an excuse that no one is buying. Still, she tries to act nonchalant as she confronts Leader Seol over whether she's a hostage or a singer, but Leader Seol is done pretending. He orders Baek-san to find out who the intruder was, and if it does turn out to be Jung-tae, both he and Ok-ryun will be killed.
Denkai pays an unprecedented visit to Leader Seol in an attempt to diffuse the situation caused by Shinichi, in a conversation that morphs from veiled unpleasantries to not-so-veiled ones as each leader has to pull out the dirt they have on the other to form subtle threats.
So when Leader Seol doesn't seem too keen on forgiving and forgetting Shinichi's assassination attempt (instead favoring an all-out war with Ilgookhwe), Denkai offhandedly mentions how he knows that Leader Seol would lose his place in Chilinbang if word got out about him selling opium to support General Chiang Kai-shek's army.
They come to a tentative agreement when Leader Seol agrees to forget the incident only if Denkai sends him Aoki's head, since Aoki has been sniffing around Hwangbang's internal affairs. Denkai agrees, earning Leader Seol's morbid admiration that he'd be so willing to kill his adopted son—and if Leader Seol remembers it correctly, Denkai did the same thing with his daughter twenty years ago.
This mention makes Denkai somewhat uncomfortable, but he sticks to his guns in order to avoid war with Hwangbang. Still, he can't resist adding a jab when Leader Seol mentions his daughter, since apparently Leader Seol's son died at the same time. In the end though, they stick to the agreement: Aoki's head in exchange for Leader Seol's forgetfulness.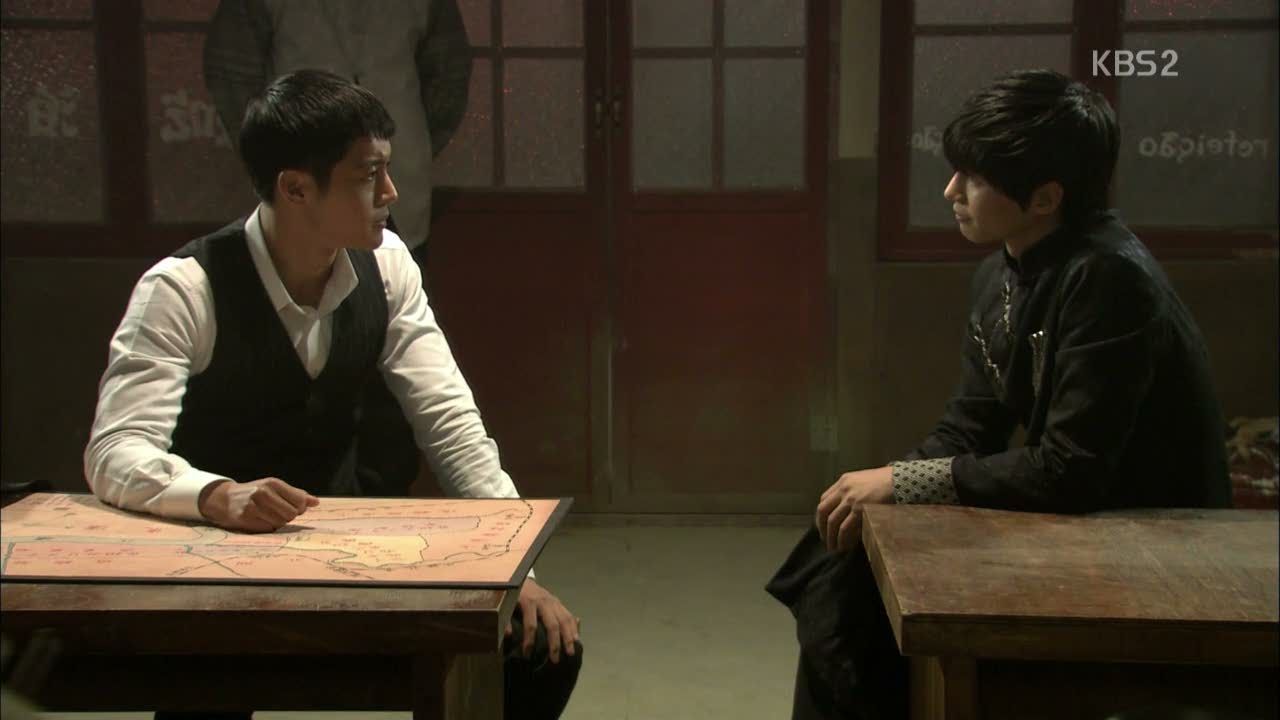 Il-hwa finds Jung-tae poring over a map of Shanghai, and knows his friend is worried about Ok-ryun. His advice is to exchange one of the incriminating documents Jae-hwa left behind for her, but Jung-tae is insistent that those documents only be used for the people of Bangsamtong. He'll save her himself.
Jung-tae draws a parallel between the fight for Bangsamtong and the fight for Joseon/Korea, since Bangsamtong's territory is sandwiched between Hwangbang and Ilgookhwe, much like the way Joseon is stuck between China and Japan.
And even though Joseon was always the invaded country and never the invader, Jung-tae plans on changing that. "We have to attack first in order to survive." Il-hwa asks the obvious—who do they attack first?
Jung-tae's answer surprises him with its impossible odds, since he says that they'll have to attack both simultaneously. He wants Il-hwa's help, and in order to get it, he promises to make the streets safe for the people of Dandong (Il-hwa's hometown).
So-so comes upon the two men as they make their agreement and jokingly asks if they're dating. It's not even fair to tease us like that. (Unless some of us are fanfiction writers, in which case, sharing is caring.)
Via a message that Denkai sent back to Osaka, Aoki becomes aware that his adoptive father is planning to kill and replace him. What he plans to do to stop that is anyone's guess.
Jung-tae and Il-hwa return to Club Shanghai to find their men being arrested by the regional police from the French Concession, who are acting under Hwangbang's orders while Dokku is on-site to carry them out.
He claims that they're justified in searching the club because Chilinbang owns everything, and they've got all the minions shirtless in order to find out who the masked intruder was—since whoever it is will have bruises on their chest from Baek-san's gut punch.
Jung-tae breaks Dokku's hand for trying to force him to disrobe, and tells Baek-san to cut the crap and get to the point instead of bothering his men.
So Baek-san does, and offers his terms: Jung-tae has two days to find a way to ruin Ilgookhwe, or else Ok-ryun will be killed and her severed head put on display for drawing maps of Hwangbang HQ.
Jung-tae's response is that Baek-san won't be safe if anything happens to Ok-ryun, causing Baek-san to scoff that Jung-tae's pretty arrogant for someone who can't even dodge his blows.
Them's fightin' words, so a fight does ensue, with Baek-san using the close contact to rid Jung-tae of his coat before he rips open his shirt, hoping to reveal his signature bruise and prove Jung-tae as the intruder.
But to his and everyone else's surprise, Jung-tae's torso is as chiseled and perfect as ever, without a mark to be found. He promises Baek-san that he'll make a plan to raze Ilgookhwe in the time period given, and makes him release his imprisoned men by threatening to air Jae-hwa's incriminating documents if he doesn't. Way to reveal your hidden card.
Before Baek-san leaves, Jung-tae engages him in a short fist fight and seems to replicate Baek-san's powerful gut punch. "Tell my father," he all but snarls, "that his son, Shin Jung-tae, will pay him back for all I received."
Afterward, Il-hwa's lackey notes that despite the lack of a bruise, he's sure that Jung-tae was hit by Baek-san's signature punch. Il-hwa doesn't doubt it, but also shakes his head in admiration, since the technique of neutralizing or absorbing an opponent's attacks (hwakyung) is something that took him a whole decade to learn, while Jung-tae figured it out himself.
With all of Team Bangsamtong gathered, Jung-tae gives everyone a task: his own lackeys are to look up Ilgookhwe's business dealings, Old Man Fly's lackey is to break into the intelligence office and steal all the documents Aoki collected on Hwangbang and Club Shanghai, Doctor Jung is to run intel on Chilinbang's ties with Ilgookhwe, and Old Man Fly is to find out how many men Ilgookhwe has at their disposal.
While going over his plan of attack with Il-hwa, Jung-tae draws on the Thirty-Six Stratagems to strike both Ilgookhwe and Hwangbang at the same time by employing the "Watch the fires burning across the river" stratagem (letting them exhaust themselves fighting with each other before entering the fight himself) and the "Make a sound in the east, then strike in the west" stratagem (making the enemy believe he'll strike one place just so he can surprise them by striking where they'd least expect it).
To do that, Jung-tae plans to use telephones, which prompts Il-hwa to bribe the Chilinbang Elder responsible for security in order for them to have control of the phone operating station for a day.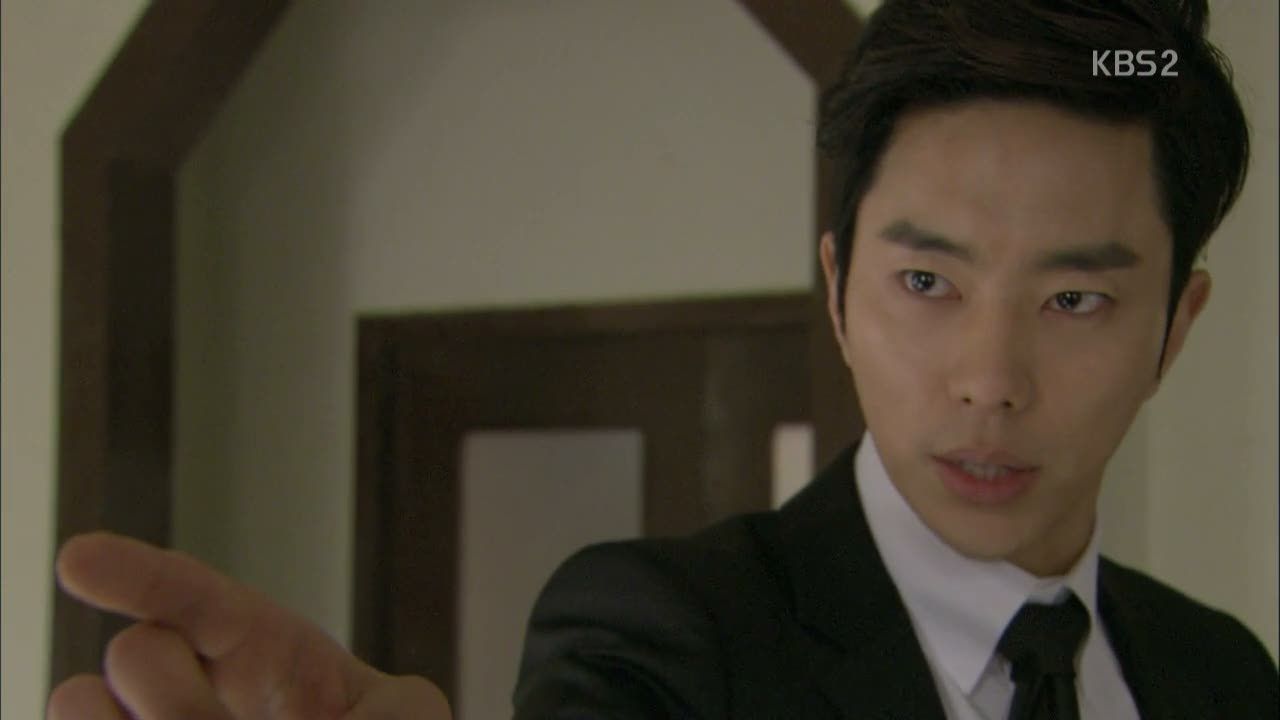 Aoki is justifiably angry when he learns that someone broke in and stole all the documents he had on Hwangbang and Club Shanghai, and sends his man to surveil Leader Seol and Jung-tae in order to find out which of them is responsible.
After Jung-tae finds out just how many men Ilgookhwe has and how long it would take them to coalesce in one place, he goes to Leader Seol with his "plan" to attack Ilgookhwe directly. And in order to do that, he'll need Leader Seol's soldiers.
Baek-san pipes up his dissent, because as usual, he always knows what's really going on and therefore knows that Jung-tae is planning to use Hwangbang's men to do the fighting on his behalf and for his personal benefit, not Hwangbang's.
And as usual, Leader Seol doesn't heed his wise advice when Jung-tae hands over the documents they stole from Aoki as a sign of goodwill, especially since they detail Leader Seol's opium trade.
Convinced(?) that Jung-tae isn't threatening him because he handed the documents over, Leader Seol promises him an astounding three hundred men to attack Ilgookhwe and kill Aoki. Jung-tae plans to start the fight tomorrow, at one of Ilgookhwe's banks.
After he's gone, Leader Seol reveals his plan to use Jung-tae to get rid of Aoki, and then kill him afterward. It's more important to him that all evidence of his opium dealing is destroyed first.
Aoki tells Kaya of Denkai's plans to replace the both of them, and asks her one last time whether she'll join him and fight, or die at her grandfather's hands. The answer seems obvious but Kaya hesitates, perhaps understanding her own mortality now that Shinichi is dead.
She asks for some time to take care of personal matters first, which Aoki grants. He then puts his hands on her shoulders to reinforce the fact that they're together on this, and when it's all over, he'll show her a new world. Eek, when a promise like that is made, we know it's just a death bell tolling.
Il-hwa literally facepalms at So-so's inability to figure out the telephone system while Jung-tae gets a visitor in the form of Kaya, who waits for him in her mother's former room.
Kaya seems desperate as she asks Jung-tae to ally himself with Ilgookhwe, promising to protect all the people of Bangsamtong if he does. Jung-tae isn't obstinate, but he does refuse her offer on the basis that the people of Bangsamtong fled to China to escape the Japanese—the last thing they'd want is a partnership.
"Are you saying that we can only be enemies?" Kaya asks despondently. "Maybe that might be our fate," he replies. "But I don't want that to happen."
With regretful tears in her eyes, Kaya voices her hope that they won't be born as enemies in their next life, or that they be reborn and never know each other.
Jung-tae stops her from leaving with a hand on her arm, and after a charged moment of silence in which he holds back his emotions, he apologizes. "I'm sorry, Kaya. For everything."
She responds by placing a gentle kiss on his lips as her own tears fall. They stay like that for the briefest of moments before she pulls away. "This is the end for you and I," she says. "Thank you, Shin Jung-tae. Now… I think I can wield my sword against you." She leaves him with an envelope.
After a long bout of beating around the bush, Aoki gets as straight of an answer from his adoptive father as he can get, and finally knows for sure that Denkai plans to abandon both him and Kaya.
For whatever reason, Denkai admits this, yet still has the gall to be shocked when Aoki declares his plans to put his dreams into action and create a new Ilgookhwe… which means he has to do away with the old.
He draws his short sword as Denkai desperately calls for Aka to defend him—but Aka now answers to Aoki. Despite having just polished a sword, Denkai is left shocked and defenseless as Aoki stabs him in the gut.
"This is for the many Aoki's who died before me," he says, throwing Denkai's words about replacing him right back at him. Then he stabs him again, saying, "This is for the one who couldn't fight back in the past, for the many Kaya's."
Blood pours from Denkai's mouth as he flails toward Aoki, only to end up sprawled on the floor. He sputters out his venomous rage when he sees Kaya and realizes that all of them have betrayed him.
This goes on until Aoki delivers the final killing blow, and Denkai's cries of anger die with him.
Kaya cries, not because she lost a grandfather, but because he never apologized for making her live without a mother even in his last moments. At the same time, she's not surprised that he couldn't manage to let go of his pride enough to say it.
Aoki thanks Aka for his cooperation even as he's shocked by his own deeds, but Aka is swift to correct his misunderstanding—he didn't do it for him, he did it for Kaya, whom he now serves.
News of Denkai's death reaches Hwangbang, and while Baek-san worries for Leader Seol's safety should he attend the funeral, Leader Seol plans to take Jung-tae and use him as a human shield. (Not another funeral! Anything but that!)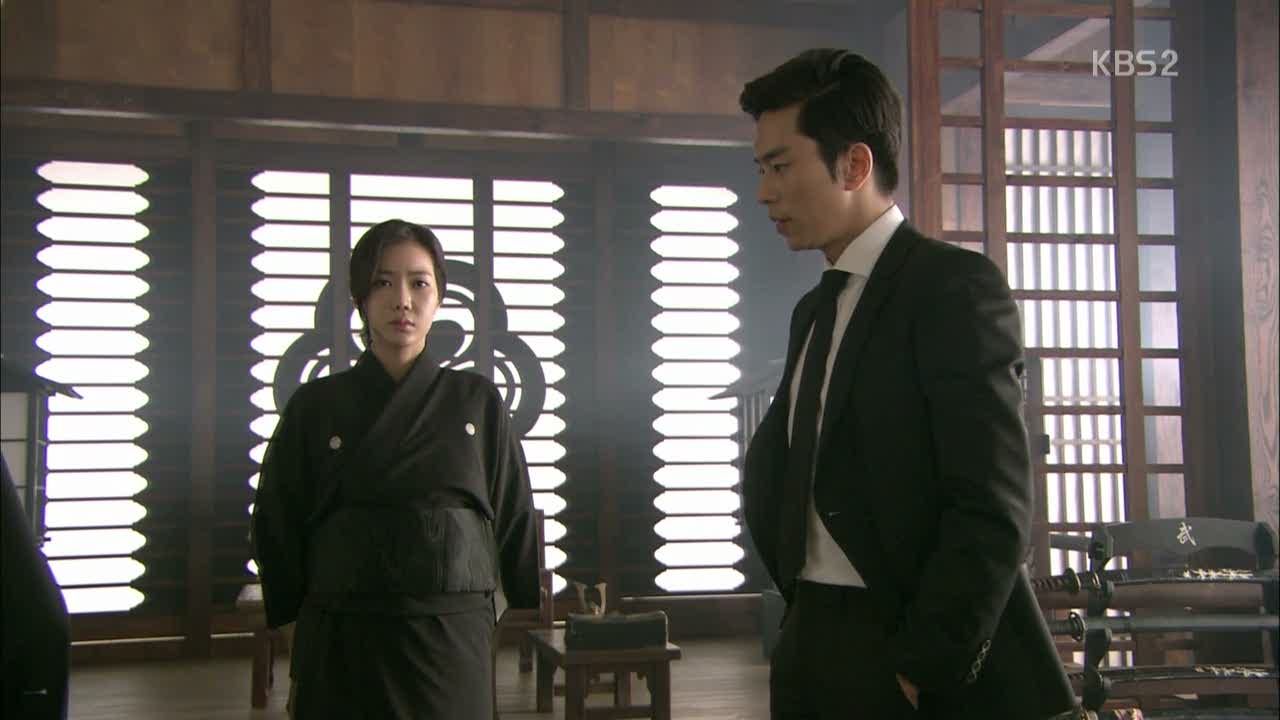 Kaya takes her place as Ilgookhwe's new leader, and takes issue with the fact that Aoki wants her to stay out of the upcoming battle. It's not that he doesn't believe she couldn't kill Jung-tae, but because he does, and knows that killing him herself would only make him linger in her heart longer.
Since Aoki won't have that, he asks her to stay behind. He'll lead the troops in the war for Shanghai.
At the same time, Jung-tae addresses his own men like a general before battle—because that's what they'll be getting into. He tells them that for the first time, the people of Joseon will be the ones to declare war, even though they have to pose as Hwangbang stooges in order to incite Ilgookhwe's wrath.
Then, with Ilgookhwe and Hwangbang fighting because of them, they'll gather their strength to finish off Hwangbang once and for all.
Jung-tae rallies them to victory, and all his men echo back with the same fighting spirit.

COMMENTS
Phew, good riddance to bad rubbish as far as Denkai is (was!) concerned. His was a character who had long worn out his welcome, especially as his motivations started to become as incomprehensible as his rules. We can glean that he wanted power and absolute obedience, but his system of adopting family only to kill them off the second they stopped pleasing him seemed less like something a crazily ambitious man would do and more like what a straight-up crazy man would do—so I'm only surprised that his death didn't happen sooner.
Actually, scratch that—what's more surprising is that his death came at Aoki's hands and not Kaya's, considering that the whole reason she sacrificed her life to Ilgookhwe was so that she could have revenge for her mother's death. Like Kaya discovered, there was little gratification to be found in Denkai's death when he never expressed even a shred of remorse for killing his own daughter. And up until the moment she mentioned her mother, the idea that Denkai's death was the culmination of her revenge had completely escaped me, because Aoki had kind of stolen the spotlight when he declared his reasons for every single stab.
It was a great scene for Aoki and pleasantly intense in general, but somehow still disappointing from Kaya's character perspective. It's not that she even needed to be the one holding the knife, but that the importance of his death, the end to her years of waiting, seemed like such a passing phase. Maybe you could chalk some of that up to Denkai keeping mum about her mother, but it was strange that Kaya chose (off screen) to take a back seat to what was supposed to be her own revenge. And maybe stranger still that up until that moment and beyond, Kaya only seemed to remember the mother she never knew and not the father who raised her, a man who also died because of Denkai. Maybe we're just supposed to pretend he never existed like Chung-ah, even if I can't find a reason to justify Kaya not including him in her thoughts when the man who killed both her parents finally shuffled off this mortal coil.
But the interesting reversal comes in the form of actually rooting for Ilgookhwe, if only because we watched the underdogs of the group take down a tyrant in order to rule anew—and it's just hard not to root for that. Also, I swear there must be a legitimate chemical reaction that takes place when characters silently suffer from unrequited love, because Aoki can and has done some terrible things, yet still isn't a villain. If anything, it's easy to pity him, because he wants what he wants so badly that he would kill for it. And do it all over again if he had to.
So even if Kaya considers herself unlucky in this lifetime in regard to Jung-tae, sometimes a girl's gotta see the forest for the trees. And if that forest is full of manly trees willing to kill and die for you, maybe, just maybe, life isn't so bad after all.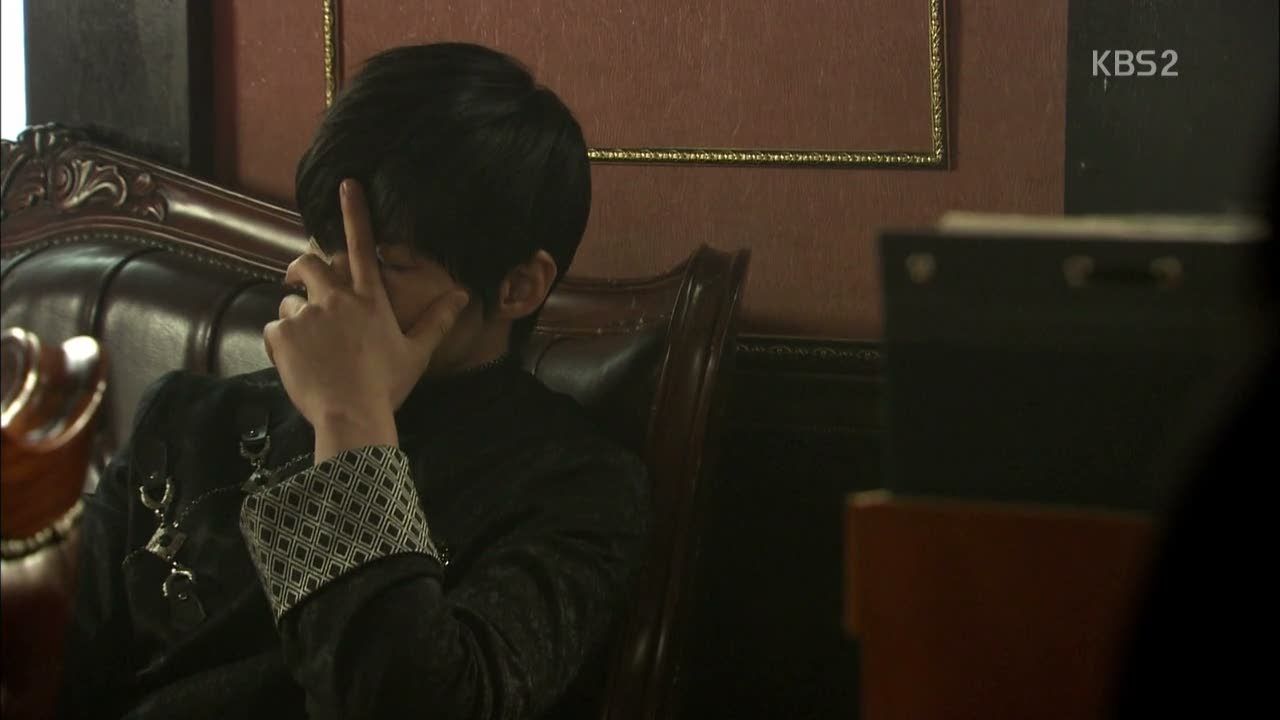 RELATED POSTS
Tags: Age of Feeling, featured, Im Soo-hyang, Jin Se-yeon, Kim Hyun-joong, Kim Jae-wook