Chinese version of Grandpas Over Flowers gets green light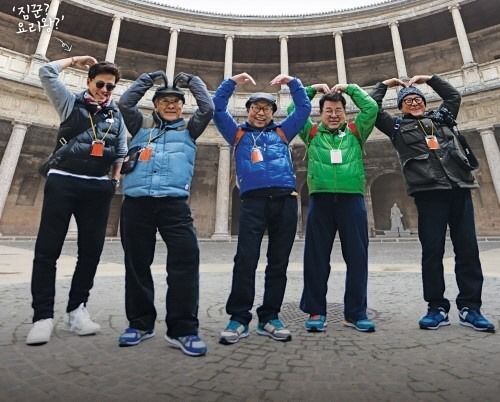 Chinese Grandpas Over Flowers fans, rejoice – tvN's popular entertainment programs (the Grandpas and the Noonas) are being remade for Chinese television. CJ E&M, the huge conglomerate behind cable channel tvN, has entered into a strategic alliance with Dragon TV to bring the hit variety shows, adapted with Chinese stars, to the masses.
Through export, PD Na Young-seok's atypical yet wildly successful programs have built a steadily increasing international fanbase in countries like Taiwan, Hong Kong, and Japan. The Chinese edition is the first time CJ E&M will collaborate with another country to adapt the Grandpa and Noona shows for a local market.
Dragon TV is a subsidiary of one of China's largest multimedia companies, Shanghai Media Group. With a reach of over ten million viewers, the entertainment channel is gaining traction with audiences, having triumphantly remade other top international reality shows Britain's Got Talent, American Idol, and Master Chef.
Under the alliance, Na PD and the production crew will hold a workshop with the Chinese team to lend their production tips and general knowledge. Lee Duk-jae, managing director of tvN, said, "Through this strategic partnership, we hope to bring Korea's No.1 entertainment programs, Grandpas Over Flowers and Noonas Over Flowers, to the Chinese market, but tuned to local tastes. We expect that this practical collaboration will lead to other crossover hits in the form of dramas and a continued relationship in jointly developed television content."
I'm giggling at the thought of a second batch of Asian stars in their twilight years being thrown into the towns of unsuspecting Europeans (or wherever they decide to shoot), production crews in tow. Will locals know what hit them, having experienced or heard of the Korean version, or will they wonder about the small group of Chinese celebrities who have suddenly landed in their midst, constantly being followed and taped? Will they be prepared for the subsequent influx of Asian tourists wanting to visit the places featured on the shows? Oh Na PD, what you alone have done for international tourism!
Via Sports Hankook
RELATED POSTS