Full Sun: Episode 10
Secrets can never remain hidden forever–a harsh yet inevitable reality our hero must face when his own is made known to the one person he hoped to protect it from. But then again, you can't really keep your day job as a con man hidden from the woman you love, especially when that's just the tip of the iceberg.
An unexpected twist in the one last job forces Kang-jae to choose between ambition and loyalty, and the dilemma alone threatens to bring him to his breaking point. Will he step down from the ledge or start down the slippery slope to greed and ruin?
Speaking of slopes, the ratings: Full Sun saw a slight bump up this week with 3.0% and 3.5%, respectively.
SONG OF THE DAY
Lyn feat. Yong Jun-hyung – "유리 심장 (Glass Heart)" [ Download ]
Audio clip: Adobe Flash Player (version 9 or above) is required to play this audio clip. Download the latest version here. You also need to have JavaScript enabled in your browser.
EPISODE 10 RECAP
At the revelation that she'd been fooled by a bunch of swindlers led by the man she'd trusted most, Young-won walks away, leaving Jae-in and Se-ro to carry on their conversation uninterrupted.
Se-ro points out that the scammers got the money they wanted, so what more do they want from him? His vengeful feelings have changed, and he declines to answer whether he truly loves Young-won.
Hurt, Jae-in decides that she'll have to tell Young-won the truth—that Se-ro is the very man she despises so much. "I'll make you stop, and you'll thank me later."
But Se-ro's voice darkens at those words—he won't ever see Jae-in again if she does. Jae-in was the one who threatened him first using his name, and he doesn't believe that this is all for his benefit. "Don't press upon my vengeance," he warns her.
Se-ro comes looking for Kang-jae on the grounds that he promised not to mess with Young-won anymore. Kang-jae angrily turns him away, saying that the con artists owe a great debt to President Shin and Se-ro can go and tell Young-won not to fall prey to their scam again for all he cares.
As for Young-won, she returns to Se-ro's office, where she finally lets the full shock hit her. She calls Se-ro, but can't bring herself to say anything.
The next day, Young-joon reports to his father that noona is well and Se-ro has left Belle la Fair. Daddy Han pretends not to care, but is all, How's that president spot you stole from your sister working out for ya?
Needless to say that Daddy Han doesn't believe Young-joon earned his place either, and is offended that his son would ask for the company seal (i.e., a marker that would authorize Young-joon to sign off on all company decisions. Moreover, having it would also signify his father's acknowledgment in him as president).
It appears that Young-joon has taken noona up on her offer, and is inclined to believe in her judgment to trust FL Gemstones. He didn't find anything particularly amiss either, but Young-joon is clearly hurt when his father makes him out to be the bad guy for allying with his sister.
Daddy Han berates his son for his short-sightedness, convinced that the con artists are out for more than just Belle la Fair. He immediately arranges an urgent meeting with Kang-jae, who then relays the message to President Shin.
Young-won drops by Se-ro's place with the packed banchan from Grandma. As they eat (and Se-ro sweetly places food in her bowl), Young-won asks if people usually consider him a good person. That's how she saw him, as someone who comforted her and helped her in her most difficult times, "So that's why I trusted you," she finishes pointedly.
Her eyes remain fixed on him as she says Se-ro should consider himself lucky since he was the first person she opened up to in five years. It's like she's reading him for a reaction as she brings up the contract with FL Gemstones (he tenses), and can't help balling her fist while saying how she wanted to carve her own path.
But then she had a strange thought last night, wondering if she's the only one getting hurt, if she's been a fool. Se-ro thinks she's talking about work and replies that she's kindhearted, but Young-won interrupts, "That's why it must been been easy, and I was an easy target. Because I'm easily fooled."
Se-ro doesn't understand where all of this is coming from, only being able to gather that something's off. His genuine concern and words of encouragement causes Young-won to waver, and she abruptly takes her leave.
Se-ro chases after her, but is two steps too late. He calls up Manager Min, to whom he asks that she keep an eye on Young-won for him.
Speaking of, Young-won's world is about to come crashing down at her feet. An incoming fax contradicts Se-ro's credentials and she realizes that all the past coincidences and evidence points to one final conclusion: "I don't believe it… Lee Eun-soo is Jung Se-ro?!"
I have to admit that I'm relieved Young-won put the pieces together herself (though, it wasn't all that difficult). Stuffing the fax into a pile, she tells Young-joon that he was right—that FL Gemstones is a sham and they've been played for fools.
Daddy meets with Kang-jae in his office and doesn't hide his distrust in Kang-jae. He gives Kang-ja two options: either hand over the investment money, or don't and work for him to bring up Belle la Fair's worth.
At the question of whether Daddy Han intends to do away with Belle la Fair afterwards, he answers that he should profit from the money Kang-jae stole from him. Are you trying to protect the company for your daughter's sake or out to reap the benefits from this scam?
Even though Daddy Han doesn't have solid evidence to incriminate Kang-jae, he can still hurt him. Kang-jae replies that he isn't a con artist, but if he were one, Belle la Fair would be losing money right now. Daddy Han tenses at that answer.
They're interrupted by the arrival of FL Gemstones' president. Cue President Shin Pil-do.
Manager Min makes a panicked call to Se-ro, asking if it's true that FL Gemstones conned the company. Se-ro asks if Young-won mentioned anything else, but if she did, we don't get to hear what it is.
Se-ro rushes to Belle la Fair and tells Hong that Young-won knows that she's been conned. It's when he discovers the fax in the studio does Young-won's odd behavior make sense to him.
Young-won goes to see Grandma and asks if the man she came here with last time is her grandson Se-ro (the real one). Grandma hedges, and Young-won says that she didn't fake any of their interactions. In fact, she made an effort not to be bitter towards the old woman.
Grandma knows it, and Young-won asks her to answer truthfully: Does she know him?
At the same time, Se-ro visits Woo-jin ashes and speaks to him in voiceover: "Has Young-won not come to see you? I think Young-won knows everything. What should I do? Should I come clean with everything and end it all today?"
"I'm going to clear my name," Se-ro vows. "Because I'm alive. Because I still have many days to live."
Tears stream down his cheek as he wonders, "But is that day today? When she finds out that I'm a con man, that I'm Jung Se-ro? If she finds out what her father did, will Han Young-won be able to survive?"
Grandma sticks to her denial that the young man isn't her Se-ro, grimacing that it's her one wish to see her grandson again. Crying that she'd rather have Young-won hate her instead, Grandma says it isn't him.
Scammers HQ is in a tizzy now that Belle la Fair is aware that they've been scammed. Jae-in asks if they still have Woo-jin's email, determined to use it to rattle Young-won's nerves to buy some time. Ignoring Hong's protests, she makes the call anyway.
There's definitely more to President Shin than our brief meetings, seeing as the man is highly amused at how he fooled Kang-jae and his team to aid his own scheme against Daddy Han. This is a chance for Kang-jae to end his conning days by bringing down an empire for himself, so why is he getting so worked up?
We jump back to their earlier meeting with Daddy Han for more clues, as we see that President Shin presented the chairman with a proposal: he will buy out Belle la Fair and raise its worth, and all Daddy Han has to do is sit back and collect the stock profits from that sale, then in turn buy out FL Gemstones.
Although this deal looks legal on paper, in reality President Shin will steal those stocks from under Daddy Han's nose. Maybe I missed the part that explains what beef President Shin has with the chairman, but we know that a job that involves stock manipulation is something Kang-jae wasn't prepared for.
In the present, President Shin growls that it's about time Kang-jae made a decent and comfortable life for himself with his own company and family to care for.
This is what a real scam looks like, President Shin taunts him. Kang-jae grows more uneasy with each passing second until he finally rises from his chair, saying that he'll be in touch.
Se-ro receives a text from Young-won inviting him to join her in her meeting with Jae-in. In her words: "I think it'll be fun." Geez.
Se-ro immediately calls Jae-in for answers and grows upset that she intends to show Young-won the email in person. This is her way of tying up loose ends before they're in too deep, Jae-in explains. Ignoring Se-ro's protests to wait until he gets there, she hangs up when Young-won walks in.
The air is tense between the two women, who each have their own agenda. Young-won asks why they came after Bella la Fair and her specifically, and then asks Jae-in what kind of person Lee Eun-soo is. Jae-in: "A kind and warmhearted person."
Young-won scoffs at that answer, and then asks if she recognizes the name Jung Se-ro. But before Jae-in can answer, Kang-jae walks in to collect her, and Young-won notes how they aren't even trying to keep the ruse in front of her anymore.
Rising from her chair, Young-won demands an answer from Jae-in—does she know who Jung Se-ro is? After sending one sharp look at Kang-jae, Jae-in lies that she doesn't. And then who should join this party moments later but Se-ro himself.
Young-won points out that Se-ro should greet his fellow swindlers, "Or should I call you comrades?" Ooh, burn. But Se-ro drags Young-won out with him.
All pretenses dropped now, Se-ro and Young-won speak to each other plainly (and in banmal, to boot. I love how the drop from jondaemal to banmal can speak volumes about the change in one's relationship), and in a soft voice, she asks, "Who are you?"
Se-ro must have thought ahead to what he might say if she ever found out the truth, Young-won muses. Oh, now you're giving too much credit for the guy who goes where the wind blows.
She invites him to put on an act to persuade her, but Se-ro replies that there's no point in that now.
Jae-in asks Kang-jae if he was tipped off by Se-ro, to which Kang-jae flatly denies because they have bigger things to worry about. This job isn't quite done yet, he tells her, but doesn't elaborate any further for now.
Se-ro takes the brunt of Young-won's pent-up bitterness back in the car. He gives truthful answers to her accusatory questions: no, he didn't enjoy seeing her crumble or waver, and no, things didn't go according to his plans.
He swallows back his building tears as she asks if her feelings for him were obvious to him; if he was amused by her gratitude or apologies. She has more questions now than before, and all Se-ro can say is that he's sorry.
Young-won admits that brief breakfast with him after she found out the truth was utter torture for her. Lying is part of his job description, and she acknowledges that he's a master at it before getting out of the car.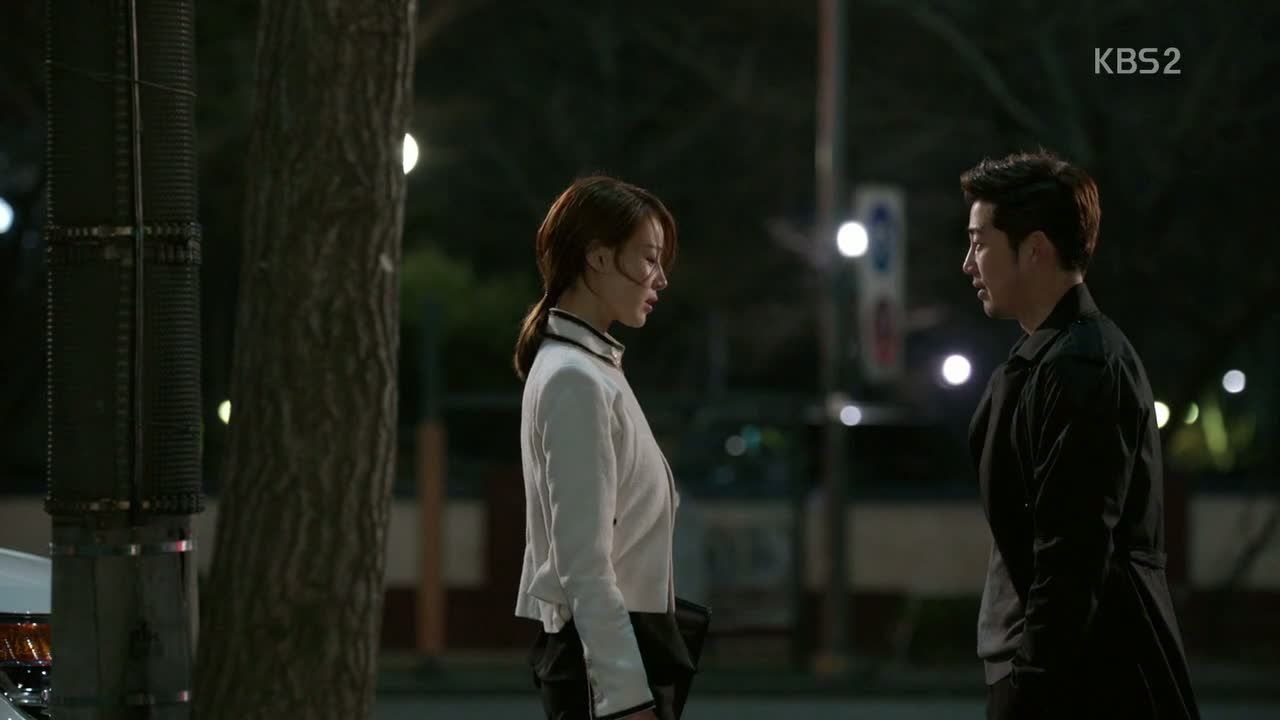 When Se-ro stands in her way, Young-won says her world turned upside down when she entertained the thought that he might be Se-ro (the real one). She's astounded when he literally laughs at the idea.
And though Young-won screams that she even went to Grandma's to snuff out and justify the ridiculous assumption, it's Se-ro's bottled emotions that grab my attention in this exchange. We can see the pain written on his face, almost desperate that they were in any other situation than this one… and he asks if she's foolishly hoping to tell the truth now.
Young-won slaps him across the face for that remark, but Se-ro continues to lie to her, saying that he'd prefer her to keep being deceived. "This is me," he says in a shaky voice.
With that, Young-won walks away and into oncoming traffic. Se-ro rushes into the road to stop her… and then stands there, unable to look at her. You know, normally people pull others away from danger in dramaland.
Se-ro receives a package from Young-won the next day containing his old whistle and a warning note stating that she has enough evidence against him, though, not enough to drag the rest of his team down.
Se-ro is called over to HQ by Jae-in, and he arrives just in time to hear the others voice their opposition in the idea of getting involved with Daddy Han. Going after stocks is a complicated, messy affair and the team would rather stop now than take the risk.
Kang-jae has a chat with Se-ro up on the rooftop, and the former claims that he would never let his personal feelings rule such important business and life decisions.
Se-ro pleads with him to stop, no matter what his reason is, and Kang-jae asks if Se-ro wants in on the job. Se-ro grabs him and says he can't stand by to see Daddy Han get rich off of the scam he built. Kang-jae yells back, "You're the one who walked away from the job!"
Se-ro admits that he was too short-sighted to see how his own revenge would hurt others. If he's the reason why they're in this mess and why Kang-jae is saying such absurd things now, then he's truly sorry.
"I'm really sorry if it was wrong of me to be vengeful! If my addiction to revenge was the reason why, I'm really sorry for that, too!" But using Daddy Han isn't the solution to this, Se-ro cries.
Kang-jae acknowledges that change doesn't happen overnight, but Se-ro counters that it's a slippery slope and Kang-jae will end up just as vile as Daddy Han. Kang-jae: "I don't think that's such a bad idea." Oh no, Kang-jae.
Right then, Jae-in chimes in to say that she won't ever see Kang-jae again if he proceeds with this plan. Kang-jae pushes past them and Jae-in follows after him.
Once they're alone, Kang-jae pitifully admits that he wouldn't have crossed this line if she hadn't called Se-ro over like this. He reminds her of how he wanted that one last job to end this lifestyle. If Jae-in doesn't like this idea, then she's free to walk away now.
Young-joon overhears Secretary Ahn telling his mother about the insider trading scam, which he fears will end with FL Gemstones taking over Belle la Fair. Young-joon relays that news to his sister, whom he has to stop from storming out, arguing that their rage won't change their father's mind.
Still, Young-won is determined to do something, anything to stop Daddy Han from handing Belle la Fair over.
President Shin and Kang-jae sit down with Daddy Han, and the three men are caught completely unawares when Se-ro crashes their party. President Shin recognizes Se-ro (as Lee Eun-soo, I mean. I know, it's confusing) as the one working with Kang-jae, which gives Daddy Han verifiable proof that they're both swindlers.
Se-ro's very presence is enough for Daddy Han to step away from this meeting, much to President Shin's irritation. Daddy Han runs into Young-won outside and relays that he just saw Se-ro.
He asks how much she knows, but that's when President Shin & Co. come filing out of the restaurant past them.
Se-ro explains to an irate Kang-jae that he came to bring Kang-jae hyung home. But Kang-jae bites back at Se-ro not to get in his way because there's no use for them to fight each other, too. And like a lost little dongsaeng, Se-ro asks pitifully, "Is that how you truly feel?"
Young-won demands to know what her father plans to do with those con artists. Se-ro overhears that statement and runs after Kang-jae. He bellows, "Hyung, let's stop this now!"

COMMENTS
Whoa, what an intense hour. The truth (or at least parts of it) was bound to rear its ugly head sooner or later, and we saw that Young-won took two steps forward and one step back in the process to find out who Se-ro truly is. On the one hand, I like that she was the one who entertained the frightening conclusion that the man she loves is in fact, the one she should despise the most, along with the fact that he was trying to take her company and money from under her feet.
I like that Se-ro doesn't sidestep this issue at all, and acts the part of a noble idiot to a certain degree by letting her believe that Lee Eun-soo is a horrible person (which is true), because that is still better than Young-won finding out the more terrible truth of what Daddy Han did to her. Young-won is understandably and rightfully angry and hurt by his previous words and actions, but at the same time, Se-ro can't bring himself to tell her that his caring feelings for her were genuine. Those intentions become blurred when you're juggling two different identities, and then desperately trying to protect her from both of them.
But the main focus of this hour is Kang-jae, whom I worry for the most as we press forward. I love how he's been developed as such a layered character, and at the end of the day, a tragic one. We've seen him struggle with his moral conscience time and time again in this series, his judgment clouded by his deep-seeded bitterness. It's utterly sad to see him so convinced that this one last job will be his ticket to finally lead a decent life after spending decades as a con man. Then it's even sadder to see him stick to his vow that if he was forced to choose between a reward and Se-ro, it would be the money.
It's a slippery slope for Kang-jae from this point on, and I suppose we can thank our lucky stars that Se-ro put a stop on his first taste of dealing with dirty money by barging in on that meeting. He's being told to simply step away, not to let greed consume him (which is kind of ironic coming from a team of con artists. At least we know they know where to draw the line in conducting illegal activities?), and then we were witnesses to the moment when Kang-jae admitted that that didn't seem like a bad idea. Who knew that the man who once said to forgive one's enemies would be the one to strike a deal with the devil himself?
RELATED POSTS
Tags: featured, Full Sun, Han Ji-hye, Jo Jin-woong, Kim Yuri, Song Jong-ho, Yoon Kye-sang