Full Sun: Episode 7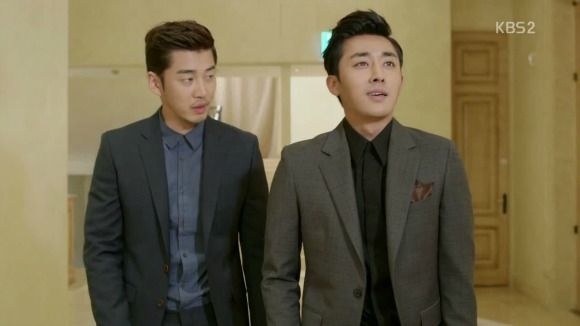 They say it's always the quiet ones you gotta watch out for, which is definitely the case in this episode. Our resident con artists are thrown for a loop when they realize that the meek puppet is actually tougher and more cunning than he looks. It's surprising how much a taste of power can change people, though it does little to erase the permanent smug expression on little bro's face—that's just arrogance from an insolent young tyrant.
There's good news and bad news: the bad news is that the ratings don't seem to be improving for Full Sun, bringing the show to a new low of 2.6%. Ouch. The good news is that… well, is there room for good news in a melodrama?
Note: A heads-up that due to some real-world traveling, the recap for Episode 8 will be up later than usual. Thanks for your patience, you baker's dozen of Full Sun readers!
SONG OF THE DAY
Lee Ji-young – "거짓말 (Lies)" from the OST [ Download ]
Audio clip: Adobe Flash Player (version 9 or above) is required to play this audio clip. Download the latest version here. You also need to have JavaScript enabled in your browser.
EPISODE 7 RECAP
Upon hearing that Young-won knew she was getting fired today, Se-ro grabs her wrist and holds on tightly when she tries to wring her hand out of his. He growls at her to use her words instead of fighting silently: to say that she's angry; that she's having a hard time; that he has no right to try and comfort her.
But Young-won blames herself for everything that's happened, and now she has neither the right nor power to do anything about it. She would beg for the ability to turn back time to five years ago, but neither of them can do that, can they?
With that, Young-won wrenches out of his hold and the tennis bracelet falls to the sand. She picks it up and takes her leave.
In the car, Se-ro is informed about the board's decision to induct Young-joon as the new Belle la Fair president. At the news that Young-won is about to be forwarded the threatening email from Daddy Han, Se-ro tells Jae-in not to send it, but it's already too late.
So he races to catch up to the bus taking Young-won back to Seoul, honking at the driver to pull over. He drags her off the bus and is relieved to hear that she knows nothing, then proceeds to delete the email from her phone before she can see.
He lets her believe that she received a confirmation message about her dismissal, and Young-won tells him that he needn't pity her because she's still financially well-off regardless. He acknowledges that, but asks, "Still, why do you look like you have nothing in my eyes?"
When Young-won asks why he's so concerned about her welfare, Se-ro doesn't have much of an answer. It's a silent ride back to Seoul and Se-ro drops her off at home, though he suggests she could sleep elsewhere tonight.
But Young-won puts on a brave face, saying that she would need to return home sooner or later. She has to dismiss a few times when he lingers and watches him drive off. Then instead of facing her enemies by stepping through those doors, Young-won walks away.
Back at HQ, Jae-in confronts Se-ro about why he decided against sending the email to Young-won, especially when it would cause her great pain just like he originally wanted. She doesn't believe his excuse that it wasn't time or his concern that reopening the murder case might endanger her or Kang-jae.
She's been a swindler for over a decade now, Jae-in presses, and it's apparent that Se-ro was acting out of concern for Young-won today. Se-ro dismisses those claims a bit unconvincingly and abruptly drops the matter.
Young-won returns to the workplace, and tears well up in her eyes as she recalls happier memories: imagining her younger self running to her mother's waiting arms, Woo-jin still working at his old desk late at night, herself laboring over making jewelry in the studio.
Daddy Han returns to Korea from his business trip overseas, and needless to say he is angry. Seeing the Taekang CEO in such a rage makes businessman Shin Pil-do, who took the same flight, happy as a clam.
Madam Baek is already waiting for her husband at home, and I suppose she earns a few points for owning up to her actions instead of dancing around them. She rolls her eyes when Daddy Han explains that he cherishes his daughter because she's the only one who isn't greedy in a sea of power-hungry sharks.
She points out that also makes Young-won incredibly easy for him to manipulate for his own gain. Moreover, Madam Baek is well-aware that he's responsible for Woo-jin's death—would Young-won be able to forgive her father if she knew?
However, Daddy Han stands his ground, belittling her for using a low-blow like Woo-jin's death to maneuver her own power play. Madam Baek's voice is borderline hysterical now as she cries that she would have made off with her husband's wealth a long time ago if she wanted to.
She's actually hurt at her husband's threat to have her thrown out and compensated generously. Did he think that he could buy her off like that? She's ready to see this fight to the end, on the condition that Young-joon be allowed to run the company.
Daddy Han wonders if this is all just her attempt to attract attention, but she whips back to say that she had once hoped that they'd truly be happy together. And from Daddy Han's expression, it looks like he did too.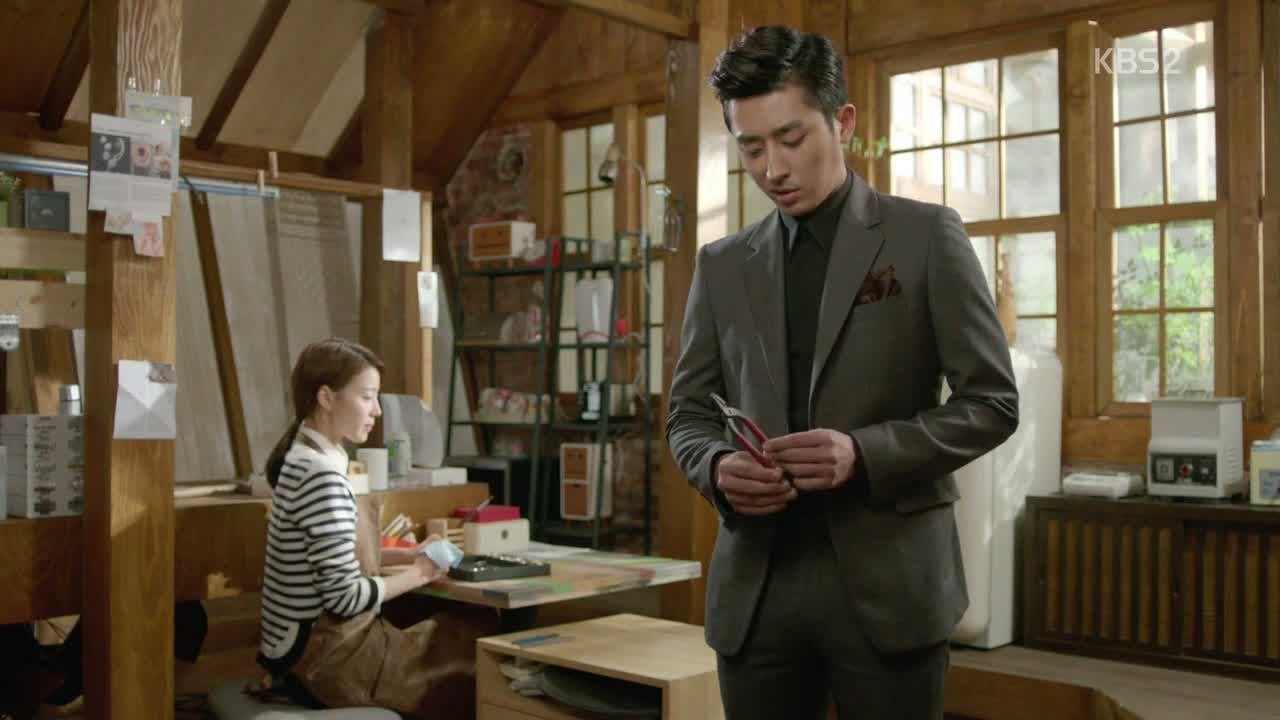 Manager Min lets out a relieved sigh to find Young-won in her studio and barely finishes her sentence that little bro has started work when Young-joon appears behind her. He initially appears to be genuinely sorry towards noona for this turn of events, but when she asks to keep her studio and stay on as a designer, he shoots down the idea.
His reason is that he understands the suffocating feeling of being overshadowed better than anyone, and he's uncomfortable with his older sister working for him. And though Young-joon tries his best to act with bravado, he admits that he had a drink before work to calm his first-day nerves.
Young-joon also notes that Se-ro seems to oddly trust FL Gemstones a great deal, and wears a smug expression during their meeting with Kang-jae and Jae-in. He's about to sign off on their renewed contract before lifting his pen, his suspicions raised.
It's hard to tell whether Young-joon is drunk with newfound power or if the arrogance is just an act and he has a keener business sense than his sister. For now, it seems to be a mix of both because he'd like to look into FL Gemstones some more, a move Kang-jae accepts graciously.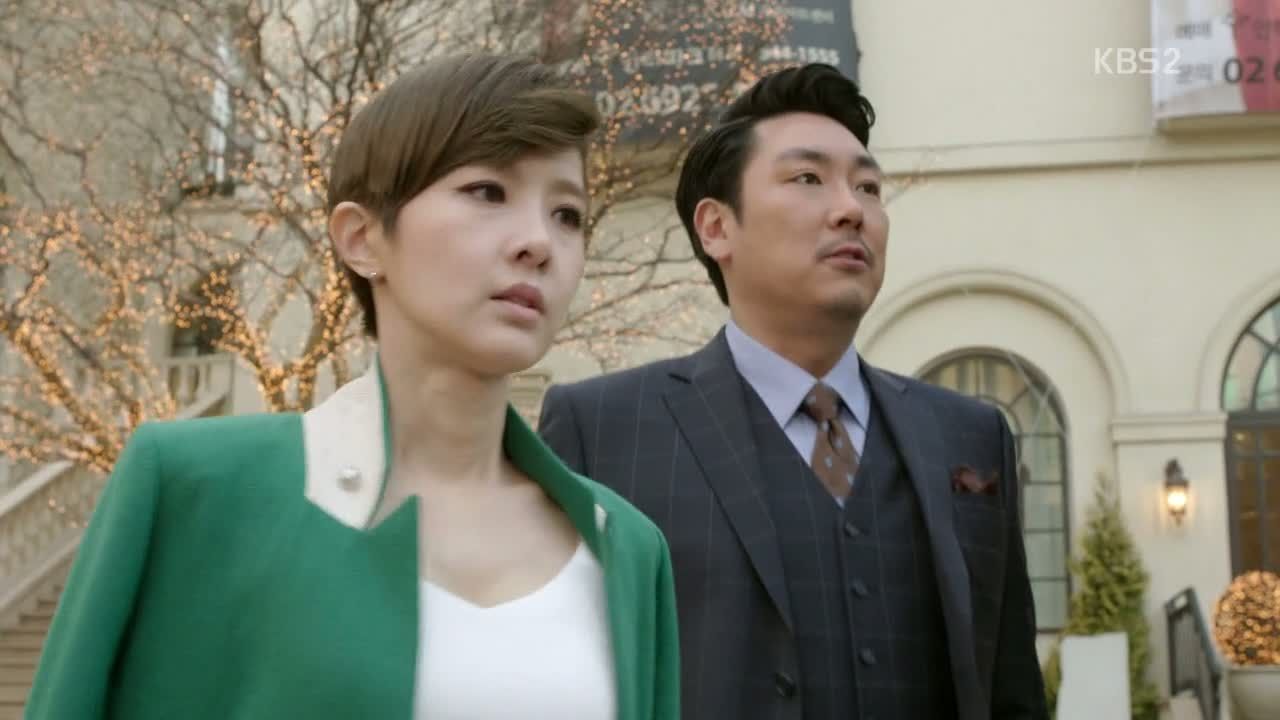 However, Jae-in is annoyed by how the little tyrant is acting like a bigshot from the start, and Kang-jae calms her down before climbing into the car. Little do they know that they've been photographed and have picked up a tail.
Young-joon's behavior weighs on Se-ro's mind as well and he instructs Hong to look into it. That's when they're interrupted by Young-won who's come to say goodbye, and Se-ro keeps his professional face on and politely turns her away, closing the door behind her.
Young-won finally comes home that evening and Madam Baek asks why she was absent from the board's meeting. Aha, so it was Madam Baek who had told her stepdaughter about it beforehand.
To that, Young-won replies that she wasn't going to give her stepmother the satisfaction of witnessing the very moment of her downfall. Madam Baek doesn't blink an eyelash for pulling a cowardly move while Daddy Han was away, and simply says she's lined up a few seons (arranged blind dates with the intention of marriage) for Young-won.
Young-won counters that she's better off chasing her out of this house. She spends the rest of her evening fixing her tennis bracelet, holding back tears while recalling Se-ro's words to use her words to express herself.
At Scammers HQ, Hama is super excited to be involved in their next task. Or so he thinks because Kang-jae has to break the news that he won't be joining them, and Hama runs off crying. Aw poor guy—doing all the grunt work for no credit.
Kang-jae approaches President Shin Pil-do for investment money, which the businessman agrees to give if Kang-jae does something for him in return. All we know is that it has something to do with Daddy Han's money laundering activities, and Third Wheel Lackey loudly declares that Young-joon is a tougher opponent than his father, who was easily threatened.
Speaking about illegal activities out in the open is the only surefire way news gets across in dramaland, and the mysterious photographer relays the info back to Young-joon.
Meanwhile, Se-ro suggests that Kang-jae and Jae-in steer clear of the company for the time being. He believes that Young-joon doesn't suspect him yet, but Jae-in doesn't like the idea that they won't be able to see Se-ro for a while.
Staying close to Young-joon will keep Se-ro in Young-won's orbit, and Se-ro says he's already taken his hands off messing with Young-won. Maybe they should have targeted Young-won instead if she's so easily fooled, Jae-in remarks.
Se-ro confronts Jae-in's passive-aggressive comments by asking what it is she really wants to say, and Jae-in says that she'll tell him later.
Kang-jae follows Se-ro outside (calling him Lee Eun-soo, since they need to be careful after all) to confirm whether Se-ro has closed the door on Young-won. Oh, did you pick up on his possible feelings, too?
Se-ro assures him that he has, but unbeknownst to them, their brief conversation is captured by Young-joon's spy.
Jae-in isn't so convinced about Se-ro's supposed non-feelings towards Young-won however, scoffing that Se-ro could be acting out of pity. She defends that her own jealous reaction is a sign that something is definitely wrong in their plans. Kang-jae says he doesn't want to see her get worked up because of "some other guy," meaning Se-ro.
The air suddenly turns awkward at that statement, and Kang-jae is first to break the silence, declaring that he and Jae-in will live together one day. He says she's free to live however she likes just as long as she comes back to him, because they'll eventually end up together anyway.
We tune into the World's Most Awkward Family Dinner later that evening, as Daddy Han calmly warns his son that the FL Gemstones company is a sham. Young-joon surprises his entire family with the confirmation that he already knew and that he's busy looking for evidence to prove those claims.
He admits that he found out belatedly, and when his father says there's no reason that he should be running the company then, Young-joon adds that noona was nearly fooled by the con artists. He then further embarrasses her by mentioning that Young-won wanted to continue working under him.
Daddy Han cuts Young-won off before she has a chance to explain herself, and Young-won throws one more barb at little bro before heading out to ready his new place.
The employees are busy doing that as she speaks, and Hong crashes the party to set down a lamp. It's bugged, isn't it? It is, and Hong darts out of there before raising any more suspicion.
Hong briefly runs into Young-won before returning to Se-ro's office, feeling sorry towards Young-won because she looks so defeated. I love his hilarious tiny flub that he can't fall in love with the enemy's daughter, and Se-ro pretends not to care as they listen in to test the microphone's signal.
Manager Min hails Young-won down just as she's leaving and relays the news that Grandma has moved out of her place. Grandma didn't say where she was going, but wanted to say how grateful she was towards Young-won, and both women worry where she might have gone in the cold.
Young-won runs into her father in the parking garage and asks him to return Grandma's house back to her, saying that she read the threatening note her father left and that she took the old woman in.
At that same moment, Se-ro sees them at a distance and hides behind the wall. He overhears Young-won declare that Grandma is innocent and that driving a poor, weak elderly woman out to the streets makes her no different than the man she despises so much.
There's no one else in this world who wants to see Jung Se-ro dead as much as she does, Young-won hollers. She's doing her best to grit her teeth and hold back, and maybe even forgive him one day. How could her father intervene with her plans and shake her resolve?
"Forgive him?" Daddy Han repeats softly, astounded. He points out that the only reason why Young-won can live so comfortably and even harbor those ridiculous thoughts is because of his own dirty work, so she has no right to criticize him. If she goes back to that house or to his workplace again, he'll prove to his own daughter just how treacherous he can be.
Young-won demands that her father return that house first and Daddy Han concedes to let his daughter throw anything she can back at him. Putting up a fight with his own daughter is a pill Daddy Han doesn't to swallow, but one he's willing to face if he must.
Young-won is still reeling when Se-ro approaches and she has him drive. She asks if he doesn't want to accompany her to Grandma's house. Se-ro asks why she feels compelled to do anything for Grandma when she hates her grandson so much, and Young-won tearfully confesses that she doesn't know.
Perhaps Young-won is just in need of a distraction at the moment, so Se-ro humors her and helps her compile a list of things Grandma will need before she can move back in. His list becomes more specific as he goes on, naming particular things that his grandmother likes.
Young-won notices his tears, and Se-ro says it reminds him of his own grandmother. He accompanies Young-won as she shops around, and there's a moment when we see Se-ro take a moment to admire her as if seeing her in a new light.
Young-won is a much better mood as they make the trek up to Grandma's place, cheerily recalling how they crossed paths here once before. She invites him inside, assuring him that the place is empty, but now I'm nervous that Grandma will be at home and recognize her grandson.
Se-ro has bigger things to worry about because his appearance is immediately reported to Daddy Han. Young-won and Se-ro are completely oblivious to this fact as they work to fix up the house, and she asks whether Se-ro wants to have a son or a daughter when he settles down later.
When he answers that he won't have kids, she brightly says that he looks like he could be a dad right now, then starts humming the same tune Grandma used to sing. Immediately recognizing the song, Se-ro stops working and listens, tears pooling in his eyes.
A sound alerts them to the door and Se-ro turns away just as Grandma steps inside. And then he slowly turns his face towards her and Grandma gasps in shock. It's utterly heartbreaking as Se-ro tries to crack a smile and silently signal to his grandmother to keep quiet.
To his relief, Grandma is as sharp as ever and feigns recognition until both Se-ro and Young-won rush outside. Having heard Young-won call after him in his new name, Grandma falls to the floor, sobbing.
Daddy Han runs up the hill and beelines for Se-ro to ask if Grandma is inside. But Se-ro makes a move to block him and lies that no one is at home. That reply earns him a hard slap across the face and Daddy Han demands to know why Se-ro is here, ignoring his daughter's explanations.
It takes all of Se-ro's willpower to keep it together and utter an apology. Daddy Han won't budge however, and Young-won has to drag him away.
Se-ro does his best to keep his voice bright when he calls Grandma later. She's overcome with relief and asks what happened. Se-ro tearfully admits that it's a long story, and then haltingly says that he didn't kill anyone.
Grandma says that she knows and that she never once considered him as a murderer. He's glad to hear it but no one else believes him. He promises to erase all the hateful messages outside their home.
Then Grandma asks after Dad, and Se-ro takes a long minute while fighting his building tears before giving a few affirmatory sounds. He calls out Grandma's name affectionately, but he gets choked up and sobs into the phone, then hangs up, still crying. Damn, I'm… going to need a minute.
Young-won refuses to answer why she was with Se-ro tonight and all the other times they were found together. She insists that there's nothing going on between them, but Daddy Han isn't so sure and orders a background check on Se-ro.
That move ruffles Young-won's feathers, countering her father's suspicions to point that he was the one who brought Se-ro into the company. Daddy Han is convinced that something isn't right, what with bringing in a blue diamond necklace and fraternizing with his daughter.
Young-won asks if it wasn't enough that Woo-jin was a thorn in her father's side and orders the driver to stop the car, and then climbs out.
Young-won sets off on foot and makes a call, only to hear it ring nearby. That's because Se-ro is walking along the same path and he pointedly ignores her call. She catches up to him, calling him Eun-soo, and he asks her not to call him by that name. Omo, are you thinking of telling her who you are?
He dismisses her apology, but then turns to face her. Choking back his words about Daddy Han, Se-ro collects himself to suggest that they part ways here.
She's no longer the president of Belle la Fair, so there's no reason for them to cross paths again, Se-ro acknowledges. "Let's not meet each other ever again." He says that it's better that way and that he means it.
Young-won asks if he can't be angry with her instead, but Se-ro turns away without another word, so she cries out an apology on behalf of her father: "I'm sorry. I'm sorry, Eun-soo."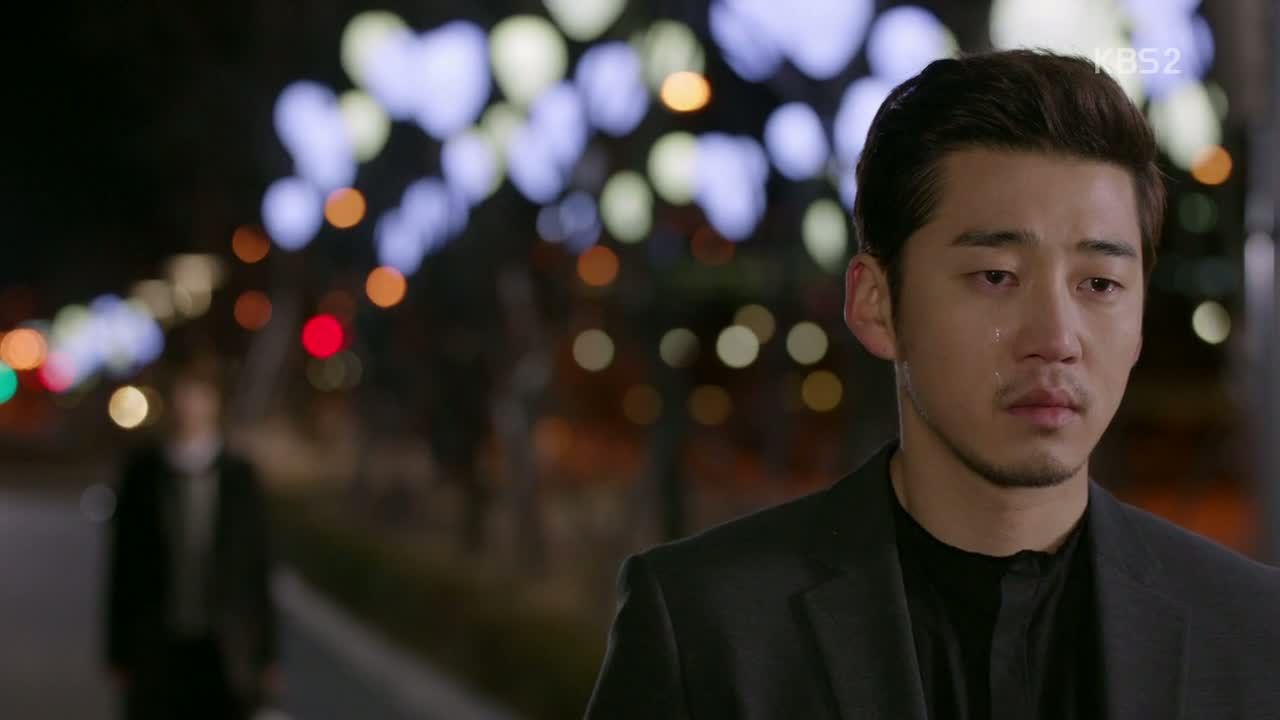 Se-ro stops in his tracks and Young-won admits that she was worried about him and now she doesn't know where to turn. "Can't you accept my apology?"
He turns back towards her and Young-won sincerely apologizes again. With that, he starts walking towards her and pulls her into a kiss.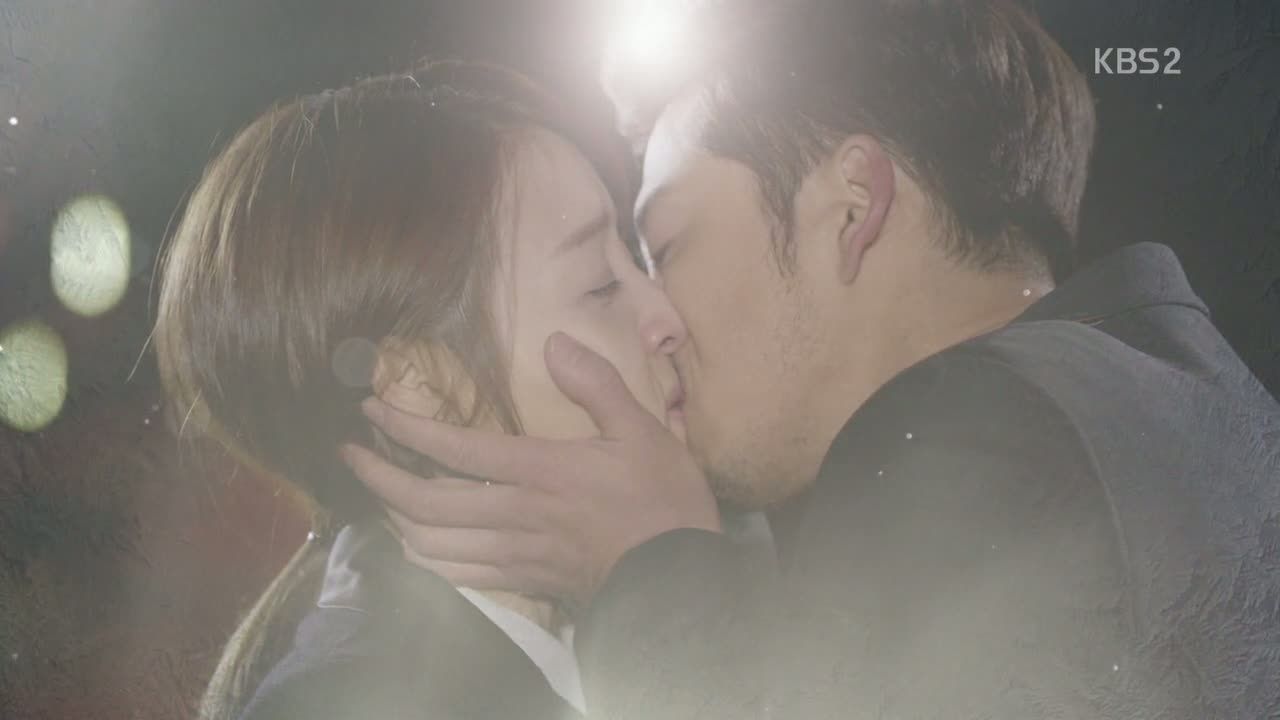 COMMENTS
Whoa. Well, now there's something going on between you two, for sure. Se-ro has been holding back on his growing feelings towards Young-won for some time now that I had greatly anticipated the moment he would let them engulf him. The hate to love transition is nothing new in dramaland and especially in revenge melos, but I like how we saw this progression in Se-ro from the moment of realization that Young-won might not be the enemy he had pictured in his head, to when he was shaken by her sincerity, and then be witness to her genuine empathy for him and others. How can you blame a guy for falling in love with a woman who unknowingly cares for his grandmother, especially when she doesn't hold the fact that her grandson is an ex-convict against her?
At this point, I think it's safe to say that Young-won has yet to return those feelings. She depends on Se-ro for support even when he pushes her away, because his company is better than none at all. She finds camaraderie in their shared misery and even enjoys his grumpy state. Furthermore, she has yet to find out the effect she's already had on him become he's becoming more truthful and honest about himself as time passes. Not that Se-ro has been especially cryptic about his intentions (though every melodramatic hero has at one point), but we're seeing the cracks in his defensive wall that he's put up… and we aren't the only ones who can see it happening.
I'm so relieved that Grandma finally knows that her grandson is alive and well, because it was so heartbreaking to watch her trying to fight the world alone that Se-ro is innocent. Their post-revelation conversation was hard to take, and even though Grandma is remarkably quick on the uptake, now I'm even more scared for her safety. Ack, just leave the poor woman alone already!
As for our newbie villain, I'm enjoying where the show is taking Young-joon's character thus far. It's a nice reversal to see that little bro has a mind of his own that can operate outside of Mom pulling the strings. And yet, we see the eagerness in his new position as Young-joon drinks from his power goblet every morning and itches for attention whenever he reveals his elementary sneaky deeds to his family. I hope there's more where that comes from, since Young-joon could make for a dark horse who helps or hinders his father as we go forward.
Speaking of implementing plans, it's becoming clearer that while Kang-jae has a planned scheme to carry out, Se-ro is the type to think two steps ahead of him and then fall back depending on where his emotions take him. And now that those vengeful emotions are compromised (by luuurve), carrying out revenge just got heckuva lot harder.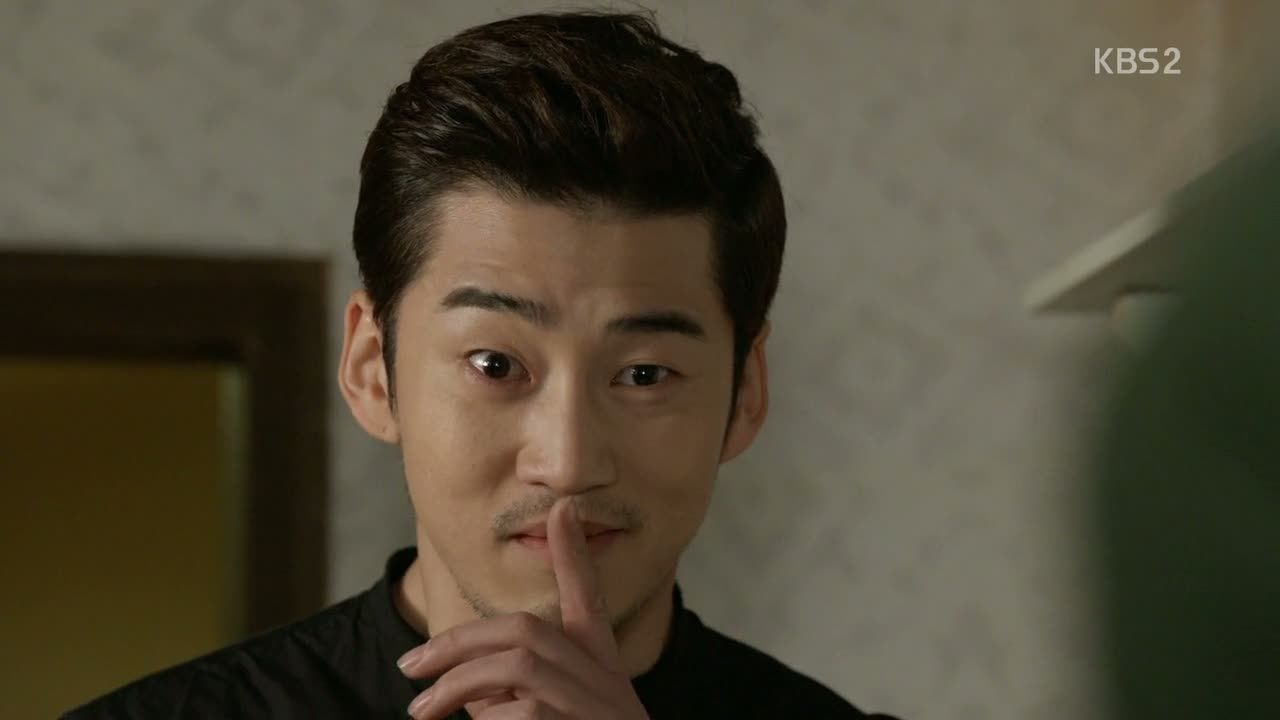 RELATED POSTS
Tags: featured, Full Sun, Han Ji-hye, Jo Jin-woong, Kim Yuri, Song Jong-ho, Yoon Kye-sang