God's Gift – 14 Days: Episode 2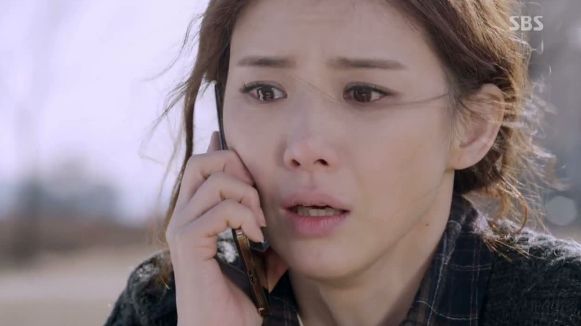 Hello! I'm solabelly, and I'll be joining the God's Gift recapping team. A big thank you to javabeans and girlfriday for this amazing opportunity, and a big thanks and hello to all the readers! Please give me a while to figure out all the ins-and-outs of this blogging thing. I promise to try my best!
This episode is full of suspense, mystery, and action sequences worthy of any blockbuster movie. Plus, the feels! So many feels! Mostly of the ow-my-heart variety, but still, so good! As our heroine races to try to save her young daughter's life, we get way more questions than answers in our whodunit mystery, and discover that people aren't always what they seem.

EPISODE 2 RECAP
In a tension-filled TV studio, people are in shock as our serial killer taunts the public and the police over live TV, laughing that they'll never catch him. The host shakily asks how they know for certain that he is who he says he is, since his voice has obviously been altered (creepily). The killer laughs and gives a specific detail concerning the number of stab wounds on his second victim, which Detective Woo-jin confirms.
The killer continues, saying that despite already murdering three women, he's bored of it and wants to try something new. He then tells someone to speak into the phone and the voice of a scared little girl calls out for her mom. Soo-hyun freezes as she recognizes her daughter's voice.
As she runs through the studio to grab the phone, the killer next taunts the president, threatening that this little girl will die because of him. By the time Soo-hyun reaches the phone, the killer has already hung up, and people all across the city watch the live broadcast in disbelief.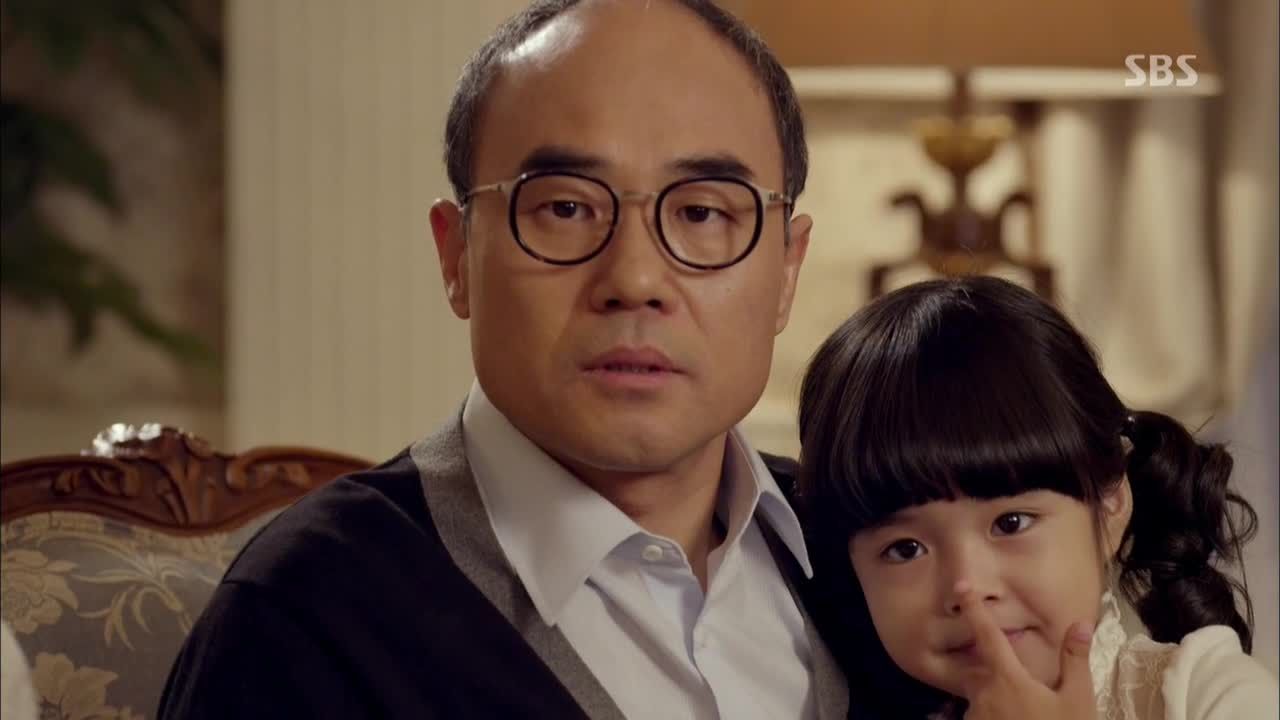 At the same time, the president is catching up with his son and young family, who are visiting from abroad. Both the president and his wife want their son to return to Korea, but the son demurs. An aide interrupts and turns on the TV. As the president sees the news of Saet-byul's kidnapping, his face turns grim.
Back at the studio, Woo-jin questions Saet-byul's nanny and Mina, the assistant that was watching Saet-byul at the time of her disappearance. Neither of them saw anything suspicious. The police then check the building's CCTVs and Soo-hyun cries as she spies her daughter's last recorded moments, happily running toward her nanny.
Back at their home the next day, Soo-hyun and her husband Ji-hoon wait by the phone hoping the kidnapper will call. Woo-jin and his team of detectives surround them, having set up base in their living room.
Woo-jin suggests that Ji-hoon be the one to answer the call, and coaches him on how to keep the kidnapper talking long enough so that the police can trace the call. In a daze, Soo-hyun dejectedly wonders if the kidnapper will actually contact them. His motives were political, not about money, weren't they?
The phone rings. Ji-hoon answers and that same altered voice demands 2 billion won by 2 PM the next day. Full of emotions, Ji-hoon berates the caller. How does he know if this is the real kidnapper? How does he know if his daughter is still alive? Until he gets to speak to her, he says that he won't negotiate, and hangs up.
The cops shake their heads in disappointment and Soo-hyun freaks out, crying that if he's angered the kidnapper and he kills Saet-byul, it'll be all his fault.
The phone rings again, and this time Soo-hyun answers. She asks if Saet-byul is all right, if she's alive, and says that she'll pay the ransom. The altered voice just repeats that he wants 2 billion won delivered by the next day and hangs up. The cops sigh in frustration again, saying that the trace was unsuccessful.
Later, two detectives take a break outside, scoffing that the killer was just bluffing about this kidnapping being a political act; it was about money after all. The eavesdropping security guard butts in, asking if the kidnapper really did call demanding ransom, making the off-handed comment that this family had that other strange money issue in the past as well. The detectives' ears perk up at that last bit, and they ask him to clarify.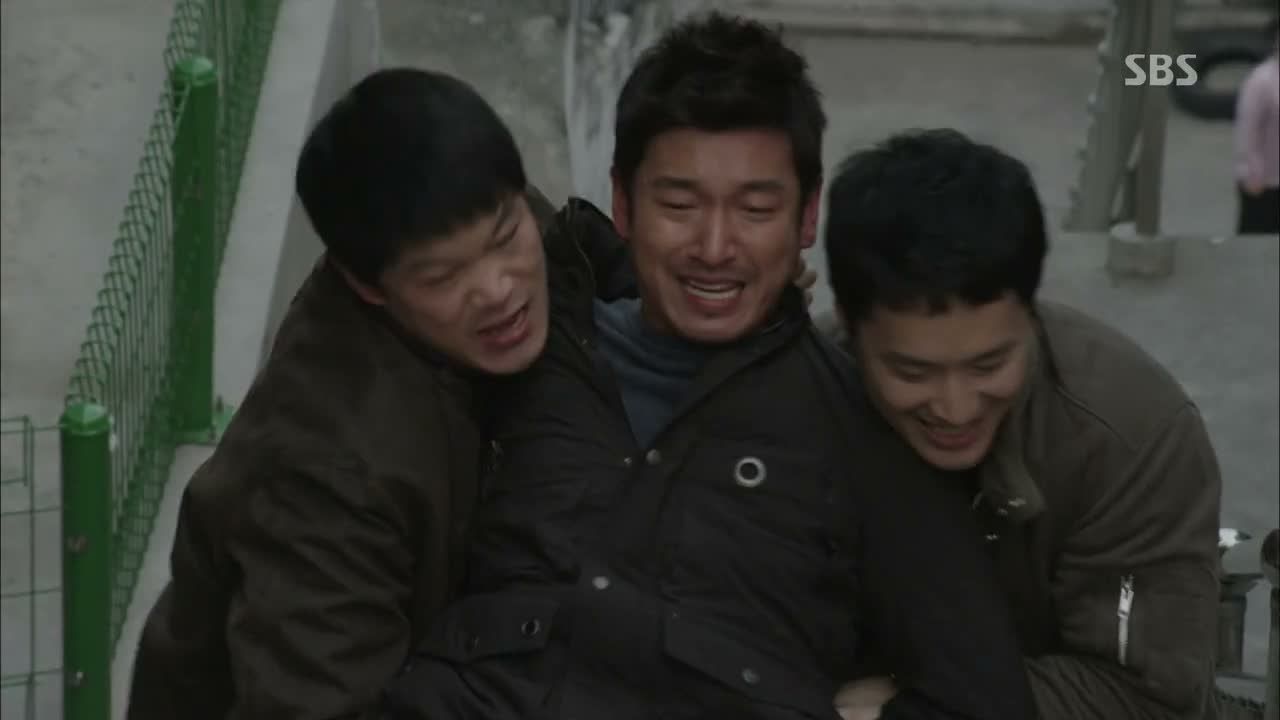 Which leads to, of course, Dong-chan getting stopped by the detectives on his way home. He gets pushed into a waiting cop car, with no idea why.
Back at the house, the police prepare Ji-hoon for the ransom exchange, while Soo-hyun sits in her daughter's room, thinking back to happier times.
It flashes us back to a cute exchange where Soo-hyun had found a handmade "wedding picture" of Saet-byul and her celebrity crush, Te-ho, lead singer of the band Snake. Mortified, Saet-byul had chastised her mom for going through her things, vowing to put a lock on her private box.
Soo-hyun stares at that same box now and tries to open the little lock to no avail. Downstairs, Ji-hoon, Woo-jin and the other detectives wait for the kidnapper to call. But instead of the phone, someone rings the doorbell.
It's a package for Soo-hyun. Ji-hoon goes up to tell her to sign for it, asking if she remembers ordering anything. She doesn't, but heads downstairs anyway. Hm, suspicious.
Under the watchful eye of ALL the detectives (ha), a nervous delivery man gets Soo-hyun's signature and hands her her package. When both their hands are holding onto the bottom of the box, he discreetly taps her finger to alert her to his actual delivery: a small note.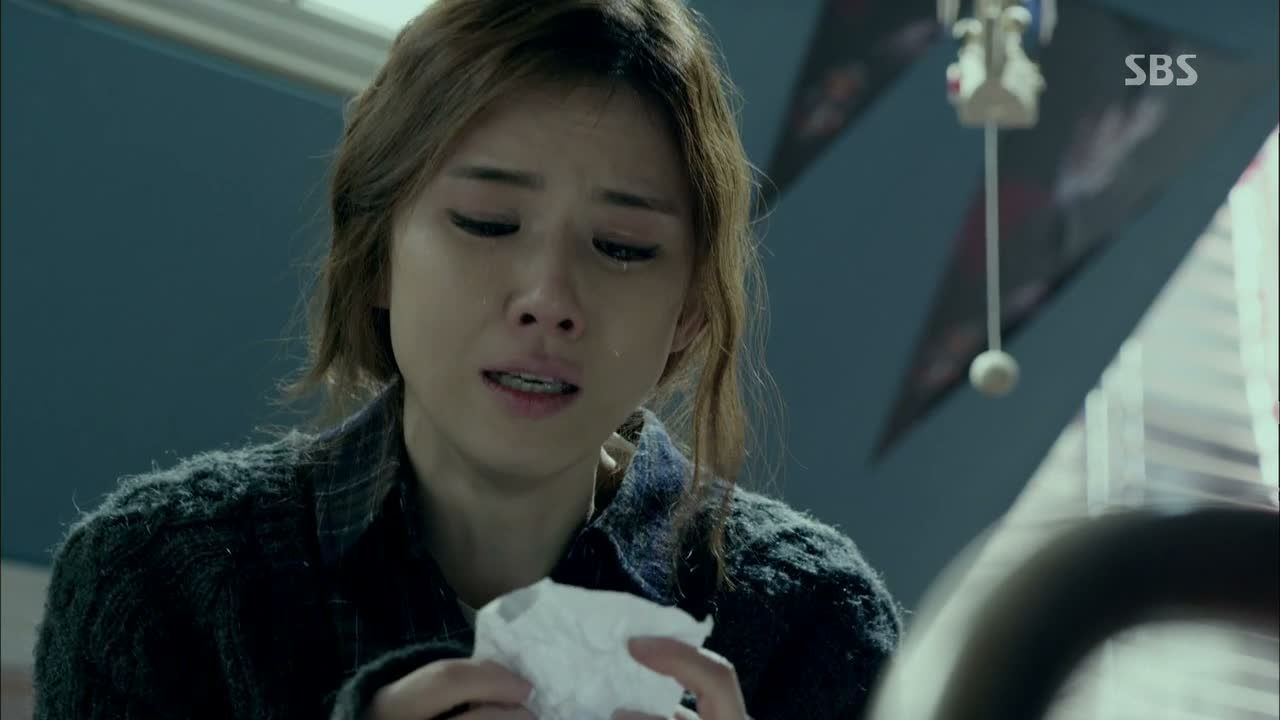 While the cops are busy inspecting the box, she goes upstairs to read the ransom note. It states all the obvious: the kidnapper wants her to ditch the cops, and come to a park near the Han River for the ransom exchange.
Woo-jin comes in just then, and Soo-hyun hides the note while he apologizes for being so strict with police procedure and tells her to get some rest.
Later, Soo-hyun makes her way downstairs and faints in front of everyone, and gets rushed to the hospital. But when Ji-hoon goes to check on her, he finds the hospital bed empty. I knew it!
Soo-hyun sneaks out to the bank and frantically stuffs stacks of money into a paper bag. She's so frazzled that people stare, and when she runs out the door, a bank manager calls the police…
…Which is how Woo-jin and his team are able to catch up to her as she makes her way to the park. They're already set up to keep watch over the situation as Soo-hyun scans the park for the kidnapper. A hidden phone rings, and Soo-hyun fishes it out of the garbage and answers it, only to have the kidnapper scream that he told her to ditch the cops.
Soo-hyun swears that she came alone, but spies Woo-jin and the other detectives nearby, and immediately starts apologizing and begging for another chance. The kidnapper tells her to head to the neighboring subway station and jump on a train to lose the cops. She takes off running, and the detectives scramble to chase after her.
She slides under turnstiles like a pro and manages to jump on the train just seconds before the doors close behind her, leaving Woo-jin panting on the platform. He spots her through the window just as the train pulls away. Soo-hyun is instructed to get off at the next stop, and as she exits the train, the kidnapper tells her to stop moving and wait right where she is.
He then tells her to turn around slowly. And there, across the tracks, stands a man dressed in black, his hand covering the mouth of a young girl so that she can't cry for help. Saet-byul!
The kidnapper then tells Soo-hyun to head back up the stairs to meet in the hallway connecting the two station platforms. She complies, and once there, the kidnapper approaches. Alone.
The man comes closer and grabs the bag of money from Soo-hyun's hands. Once he disappears down the subway steps, Soo-hyun runs toward the other platform. Saet-byul is still standing there, her back to her. Soo-hyun runs to her and whirls the girl around…
Only, it's not Saet-byul! Soo-hyun stands there in shock, as the random young girl just looks up at her and cries.
Finally snapping to attention, Soo-hyun spins around and runs after the kidnapper. He's her only lead! She can't let him escape! He jumps on a train, and she manages to just barely get on before the doors close. She only has until the next stop to find him on the packed train, and pushes through the crowd with increasing panic.
Just as the train pulls into the next stop, she finally pushes her way into the first car and catches up to the kidnapper. She grabs him just in time.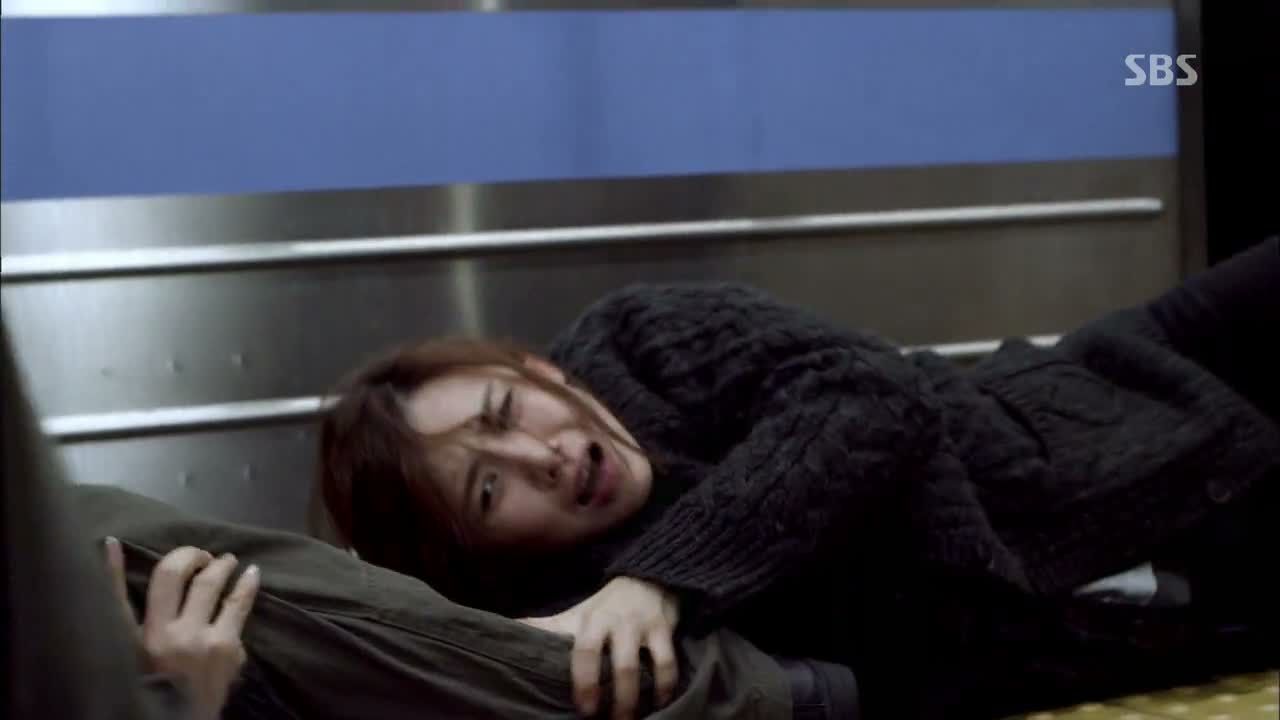 She hurls herself onto his legs as he tries to exit the train car, and they both stumble onto the platform. Other commuters just stare as the kidnapper kicks and punches Soo-hyun brutally to get her off of him. But she won't let go, and clings to him with frightening determination, all the while screaming for her daughter. It is… intense.
The cops finally catch up to them, and the kidnapper gets put into handcuffs as Soo-hyun collapses into Woo-jin's arms.
Meanwhile Dong-chan is released from jail, griping that the cops have nothing better to do than harass him. He stops to look at Saet-byul's Missing Child poster, and sighs that he hopes she's okay.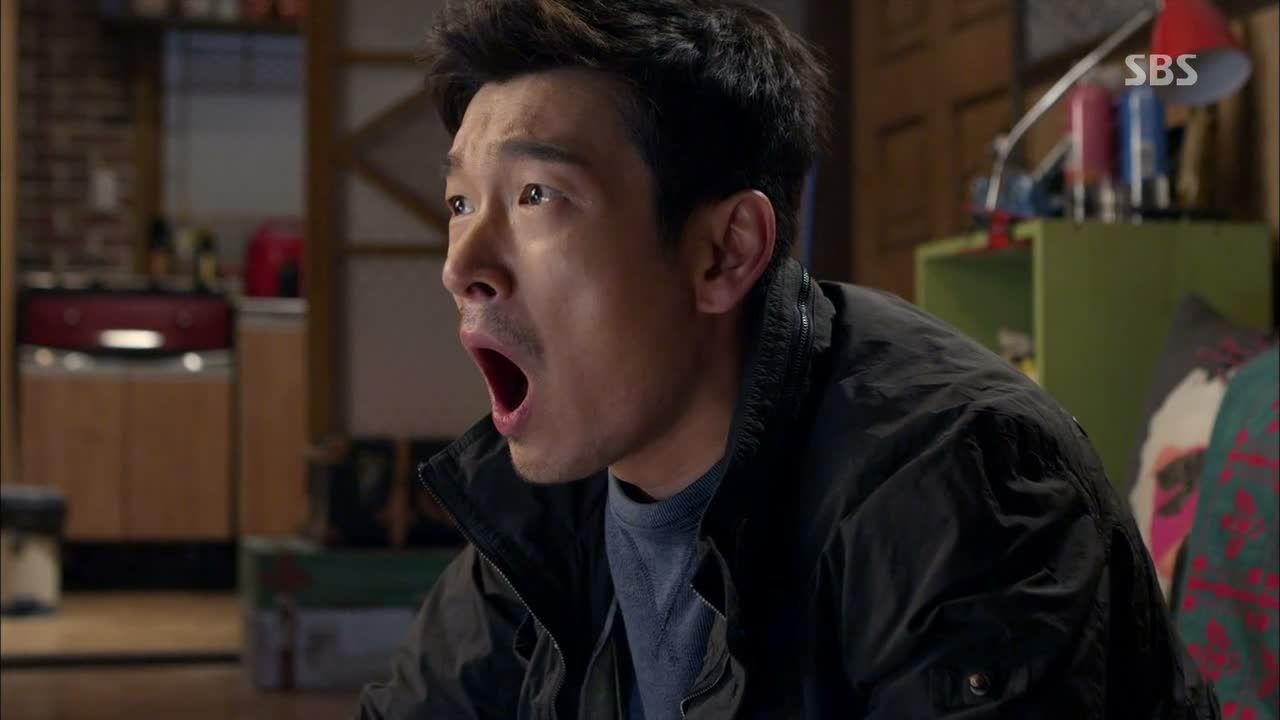 Later at home, he turns on the TV to see a news story about the death of a familiar face: that crazy homeless grandpa who kept bothering him. Dong-chan is surprised to hear that the old man is dead, but gets an even bigger shock when the news reports that this man was actually CHU BYUNG-HO, a rich CEO who in death donated his entire fortune of 10 billion won to charity.
Recalling that that was the exact amount that the old man had promised Dong-chan in exchange for turning his life around, Dong-chan begins to connect the dots, and wails at the thought of all the money that could've been his.
After getting treated at the hospital, Soo-hyun asks Ji-hoon to take her to the TV studio. Since the people who had tried to extort a ransom out of them were just scam artists looking to make some money, Soo-hyun decides that she needs to try to reach out to the real kidnapper, since he hasn't tried to contact them even once.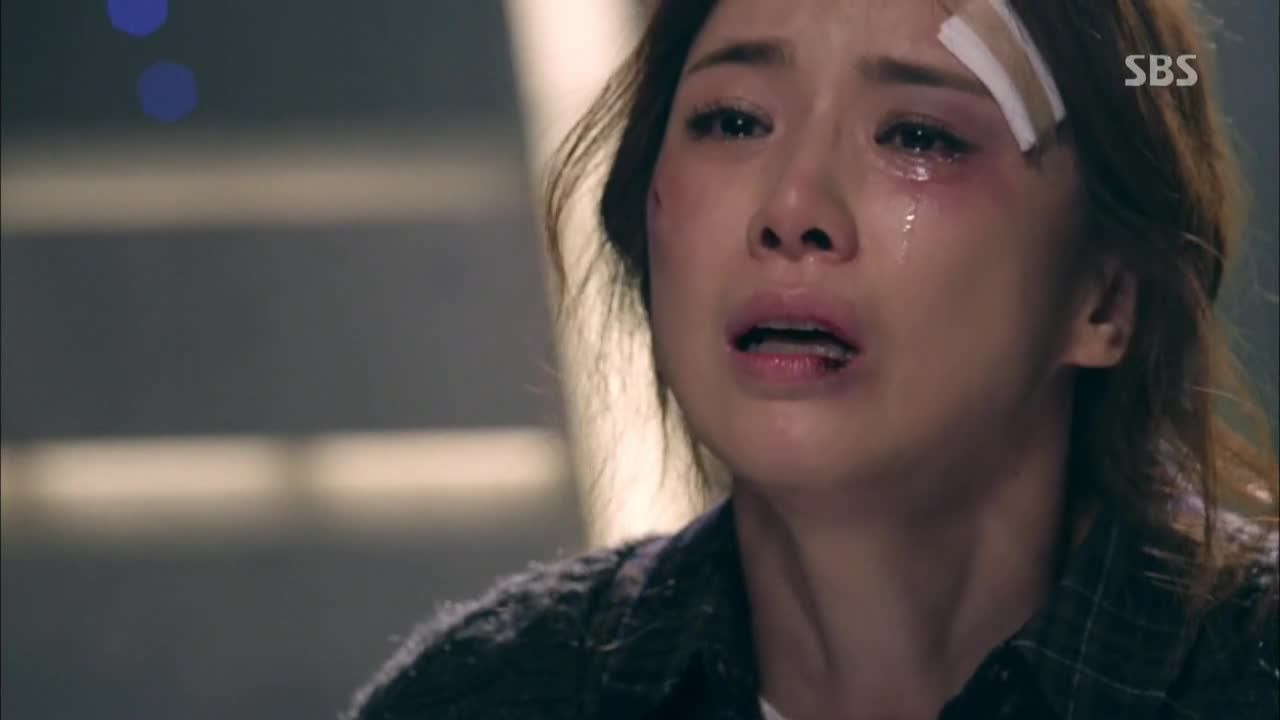 Live, on-air, Soo-hyun addresses the kidnapper from a darkened studio. She apologizes for her show's segment about him, drawing unwanted attention, and begs him to forgive her–it wasn't personal, it was just work.
She then describes Saet-byul as a kind and thoughtful child, and apologizes again for disrupting his life, and swears that anything that she has ever said, or anything that her husband has ever said doesn't mean anything. The president? Psh, they don't like him, they didn't vote for him, and they don't agree with any of his politics. Soo-hyun and her husband, like the rest of Korea she's sure, agree wholeheartedly with all of the kidnapper's ideals.
She continues, begging for her daughter, asking him to take her instead, and it is so gut-wrenching and raw. As she falls to her knees and breaks down even more, off-stage Ji-hoon cries, as does everyone else (including me, SOB).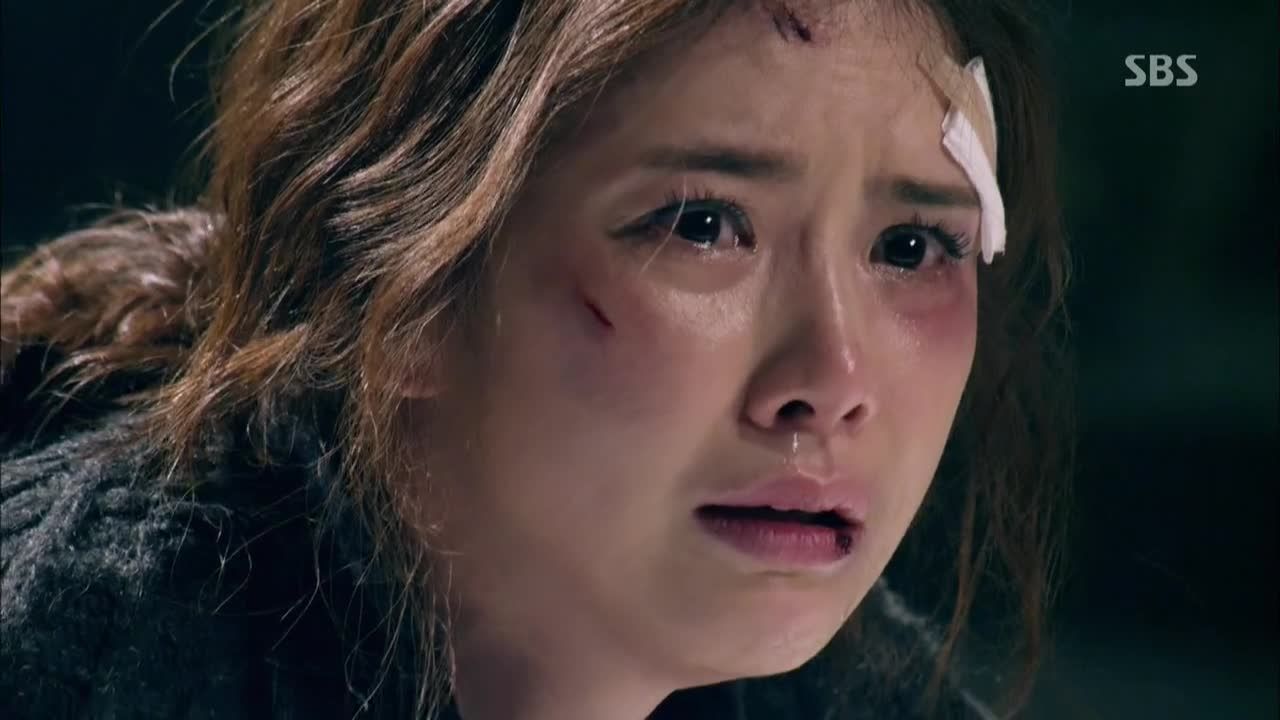 Just then, the news comes in. A bloody shoe and bag believed to belong to Han Saet-byul have been discovered in the woods. As the directors scramble to get the news out of sight, both Soo-hyun and Ji-hoon see the headline scroll across the bottom of the screen. The director tells his staff to cut to something else, but just then, Soo-hyun stands up and addresses the kidnapper once more.
With the cameras still rolling, Soo-hyun vows that if even one hair on her daughter's head has been messed with, she will follow the killer to hell and rip him to pieces. She's coming for him, no matter what.
At the same time, Dong-chan sits at a club, drinking away his sorrows over having lost 10 billion won. Next to him, some drunks see Soo-hyun on TV and laugh at her misfortune.
Being a human being with feelings, Dong-chan calls the drunks out on their horrible behavior and it quickly turns into a big fight, with Dong-chan getting dragged outside and pushed up against a large clothes donation bin in the alleyway. Dong-chan's alone against the four mean drunks, but he gives it his all, saying that he totally needed to relieve some stress today.
Cut to the next morning, and Dong-chan wakes in his bed, completely hung-over. Only when he runs to the bathroom to puke does he notice the blood on his sleeve, and the scrapes on his face. He wonders what happened the night before as bits and pieces of his brawl slowly come back to him.
He curses the drunks for messing with his pretty face (heh), and tries to clean up as best he can. As he throws his bloodied shirt into the wash, his co-workers bang on his front door. As he goes to let them in, the camera pans down again to the bloody sleeve of his shirt, I wonder… whose blood is that?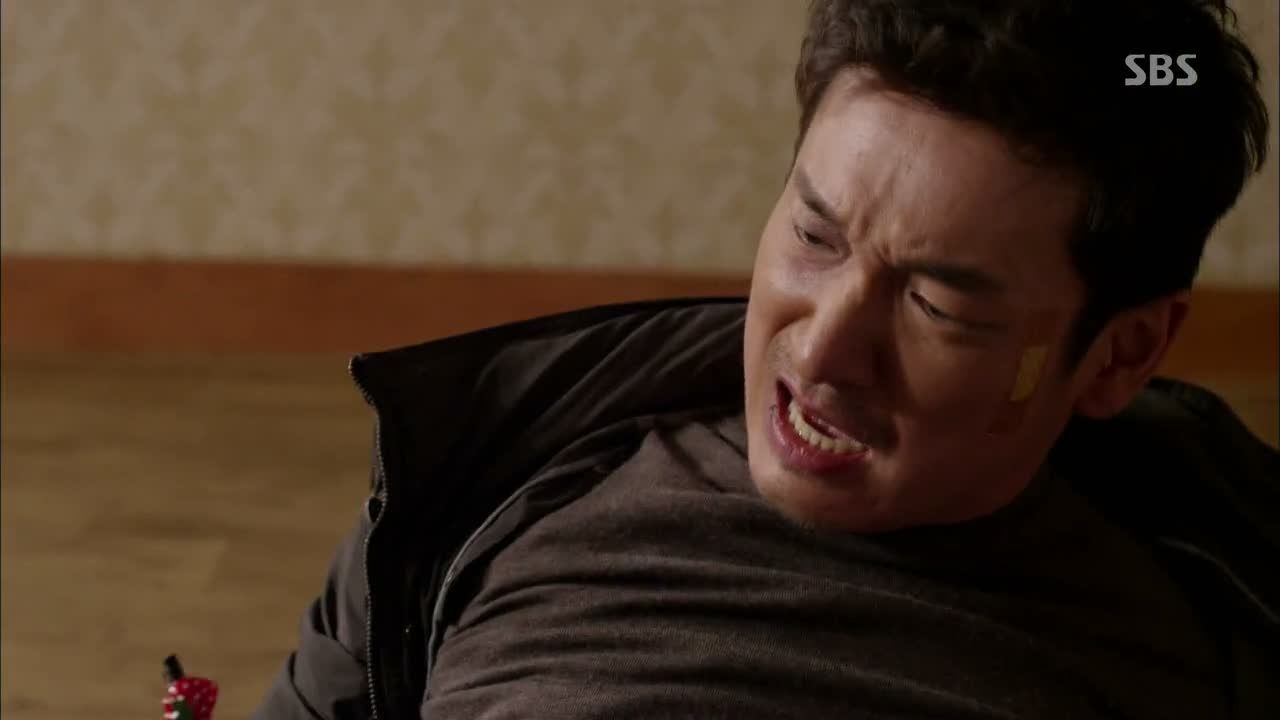 Dong-chan's co-workers, Jenny and Byung-tae, laugh at his ability to always find his way home no matter how drunk he gets. They tell him that it's time to get to work because the cheating husband they've been hired to catch is with his girlfriend at a motel right now.
Said couple are indeed in a motel room, and Dong-chan barges in with a camera. He takes picture after picture, until the cheating husband literally jumps on top of him, and they both fall to the ground.
Something in Dong-chan's back pocket pokes him, and as he fights with the angry husband, he fishes out a little girl's hair pin and flings it into the large fish tank in the room. Uh-oh. That can't be good.
Back at Soo-hyun's house, Woo-jin returns the found items and yes, they belonged to Saet-byul. Soo-hyun silently grabs the bags from Woo-jin and heads upstairs. While she sobs, Woo-jin tells Ji-hoon that he thinks it's best if they prepare themselves for the worst-case scenario.
It's early morning, and a lone fisherman on a quiet lake pulls up a little red sneaker. As he sighs, a body bobs up to the surface.
Ji-hoon looks over crime scene photos of a small shack where his daughter was held, as Woo-jin explains how she died. Originally the police thought that she was tossed into the lake after being murdered, but autopsy reports revealed that the cause of death was drowning. Therefore, the police think that Saet-byul fell into the lake and drowned while attempting to escape, a full 7 days after her kidnapping.
Soo-hyun arrives at the crime scene, but falls apart before she even passes through the crowd of reporters and onlookers. Ji-hoon is already past the police tape, and sobs over the body of their dead child.
At a press conference, the president comments on Saet-byul's murder. He expresses his sadness over her death and vows to do everything in his power to catch the killer. He promised the nation a strong, tough government, and he's going to show this crazy killer just how strong he and the people of Korea can be. GAME ON.
Before the reporters can ask him for specifics, the president leaves the podium and his Minister of Justice, LEE MYUNG-HAN, addresses the audience. It has been decided: the government will be bringing back the death penalty, and there will be an execution soon. As a wave of surprise runs through the room he continues: he, personally, will choose the death row inmates set for execution.
Dong-chan's brother Dong-ho quietly sits in his jail cell and looks out the window up at the night sky, while Dong-chan dreams of his tortured past. A man walks through a swamp, carrying the body of a dead woman. As the man drops the body into the swamp, Dong-chan's voice cries out for his brother to stop.
Next, we see Dong-chan in court, testifying as a witness against his brother. The prosecutor asks him if it's true that he saw his brother dispose of a dead body, and while his mother and brother both plead with sad eyes, Dong-chan wavers, but in the end answers yes. As the crowd murmurs in shock and his brother looks at him in surprise, Dong-chan wakes up, sweat streaming down his face.
Soo-hyun sits in Saet-byul's room, going through her daughter's belongings. She finds the locked box again, but this time, the lock pops open in her hand. A bit surprised, Soo-hyun digs through the box to find it full of pictures of Saet-byul's crush, Te-oh.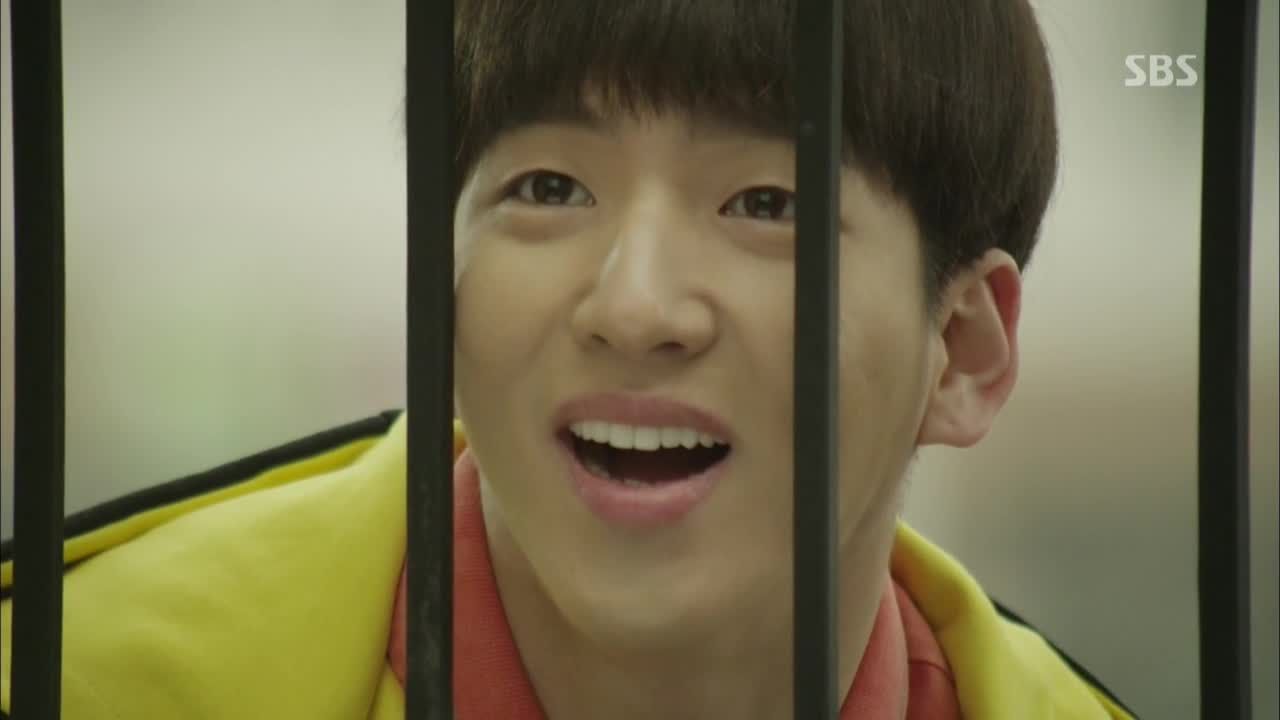 Next Soo-hyun discovers Saet-byul's diary. As she reads a few entries, tears fall from her face. Inside the little diary, Saet-byul had expressed all of her innermost thoughts, fears and troubles. She discusses being an outcast at school, and how she worries that she isn't living up to her mother's expectations of her. She also mentions her friendship with Young-gyu, and her disappointment over how her mother treated her only friend harshly. Overcome with guilt, Soo-hyun closes the diary and apologizes for making Saet-byul feel that way.
Outside the villa, Young-gyu waits for Saet-byul. The pesky guard comes by and tries to tell him to leave, softening a bit and trying to explain that Saet-byul is in heaven now. But Young-gyu doesn't waver. No, Saet-byul isn't dead and he's going to wait for her. Saddened, the guard relents and leaves him in peace.
Soo-hyun wakes from a nap to find Ji-hoon packing up some of Saet-byul's belongings. They fight, and he argues that they have to move on, and she refuses to discuss anything or let him take away any of Saet-byul's things.
Ji-hoon storms out of the house for work and calls her to say that he won't be coming back. He knows how she feels; he lost a child too. And while he knows that it's not rational and that it's not really her fault, he can't help but blame her for Saet-byul's death. If she hadn't gone off with her first love that day to reminisce, and had been with Saet-byul the entire time, none of this would have happened. All Soo-hyun can do is cry.
Later at his office, Ji-hoon goes through his mail and opens an envelope. Inside are pictures which aren't shown to us, but judging from his face, they're not good.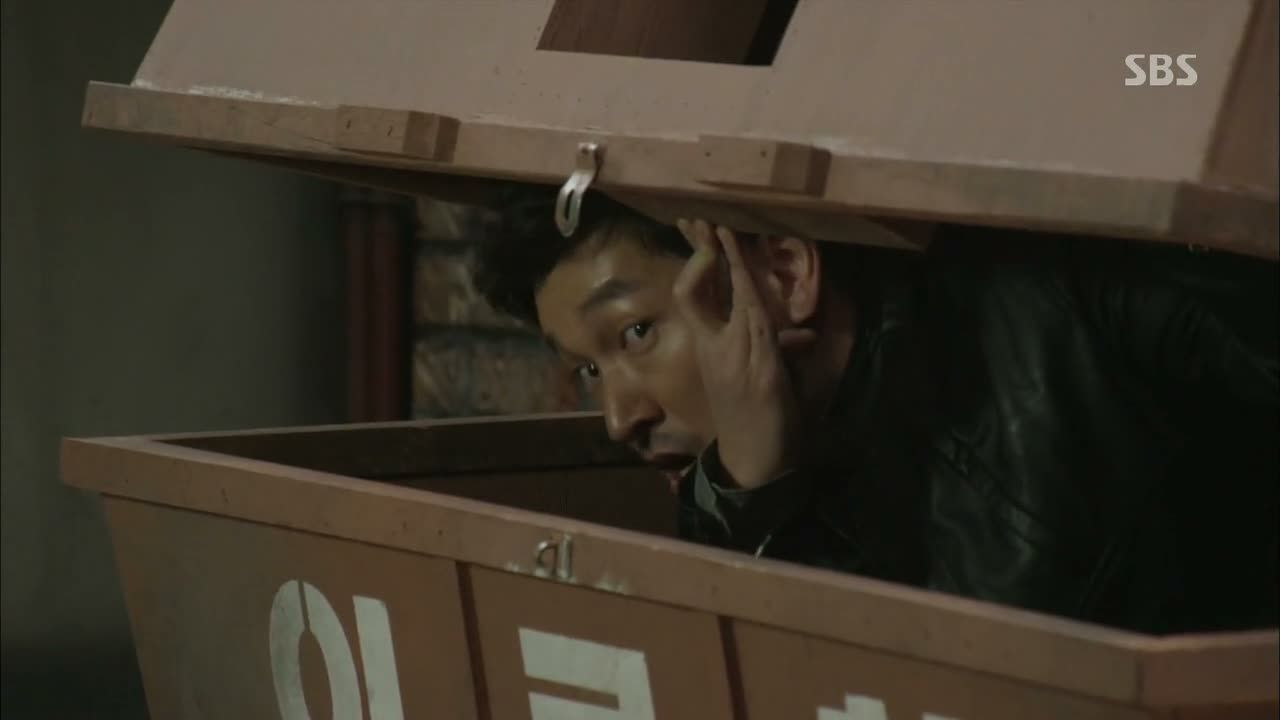 Dong-chan heads home and gets a call from Jenny. She's frantic and warns him to run, as it turns out that the woman he slept with the other night while drunk is the wife of a scary mob boss. Dong-chan can't understand what she's saying, and then steps inside and runs right into a roomful of thugs and their boss. Mob Boss tells Dong-chan he knows that he slept with his wife, and that now he has to die, adding the complaint: "My wife won't sleep with me after you because she says sleeping with me is too boring!"
Dong-chan stammers for an excuse and begs for his life, but the gang members just laugh. Dong-chan creates a distraction by throwing the carton of eggs in his hands, and manages to run out of the apartment. He hides in a large clothing donation bin, as the gangsters run around looking for him.
While there, he gets a call from his cop friend, who delivers some terrible news. His brother Dong-ho is set to be executed later today. That stops Dong-chan in his tracks, and the gangsters find him. He sighs into the phone, "There's nothing to be done."
Soo-hyun takes a bus back to the lake where Saet-byul drowned, and misses a call from Ji-hoon. He's also going somewhere in his car, and he leaves her a message. He knows who killed Saet-byul. And he's going to kill him with his own two hands.
Woah.
Soo-hyun makes it to the small shack that was her daughter's prison and cries over the cot where her daughter was forced to spend her last days. Soo-hyun wishes she could turn back time, and then walks outside to the lake in a daze.
At the same time, Dong-ho is retrieved from his cell and led to a room with a noose. When he realizes what's about to happen, he pees his pants and cries out, begging to be saved.
Dong-chan is, by chance, dragged to the very same lake where Soo-hyun is standing. The gangsters tie a cinder block to his feet and tie his hands, ready to throw him to his death.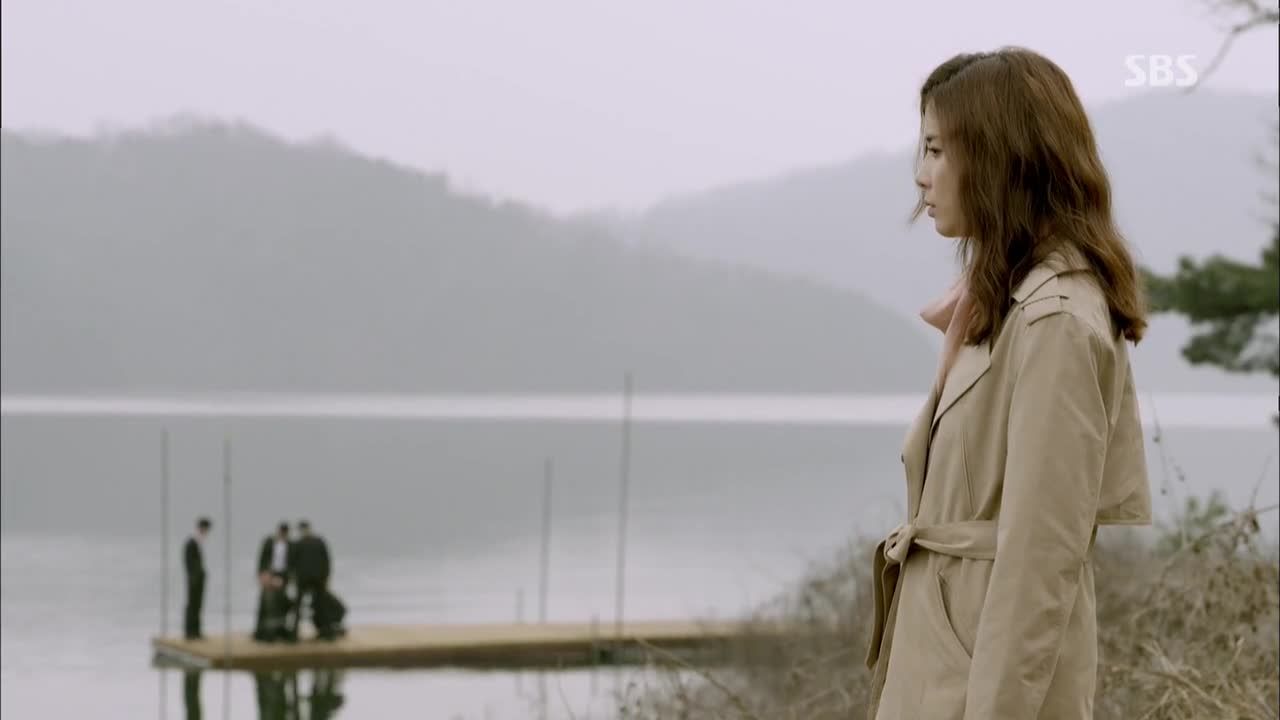 He begs them to spare his life, and spies Soo-hyun across the way. Dong-chan screams at her to call the police, but Soo-hyun just turns away, lost in her thoughts. She stares at the lake and tells Saet-byul not to worry anymore. She won't be cold, scared, and alone for much longer. "Mommy's coming."
Dong-ho hangs. Dong-chan gets thrown into the lake and gets pulled down by the cinder block. And Soo-hyun takes off her shoes and dives in. She just lets the water envelop her, sinking further and further down all the way to the bottom.
COMMENTS
Um, wow. Just wow. That was kind of intense, huh? Let's all take a moment to breathe some deep breaths and get back to normal. Phew. This episode did a great job of moving our story along in a smart and suspenseful way, and along with the some beautiful camerawork, it felt just like watching a mini action movie. I'm loving the tone of this drama, which is just very understated and genuine, allowing for all those gut-wrenching emotions to pop even more.
The story is suspenseful and intense, and does a great job with exciting action sequences AND heartfelt emotions. It really is a great mix of both, so that the entire time, I'm just a big ball of nerves. Whether I'm on the edge of my seat as someone chases someone else, or cringing over a beat down (Soo-hyun vs. the fake kidnapper at the train station was kinda hard to watch, yeah?), or sobbing along with a character and their grief, just oof.
At the heart, though, is the emotion. While the action and suspense are great (and also important to this story), what I'm most enjoying is all the different character studies. Take our poor grieving parents, Soo-hyun and Ji-hoon, for example. Ultimately, this is Soo-hyun's story, but I appreciate how this episode gave us a few moments to see Ji-hoon's grief too. It's different from Soo-hyun's, but that doesn't mean that it's any less valid.
I think because he was painted as the perfect husband and father, and has literally been in the background to Soo-hyun's grief, standing behind the scenes while she let out her angst, it was easy to forget that he also lost his child. So I'm glad the show reminded us that he, too, needed to grieve, and gave him the chance to let out his emotions. When Ji-hoon called Soo-hyun to blame her for their daughter's death, yes it was mean and hurtful, but it was truthful. He said it himself that he knew it wasn't rational to blame her, and that he knew it wasn't really her fault, but he couldn't help but feel what he felt. It was very honest and real, and showed us that maybe there is something more behind his perfect façade.
So what is behind that façade? Who knows? We got a small glimpse, but again, it gave us more questions than answers. What were those pictures of? Why did they upset Ji-hoon so much? Who sent them? And is this photo-sender really responsible for Saet-byul's death?
Lee Bo-young, of course, once again knocks it out of the park with her performance. She just gives it her all. So much so that I actually felt Soo-hyun's desperation and guilt and hope in all that she did. When she went on TV to reach out to the serial killer, she just put it all out there. That wasn't just one mother's love and desperation and grief, it was just raw emotion. And I loved how the show played out that scene: with minimal visuals and absolutely no background music. Sob.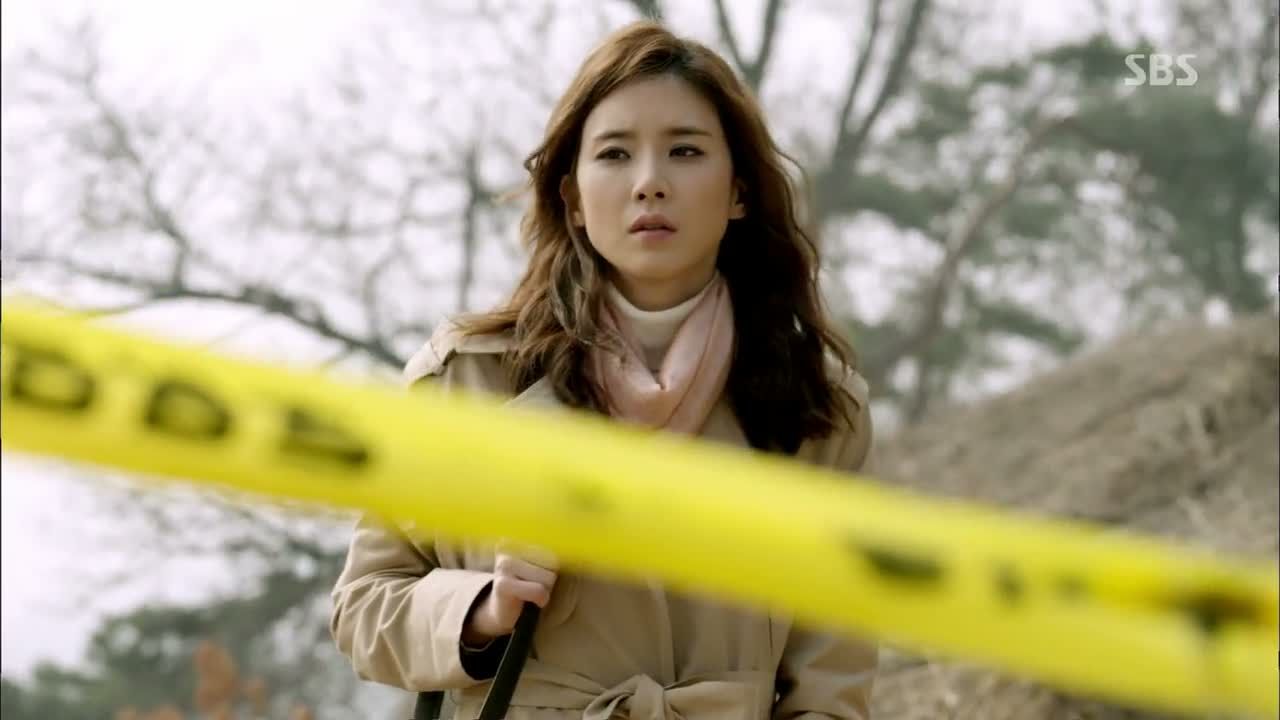 Of course, in the end, the ransom kidnapper turned out to be a fake (the first red herring out of many, I'm sure), but did help the show introduce surprise elements in the chase. I'm looking forward to seeing how this show will incorporate the supernatural/magic/Fate element into our story. (Because Dong-ho, Dong-chan, and Soo-hyun can't all die right now, amiright?)
Obviously, there is some kind of magical or fated connection between Soo-hyun's family and Dong-chan's family. But what is it? And will Dong-chan also be given the chance to redeem his life? I hope so, because like the others, his character is very genuine, real, and complex. Sure, he pretends to be… more sleazy than good, but we've seen bits and pieces that suggest otherwise. There was obviously some horrible family trauma in the past (Did his brother really murder someone? Or did he just happen to find the body and move it?), that I'm sure we'll eventually get the answers to.
I mean, I'm sure they'll give us a zillion questions before they give us the answers, but that's all part of the fun, right?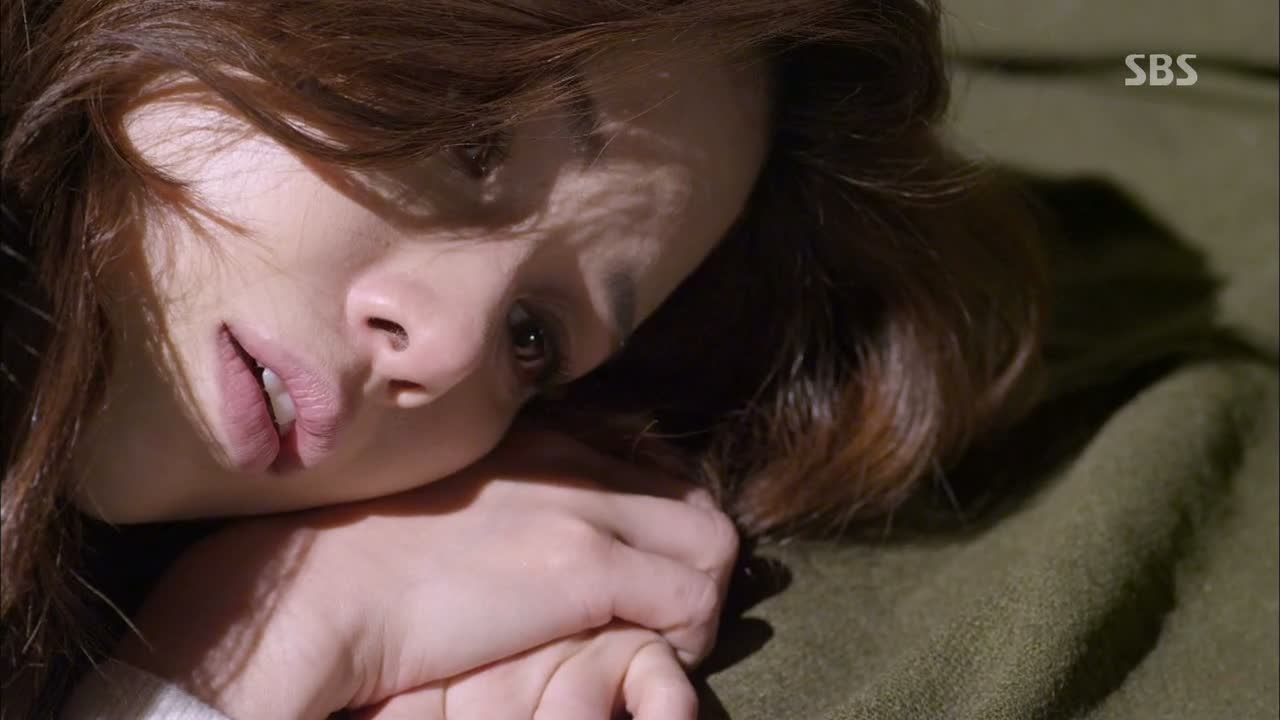 RELATED POSTS
Tags: Baro, featured, God's Gift – 14 Days, Jo Seung-woo, Jung Kyeo-woon, Kim Tae-woo, Lee Bo-young