God's Gift – 14 Days: Episode 4
Fate vs. Choice. How much does Fate actually play into a person's destiny? And despite a person's best efforts to change things, is it actually possible to alter the course of one's life? In today's action-packed episode our heroes Soo-hyun and Dong-chan come together and do everything in their power to try. They both have a lot on the line, namely the lives of loved ones, and they're going to do all they can to fight Fate and win.
EPISODE 4 RECAP
Soo-hyun follows the would-be victim out of the nightclub, but falls behind and loses sight of her. She calls Dong-chan to let him know that she's found the victim but gets grabbed by the killer, his knife at her throat. He demands to know who she is and takes her phone. On the other end, Dong-chan tenses and asks if he's speaking to the killer, warning that if the man kills Soo-hyun, he'll kill him in return.
In that moment, Soo-hyun sneaks out the pen that Saet-byul gave her and bites the killer's arm, then whirls around to use the pen to stab him in the gut. He pushes her away and they wrestle each other to the ground.
Soo-hyun sees the victim nearby, tied and gagged but alive. The killer recovers his knife and heads toward Soo-hyun.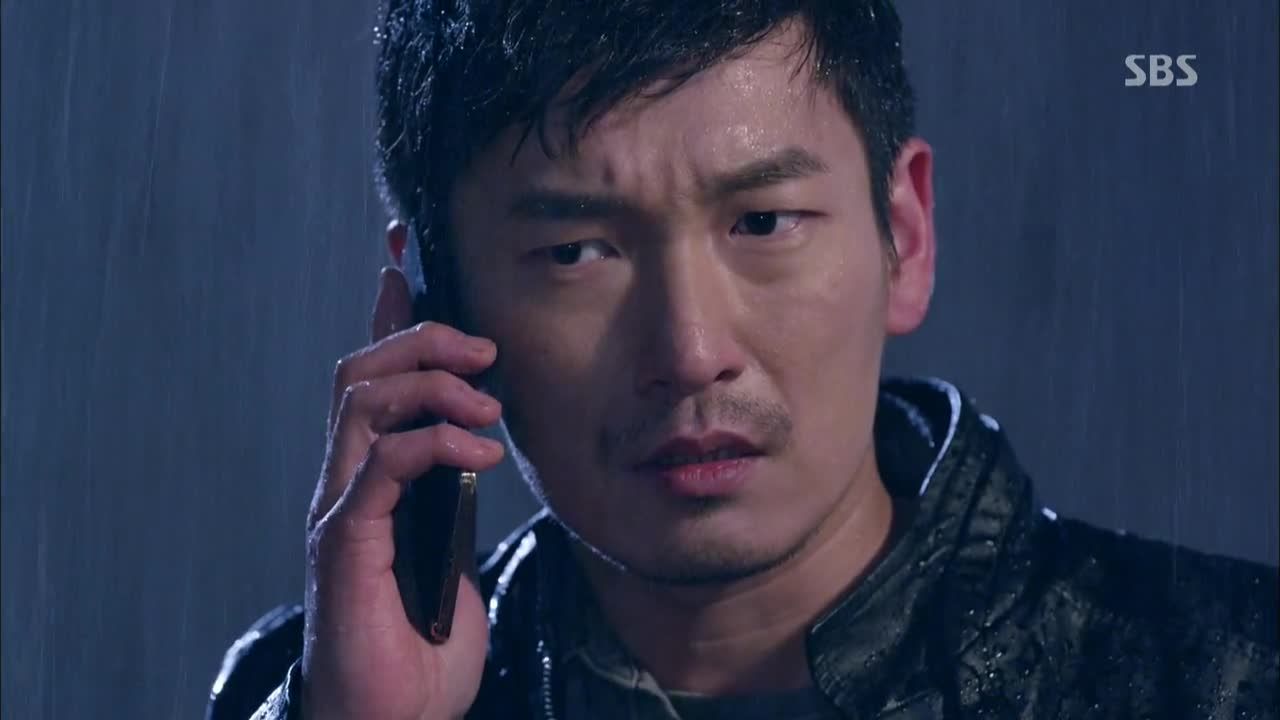 Hearing the fight over the phone, Dong-chan realizes he needs to find Soo-hyun fast. Still in that empty lot with the motorcycle gang, he casually walks closer and compliments the leader on his bike. Then he launches forward and ambushes him, jumping onto the motorcycle and speeding off before the gang can react.
In the alleyway, the killer looms over Soo-hyun and is about to stab her when the victim starts screaming for help, the rain having loosened the duct tape from her mouth. The killer reaffixes the tape and creepily tells her that he'll only be a minute, then returns to Soo-hyun.
He raises the knife to stab her when she gathers up all her strength and pushes him to the ground. She kicks him, grabbing his knife and using all her strength to try to stab him. Damn.
But the killer overpowers her and grabs the knife back, now on top of her as he uses all his strength to try to stab her. And then in the distance, we hear a motorcycle's engine. Dong-chan has found them.
He flies over them on the motorcycle, then jumps off the bike and goes straight for the killer. They fight and Dong-chan manages to pull off the killer's mask, but they're moving too fast to see his face.
The killer pushes Dong-chan away and runs off. Dong-chan starts to follow but turns back around to check on Soo-hyun, who is unconscious. He spots the victim and unties her ropes, telling her to call the police. Augh, don't send her off alone!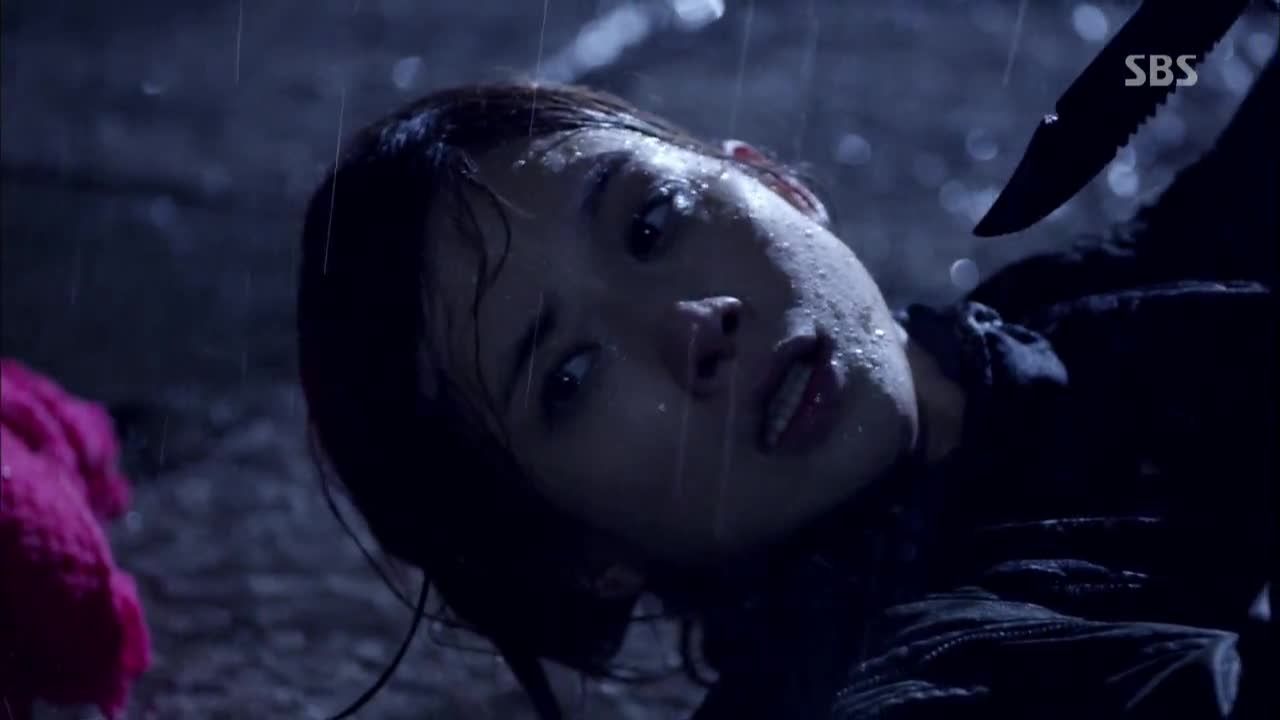 Soo-hyun regains consciousness, and although Dong-chan tells her he sent her to fetch the police, Soo-hyun says they can't let her out of their sight.
The woman runs around the corner and comes upon a man in the street, calling for help. She stops mid-sentence when she sees the man's bloody shirt. It's the killer. And… he's wearing cop's uniform? Oh, no.
Dong-chan goes in search of the woman, but stops cold at an ominous sight. Soo-hyun catches up to him, and they both see something bloody under an old tarp. Dong-chan lifts the plastic cover to find the woman murdered.
Thirteen days before Saet-byul's death. At the police station, Woo-jin gets briefed on the previous night's events while looking over the evidence. Soo-hyun identifies the pen as hers, which she used to stab the killer. Woo-jin uncaps it to discover blood on the tip and sends it in for blood testing.
Soo-hyun asks if he believes her yet, adding that if he had believed her from the start another person wouldn't have died. Woo-jin can't say anything and they're interrupted by another detective who comes in to give Soo-hyun her purse and phone.
Dong-chan is in the other room talking to his cop friend Ho-kook about the murders. Ho-kook tells him that the women have no connection to each other, and the police don't think that the victims knew the killer.
Dong-chan wonders how the killer was able to get close to the women without causing alarm, explaining that he didn't hear any screams despite being so close by.
Looking back at Soo-hyun and Woo-jin, Dong-chan asks what their relationship is. Ho-kook doesn't know but says that it's obvious that they share a history, and that Woo-jin does seem to have a vested interested in Soo-hyun.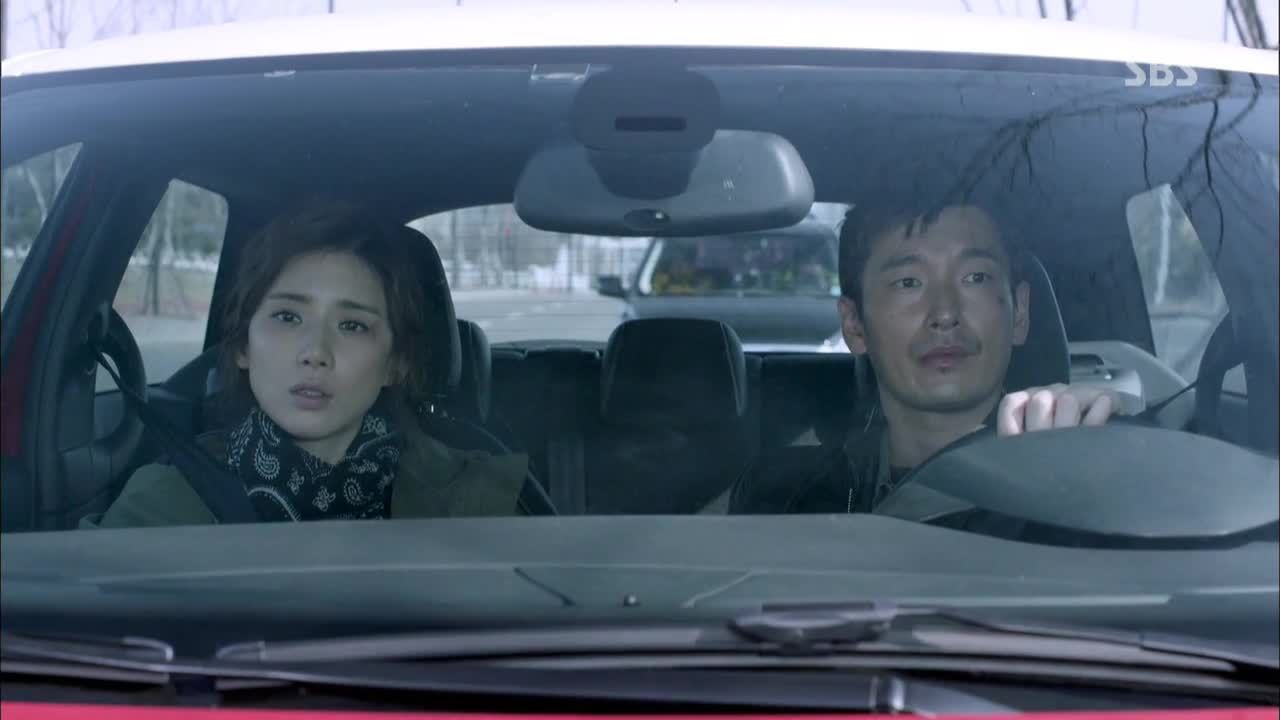 Dong-chan drives Soo-hyun home, telling her she's fearless. And lucky. It wouldn't have occurred to most people to use the pen as a knife, and he wonders if she's got a fighting past. (We know she was something of a brawler in her youth.)
Soo-hyun just asks how he was able to find her so quickly and Dong-chan admits that he put a tracking device on her jacket earlier at the club. He says he won't do it again if she promises to be more careful.
Soo-hyun is sad that they weren't able to save the second victim, afraid that things are happening just like last time, which means the third victim will die tonight. Dong-chan tells her to stay positive. He points out that originally the second victim was found in a trash can, but this time she wasn't. Therefore the two of them did change fate, even if just a little bit.
They pull into Soo-hyun's garage and she realizes that her wallet is missing. The killer must have taken it. Dong-chan just tells her to go inside first and that he'll be back later.
Ji-hoon is waiting for her, obviously upset. He angrily asks where she was all night, but turns worried once he sees her bruised face. Soo-hyun wordlessly goes up to check on Saet-byul.
Dong-chan heads home, and just like the first time around Grandpa Byung-ho is there waiting for him. He's eating the food that Dong-chan's mother made, and Dong-chan feels a sense of déjà vu, remembering this happening before.
Again Grandpa Byung-ho chides him for living this way, then offers Dong-chan ten billion won if he promises to live a decent life. Dong-chan sighs and says that he's actually being a very good person right now, doing a really good deed.
Dong-chan asks why he's offering him this money. Grandpa Byung-ho says that he's going to die soon and that he wants to help out a poor soul to ensure he can get into heaven. Dong-chan presses — why him in particular?
Grandpa Byung-ho says that out of all the pitiful people in this world, Dong-chan is the most pitiful. Not because he's poor or starving, but because he's living a life filled with hatred, anger, and resentment, neglecting his parents and living recklessly. He may put on a tough exterior, but Grandpa knows how lonely and broken Dong-chan really is.
A flash of vulnerability crosses Dong-chan's face but he quickly puts on his brave front, blustering that Grandpa doesn't know anything about Dong-chan. Hm, Dong-chan might not believe it, but I think Grandpa Byung-ho knows a lot.
Back at Soo-hyun's house, Jenny and Byung-tae are setting up all their spy gear when Ji-hoon unexpectedly comes home. Soo-hyun follows him to the other room and a fight brews.
Ji-hoon is growing increasingly frustrated with Soo-hyun's fixation and calls her crazy. She admits that she sounds crazy and asks him to just put up with it for two weeks. She has to save Saet-byul from dying.
He's tired of the death talk, but Soo-hyun insists that she won't feel the pain of losing their daughter again, and as Ji-hoon just shakes her and asks her to come to her senses, they're interrupted by Saet-byul crying. Soo-hyun spins around and there in the doorway is Saet-byul. Gulp, what did she hear?
Ji-hoon storms out and Soo-hyun tries to comfort her daughter. Saet-byul asks if she's really going to die and Soo-hyun denies everything, saying that Saet-byul just had a bad dream.
The minster of justice and President Kim both wear glum faces as they watch the news, which is not good. People are angry that the president is not following through on his promises to be tough on crime. One citizen complains that the president said it wasn't right to use taxpayer funds to keep death row inmates alive — so why isn't he changing that policy?
The president sighs that he did say that, while the minister tells him they have to do something about this. The president says that it's not that simple.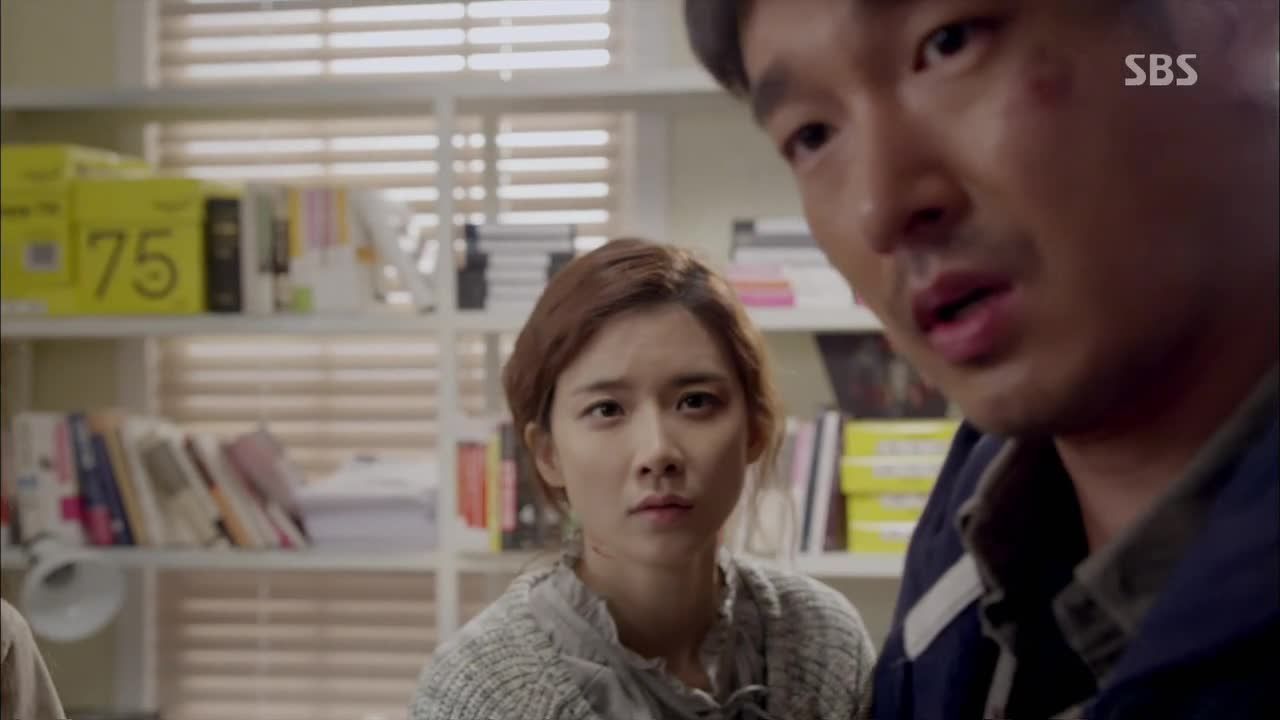 Back at Soo-hyun's, she and Dong-chan and his team work on preventing the next murder. From Soo-hyun's memory, they konw that the victim is a woman in her 30s, and was a prostitute known for working out of karaoke clubs. Soo-hyun writes down a list of the clothes she was wearing, the most notable items being fishnet tights and a pink wig.
Soo-hyun then remembers something else and starts drawing a picture of a three-headed dog, which they look up in hopes of more clues.
Then Saet-byul pops her head in saying that she wants to help. Everyone freezes until Dong-chan says he'll play with her outside and leads her away.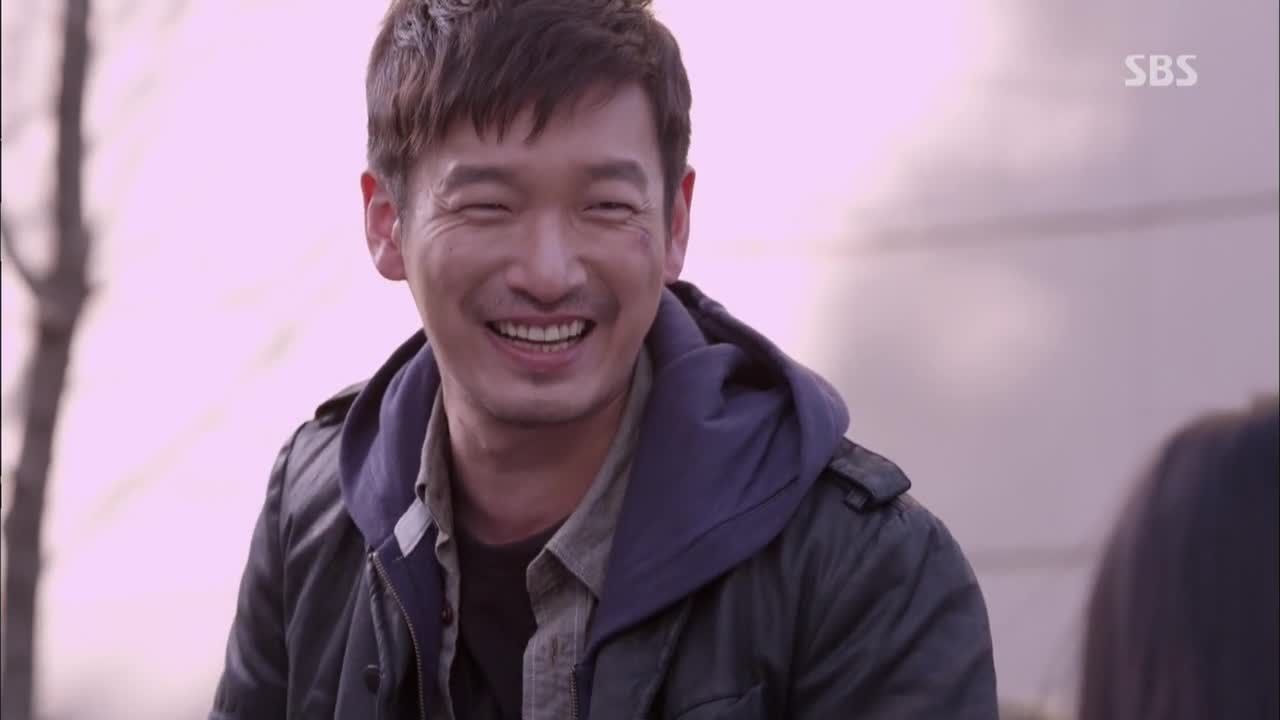 Ha, they're outside in the courtyard playing ddak-ji, and apparently Dong-chan did not go easy on her for being a child. Saet-byul is in tears as she's about to lose her last game piece. Dong-chan offers to teach her how to make an unbeatable ddak-ji, which involves waiting for a car to come by and flatten it (so that it cannot be overturned and therefore lost).
It reminds Dong-chan of his childhood, when his older brother had done the same thing for him. Dong-chan had denied being related to him when the other kids teased Dong-ho for being mentally disabled, but the look on his face tells us that he felt incredibly guilty about it.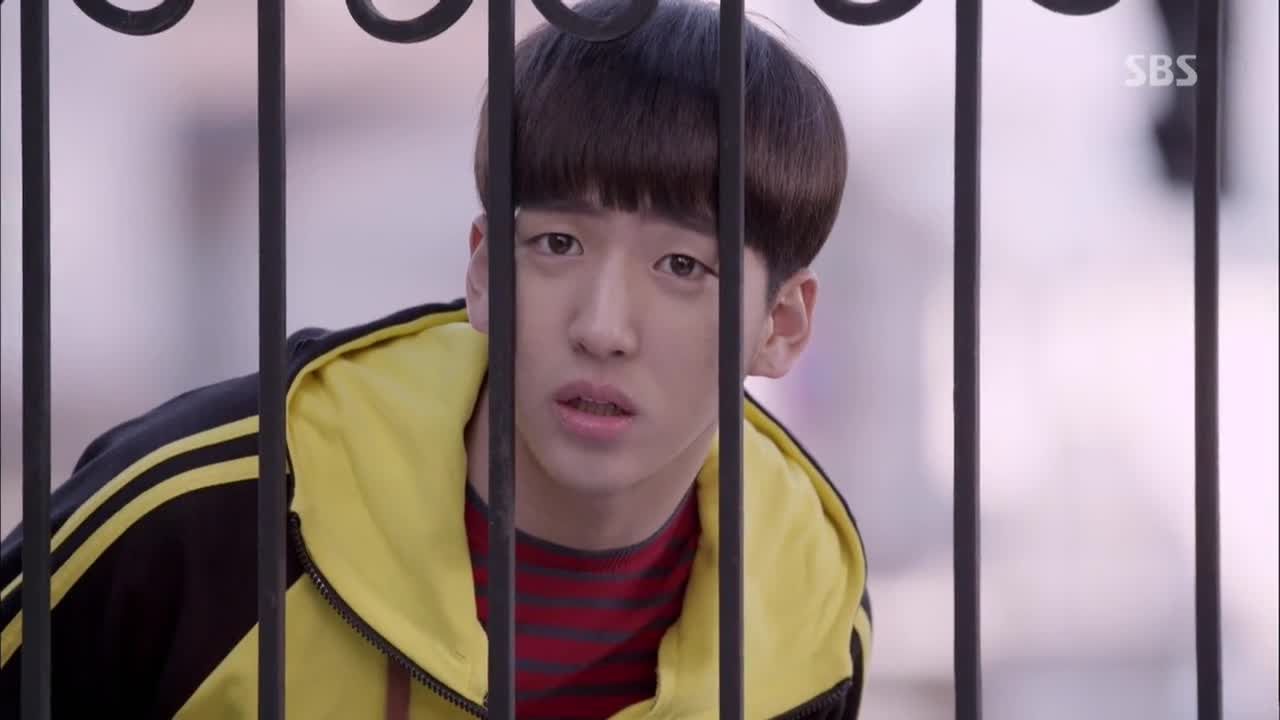 Just outside the gate, Young-gyu hears them playing. He looks at them sadly and walks away.
Soo-hyun watches them play outside, and later gently chastises Saet-byul for using Daddy's work papers for her game. They unfold the ddak-ji papers and reassemble the documents, but when mom asks if she returned them all, Saet-byul lies and hangs on to one — she doesn't want to give up the unbeatable ddak-ji Dong-chan made for her.
Assistant Byung-tae finds info on the three-headed dog graffiti, just as Ji-hoon walks into the room. The air turns tense and detective time is over for the day. Dong-chan and his team leave, and he tries to remember where he's seen Ji-hoon before.
Another fight ensues as Ji-hoon demands an explanation and Soo-hyun says that the team was helping her save Saet-byul. She leaves things in a strained mood, not about to stop her activities despite his anger about them.
At the same time, Young-gyu is at his school practicing a skit with his classmates. Young-gyu's teacher notices that he seems down, and when Young-gyu explains that his friend has found a new friend, his teacher kindly tells him to just ask to join in next time. That cheers Young-gyu back up.
Young-gyu's teacher walks back to his office and seems like a nice enough guy… but then winces in pain and falls over. A policeman's jacket falls from his bag and when he lifts up his shirt we see that the wound in his stomach is bleeding. The killer!
Soo-hyun and Dong-chan find the artists who drew the three-headed dog graffiti, which was commissioned by the owner of a karaoke club. Soo-hyun and Dong-chan find out the club name from the artists and rush off.
At the same time, our killer is disguised as a cop performing a surprise inspection of the karaoke club. He tells the owner that he'll be fined for the large stack of crates and boxes blocking the emergency exit. As the owner goes off to find someone to clear the doorway, the killer slips a gas canister between the crates.
Soo-hyun and Dong-chan arrive at the club and question an employee, who denies knowing about the prostitute until Dong-chan threatens to arrest him since he's clearly underage to be working here.
Then the killer walks by, and for the briefest moment he and Dong-chan make eye contact.
With the employee's information, Soo-hyun and Dong-chan arrive at an office occupied by gangsters. They're unhelpful, so Dong-chan asks Soo-hyun to wait outside the door, and then we hear him beating the gangsters into submission. When Soo-hyun re-enters the room, the gangsters are kneeling on the floor in deference to Dong-chan, as he sits at a desk going over their records.
He finds a possible lead and asks about a certain customer, who is a regular who only requests one particular prostitute, Mimi. He's requested her for tonight at the karaoke club, too.
Soo-hyun and Dong-chan head over to the customer's apartment and we see that it's not our killer, but um, a guy that obviously likes sex. His room is adorned with posters of half-naked ladies and there are Barbie dolls all over the place. Including inside his pants. Ha and ew.
Dong-chan and Soo-hyun barge in and question him about Mimi and making reservations for that night. Dong-chan holds him against the wall while Soo-hyun lifts up his shirt, but there's no wound. It's not the killer.
The guy tells them that while he is a regular customer of Mimi's, he didn't request her for tonight. In fact he lost his phone a few days ago.
Dong-chan calls Ho-kook to put a trace on the guy's phone, but Ho-kook is hesitant to help. Dong-chan scolds him for thinking about his career over saving someone's life when Woo-jin takes the phone from Ho-kook.
It's tense between the two men and Woo-jin asks to speak with Soo-hyun. He knows they're running around together. Soo-hyun takes the phone and Woo-jin tells her about the reported fire at the karaoke bar.
The karaoke bar indeed seems to be on fire and the area is full of firefighters by the time Soo-hyun and Dong-chan arrive. Soo-hyun jumps out of the car and runs into the building before Dong-chan can stop her.
The killer wanders the smoky halls, dressed as a fireman and wearing a gas mask. He spies his victim, Mimi, by the emergency exit and makes his way toward her. Mimi reaches out to him for help, but before she can, Soo-hyun appears out of the smoke to grabs Mimi's hand and pull her away.
Soo-hyun then locks Mimi in a bathroom stall as Dong-chan asks her what she plans to do. He says it's too dangerous to go after the killer on their own, but she tells him they have no choice. If they don't catch him now, Saet-byul will die next.
Dong-chan tells her she could be killed too, but Soo-hyun just makes him promise to make sure to catch the killer — even if she's killed, he shouldn't save her because Saet-byul's life comes first. Dong-chan doesn't like the idea, but agrees.
They let Mimi out of the stall, and she's both angry at them and unbelieving of their warning that her life is in danger. She gets a call then from her customer, and she makes plans to meet at the bar across the way.
After some pleading and the promise of a doubled fee, Mimi agrees to do what Soo-hyun and Dong-chan say. While Soo-hyun and Mimi switch clothes in the bathroom, Woo-jin arrives at the scene and hears that the fire was a false alarm. Someone planted a gas bomb set to a timer.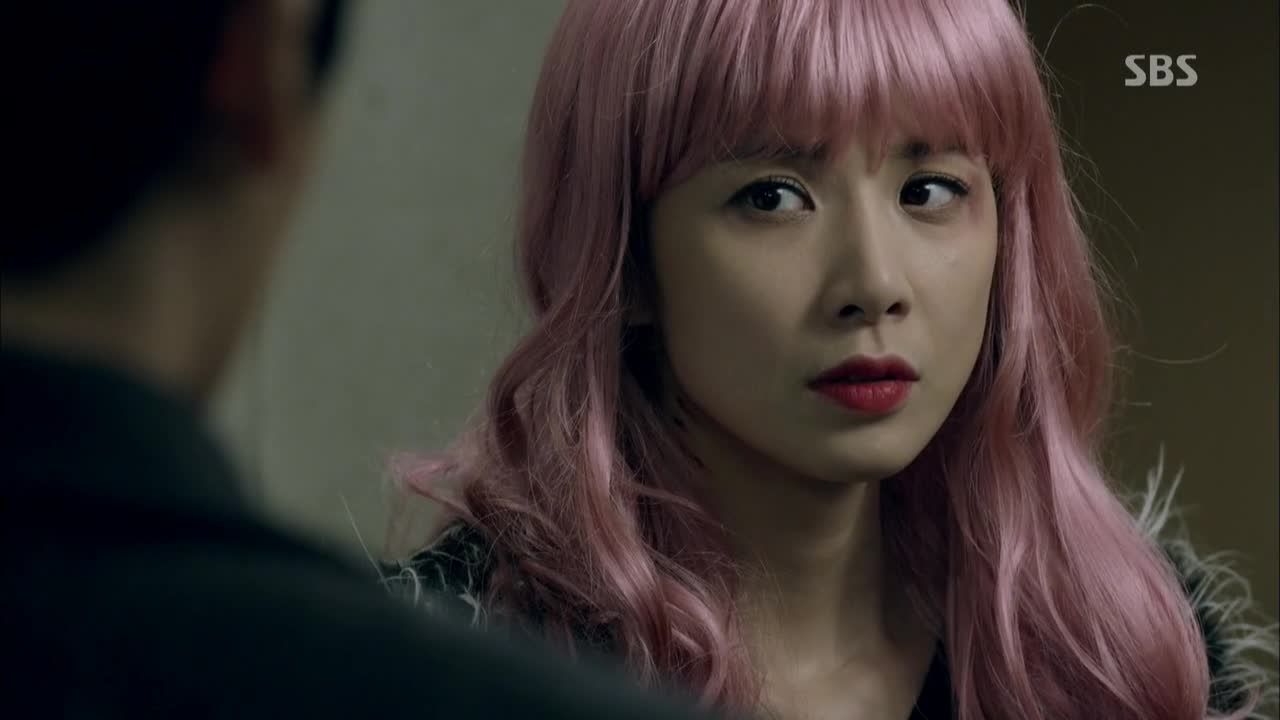 Woo-jin finds Dong-chan in front of the bathroom and asks about Soo-hyun. Just then she and Mimi come out wearing each other's clothes, and both men are stunned by Soo-hyun's transformation.
Soo-hyun asks Dong-chan to take Mimi home safely, which he refuses to do because he's intent on staying to protect Soo-hyun. Aww. But when she adds that she'll feel most comfortable sending Dong-chan with Mimi, he grudgingly agrees.
So Soo-hyun, dressed as Mimi, waits at the club for the killer. Woo-jin and Ho-kook sit at a table nearby and watch over her.
Meanwhile, Dong-chan drives Mimi home and is about to leave, but Mimi snaps at him to take Soo-hyun's clothes back. So he sighs but follows her inside so she can change, anxious to get back to Soo-hyun.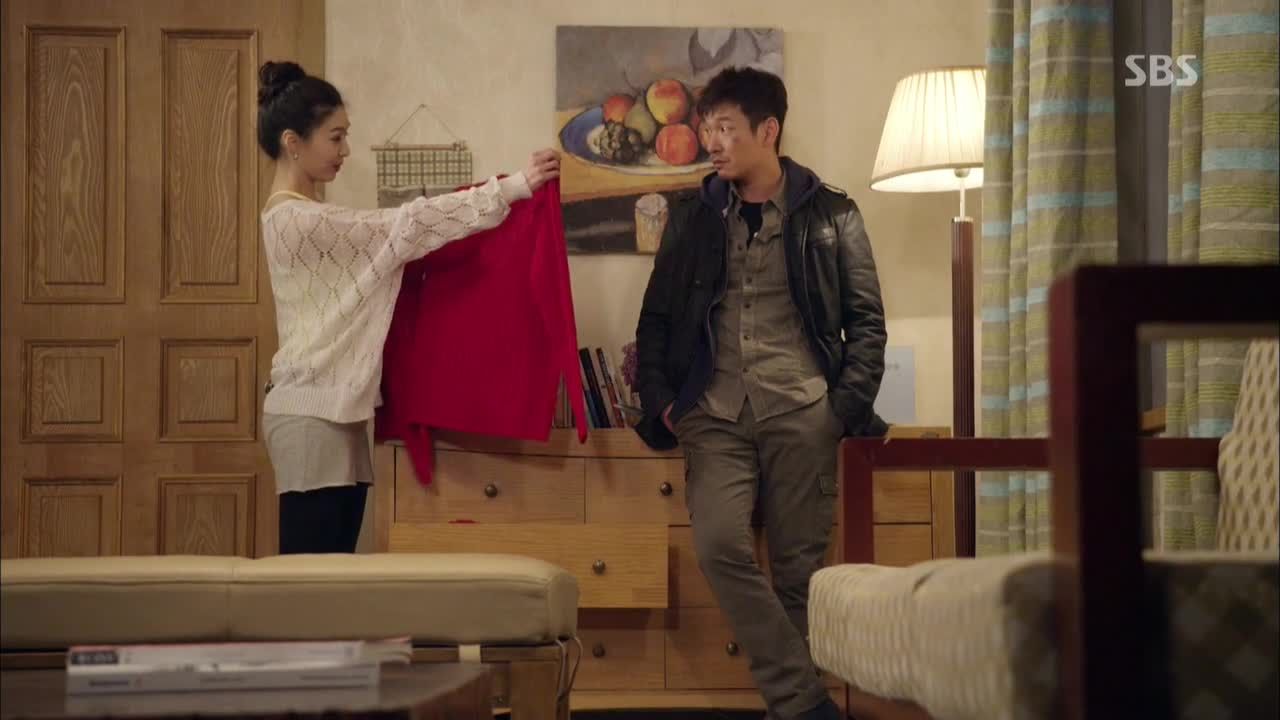 While he waits, Soo-hyun calls him to say that there's no sign of the killer yet, and when he says that he's on his way, Soo-hyun tells him she'd feel better if he stayed and watch over Mimi. He's not happy about it, but agrees.
Mimi comes out and hands over the clothing, softening a bit when Dong-chan asks after the baby picture that's out. Hearing that her son, now 16, is the same same age as his nephew, Mimi rummages through a pile of red knitted sweaters and offers him one for Young-gyu.
Mimi explains that she gave her son up for adoption long ago, but every year on his birthday she knits him a sweater. She assures Dong-chan he's fine to take that one because her son will probably outgrow this before he could wear it, and she'll just make a bigger sweater next year. It's bittersweet and makes me nervous.
Security calls to tell Dong-chan to move his double-parked car. Dong-chan heads out, telling Mimi he'll be right back.
Soo-hyun sits at the club and the killer is still nowhere to be seen. Suddenly a man leans over her asking if she's been waiting a long time and sits down right next to her. Woo-jin and Ho-kook rush over and grab him. Soo-hyun lifts the man's shirt but there's no stab wound.
Mimi's phone rings, and it's the number of her client, AKA the killer. Soo-hyun answers, and the killer tells her that he's picked another woman — it's not Soo-hyun who'll die tonight.
Dong-chan returns after moving the car, but there's no answer at the door and inside all the lights are out. His phone rings, and he picks it up off the ground… and it's covered in blood. Dong-chan follows the blood trail to the bathroom and slowly opens the shower curtain. Lying inside is Mimi, dead. Dong-chan sadly closes the curtain.
After a second, Dong-chan suddenly whips the curtain back open and standing inside the shower is the killer.
Dong-chan grabs him and throws him. The sink breaks with the impact and they fight viciously. Dong-chan recognizes him as the cop from the karaoke bar as he grabs a towel and uses it to choke the killer, then shoves his head into the toilet.
The killer struggles, then wrenches free as the fight moves to the living room. The killer grabs a knife from the kitchen, luckily missing Dong-chan when he takes a swing. The killer kicks him back, then jumps out the window, landing on a car below. Dong-chan calls the cops and then jumps out the window after the killer, chasing him through the neighborhood.
Soo-hyun and Woo-jin race to Mimi's apartment, arriving in time to see the chase. Woo-jin tells Soo-hyun to stay in the car and runs after the others.
The killer circles back and seems to have lost Dong-chan and Woo-jin. But when he pauses in the street to catch his breath, we see Soo-hyun watching him. Except now she's in the driver's seat.
She guns it, and the car hits him hard enough that he crashes into the windshield. He's hurt, but in a rage charges the driver's side door, knocking her unconscious as he shoves his way into the driver's seat. He drives off just as Woo-jin and Dong-chan turn the corner, but luckily Dong-chan still has a tracking device on Soo-hyun.
Soo-hyun comes to while the killer's still driving, and grabs the wheel in an attempt to crash the car. They struggle and eventually crash into an abandoned building.
They're both hurt, but the killer exits the car and drags her out, too. Soo-hyun is disoriented and has a hard time fighting back as the killer drags her up the stairs.
He blocks the door with a large metal pipe, and grabs her when she tries to flee. He screams, "Who are you? Why do you keep getting in my way?" Soo-hyun screams back that it's over and to turn himself in. He sneers, "Do you think I'm going to let that happen?"
The cops arrive in droves, and Woo-jin and Dong-chan race up the stairs to find Soo-hyun.
The killer sees the cops below, incredulous that they found him so quickly. Soo-hyun grabs an old umbrella on the ground and hits him as hard as she can. He stumbles and starts to fall over the edge. Everyone below gasps, and at the last moment Soo-hyun grabs the killer's hand.
Woo-jin and Dong-chan try to break down the blocked door, but it's no use. Woo-jin gets a call updating him to the situation, and at that Dong-chan races back down the stairs.
The killer begs Soo-hyun not to let go, but a calm look passes across her face. She tells him that he has to die in order for her daughter to live. He has no idea what she's talking about and begs her again to save him.
The killer loses his grip and falls.
COMMENTS
What another great episode. So suspenseful and action-packed. It's only the fourth episode and Saet-byul's killer has been caught. Or has he?
The Gangnam Killer has been caught, and is most likely dead… But does that really mean that Soo-hyun has changed fate and saved her daughter's life?
I'm sure that over half the clues are red herrings presented only to confuse us. But I also wonder how inter-connected everything is, too. Because another aspect of the Fate theme, in my opinion, is the surprising ways in which people are and can be connected to one another.
Honestly, I don't think Saet-byul is safe just yet and that there is an even greater mystery and/or Evil out there. I still wonder what happened in Dong-chan's past and what exactly his brother went to jail for. I wouldn't be the least bit surprised if it was connected in some way to everything going on today. In fact, after going back to past episodes I now think there is definitely a bigger conspiracy, and Big Bad, out there.
And that for whatever reason it has chosen to use Dong-chan and his family as its scapegoat. The gangsters who threw him in the lake in Episode 2 were not the same gangsters of the cuckholded Mob Boss, and I apologize for missing that in my last recap. (I promise to work really hard on having Eagle Eyes to spot ALL the clues from here on out!)
I'm leaning toward the president or someone with a lot of political power, only because I think you would need to have that kind of clout to frame an entire family like that. This show has thrown so many clues and possibilities and shady characters at us, I just know there is more to our story.
And like we've seen so far, there is definitely some strange magical connection between Soo-hyun's family and Dong-chan's family. And between Soo-hyun and Dong-chan especially. I loved how they came together and are now working together this episode. They're both very real and interesting characters individually, and together they're just even better.
Soo-hyun is a great heroine. This episode especially has showed us that she's absolutely fearless. And has so much heart. Her number one objective is to save her daughter, but she also does everything she can to try to protect other people, too. Throughout the entire ordeal, she constantly tried to do all that she could to make sure no one else died. And she expected those helping her to do the same. I think that's really awesome.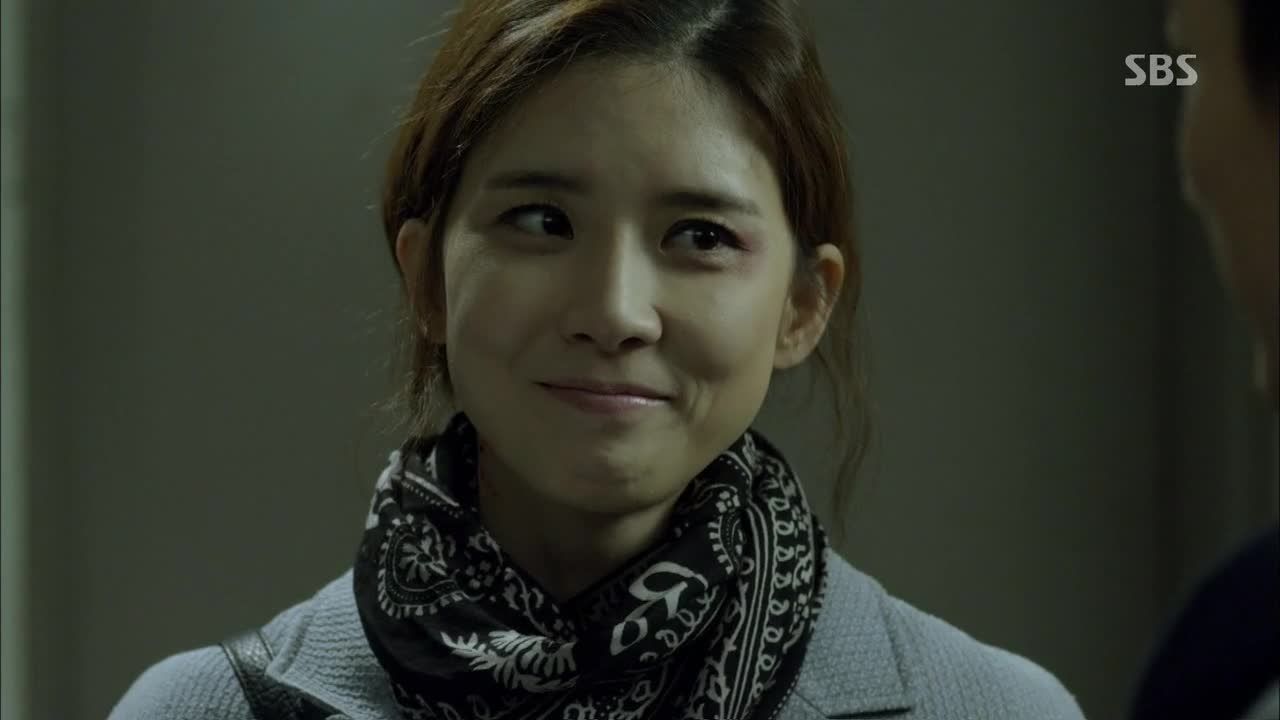 Dong-chan is the quintessential noir hero. On the outside, he's pure cynicism and jaded growl. But deep down on the inside, he's still got a strong heart and great moral fiber. He's been through so much and has seen so much negativity in the world that he hides his true self deep down inside. So again, I really hope that along with saving Saet-byul's life, Dong-chan gets to change his fate and fix his life, too.
I like how the show kept showing us that there are pre-destined things that will happen no matter what, while also showing us that we maybe can change things. Certain conversations played out the same way, like it did with Dong-chan and Byung-ho grandpa. Or the three victims. Despite their best efforts and knowledge of the future, Soo-hyun and Dong-chan weren't able to save them. Is that because these women's fates were pre-destined to end in murder no matter what? And what does that mean for Saet-byul? Is she next?
Despite all of that, I think the show doesn't want to say one way or the other which is right. I think it's leaving it up to us, the viewers, to question and come to our own conclusions. Like Dong-chan told Soo-hyun earlier, even though it was hard they did manage to change fate a little. That had to count for something, right?
RELATED POSTS
Tags: featured, God's Gift – 14 Days, Jo Seung-woo, Lee Bo-young