Grandpas Over Flowers in Spain: Episode 2
EPISODE 2. Broadcast on March 14, 2014.
javabeans: Okay, so despite Na PD hardening up his hardass side for this "upgraded" (in difficulty) trip, their first lodgings are at a Korean-run boardinghouse, to ease them into the swing of Barcelona life. So on top of a Korean-speaking local to serve as their guide, they also get Korean food as part of the deal. Not that I mind when they have to go without and the cast has to resort to thievery.
girlfriday: That's always the best part. Na PD tells them that Seo-jinnie will arrive the next night, so their first day of sightseeing will be on their own.
javabeans: Don't you feel like that's a dicey proposition to offer four halbaes? I imagine them going, "Eh, then we can just hang out here in this cool house until Seo-jinnie arrives. I don't mind waiting."
girlfriday: Yeah, or Soon-jae halbae will just go on his own, and the rest will sit and have a drink. All day. After their briefing, the halbaes crash for the night, and then we catch up with Il-sub halbae hanging out on the balcony in the morning, "Doing stuff unfit for TV." Lol, he's like a teenager, waving the cigarette smoke away from the camera.
javabeans: Well I was thinking it's better than the other thought that crossed my mind at the way the camera studiously avoids showing anything below chest level.
girlfriday: Dirty!
javabeans: Inside, the halbaes get checked out by the team doctor, and it occurs to me that the noonas didn't have to get their blood pressure regularly monitored. Maybe this is why I have the impression of the halbaes being so much more helpless, even though I do think they'd all manage if push came to shove. It's just… they're stubborn enough to sit down and dig in their heels until somebody else stepped up first.
girlfriday: At breakfast, the halbaes meet a group of students traveling together, and Na PD just asks them what sights to see. They hardly even need Seo-jinnie.
javabeans: Except then Gu halbae notes, "Seo-jinnie did a good job preparing." This was all stuff he'd suggested, I'm presuming.
girlfriday: They take a guided tour of Gaudi's most famous buildings, so I'm less worried about the halbaes running around on their own. The funniest part is that now suddenly the other people on this tour are part of the show.
javabeans: Na PD is all, "Please act normal! We'll film around you without interfering!" And then he goes getting everyone on camera once and asking if they're dating or married or friends. Ha, it's cute how we get a mini-segment following Il-sub halbae, contrasting how indifferent he was on the France trip (remember him likening Versailles to the furniture mart?) and how he's actually impressed and engaged now.
girlfriday: I'm trying to figure out if it's because there's a lady giving the tour, or if he's going to flame out in about ten minutes.
javabeans: Ohhh. That explains everything. You're right. I do think he will also flame out, but he'll last a lot longer because the pretty lady will keep him in a good mood. Like with Sunny.
girlfriday: Right? He's so adorably transparent that way.
javabeans: It actually looks like he's about to answer her rhetorical questions ("Who do you suppose was the first to enter?"), and disappointed when his guesses were wrong.
girlfriday: Il-sub halbae says this is better than the Louvre, and agrees when the writer suggests that Spain is more his kind of town.
javabeans: Okay, it must have been ages since I last went traveling, because I'm still stuck on how cool the tour guide mic system works, even though it's so obvious and simple: The guide speaks into a mic at regular volume and each member wears an earpiece so that there's no shouting or craning of necks. The best part about it is, her explanations get recorded automatically and thus form the perfect narration track for the show.
girlfriday: Yeah it's pretty genius. I usually hate guided tours as a rule, but this is the best version of one I've seen. There aren't even any embarrassing flags. Also, it means that everyone can wander at their own pace, which makes shooting the show a lot easier too.
javabeans: There's quite a bit of touring that we're not really describing here, though in the show itself it's actually pretty engaging. It's some bits of history and explanations of Gaudi's architectural design, which is interesting on its own merits. Just maybe not the character-based stuff we're about.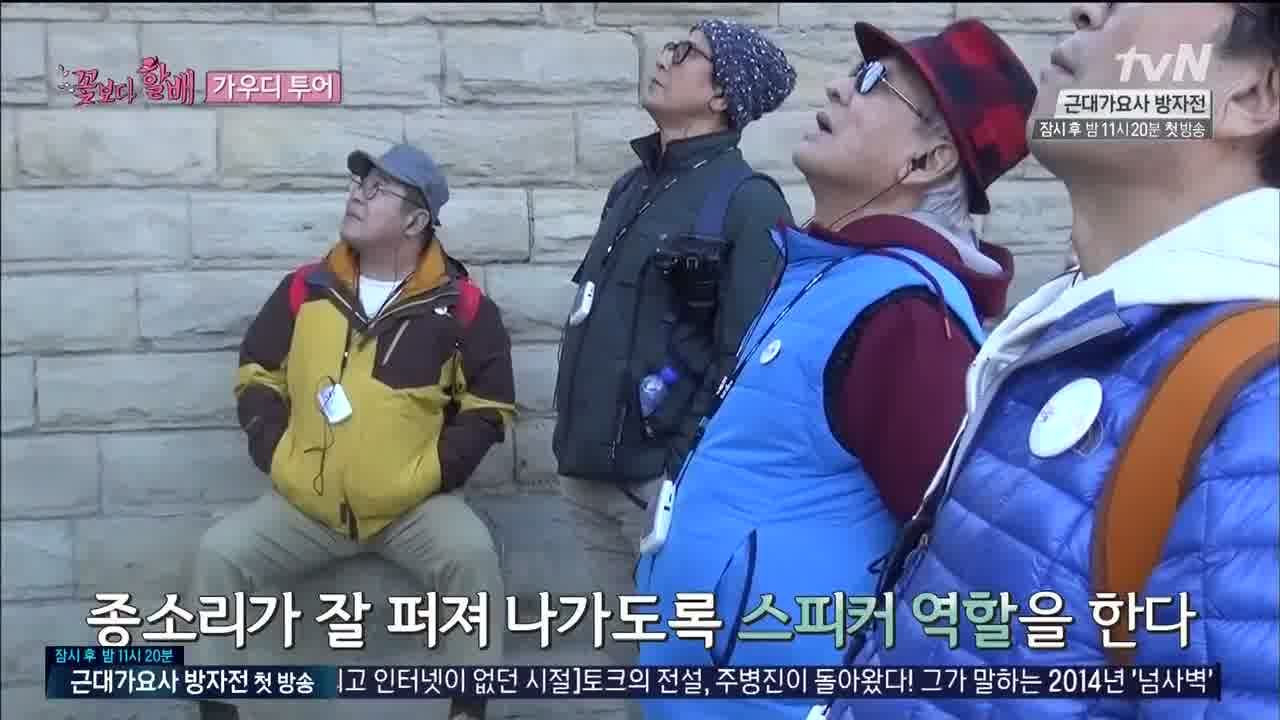 girlfriday: Yeah it's definitely interesting to watch. The tour then moves on to the highlight: La Sagrada Familia, which leads to some great shots of the halbaes just gaping as they crane their necks in unison.
javabeans: After circling the outside (which is inlaid with sculptures), they move indoors into the cathedral. Okay, I have to admit I find the cartoon reenactment of Gaudi's death to be really weird. Especially since it's supposed to be solemn.
girlfriday: Yeah, the cathedral is so amazing, and then we go to cartoon death scene? Is it an attempt to keep the tone light?
javabeans: I don't know, I thought maybe it was the show trying to go the extra step in making us feel the sadness of this death, you know, like how making a story intimate makes you feel it more closely, only… cartoon?
girlfriday: Is weird. After the tour, the halbaes sit down for lunch and Geun-hyung halbae looks up articles about Seo-jinnie leaving for Spain with a smile on his face, and grumbles.
javabeans: Then it's back to Seoul as Seo-jin arrives at the airport for his flight. Immediately he's suspicious, because his PD assures him there'll be no filming today once they're in the airport, which itself is fishy. And then once inside, the producers say they have no time and he points out that there's TONS of time until his flight, and he guesses, "You've planned something, haven't you?" PD: "No! We swear!"
girlfriday: Based on the number of times the PD says, "Trust me," I'd have my guard up.
javabeans: Also he keeps laughing in the middle of his words. Verrrry suspcious. When Seo-jin is told he can turn off his mic, he looks askance at the crew and the caption helpfully describes the he's "looking at him like he's a scam artist." The show is pretty cheeky to even suggest that Seo-jin's the weird one in this interaction.
girlfriday: He goes to the gate and the screen fades to just a caption that says Seo-jinnie asked eight more times what was going on before falling asleep in exhaustion. We go back to the halbaes, who now have to figure out how to get back on their own. They ask an information desk for help on the metro lines, and the guy tells them it'll include a five-minute walk.
javabeans: Ack, the caption says "The five minutes that turned into an hour"! The music turns dire and we see preview clips of the halbaes getting cranky, ending with Gu halbae advancing on Na PD menacingly in that trailer we saw weeks ago.
girlfriday: Il-sub halbae starts off the journey saying he'll be fine as long as they don't have to walk very much. Aiee. They take the subway without much trouble, but the sinking feeling of doom settles in once they try to figure out how to get out of the subway station.
javabeans: Yes, this show has certainly taught me the importance of always knowing your exit! It's exacerbated by the fact that the halbaes didn't really think they'd need directions after this part because the "five minute walk" assured them they'd exit close to home. But they walk out into daylight and don't recognize anything, and now have no idea where to go. Gu halbae: "Everyone one of us was in a state of men-boong [mind shutdown]."
girlfriday: Their problem, as it turns out, is that every single corner in Barcelona looks just like the one before it. The helicam shot shows rows and rows of streets with identical buildings just one after the other, all the same. I can see now how that's maddening.
javabeans: So Soon-jae halbae and Geun-hyung halbae both take the lead in trying to figure out their direction, while Gu & Sub stay put, figuring that… uh… they'll get called once the answer is found. But what this means is that the four halbaes are just scattered with no real plan of what to do.
girlfriday: Oh. No. This is a terrible plan.
javabeans: While Gu halbae is chuckling good-naturedly about the situation, you hear Na PD's reedy little voice piping up, "Actually, we don't really know where we are either." I think he's trying to be mollifying, but it's hilarious how Gu halbae's face suddenly drops like he's in a gangsta move and he tells Na PD to shut it. HAHA.
girlfriday: Lol, and it begins. Gu halbae starts becoming increasingly agitated, but in tiny steps. He next gets tired of waiting around for the others to come back, and picks up the backpack that Soon-jae halbae left behind. Suddenly he's calling Soon-jae halbae by name, IN BANMAL. "We gotta find Soon-jae first!"
javabeans: Oh, no he di'n't. Caption: "The 79-year-old does Yaja Time with the 81-year-old!" (Yaja Time being that dangerous game where everyone gets sanctioned banmal time for a very short while.) Oh yikes, and then we pick up with Geun-hyung halbae, who is looking for their house number, 369, which all the halbaes are fixating on… only, they're not even on the right STREET. They're just heading toward No. 369.
girlfriday: Meanwhile, Gu & Sub are staying put, which in the scheme of things seems like the best idea, but they're annoyed because the others just disappeared without a word. (I love that the PDs have now dubbed them Gom and Jerry, as in Tom and Jerry but gom for bear.)
javabeans: That's hilarious and also apt. Better than Gu & Sub, except I suppose if/when they're rapping. Somehow Soon-jae halbae and Geun-hyung halbae have met back up (which itself is amazing) and now walk up and down streets looking for… well, any sort of clue, really. I suppose in the scheme of things this is the best way, with the two walkers doing the recon while the others who dislike walking stay behind. It would have been so much more stressful to have the four of them wandering in one pack.
girlfriday: But the captions point out that these two can never seem to agree on which direction to go in, and so they part ways in about the span of one block.
javabeans: HAHA, and then the cartoon map shows us that after all that, Geun-hyung halbae somehow wanders back to the starting point where Gom & Jerry are waiting. It's been forty minutes, and Gu halbae sees his approach and says, "Well as long as he found the way it's okay." Geun-hyung halbae: "I didn't find it!" Oh man. On the upside, I feel like Seo-jinnie will get a prince's welcome tonight.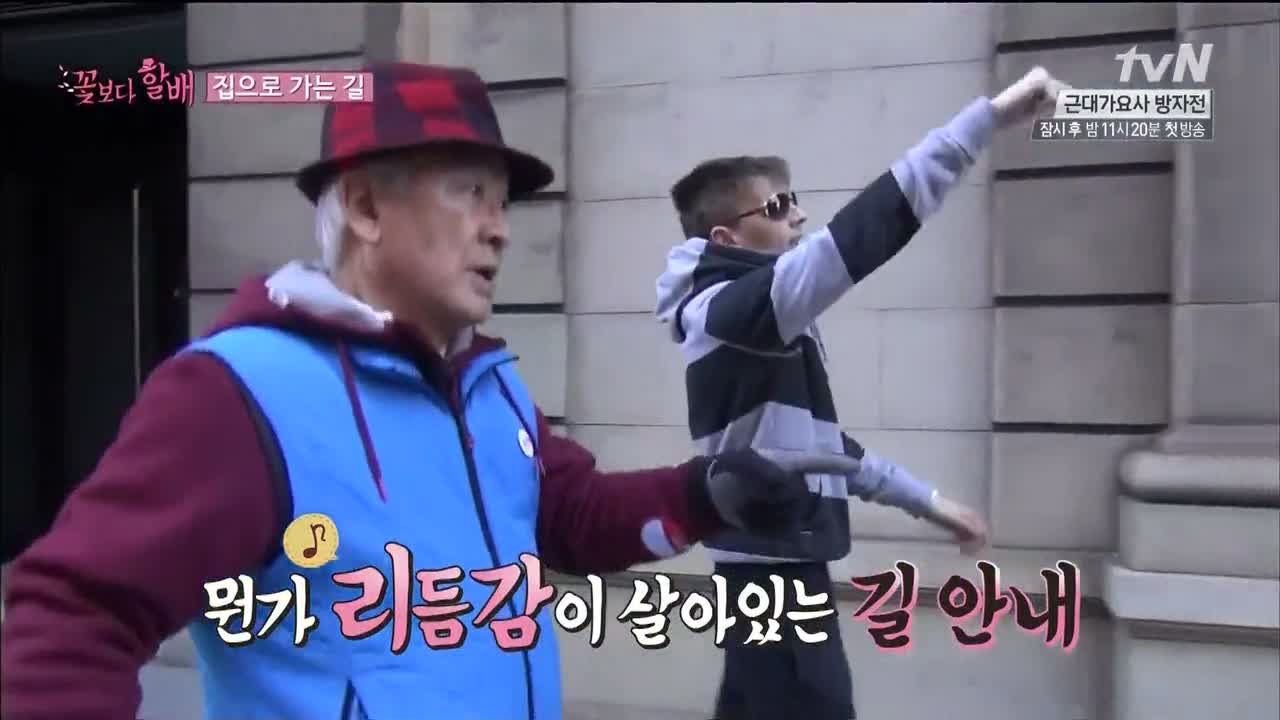 girlfriday: Soon-jae halbae has better luck and gets directions from a young man which thankfully leads him to the right street. But he chooses to keep walking ahead, instead of turning around to get the others. I…don't think I'd go all the way there and THEN double back.
javabeans: Remember Seung-gi and Mi-yeon? Of course, that wasn't the best plan back then either, so ha.
girlfriday: Oh no, but then he somehow loses the street and gets turned around again. Meanwhile, Gom and Jerry have decided to start following Geun-hyung halbae around, even though he's still just wandering aimlessly.
javabeans: …and then he leaves them behind! Or they lose him, or something. But in any case, we have three parties loose on the streets. You know it's bad when Gu halbae steps up and takes charge, since he's always the happy guy in the back just following along. He asks Na PD to give them the hint of whether it's north, south, east, or west, and when Na PD says he doesn't know, he does that body-check fakeout, where Na PD starts backing away nervously.
girlfriday: HAHAHA. I love it. It's like a full-body flinch. Don't mess with Gangsta Gu!
javabeans: Finally he at least gets the address from the producers and starts asking for directions.
girlfriday: Dude, Gu halbae is totally the best at this. Why didn't he lead before??
javabeans: Because he doesn't have leader temperament! Ha, but he's totally the best.
girlfriday: He just very casually stops every few blocks to ask for directions and keeps going in the right direction, no sweat.
javabeans: And there's a children's song playing the background as the show knits together this storyline from Il-sub halbae's POV, where he looks up at Gu halbae with admiring eyes because he's the awesome hyung (and the song sings, "My awesome hyung-ah!")
girlfriday: Gu halbae really does take care to walk slowly and make sure that Il-sub halbae is right behind him the whole way, which is really cute.
javabeans: Gom & Jerry make it pretty close to their destination, but pause to wait for the other halbaes and just plop themselves into chairs at a sidewalk cafe. The caption tells us that Na PD is taking the hint by offering to go for Geun-hyung halbae, and I'm thinking it must be a seriously chilly vibe in the air for him to offer to help. Although Il-sub halbae is cheery enough — the caption reads, "Thanks to my awesome hyung-ah, maknae Gom is happy."
girlfriday: I love that the captions have just decided that Gu halbae is a gangster. Everything is: "The gangster does this," and "The gangster does that."
javabeans: "Hot Tempered Gu" is also another new persona, which it sounds like (from previews) will be sticking around for the rest of the trip.
girlfriday: Soon-jae halbae has finally found the boardinghouse, and now the trial seems to be for everyone to figure out where they are relative to each other. There's just a lot of confusing calls asking where they are, but no one knows how to direct anyone to their own location. At one point Gu halbae barks into the phone, "Just take a taxi with Young-seokie!" He means Na PD, of course.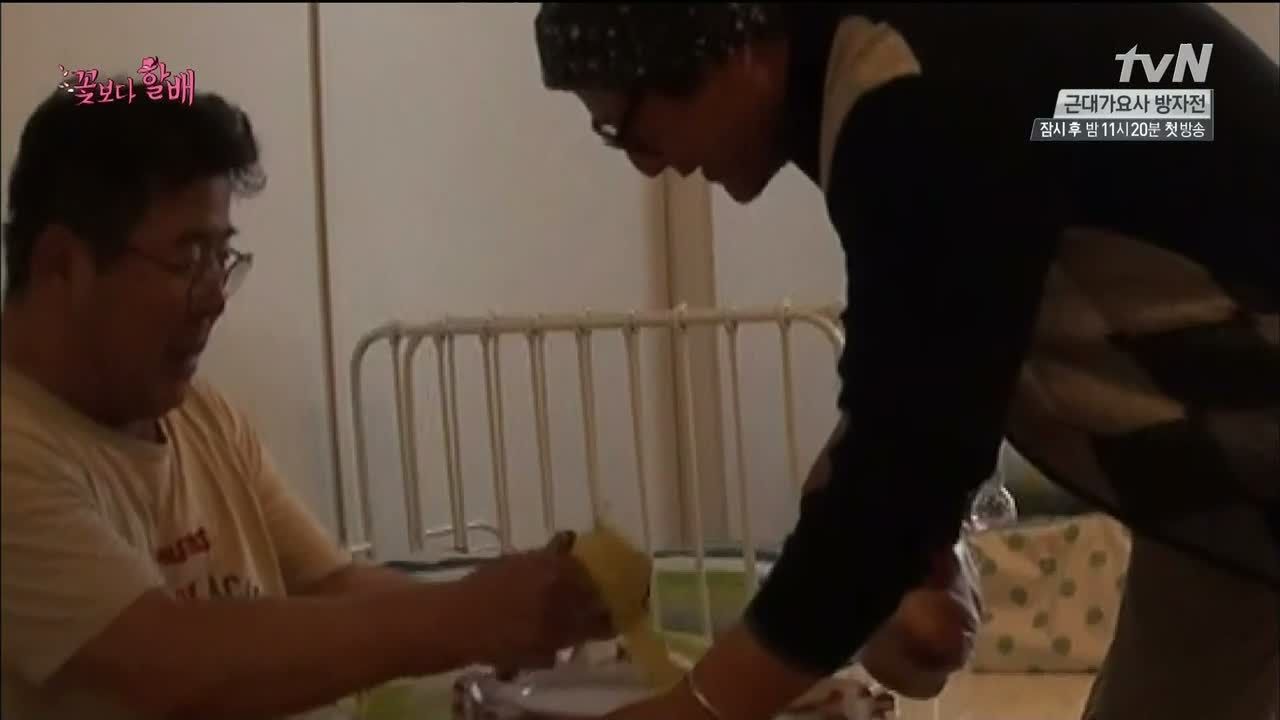 javabeans: Thankfully Soon-jae halbae heads out and manages to find Gom & Jerry, then leads them back to the boardinghouse, and then Geun-hyung halbae also shows up laughing. Wow that was an ordeal. The halbaes stagger into their room to rest, but Geun-hyung halbae is already back out, deciding he needs to buy some fruit and beer at the market. Then, rather than wait for the elevator he just walks up four stories.
girlfriday: Well now I'm shamed, because I wouldn't do that.
javabeans: Hahaha, he prepares the snacks and everything, but then he just plops it down in front of Il-sub halbae and orders him to peel the apples, since he's the youngest. LOL. Il-sub halbae grumps, "What'd you go and buy apples for?!"
girlfriday: Hahaha. Some things just never change. He should've tried Yaja Time too.
javabeans: But Il-sub halbae is terrible at peeling off huge chunks of apple with the peel, so Geun-hyung halbae laughs and takes it from him. Turns out he's the real pro at this. It's so cute how they're all, "If Seo-jinnie were here, it would've been so easy. He would've just gotten a map and found it easily… sigh… hurry up and get here."
girlfriday: Don't you get the sense that Il-sub halbae is doing the kid thing of like, dropping that plate so that Mom doesn't make you empty the dishwasher anymore?
javabeans: But I don't knooooooow how to take out the trash, Mom… Na PD tells them all sympathetically that they went through a lot today and urges them to rest, but makes the mistake of saying, "Even our legs hurt…" He doesn't mean it in a mean way, but Geun-hyung halbae snaps, "Whaddaya young folks mean, your legs hurt?!" Na PD beats a hasty retreat.
girlfriday: Pfft, I wonder if today just put Na PD on the halbaes' permanent bad side. Like how Seo-jinnie can do no wrong. Now Na PD can do no right. It's pretty funny how many times the halbaes discuss what went wrong today, like they have to explain every wrong turn they took and why.
javabeans: The halbaes all go to sleep, but a little later Il-sub halbae heads out to the kitchen to eat (and drink). He chats with the boardinghouse woman, who is a 35-year-old who's dating a 30-year-old Spaniard and gets congratulated for scoring a hot younger man, hee. Then Il-sub halbae sits with just the boyfriend as they share soju in silence, and it has this distinct air of a daughter introducing her boyfriend to the interrogating father. It's cute.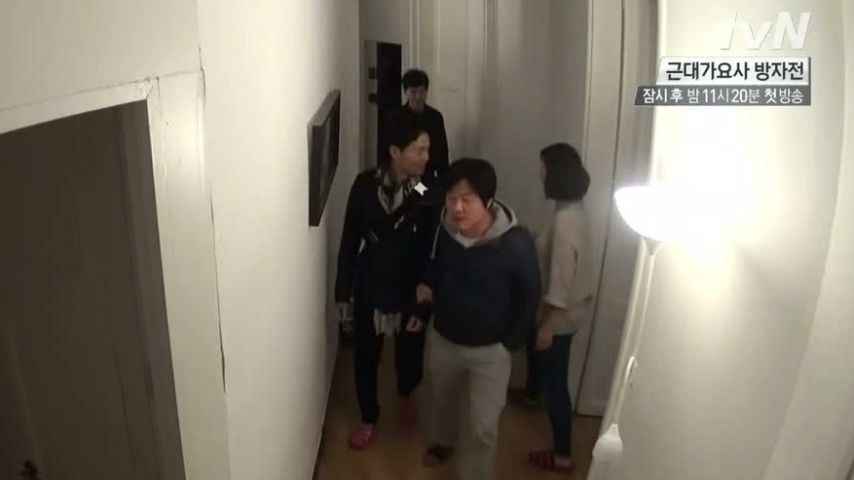 girlfriday: It's adorable. Also scary. Because no matter how much a Korean dad smiles, you're just waiting for the disapproval to come out any second. While Il-sub halbae eats and drinks, we catch up with Seo-jinnie arriving at the airport. With no halbaes to look after, he does everything with this leisurely air, like he's on a stroll. He makes it to the boardinghouse, and Na PD wrist-grabs him immediately upon arrival. Ha.
javabeans: That cracks me up. Turns out when there's no luggage boy around, there's nobody to act as buffer for the halbaes. I wonder if Na PD is rethinking his brilliant idea now.
girlfriday: I know, right? Wait a minute… now I'm the punching bag… Although, once Seo-jinnie tells the group that they can go wherever they want with the confidence of someone who knows what he's doing, Na PD starts worrying that he studied and prepared too much. We can't have this be TOO easy now.
javabeans: I don't like the suspenseful thriller music underscoring Seo-jin's confident speeches about how this is all gonna be fine and simple and nothing to worry about. Then he tacks on, "It'll be easy… as long as the producers don't mess around with me."
girlfriday: Well now you're just asking for it. Ha, he complains that he wants the Seung-gi treatment: "Everyone was boosting his courage!"
javabeans: Yes, but he forgets that Seung-gi got the praise because he was doing so terribly that they had to do that to keep him going!
girlfriday: Yeah, that was necessary for his survival.
javabeans: Seo-jin says that he needs that encouragement too, "Not just you telling me to figure it out all the time! Instead, everyone tries purposely to trample me!" That's… not wrong. And then Na PD replies, "I don't know if I can say this… but how should I put it… you're kind of a pain in the ass."
girlfriday: HAHAHA.
javabeans: "You make me want to wish things wouldn't work for you. That you'd make mistakes." I'm dying. Also, you know they're close when the PD can say stuff this baldly to his face.
girlfriday: I really do think Na PD loves him, but like the way you love your better-looking, more successful older brother. Hate-love.
javabeans: Tooootally. I love you, I'm proud of you, I really love to see you fail sometimes.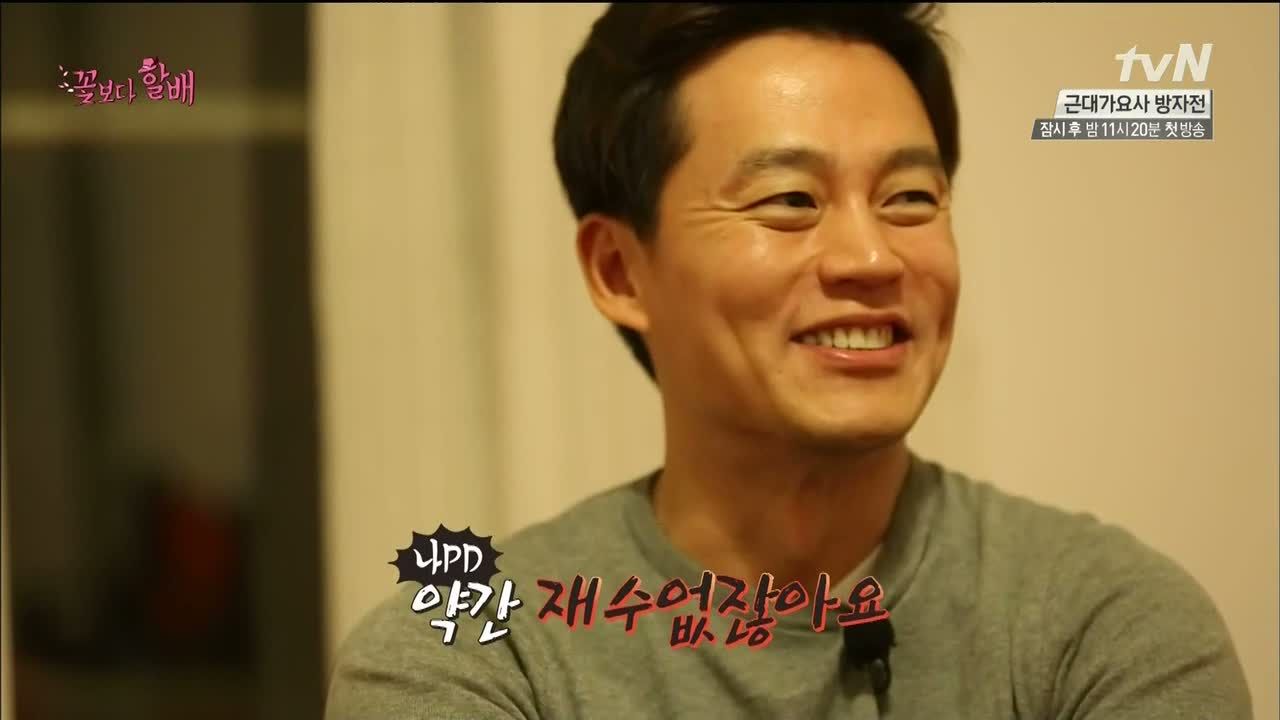 RELATED POSTS
Tags: Baek Il-sub, featured, Grandpas Over Flowers, Lee Seo-jin, Lee Soon-jae, Park Geun-hyung, Shin Gu